Another month, another RTT. This time we are in Bismark and since I can shelve the Ad Mech for now and I want to play my marines I figured I'd kill two hogs with one stone and dive into the cancer of the month while using some of my models that haven't hit the table in two editions.
Iron Hogs - Click to Expand

Warhogs: Master Artisans, Stealthy, Iron Hands Successor

Battalion
HQ
Captain, Chapter Master
Lieutenant, Warlord, Target Protocols

Troops
5 Scouts
5 Scouts
5 Scouts

Elites
Invictor Warsuit, Incendium Cannon
Invictor Warsuit, Incendium Cannon
Invictor Warsuit, Incendium Cannon

Heavy Support
Mortis Dreadnought, 2x Twin Autocannons, March of the Ancients
Mortis Dreadnought, 2x Twin Autocannons, March of the Ancients
Mortis Dreadnought, 2x Twin Autocannons, March of the Ancients

Battalion
HQ
Chaplain, Benediction of Fury
Techmarine, Ironstone

Troops
5 Scouts
5 Scouts
5 Scouts

Heavy Support
Thunderfire Cannon

Air Wing
Stormtalon, Typhoon Missile Launcher
Stormtalon, Typhoon Missile Launcher
Stormtalon, Typhoon Missile Launcher

This is taking advantage of basically everything I can in the Iron Hands book without owning the Forgefather or a Leviathan. One big problem we predicted with the current Iron Hands battle pile of multiple Executioners/Leviathans is the lack of mobility would be crippling. Having to hold the middle, play objectives, and dealing with good line of sight blocking terrain can be a huge problem for deathball lists so I'm trying to get away from that. This list does have a firebase with 3 character dreads supported by the usual cast of Chapter Master, Target Priority LT, and the Ironstone bearing Techmarine. The Chaplain takes the Benediction of Fury as the bonus relic because he is probably the most expendable of the four characters as long as there isn't Eldar air or Chaos Smite spam so he can go be a creditable counter charger. In front of the firebase I have 3 Invictors pushing the middle and has some great mobile shooting from the 3 Stormtalons which turn out to be pretty awesome in Iron Hands with their heavy weapons that ignore movement penalties, reroll 1s,  and get the extra -1 AP, hit non fliers on 2s, and just for some extra sauce, reroll a hit and a wound from Master Artisans. Seems good. 
My predicted setup is to have the Scouts all over the place to screen out the character dreads, the Invictors threatening the middle and the Stormtalons in a ball around the Techmarine to give them the best chance of survival if I wind up going second. Once the planes are moving the tech marine hoofs it over to the dreads. For ITC secondaries I probably can grab Recon reasonably well with the scouts and planes, and can handle the usual killing secondaries with all the shooting. As I write this I am worried about the secondaries I give up: BGH is obvious, but so is Headhunter. Maybe all character dreads all the time is not the way to go since I would have 8 characters to give up. I'll ponder this dear reader. Maybe I'll have a different list by the time Saturday rolls around.
Update! With the new FAQ I did change up the list: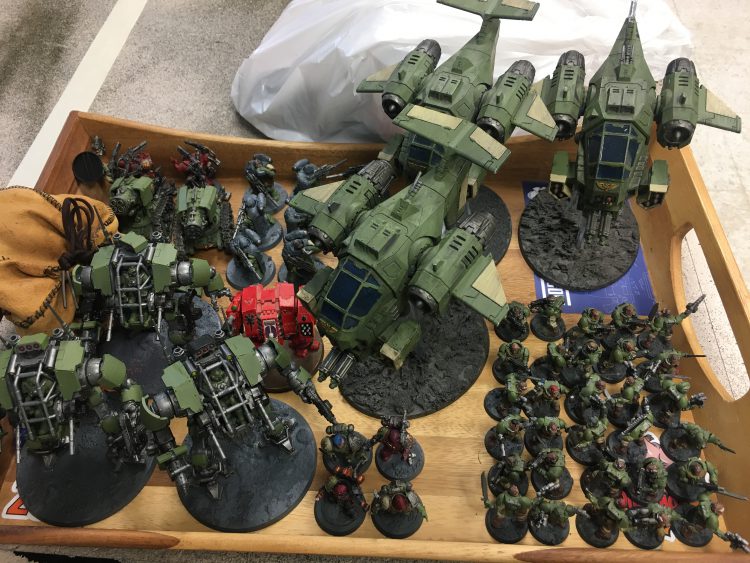 Scale creep is real guys.
Iron Hogs - Click to Expand

Warhogs: Master Artisans, Stealthy, Iron Hands Successor

Battalion
HQ
Captain, Chapter Master, Stormbolter
Lieutenant, The Tempered Helm

Troops
5 Scouts, Pistol, Chainsword
5 Scouts, Pistol, Chainsword
5 Scouts, Pistol, Chainsword

Elites
Invictor Warsuit, Incendium Cannon
Invictor Warsuit, Incendium Cannon
Invictor Warsuit, Incendium Cannon
Dreadnaught, Twin Lascannon, Missile Launcher, March of the Ancients, Hero of the Chapter: Merciless Logic

Heavy Support
Thunderfire Cannon
Thunderfire Cannon

Battalion
HQ
Chaplain, Benediction of Fury
Techmarine, Warlord, Target Protocols

Troops
5 Scouts, Bolters, Chainsword on Sargent
5 Scouts, Bolters, Chainsword on Sargen
5 Scouts, Bolters, Chainsword on Sargen

Heavy Support
Eliminator Squad
Eliminator Squad
Eliminator Squad


Air Wing
Stormtalon, Typhoon
Stormtalon, Skyhammer
Stormtalon, Skyhammer

This cuts the typhoons off of two Stormtalons, the Ironstone, and the dreads and picks up a single character Dreadnaught with maximum anti tank shooting: twin lascannon and a missile launcher with the warlord trait that on 6s generate another attack, another Thunderfire, and a full suite of Eliminators. The game plan is basically the same: fill up the board with Scouts and Eliminators, have the Warsuits and planes push forward, while the HQs support whatever they can get their auras on.  It feels a little light on anti tank, and has a little less "MAXIMUM ARMOR" then I want but I also want to put a full set of Eliminators through their paces and see how it feels.
Round 1: Nurgle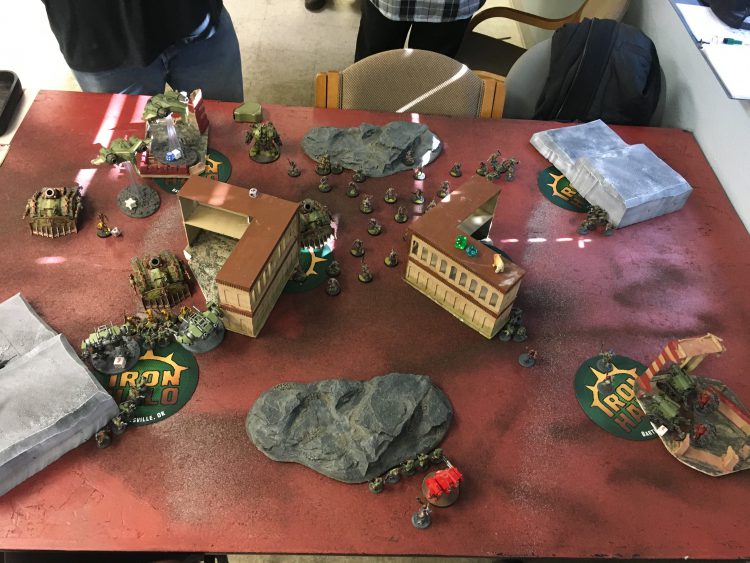 Turn 2. I'm bad at remembering to take photos OK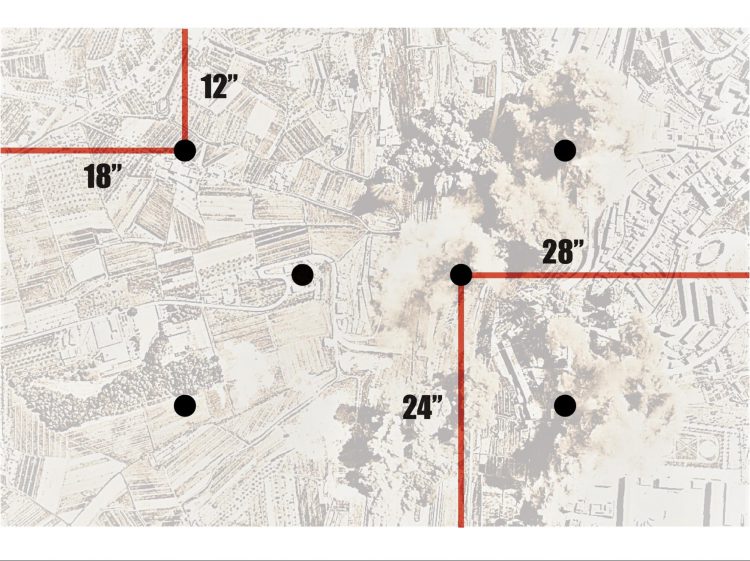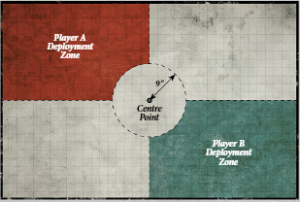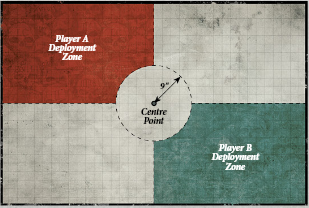 Opponent - Click to Expand

Gerald

Daemons Battalion
HQs
Poxbringer
Poxbringer
Sloppity Bilepiper
Troops
30 Plaguebearers, Banner, musician
30 Plaguebearers, Banner, musician
Nurglings

Deathguard Spearhead
HQ
Demon Prince, Wings, Warlord
Elites:
Foul Blightspawn
Heavy Support
Leviathan Dread, 2x Butchers
Leviathan Dread, 2x Butchers
Plagueburst Crawler
Plagueburst Crawler
Plagueburst Crawler
Pregame Decisions:
"Nurgle" is the name, "grindy carpet of bodies protecting some real shooting" is his game. Despite Plagueburst Crawlers being a trap to shoot at, the Leviathans are a big deal and I bet I'll get at least one Crawler throughout the game so Big Game Hunter was a pick. Headhunter also seemed like a thing to choose on my path to victory: Either I pick up some characters or this is going to be a hard game. Also I have planes and 9 eliminators so getting kills on relatively weak HQs should be fine. Finally because of the Search and Destroy deployment, having a bunch of planes and infiltrators Recon seemed like an easy pick. He chose BGH, Recon, and Engineers with one Paguebearer squad and Nurglings.
The Game
He setup 2 Plagueburst Crawlers on his W line, another on the NE. Both Leviathans setup to shoot through L blocker gaps from the center N, nurglings near the W L blocker on that objective, and the carpet of Plaugebearers filling in the gaps. I setup with my planes, thunderfires, and HQs in the SE corner, some scouts in the NE to grab an objective, two sets of scouts in the S behind a small hill and my character dread behind them, and all the eliminators and remaining scouts on behind the SW hill. The invictors were also in the SE, using the L blocker to hide from the levithans. He won the roll off to go first and chose to do so. I did not seize.
His turn one was advancing up his plaugebearers to create space and shooting the one invictor who wasn't all the way tucked in behind the L blocker.  He did some minor damage with the plagueburst crawlers to a plane but otherwise my material was intact. On my turn I give the Typhoon Talon +1 wound with the Chaplain, committed hard on the SW flank, the eliminators got up on their hill, the invctors shifted to crash into the W plague bearers, the scouts in the NE just toe'd in the objective up there and two of my planes blasted forward into his lines to do some character assassination (but not his Blightspawn, because he was correctly protected) while my injured plane moved along the S line to my techmarine baby sitting my dread.  My first activation was my plucky 120 point character dread, who proc'd an extra lascannon shot and krak missile, shot into a Levithan who failed his saves, took 20+ damage and died. Variance, maaan. The rest of my shooting I split up and only killed a single Poxbringer but put wounds on the demon prince and skriver, and whittled down the engineering plaguebearers, totally forgetting about working on the nurglings that I couldn't see. Finally I used Tremor Shells on the E plaugebearers to keep them contained. The invictors crashed into the W plaguebearers and did some damage, forcing him to auto pass morale.
His turn two he backs out of combat with the invictors and lines up a bunch of shooting on the invictors and planes in his lines. The Tremor'd plaguebearers moved a mighty 5 after advancing further to grab recon…although in hindsight I don't know if he actually had another unit in the NE corner since his levithan moved back NW to hide from my sniper dread. His characters tried to tuck in as far as they could behind the L blocker to hide from the SW sniper nest. He cast Miasma on the slowed Plaguebearers which I countered with Souls of Iron and a CP reroll. His shooting takes out only one plane mainly due to low rolling with his Blightspawn, and me making a few clutch 6+ saves and puts 11 on one of the invictors. He charges the remaining plane with his demon prince, low rolls, and I make one save to keep my Typhoon plane alive with 1 wound.  My turn two my plane hovers away to shoot the demon prince, my eliminators shift to keep shooting characters,my final plane jumps into his lines, my dread moves to keep fire on his dread, and some scouts shift around in my back line to double cover my NE objective and setup a charge on the full plaguebearer squad to keep them under control. My shooting goes well, killing the other poxbringer, scriver, demon prince, and put 6 or so on the Levithan, and kill two nurgling bases.  The invictors go in and kill the remaining W plaguebearers while my scouts go and trap a single plaguebearer to prevent him from charging and moving at will.
His turn three he collapses back with the crawlers to deal with the planes in his DZ and his plaguebearers have to shuffle in bad ways since I have a lot of "closer models" to force bad movement. He does pick up both planes with all his shooting. My return punch I kill the levithan, disengage from his plaguebearers to bring in a fresh squad to charge them, bolter down a ton of plagues, and actually trap a crawler and tag another in combat with invictors and some scouts.
We play out the rest of the game, He does manage to kill the chaplain and the wounded invictor on turns 4 and 5 respectively  but I am able to continue to bully his plaugeburst crawlers with my dread and eliminators and kill remaining bearers and table him on the bottom of 6.
Final Score: 38-17
Postgame Thoughts:
The plucky dread rules, as does move and shoot -3 AP Eliminators. I told him he should have protected his characters more with the plaguebearers to give him more up time. He also had a couple positioning mistakes with keeping his home objective, allowing me a bonus a couple times because only one model was on it. I feel like I played well overall but should have not split fire when in his back field: just pick up the scriver and poxbringers, and worry about the prince later. Otherwise I felt real good about engaging his plaguebearers and forcing bad movement by keeping them trapped.
Round 2 – Iron Hands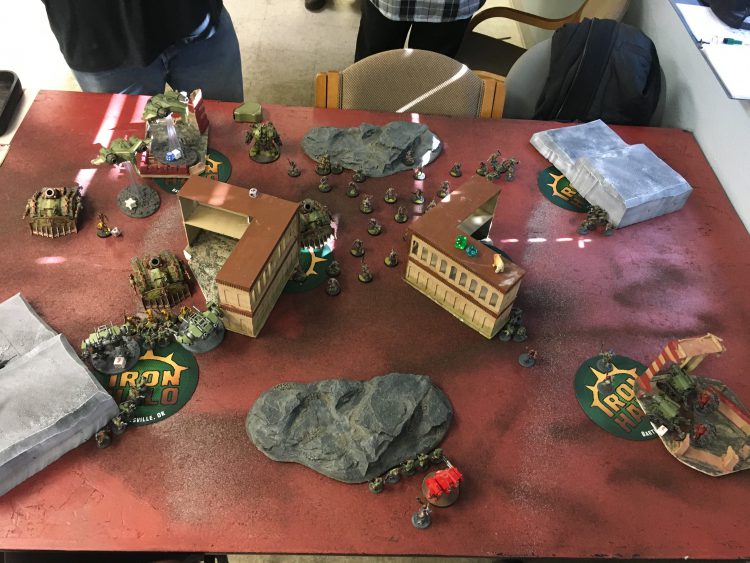 Not the actual photo, I didn't get a picture of the board. Imagine my castle huddling on the left hill.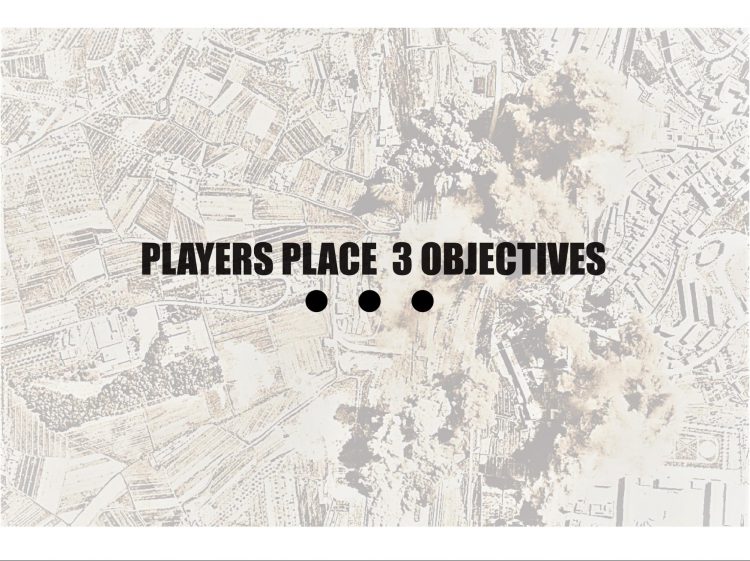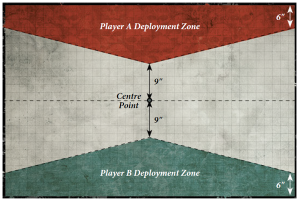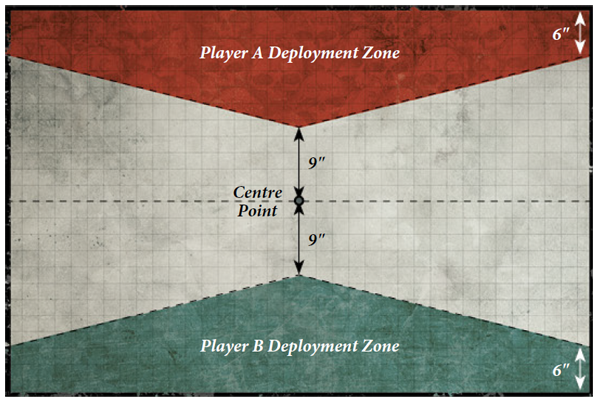 Opponent - Click to Expand

Warhog Mark
Iron Hands Battalion
HQs
Gravis Chapter Master, warlord
Ferros

Troops
Intercessors, Stalkers, GL
Scouts
Scouts

Elites
Redemptor, Onslaught, Rocket Pod
Ven Dread, Missile Launcher, Twin Lascannon

Heavy Support
Eliminator Squad

Flier
Stormhawk Interceptor, Lastalon Typhoon
Stormhawk Interceptor, Lastalon

Iron Hands Spearhead
HQ
Primaris LT

Heavy Support
Repulsor Executioner, Laser Destroyer, Icarus Rocket Pod
Repulsor Executioner, Laser Destroyer, Icarus Rocket Pod
Thunderfire Cannon
Pregame Decisions:
It's Mark! Again! He now has his book, has dropped the gimmick 5 Repulsor list and has picked up some much needed mobility, protected shooting,and indirect fire. I chose BGH, Recon, and Old School. I might drop the warlord point, but I'll probably get Linebreaker on this map with him probably castling wherever his objective goes so I should be able to sneak in the opposite corner. He chose BGH, Old School, and Headhunter. He "won" the roll off and I chose to go first.
The Game
I set up very broadly: Eliminators in both L blockers on the second floors, scouts grabbing every bit of cover near the center with some extra in the SE ruin along with a third set of eliminators and a plane. I put the Invictors out pretty broadly, two in the center, the third out right in front of the NE hill. The rest of my battlepile was in the SW corner hill. He piled everything into the NE corner on his objective, except his eliminators that were in the NE corner ruin ad his scouts that were just on the line to slow down the invictors. He tried to seize and failed.
Now dear reader I'm going to walk through why me going first was a mistake. Starting with something that hasn't really come up until this game: In our events we play the two center L blockers as infinitely high AND they also block flying units going over them. this was implemented when half the field was knights and they wanted cover from each other. I never really agreed with it but it also never really came up in most of my games, especially since I haven't really played anything that flies. Now that I've put my planes way in a corner I  don't have a path to get to out and start using the assault cannons. I also had a trapped plane in the SE that couldn't be in assault cannon range without getting within 12″ of the majority of his army. I also should have either deployed heavily on the E flank with all the invictors knowing that if he counter deploys he loses his objective OR I could have chosen to go second and completely LOS'd his executioners, put my planes in a great place to counter his planes, and pushed out after. But here we are, broadly deployed, on top of the turn. The invicitors move up into the scout screen, my SE planes moved up to assault cannon down the eliminators, the poor trapped plane moved closer to do some shooting and all the eliminators got out to start shooting. The scouts evaporated, I killed two eliminator bases, Tremor Shell'd the Redemptor, and…put 9 wounds on a Stormhawk. His counter punch was pretty brutal: all three invictors, two talons, and some scouts died and he put 8 on my last talon in the NE.
I back that last plane back into my E infinite L blocker to get healed up by my tech marine baby sitting the character dread and go into damage control mode: All the scouts move to be able to run out and grab recon or hold the center and we all LOS the rest of his shooting. MY shooting goes better: both stormhawks go down, the last eliminator dies, and I put something 6 on one of the executioners. He repairs up the Executioner, gets his intercessors out and lines up charges on my center holding eliminators and deletes every scout he can see and a thunderfire cannon with an executioner. He charges and wraps the eliminators.
My three I shoot out the last plane to kill his thunderfire with the thought of: If I can LOS the rest of his shooting I'll buy time for my las/missile dread to pick up his center executioner and redemptor over the next two turns and hopefully swing this game around. I get some more scouts out of their L blocker to charge the intercessors. The plan does go according to plan: the executioner gets smoked by the dread the thunderfire dies, the scouts go into the intercessors to kill a couple and grab recon, but he punches back and kills a pile of scouts to allow him to get out of combat. He picks up the flier and is able to juuuuust peak around the L blocker corner and gun down some screening scouts. His characters make it into the scouts and eliminators and cleanly deal with them.
My four was pretty abysmal: I have one scout left protecting my dread and my dread fails to kill his dread. His turn he gets that last scout, and his characters make it into my L blocker. I eventually lose my entire command staff, the game ends with down to my character dread fighting Feros in an L bocker.
Final Score: 24-34
Postgame Thoughts:
Ugh. I haven't deployed that bad in a while and then my game plan of "sneakily grab objectives" super doesn't work out when I'm on first. Also my shooting priority on one was so bad. I was putting my planes into his -2 to hit planes instead of just trying to pick up the redemptor or an executioner. I made several mistakes in deployment and on my first turn and Mark certainly punshed them. However going second the invictors would have been severely zoned out. They probably don't belong in a list that isn't Ultramarines.
Round 3 – Genestealer Cults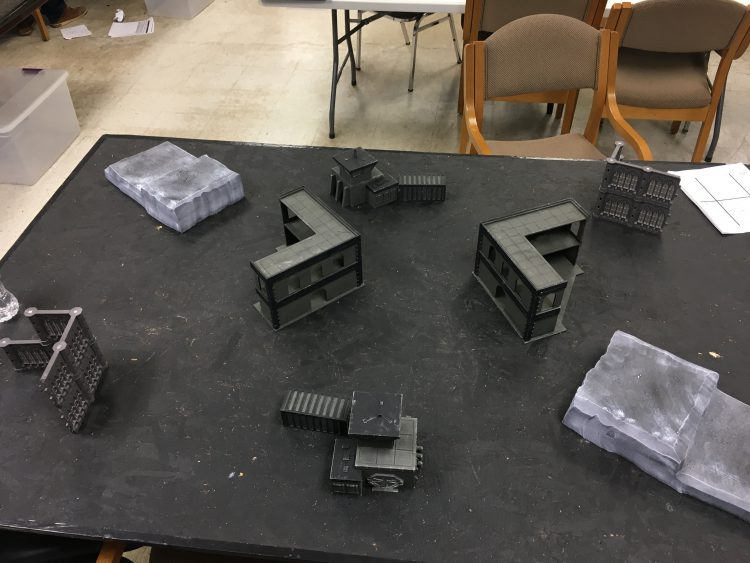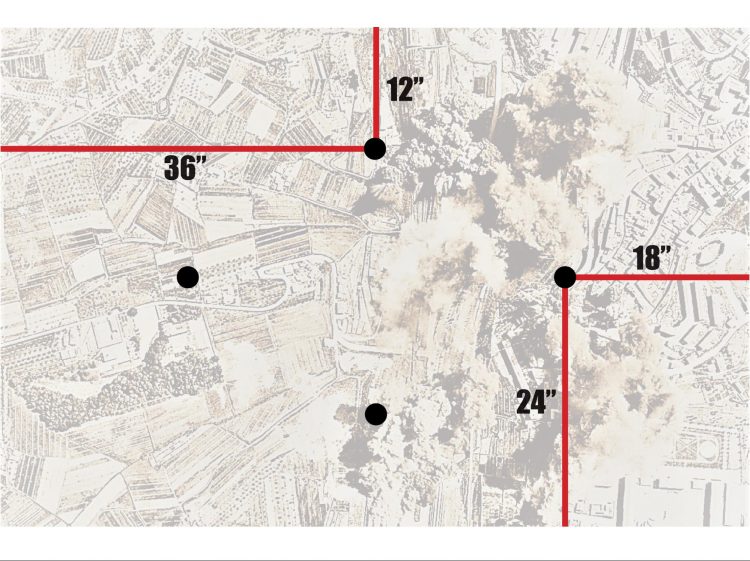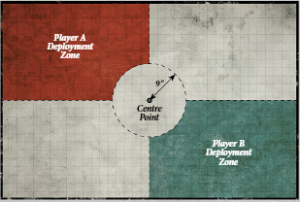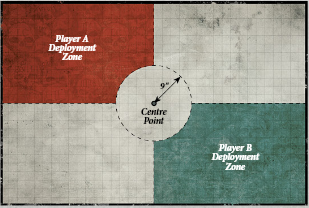 Opponent - Click to Expand

Drew
4AE Battalion
HQ
Abominant
Patriarch

Troops
Brood Bros
Brood Bros
Brood Bros

Elites
10x Abberants, 2x stop sign
0x Abberants, 2x stop sign

Bladed Cog Battalion
HQ
Jackal
Magus

Troops
Neophytes, 2x Mining Laser
Neophytes, 2x Mining Laser
Neophytes, 2x Mining Laser

Elites
Kelermorph

Brood Bros Supreme Command
HQ
Tank Commander, Battlecannon, Plasma Sponsons
Tank Commander, Battlecannon, Plasma Sponsons
Tank Commander, Demolisher, Heavy Bolter Sponsons, Storm Bolter
Pregame Decisions:
OMG ITS PROTO-HOG DREW. Drew played 40k with us in Grand Forks before we were really the Warhogs. He "joined the military" and "had to move away" but he has certainly kept up with the gaming and has this pretty balls hard GSC list. As you may know, I've had some bad experiences before with GSC. But I'm playing marines now, have a list with a lot of tools to deal with some cult nonsense. I choose Reaper (92 models), Recon (I have a million scouts and can own the board before he comes in on Search and Destroy), and Headhunter. He chose BGH, Recon, and Kingslayer on my Warlord: going for the easy 3 points.
The Game
He put most of his army in deep strike with a pile of blips up. Notably he had a tank up on the NE hill, another behind the N building, and the Demolisher guarding the L blocker. I setup my Invictors behind his L blocker, 2 sets of Eliminators and some scouts in mine, and the rest of my scouts behind ruins in the NE/SW with some home objective holders. I won the roll off to go first, took it, and he failed to seize. He put 30 brood bros on the table with a squad of Abberants, his Abominant, and the Patriarch. I move everything up and kill two tanks, most of a squad of brood bros, and dump everything into the Abberants then charge them with an Invictor, killing them down to 1. He goes, blows my SE plane out of the sky and kills the Invictor that made the charge.
My turn two I spread out as far as possible to deny any sort of deep striking on most of the map and dump my shooting into his final tank and troops on the table. After all my shooting is done he doesn't have a model left and is tabled before his reserves come in.
Final Score: 36-4
Postgame Thoughts:
Woof. He should have had some more trash on the table, or put his Abberants further back behind his hill and used the can't be shot unless closest strat. We both underestimated how much killing power I had and unfortunately he got punished.
Wrap Up
After the dust settled the other undefeated table wound up in a tie so I got bumped down to 4th overall. Which is certainly not a bad outcome for a list I tried exactly once. I do like the Invictors but they felt real out of place in this list compared to Ultramarines. The character dread rules. Having a protected rerolling two hits, two wounds, and a damage roll that can proc extra shots is filthy. The planes were also unsurprisingly strong. We talked about them on the way to/from Iron Halo and while I know the interceptors are better I just didn't own one. The Chaplain felt positively fine. I mainly gave him +1 wound and would cast it on a plane, but then never got to really use it after turn one. Him having the relic hammer was nice, but it never really mattered. The Captain and LT felt pretty out of place too. They wound up mainly just babysitting the Thunderfires that didn't really need it since the rest of my firebase was the dread and he was pretty self sufficient with the tech marine buffing him. Eliminators are what's up though. I've been lukewarm on them but three Iron Hands squads are insanity. They frequently put the last couple of wounds on a vehicle and in the Nurgle match ruined his support by the bottom of two. Two Thunderfires feels like an auto include: the utility of Tremor Shells and the consistent firebase was a godsend every game. The more I play marines the more I like the mobile MSU Iron Hands. Moving and shooting without penalty make the fliers significantly better and makes things like MSU missile landspeeders a real option.
That's all for now. I'm getting married and moving house so I'll miss our next local RTT. My next event is the Minnesota Major Renegade Open and I need to hang up the power armor for that and keep pushing for those sweet sweet Admech points. Until next time!