The It Belongs in a Museum update is one of the most extraordinary ventures in the entire history of Administratum. It is built on the fragmented remains of an eventually ruined codebase which is (will have been) enclosed in a vast Git repository and projected forward in your browser to the precise moment of the End of your Memory. This is, many would say, impossible.
But impossible things are achieved every day, and today's update brings you the tools to track them better than ever before. An Administratum v1 army importer, a new History view for your Rosters, and a whole host of other updates and improvements.

Administratum v1 Import
Now that you're here in the new Administratum, do you find yourself pining for that one army that got away, forever trapped in Administratum v1? Lift those spirits, as you can now easily import your old rosters!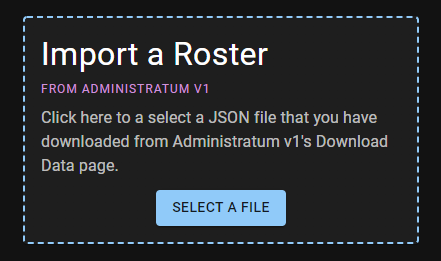 Importing your army couldn't be easier. Simply download your Order of Battle as JSON from Administratum v1's Download Your Forces page. Then head back to the new Administratum, go to the Rosters page, and click the "Import from v1" button. Select your file and Administratum will give you a one sentence preview. If things look good, click Submit and you're all done!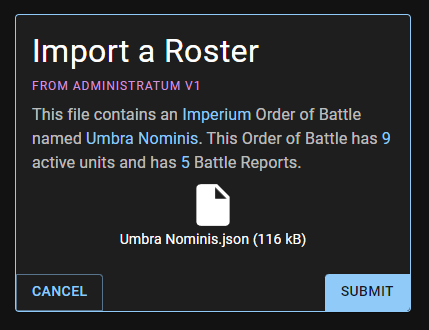 But how are you to double-check each and every Crusade Relic and Relic, Battle and Battle Trait, Battle Honour and Honorific? Look no further than the other big feature of today's update.
Roster History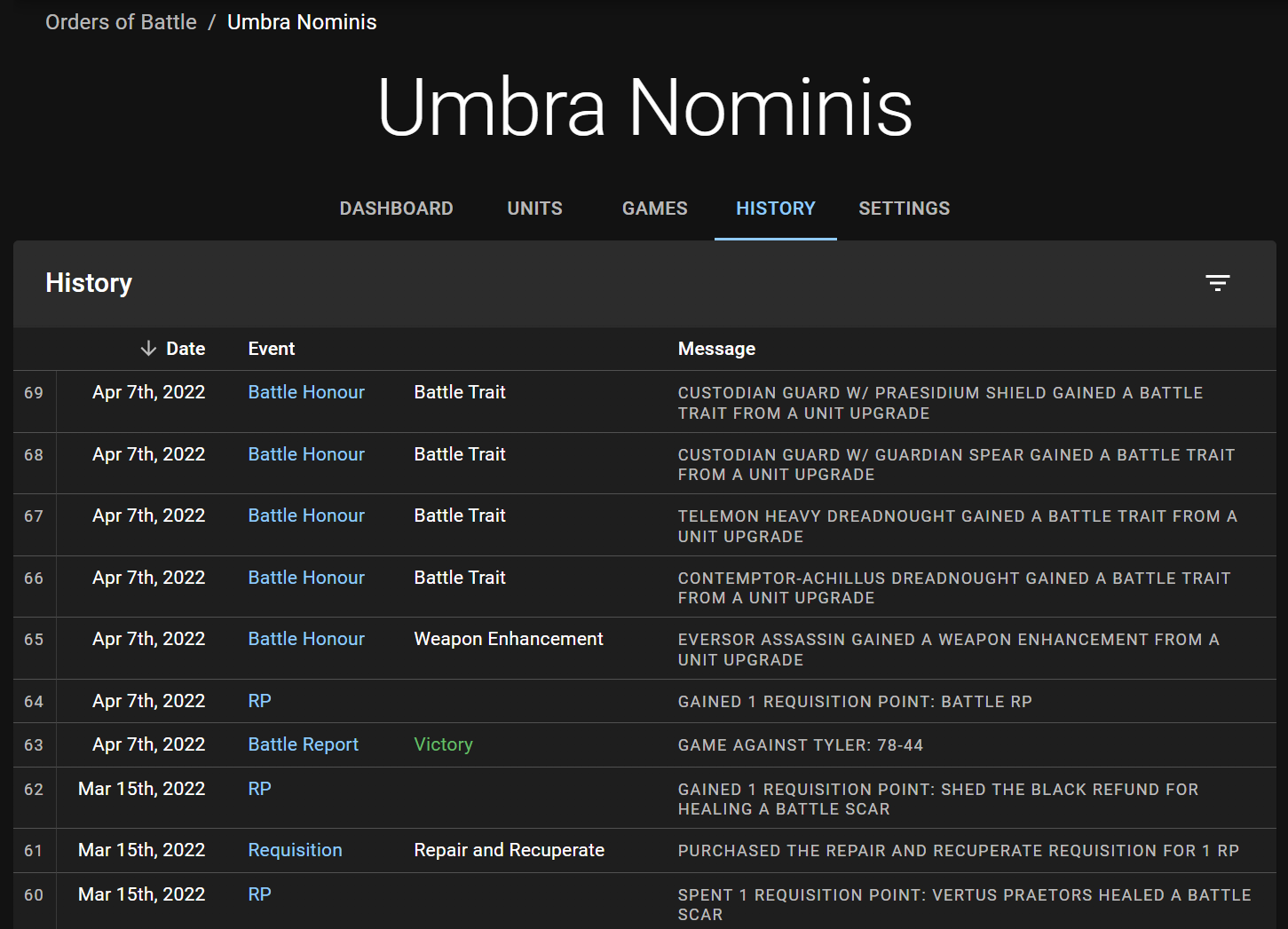 Trying to remember why you spent that Requisition Point two months back? And didn't your opponent's Captain have a Battle Scar last week? No longer do you have to spend sleepless nights racking your brain for answers. Simply check the new History tab!
This screenshot barely scratches the surface of what's tracked in the History tab. It has everything, and it has the receipts! Starting today, all Requisitions, Battle Honours, and Battle Scars will be accompanied by a behind-the-curtains style receipt that the History tab uses to provide an even better chronology of your Order of Battle. All previously purchased Requisitions and the like will still show up, but the new ones will be even better.
Each line of the History also includes a link to the related Order of Battle, Battle Report, or Unit for quick navigation. See an old Warlord Trait you want to check out? The link to the Unit is right there in blue!
So Many Other Things
As is our style, this update is also full to the brim with other changes: performance improvements on every page with tabs, Campaigns and Rosters are now ordered alphabetically instead of their previous weird pseudo-random order, and bug fixes for the "I submitted a Battle Report and it wasn't recorded" bug. Big thanks to our Patrons and everyone who reported that that last one, it was a doozy.
For full details on all the good stuff in the It Belongs in a Museum update, check out these Patch Notes.
Patch Notes
Added

Import
Import – Import units from Administratum v1
Import – Roster details including name, description, Requisition Points, Supply Limit, and more
Import – Games details including score, Points/Power Level, Mission, Victory Bonus, and more
Import – Unit details including name, datasheet name, Points/Power Level, Crusade Points, Wargear, Psychic abilities, Battle Honours, Battle Traits, Battle Scars, Warlord Traits, Relics, and more
Import – Association of which units participated in which games, including XP earned for those games, Marked For Greatness, Out of Action test results, Enemy Units Destroyed, and more
Import – Requisitions purchased including how many RP were spent on each Requisition, all manual RP adjustments, and more
Roster History
Roster History – View the complete chronology of your Roster
Roster History – Roster – Creation date, Requisition Points changes, Supply Limit changes, Requisitions purchased (i.e. Increase Supply Limit), and more
Roster History – Unit – Creation date, removal date, Battle Honours gained, Battle Scars suffered, Battle Scars removed, Requisitions purchased, Warlord Traits gained, Relics gained, Specialist Reinforcements purchased, and more
Roster History – Games – Each game played, including score, result, and opponent
Roster History – Games – The date for each game is pulled from its Played On property
Roster History – Wars of Faith – Full history for all Wars of Faith Requisitions
Battle Sheets – View Battle Sheets for Orders of Battle owned by other people
Campaign List Page – Campaigns are now sorted alphabetically
Battle Report Page – Alert if you are not approved for your Campaign, which previously prevented Battle Reports from being saved
Battle Report Page – Added support for "Rearm and Resupply" Victor Bonus
Roster List Page – Rosters are now sorted alphabetically
Roster Page – Dashboard Tab – Alert if you are not approved for your Campaign, which previously prevented Battle Reports from being saved
Roster Page – Games Tab – Dozens of small changes that will improve usability as well as look and feel, especially on mobile devices

Changed

Battle Report Page – You can no longer attach your Battle Report to a Campaign if your Roster or account has not been approved for that Campaign
Campaign Page – Performance improvements when navigating this page
Histories – Autogenerated history messages previously ended with a "." character. That character has been removed for future history messages, but will remain for existing ones
Roster Page – Performance improvements when navigating this page
Roster Page – Dashboard Tab – Shrunk the font on the Supply Limit widget when the value is over 999 to prevent text wrapping
Unit Page – Performance improvements when navigating this page
Site-wide – Tables have less horizontal whitespace on mobile devices

Fixed

Battle Report Page – The last update introduced a bug where an infinite Gregload loop happened when you clicked Add Battle Report, this was resolved in a hotfix
Join a Campaign – API failed when attempting to join a campaign you are already a member of
Campaign Page – Settings Tab – Campaigns with long Formatted Notes could not change their name and/or descriptions, this was resolved in a hotfix
And once again, big thanks to our Patrons who really do help keep the lights on. And we have to keep the lights on. Always. If they ever go off, then Gregbot's containment field will fail. You wouldn't remember the last time that happened. No one does. There were no survivors.