Be sure to take note about these breathtaking notes, and announce from on high with high-flying design – Administratum's latest update brings you new tools to customize your campaigns, rosters, and units in ways that were never before possible.
Announcements, homebrew rules, trackers, tallies, anything you can think of: this update adds the tools you need to really reach into the bones of your game and jiggle them around. Don't like that analogy? Write your own with Formatted Notes!

Formatted Notes
Formatted Notes harness the power of Markdown – a language nerds made up to write documents to other nerds. But instead of writing useless README'S and tautological documentation, you can use Markdown to create widgets where you have full control of the contents! Just look at a fraction of what's possible. And if you want to try it out right now, hop over to our free interactive resource, Getting Started with Markdown!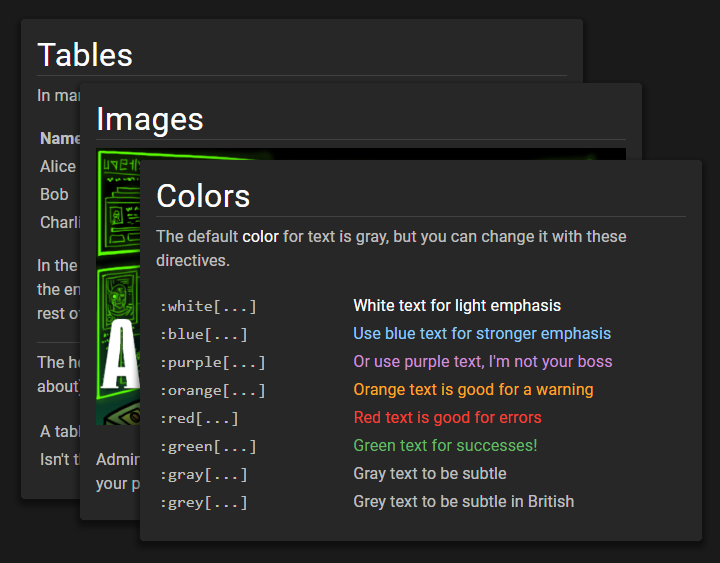 But how does all this work? Let's look at a simple example you might want to use on your next campaign. A homebrew rules widget you can put right on the campaign itself! With this, you can keep everyone up to date with the custom rules for your campaign without relying on sharing documents or (gasp) printouts!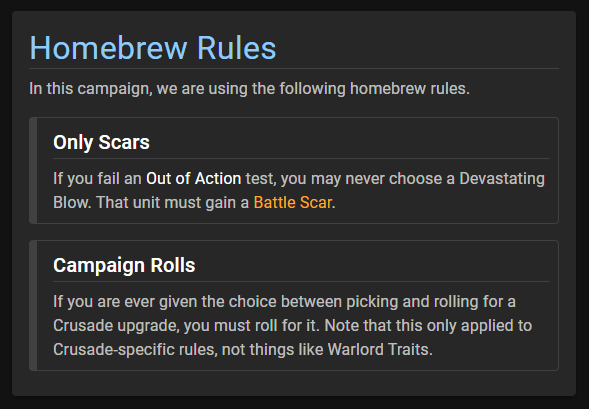 Now this is a pretty great looking Homebrew Rules widget. Why, it must have taken thousands of hours to carve those words out of digital stone. And surely the dye used in coloring the text comes from the most secluded of mountain peaks! Alas no, it's just plain text!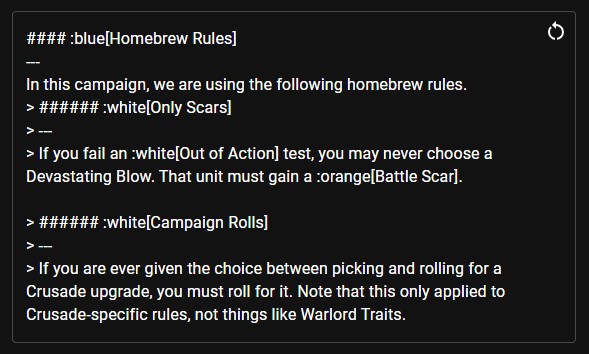 Using the power of computers, Administratum translates the plain text Markdown you write into great looking widgets. There are even templates you can pick from to get started right away, including a template with these exact Homebrew Rules!
Formatted Notes are available right now to all Patrons at the Official Member tier. And if you want to learn everything the language is capable of, check out our Getting Started with Markdown page for interactive examples.
Display Settings
One great thing deserves another, with these Formatted Notes comes configurable Display Settings! Pin Formatted notes to the top of your campaign, roster, or unit dashboard. Change their order and width, including setting different widths for different size devices.
Use these to create announcements, daily schedules, or anything else you need to organize your campaigns and games.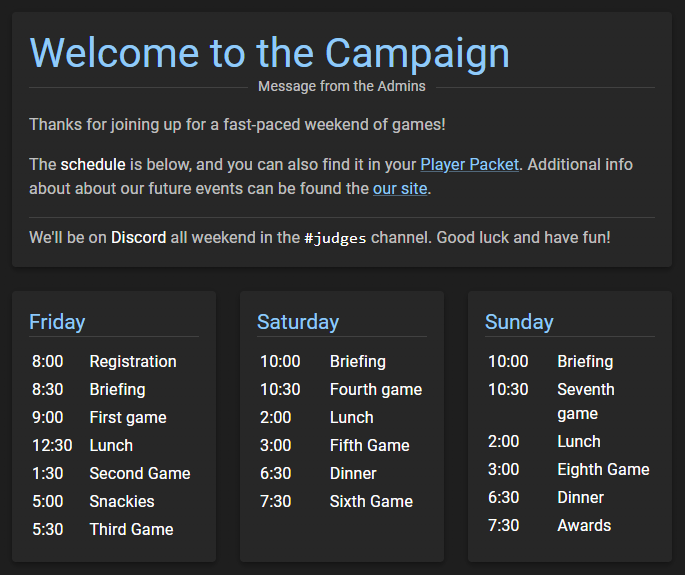 Unit Dashboard Polish
And speaking of dashboard improvements, this update also includes some polish when looking at units. Better UI for displaying properties, and a hint of the upcoming Keyword editor. If you've imported your units from BattleScribe, then you're in luck! There's a chance your unit already has its keywords ready and waiting for you!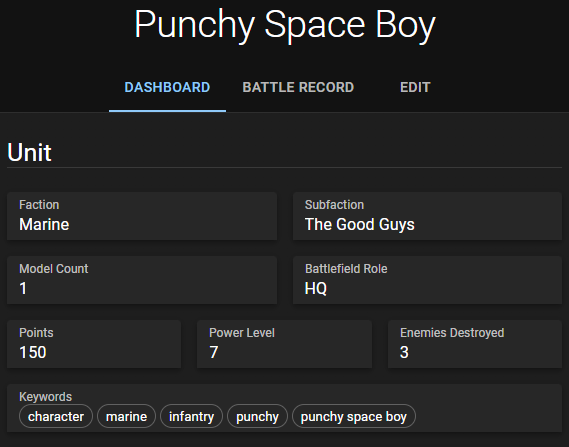 Another big update and I once again have to thank our amazing Patrons for making this possible, y'all are great and we got some great patch notes for ya!
The Patch Notes
Formatted Notes – Fully customizable widgets, perfect for announcements, homebrew, schedules, narrative objectives, missions, and anything else you can think of
Campaign View Page – Dashboard – Add, Edit, and Delete Formatted Notes
Roster View Page – Dashboard – Add, Edit, and Delete Formatted Notes
Unit View Page – Dashboard – Add, Edit, and Delete Formatted Notes
Markdown System – Formatted Notes are the first feature to use this system, but more will be coming!
Markdown System – Getting Started with Markdown interactive documentation page, with comprehensive examples of language features
Formatted Notes – Templates – Four different templates you can pick from when creating a Formatted Note to get started right away
Formatted Note – Display Settings – Pin Formatted Notes to the top of the dashboard
Formatted Note – Display Settings – Adjust the order in which pinned notes are displayed
Formatted Note – Display Settings – Change the width of Formatted Notes – can set up to four different widths to responsively size them for different size devices
Formatted Notes are available to Official Patrons
User Settings – Patreon Tab – Images for each Patreon tier
Massive Campaigns – Warlord Patrons can have campaigns with a truly staggering amount of players. Like just a comical amount
Unit View Page – Dashboard Tab – Added a new display for Keywords. If the unit was imported from BattleScribe then the keywords may be waiting for you. If not, stick around. An updated Keyword editor is coming soon.
Unit View Page – Dashboard Tab – Updated the displays for Faction, Subfaction, Model Count, and all the other fields at the top
Fixed – An infrequent error that, when removing the Wars of Faith roster add-on, would unintentionally reduce a unit's Crusade Points by 1. This reduction can still occur, but only if the unit has the Paragon keyword. In which case, that keyword is removed and their Crusade Points are reduced accordingly
Fixed – Units that are ineligible for experience no longer gain experience from participating in battles. The Battle Report tooltips have been updated to reflect this
That wraps up another update and, as always, we've got more stuff coming soon. If you want to provide direct feedback and influence the way Administratum is built, join us on Discord and let us know!