Over the campfire, the warlord shouts at you , "what is best in life?" Sitting proud on your conquest, you reply "crush your enemies, see them driven before you, to get victory bonuses and watch numbers go up."
And that's what this week's big, big Administratum update is all about friendos.
Victory Bonuses
Prepare for victory like none other! When recording a Battle Report, the old Victor Bonus dropdown has been updated with tons of new entries. And icing on the cake: they've all been fully implemented! Get out there and win some games!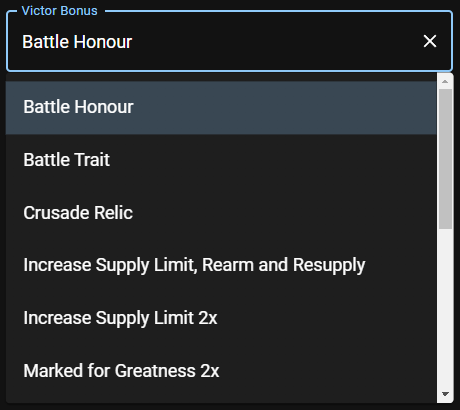 Battle Honours
Many of the victor bonuses grant access to powerful Battle Honours. And they're here and they're ready to be claimed! On each unit, there is now an "Add Upgrade" button which you can use to spend requisition points or give out Battle Honours. If you have an unclaimed battle honour from a game, it'll be automatically selected.
If you don't have an unclaimed battle honour, or are just messing around with a list, feel free to add the Battle Honour without spending any resources. Administratum will let you know that this isn't playing by the rules, but that's what cool kids do anyway. GREGBOT::INSERT_SUNGLASSES_EMOJI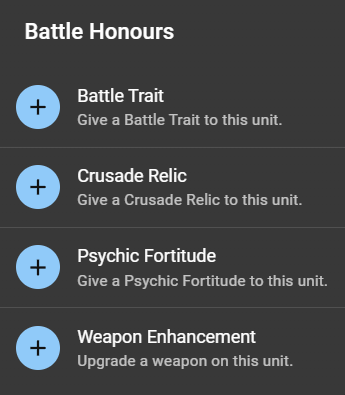 Unclaimed Reward Alerts
But how do you know that you have unclaimed awards waiting to be cracked open for their juicy, delicious reward meat? We've prepared a delicious plate of alerts for you, ready for the snacking! Alerts on your roster, on your units, alerts for battle honours, and for unclaimed requisitions. If you've got a reward waiting for you, you'll have an alert letting you know!

And More
I haven't even mentioned that the Supply Limit widget has been completely redone. Or that I've removed an unnecessary network request which should speed up logging in. There are typo fixes and validation improvements. Good stuff all around and you can find it in the patch notes below.
Bug Fixes/Improvements
Unit Upgrade – The following unit upgrades have been added:

Battle Trait
Crusade Relic
Psychic Fortitude
Weapon Enhancement

Battle Report – The following victor bonuses have been implemented:

Battle Honour
Battle Trait
Crusade Relic
Increase Supply Limit, Rearm and Resupply
Increase Supply Limit 2x
Marked for Greatness 3x
Psychic Fortitude
Relic
Requisition Point
Specialist Reinforcements
Weapon Enhancement

Roster Dashboard – The following alerts have been added:

Unclaimed Battle Honour
Unclaimed Battle Trait
Unclaimed Crusade Relic
Unclaimed Increase Supply Limit
Unclaimed Psychic Fortitude
Unclaimed Specialist Reinforcements
Unclaimed Weapon Enhancement

Unit Dashboard – The following alerts have been added:

Unclaimed Battle Honour
Unclaimed Battle Trait
Unclaimed Crusade Relic
Unclaimed Psychic Fortitude
Unclaimed Weapon Enhancement

Changes

Supply Limit widget updated
Unit 'Requisitions' button renamed to 'Add Upgrade', moved to Upgrades section, and Requisitions menu moved to Upgrades submenu

Bug Fixes

Battle Report validation now checks for 2x and 3x Marked for Greatness victor bonuses
Removed unnecessary network request when logging in or opening Administratum in a new tab
Fixed typo on Warlord Trait create dialog when an unclaimed Warlord Trait is available on the roster
Fixed typo on Relic create dialog when an unclaimed Relic is available on the roster
Fixed typo on Battle Report victor bonus – 'Pyschic' isn't a word
Games should no longer be able to be submitted twice
As always, thanks to our awesome Patreons and thanks to their constant flood of "How do I claim Battle Honours" questions. This week's update is for all of you. It's also for me, because it bugged me to no end that I couldn't claim Battle Honours. It's an update for everyone. The people's update. GREGBOT::INSERT_COMMUNISM
So When's the Public Beta?
If you're reading these and wondering when we're going to be opening up Administratum to the public well, the answer is: Soon. We're currently planning to release the public beta in the first week of May, which will open up rosters to everyone, with added features and tools to Patrons. Stay tuned for updates there!
Edit: The future is now! Click here: http://administratum.net
Have any questions or feedback? Drop us a note in the comments below or email us at contact@goonhammer.com.