We announced Administratum 2.0 last week and since then we've seen a lot of positive feedback around taking over the app. We're still working on our first public beta right now, but we've been previewing the new app to our Patrons and working behind the scenes to build out new features that weren't even part of the old Administratum. In case you're interested in following along with our progress, here are some changes we've made in the past week: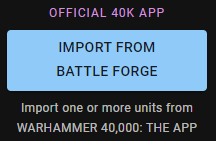 Import Units from Warhammer 40,000: The App
We've found that players often start building crusade rosters by building an army list, or by using their favorite army builder tools to build their initial rosters, so rather than making you click through the app interface to build a roster from scratch (though you can still do that), we've added support for popular army builders. This week we added support for lists built in the official Warhammer 40,000 Battle Forge app.
Have your favorite army ready to go in Warhammer 40,000: The App? You can now import it into your roster with only a couple clicks. Inside your roster, click "New Unit", select 'Import from Battle Forge', and follow some simple on-screen instructions. If something doesn't work, don't blame me. Weekend-Pendulin wrote that code, and who knows what he was up to. Though you can probably reach him on Discord if something goes wrong with the import.
Unit Requisition Improvements
We added the Psychic Meditations requisition, made Psychic Powers only visible for Psyker units, and generally improved the UI for a number of requisitions. Better previews on Repair and Recuperate, cleaner text boxes for Fresh Recruits. Small stuff, but they add up and are setting the stage for Warlord Trait and Relic requisitions, which are coming soon.
Bug Fixes
Thanks to everyone for poking the site over the weekend and reporting issues. With your help, we were able to squish a lot of bugs and improve usability.
Next Week: More features and possibly campaigns
That does it for this week but we'll be working on more for next week, including getting the new Campaign features and tools ready and available for use.
If you're a patron, you'll see special invite text below with a link to the preview beta. Otherwise, sit tight – we're hard at work right now on adding the finishing touches and figuring out how we can support other games and systems, so hold on for that full announcement in a few weeks!