This week Games Workshop decided to drop – rather unceremoniously – the Christmas FAQ for Age of Sigmar. The new FAQ comes with a few rule updates and point changes for some of the game's older armies in response to some months-long issues, particularly for armies that have sat around for a while without receiving a new codex. In this article I'm going to go through each of the armies that received updates and offer my take on how these changes this might affect them.
Core Rules
The core rules remained relatively unchanged, mostly receiving rules clarifications. If you're using the Realm of Battle Ghyran, both players get access to a spell called Shield of Thorns, which deals d3 mortal wounds to all enemy units within 3″ of the enchanted unit at the end of the combat phase. The rule clarification in the new FAQ states that Shield of Thorns can only be cast on the same unit once per turn. This rarely came up since under normal circumstances you can't cast spells twice anyway but good for fringe cases.
Most likely written in response to Cities of Sigmar, two rule clarifications stick out: First, Battleline behemoths no longer count toward your limit on the number of Behemoths, which is useful for armies like Anvilgard which can take dragons as Battleline. Second, a rules clarification states that artifacts never apply to mounts, which has always been assumed but it's nice to have clarification on it.
The biggest change here is on contradictory buffs/debuffs. A long source of confusion in AoS (and also 40k) is the "always fight first/last" abilities and how they interact. The FAQ clarifies that these rules overwrite each other. Whichever one was applied last is the one you go with, which is much more clear. Numerical bonuses stack as they did (So a -1 to hit and a +1 to hit just negate each other).
Faction Changes
Beasts of Chaos
Minor rules change here: Like many books, named characters who already belong to a subfaction can be added to other faction lists but do not gain their bonuses. This rule exists pretty much because the Warhammer Underworlds warband already belongs to the Allherd. Since they didn't exist at the time of the book's publication, this brings it back up to code, and this errata repeats itself through a lot of the early 2.0 books that didn't have warbands at the time. Some point drops on less-used models, such as the Cygor, Ghorgon, Doombull, and Bullgors might help with lack of variety in lists.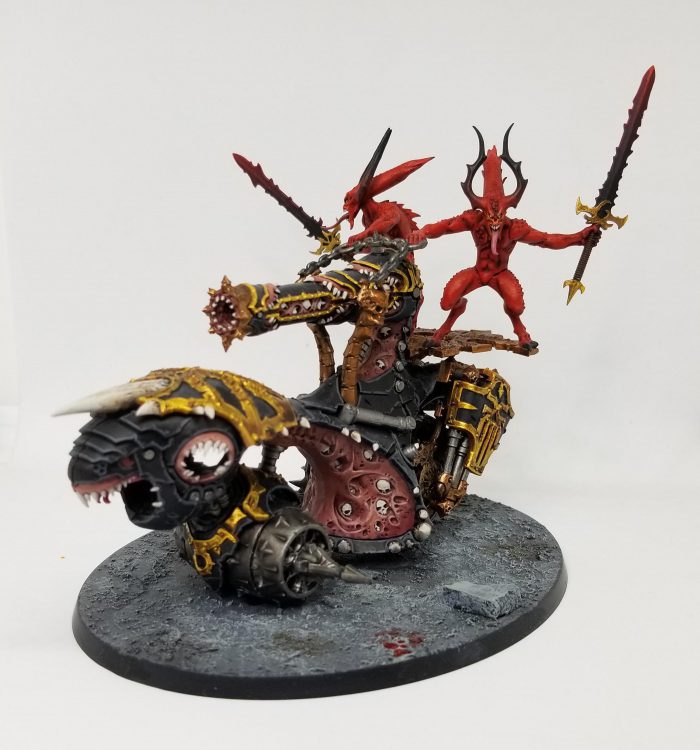 Blades of Khorne
Very small rules clarification: The Command Ability for Reapers of Vengeance specifies a Reapers of Vengeance Daemon can use the ability and not just any Daemon, in case you attempt to cross-pollinate. Bloodcrushers and Mighty Skullcrushers got a small price drop to help make them a more justifiable battleline choice in certain lists.
Daughters of Khaine
Just some minor point drops for the Avatar of Khaine and Bloodstalkers.
Flesh-Eater Courts
Similar to Beasts of Chaos, you now can use the Warhammer Underworlds warband freely. Otherwise the only point change is a 30-point drop to Crypt Horrors, which is surprising – I fully expected some price hikes. Given that Flesh Eater Courts' strength tends to come from summoning, it may have been seen as an unnecessary change.
Fyreslayers
Some points changes around the battlelines here. Hearthguard Berzerkers, the most common Battleline kept their 120 pts-for-5 cost but are now capped at a max unit size of 20 instead of 30. This makes it harder to buff up a large squad and makes the buffs less efficient. In exchange, Vulkite Berzkers got a 20-point drop per 5 models, hopefully making them a bit more appealing.
Gloomspite Gitz
Some point drops to Spider Behemoths. These models didn't really shine in the Gloomspite Gitz so this might make options beyond a git swarms a little more viable. No rule changes.
Hedonites of Slaanesh
The big losers of the update, Hedonites of Slaanesh have been hit hard here. Since the book came out in April, Hedonites have dominated tournaments across the world, frequently taking the top slot if not 2nd or 3rd place. Changes were sorely needed and this update really seemed to hone in some of the things that made the army as good as it was.
First, the Locus of Diversion Battle Trait now works on a 5+ instead of a 4+. This combined with the rule change that "fight first" abilities can override it makes the Locus less of a danger here. Second, Depravity Point requirements to summon new units were raised much higher. This was the strength of the army: a Keeper of Secrets could very easily slaughter a large chunk of the enemy army and by the time it died it would generate enough points to summon yet another Keeper. It encouraged taking as few Daemonettes as possible and focus on multi-wound Heroes (Like the KoS) to generate "free" units. I assume this is the reason that points weren't adjusted, since the strength of the army was in free summoning.
It's going to take some time before we see how these changes will affect the playing field but hopefully we will see some more balancing across the field and allow other armies to show off.
Idoneth Deepkin
Both Eidolons, the Allopex and the Leviadon saw point drops. I'd like to see the Leviadon used more because it's such a wonderful model but it's also really bad. It probably won't change things just because Akhelian Guard spam remains so effective but one can hope.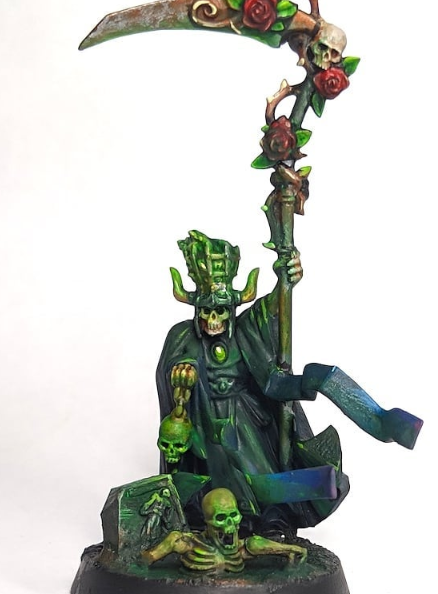 Legions of Nagash
Just a price drop to the other Mortarchs, Mannfred and Neffereta, from 380 to 340. Arkhan received a nice buff with Ossiarch Bonereapers rewriting his warscroll that his comrades have lagged behind. This seems to confirm as well that Arkhan and Nagash in a LoN army are given different point values than in an Ossiarch Bonereapers army.
Maggotkin of Nurgle
2 changes here, but they're big ones: First, plague-ridden weapons now explode on a natural 6 instead of a modified 6, ensuring they can't be -1'd away. Second, all battalions were dropped 60 points. Nurgle Battalions were always suspiciously more expensive than other books' and this brings them back into line into something a little more reasonable.
Nighthaunt
Kurdross and Lady Olynder both got point drops of 20 pts each. Nighthaunts are absolutely bursting with HERO options which makes it a very competitive field. These two simply costed too much compared to cheaper, more effective choices. In line with the changes of a lot of other armies, the Behemoth unit, the Black Coach dropped to 220 after already dropping back in July.
Orruk Wartribes
The Ardfist Battalion ability to resurrect a dead unit on the edge of the field has been changed to only being able to be used once a turn. This was probably for the best given that the Slaanesh Hedonites fiasco has taught them that nearly unlimited re-summoning wrecks the game, even if Orruks weren't pulling in nearly the Win ratio that Slaanesh was. There were no point changes here.
Ossiarch Bonereapers
Very slight errata on Zandtos' Still Their Breath! Command Ability: The warscroll didn't specify the duration so here it specifies that it lasts until the end of the phase, which most likely assumed was the case.
Skaven
The Plague Monks warscroll was rewritten entirely to be less confusing and removes the Plague Scroll. The rats got hammered pretty hard here. Whereas most armies saw point drops, some of the more popular Heroes, the Bombardier, the Grey Seer and the Verminlord Deciever and Warpsmiths saw price hikes. Skaven are one of the best-performing armies right now so this change is not entirely surprising, but it still hurts if you're a Skaven player.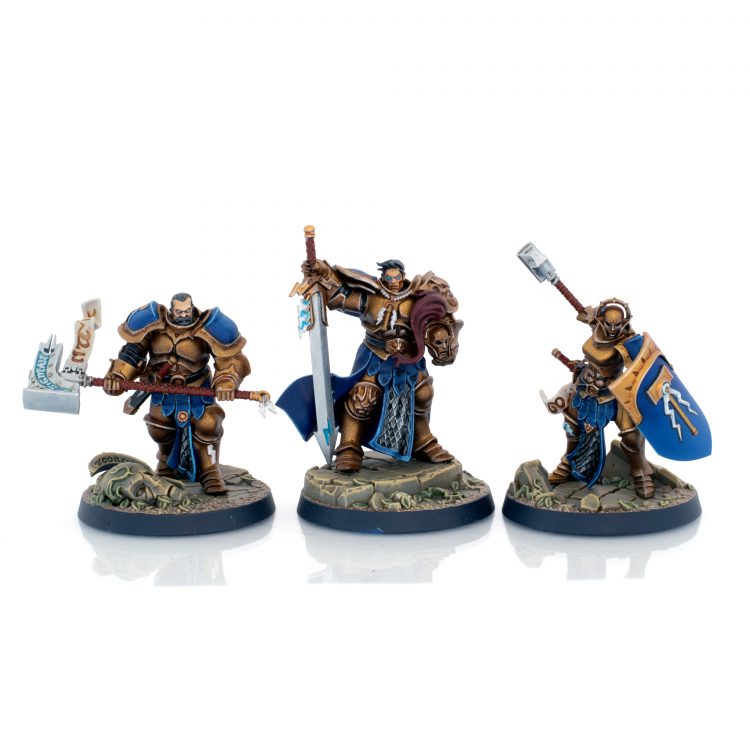 Stormcast Eternals
Rules clarification that Hammers of Anvilguard cannot use their command ability Heroes of Another Age (lets a unit within 9" pile in and attack or shoot in the hero phase) and allow Vanguard-Raptors to benefit from Longshot (Add 6" to their range if they haven't moved). Since the Hero phase comes before Movement this was a legitimately confusing edge case and it's nice that it was cleared up.
As for points, its pretty rote at this point. The Behemoth Leaders Lord Celestant on a Stardrake and Drakesworn Templar went down in points, alongside the less-used Evocators on Dracolines. While their on-foot variant is popular the mounted versions haven't seen much play.
Sylvaneth
One last time letting us know you can use the Warhammer Underworlds warband in any subfaction. Other than that the Treelord Ancient, Spirit of Durthu and Alarielle herself all got their prices slashed, hopefully opening up opportunities to use these.
Closing Thoughts
The changes here are small but will likely have some ripple effects across the game. I noticed a few themes going through the changes:
Knock Slaanesh and Skaven down a peg: These are the only armies that saw serious nerfs and it's not hard to see why. If you look at the competitive scene, Slaanesh is absolutely dominating competive play and has been since the book came out. While the problem isn't quite as far encompassing as the current space marine meta in 40k, it's still a problem. GW tweaked the Hedonites rules to make them less of an endless wave to face.
Meanwhile Skaven were the only army to see point hikes across several units. Skaven tended to follow closely behind Slaanesh in the rankings, so it's not shocking they got the bat too. Removing Slaanesh and Skaven from the equation, AoS meta can be very tumultuous. Old armies can surprise and win tournaments, or at least place above, the top tier armies. Making Slaanesh and Skaven weaker will hopefully even the playing field and open up a lot more unique armies to take the spotlight.
Make Behemoths more viable: In the current game landscape, many Behemoths aren't very good. Sometimes people will take them if they're also a character in order to fill character slots but even that's not a given. They tend to cost a lot of points and don't always put in the same work as a large unit of infantry. Which is a shame, AoS has some really pretty Behemoth models that deserve to see more play. Seemingly in response to this problem, GW lowered the point cost of a lot of Behemoths across most armies that weren't seeing much play, some of which like the Nighthaunt Black Coach are competitive priced with many infantry units. I appreciate GW took a less punitive approach here and lowered the cost of Behemoths rather than raising the price of infantry.
The Missing Suspects: Two books are suspiciously absent here: Kharadron Overlords and Disciples of Tzeentch. It's entirely possible that there just aren't any changes to make to them right now, except the Disciples of Tzeentch book was just removed from the online store… naw, I'm sure it's just a coincidence…