The Second Annual Southern Friend Open ("SFO") was a two-day event held at the Southern Friend Gaming Expo ("SFGE").  SFGE is an annual event filled with board games, card games, D&D, Pathfinder, and all sorts of assorted nerd stuff that I could care less about. The SFO, tied to the SFGE, has been held at the same time as Nashcon last year and was happening at the same time as the American Team Championships in Chattanooga.
As a competitively minded but decidedly below-average player I was pretty excited that many of the best individual players had decided to team up and fight up north. I've taken my Kruleboyz to all of my two-day events and am still searching for that elusive fourth win after going 3-0 in the first day three times. I also viewed this as an opportunity to test the list that I'll be bringing to the Outlaw Open in Dallas this weekend.
SFGE was an interesting place to have an Age of Sigmar tournament because it really catered to families and those who had a strong interest in board games.  Throughout the event there were people who asked questions like "What are these?" and watched grown people roll dice around works of miniature art. I was able to assure a parent that it was OK for her kids to touch Gobsprakk as a group of stormfiends eliminated my general. I'd love for more events to have random members of the public wander through with kids who just want to touch the toys while two grown men attempt to figure out a pile-in move.
While it might seem strange, it was a great feature to have people with a bit of geek in them potentially get exposed to a mini game in its natural environment – a windowless room with a bunch of nerds. As the organizer, Joseph Hawkins of Discover Games in Fayetteville GA, said – "let's get more people to come next year and kick out the D&D people from this room."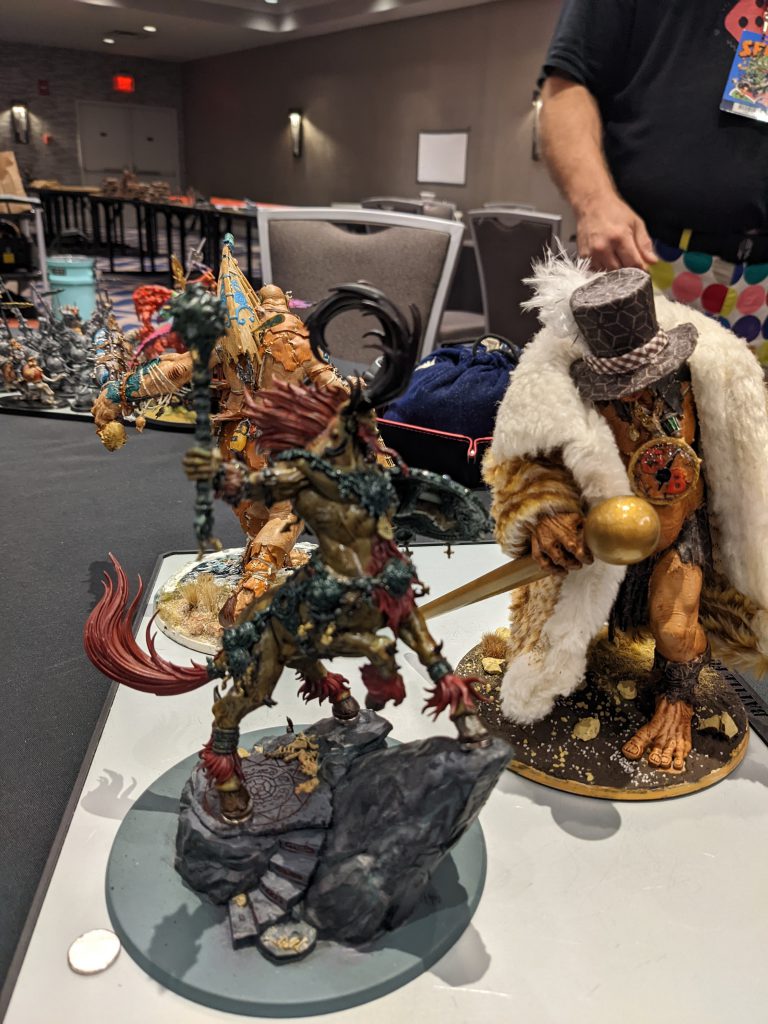 SFO had selected 8 potential missions that we would know about the day of the event. Per Joe he wanted players to face interesting choices in the missions without knowing what specific missions were going to be selected.  Full disclosure – Joe is a friend of mine but might not admit it after witnessing me wiped at SFO.
The List: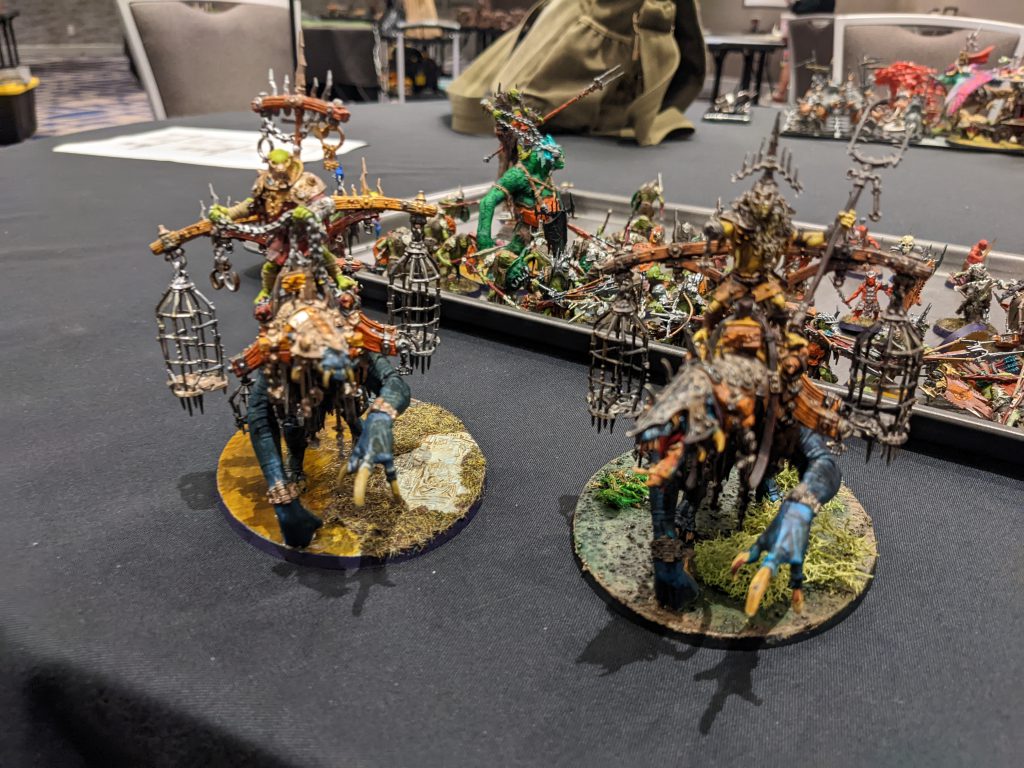 Allegiance: Kruleboyz
– Warclan: Grinnin' Blades
– Grand Strategy: In and Out, Lads
– Triumphs: Inspired
Swampcalla Shaman with Pot-grot (105)*
– Lore of the Swamp: Da Black Pit
Gobsprakk, The Mouth of Mork (280)
Breaka-Boss on Mirebrute Troggoth (180)*
– Mount Trait: Fast 'Un
Snatchaboss on Sludgeraker Beast (315)
– General
– Command Trait: Supa Sneaky
– Artefact: Arcane Tome (Universal Artefact)
– Lore of the Swamp: Sneaky Miasma
Madcap Shaman (80)*
– Universal Spell Lore: Levitate
– Allies
10 x Gutrippaz (180)**
10 x Gutrippaz (180)**
10 x Hobgrot Slittaz (80)*
3 x Man-skewer Boltboyz (120)*
3 x Man-skewer Boltboyz (120)*
3 x Man-skewer Boltboyz (120)*
3 x Man-skewer Boltboyz (120)*
Chronomantic Cogs (40)
Purple Sun of Shyish (70)
*Battle Regiment
**Bounty Hunters
Total: 1990 / 2000
Reinforced Units: 0 / 4
Allies: 80 / 400
Wounds: 124
Drops: 5
During a car ride with a highly ranked ITC player I expressed a fair bit of confidence in how I would play in this event. With all of the heavy hitters at another event I might have been able to get that fourth win with my Kruleboyz. My goals were to:
4-1 or 5-0 by accomplishing more battle tactics
Outplaying my opponents on the missions
Use Gobsprakk and the Purple Sun
While my level of play might be up for debate, the results are NOT in doubt, and I experienced a proper fisting from nearly all of my opponents. I had four great games and enjoyed myself despite going 1-4 and completely failing most of my personal goals.
Game 1 – Mission – The Nidus Paths vs. Stormcast Eternals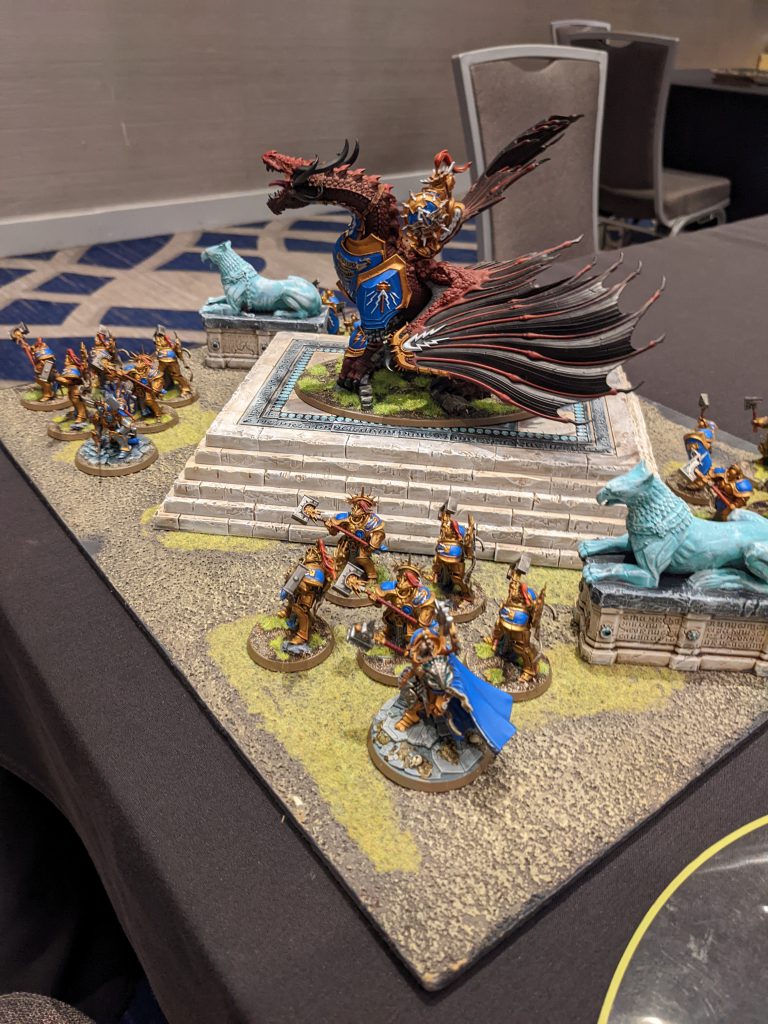 My opponent, a quality player who also won best painted at this event, and I had matched up at the Cherokee Open where he finished 4-1 after losing to me in the first round. I had barely won that game needing a double turn from 2-3 to undo the damage he did with Kragnos and ogors when he doubled me 1-2.
While I have stayed with Kruleboyz he brought a faction of stormcast featuring a Lord-Celestant on Stardrake, Bastian Carthalos, Gardus Steel and a Lord-Relictor with an arcane tome.  3 units of Liberators and 2 units of Retributors rounded out the list. While I had the ability to select turn order I let him go first as he kept all of the key units (Bastian, Stardrake, Lord-Relictor) off the field.  That was a mistake and likely cost me the game as he was able to hold more points the entire game even with some dice rolls in my favor. He was able to drop down, make a lot of charges, and pin me in my deployment zone. Going into turn two I felt EXTREMELY behind because of my blunder but was able to fight my way back and eventually killed the stardrake and Bastian making the final score look closer than it was.
During the course of the game we both kept a unit in the back to screen out a potential movement through the Nidus Paths.  Because of this we never got to use the fun teleport feature and both his Liberators and my boltboyz are perfect units for standing around.  I was able to shoot and my understanding from stormcast players is that Liberators like to stand on points.
We both had some epic successes and failures due to dice in the mortal realms. I miscast with Gobsprakk on my first cast in two consecutive rounds. He had to suffer as a madcap shaman didn't die to full round of attacks from Bastian. I did benefit from killing his Lord Relictor through Gobsprakk unbinds.  We both achieved 5 Battle Tactics and failed our Grand Strategy but his early pinning was too much for me to overcome and I lost 25-17 evening our GT record at 1-1.
Game 2 – Head on Collision vs. Skaven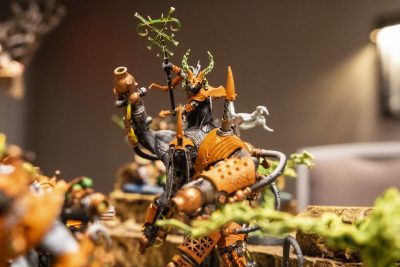 This game was A LOT of fun from a tactical level. I haven't played Skaven since the new book released and my opponent brought a list with 9 stormfiends, Thanquol on Boneripper, Warp Lighting Vortex, two smaller rat heros who cast, and some assorted clanrats in a one-drop.
Head On Collision has a tight deployment but doesn't allow objectives to be captured until after the first battle round.  It also rewards pushing into your opponents territory by giving 2 VP for controlling the center objective and 4 VP for controlling your opponent's home objective. My goal was to screen out his teleport through the gnawholes and have an honest to goodness fight in the middle of the board between my breaka-boss and sluderaker and his stormfiends and Thanquol after heroically sacrificing my madcap and swampcaller shaman to the double unleash hell that Thanquol can generate.
While I was able to do the first objective with my boltboyz close to a gnawhole and a unit of hobgrots (using super sneaky), my opponent mucked it all up by casting warp lighting on a 15 on the first turn. Even Gobsprakk wasn't able to unbind using his 3D6 unbind and it prevented us from meeting in the middle.
I had to move my non-screening boltboyz away from the center to preserve the unit instead of taking shots at his support wizards. My desire was to win a double, reform and push the center objective, and allow my expendable units to absorb the impact of a charge and shooting from Thanquol and the stormfiends. We maintained turn priority and I elected to make the center objective a proving ground as his units of galletian veterans weren't in a position to contest the center. During my turn I was able to toe in a unit of gutrippaz to score 3 points – 2 for holding the center and 1 for gaining control with a unit of galletian vets contesting.
Thanquol, warpstone allowing rerolls to cast and unbind, and a gnawhole near his other casters did an incredible job of neutralizing my casting and allowing him to cast most of the spells he wanted. Eventually I unbound Warp Lighting Vortex and he ran his stormfiends and Thanquol towards the center objective. I was able to push with my forces and my sludgeraker won glory in the mortal realms getting 3 6s and doing 12 mortal wounds on his chain-linked grappling hook.
In the end I wasn't able to capitalize on my luck and my opponent was able to rally 2 of his dead stormfiends to maintain control of the middle point in the final battle round.  I lost 20-19.  We both completed 4 battle tactics and he completed his grand strategy while I failed mine.
Game 3 – Mission – Prize of Gallet vs. Seraphon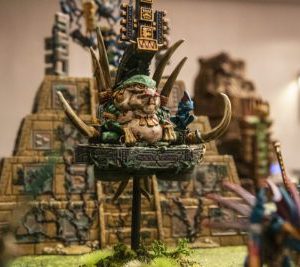 After two good games that both ended in a disappointing loss, I was hoping to get paired into an army that would let me find my footing, play my game, and finish early so I could get dinner with the family.  This was the game where the properness of my fisting truly sunk in. My opponent had gone 1-1 in his first missions and I was paired into him as I had achieved nearly all of my battle tactics.
My opponent had a very interesting Koatl's Claw list that had a Slann Starmaster, multiple Saurus Guard in expert conquerors and 3 units of Saurus Knights and a Bastiladon with Solar Engine. He also had two carnosaurs as well.
Because of the way Prize of Gallet is structured I wanted to choose what objectives were activated.  I felt that his Saurus Knights and carnosuars would benefit from having a chargeable screen and thanks to the changes to Grinnin' Blades I didn't need to worry about his bastiladon until it got in range of my boltboys. Using supa' sneaky I put my breaker-boss in unbind range of his slann but also near a flank to hopefully slow or stop his advance. Despite a strong redeploy to attempt to avoid a charge I lost him without being able to do damage.
During the mission I didn't win priority and was able to select the active point to try to stay even in points.  I was able to slowly build up cogs and finally got out the purple sun in hopes of turning around the game. I felt like I would be able to eliminate most of his chaff and be able hold at least three points for the rest of the game. However, in his turn disaster struck when the slann was able to eliminate both my endless spells. I had been saving Gobsprakk's 3D6 unbind for a moment like this and rolled well under his 9 failing to save my cogs, the purple sun, and my potential advantage.  While the game was ultimately close he was able to win priority on turn 5, eliminate all but one of my units, and win 21-17.  I failed to get my grand strategy and he was able to earn his.  We both earned 4 battle tactics.
Game 4 – Mission – In the Presence of Idols vs. Slaves to Darkness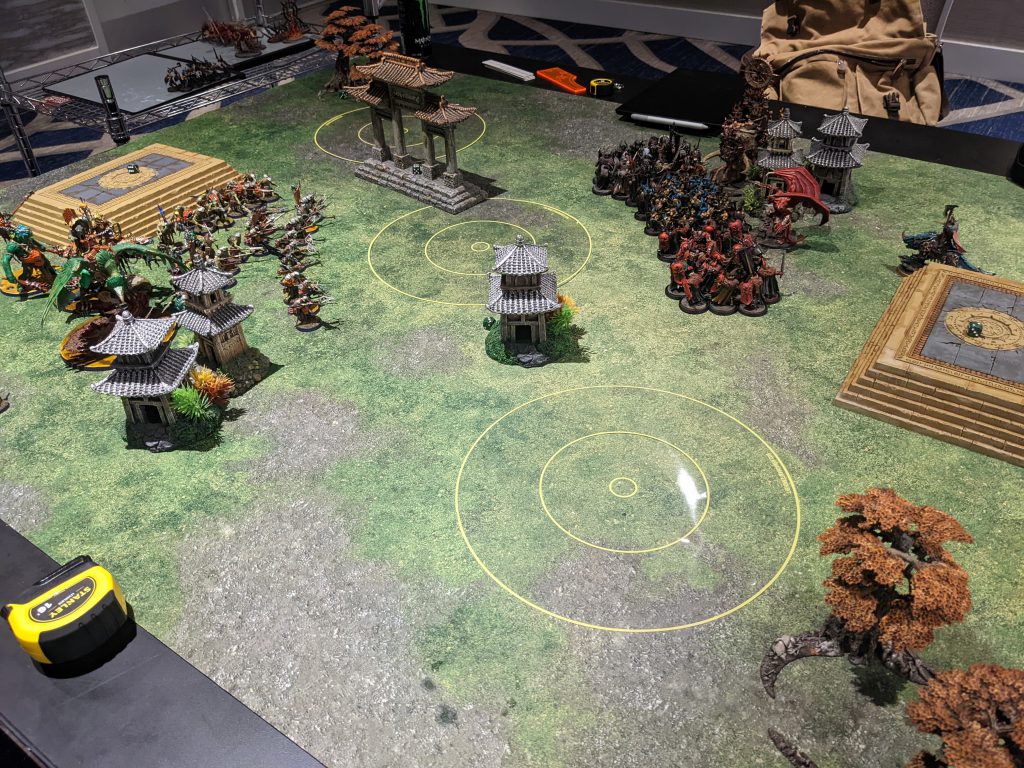 I've gone 3-0 in two-day events a few times. I had never gone 0-3 but I was looking forward to playing the games and hopefully finishing a respectable 2-3. My first opponent of the day had a Khorne themed Slaves to Darkness list with everyone's favorite demon prince of Khorne and lots of warriors and ravagers.
In the Presence of Idols is a bloodbath where 3 units are selected and give extra VP and reduce the number of models that run from battleshock. I selected Gobsprakk, my sludgeraker, and my breaker-boss as my idols. He selected his demon prince of Khorne and both units of chaos warriors.
I think we just both forgot about the battleshock thing.  Anyone who played First Blood in the prior season of Age of Sigmar remembers forgetting to select the vantage point and just shrugging at the end of a game.
I used supa sneaky to put my breakaboss in position to charge a unit of chaos warriors.  Between the shooting of my boltboys and my breakaboss I crippled the unit but failed to cast nasty hex or choking mist and they survived until the end of the game. My opponent was able to get an extra VP and eliminate my breakaboss and doubled me 1-2 pushing deep into my territory. I was extremely lucky that my boltboys, a unit he targeted as his battle tactic, were able to survive his ravagers denying him a battle tactic.
I had been able to score 5 points in the first turn and control all three points.  I also had a strong round of combat in my second turn. Unlike my last two games we both wanted to get into combat and both our bounty hunters units were attacking each other. This led to a few quick and bloody fights in my territory.  Naturally my gutrippas and boltboys took more losses from his warriors but my two monsters were able to eliminate the ravagers and free up the center of the board to retake an objective and keep points close.
I was well positioned for a potential turn 3 double and had the purple sun out to chase around his demon prince. However, he won priority and was in a strong position to attack Gobsprakk. I was able to redeploy him forcing a difficult charge that would allow my sluderaker to strike at his units. He choose instead to eliminate all of my support units leaving me with a lone unit of hobgrots, the purple sun, Gobsprakk, and the Sludgeraker.
Turns 4 and five were mostly spent mopping up wounded heros and fighting over points.  I was able to win priority into 5 and secure a victory through cowardly avoiding a fight.  All told neither of us earned our grand strategy and I scored 5 battle tactics to his 3. A win for the Kruleboyz 25-21.
Round 5 – Mission – Silksteel Nests vs. Cities of Sigmar
Coming off a victory and lunch I was hoping to have a strong finish to my day and leave with a respectable 2-3 finish.  All of my games had been close and I was able to say that I had given it as much as I had gotten over the first four rounds.
This match, against a cities list with an Incarnate of Ghur, Phoenix Guard, and a Frost Heart Phoenix, was not close. In addition he had some crossbowman and some other units that he didn't really need to finish of my tournament. This was a proper close-out to my proper fisting and doesn't need much telling except to say my opponent was a great guy, we joked about how we were tired, and that his local crew likes to say they go Georgia Warband hunting when they come to Atlanta, and he's able to tell them all that he gave me a thorough curb stomp.
He outdropped me and was positioned along all four objectives. I used supa sneaky to position some hobgrots between his phoenix and incarnate and the important parts of my army. I cringed when he gave me first turn because I knew I didn't want to advance closer to his shooting and his high movement threats didn't need any help getting into combat.  I have to admit I was feeling pretty good when I was able to cast choking mist, summon boggy mist, and buff up a unit of gutrippas with an elixir. My hobgrots did exactly what I needed and forced him around a corner and into combat.
I can save you 500 words and let you know that he doubled me, got all his units into combat, and wrecked me.  In my turn I failed a battle tactic and when he won the priority into 3 we called it and talked through the game. I really wish I could make what he did sound more exciting and better but sometimes you get the incarnate, and sometimes the incarnate gets you. I got 3 battle tactics while he got 5 and I lost 20-30. I failed my grand strategy and he achieved his.
I want to be clear that I had a great game getting my dick kicked in but there wasn't any special art or tactics to this game, just a good stomping that left me with a bruised ego.
Final Thoughts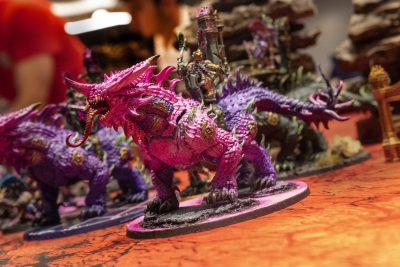 SFGE was a great environment to have an event and as a father it was neat to see parents with kids getting exposed to miniature gaming.  The SFO had a great number of first-time event players and every single participate finished the event and got at least one win.
The change to Grinnin' Blades really changes the way you can deploy and target throughout the game.  I was able to ignore a group of crossbowman and a bastilidon until round 3 just by keeping my distance. Each round didn't feel like a race to do damage before my key buff pieces were eliminated. Even the squishy chicken Gobsprakk lived in four of my games and only died because I choose to put him into an area where he could be targeted, not because my opponent could choose to target him round 1.  My Swampcalla shaman was never the target of a spell, shooting attack, or debuff and was available at the end of games to charge into an unleash hell so my heavy hitters didn't have to take the hit.
I had a great time despite going 1-4 and having my worst 2-day event outcome . I had three extremely close games, one game that I lost when I made the wrong choice in giving away first turn (in addition to my opponents smart play), and a final game that really drove home how bad a game of Age of Sigmar can go. I'd love to rerack any of my games to see what different choices each of us would make while playing.
One area that I wish I could change before this weekend is my grand strategy. Deployments are too close together to ensure that I'll have a good number of units alive at the end of games and I have to assume I start each game down 3 points.
I'm happy to be going to another event this weekend and bringing my games played total up to 13 in this edition. I've already thought up another list that I want to test that takes better advantage of the way the I think missions play.  While Goonhammer's own Mike 'Ellarr' Chadderton is encouraging wellness checks on Kruleboyz players I'm still painting and praticing with my collection.  Gorkamorka gives his toughest fights to his strongest soldiers (hence Hobgrots battleline) and it's going to be hard to do worse than a 32% winrate we've had the last few months- right?
Have any questions or feedback? Drop us a note in the comments below or email us at contact@goonhammer.com.