G'day Goonhammer readers! Clash of Kings UK was the largest Kings of War tournament in the history of the game, boasting almost 150 attendees. We were lucky enough to put forward some pertinent questions to Piotr Nowak, who went undefeated with a well-balanced Halflings army. Find out about this massive tournament and the general that won it all.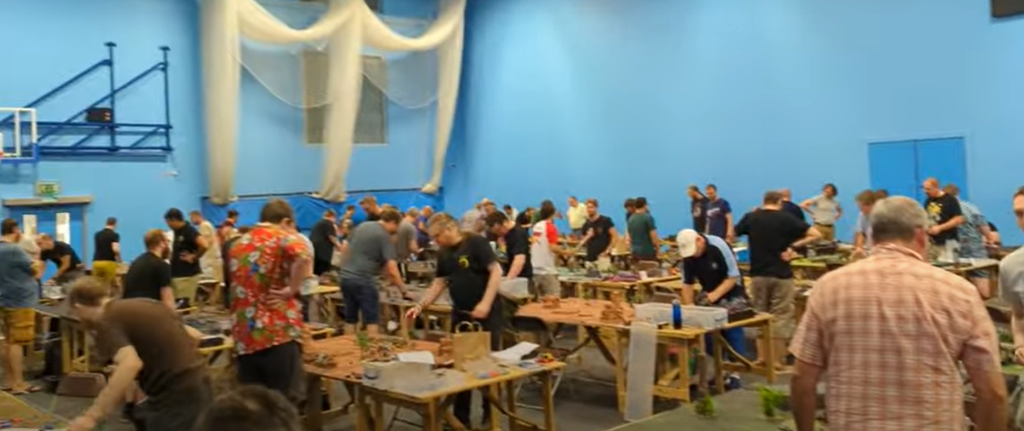 JP: Let us begin with some information about you. How did you start miniature wargaming?
Piotr: I started playing battle games about 30 years ago. My adventure began with the game Chronopia because it was easily accessible and in Polish. Then I came across Warhammer Fantasy Battles from Games Workshop, which I got very involved in. I played Warhammer from the 6th edition until the end of the 8th edition, which was the last one. In the meantime, I also had contact with Warhammer 40k. Later, I started getting into historical games like Black Powder, Heil Caesar, and Flames Of War.
JP: How were you introduced to Kings of War?
Piotr: While playing at the Flames of War tournament, someone next to us played Kings of War, and it was my first contact with this game. As I said earlier, I played Warhammer Fantasy Battles in the past, and Kings of War looked familiar but different – the rule of not removing single models from the tray seemed very strange. It made me not interested in that game then.
JP: What attracted you to Kings of War?
Piotr: Well, one of my friends who plays Flames of War got into Kings of War and suggested I play a demo game. I replied that I didn't have any miniatures and didn't want to get any, to which he replied that there was no problem, as I could play with my Warhammer minis. And that was the moment when I got into this game.
What exactly fascinated me? The simplicity of the rules but the difficulty of winning. And after experiencing historical games, I got comfortable removing whole units, not individual figures.
JP: What armies do you have?
Piotr: I have several Kings of War armies. The first one is Elves, which I adopted the High Elves from Warhammer for. The second one is the Goblin army, which I also partially adapted from the Warhammer game and supplemented with original models from Mantic, which I missed and liked (Slasher, Wingit, Goblin Blaster). The third army is the Halflings.
JP: Would you describe yourself as a painter or a gamer?
Piotr: I love the modeling and painting aspect, and this stems from my first passion, which was, and still is scale modeling.
JP: Describe to us the Kings of War community in Poland. Is it a large community? Is it spread out across different cities or regions? Is it very competitive?
Piotr: The Kings of War community in Poland is relatively small, especially compared to such a large community in the UK. Additionally, it is scattered throughout the country, especially in large cities. Due to little support for promoting this game in the era of competition with titles such as Warhammer 40k Warhammer Age of Sigmar and even The 9th Age, it is challenging to build a large community. Additionally, one could say that the wargaming hobby in Poland is relatively young, about forty years old, so we're in the second generation of gamers now in a world of distractions. It's more difficult nowadays to convince kids to join the hobby when many more activities compete for their time. Money also plays a part; this hobby might be too expensive for many people, but 3D printing partially solves this issue.
JP: "Kings of Warsaw" is a fantastic name for a club, who can take credit for this incredible wit?
Piotr: One of our colleagues, Maciej Szczytowski, who runs a Facebook group dedicated to the Kings of War game in Warsaw, invented it.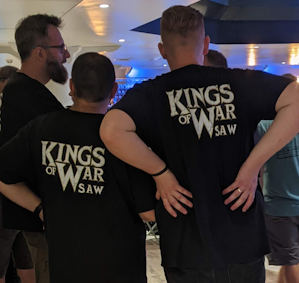 JP: Was this the first Clash of Kings tournament you attended?
Piotr: No, the first tournament was last year's Clash of Kings 2022. There were three of us from Poland there: Łukasz Jarochowski, Maciej Rasiński and me. As I said earlier, the Polish Community is relatively small, and when we came here and saw so many players playing with so many different armies in different styles, we were blown away. We were so impressed that right after returning to the country, we decided to go to the next Clash of Kings in 2023. The reception and cheering we received last year on the Polish Kings of War Facebook group motivated us and the community. There were four of us this year, but we know already that there are a few more planning to come next year!
JP: What attracted you to Clash of Kings UK 2023? Was it the location of Nottingham? Was it the size of the event?
Piotr: As I said earlier, we were attracted primarily by the atmosphere, the size of the event, and the perfect organization. It captivated us last year, and the same thing attracted us this year. Our stories about the 2022 event meant that another friend, Darek Darkowski, joined us this year so we could form a team. In terms of travel, London was a better location for us. Still, overall, we had a better time in Nottingham due to the site, size of the event, atmosphere, and the city itself, which, from my perspective, seemed more pleasant. 🙂 If I had to choose where the next Clash of Kings should occur, I would select Nottingham.
JP: How was Clash of Kings UK from your perspective? What was attending such a large event like?
Piotr: From my perspective, it seemed better organized than in 2022; the place itself was better for such a large event dedicated only to Kings of War, and the date is also better (nicer weather :)). Participating in such a great event is quite motivating. It meant that we were preparing for this tournament all year – we were checking the schedules, practicing games, and constantly getting excited about going to Clash of Kings in September. It motivated us to glue and paint our armies. We were preparing ourselves like athletes for the Olympics. 😉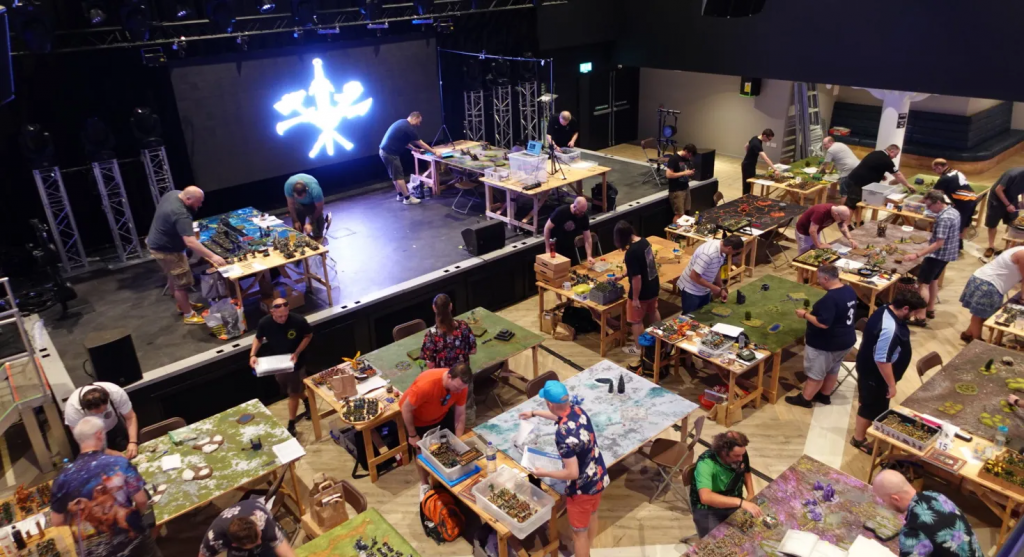 JP: For those that did not follow Clash of Kings UK, here is Piotr's Halflings army at 2300 points.
2 x Halflings Rifles (Horde)
2 x Ej Grenadiers (Regiment)
2 x Wild Lancers (Regiment)
2 x Wild Runners (Regiment) with Blackpowder Weapons
3 x Aeronauts (Regiment)
1 x Engineer with Radiance of Life (Tinker only), Halfling Long Rifle and Gadgets and Gizmos
1 x Muster Captain on Winged Aralez with Relentless and Chalice of Wrath
1 x Muster Captain on Winged Aralez with Relentless and Staying Stone
JP: Halflings are a new army. Many people are still figuring out how they work. What made you pick Halflings for Clash of Kings?
Piotr: One thing made me choose this army: I wanted to have an army entirely made of Mantic models for Clash of Kings 23, and these were the models that I liked the most.
JP: How did you decide on this army list? Was there much testing involved?
Piotr: I decided on such a list because my Warsaw friend already played a list with models that seemed very strong, like the Iron Beast and the Harvester, and I decided that I did not want to play the same or very similar build.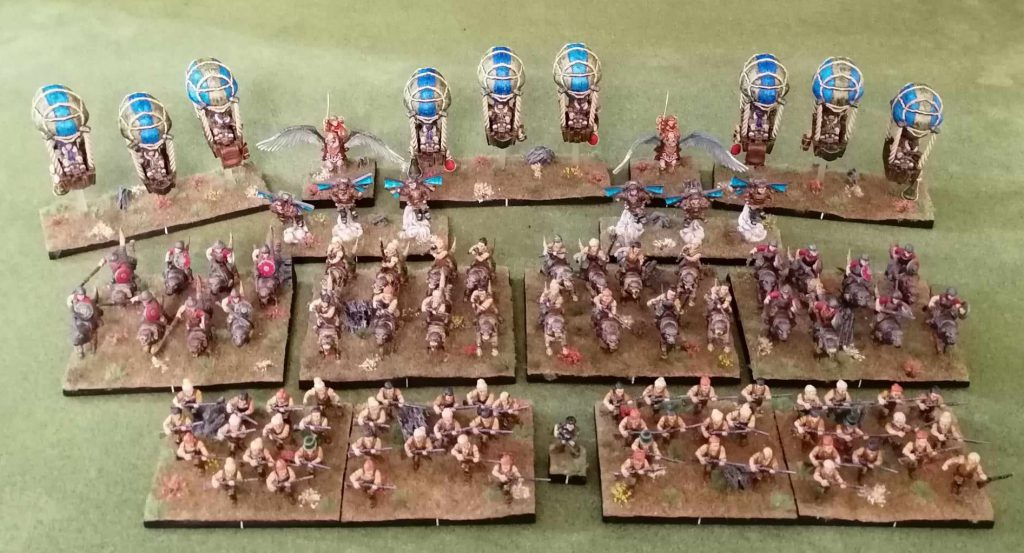 JP: Your Halflings army was very balanced. Most people are very surprised to see how "normal" your Halflings army is. Were you not tempted to add more shooting (for example, war engines) or more close combat (for example, Forest Trolls)?
Piotr: Yes, it was tempting, but since I had previously played, as I said, a Goblin list based on war machines and trolls, I knew its strengths and weaknesses. Knowing the pros and cons of such a build and the fact that in Kings of War, you play scenarios, I tried to make something as universal as possible that could fight with as many different opponents as possible, from those with high defense or Ensnare to those with good cover from shooting like Nightstalkers with army-wide Stealthy. I concluded that this would be the most optimal solution.
JP: Aeronauts are notoriously unreliable. How do you mitigate their randomness?
Piotr: Two ways: Firstly, they only attack alone if the enemy unit is already heavily weakened, or I try to position them so that they can charge the flank.
JP: Nearly every Halflings army contains an Iron Beast. Your army did not have one. What is your opinion of the Iron Beast?
Piotr: As I said earlier, I didn't want to have a similar list to my friend from Warsaw, but the Beast is solid.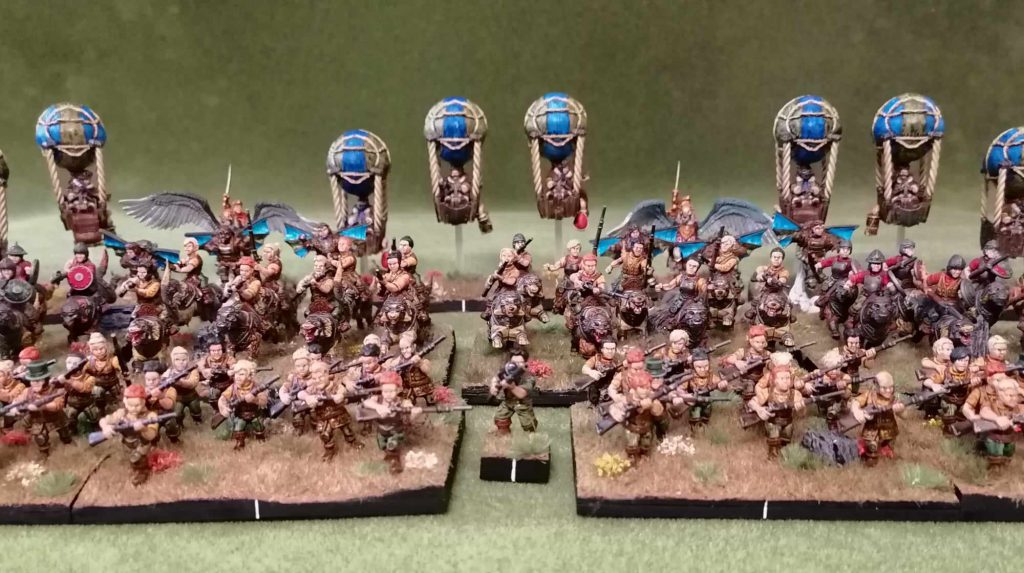 JP: Sauceror's Gastromancy is very popular among Halflings players. Why is the Sauceror not necessary for every Halflings army?
Piotr: Gastromancy is helpful for an army based on infantry, where boosting it by brutal, rally, or wild charge is a very interesting solution. It wouldn't work well in my army, and adding a Sourceror would force me to remove a unit.
JP: Light cavalry can be difficult to use in Kings of War. They are fragile and often not strong enough to deal with units alone. How do you use the Wild Runners and Wild Lancers?
Piotr: As you can see in my final battle on the live stream, I use them as flankers capable of charging from the side or as a multi-charge unit. In contrast, the shooting ones are perfect for jumping forward, shooting at a long distance, and, if necessary, a springboard from the opponent.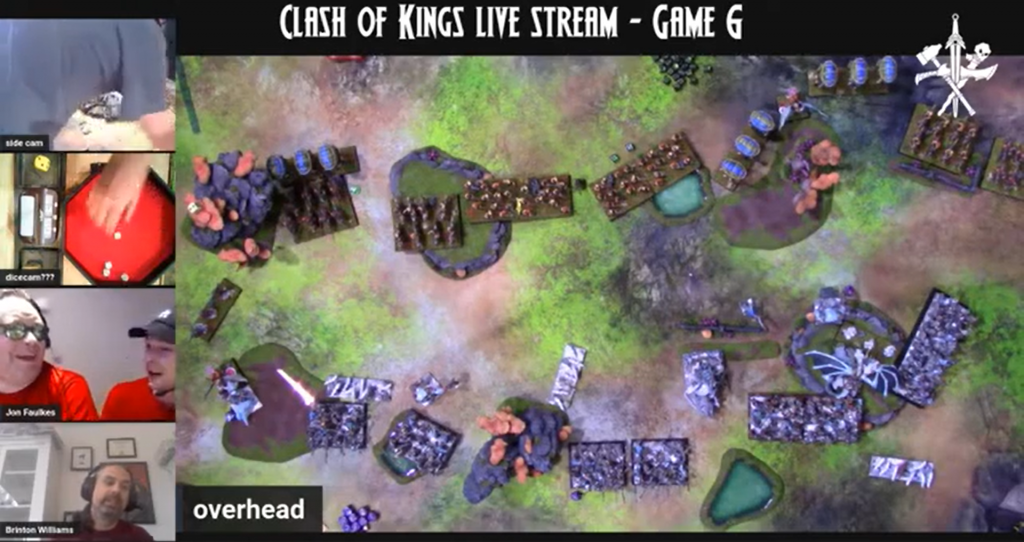 JP: During Clash of Kings, when did you realize you might win the tournament?
Piotr: Honestly, my teammates were more interested in the fact that I could win.
I was focusing on playing the next battle and how to play with a given opponent and his army. I didn't focus on whether I would win or not. I just played here and now. I realized I was playing for first place when I was already playing on the first table, but I quickly put it out of my mind and played as if it was the first tournament battle. I focused on the here and now. After the game ended, I realized that it was a battle for the first place that I won. It all dawned on me at that moment, and it was as if all the tension and concentration had dissipated. I realized my team was cheering. I was thrilled.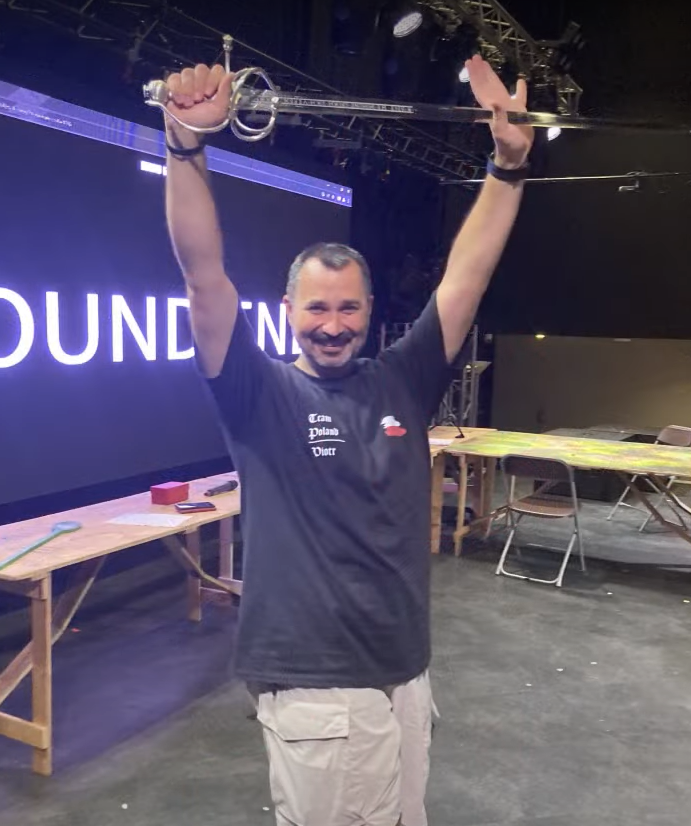 JP: What was the hardest army you played against at Clash of Kings and why?
Piotr: The most challenging army for me was the Ratkin Slaves, played by Mark Cunningham, as I had never played against this army before.
JP: What is your advice to anyone starting a Halflings army?
Piotr: My advice is the same regardless of the army you play. Play with the figures or models that you like the most.
JP: Will you go to Clash of Kings UK again?
Piotr: As soon as time and money allow, by all means.
JP: What's next? Will you add more Halflings or start something new?
Piotr: I'm constantly expanding my Halfling army, but I plan to play with a new army next year.
JP: Are there any people, clubs or shops you would like to promote?
Piotr: There are many such people, but I will focus on a few. First of all, Maciej Szczytowski, who runs the Warsaw [Facebook] group dedicated to Kings of War, Maciej Rasiński, who is building the community in the city of Białystok, Darek Darkowski operating in Iława and Łukasz Jarochowski who is currently taking care of all tournaments in Warsaw, and the store I want to shout out is Paladynat at ul. Targowa 72 in Warsaw run by Artur Szyndler Jr., who is doing his best to spread this fantastic game to a broader audience.
JP: Thank you so much for your time, Piotr, and providing us insight into your own Kings of War community and the formidable army of Halflings you helmed. 
Can't get enough Clash of Kings UK coverage? Be sure to check out Death by Dragons Day 1 and Day 2 livestream recordings. Andy2D6's post-action battle reports cover his own performance, and Lazy Pirate Painting has shorter vignettes starting with this of Day 1.
Have any questions or feedback? Drop us a note in the comments below or email us at contact@goonhammer.com.