Finishing your own army is core to the Warhammer 40,000 hobby. In our Army Showcase series, Goonhammer contributors take a look at the armies we've been collecting for years, and the new ones we've just finished – what drew us to them, why we keep building and painting, and how they play on the table. This week Greg is back to keep talking about his Dark Angels and their Unforgiven-ness.
The Painter: Greg Chiasson
The Codex: Space Marines, technically, but with the Dark Angels supplement
Points: 11,000+
Collecting Since: 2013-ish
I've already talked about my Dark Angels, in what was actually our first proper army showcase, more than two years ago, but there have been some changes. My photo setup is a little better now, for example, and I started putting a little more work into painting them.
My motivations for collecting Dark Angels haven't changed much. I still love the way they look. The models are great, as they always were. Unlike any other marines, save for Blood Angels, the variety you get from having Deathwing and Ravenwing mixed in with the normal green models really sets them off on the table top. The fluff is still right up my alley. The coolest thing about the Dark Angels, to me, isn't the Fallen or them being the first legion, the template that other marines were derived from. What I've always liked about them is that they stand alone, apart from the rest of the Imperium. Only nominally a Chapter, they still function in most respects as the Legion of old; pursuing their own goals, using their own methods, and never asking for approval or assistance. They do their own thing, and even without allies to lean on, still get the job done better than anyone else. The Dark Angels will always hear your pleas for help. They won't necessarily respond, mind, but they're listening. It's probably not great that I identify so well with that, but I do.
What has changed is that the codex is finally good. Always-on Transhuman for Deathwing, and a 5+ invulnerable save that can be trivially boosted to a 4+ for Ravenwing, has gone a long way to give the chapter an identity, to make them a verifiable Type of Guy, and has the knock-on effect of making the army very strong. The promised Reign of Terror didn't exactly materialize, but then nothing else has exactly panned out this year, either.
The Models
Some time last year, I ran out of models. I know! The promised land of the Warhammer consumer, that rarified air of not having a backlog. I went off, free and unfettered, and got into Titanicus. I painted a Necromunda gang, and even some Warcry buttdwarves. But eventually, as ever, I found myself drawn back to the Dark Angels, and so a shopping spree was inevitable. Most of the new models here are either from the backlog purge, or the subsequent backlog reinforcements.
Since I didn't have fresh models to paint, I decided to run back through what I did have. I'd already been adding company markings to the kneepad, and just about everyone had a molded logo on the pauldron. I decided at this point that everyone was getting them, and started adding squad numbers and role insignia to the shoulderpads as well, because I was flush with waterslides and they looked a bit plain without them. I didn't plan ahead on this one, so the numbers don't always makes sense – my Intercessor squads are numbered 1, 5, and 7, for some reason? – but I'm glad they're there, it just completes the look.
Real Caliban Heads will notice one major departure from the classic heraldry: I paint all my chest aquilas gold, instead of bone. This is because I didn't notice when I started them 8 years ago, and I'm not going back and changing it now. In conclusion, it looks cool.
I thought I was done painting Firstborn marines forever, but then GW pulled me back in for one last score. I bought a made-to-order Dark Vengeance a couple of years ago, because I wanted the stupid little pin that it came with, even though I'd already painted the entire set twice over.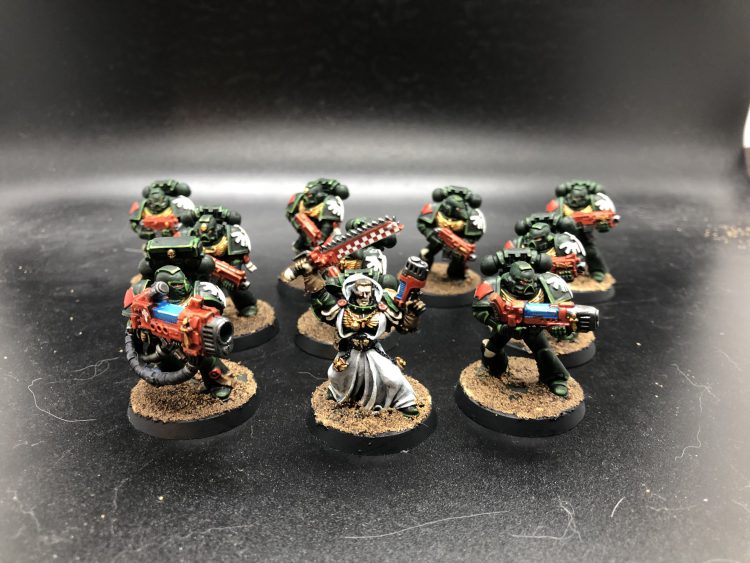 It's too bad they'll never see the table, because I am generally pleased with these models.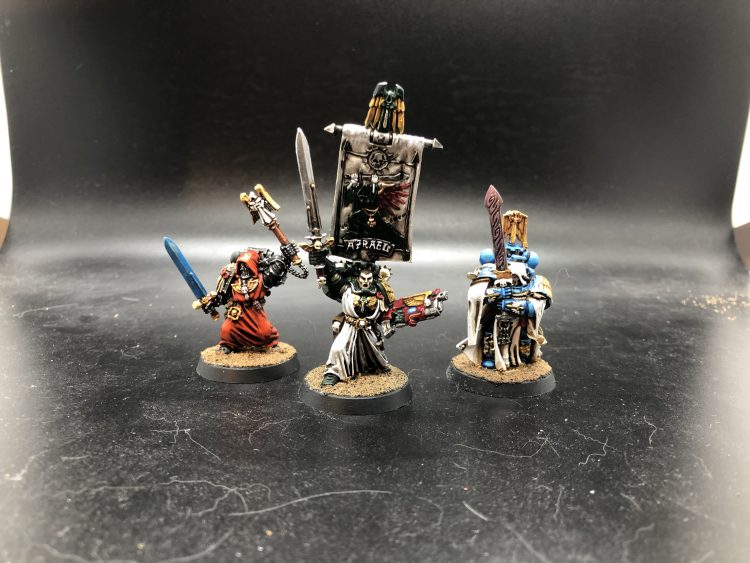 I also picked up the old metal Asmodai, and converted the Dark Vengeance Captain and Librarian into a nice little approximation of Ezekial. Along with the old metal Azrael, I can credibly claim to have all the named characters now. Around this point I got really into painting robes. I think Asmodai's came out great, and I greatly enjoyed painting the cloth on the Blade Guard and some other characters.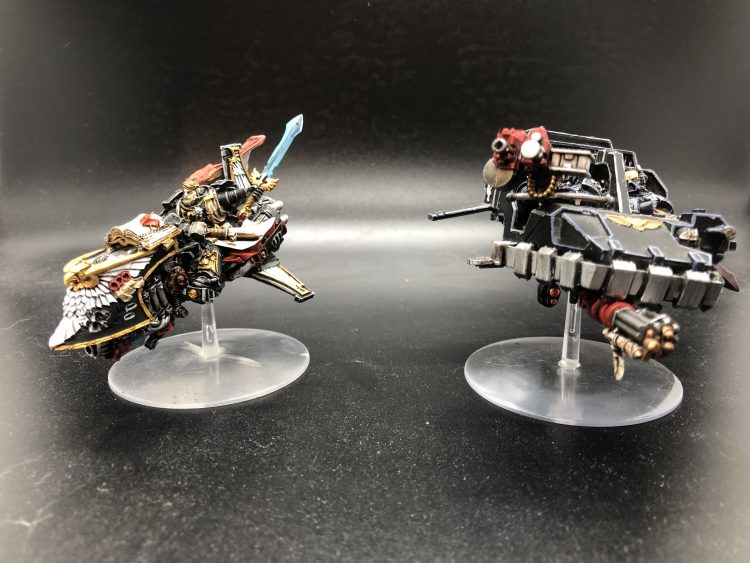 Like Sammael, for example. This is the finecast version, and I had him knocking around for years before I finally primed and painted him. It's probably the only model where I prefer finecast to metal – for all its problems, I'd rather deal with sub-par resin then try to superglue a brick of metal together and balance it on a flight stand.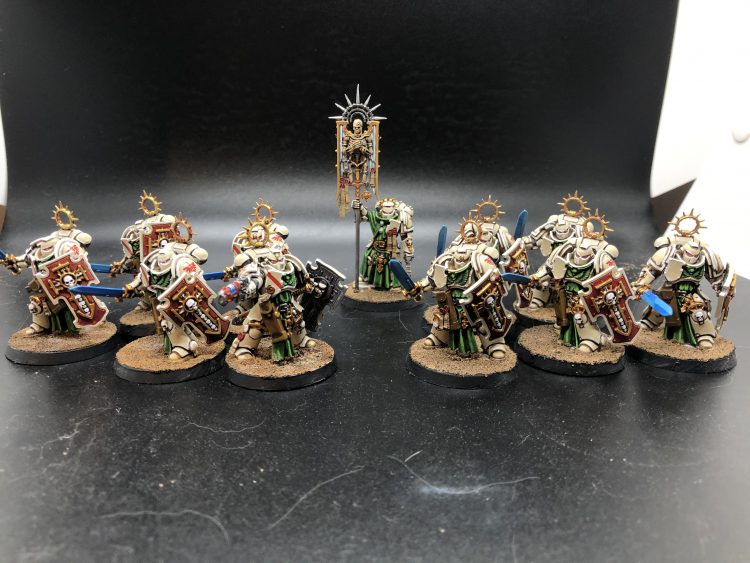 And here are the Bladeguard I mentioned. I had picked up some sprues from Indomitus sets that people were parting out, which gave me the Ancient and six Veterans, and then when I bought an actual Indomitus, ended up with 3 more, plus a Lieutenant who happens to have the exact legal loadout for a sergeant, giving me just enough bodies for 2 squads of 5. These were great models to paint, full of character and detail, and they fit in perfectly with the Dark Angels' aesthetic despite being generic models. I have a recipe for painting bone that returns great results, but it takes forever. Trying to do them in batches of 3 made me want to quit warhammer and then die.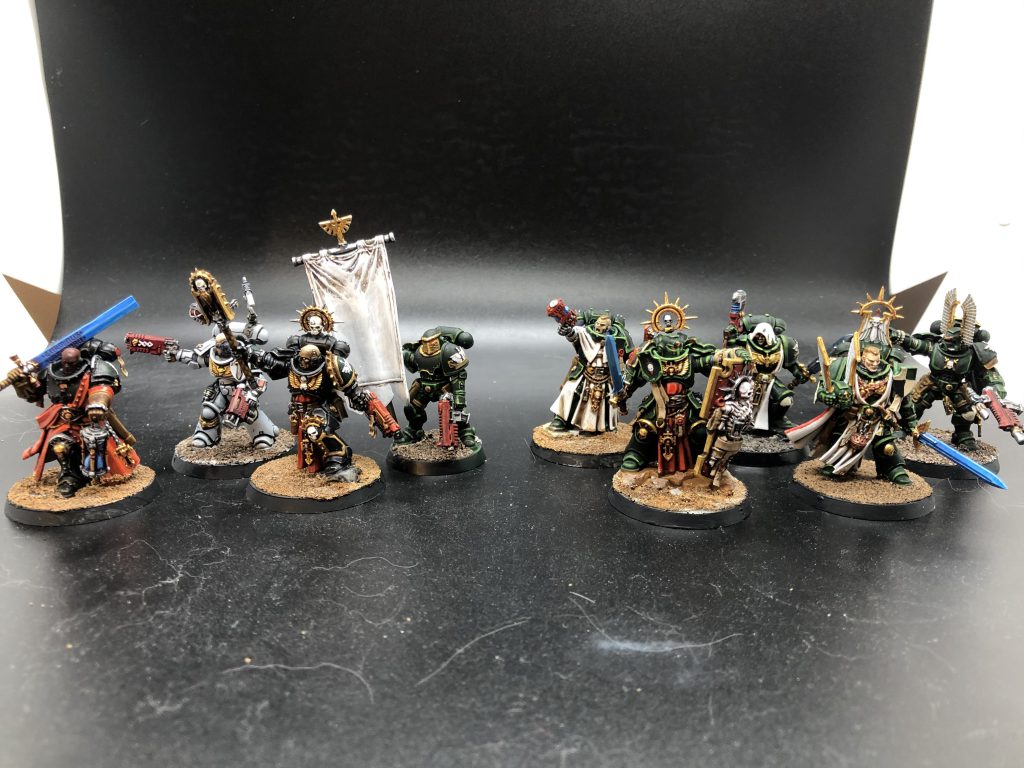 A few more characters, some of which we've seen before. The Judiciar is a model I did not like, until I put a new head on it and actually got to grips with painting it. It's ridiculous how much a simple headswap improves that model, just insane. Now that I'm not hung up on his stupid helmet thing, I can appreciate how nice the sculpt is – it stands out but still fits in the range, which is a tough needle to thread.
The Indomitus Primaris Chaplain is my favorite Chaplain, and here again the robes were a joy to work up. I ended up doing the red robes on the Captain as well – even though I'd normally use white for my green marines – because it was just so much fun to watch it layer up.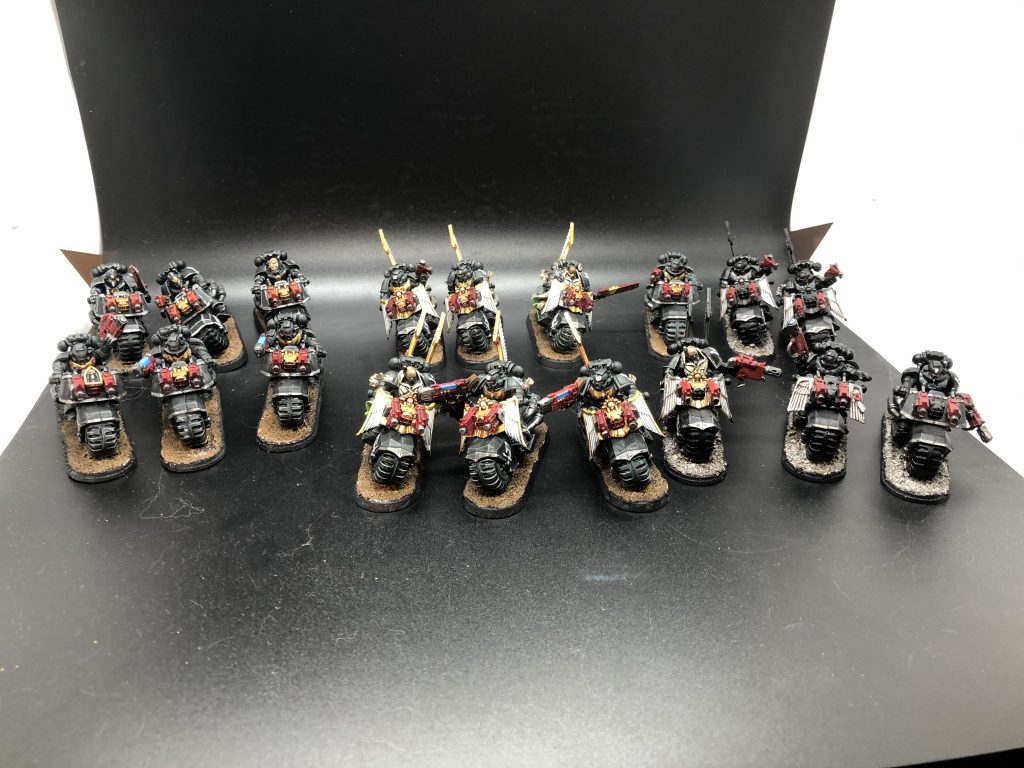 I also painted a bunch of bikes. The squad on the right, with the meltas, has been in my collection for a while, and repeatedly disappointed me on the table top outside of one game where they exploded a bunch of Space Wolves armor. The other two, all kitted out with plasma, have yet to see play, but are a combination of DV bikes, and older kits with some Dark Angel kits glommed on to fancy them up a bit. I've never enjoyed painting bikes. They seem like just a little too much surface area to batch paint, but not enough detail to reward character-level paint jobs, and they don't stay put in the damn painting handle. Honestly, I don't really enjoy painting black armor that much in the first place: I never got the hang of highlighting it.
What I ended up settling on for these was to make the black as quick and easy as possible, and spend all my time on the details. Starting with white primer, the bike and rider get a coat of Black Templar contrast paint. Then the rider is drybrushed with grey, and the bike (except the tires) and rider get a wash of Nuln Oil. The result isn't amazing, but it works, and varying the blacks at least give some distinction between the rider and the machine. The tires are pure Templar, the bike is Templar and Nuln, and the rider, the part I actually care about, gets a drybrush in between. Once all the guns and metallics are picked out, you never really notice the black anyway, and using the same recipes for the gold/wings/metal/red as I use on the rest of the army helps with visual coherence.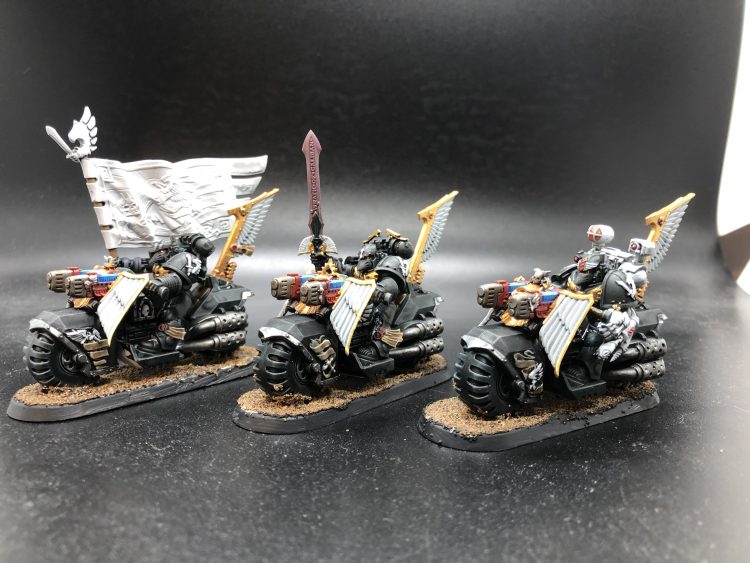 The Ravenwing command squad characters show off the variations in the blacks a little more, in close-up. I love that little apothecary, he's been included in every list I've made since I painted him. I also didn't paint the banner. Oops.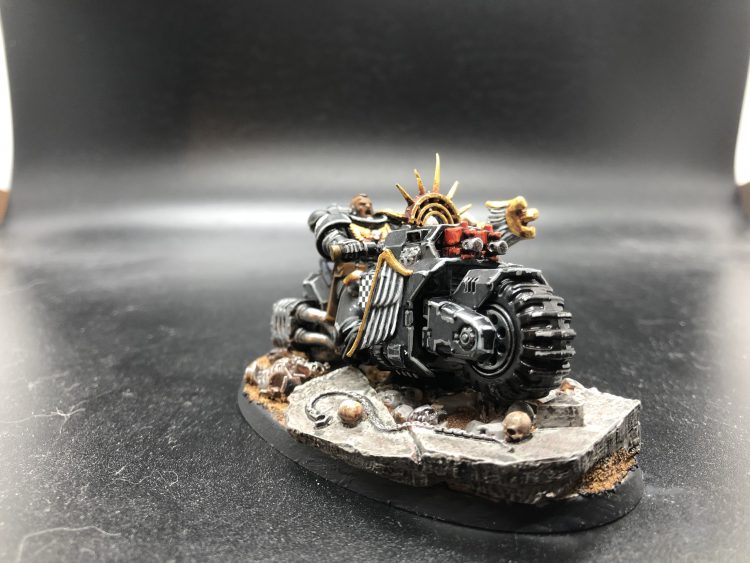 I converted a Primaris Chaplain on Bike from an Outrider (which is a Primaris on Bike) and a firstborn chaplain (which is a Chaplain). I gotta admit, while I like the conversion work I did here, adding the Ravenwing fairings, and the Crozius, I don't love the way I painted this model. Couldn't tell you why, he just doesn't spark joy the way I wanted him to. It happens sometimes. The base is actually made from some bits I stole off of the Lion, so it was an expensive conversion that I just don't like as much as my non-biker version. I think it's the face – I'm very hit and miss with how faces turn out.
Oh, those checkmarks on the side are a decal. I don't know how to freehand.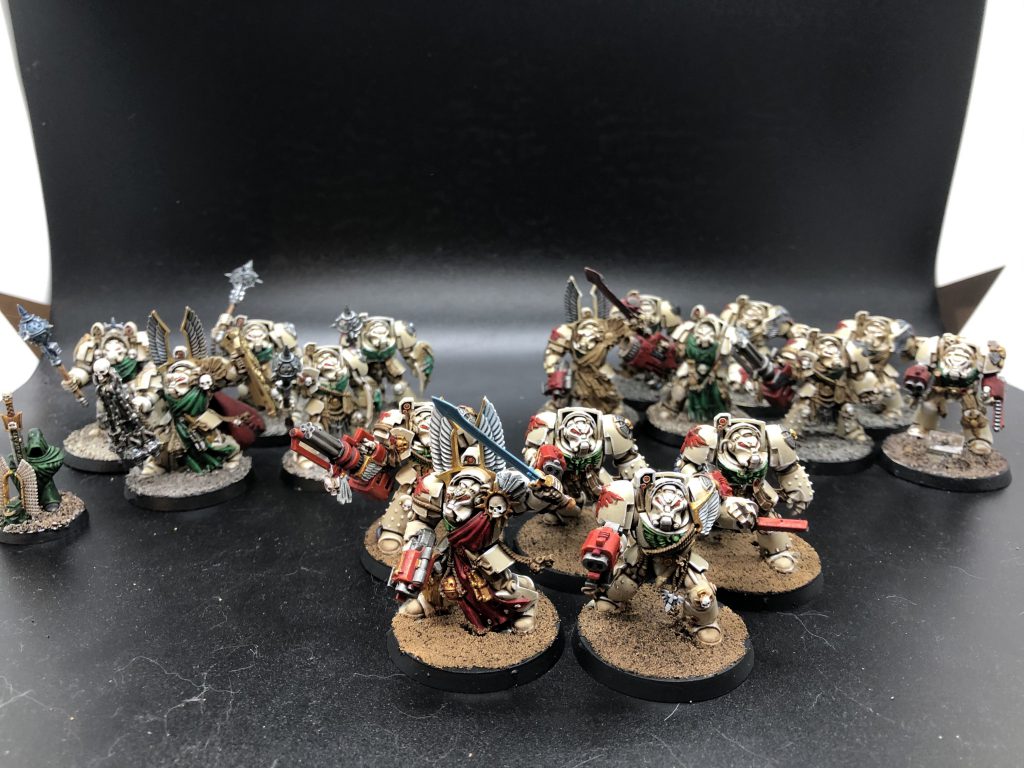 Here's more Deathwing, though. I'm at a point with this army where I'm painting units that I already have, just because I don't think the old ones look good enough. Yes, this is stupid, and no, nobody but me will care. I've been adding new Intercessors and Hellblasters, but the starkest difference is in my Deathwing. The changeover from a random assortment of dried-out GW pots to a full suite of Vallejo colors made a huge difference.
The issue isn't the quality of the paints – Citadel makes a fine product – but rather that I finally have access to all the colors, including shades and highlights, which means I'm not stuck with problems like "well I only have one red, so I'm base-coating with a color, then washing it with either Agrax or Nuln, and highlighting with the same base color over it". I can actually do the things I want to do now, and I'm kicking myself for not upgrading my paint situation sooner. Also I straight up never bought non-wash blue paints before now, and now it's how I do all my power swords and plasma. Cannot believe I lived without this for so long. Number one painting tip, there: have paint.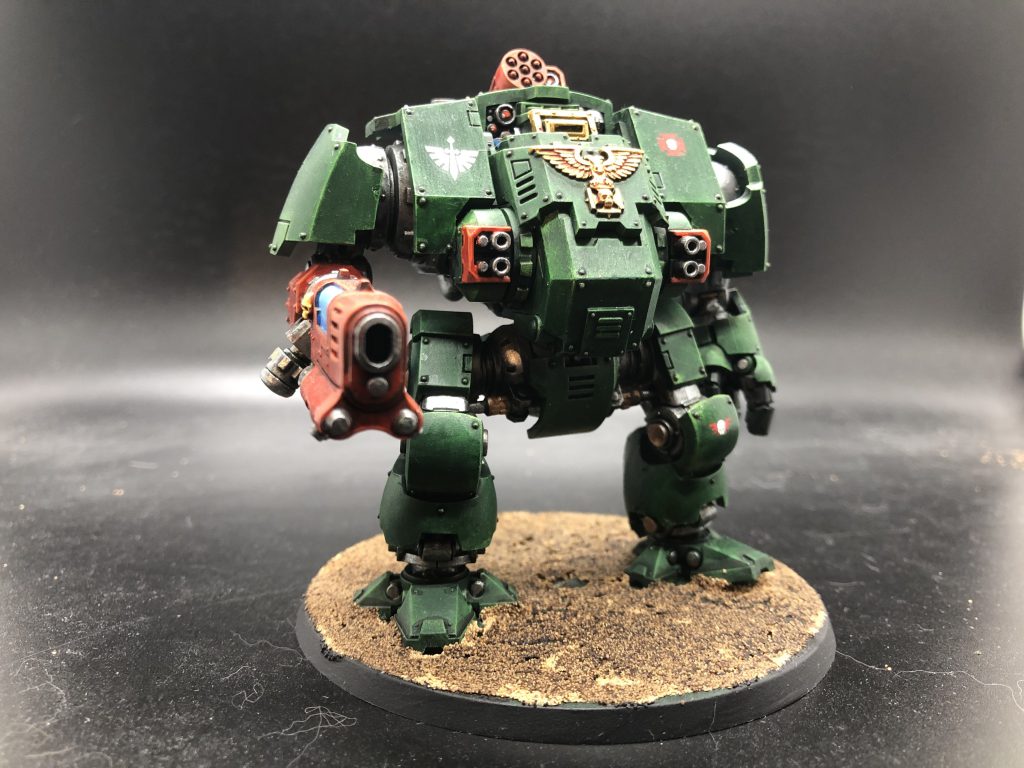 Brother Steve, the Redempto. I have nothing to say here but I love this model. Just a big mean robot that does horrible things on the table. He's mostly drybrushed, actually, but this is another case where having a variety of paints helps. I don't use a lot of purples and yellows, but even just a little touch of them to paint a few cables on the sarcophagus really adds to the model.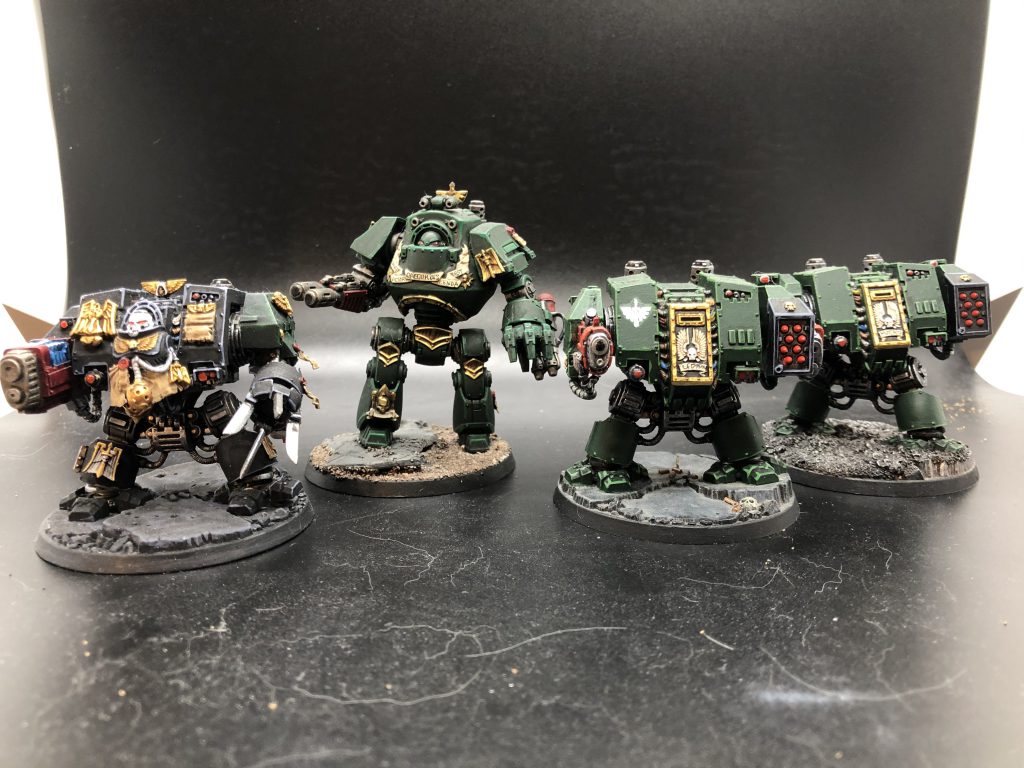 And his robotic friends. That's a plastic Contemptor, with a bunch of Dark Angels stuff stuck to it, and some light re-posing, but let me just say that every bad thing you've heard about the plastic Contemptor is one thousand percent deserved. I like the results I got, but the kit sucks.
The two boxnaughts are Brother LeBron and deep sigh Brother Fucko.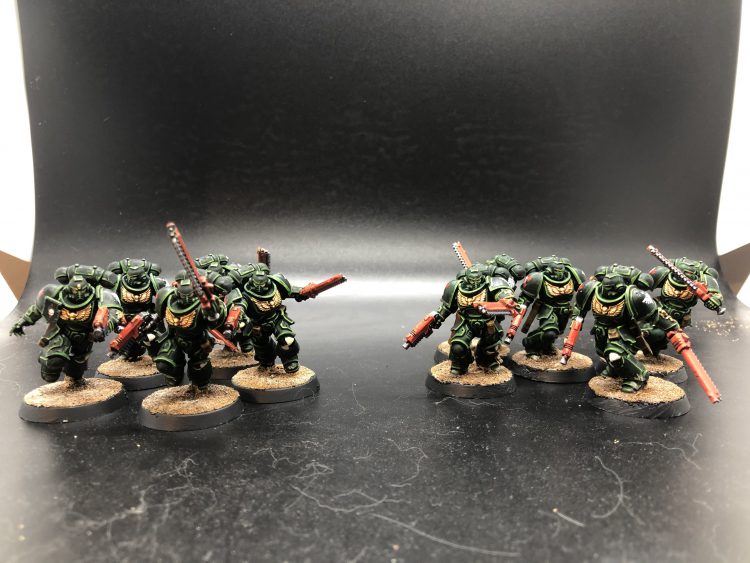 And here we're getting into my new Primaris infantry. Mostly from Indomitus, but I have another set of Intercessors and Hellblasters on the workbench that Condit cyberbullied me into, and a squad of Heavy Intercessors that I need to build.
These Assault Intercessors were some of the first that I painted in the new style, and I think the brighter highlights work so well that anything older than them is just not getting played in an event ever again. I brought the armor up a lot more, and punched the weapons up to almost orange, and with that and the squad markings I think they blow the old models out of the water. It helps that they're just great sculpts, very dynamic.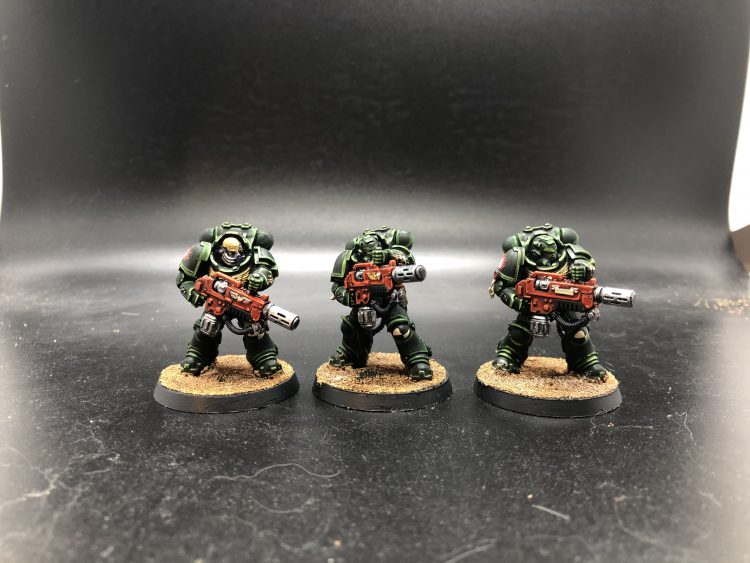 Eradicators, same deal. These were fun, mostly. They came about right after the Assault Intercessors, and forced me to change up my batch painting process. I still work in units of 3-5, and go across the entire squad on each color for basecoats, washes, etc on the guns and details. What I changed is that the last couple of steps – two layers of highlights on the green and then a wash over the armor to tone it down – I do all of them in order on one model at a time, instead of as a batch. I like seeing the progress, sure, but the main thing is that I will give myself a screaming migraine if I try and highlight that many edges at once. So I do full highlights, then a spot highlight, then a wash, then I rest and enjoy looking at a completed model, before starting the process over.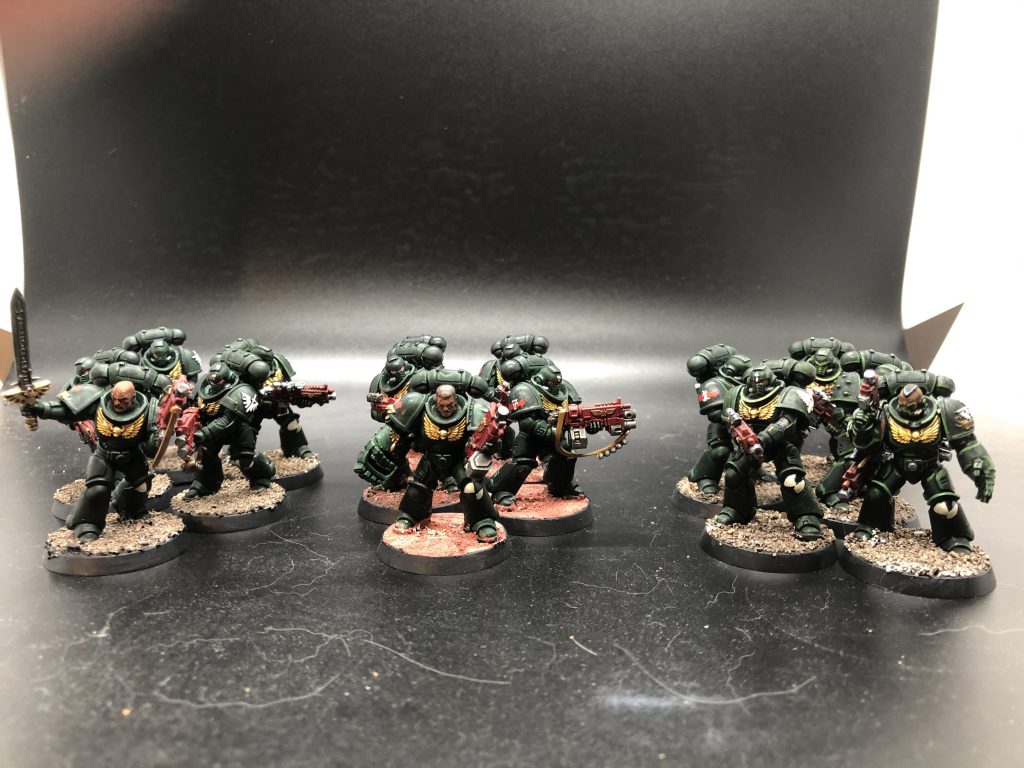 By way of comparison, here are the old-style Intercessors. Not as nice! I was happy with them when I painted them a few years ago, and I still think they hold up, but I know I can do better now. I'll always keep them around, because I don't believe in repainting models and I want to be able to see progression over time, but they're being replaced with newer paint jobs.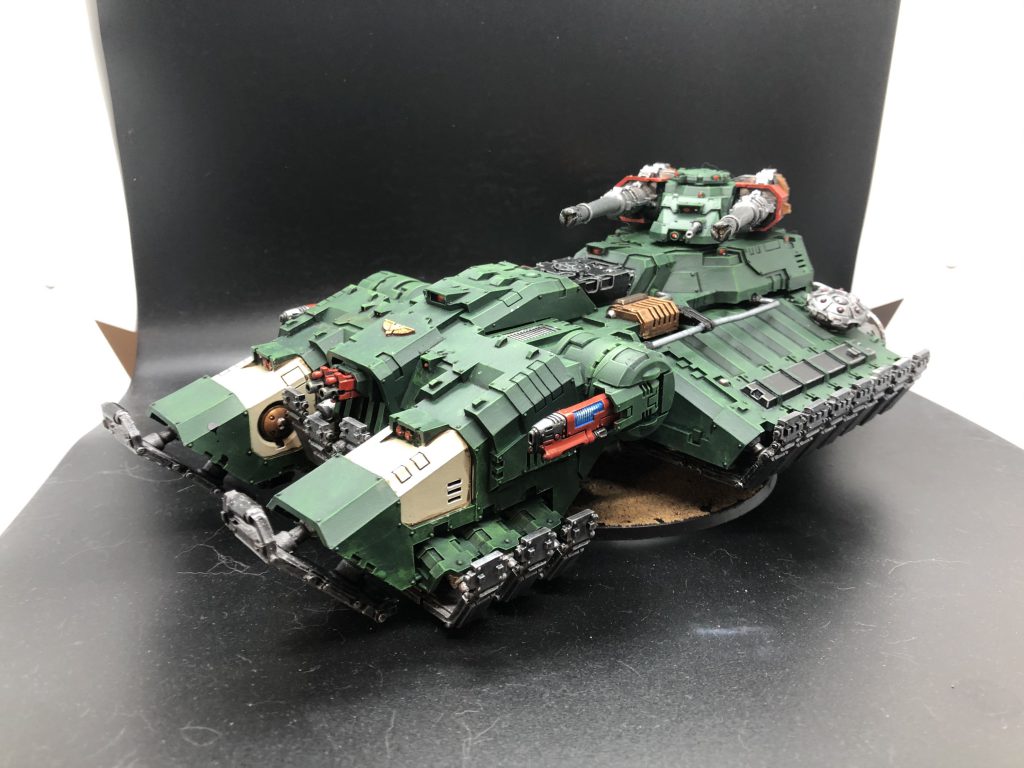 There was no way I wasn't including BIG TANK in here. We all knew it was coming. I love this dumb thing.
Update: I Forgot That I Have A Primarch
Hi everybody, Greg here again. I realized reading this after it went live that I completely forgot to mention that I painted Lion El'Jonson for this army. He's not technically a 40k model, but he rules, so I'm including him here, belatedly. I pre-ordered this model the day it went up on Forgeworld. It took them years to get around to making the thing, but it was worth it: along with almost the entire Horus Heresy Dark Angels range, Lion-o is a fully sick model and there was no way I wasn't going to paint him. He was super fun, and one of the vanishingly few times I've used sub-assemblies instead of just slopping paint everywhere after assembly. The weirdest bit was actually realizing that the 30k and 40k ranges have some significant differences – they still use the same aesthetic, broadly – buff men screaming at their own sword – but it's the granular details where they diverge. I thought I was going crazy, trying to figure out what I was missing, until I realized that I was doing my usual check for missed skulls and purity seals, and the model simply doesn't have any. It's subtle, but I like it.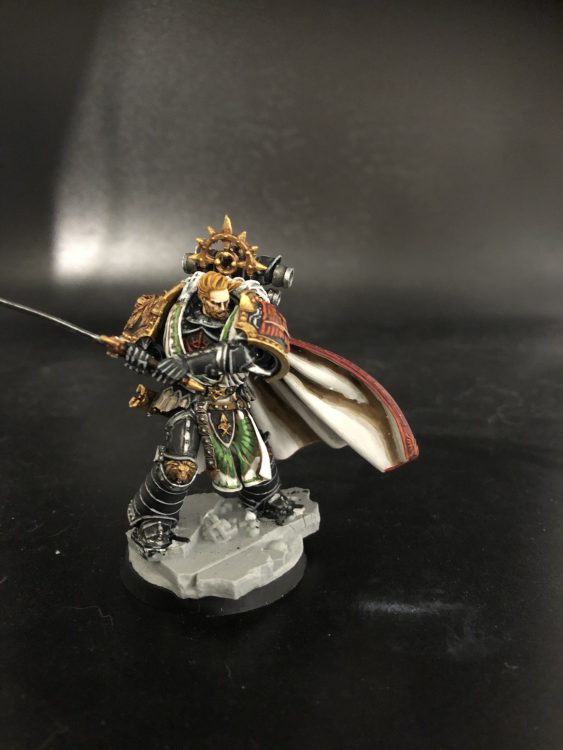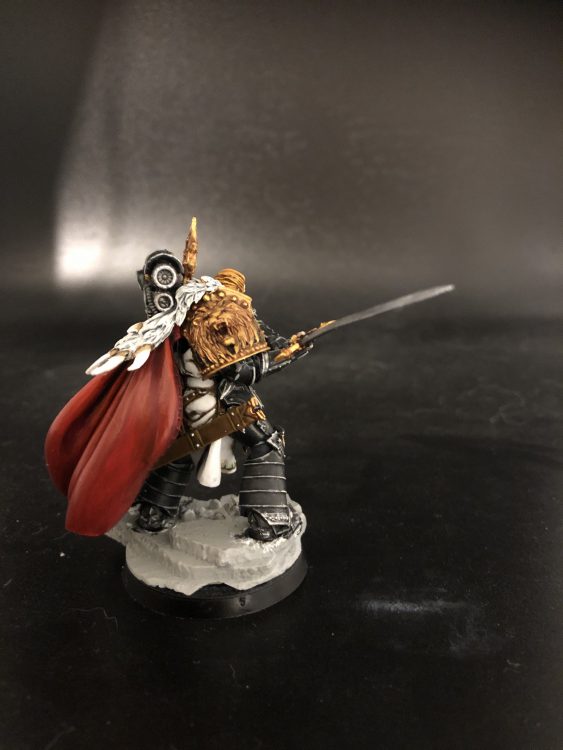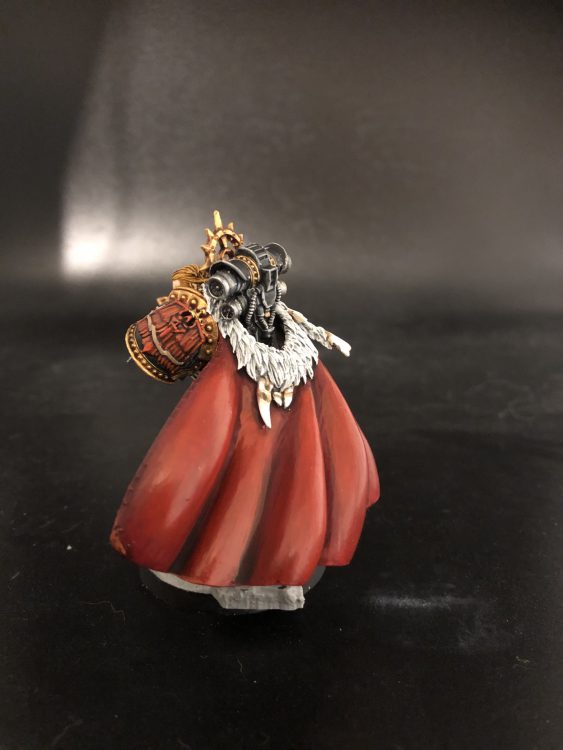 He's in classic 30k colors, but I tried to incorporate some of the green in his robes, to tie him in with my 40k models. Otherwise it's largely the same recipes I used across the army, albeit with more detail and care put into it, as befits the model. More details on the painting process are here. I'm extremely happy with how he came out, and the combination of bare head and sword is clearly the perfect combination.
We now return to your regularly scheduled programming.
I have a bunch more models – the army occupies an entire Detolf with double shelving installed, and comes to just north of 11,000 points all told, and around 12 when I clear out my backlog again – but between this one and the last showcase, those are the ones I'm most happy with.
From here, I'm not entirely sure – the Marine range has so many models in it that it's hard to even know where to start with it sometimes. I could pick up some Primaris Stormspeeders, or some Gladiators. I could build an entire army of just Hellblasters in Repulsor Executioners, or get some Phobos marines. I don't know where to start, which is a strange thing to say when you have this much of an army already. This isn't like my T'au or Fallen army, where it feels like a completed project, something I'm not working on until new models are released – there is always something new to paint up, and unless I suddenly stop obsessing over these weird freaks, I don't see them going anywhere.
Have any questions or feedback? Drop us a note in the comments below or email us at contact@goonhammer.com.