Finishing your own army is core to the Warhammer 40,000 hobby. Every Thursday in our Army Showcase series, Goonhammer contributors take a look at the armies we've been collecting for years, and the new ones we've just finished – what drew us to them, why we keep building and painting, and how they play on the table. This week our guest author Sam is talking about his Blood Angels.
The Player: Samuel Brody-Boyd
The Codex: Blood Angels
Points: 1500
Collecting Since: 2015
Instagram: @samuel_brody_boyd
The Past
I began my Blood Angels in 2015 as rumors of a plastic Horus Heresy set from Games Workshop filled the Bolter and Chainsword. Originally, I planned on making an army of Imperial Fists. Fate steered me in another direction after a terrible spray painting mishap ruined all of my work on my Fists up to that point. In my search for a win to boost my morale, I painted up a single Blood Angel as a test miniature. 
From there, I got hooked! Something about the bright reds, the harsh blacks, and the crisp greens of the traditional Blood Angels sang to me. The Sons of Sanguinius painting guide became my compass and I've used it as a reference for years now. Though sadly out of print today, I consider it an invaluable resource and absolutely worth the effort of tracking down if you're thinking of starting a Blood Angels force in any era!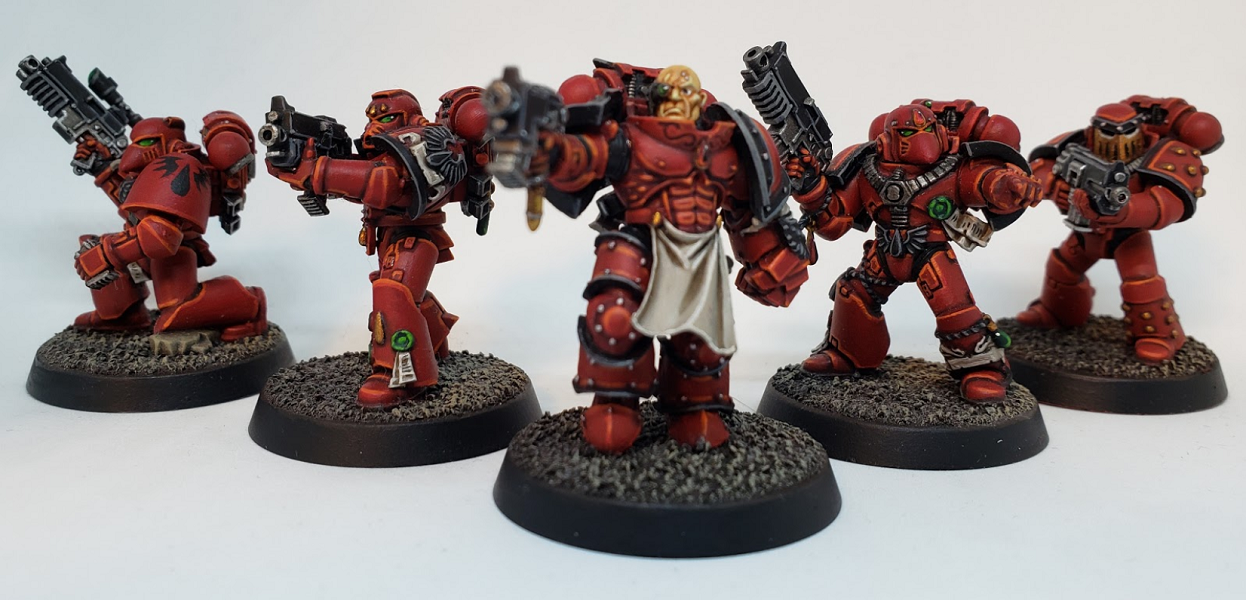 Part of my love for this army comes from the extensive kitbashing options available to the classic Space Marine range. The compatibility of these kits makes building a unique force much easier and I took full advantage of this fact in the construction of my Blood Angels. (Did you know that you can assemble five Heresy-accurate Space Marines straight out of the Blood Angels Tactical Squad box?) Since my army represents a force of Blood Angels after Signis Prime, I reasoned that they probably scavenged what they could from the dead of that conflict and mixed those pieces in with other marks of armor.
The Present
After 4 years of effort, I still only have 1500 points worth of fully-painted models. I don't actually paint that slowly, I just get distracted easily. Still, the Blood Angels are my "home base" and I always wind up returning to them after whatever latest distraction calls to my attention.
Currently I can play decently-sized games of Zone Mortalis and Centurion-level Horus Heresy with this force. Given its current composition, my Blood Angels army usually succeeds or fails based on the performance of the Dreadnoughts. No one has ever accused me of being a competitive player either, so my strategy usually revolves around what would tell the best story rather than what would actually make the most sense tactically.
Standout Models
Without a doubt, the absolute pinnacle of my Blood Angels force and perhaps my entire Warhammer collection is Praetor Israfel, Captain of the 77th Company, the One Winged Angel, the Knight of Terra, the Burning One. Before I take too much credit, I should state that Sir_Isenhar on the Bolter and Chainsword assembled the model and sculpted his cloak onto his back for me. From there, I swapped out the sword and set to work painting him.
The sword took the longest. Blending the flames through drybrushing proved especially difficult, but the final effect still looks good in my eyes all these years later. I reasoned that the cape was a gift from the Dark Angels and so I painted the sword decoration on the back in the deeper red more associated with the sons of Caliban. Otherwise I just followed the same techniques that I used on every other model in the army! I remain immensely proud of him and look for any excuse to put him on the field.  
The Future
Thanks to my friend Mack (@frenchy1709 on Instagram), central Ohio now has a narrative Horus Heresy campaign on the horizon for next year. With that, my love for my Blood Angels has come surging back to the fore! I've got a Xiphon Interceptor that's more than halfway finished, two more squads of Veteran Tacticals ready for highlights, and a beautiful Leviathan Dreadnought that needs magnets and a coat of Mephiston Red to get started. I've also started assembling two 10-man squads of Assault Marines so that I can run the Day of Revelation Rite of War for games of 30k. Once I have those assembled and painted, I think I'll reward myself with Sanguinus. I'm planning on painting him like the David Sondered illustration of Sanguinius standing in front of the Eternity Gate, complete with red armor to match my Space Marines. That alone should keep me busy until Forge World gets to Terra!
Thanks Sam for sharing your army with us! We're always looking for more armies to feature on Army Showcase – if you have an army you'd love to see published on the site, then let us know about it at contact@goonhammer.com or the Facebook page!