The Painter: Robert "TheChirurgeon" Jones
The Army: Death Guard
Points: About 3,500
Collected: Since 2017
The Past
It's been a little more than year since my last post about my Death Guard and it felt like a good time to revisit them in light of the major changes. Last time I did this I had about one thousand points of Death Guard and had painted the Dark Imperium boxed set of Death Guard. On top of that I mentioned that I had a mountain of unpainted plastic for my Death Guard. Let's take a trip back down memory lane: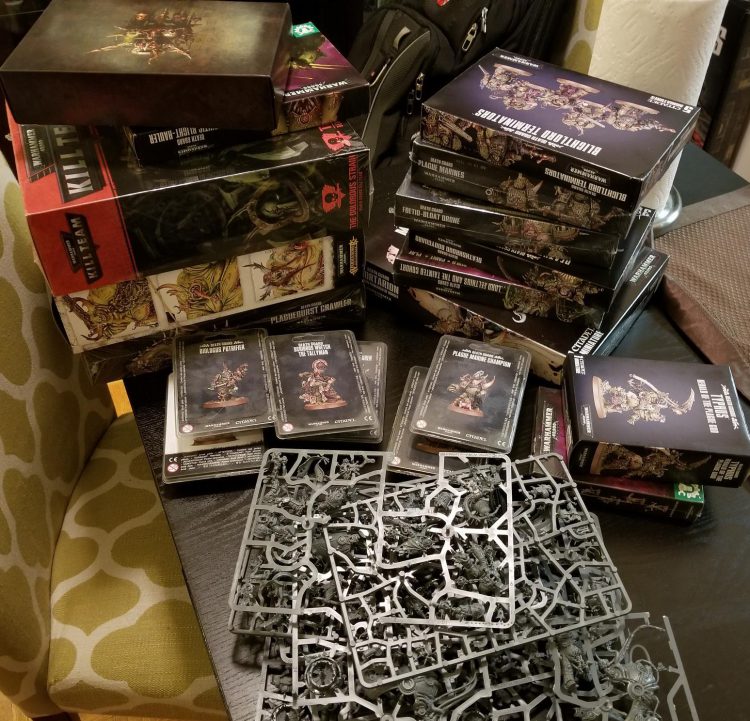 Jesus that's a lot of unpainted plastic. I mentioned it but at the time I wasn't seriously planning to paint all of that in 2020 – I had Night Lords and Emperor's Children and Black Legion to paint, after all. But then the pandemic happened. When schools closed in April we decided to spend the summer with my parents so we'd have some grandparent support for our son and so I packed up most of my Death Guard sprues and took them with me with the plan that I'd paint like, a few models and then head back up after a few weeks.
So much for that plan. Three weeks turned into three months turned into us buying a house and just straight-up moving our entire lives and now here we are one year later and I've painted up a few thousand points of models. Let's talk about where things sit now.
The Present
So all told I've painted another 2,500ish points this year, with a mix of Death Guard and Nurgle Daemons to round them out. I'm up to a count of about 22 Plague Marines now, having added a box of multipart models to my original Dark Imperium Boxed set bad boys to give me a solid core of bolter idiots.

On top of those 15 guys, I've got another 6 from the Space Marine Heroes series 3 set. These are gorgeous models and I love what they've done with them. I knew as soon as I saw them that I had to have and paint the entire set.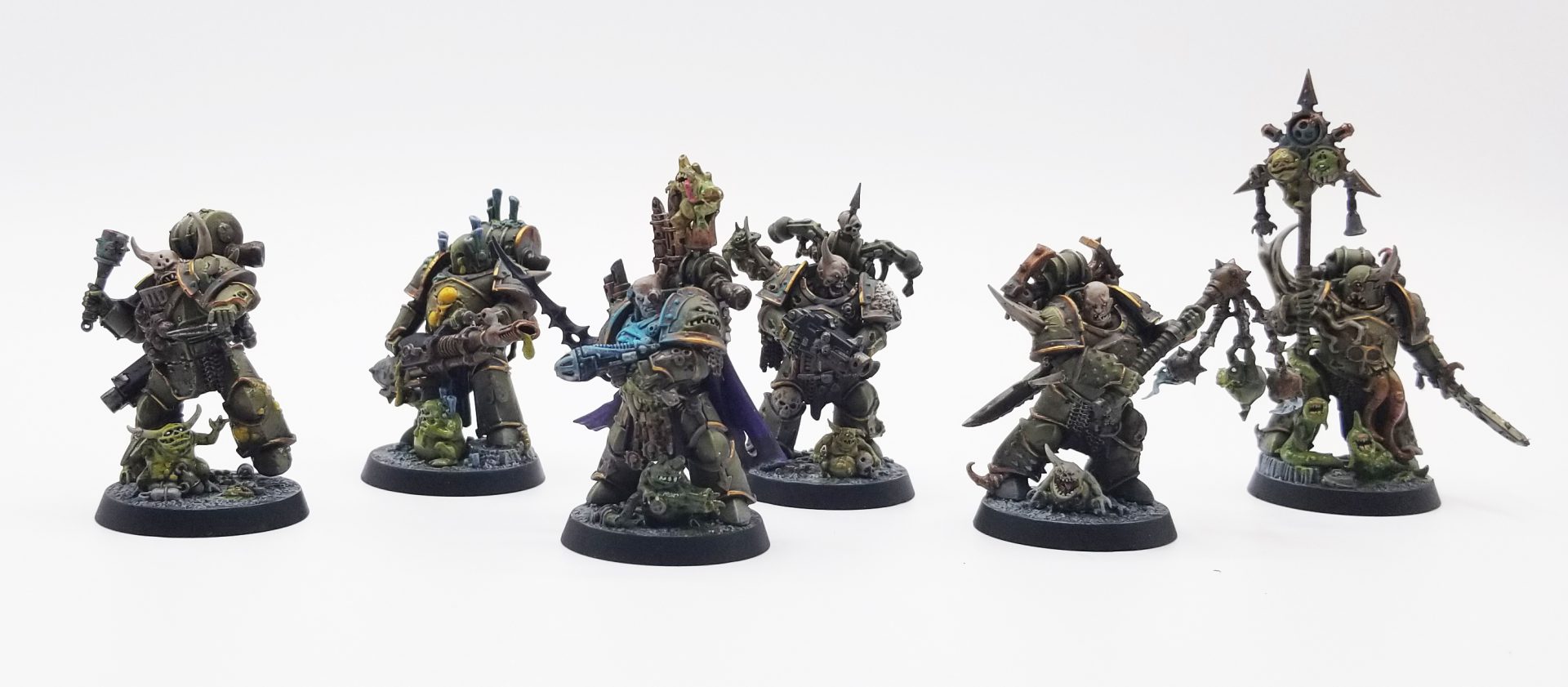 I also spent some time adding some Blight Lords to the army, painting up a squad of 5 plus the special lads from the Lord Felthius' Tainted Cohort Box. I have another 5 of these bad boys to paint up from the Kill Team Elites boxed set still but currently I like what I've got and I need to kind of see where things are going with the new Codex before I commit to building another five but more than likely they'll get bubotic axes (i've got extra bits to swap out swords) and another flail. Maybe I'll do a reaper autocannon though, who knows!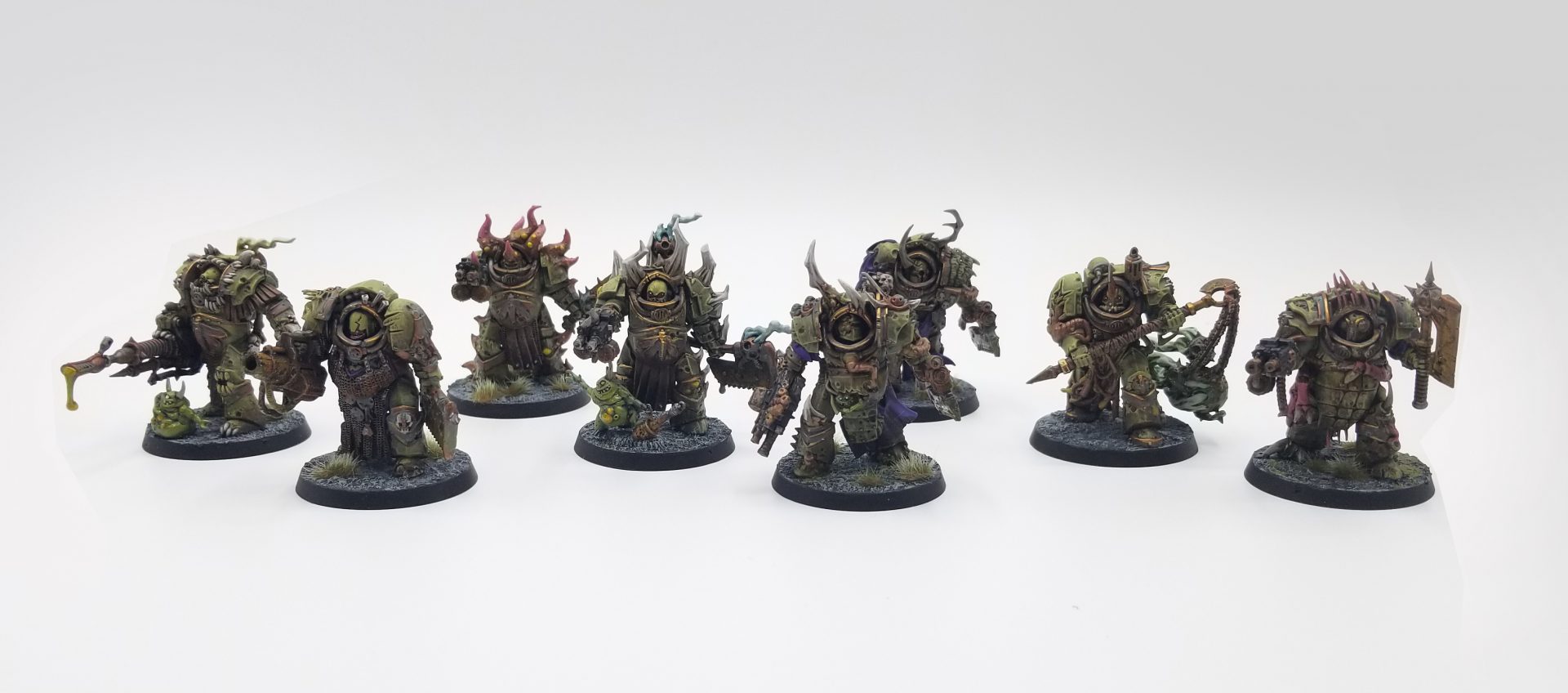 On that note, I've painted Felthius himself as well. He's kind of weird, being a Lord of Contagion on a 40mm base.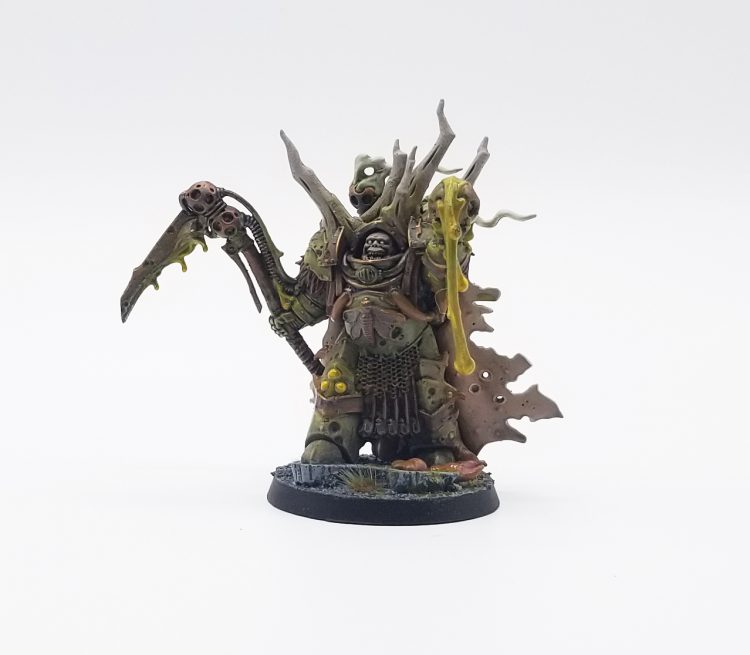 I've also added a series of other Death Guard characters to the mix, including a Plague Surgeon, Biologis Putrifier, and a Foul Blightspawn.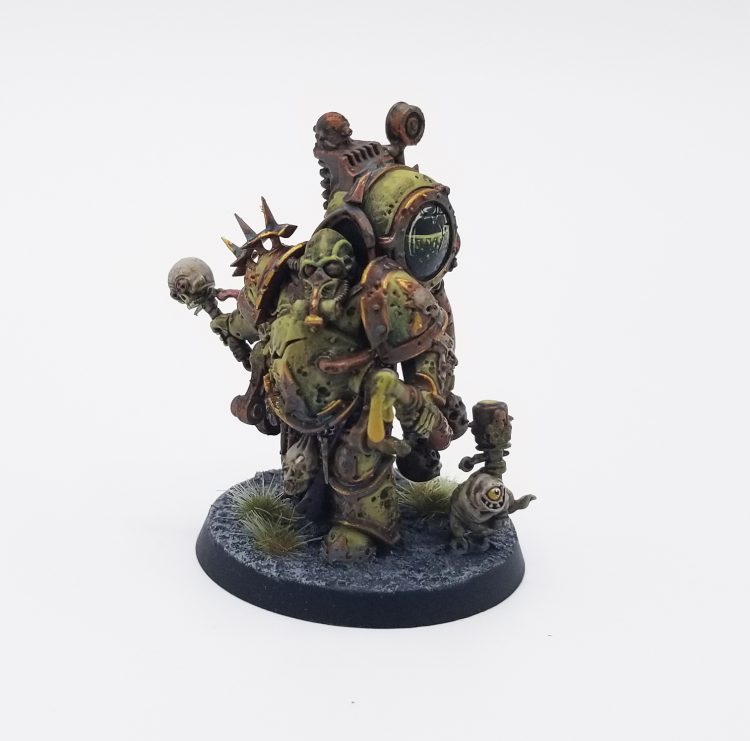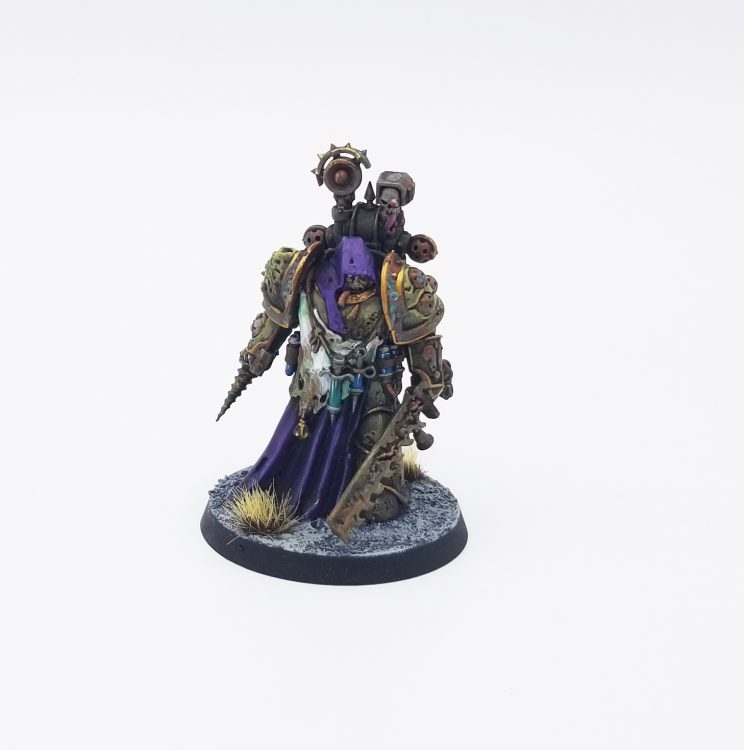 My Death Guard Infantry, like all Nurgle infantry, are pretty slow, and as such were in need of a way to get around the battlefield in style. I'm working on a second rhino still, but here's the first of two transports I'm adding to the army, plus I may add a drill as well. I'm not 100% sure if I want to go the Forge World route yet or go with the Mantic option – the latter is cheaper and easier to work with, and I think I can overcome the more toylike appearance with a heavy dose of green stuff and grime.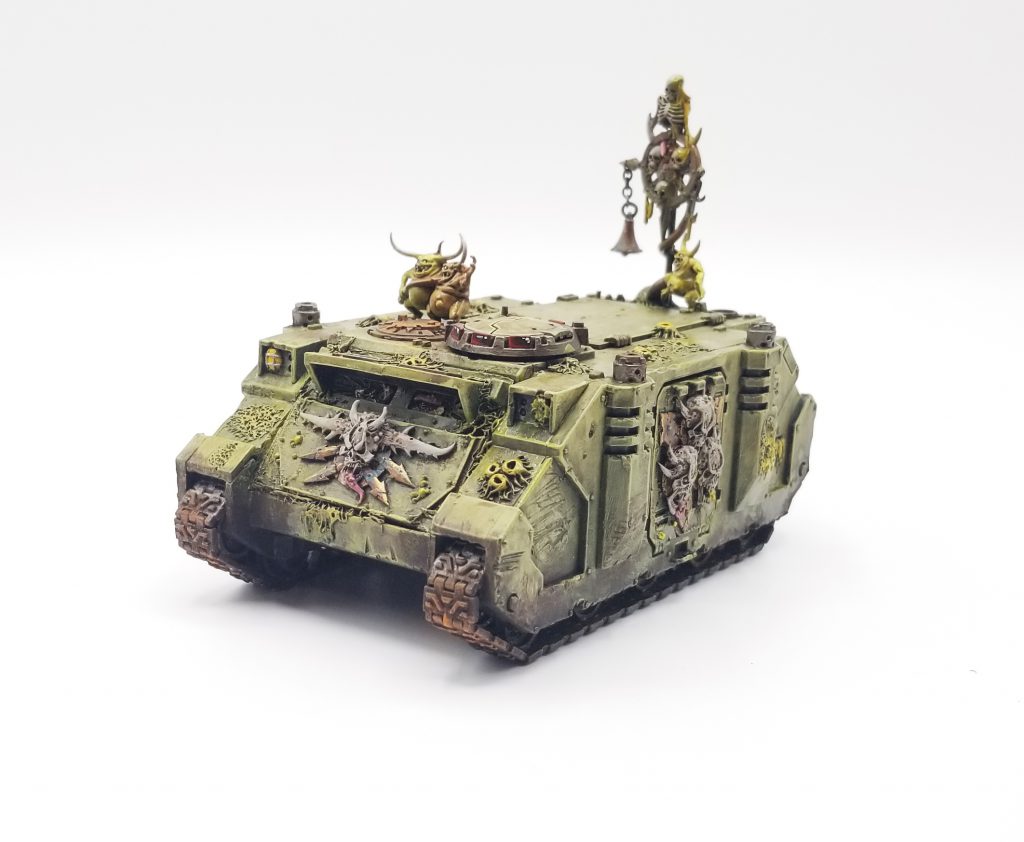 I also added a winged Daemon Prince; a conversion I spoke about in detail earlier in the year. This guy was a necessary addition to the army and I hope he'll continue to be a badass in future games.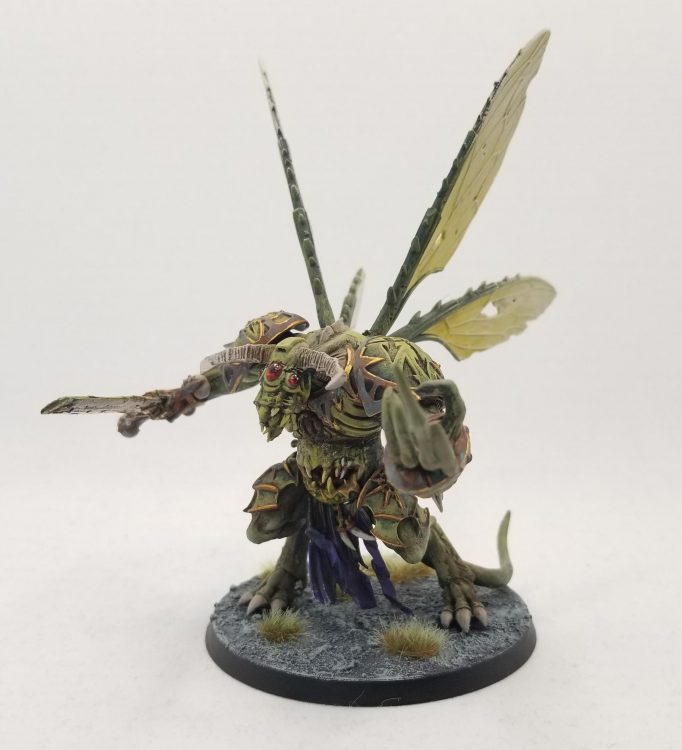 And there was a big, Mortarion-sized hole in my army so I painted him up, giving me the lord of the Death Guard the army really needed to be respectable. I'm very happy with how he turned out.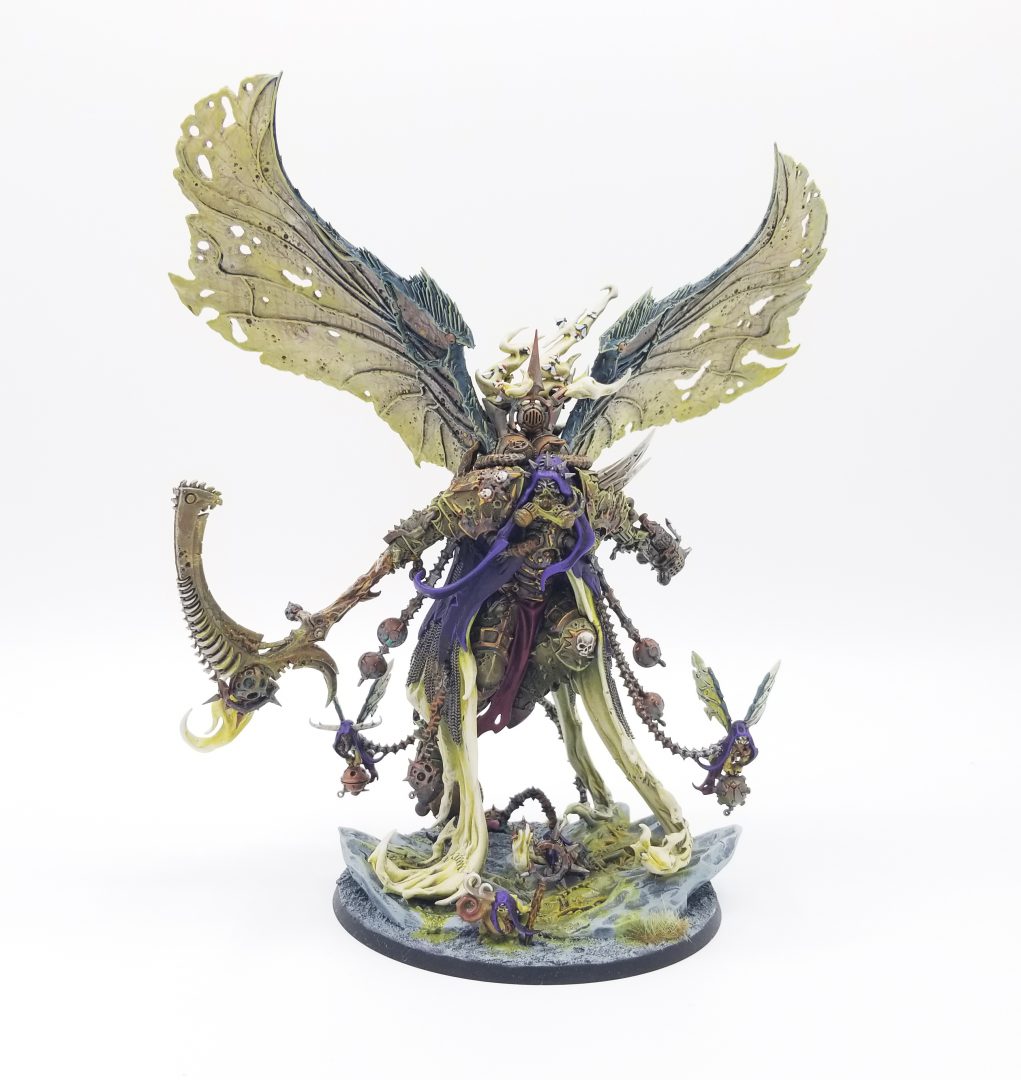 I also added two Myphitic Blight-Haulers to the army, both so I could get the trio effect of +1 BS and also so I could pull of some revival bullshit using the Great Unclean One's bell trick. These little things are just adorable.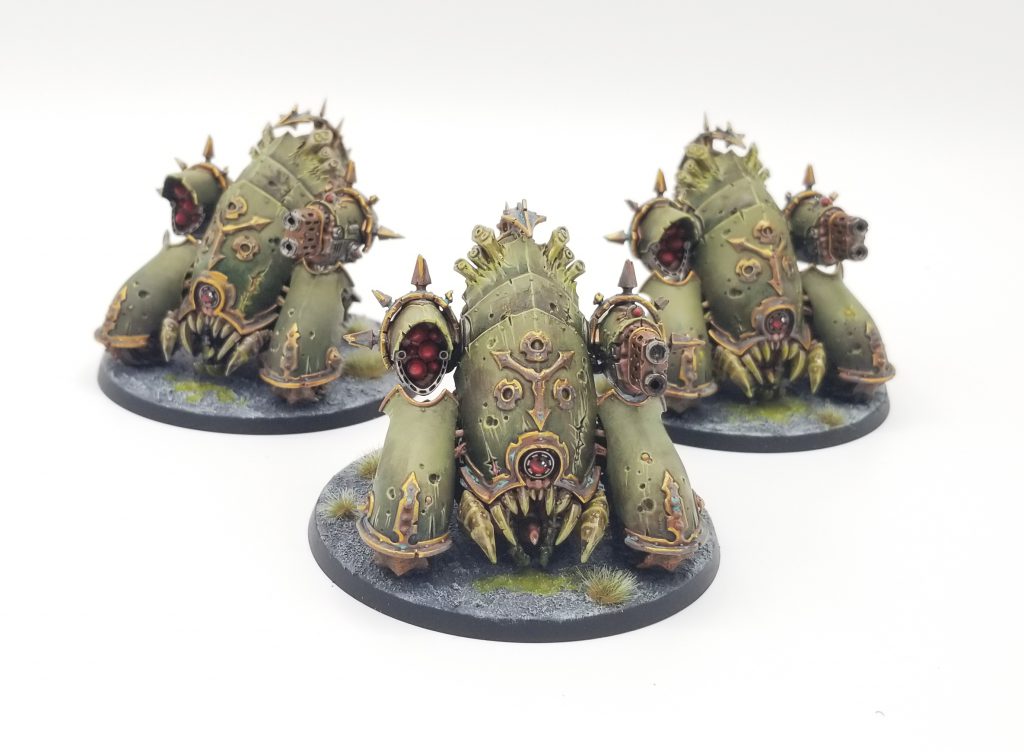 And finally, I spent a great deal of time adding some daemons to the mix as well to support my Death Guard. I knew even before 9th edition that I wanted to have a detachment of daemons so I could run a Great Unclean One with a plague bell to bring them back to life. Also I wanted some Nurglings to camp on objectives early on and be irritating. Then the transition to 9th happened and these became really viable strategies. Note that through about a dozen games, I have yet to return a Blight-Hauler to life with the GUO even once. Also I have to re-base all of those Plaguebearers, a thing that I really, really don't want to do.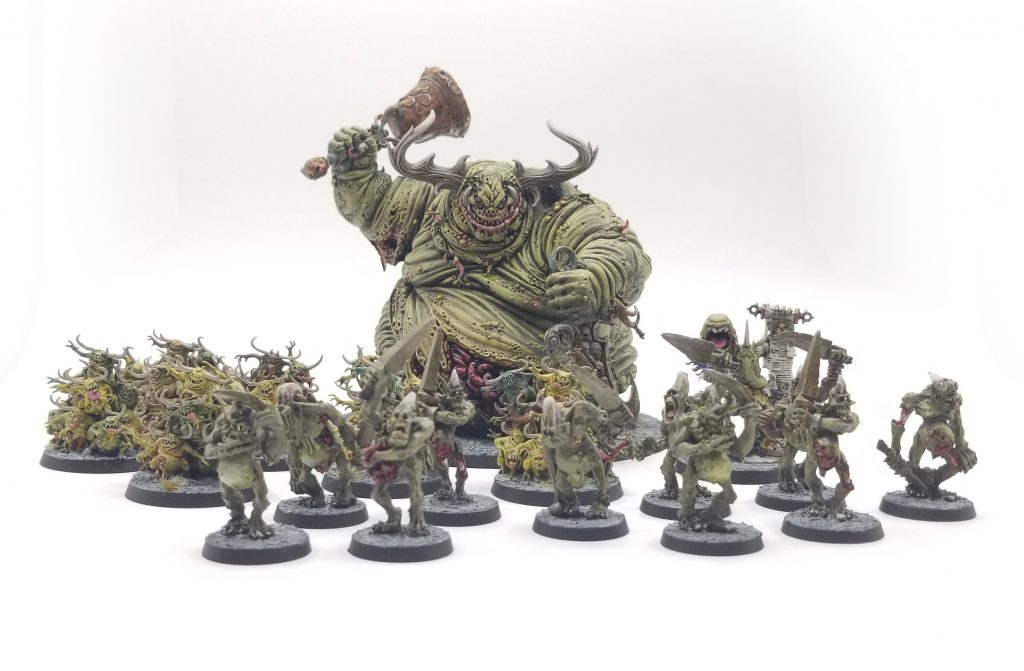 On the whole I'm really happy with the progress I've made so far and the way things have worked out with the transition to 9th has been just great – the army is better than ever and I'm pumped to see what we get in the new codex. It's a much more exciting army to be playing anyways than standard Chaos Space Marines right now and I've kind of lucked into them becoming good at the right time. I've also slowed down on these guys a bit as I've been doing more art for Goonhammer articles with my spare hobby time, but I still make good progress on the weekly hang-out-and-paint streams we do in the Goonhammer Discord.
The Future
Despite the great progress I've made this year, I still have quite a bit to do. I have a trio of Plagueburst Crawlers, one primed, two still in box. I have an assortment of infantry and characters, such as the Heroes Blightcaster, a unit of Deathshrouds, and a Tallyman, along with a bunch of marines in various states of painting, shown below. I expect to finish most if not all of these before the year is over, since I'll likely have a bit more time to work on stuff next week. After that I've got some more Blightlords to do, a pair of bloat-drones, and a lot of poxwalkers who could use assembly and painting. I'm not sure yet if I'll need Cultists for the army. Several decisions are waiting on that new Codex at this point.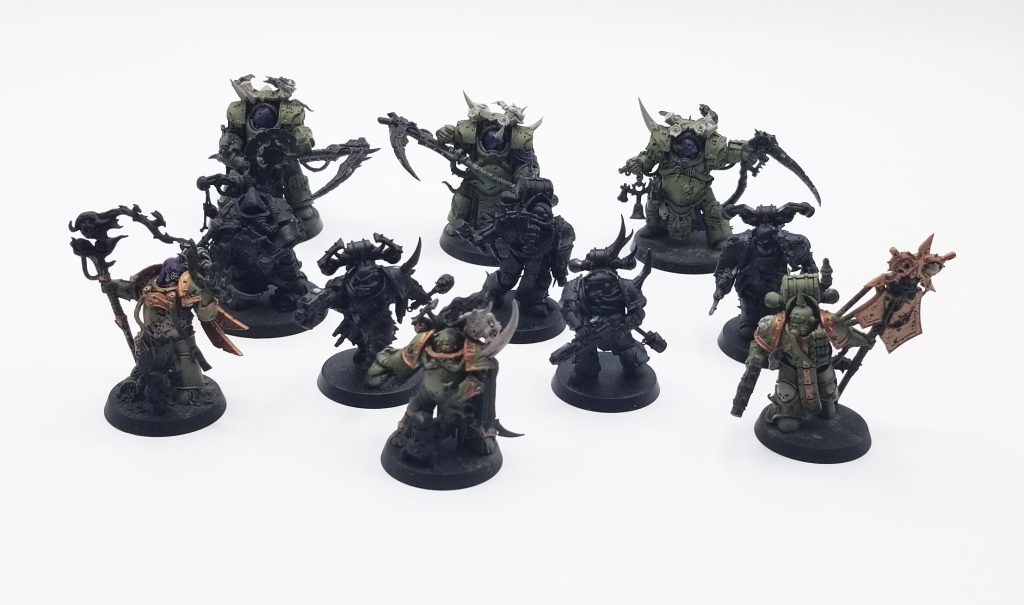 I've also got a few notable conversion projects in the works. I'm going to do a Death Guard Defiler at some point, and I have the kit already for that one, but my big current modeling project is making Death Guard Possessed. I'm absolutely read to run these guys based on the rules we've seen and I'm really excited to see Death Guard Possessed be real combat monsters on the table. I've been inspired by Gerald Miller's Death Guard on this a bit, and am kitbashing possessed and the modern death guard kit along with some classic mutation bits to make a unit of Death Guard Possessed that don't look like shitty 2005 models on the tabletop. I think it's working really well so far, using the toothier torso bits where available and swapping out arms to get appropriately nasty appendages.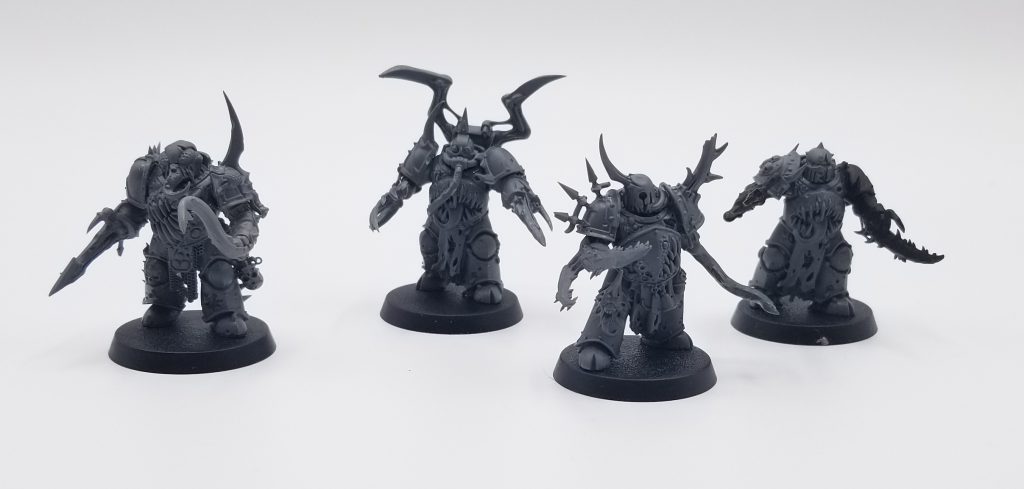 So that's what's next. A lot of it depends on the Codex, though even as I paint new models to make the army more competitive I'm still planning to paint one of every Death Guard mini. I mean 've already got the models, may as well.
Next Time: My Black Legion
I don't know when my next Showcase will be. Probably a month or so. But I do know that the next time I do one I'll probably be showing off my Black Legion. They're an army very much in flux for me and an army that I'm very proud of. Until then, if you have an army you'd like to share for our Army Showcase series, shoot us a note in the comments below or email us at contact@goonhammer.com. We'd love to have more armies to showcase!