A bit of quick one this time, I was playing around different greens to try and find a fast way of doing goblin, gretchin, grot skin as a) they're low cost cannon-fodder and b) I'm lazy.
I'm doing the non-alcohol self control January thing this month, so for a decent beer wait for the next instalment. In the meantime here's how to cheap out on effort when it comes to a quick greenskin.
Items required
Sainsbury's no added sugar cream soda (poor mans ice cream porter and only 3 calories)
Death Guard Green, Lahmian Medium, Flash Gitz Yellow and Biel-Tan Green.
What you wont need
Lamenters Yellow and Waywatcher Green Glazes (I used them so you don't have to)
The Long Way (aka skip to Short Way)
I say long way, with your trusty hair dryer it's still only a few minutes after priming/base coating.
Step 1
Prime your miniature in Death Guard Green Spray, or paint the area in Death Guard Green base paint.
Step 2
Wash Biel-Tan green over the model.
Step 2.5.
Use a Hairdryer or wait 30 minutes.
Step 3
Waywatcher green over the model.
Step 3.5
Yep, Hairdryer again (from now on assume a .5 step after every step as that's what I do anyway
Step 4
Lamenters yellow on the raised areas and almost everywhere else.
Step 5
Mix up some Lahmian Medium and Flash Gitz Yellow paint, about 3 parts medium to paint and paint it on the bits you want to pop. Brush towards the brightest bit as the mix will be strongest there.
Now forget all that
Here's a better way and much faster
Step 1 and 2
Prime/Basecoat Death Guard Green same as before, and wash with Biel Tan the same as before.
Step 3
Use the same Lahmian mix as before for almost the same effect, only now you can skip the glazes
Just as good only 0 alcohol, I mean effort.
A better example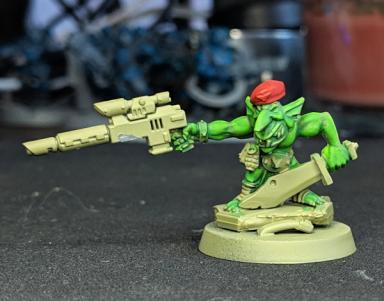 Here's the same technique applied more carefully using a mix of about 4:1 medium to paint, as you can see the gradient is much more subtle and if you like you can apply it over itself to build up the colour more in other areas such as on the tops of arms, noses, feet, fingers etc…