As an older millennial who had formative years during the wars in Afghanistan and Iraq, I've always had an interest in modern (for me, post year ~1990) engagements, since we grew up saturated with images and news reports from those fights. To be clear, I don't glorify those wars – we shouldn't have been there. The tactics, equipment, and asymmetrical warfare are just incredibly interesting to me. Add to that my addiction to games like Call of Duty and Rainbow Six and I've always wanted to replicate these types of games on the tabletop. Unfortunately the modern warfare ruleset environment is a minefield littered with extremely complex table-driven affairs that can be really disappointing. With Black Powder Red Earth, I think I've found a game that I really like.
In this multi-part review we're going to cover the starter set and universe, the miniatures themselves, and an in-depth review of the rules and minis I painted.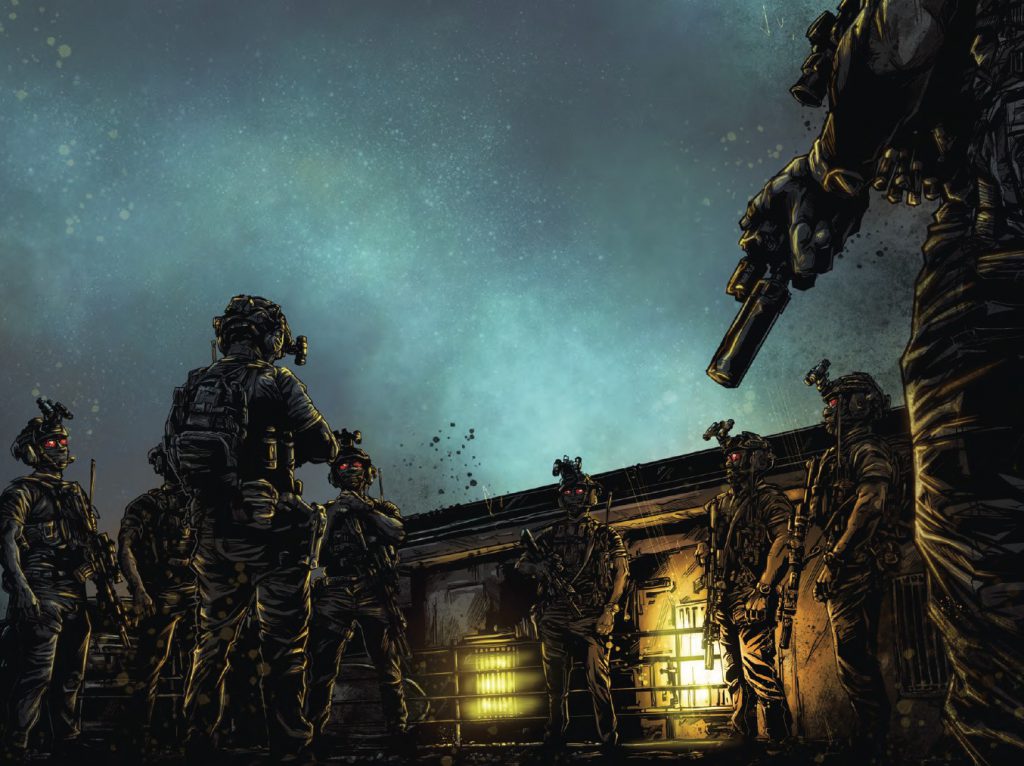 The Starter Set
Black Powder Red Earth has gone the way of GW and created a big starter box that will satisfy every single need you have to play the game. Really the only thing you don't get in it is a ruler or measuring tape – I advise you head to Harbor Freight, The Dad Store, and grab a dozen of them for $20 and you'll be set for the rest of your life. A list of the contents:
87 pages of rules in a beautiful full color paperback rulebook that also has:

Complete rules and unit stats for play
 Campaign and stand-alone game systems
11 ready-to-play close combat scenarios
Five distinct battlespace layouts
A comprehensive history of the conflict between the war-torn states of Awbari and Qasra
20 page excerpt from the new Black Powder Red Earth® graphic novel series, [Awbari]

31 resin miniatures 3d designed to match the story in BPRE: Awbari. Includes:

CT Scorch Advisor
CT Scorch Automatic Rifleman
four CT Scorch Assaulters
four CT Scorch Recce
a Hongbin Enabler
four Hongbin Mercs
four Muhtasib
12 Shurta

A 6″ round template for grenades, explosions, and line of sight
Six PVC board terrain tiles
Tokens

turn Counter
turn Marker
objective Marker
29 Act Markers
5 frag Markers
6 vehicles
6 planter terrain pieces
6 air conditioner terrain pieces

19 resin doors
75 cards for use in-game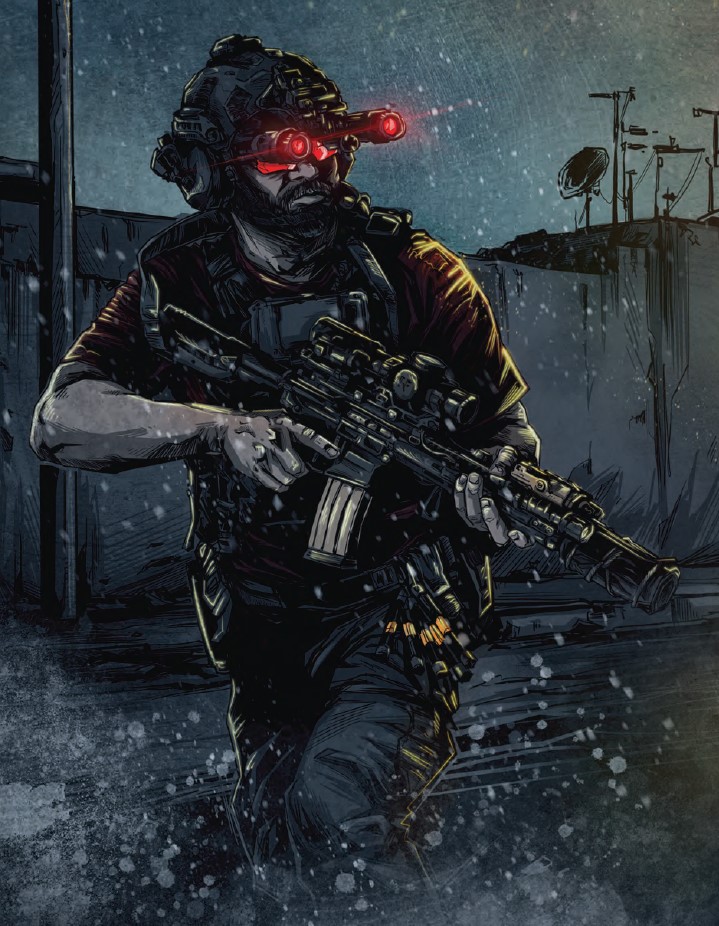 This is an immense set of stuff and again, seems like all you'll ever need to play the game. It's not really a starter box, it's a finisher box. We'll take in-depth looks at the minis, tokens, terrain etc. in later articles, but for now I wanted to present what is in the box. You can also buy most of this by itself if you're just interested in starting small.
The Setting
Black Powder Red Earth is a setting that has been fully fleshed out in many graphic novels and a video game available on Steam. The game and materials are very stylized with a modern feel and high quality graphic design and art.
It's set in a fictional country called Awbari, currently in a civil war between Islamic extremists and the Awbari security forces. A private military contractor, Cold Harbor, has been working with the Awbari security forces to advise them. They equip, train, plan and execute counter terror raids and destroying equipment. Rare earth materials are being mined in Awbari that need to be protected and kept away from the insurgents.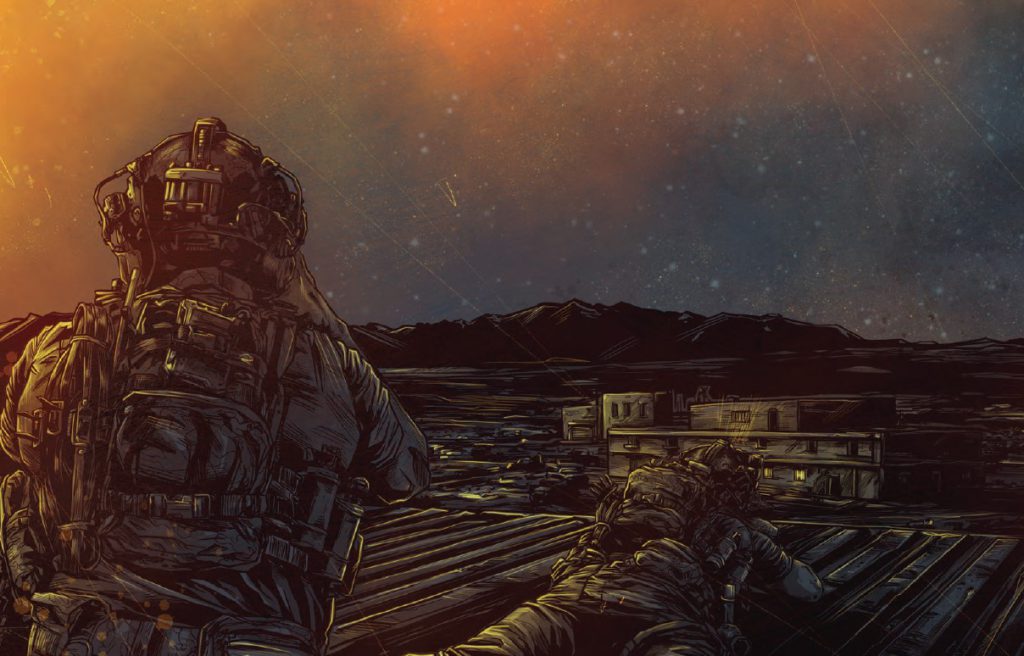 The Aayari Network are not just hordes of untrained soldiers – they're able to move troops and use support fire to their advantage. The war changes with an assault on the Ghat Airbase, where 250 soldiers are killed or kidnapped, including 50 Cold Harbor staff members. This is where Crisis Troop Scorch is created – because they realized the Aayari Network was getting more organized. They were able to jam communications and use support fire with infantry movement to reduce entrenched troops quickly.
The Crisis Troop operators start a ruthless campaign to take out Aayari Network compounds by dropping in quickly, eliminating targets, and capturing operational intelligence. This is where the Hongbin allies step up their contribution, by installing more surveillance system and providing more sophisticated equipment to the fighters. Scorch keeps up these raids for six months, eventually making it so the Aayari Network cannot export their valuable resources.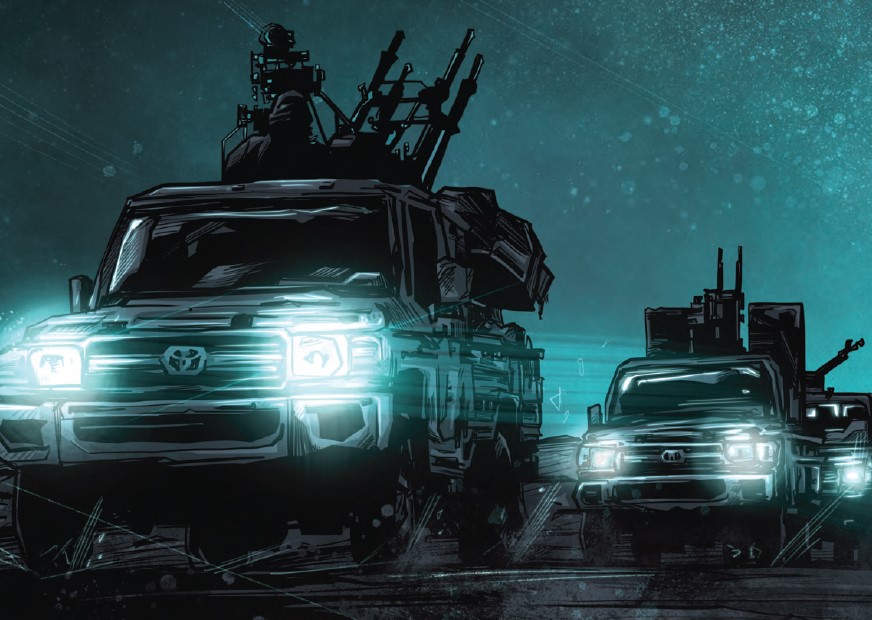 This story and setting are fictional, with an imagi-nation at heart. I like that because we're not dealing with a real conflict. We can tell our stories akin to Call of Duty or Rainbow Six and not have to deal with the real world politics or bad feels. At the end of the day, if you would rather create your own narrative you definitely can, like all the historical wargames we play.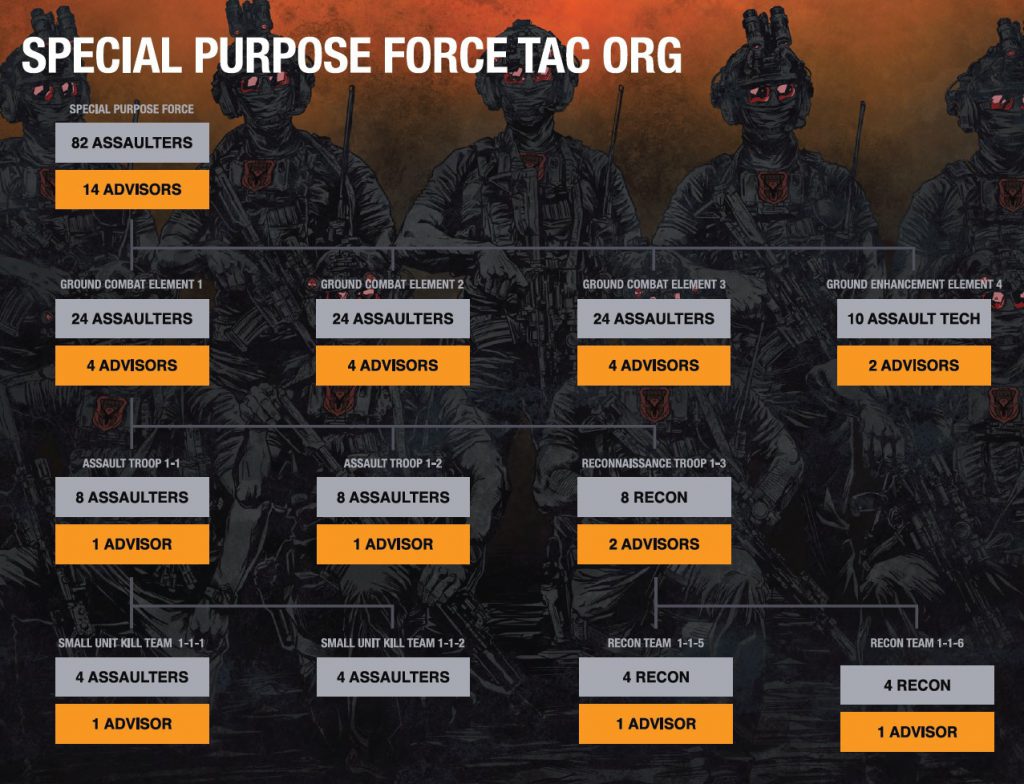 The Operators
There are three operation teams at play here – Crisis Troop Scorch, the extrajudicial operations team that Cold Harbor has setup. They are made up of cells rom 4-28 shock troops, using carbines, machine guns, 40mm grenades, and drones to engage. They're heavily armored and prepared for night fighting as well. Crisis Troop Scorch is composed of:
Operation Advisor (the leader, can call in drones)
Assaulter (the core troops – can throw frags and engage in firefights)
Automatic Rifleman (carries the light assault machine gun, limited like leaders)
Recce (can activate multiple times and open doors easier)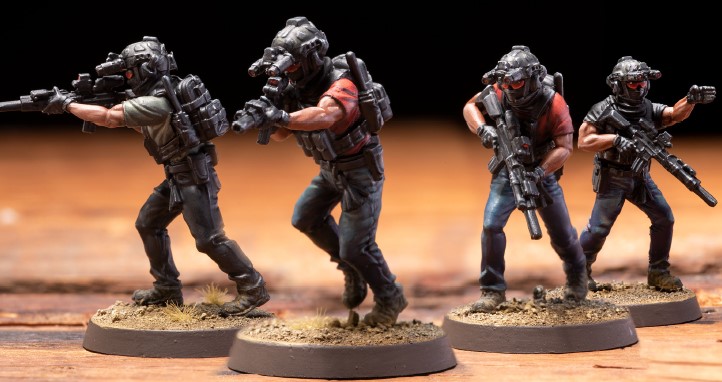 The Aaayari Guard are devoted and committed to fighting. They have Shurta fighters who are lower level but just as ready to fight – often times unleashing lots of gunfire just to get the Scorch teams to reveal their positions. Then the more veteran Muhtasib fighters engage (with the help of Hongbin allies). Muhtasib are more heavily armored and sometimes equipped with close range IEDs. The Aayari Network care composed of:
Guard Muhtasib (tougher, has close range IEDs)
Guard Shurta (has no saving roll, must be accompanied by Muhtasib)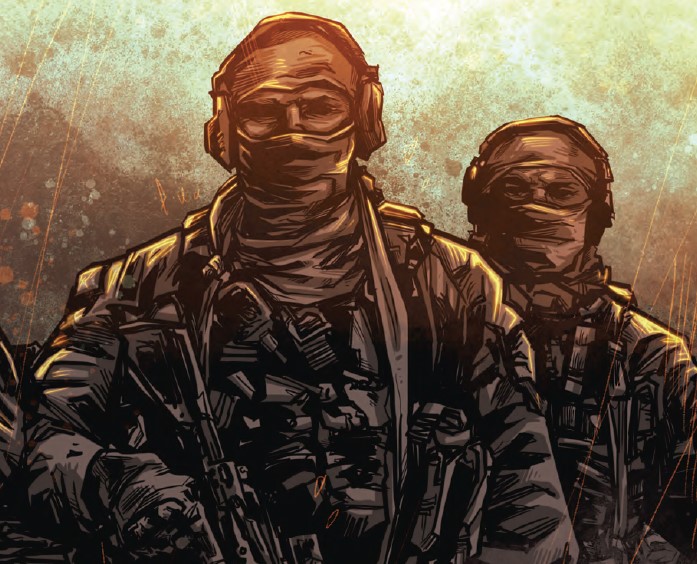 The Hongbin Enabling Forces are made up of North Korean officers and Syrian shock troops – two forces who met in the Syrian Civil War. They are directed by Chinese officials in a proxy war to maintain access to the resources in Awbari and have been funded by the Awbari State to try to move the needle to their side during the war. The Hongbin are composed of:
Hongbin Enabler (very similar to a Scorch leader)
Hongbin Merc (similar to the Assaulter, they have an RPK)
This is, at it's heart, somewhat of an asymmetric war. While most of the Taskings (missions or scenarios) are equal point balance, the Shurta are unarmored and not well trained. They'll need the support of the Muhtasib and Hongbin to take the fight to Scorch.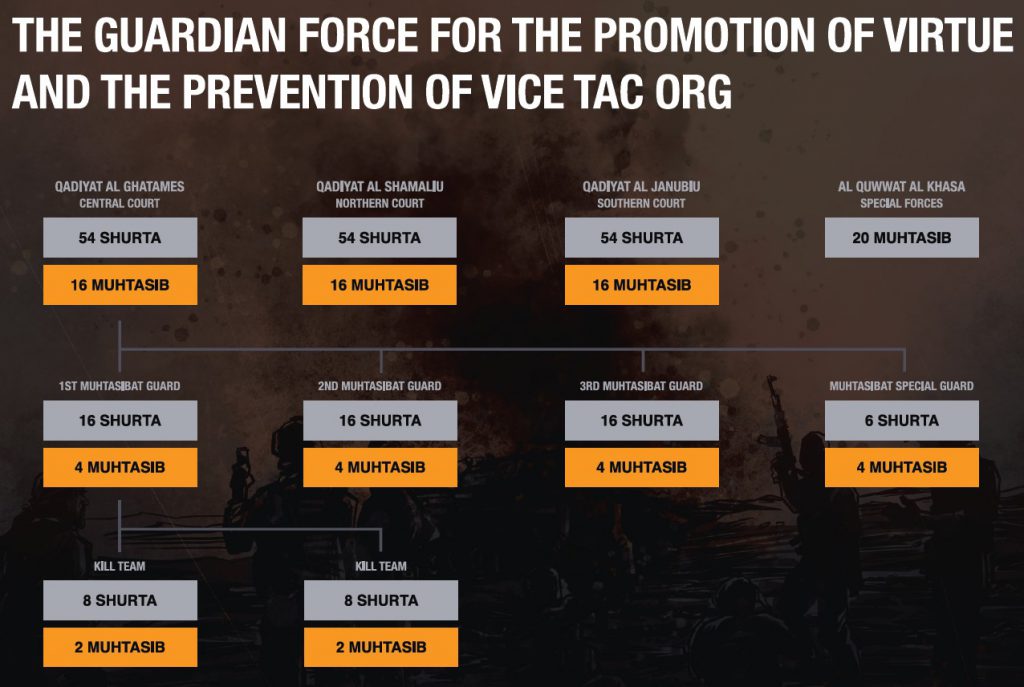 The Art
Black Powder Red Earth has been on my radar for a long time because it is a series of graphic novels, and I love comics. The writing is very focused on using milsim tactics and terms, even having a glossary in the back. The art by Josh Taylor deserves specific praise here – the full page spreads and sometimes double page spreads are amazing. I'm not an art critic but the figures are well proportioned and the effects used are realistic and evocative. Lighting is one of the key differentiators for this series, as the missions often take place at night so light sources can change the glow of everything.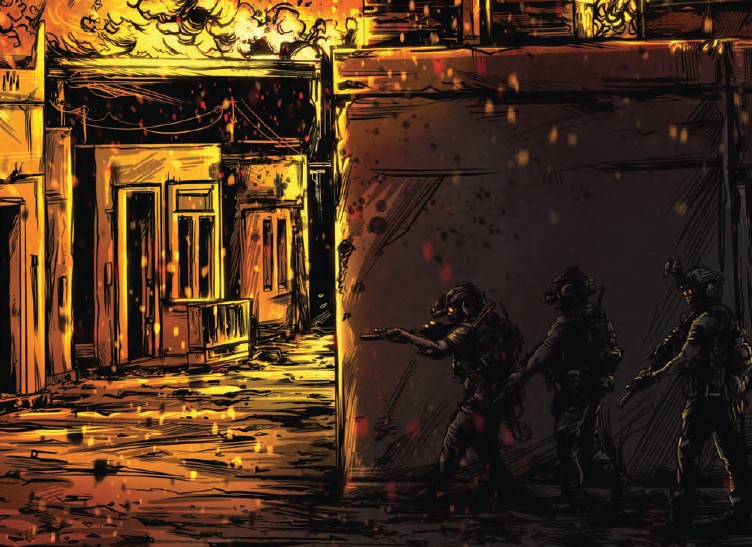 We're going to continue looking at this starter box again soon by reviewing the miniatures – assembly, cleaning, etc. and compare them to some other lines in our next article. Stay tuned!