The UK Team Challenge has established itself as one of the Blood Bowl world's biggest and best tournaments in recent years, with over three hundred attendees from multiple countries competing.  This year was its eighth outing, and once again it was back at the University campus in the beautiful city of York.
In past years I have attended as part of teams from London's two biggest and best Blood Bowl leagues, the ECBBL and DBL, but this year I somehow managed to inveigle myself into a team with some of the Blood Bowl world's actual living legends.  All the President's Men featured the talents of Purplegoo, Geggster, and the man with more NAF games than anyone else, Lycos.  All three are Team England stalwarts and multi-time champions of both team and individual events.  So Nuffle help me, I knew expectations would be high.  Working in my favour was that I would be playing Orcs, who looked a tier lower than you might imagine in the rules pack.
Team Building
Orcs got a budget of 1.15m GC to build the team with, and 150k to purchase skills.  This effectively meant 6 Normals and a Secondary.  Orc team building these days has some annoying 5k increments on players that make various builds difficult or impossible, so whichever direction you go it can feel a little unsatisfying.  Ultimately I took the following:
1 x

Troll w/Block

4 x

Big'Uns w/Block x2, Guard

4 x

Blitzers w/Mighty Blow, Tackle, Guard

1 x

Thrower

1 x

Goblin
2 x Team Rerolls

1 x

Apothecary
3 x Assistant Coaches
The Apothecary had proved to be more useful in practice games than a third reroll, as with so much Block across the team and a Sure hands Thrower, reroll use was really limited to the odd double skulls or desperation dodge.
The Squad
The rest of our squad was rounded out by Purplegoo's Skaven, Geggster's Amazons, and Lycos' Underworld.  Geggster is one of the great Amazon coaches, but had little playtime with the new roster, so this would be something of an experimental tournament for him.  Lycos' Underworld would be bashing and fouling with the maximum six Snotlings to ensure player advantage at all times.  Goo's Skaven featured the Rat Ogre, and Strip Ball and Sidestep Gutter Runners amongst the supporting cast.
The Field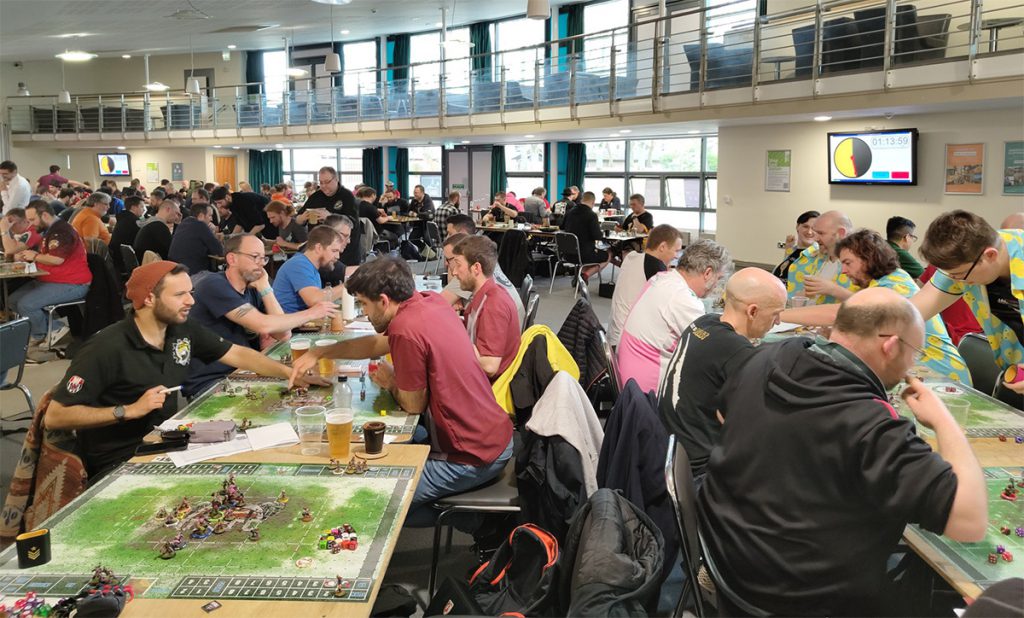 UKTC VIII would pit 344 players across 86 teams.  The most popular teams were Orcs (41 teams), Skaven (26), Lizardmen (24), Dark Elves (20), and Undead (19).  Notable unfashionable teams included Wood Elves (7) and Chaos Chosen (2).  Snotlings were the most popular Stunty, with 13 teams.
Day 1
Game 1 
UKTC is such a huge tournament that the event is split over two parts of the York University campus.  The larger room and the top tables in one building, and the lower tables in a frankly much nicer building with a lovely waterside view.  We started the day in the latter against some players we knew very well, Team Redshirts, who I had played against at this event last year, and who were all well-known faces on the tournament and BB scene.   All lovely guys, and my opponent was Wotfudboy.  Unfortunately this was an Orc mirror, which was the tie I was dreading given that there were so many Orc teams around.
Typically the momentum of the game swung with the early damage, and Wotfudboy found it by removing one of my Big'Uns.  It was hard sledding from here on out, and Wotfudboy ultimately took the win.  Thankfully, on the table next to me Geggster's Amazons pitch-cleared HowlingGriffon's High Elves, and Lycos and Goo won without conceding, so the team took the first tie of the day.
Game 2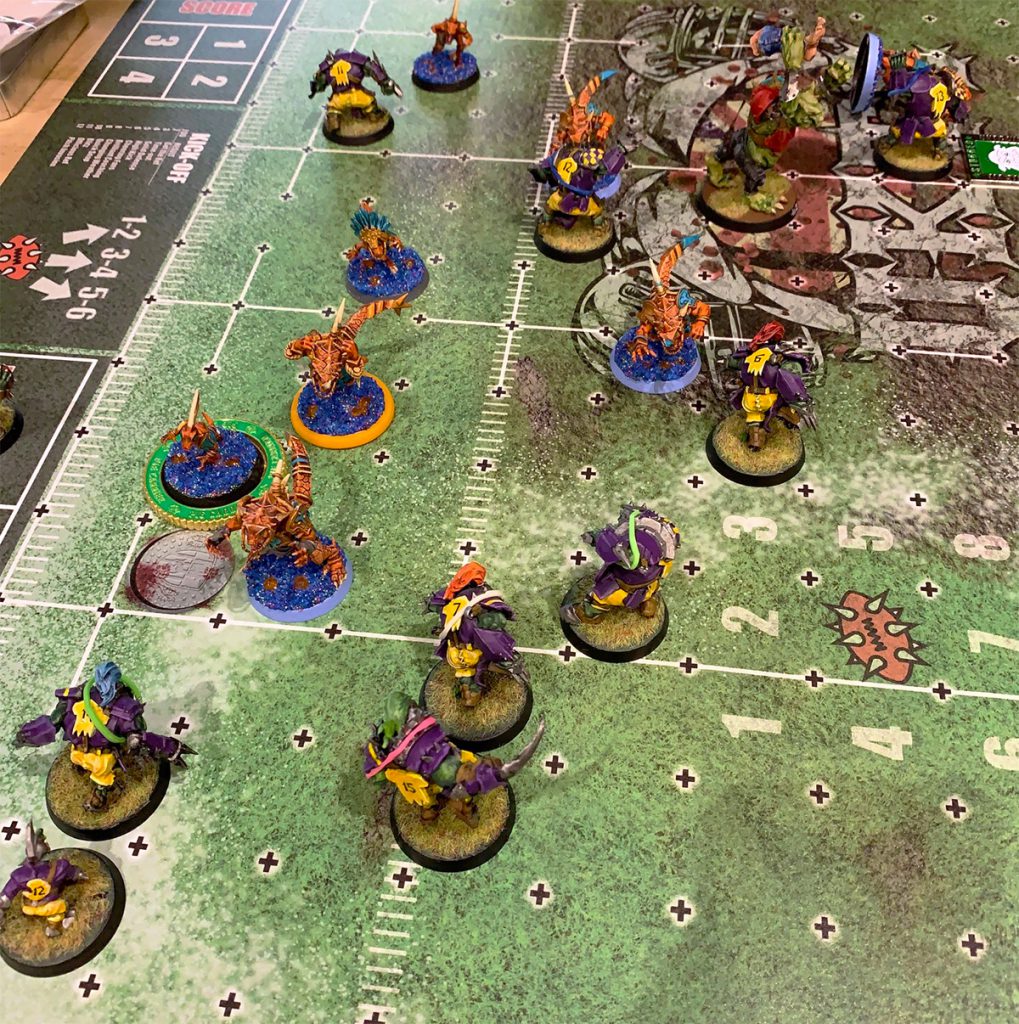 With a win on the board, our second match saw us heading over to the main building and the higher tables, where our next opponents were the Scottish team the Kilted Unicorns.  These were again mostly a known quantity of good players, though I had never played my opponent, a fellow Philip, Phil78.  Phil had brought Lizardmen, so it was once again going to be a contest of strength.
Sadly I suffered some early cas and had to defend short-handed.  We made the best go of it possible, leaving the Lizards some dodges to make the score on their drive, but they succeeded.  In the second half my own drive floundered late on a double 1'ed Thrower Rush as I pushed for the equaliser, and Phil took the match 1-0.
Elsewhere, we suffered two more losses and some punishing dice, and the Unicorns took the tie overall with 3 wins to 1, putting a major dent in our ambitions.
Game 3
Plummeting down the rankings, we now faced Calamitous Casual BoB.  My opponent was The_Fritch, a fellow fan of underscores, who was using another high strength team in Nurgle.  I knew this was going to be a challenge as the Nurgle are well-equipped to foil the Orc gameplan. So it proved, with Foul Appearance doing far too much work, and the Nurgle putting my Orcs on their backs repeatedly and controlling the game.
This tie turned out to be a struggle for our entire team, and it ended up as a draw, with only Lycos winning his individual match.
So, we ended the day on 1/1/1, and overall it had been a day of hard work and little reward.  In the evening we went to a lovely Italian restaurant, and resisted the lure of York's infamous nightclub Popworld, so heads were relatively clear heading into what would hopefully be a better Day 2.
Day 2 
Game 4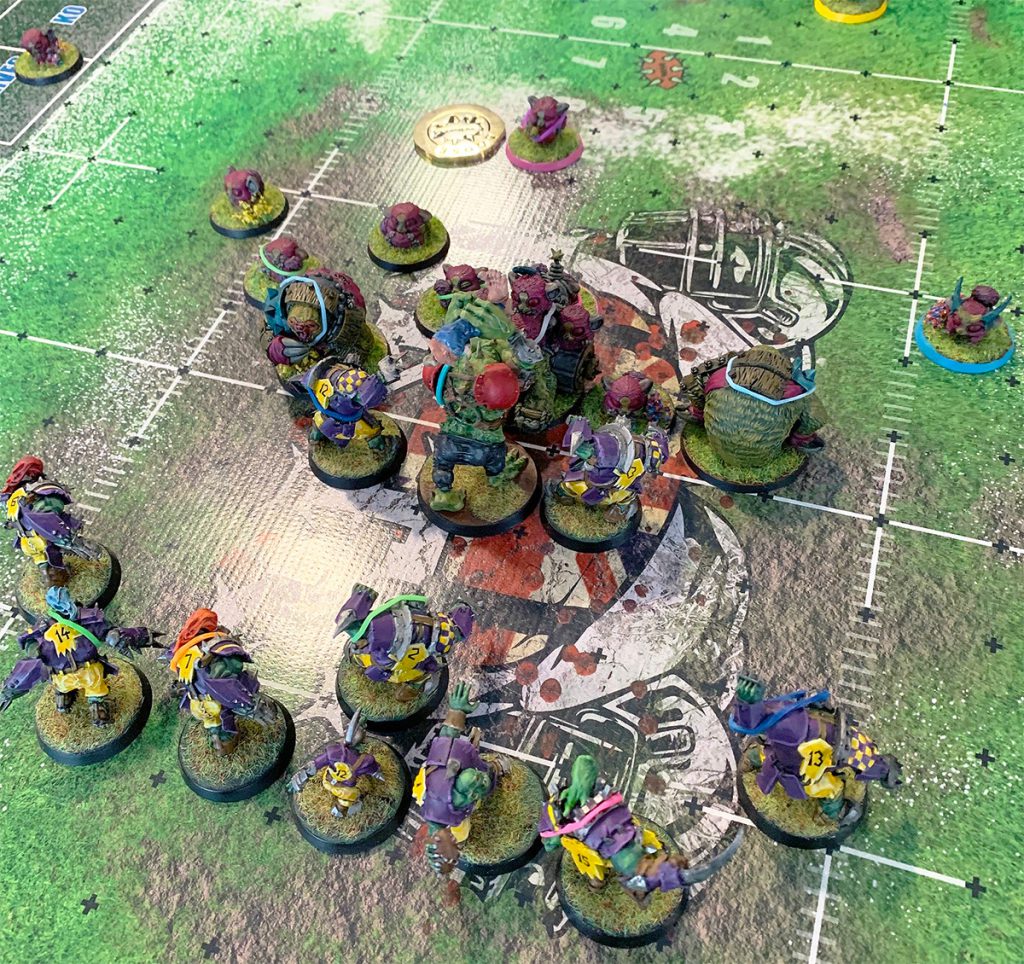 Our first opponents of the day were The GOBBLed, who hailed from the Cheltenham and Gloucester region of England, and had brought two teams to UKTC from their local league.  My opponent was RandyPandy, who had brought Snotlings.  With the UKTC ruleset banning Stars, this was a Roster that had leaned heavily into bashing and fouling, but had also brought two Fungus Flingers, which are a nightmare for Orc teams.
This was my best game so far, and despite the constant barrage of bombs, I was able to do plenty of damage to the Snots and control the game.  Sadly a series of unfortunate events occurred late in the second half and the plucky Snotlings turned a win into a frustrating draw.  I think RandyPandy deserved a bit of luck, so credit to him in a typically wild and fun Snotling match.
My team-mates came through with three wins without conceding a touchdown between them, so we took the tie handily to get the day off to a great start.
Game 5
Game 5 was against one of the two FUMBBL teams at the event, the FUMBBL Die Hards, and my opponent was Badger89 and his Goblins.  Badger had an insane MA8 AG2+ Pogoer which was obviously going to be hard to pin down, as well as the usual fun Goblin Chainsaw and Ball and Chain toys.
This was another wild stunty matchup with damage aplenty.  I got a very early knockdown on the Pogoer and the ball but didn't remove it, and then badger killed my Tackler, which was a huge blow.  I removed the Ball and Chain, and things got even better when the super-Pogoer double 1'd ed a dodge after trying to Leap away to score.  The ball then passed through several hands for the rest of the half with no one able to secure it, but ultimately it fell to the Goblins who completed an improbable score on their final turn.  I was feeling a bit hard done by, but then everything went my way on the one-turn attempt and we Threw Team-Mate for the equaliser.  Sadly numbers were against us on the second half drive, and the Ball and Chain returned with great effect by spinning into my cage and killing my Thrower.  The unsightly scramble for the ball then resumed for the rest of the half and with far more dice shenanigans than I can recall, the Goblins found a winner.
While I toiled fruitlessly, the rest of the President's Men took the round again with two wins,  taking us to 3/1/1 for the tourney and giving us the chance to finish in the upper reaches.
Game 6
The final game of the day saw us against Tactics And Theatrics, and my opponent was Leeds resident Haychdee, who had been running a stall selling some lovely models throughout the tourney.  Haychedee had Undead, which I thought would be a very even matchup, and so it proved, with a very cagey opening half in which the Undead defense stymied my slow offense and forced me into reaching for luck to make the score; luck did not come.  His second half drive went much the same way, and after he had also had to make some desperation play to make the score, I got the ball down and tagged by several players going into his final turn.  Nuffle had one cruel blow left for me, and a remarkable series of rolls saw a hero Ghoul make multiple dodges, pick the ball up in traffic, and find the winning score.  I was pretty heartbroken, and Haychdee must have sensed it, as he very kindly gave me a couple of models for free after the game.  A big thanks to him, a lovely opponent.
Once again, my pain was mollified by the performance of my team-mates, who found the two wins that gave us the tie again overall, and saw us finish on 4/1/1, which was really impressive considering some of the struggles we had.  Lycos finished with an incredible six wins from six, and Purplegoo on a strong 4/1/1.
The Winners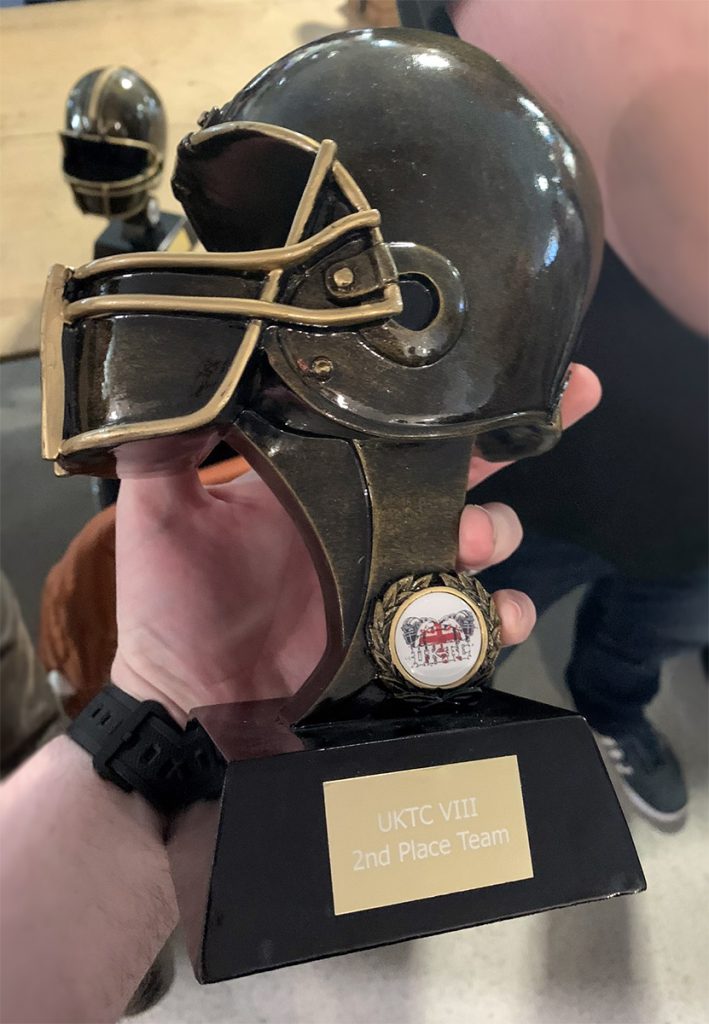 The champions were the famous Lutece Noobs, a French team who appropriately treated the crowd to a wonderful rendition of the Marseillaise while spraying them with Champagne as they received their trophies.  The winning team was composed of Orcs, Imperial Nobility, Dark Elves, and Amazons. 
Runners-Up were the Scottish team Two Guys One Dice Cup, who had brought Lizardmen, Orcs, Undead, and Elven Union.
All The President's Men finished 10th out of 86 teams overall, which was a great performance, with all credit going to my team-mates.  Even more impressively, Purplegoo collected the trophy for Most Touchdowns, with 15 on the weekend, while Lycos won best Individual performance with his brilliant six wins and without conceding a single Touchdown during the tournament!  I'd like to say a huge thank you to my team-mates, who dragged me like a millstone through the weekend, but were at least highly amused by my struggles.
Once again the tournament was amazingly well-run, and no mean feat when considering the scale of organisation required.  A big thank you to Pipey and the team and staff who made it all possible.
It was another brilliant tournament, with all the warm international community spirit that is good about Blood Bowl on show, and I would heartily recommend that any Blood Bowl player should experience it for themselves.
We'll be back with more Blood Bowl coverage soon, but if you have questions or suggestions you can drop us a line at Contact@Goonhammer.com