During the period of November 17th to the 19th, the Games Workshop US Open Grand Finale was held at lovely Hyatt Regency Tamaya Resort in picturesque Albuquerque, New Mexico. The finals closed out GW's 2022 competitive series and took the form of two double-elimination brackets, one for Best General (event winners) and Best Overall (top placers with strong hobby scores). The qualifying events included the four US Open events (Chicago, Kansas City, San Diego, and Seattle) as well as the London Grand Tournament, Adepticon, NOVA, and the 2022 Las Vegas Open. The double-elimination brackets comprised 8 players each and the format meant that players were only ever eliminated after two losses. A player with one loss could still win the event but would need to overcome the undefeated player in back-to-back final games by winning both.
After punching a ticket to the finals with a Best Overall performance at the US Open San Diego event, I was invited to participate in the Best Overall finals bracket. Other finalists for Best Overall from the qualifying events included Andrew Gonyo, Sean Nayden, Blake Law, Jay Middlecote, Brian Jones, Matt Johansen, and Kas Houshidar. A very high skill ceiling field of competitors who also just happened to be strong hobbyists created what would be an excellent weekend of great games and fun.
The List
My list can be seen (clickable) below – I discuss it and more at length in an interview with the Art of War team, which you can find here.
Rob: One thing to note about this list is that Best Overall winners were required to bring armies that were on the same level, aesthetically, as the armies that they qualified with. So a player winning best overall couldn't swap to a more meta army to try and win the bracket unless it was painted to a best overall standard. This would also inform some of the inclusions in Kelling's army.
James' Ulthwe - click to expand

Battalion Detachment

Ulthwe: Foresight of the Damned

No Force Org Slot

Seer Council (40pts)

–2x Warlock

-Protect/Jinx, Seer Council

Seer Council (60)

Warlock Skyrunner

-Focus Will, Quicken/Restrain, The Ghosthelm of Alishazier

 HQ

Baharroth (160pts)

Eldrad Ulthran (145)

-Guide, Fortune, Will of Asuryan, Fate Reader, Seer Council

Farseer (95)

-Fateful Divergence, Doom

Troops

Rangers (75)

-5x Ranger w/ Wireweave Net

Rangers (65)

.-5x Ranger

Rangers (65)

-5x Ranger

Elites

Howling Banshees (110)

-4x Howling Banshee

-Howling Banshee Exarch w/ Mirror Swords & Piercing Strikes

Striking Scorpions (110)

-4x Striking Scorpion

-Striking Scorpion Exarch w/ Biting Blade & Crushing Blows

Wraithguard (270)

-6x Wraithguard with D-Scythes

Fast Attack

Shroud Runners (105)

-3x Shroud Runner

Swooping Hawks (160)

-7x Swooping Hawk

-Swooping Hawk Exarch

Warp Spiders (179)

-6x Warp Spider

-Warp Spider Exarch w/ 2x Deathspinners/Powerblades & Surprise Assault

Heavy Support

Support Weapons (195)

-3x Support Weapon w/ D-Cannon

Dedicated Transport

Wave Serpent (165) w/ Bright Lances
Game One – Matt Johansen (Harlequins)
Recover the Relics – Hammer & Anvil Deployment – GW Layout 3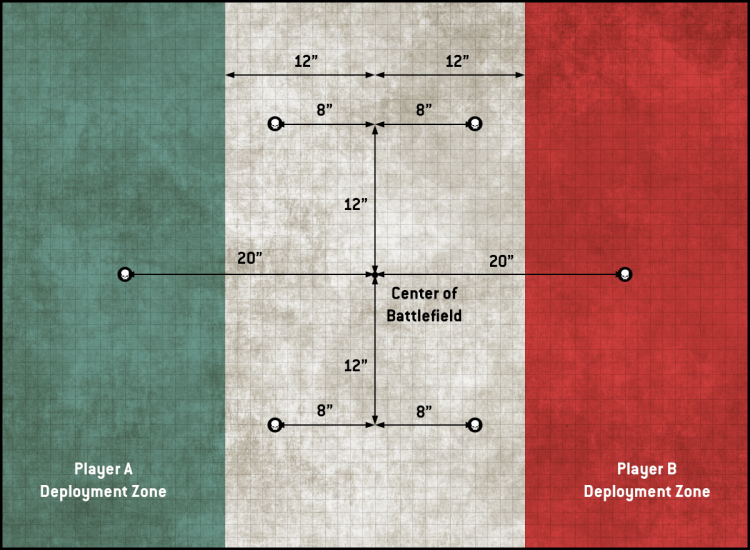 Matt's Harlequins - click to expand

Battalion Detachment Aeldari – Harlequins

Saedath Characterisation: Twilight: Twilight Falls

 HQ 

Shadowseer (125) 

-Fog of Dreams (Blessing

-Webway Dance (Aura) (Blessing), 

-Mirror Architect (Aura)

-Smite

Troupe Master (90) 

-Stratagem: Treasures of the Aeldari

-Warlord

.-Relic- Cegorach's Rose: Treasures of the Aeldari Relic

+ Troops [24 PL, 520pts] +

Troupe (70)

-Lead Player

-4x Player

Troupe (90)

-Lead Player

-4x Player

Troupe (90)

-Lead Player

-4x Player

Troupe (90)

-Lead Player

-4x Player

Troupe (90)

-Lead Player

-4x Player

Troupe (90)

-Lead Player

-4x Player

Elites

Death Jester (90)

-Rift Ghoul 

Solitaire (110)

Dedicated Transport

Starweaver (95)

Starweaver (95)

Starweaver (95)

Starweaver (95)

Starweaver (95)

Starweaver (95)

Patrol Detachment Aeldari – Harlequins

Saedath Characterisation: Twilight: Twilight Falls

HQ

Shadowseer (100)

-Twilight Pathways (Blessing)

-Mirror of Minds (Witchfire) 

-Player of the Twilight,

-Stratagem: Champion of the Aeldari

+ Troops [18 PL, 392pts] +

Troupe(196)

-Lead Player

-11x Player

Troupe(196)

-Lead Player

-11x Player
Matt's Secondaries:
Retreive Nephilim Data
Weave Veil
A Deadly Performance
My Secondaries:
Wrath of Khaine
Scout the Enemy
Psychic Interrogation
The first thing you must know about this game is that I showed up to the table a very gentlemanly 45 minutes late. Rob discusses the circumstances of me finding out, but what I remember most clearly is the long walk down the endless hallway – hustling with everything in my arms and then seeing Mike Brandt slowly step out of the doors ahead of me. He takes two very deliberate steps, pivots, arms folded across his chest and stares. And stares. The hallway is so goddamn long, I eventually look away out of shame. I would describe his demeanor as "extremely not thrilled and slightly bemused." I have never been late to a tournament game in my life prior to this but I guess if I'm going to do it, I might as well be bold enough to do it at the GW Finale. It was not until later that night that I looked at my phone and found many missed calls and texts from several staff and friends wondering where I was and whether I was okay. How frustrating it must have been to watch my happy ass stroll in.
In any case, Matt was very gracious as I got to the table. He had every right to be upset but was instead very understanding. We quickly walked through each other's lists and discussed some of the key strats and abilities, and then hustled through setup, deployment, and starting the game. His secondary selections were strong with a good chance of maximizing all three – mine were a little bit more of a hail mary. Harlequins are a nightmare matchup for Craftworlds; their output is perfectly tuned to killing T3 elves and their speed is superior. If the save rolls start hitting above average or at critical times, it's unlikely the Craftworlds can punch through enough damage before getting swept – I needed to hit his Starweavers hard and early to pin him down and create the space to score my secondaries.
I go first.
Ordinarily I think I prefer second as this is often a wasted first turn against Harlequins – I cannot put anything in immediate range to threaten him as I'll lose it on the next turn. However, Matt did deploy tight in his back ruin with two Starweavers swung out behind the rectangular obscuring ruin – this afforded me the opportunity with pre-game moves/redeploys to put Barry, Hawks, and Shroud Runners in range with a sharp angle down the board edge and thereby put some early damage into the boats and hopefully ground two Troupes in his backfield. I took my chance and was successful only in severely damaging both – however, it wouldn't take much to destroy them next turn and I did have decent field position out of immediate reprisal range as I was able to safely tuck back the Hawks, Barry, and the Shroud Runners with post-shooting jumps or battle focus.
Matt's response saw him shuffle several boats around – dumping a Troupe onto the board, then into reserves, as he brought the two damaged boats up to cover near-neutral objectives on one side, then on the other a troupe-toting boat onto the other. Another 5-man Troupe unit fanned out into one corner, screening and obtaining an RND – while on the other, a Starweaver took up position behind the obscuring-rectangular ruin in the space the two damaged Starweavers had vacated. The key here, I think, is that Matt chose to play a more cautious game. In reality, he needed to go all out and overwhelm my lines. Harlequins are faster than Craftworlds, but Craftworlds are fast and they shoot a hell of a lot harder. Given the opportunity they will pick apart the Harlequin boats and Troupes – and that's what happened here. Ultimately, Matt was kept pinned down and back – and by the time his boats disappeared he had no way to press me.
Final Score: Win 94-64
Game Two – Jay Middlecote (Imperial Knights)
Tear Down Their Icons – Diagonals Deployment – GW Layout 2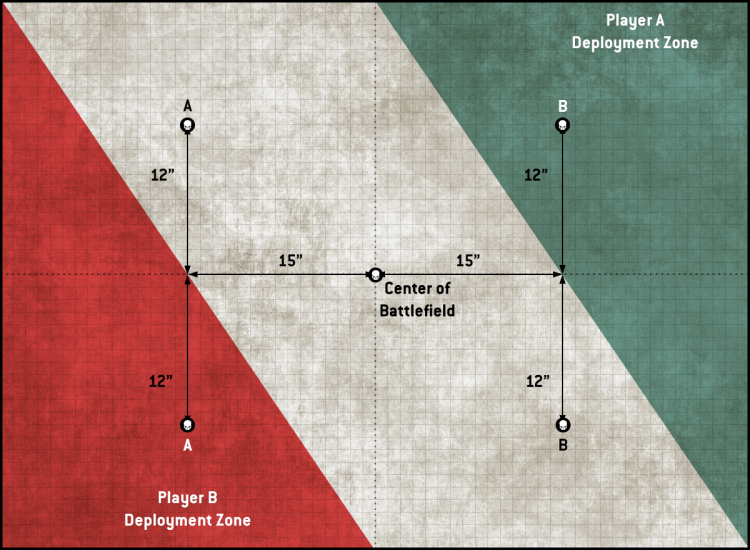 Jay's Imperial Knights - click to expand

Army of Renown: Freeblade Lance

Chivalric Oath: Oath: Defend the Realm (Helverins only), Oath: Lay Low The Tyrants, Oath: Protect Those in Need

 Lord of War

Armiger Helverins (310)

-Freeblade

-Martial Tradition: Paragons of Honour

1xArmiger Helverin: 

-Heirloom: The Bastard's Helm

1x Armiger Helverin

Armiger Warglaives (290): Freeblade

-Martial Tradition: Hunters of Beasts

2x Armiger Warglaive: 

Knight Crusader (515)

-Exalted Court: Master Tactician, 

-Freeblade, Knight Baron

-Martial Tradition: Machine Focus

-Martial Tradition: Mythic Hero

-Warlord Trait: Blessed by the Sacristans

Knight Errant (425)

-Freeblade

-Heirloom: Armour of the Sainted Ion, 

-Knight Baron

-Martial Tradition: Honoured Sacristans

-Warlord Trait: Revered Knight

Knight Paladin (460): 

-Character (Knight Lance)

-Exalted Court: Princeps

-Freeblade

-Martial Tradition: Peerless Warrior, 

-Stratagem: Warlord Trait,

-Warlord Trait: Ion Bulwark
Jay's Secondaries:
Honor the House
Renew the Oaths
Assassination
My Secondaries:
Bring It Down
Scout the Enemy
Psychic Interrogation
Jay (along with Blake Law) had one of my favorite painted armies at the event – a beautiful set of Imperial Knights which made the most out of the ample opportunity for freehand that created a stunning force of three big boi Knights and a number of equally well painted supporting Armigers. Flying over from England with a beautiful display board undamaged is no small feat – nor was his 6-0 run at LGT on the way to a finals finish. Just a terrific army and a terrific opponent.
Fortunately for me, I was relieved to face Jay rather than his first round opponent Blake for two reasons: Fewer Armigers, more characters. Psychic Interrogation is a staple in my selection process, but against Knights armies with only one character it creates a significant challenge if my opponent gets aggressive with it – either I let it run free or I kill it and lose the VP for PI.
The layout for Knights can be tough – especially for big Knights who cannot hide. As I deployed conservatively, I hoped to go second since it'd mean a nearly full loss of a turn for Jay (can't see or charge anything) and would bring him a little closer into my cannon range. He deployed fairly equally distributed with his Armigers all behind the line of sight blocking walls and the big knights on each edge and in the center.
I go first.
The game plan here is to split the Primary but then outscore on the secondary – both Psychic Interrogation and Bring it Down are near locks in this scenario as I can advantage my speed and ability to shoot his big Knights from beyond Obscuring to rack up the points, and given the objective layout I can fairly easily retain a steady 8 on Primary then attempt to max on the action mission bonus (planting bombs). As I have far more units than Jay, the ability to plant a bomb is a real equalizer on the Primary going first but Scout is going to demand a lot of my forward placed units. On the other side, without a good third option, Jay had taken a flyer on Assassination – something I could blank him on if I wasn't careless. So I felt confident overall that I could win a war of attrition even if Jay pressed me hard and ended up tabling or near-tabling me. In the end it was a grinding game with a couple of swings (ene big Knight in particular just refused to die).
We did have one rules question come up which ended up being ruled in my favor (and has in the past), but after our game I asked Jay to lay out the argument more clearly and he obliged. After it all I agree with his interpretation. Essentially the question of the Imperial Knights stratagem converting damage to mortal wounds – do abilities which reduce the damage apply? The judge team ruled that they do (though it wasn't unanimous) but I think the correct interpretation is actually that it doesn't. This is because the damage is applied and therefore reduced (by me, to a model) after the damage of the weapon is converted to mortal wounds. It's a clear to me now, but the specific rules that initiate the mechanic are confusing on order of operations and whatis referred and when. In the end, I believe the team ruled the way they did due to the ramifications on other rules and not as a result of this one instance. The power of being GW.
Final Score: Win 89-65
Game Three – Andrew Gonyo (Tau)
Conversion 
–
Corners Deployment – GW Layout 2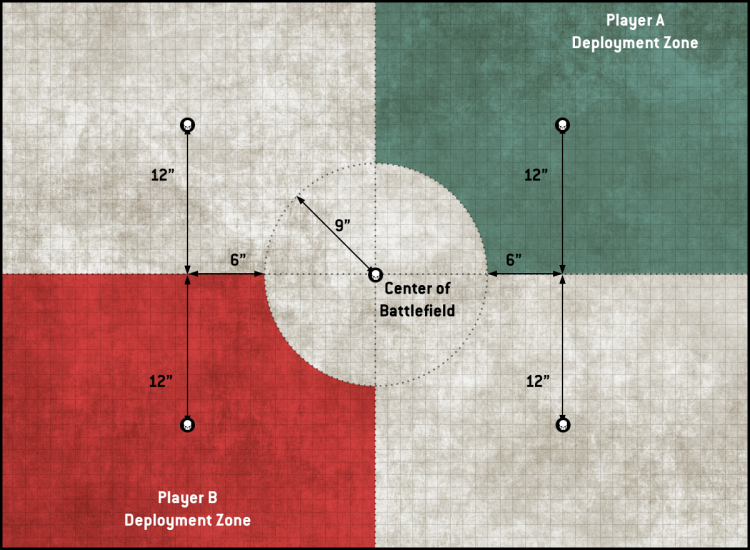 Andrew's Tau - click to expand

Patrol Detachment 0CP T'au Empire

Sept Choice: Farsight Enclaves

HQ

Commander in Coldstar Battlesuit (185pts)

– Exemplar of the Kauyon

-Stratagem: Warlord Trait, Warlord

Commander in Coldstar Battlesuit (190)

-Farsight Enclaves

-Master of the Killing Blow 

-Stratagem: Promising Pupi

-Stratagem: Relic

 Troops

Breacher Team (85)

9x Breacher Fire Warrior

Heavy Support

Riptide Battlesuit (250)

Riptide Battlesuit (250)

+ Flyer +

Sun Shark Bomber (165)

Sun Shark Bomber (165)

+ Dedicated Transport +

Devilfish (95)

Patrol Detachment  T'au Empire

Sept Choice: Farsight Enclaves

+ HQ +

Commander in Coldstar Battlesuit(195)

-Precision of the Hunter

-Stratagem: Promising Pupil

+ Troops +

Kroot Carnivores (60) 

10x Kroot

Kroot Carnivores (60) 

10x Kroot

+ Fast Attack +

Kroot Hounds (24)

-4x Kroot Hound

Kroot Hounds (24)

-4x Kroot Hound

+ Heavy Support +

Riptide Battlesuit (250)
Andrew's Secondaries:
Aerospace Targeting Relays
Grind Them Down
Decisive Action
My Secondaries:
Hidden Path
Scout the Enemy
Scry Futures
I had last played Andrew at LVO 2022 when he was running Grey Knights and I was on my Drukhari. We had a good, tight game then and I enjoyed the opportunity to square off once again against one of the game's greats. It had been a while since I'd played into Tau, and while I had a pretty good idea of what to expect, I haven't had a lot of experience into Riptides. However, the challenge presented by the Coldstars and their capability to redeploy/deep strike on any turn and then hit as hard as anything else in the list creates all sorts of problems for my Eldar. Screening would be a challenge, especially with the Scout the Enemy secondary that usually sees me put two Ranger squads in reserve. I deployed conservatively, hiding everything behind obscuring or line of sight blocking ruin walls and we rolled it off.
Andrew goes first.
At this point I'm going to save us all time – Andrew went first, pre-game put his Devilfish on the deployment line, then moved them out Turn 1 into a position to get around the ruin wall and place shots on the Rangers with a move/disembark Breacher stratagem. He then deep struck two Coldstars with their pickup/redeploy and then the planes flew in overhead. In total he destroyed my D-Cannons, Shroud Runners, and nearly murdered the Wave Serpent – I took a performative turn to try and punch back, didn't do much, and called it there.
Basically, a game technically happened, he and I were there to have witnessed it. I did take lessons from this game, but we'll discuss those later.
Final Score: Loss – Concession on Turn 2
Game Four – Sean Nayden (Orks)
Secure Missing Artefacts – Diagonals Deployment – GW Layout 3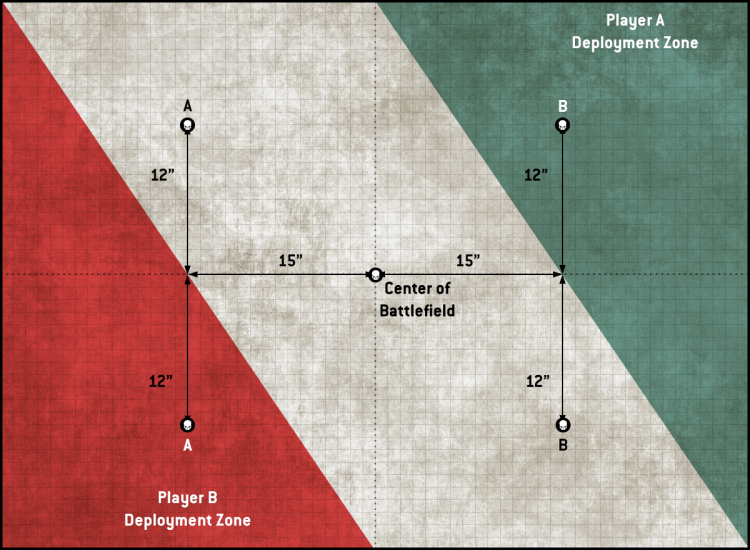 Sean's Orks - click to expand

Battalion Detachment Orks

Clan Kultur: Goffs

HQ 

Beastboss on Squigosaur (160)

-Big Killa Boss (Beast Snagga)

-Beasthide Mantle, 

-Stratagem: Relic, Stratagem

-Warlord Trait, Warlord

Big Mek w/ Shokk Attack Gun (125)

Boss Zagstruk (110)

Troops

Beast Snagga Boyz (100)

-9x Beast Snagga Boy

-Beast Snagga Nob

Beast Snagga Boyz (90)

-9x Beast Snagga Boy

-Beast Snagga Nob

Gretchin (40)

-10x Gretchin

Gretchin (40)

-10x Gretchin

+ Elites +

Meganobz (120)

-Boss Meganob

-3x Meganob

Meganobz (185

-Trukk Boyz

-Boss Meganob

-4x Meganob

Fast Attack

Squighog Boyz (80)

-3x Squighog Boy

Stormboyz (60)

-Boss Nob:

-4x Stormboy:

Stormboyz (60)

-Boss Nob:

-4x Stormboy:

Heavy Support

Battlewagon (140)

-'ard Case

 -Fortress on Wheels

Mek Gunz (40)

-Mek Gun: Smasha Gun

Mek Gunz (40)

-Mek Gun: Smasha Gun

 Dedicated Transport +

Trukk (85)

Patrol Detachment (Orks)

Clan Kultur: Goffs

HQ

Warboss (105)

-Brutal but Kunnin

-Stratagem: Big Boss

-Stratagem: Extra Gubbinz

+ Troops +

Gretchin (40)

-'Orrible Gitz

.-10x Gretchin

Elites

Kommandos (120)

 -Boss Nob

-9x Kommando

Fast Attack 

Squighog Boyz (80)

-3x Squighog Boy

Squighog Boyz (80)

-3x Squighog Boy

Heavy Support

Deff Dreads (100)

.1x Deff Dread
Sean's Secondaries:
Green Tide
Get Da Good Bitz
Stomp 'Em Good
My Secondaries:
No Prisoners
Scout the Enemy
Psychic Interrogation
Sean is well known for his off-meta lists and top-table play, usually with some flavor of elves. However, the beautiful Ork list that he brought to the GW Open events is a recent innovation and represents a bit of a shift. As Sean has recently celebrated the birth of his second child, he has had the time to attend just a few events, but he made the most of those limited options by qualifying for the Finale. The list is surprisingly, blindingly fast with Waaagh and charge strats – capped off by the Trukk Boyz Mega-Armored Nobz in a Trukk (effective threat range of 39").
Deploying his army largely on the line, Sean was betting on a go-first to bury me on turn one. If I go first my army is largely capable of keeping him at arm's length and picking him apart with high volume of fire. By the time my reserves come in on turn two, it'd be unlikely that Sean can muster enough push to seriously contest the game score late. However, if Sean goes first I will get quickly buried by wave one of Orks, which I can fight off, but wave two will be right behind it and I'll never make it out of my deployment zone. For my part, I deployed very defensively – screening around a ruin, resigning myself to a turn 1 charge and prioritizing what I will lose with my screens. We roll off and…
I go first.
With a sigh of relief, I made some pre-game Phantasm and Shroud Runner moves to put myself in a better deployment configuration. The key here was to remain defensive and put myself in a position to both kill the Trukk Boyz Trukk and counterpunch hard on turn two. Sean would still be able to get into me on turn one, but it would be far more limited and at my discretion if I could take the Trukk Boyz out of the equation. I moved into psychic and then shooting, overall the turn was frankly underwhelming but positioning was good and the only thing I needed to do I did – I killed the Trukk carrying the Trukk Boyz Mega-Nobz.
In response, Sean called the Waaagh, and raced up the board. He effectively screened much of the board, positioning the Battlewagon midboard, bringing forward Zagstruck, and the now on-foot Megz Nobz (both sqauds) while the Deff Dredd lumbered up to prepare a charge on my Wave Serpent move blocking for my D-Cannons. His Mek Boy picked up a single Shroud Runner (unit got lucky on some saves) and then he transitioned into charges of which only Zagstruck failed – both Mega-Nobz into my Rangers, along with some Stotm Boyz, on one flank, a Deff Dredd into my Wave Serpent using a 3d6 charge, and everything else screening and preparing to followup on T2. The Rangers were picked up easily as he consolidsted into the D-Cannons, further screening me back, and the Deff Dredd tiered but did not kill the Wave Serpent – also a bit of an underwhelming turn one but he was threatening now.
This needed to be a big turn. I had the opportunity to bring in the full force and cripple Sean, but a mistake or a bad round of dice might very well still see him burying me in a second wave of Orks. The board was fairly well screened with the Squighogs, Grots, and other well-positioned units so the Warp Spiders were coming fairly far back to my deployment zone and I opted to leave the Scythes off.  With only one CP (and another gained later due to PI), I opted to leave my Wave Serpent in combat to try and shoot its way out with the Deff Dredd while using the CP to fallback and shoot with the D-Cannons. Risky, as it dying in combat would cause me issues but it was a bit of a coin flip and I didn't think I had enough to dedicate to the Deff Dredd. I wanted to make sure it didn't move mostly. Everything else lined up to damage the Mega-Armored wave or put down targets in the second wave of Orks. A combination of smites and smalls arms severely crippled both Nobz squads while some reserve Rangers, coming in on the board edge managed to draw a line of sight down the board to the Mek Boy and his big gun – some strong rolls and a couple of Fate Dice put him down. The Shroud Runners and Hawks chipped some Kommandos, Grots, and Storm Boyz and then Barry ran in to shoot then punch Zagstruck off the board. The Wave Serpent failed to kill the Deff Dredd but the three D-Cannons, bravely (stupidly) splitting their shots got lucky and picked up the remaining Mega-Armored Nobz and a Squidhog squad. Finally the Banshees picked up a Warboss and the Scorpions dug into Sean's backfield and hit a Squighog squad back there – failing to clear but picking up two of them – once the smoke cleared on my turn two, Sean was looking at a weapon-less Battlewagon and it's ten Beast Snaggaz and ten Boyz inside, a Squigasaur Warboss in his backfield with the remainder of a Kommando squad, two Mek Gunz, some Grots in various places across the board, and a couple of remaining Squighog Boyz. His Deff Dredd just missed on bringing down the Wave Serpent in combat which left him in a completely untenable position. As a result we called it there – the rest would simply be cleaning up.
Had Sean had that turn one and the resultant Trukk Boyz, it's a completely different game, and one where it is unlikely I could push him off before he tallies up an insurmountable lead.
Final Score: Win – Opponent Concession on Turn 2
Game Five (Finale… Maybe) – Andrew Gonyo (Tau)
Death & Zeal – Corners Deployment – GW Layout 2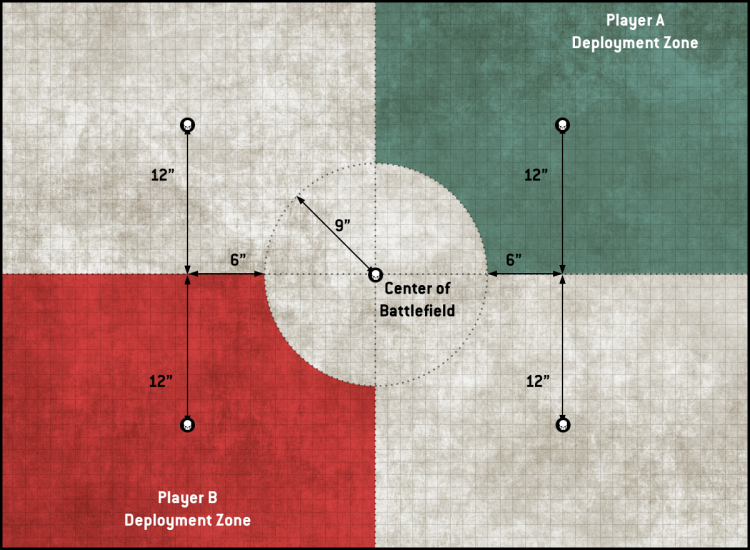 Andrew's Tau - click to expand

Patrol Detachment 0CP T'au Empire

Sept Choice: Farsight Enclaves

HQ

Commander in Coldstar Battlesuit (185pts)

– Exemplar of the Kauyon

-Stratagem: Warlord Trait, Warlord

Commander in Coldstar Battlesuit (190)

-Farsight Enclaves

-Master of the Killing Blow 

-Stratagem: Promising Pupi

-Stratagem: Relic

 Troops

Breacher Team (85)

9x Breacher Fire Warrior

Heavy Support

Riptide Battlesuit (250)

Riptide Battlesuit (250)

+ Flyer +

Sun Shark Bomber (165)

Sun Shark Bomber (165)

+ Dedicated Transport +

Devilfish (95)

Patrol Detachment  T'au Empire

Sept Choice: Farsight Enclaves

+ HQ +

Commander in Coldstar Battlesuit(195)

-Precision of the Hunter

-Stratagem: Promising Pupil

+ Troops +

Kroot Carnivores (60) 

10x Kroot

Kroot Carnivores (60) 

10x Kroot

+ Fast Attack +

Kroot Hounds (24)

-4x Kroot Hound

Kroot Hounds (24)

-4x Kroot Hound

+ Heavy Support +

Riptide Battlesuit (250)
Andrew's Secondaries:
Aerospace Targeting Relays
Grind Them Down
Decisive Action
My Secondaries:
Hidden Path
Scout the Enemy
Psychic Interrogation
After my loss to Gonyo I thought a lot about our game. It's not often I get trounced so thoroughly. Thinking through the deployment, the secondaries, the use of reserves and pre-game moves – I came up at a loss and what I ultimately concluded was the only way to win this matchup was to simply go first. Simple. Easy. Due to a quirky coincidence, we would play the exact same deployment map on the exact same terrain layout. As a result I made two changes in my approach:
One change I'd make in the pre-game was to take Psychic Interrogation instead of Scry Futures. I made this switch because in game one I reasoned that he could simply hold his Commanders back and force me to come to him – instead I could take Scry and fairly confidently play defense and score 9 and maybe 12. The error here is that if he's holding his Commanders back, he's losing a lot of his firepower and board control, and I would need to be pressing him anyway.
More importantly, I put it all on the line. Literally.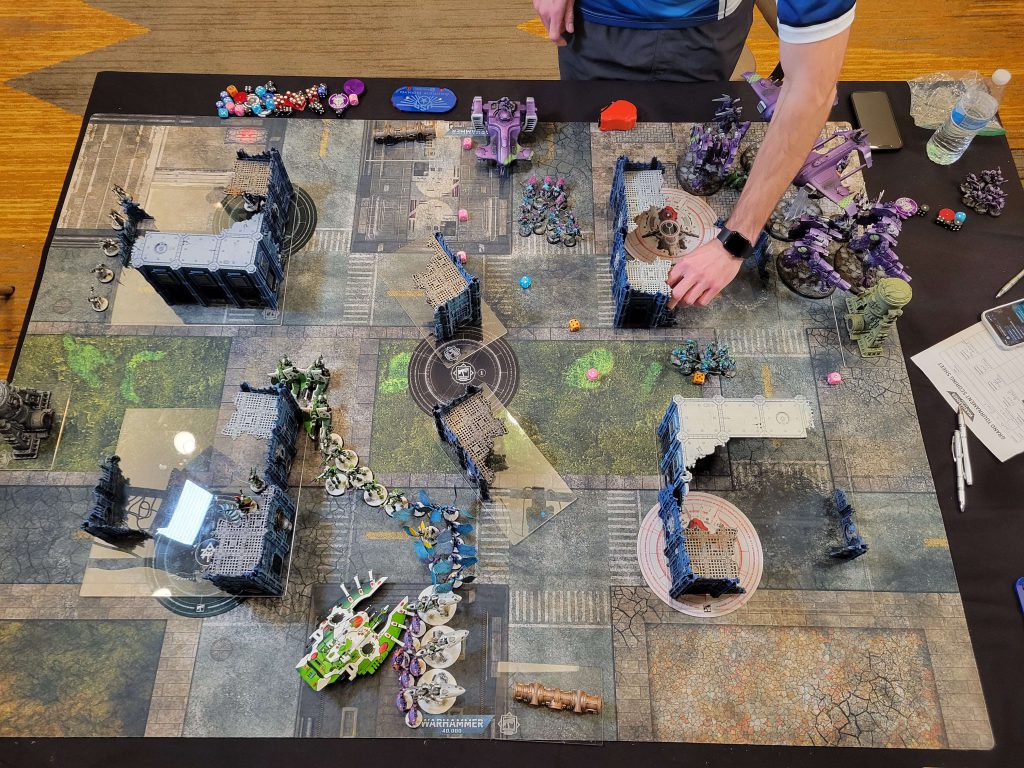 I made this decision knowing full well that if I went second I would just automatically lose. However, based on the experience of game one, knowing that Andrew could hit me behind the ruin walls anyway, it made no difference. I would either lose slow or lose fast. And reader if you're going to lose, lose fast.
I Go First
Oh boy. I hadn't thought this far ahead. We redeployed – Andrew moved his stuff back to play defense behind the ruins, the planes pulled into the corners with the Devilfish, the Commanders and Riptides all tucked back. For my part I repositioned a couple of units to give them optimal firing positions and put some Rangers in reserve (mistake – we'll discuss later).
Everything pushed forward behind the middle ruins or swung low to take the bottom-right objective while lining shots on his home. The D-Scythes and Warp Spiders wouldn't come out of deep strike – instead they'd stay on the board to hold objectives and threaten key units. A combination of Fate dice and shooting from the Shroud Runners, Wave Serpent, and other smaller chip damage were succesful in bringing down both Sunsharks – one exploding and clearing a number of the ablative marker drones. Barry, Hawks and the D-Cannons combined to clear a Kroot Warrior and Kroot Hound unit, severely limiting Andrew's ability to trade on objectives. The Hawks and Barry redeployed to screen the backfield and the early offense ended – it wasn't quite as damaging as Andrew's first turn in game one, but it was a crippling blow. Andrew was not just tasked with digging himself out of the corner, but stopping me from scoring while sitting on four objectives with no clear way to stop my early secondary scoring to counter his late-game Kauyon burst of points.
Still, Andrew is an excellent player and made a game of it – with a couple of breaks he might have swung the game in his favor, but I was able to keep the pressure on and by the end of turn three we called it and prepared to re-rack. It's double elimination after all and we both had one loss. To each other.
Final Score: Win – Opponent Concession on Turn 4
Game Six (The Final Finale) – Andrew Gonyo (Tau)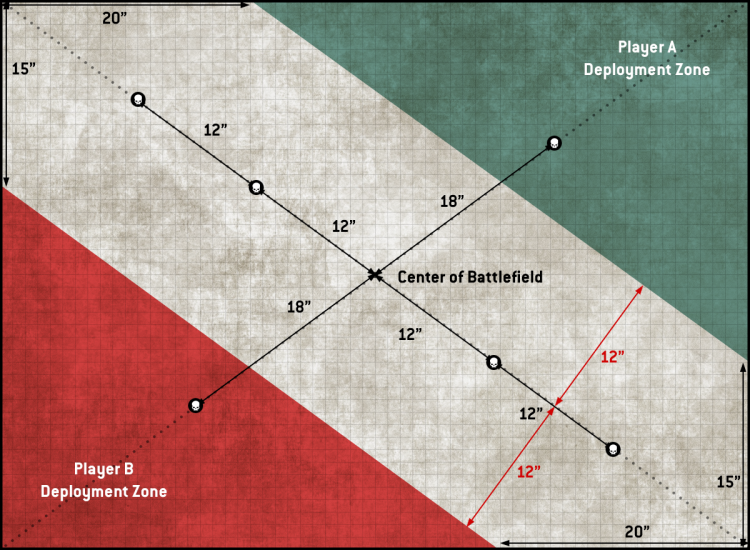 Conversion – Corners Deployment – GW Layout 2
Andrew's Secondaries:
Aerospace Targeting Relays
Grind Them Down
Decisive Action
My Secondaries:
Hidden Path
Scout the Enemy
Psychic Interrogation
You can watch the stream of the game here.
I should take a moment to note that on this day it was Andrew's birthday. Now, I tend to view my birthday fairly nonchalantly, but as I've learned from my wife not everyone feels this way. So after taking game one I did feel a bit apologetic for taking away some of the magic… but also: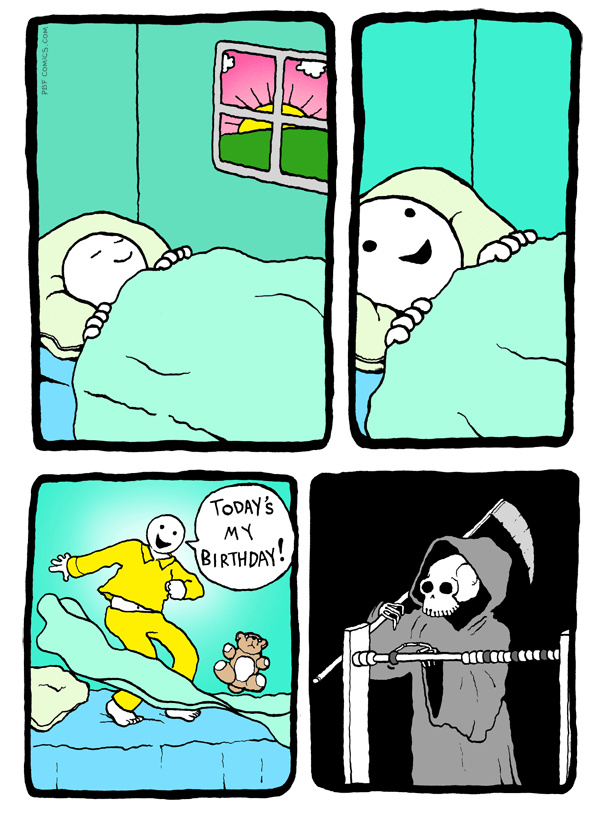 In any case – I was hoping we'd make it to this game. As the mission could radically change how we'd approach it. I had hoped that the altered deployment would make it more challenging for Andrew to get turn one shots on my units deployed conservatively, but after laying out the deployment lines, looking at the angles and measurements, determined that nope – it was still bad going second (though I could hide a few things). However, unlike the first and second game, Domination scoring meant that Andrew would need to be very careful with his chaff units as they became necessary to sit the extra objective required to score but couldn't lose too many or he'd suffer on late-game secondaries. Moreover, sticky objectives meant that holding the board and screening appropriately would allow more of my units to be focused forward. We both opted to maintain our secondaries used in the previous two games for lack of better alternatives. This was a partial mistake for me as I'll explain in a moment. I did opt to put my D-Scythes and Warp Spiders in deepstrike this game (unlike our second one) as I believed the wider board with the objective set would give me more options out of reserve if he spread and pressed me.
Understanding the criticality of going first, we prepared to roll it off in dramatic fashion, lined it up, took a deep breath, wished each other luck (and a happy birthday) and…
Tie. Shit.
Okay, and…
I go first. 
For the first time since the start of round three I see a light at the end of the tunnel. Prior to the roll off I'd have been perfectly happy had Andrew won the roll off and we repeated round three – no shame in losing to a great player in disadvantaged position and at least I had gotten one of my own. But now I was in the driver's seat and it was on. I redeployed key units forward as Andrew pulled himself into his corner to avoid my press. Learning a lesson from our second game and respecting the chip capability plus strands, Andrew opted to put both planes in reserve.
Hidden Path objectives are selected in the player's first command phase, and instead of choosing a 'safe' objective far from Andrew's corner, I made a galaxy brain play of selecting the neutral zone corner nearest him. I did this because I wanted him focused there, and not pressing up the field to try and prevent me from scoring in my backfield. I did this, because with sticky objectives, I wanted to win this game on primary by forcing him off the objective every turn while using the 'stickiness' of the objectives to pull my forces forward (except to screen Coldstars from grabbing them). The mistake that I made, was that I should have selected Raise the Banners instead of Scout as my Rangers were necessary to stay on the board in order to effectively screen and his Airburst Commander would average one Ranger squad a turn and leave me limited in my options to score it.
Pushing out, I played around the center ruins and the lower right ruin to keep Andrew penned in – with the planes off the board, I was able to focus more on the Devilfish to limit mobility and the Riptides to cut down on the heavy hitters. While I did very little to the Riptides, the Devilfish did go down which left him with all of his infantry and on the table, and the D-Cannons picked up a squad of dogs they could range. Not great, but I was sitting 5 objectives and started on my Hidden Path and Scout the Enemy while racking up 3 on the primary bonus.
On his turn, Andrew used his Kroot to push me off my Hidden Path objective while the Riptides and Commanders lined up to put their shots into my Wave Serpent – I had rolled 4 saves on my Strands dice so this wasn't going to be an easy task. One of the Riptides and Commanders started moving up the long edge, concerningly, with a unit of Hounds stretched ahead to screen from deepstrikers. In shooting he did manage to push me off two objectives including the Hidden Path, but my Wave Serpent luckily absorbed the shooting of all three Riptides and the Commanders with help from Fate and Lightning Reflexes. He picked up two on the primary bonus.
Making a slight mistake, Andrew's Kroot in piling in had left me a gap for my D-Scythes to drop in and hit a Riptide – and they obliged. Not all could get shots into it, and two would instead focus their fire on the Kroot. The Wave Serpent moved into the ruin and tucking behind a wall to minimize shots on it. I kept the Banshees and Scorpions inside, putting a piece of the Wave Serpent hull and my Seer Council on the Hidden Path objective. At this point both of my territory neutral objectives had become sticky and I used to Hawks to jump out shoot, and jump back to maintain the screens along with Eldrad, the Shroud Runners, and a squad of Rangers while the D-Cannons moved forward.  I had hoped to clear the Kroot that had pushed in the shooting phase so that Barry could drop down onto one of the objectives told ensure it being held, but unfortunately my D-Scythes underperformed mightily leaving a couple of Kroot and barely doing any damage to the Riptide but I did manage to tier it with some additional chip shooting off the Serpent. One Kroot ran while the other held a point, which stripped me of a third primary bonus and gave Andrew a 4 on his turn when he would have been otherwise blanked. And he was about to get his planes. Fortunately, I was able to tier the Riptide marching up the long edge with my D-Cannons, and clear the screening Hounds, which both kept the D-Cannons safe for another turn and made his advance towards my home objectives a riskier proposition.
Cognizant of my ability to Forewarn against one of the planes, Andrew brought them into his back corner to bolster the shots on the D-Scythes or the Wave Serpent. The Riptide and Commander that had started moving up pulled back now rather than risk another round of D-Cannon shooting and other support that risked dropping it and exposing the Commander behind it. I think… this might have been pivotal. It's hard to say what would have happened if Andrew kept pressing up the board, but I was terrified that he would – if my D-Cannons whiffed I wouldn't have anything to stop him from folding up the whole flank and leaving me unable to contain him. At the same time, he would have had to waste the turn of shooting on the Riptide as it didn't have an angle, and it wasn't a certain gain for him. Tough call and certainly no wrong answer here – but I think if it were me I'd have pressed. By backing down at this point it gave me two more turns of nearly uncontested primary totaling 30 points as I only needed to focus on one or two objectives in his territory where most of my forces already were. By the same token, he picked up zero in those next two turns on primary. While he effectively stopped my Hidden Path and Scout the Enemy actions by clearing the Rangers and preventing any unit that did it from living through to my turn, the primary gap was troubling. My D-Scythes were cleared with relative ease from the focused shooting of the planes and Commanders, but some fortuitous rolling on my part kept the Wave Serpent alive all the way to turn 4. This allowed my Banshees and Scorpions to get into him unscathed on turn three with the shooting assistance of the Warp Spiders, and as a result, he lost the Breachers, a Commander, and very nearly lost a Riptide if not for the Banshee Exarch missing a bunch of her wound rolls.
On his turn 3 Andrew hit back pretty hard – and rolled up most of what remained. A few Warp Spiders survived into Turn 4 and were able to maintain the Primary for me, but most of everything else was on it's last legs as the planes rolled out to kill both my D-Cannons and the Hawks. By turn 5 I barely had anything left, but importantly a Farseer improbably survived in a position where I could get one last Psychic Interrogation off. By the end of my turn 4 (top of 4), I had wracked up 43 VP on primary, but just 12 on secondary and would be unable to score anything further on turn 5. I had successfully prevented Andrew from getting Grind Them Down all the way until turn 3, but at this point I couldn't stop him from continuing to score. The question became, could he score enough on secondaries to overcoem the primary deficit. With Kauyon, and having selected Decisive Action, he could only score 12 max and I was successful in stopping it on turn 3. So entering his turn 4, with no Primary to score again, 2 Commanders, all three Riptides, 2 Planes, and one squad of Kroot Andrew was in a tough spot. He would almost certainly score 12 points on Primary in turn 5, but he needed to start completing actions and fast. One of his Aerospace had been completed, and he was not in a good position to complete more than one this turn (with his Kroot). Worse, with the loss of a Commander to a solo Scorpion Exarch, his redeploy and action on Turn 5 would make it hard to hold the objectives, action his home objective and also action the Aerospace while taking my last 'sticky' objective in the far corner. By the end of turn 4 Andrew completed another Aerospace and picked up 4 on Decisive Action and 3 on Grind.
At the top of turn 5 I only had a single Ranger unit for him to kill for Grind and they were not in a position to score. I had 65 points total, and that is where I would finish out. At that same moment, Andrew had 34 points (6 Primary, 16 Secondary, 10 Paint). He could get a max of 31 points in turn 5 to tie, but could not win. However, in this event, due to the sudden death rules of another round being played, a tie was as good as a win as he would table me on turn five. Unfortunately, given his army's current disposition, he was unable to put himself in a position to sit three objectives (12 Primary, 4 Decisive Action) while actioning the two remaining Aerospace targets (9 Secondary), and shooting my Rangers for Grind (3 Secondary), and actioning the home objective for Data Intercept (3 Primary). It may well have been possible, but some units would have likely needed to move slightly different, particularly the Riptides to have been better positioned on objectives to free other units. Andrew fought a brilliant match, but came up just shy as I snuck out a win 65 to 62.
It was an absolute bruiser of a game, mentally and literally on the table. It was easily the best game I'd had all year long and the full rush hadn't quite hit me as we wrapped up, talked about a couple of things, and walked out into the room and came back to reality. I think, besides the game itself, what stood out to me was that while we both wanted to win, we wanted to do it and still feel good about the win. Both of us had instances where we had made a minor but costly mistake, or did a thing where we just said we'd do the opposite, and in each instance the other understood what the other had wanted to do and allowed them to take the correct action. There's a certain level of trust and respect that goes into that, and more than anything, I respect Andrew's game. He is a terrific sport, terrific player, terrific hobbyist, and apparently, a bit of an engineer (his display board and how it travels is something else). I hope it did not ruin his birthday.
Final Thoughts
Having also attended the prior year's US Open Finals (Best General bracket), I was pleased the see how the event had grown and evolved to be more robust and comprehensive. Along with the two 40k brackets, two AoS brackets and a Kill Team bracket of similar structure were conducted in parallel. Surrounding it all was the Grand Narrative event that brought forward a wide array of players, armies, and costumes to create an event that was overall far greater than the sum of its individual parts and had created a truly comprehensive hobby atmosphere. The GW team, led by Mike Brandt, has truly built a unique experience and one that I expect will continue to grow as we look to the year ahead.
After thinking about it, I think I'm more proud of this event win than any major event win or top placing I've had previously. The opportunity to play such excellent competition from start to finish, in a unique tournament format, as a GW finale event and place our names (all of ours) on the permanent GW trophy is a cool thing. I'm on record discussing the shortfalls of the ITC and it's algorithm, what it's rankings mean and don't mean, and how they can be gamed. There's no gaming the invitational, it's self-contained. Above all, seeing friends and hanging out for the weekend, having a good time free of other worries, I was lucky to have the support and friendship of not just the players I've met and known for some time, but also the Goonhammer crew, who had been cheering me on (and shooting nerf guns) from the peanut gallery as we duked it out down to the wire.
What a wonderful event.
Have any questions or feedback? Drop us a note in the comments below or email us at contact@goonhammer.com.