One of the things we're very conscious of is the how demographically narrow this space is, even in our own team. It's core to the Goonhammer mission that we be a platform that encourages growth and inclusiveness and help champion the wonderful people making the games and hobbies we love more welcoming and diverse. No More Damsels is an organization dedicated to promoting gender diversity at events and creating spaces that are more inclusive in the RPG and wargaming worlds. They also encourage safe and comfortable play through safeguarding guidelines and codes of conduct for clubs and conventions, doing great work to make the games we love more inviting.
We recently sat down with co-founder Sarah Pipkin to talk about NMD, their mission, and her passion for games.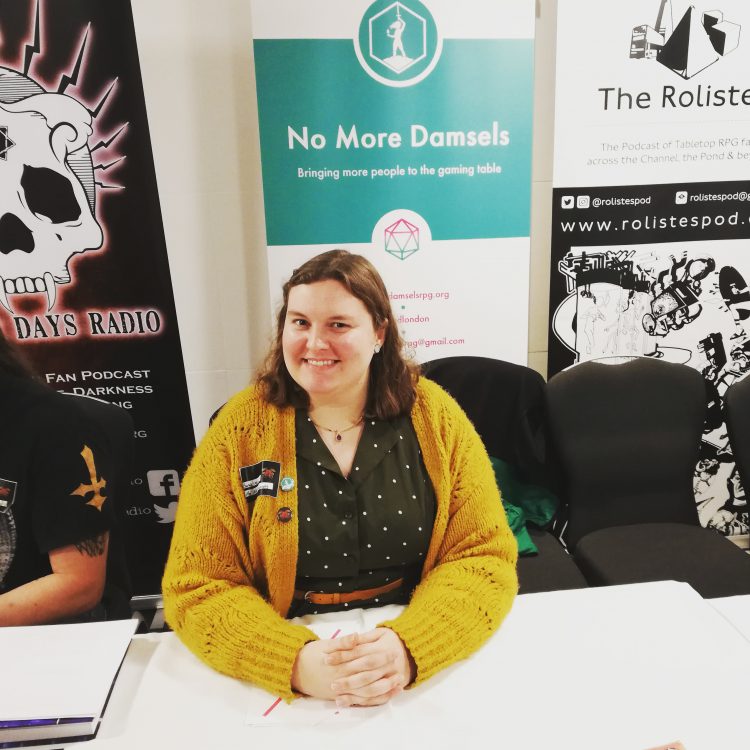 Let's start with a brief introduction. Tell us about yourself and the organisation.
I'm Sarah Pipkin (she/her) and I've been playing RPGs for about five years and wargames coming up to two years. I'm the cofounder and current secretary of No More Damsels and lead on our wargaming work. I'm also a library professional and keen wargamer and model painter. No More Damsels is a London-based organisation focused on ensuring that gender is not a barrier to tabletop gaming. We address barriers by highlighting the gamers of marginalized genders already in the gaming community and creating workshops, events, and resources for gamers to meet new people and build on their gaming skills. 
No More Damsels has a wonderful mission. How did that all start?
Co-founder Naomi Clarke and I met at a local games club and very quickly became friends. We were frustrated at the lack of gender diversity in the club, especially as when we tried to propose changes or run events that could help improve diversity, we were shot down by the leaders. There wasn't any malicious intent from the club organisers – just a lack of awareness of gender based discrimination in the gaming community. Our voice as members wasn't enough, so we decided to set up an outside organisation that can advocate for gender diversity. By being independent, we can advocate for tools and practices that will help make more welcoming environments without it becoming about internal club politics. We want to support members who feel ignored by club organisers, and organisers who want tools to make a welcoming club environment. 
With in-person gaming on hold in a lot of areas right now some people may feel like codes of conduct aren't as necessary, but the resources on the NMD website go far beyond just "how to act at a con." Can you talk a bit about those guides and the resources you provide?
A large number of NMD members, including myself, have had unpleasant experiences in gaming clubs or gaming shops where we have been made to feel uncomfortable or unwelcome because of our gender. Sometimes it's because of malicious actions of other club members that aren't appropriately addressed. Sometimes it's a steady trickle of microaggressions that just serve as a reminder that we are not welcome to a space because of our gender. The guides we've put on the NMD website are inspired by our members' experiences in the wargaming community and are aimed at providing tools to create a safe environment. Things like the X Card,  an RPG safety tool (created by John Stavropoulos) that allows anyone in your game (including you) to edit out content anyone is uncomfortable with as you play is really valuable when running an RPG and can go a long way towards ensuring that the atmosphere at the table is accepting and friendly. It doesn't just mean that you can stop sexist or transphobic behaviour at the table, but it can help you avoid topics that are challenging for the people at your table. Not everyone wants to reveal to their gaming group that they've had a recent death in the family, or have experience a traumatic event – X Cards offer a communication line that allows people to express that they're uncomfortable with the subject material in a game without having to reveal traumatic or sensitive information to the other people around the table. 
A Code of Conduct for a club provides both clear guidelines for a safer environment and a way of notifying someone in charge of an event or club that the Code has been breached. Having a document written in advance about how the club will deal with unacceptable behaviour means that you have a clear and defined way of kicking an unpleasant or dangerous person out of your club. Hopefully, you'll never be in a position of having to remove an unpleasant person, but it's better to prepare for it in advance rather than trying to work out a process in the middle of a difficult situation. 
We've also compiled information that while not tabletop gaming specific, is essential for being part of a diverse community. Our Anti-Racism guide includes stories from gamers who have faced racist abuse or feel excluded by racism in RPGs and Wargames.The Trevor Project has kindly let us feature their Guide for Being and Ally to Transgender and Non-Binary Youth – a really good introduction for someone who is well meaning but just isn't sure on how to be supportive to a trans or non-binary gamers. 
Our guides are free for anyone to use and we're constantly working to ensure they are up to date and relevant to the tabletop gaming community. 
How did you originally get into wargames?
Like a lot of other women in the hobby, I was introduced to wargaming by my husband. Wargaming was never something I was exposed to at a young age – partially because no one in my family or friends played wargames and partially because there are no hobby shops in my hometown. However my husband is a keen wargamer and mini painter, so it's been a part of my life since I've known him. For a few years I was really hesitant about getting involved. I went to a wargaming store that made me feel really uncomfortable, my husband left a wargaming group that was really toxic, so it created this idea that wargaming is not a welcoming place. 
It was lucky that later I saw a Gaunt Summoner in an edition of White Dwarf and fell in love with the Age of Sigmar Disciples of Tzeentch range. I ended up buying the Warhammer Underworlds Eye of Nine warband and haven't looked back since. I'm now working my way towards 2000 points of Disciples of Tzeentch. Shortly after I started playing, the new Adeptus Sororitas line was released. I bought some minis thinking that I'd only build a Kill Team warband, but I'm now in the middle of building a full Adeptus Sororitas 40k army. 
What are your favorite games? What's occupying your remote gaming nights right now?
My favourite games are Age of Sigmar, Underworlds and Frostgrave. The rules for Age of Sigmar are really intuitive so it's been a lot of fun learning how to play it and building a Tzeentch army. Frostgrave is really versatile and nicely bridges the gap between RPGs and Wargames. Prior to Covid I was learning to play with NMD's treasurer, Mira Manga, and we hope to put on some demonstration games when real life play can resume.
Living with another wargamer has meant that I have been able to do some face to face gaming. We're mostly playing Underworlds and will start learning Direchasm soon. On the odd evening we'll clear some space and do a full Age of Sigmar or 40k battle. 
Since the pandemic, I've mostly focused on painting – it's really helped me stay sane during Covid and it's made me explore games I may not have otherwise tried because I want to paint the minis. I'm currently working on an Amazon warband for Of Gods and Mortals – hopefully it'll be done in time for some games this summer. 
Thanks for speaking with us!
If people would like to contact No More Damsels directly they can via the Contact Us page on our website: https://www.nomoredamselsrpg.org/contact-us Or they can follow us on social media @NMDLondon. 
My hobby socials are at @ladydothpaints.
Have any questions or feedback? Drop us a note in the comments below or email us at contact@goonhammer.com.