I sat down with Nathan Meunier from CGE after working my way through a very long line of hopefuls trying to get a limited early copy of Lost Ruins of Arnak: The Missing Expedition. I wound my way through CGE's large upstairs rooms at the Gen Con ICC, passing booths where people were playtesting, shopping, chatting, and laughing, and eventually found a person who wasn't juggling 5 attendees at once so I asked the way to marketing. There, Nathan (who uses they/them pronouns) had The Missing Expedition and another game laid out for interviewers to look over as they demonstrated. Nathan is rocking brightly colored hair and has a fast-talking manner that I absolutely appreciate but cannot keep up with by hand, so I was glad to have my trusty recorder. As a small note, I do not own the base game of Lost Ruins of Arnak, so any confusion you read here is entirely my fault and not a planned misrepresentation of fact stated by Nathan or Goonhammer. There will be a full review of The Missing Expedition down the road, and we will post a link here once it has been published.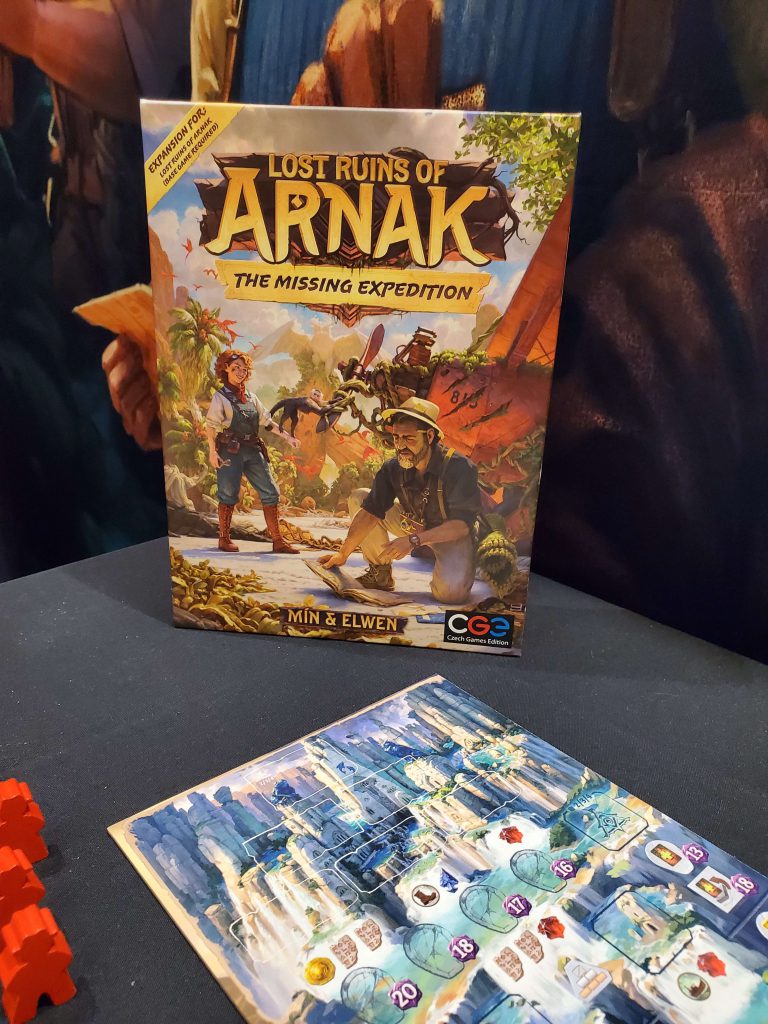 My first impression of The Missing Expedition expansion to Lost Ruins of Arnak is that it is very colorful. The art is crisp and detailed, which I appreciate. There is a lot to look over while Nathan explains the premise and turns. This is a continuation of the base game, so you are following a trail to discover what has happened to Professor Kutil and the missing team. There are two new leaders, two new tracks, 100 new cards, and new assistants and artifacts to add to the game. Nathan explained that 95% of it can be added to the base game for a regular, multiplayer game, but also it can play as its own six-chapter, story-driven campaign that can be played in solo or 2 player co-op mode.
According to Nathan, "These chapters are challenging scenarios with an overarching story arc, but they also work as little one-off puzzles to an extent. There are different challenge levels so once you have done the story arc you can come back to the individual scenarios in any order, on a different difficulty level. Each one has a specific goal but also additional bonus goals that are optional, which allows for some replayability. The optional goals will give you some extra rewards for accomplishing the harder tasks. There are multiple ending options, too."  How well you play across the chapters and the decisions you make impact the ending you get in your meta-game track. Each chapter also has a secondary deck, mostly events that might be tied into the storyline but aren't necessarily story-centric. They can be used for an immediate bonus or held onto for later, giving players some freedom of choice in how to use the cards.
The new research track is double-sided, and in one of the scenarios there's a rising water theme, which means as you work your way through the track, you have to keep everyone's head above water as it continually rises every turn. It's a big job to watch over not only yourself, but your research team and any survivors you find. If the water overtakes you, the scenario is lost.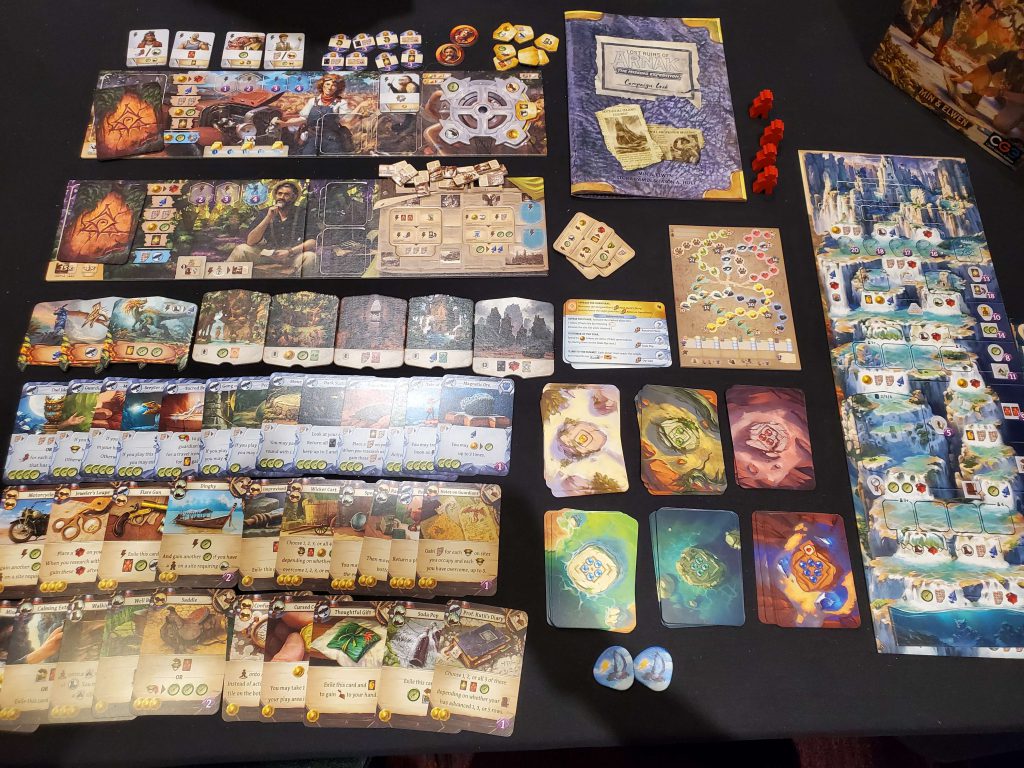 The two new characters are more modular than the previous ones, allowing for better mix-and-matching. The mechanic has a machine you have to build as the storyline progresses. You add cogs and rotate it as you go. She plays differently depending on the choices you make in building the machine. This allows you customize her skills from game to game. The other is a journalist who uses his special abilities by writing articles. The places he goes and the news written changes each time you change the tiles, which are double-sided. Each has a different strategy of play. The articles are slotted onto the tiles on the journalist's board until it gives you a nice reward.
Nathan explained, "You do not need the first expansion to play the base game with 3-4 characters if you use the Missing Expedition's archetype character specific cards added to the base game's starting deck." All this versatility looks like a nice hefty enrichment to the base game, one that you will want to hang onto for a while.
I can't wait for a chance to get my hands on the full game and give it a try, but then, just as my brain filled up, we moved to the next table. "Here is our upcoming Essen release!" Nathan announced. "This is Kutná Hora: The City of Silver. We hope it will make a US debut around Pax Unplugged." They waved at a sleek black prototype box as I snapped a photo. This is a big game with a lot of details. It is 2-4 players and expected play is about 30 minutes per player. "This is a historical, heavyweight, city-building game that follows real-world growth in the 13th century of the real city of Kutná Hora in the Czech Republic." After discovering silver underground, they essentially built a city across that area, mined it, and smelted it into coins called groschen. "These groschen were then used pretty widely across Europe in the 13th and 14th centuries." They showed the coin replica pieces in the game, which are very ornate, much more than I expected for 13th century money. The upgraded metal coins on the table have good weight, have a nice feeling, and make a satisfying clink as they are set in front of me.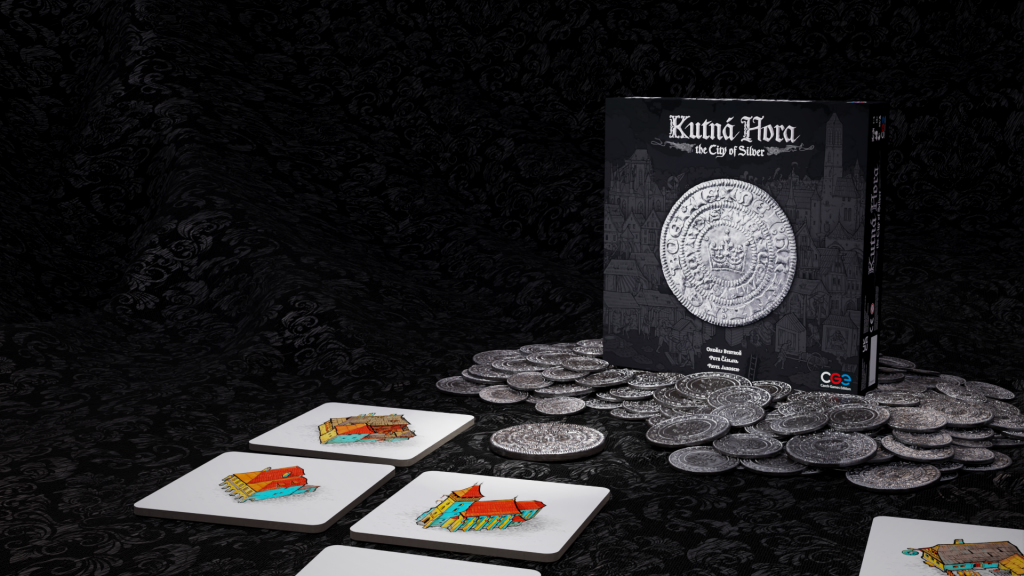 "The cool thing is that there is an actual cathedral, and city remains, a lot of the historical elements are authentically incorporated into the game, some rather subtle in some areas. In this game you are working at recreating the building of the city whilst trying to gain the most points to do the best job for your family faction". Each player represents an influential family with clout in three out of the game's six asymmetrical guilds. They are all tied to the economy, (e.g., woodworking, mining, meat industry, beer,) and tie into the resources needed to build the city and the cathedral, and the resource costs fluctuate frequently in response to actions taken in the game. The guilds are randomly drafted out at the beginning of the game.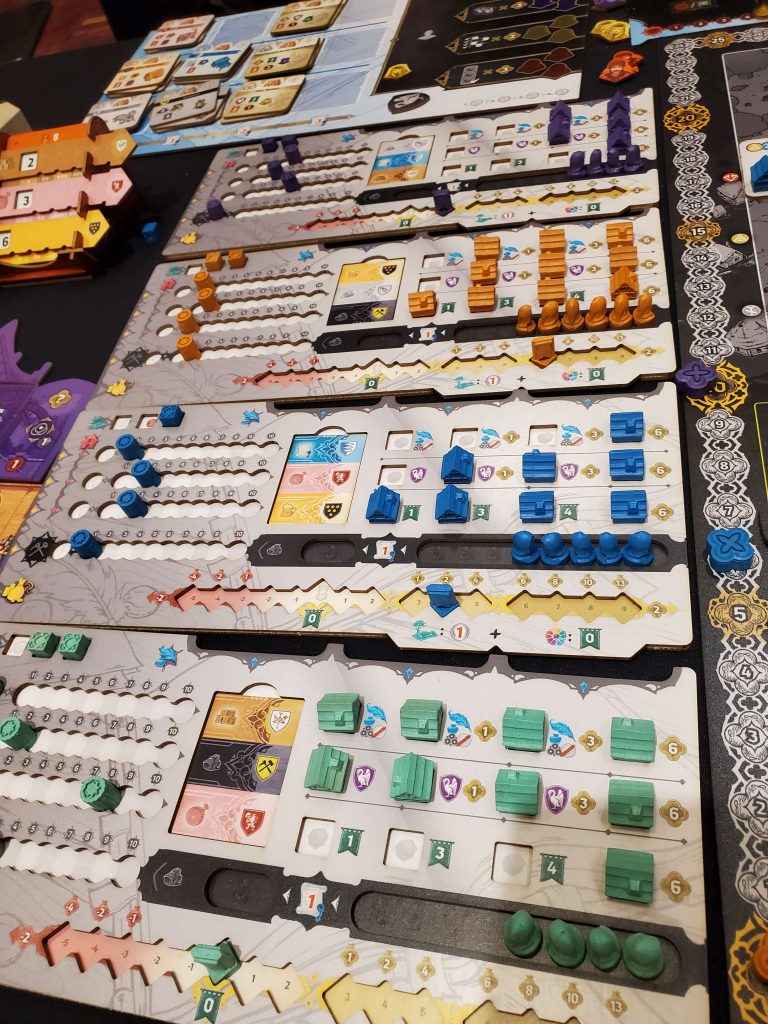 Players can have overlapping influences over different parts of the economy. This game is highly interactive; you're mining on a shared board, building plots on the shared town board, trying to raise the prosperity of your city together in addition to fueling your individual goals. There are cardboard calculators that track citizen population and wellbeing, the mining operation and bureaucracy, the prices and supply of resources, etc. that change as a result of each action taken. This means you want to plan your actions carefully but watch the timing, because building your plot can cost 5 wood and 5 coins while you plot… up until the player before you changes the economy, and then suddenly you have to shell out 5 wood and 20 coins unless you can exert your influence to bring prices down. The market is very hard to predict. While the calculators slide right, you don't slide things left again. You keep going down that track until the calculator must change cards altogether, which means you don't really know what precise market effect you will create until it happens. You just make a basic supply/demand calculation and hope for the best. Naturally, you want to pay the lowest prices on your turn and gain the highest income, but that can be hard to do with your fellow guild leaders trying to do the same.
Now, historically it took about 300 years to build the Cathedral of St. Barbara in the Czech Republic. So don't expect to finish it all during one game session. But working on it can give you some really nice benefits. You start at the bottom row, of course, and build your way up in layers, with the benefits improving as you go along. If you are all pushing pretty hard to build it, you might be able to get to the top, but the key to this game is to try to balance everything you're doing for the benefit of the city as well as your family faction/guild, so completing it may not be possible, and that's ok. Historical pictures of the cathedral as well as the current photos on the CGE website for the game show that it is an absolutely beautiful building.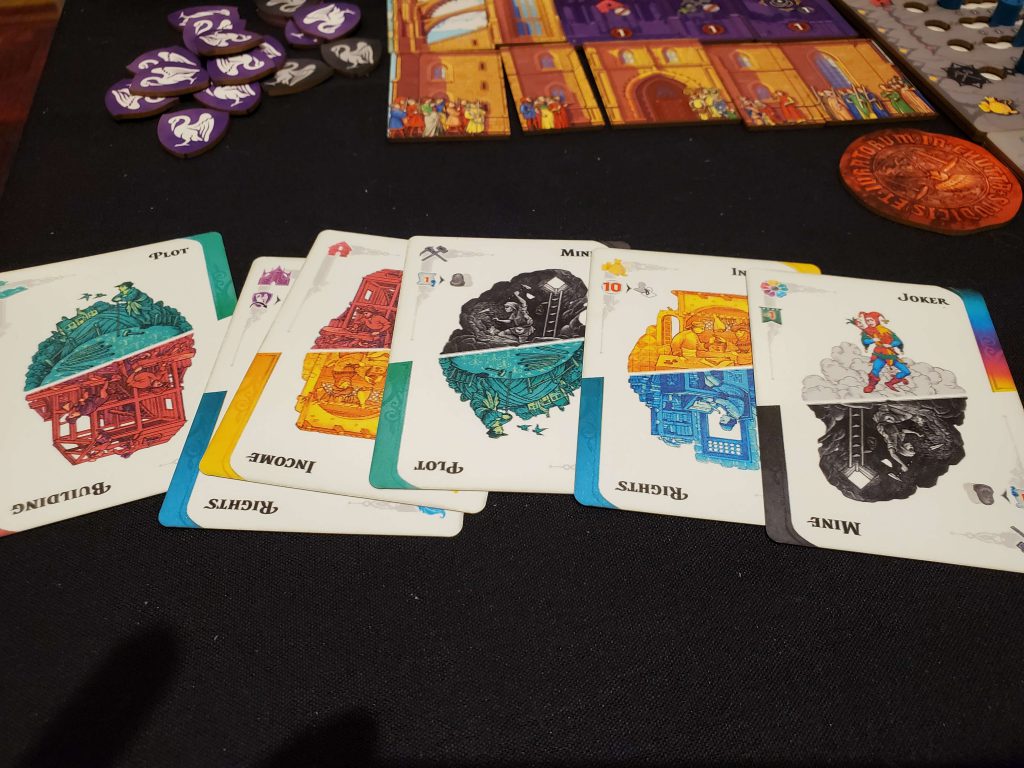 The action cards are double-sided so you have some flexibility to adapt your turn to the constantly changing conditions of progress in the city. There are five rounds. In each round, players start with two actions until the third turn where they take a single action, and then back to two actions for the beginning of the next round, for a total of twenty-five actions. The included calculators reflect a real-world dynamic supply and demand market and are unlike anything I have seen in a board game. They are very clever; I applaud whoever dreamed those up! There will be a digital app you can use for tracking your turn mapping, which for a heavyweight game like this, I think I would want, even though it's not necessary. Keep in mind that you also have to pay your taxes in this game, just like in a real-world economy. You don't want to be caught at tax time without money to pay them! Luckily, Nathan pointed out that there is a joker-type token that allows for a free additional action you can take if you are in a pinch. Hopefully you will not need it just to cover your taxes, but you never know.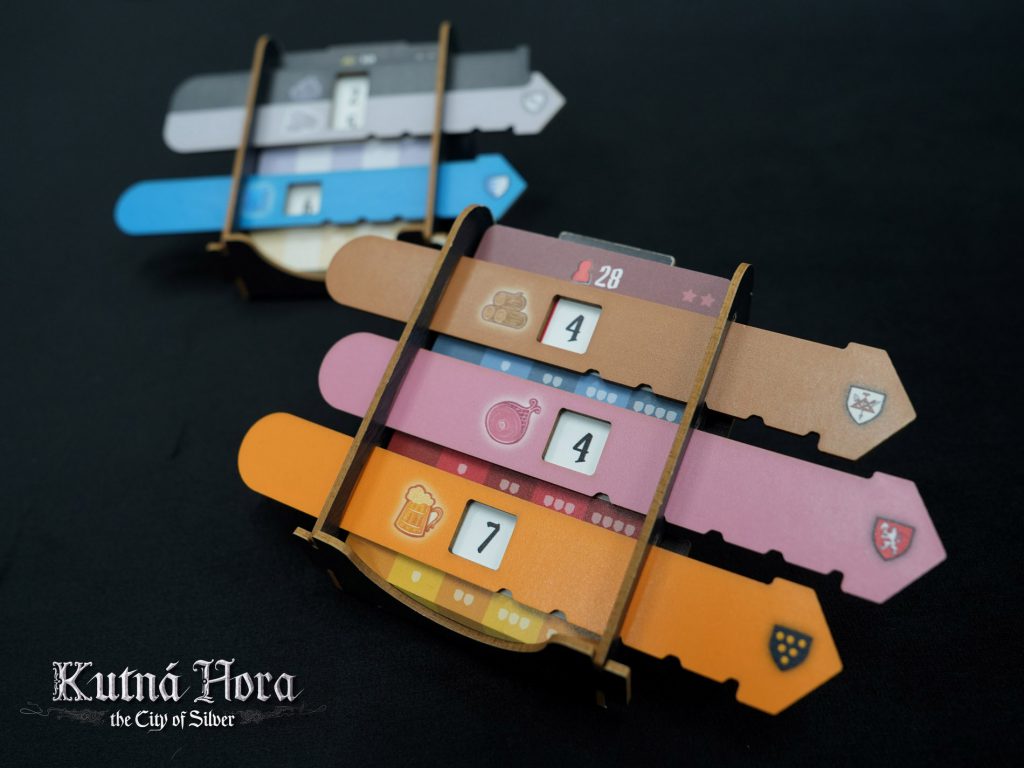 The scoring tracks really give you a lot of choices in terms of strategies to win the game. I am not sure there is a way to pick just one strategy and stick with it in order to dominate the game in scoring with how many bonuses you pick up through every avenue of the game. Whether you focus on mining, bureaucracy, or building, each player seems to have a lot to try out and play around with to get the best bonus combinations to win. Not knowing how the game will end scoring-wise is a big plus for me. Nobody wants to be frustrated and discouraged by picking the weakest path through the game. There seems to be plenty of mixing and matching combo bonuses for those who want to keep their game balanced as well as those who hope to power through with just one strategy. The design team really went over the top to create a unique Euro game that is practically unpredictable from the moment the guilds are drafted.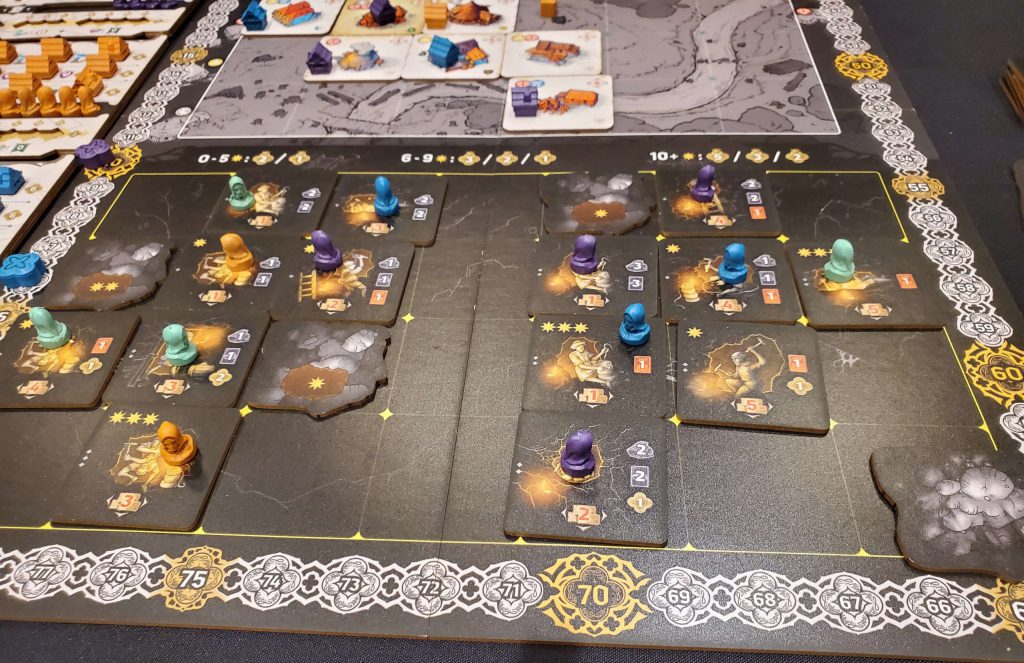 Aside from the previously mentioned metal coin upgrade pack you can buy for this game, I want to bring up the tokens that were at the table. I thought by the weight of the one I picked up that it was made from resin or something. But Nathan pointed out that this is a more environmentally friendly material called RE-wood. They explained that it is composed of recycled wood (80%) and recycled binding materials (20%) and it is the first game of this type to use this stuff. It is injected into molds like plastic usually is, and the result is this sturdy, heavy duty, upscale-looking component that has a surprising amount of detail for something that isn't plastic. It's locally sourced in the Czech Republic and more sustainable than plastic. I really hope this stuff catches on and that it is a reasonable cost so that more components get made this way. The colors that CGE used are colorblind friendly, they said, which gives Kutná Hora even more bonus points from me for accessibility reasons. I know the version I saw needs a few more tweaks before the official release this fall, but from what I saw, I believe Kutná Hora will be more environmentally friendly and accessible than many other heavyweight games I have seen without sacrificing aesthetic or theme.
The last thing that Nathan wanted us to know is that this summer CGE started producing a documentary on their website, detailing the history of the company and how Czech Games Edition got to the international company they are today, with commentary from industry experts and celebrities. They talk in depth about the games they have produced and where they get their inspiration, so jump right in! It will be an eight-episode series by the time the last episode is released in November. The first episode launched in July and can be found on the CGE blog along with the release schedule.
Have any questions or feedback? Drop us a note in the comments below or email us at contact@goonhammer.com.