Happy Holidays, Dear Reader! Today I'm supposed to be looking back on the last year's worth of articles, but I'm going to cheat and go back to 2020, since we haven't done a retrospective before, and of course it's a bit satisfying to be able to start just writing meta content. Nonetheless, this article ought to serve as a sort of table of contents for all the other articles I've written since then.
The Four Kinds of Magic Articles We Write
So far there are four kinds of articles we've stuck with writing over the last two years:
Commander Focus articles, which generally revolve around a single Commander and a deck built around that commander that either exemplifies a mechanic or is thematically consistent, though sometimes there've been two decks in an article or two commanders with similar decks or themes.
Set reviews: Our coverage is mostly focused on commander, and these reviews mostly focus on Commander play, though sometimes there are comments about how to use cards for limited or other formats,. We also tend omit cards that we don't foresee having much impact on Commander.
The Commander 101 series: This is a specific focus on the mechanics of commander and multiplayer games, as well as an attempt to apply economic concepts that are commonly referred to as games theory to commander games. These may from time to time include some more statistical analysis than we normally use.
Best in Show: A series about the best cards to put into slots for decks with broad categories such as "fast interaction" or "card draw" or even "lands." Given that Commander is an eternal format but also a singleton format, there's a broad variety of choices to be made about something as simple as creature control or artifact destruction and this is an attempt to codify and put into words why certain spells are the best in class for that category of spells. These articles also contain links to moxfield packages, which can be added to decks during deck construction quite easily, and these are packages that I curate so I will add new cards to the packages as new sets come if they replace extant cards.
One of my goals with each deck that I write up is to try to cover something a bit in depth, a piece of theory, or expound on some point so that if someone reads the articles they'll be learning new skills for deck construction or some other aspect of playing commander.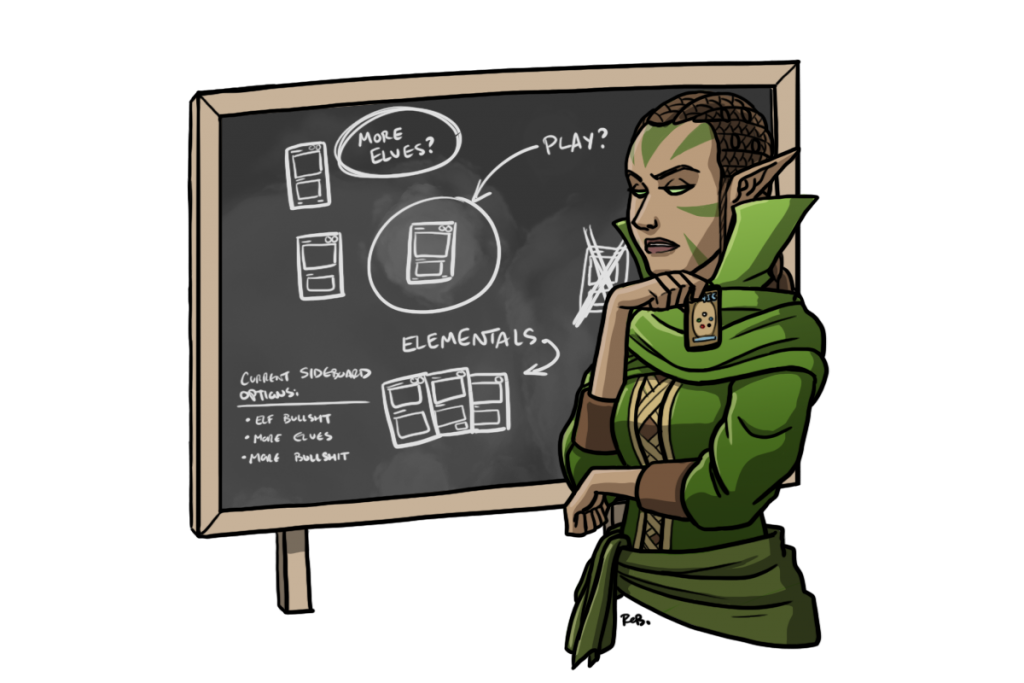 The Articles
Building a commander deck Covers the core concepts of deck building and a formula for building out a deck to make the deck more functional and competitive.
Golos, Sleeping Pilgrim Building a cEDH deck around Golos (who is now banned)
Atraxa Building an infect deck around Atraxa and the perils of being too threatening
Queen Marchesa An atrician Mardu deck built around Marchesa, covers some of blacks infinite combos, sacrifice and death triggers, and the weaknesses of not having access to green and blue for cEDH
Gavi, Nest Warden Does the uniqueness of Cycling and how it works offset Gavi's high mana value and lack of card advantage in the command zone? (No, no it does not).
Rin and Seri, separable from my money A tribal cat dog deck built in response of the art of the Secret lair featuring, you guessed it, cats and dogs, and how to build something useful out of a tribe (or two).
Omnath, Locus of Creation A retrospective on Omnath(s) and a good explanation of why fetch lands are so strong, and why they (in combination with the ABUR duals and shock duals) enable multicolor decks so well, mana fixing and thinning simultaneously
Rankle, Master of Pranks and building a deck around a soft-lock, in this case, creatures, and the risks that entails.
Neyith, of the Dire Hunt A fighting deck and an emphasis on the creatures that are under cost in the 3-5 range in part because they count all the things your opponents are doing, but were written for when magic was purely single player.
Tazri, Beacon of Unity Trying to build a deck around the new Tazri, and how it didn't really work out.
Kroxa, Titan of Death's Hunger This deck uses Kroxa as a commander, and is focused on abusing the fact that you can force the turn to end early. This deck was created before Obeka, Brute Chronologist was printed, and it could easily be rebuilt much stronger as a grixis deck.
Karona, the False God this deck is built around giving away permanents, and not in a particularly friendly sense, but rather permanents like Lich, which if they leave play make you lose the game, and once you've "donated" the permanent, you flicker it and kill the player (who may be attacking or threatening you).
Lurrus of the Dream Den building infinite combos in Orzhov colors and using Lurrus as a value engine
Yidris, Maelstsrom Wielder A storm deck around using Yidris cascade ability to storm off, and resetting the chain of costs by using free to play spells.
Pako and Haldan generating extra attacks and value off Haldan's ability to cast Pako's exiled spells.
Malcom and Breeches a two part series of pirate tribal decks, with Malcom and Breeches turning out to be much more powerful than Admiral Becket Brass.
Kenrith, death by taxes this is an early version of a deck that has evolved more or less into a cEDH mainstay, Kenrith stax focused on the fact that Kenrith is an incredibly powerful versatile combo piece that can play "five-color good stuff" and use his abilities to get around stax spells.
Akiri, Rograkh a kobolds and swords deck a fun Boros deck around getting out commanders fast and then getting equipment onto them.
Aegar, the Freezing Flame a deck around overloading your opponents creatures with damage and killing them with "spell trample" effects.
Uro, Titan of Natures Wrath, A deck built in reaction to the banning of Uro from other formats and a rather basic simic land ramp strategy that should be consistent and aggressive.
Miara, Numa Golgari Elves this is a deck focused on elves new abilities around death triggers and token generation as well as sacrificing your elves for value and then reanimating them over and over.
Jorn, god of Winter Jorn's deck is focused around a stax strategy, much like Urza, but incorporating Jorns ability to untap all snow permanents you control to render the stax effects asymetric.
Akiri, Kydele a dragons approach deck was an attempt to use dragons approaches to dump out one of the Niv-Mizzets and either end the game via casting more approaches.
Krark and Sakashima the Cake is no Lie There's a version of this deck which is a very competitive one, I think this is the better version to play, generically, and it focuses on using the probabilities of multiple coin flips in your favor, especially because Sakashima let's you copy Krark several times, leading to a number of triggers hitting the stack every time you cast a spells, meaning that you can "have your cake, and eat it too" casting a spell, getting it's effect (multiple times) and still having it return to your hand.
Hazezon Tamar Fear is the Mind Killer This deck is a themed dune deck, where Hazezon represents Paul Atreides, the Kwisatz Haderach, and his sand warriors are the fremen, the deck has wurms for Shai Halud.  In fact I went through and explained exactly what each card in the deck represents from the books because I've read them a lot of times.
Brallin and Shabraz, America, Fuck yeah This is a fairly bog standard competitive Brallin deck running around 2 combos, this article includes a write up of how your end-step works, and particularly the clean-up step, and how you can abuse that by generating card draw, forcing a new clean-up step endlessly.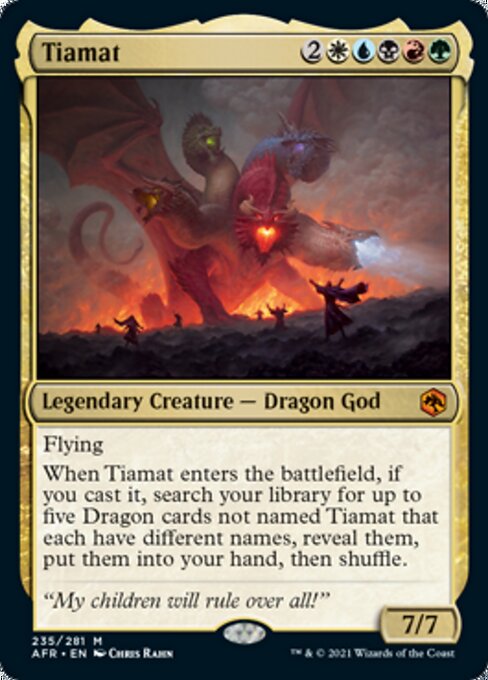 Tiamat, a Rage of Dragons is a relatively straightforward guide to building a battlecruiser tribal deck and how to do it well (here's a hint, a lot of ramp and a card advantage engine) once you can cast Tiamat you can just keep casting dragons, and force your opponents to answer a big flying threat over and over.  Imo this is what battlecruiser should be (not a boring excursion into someone realizing their deck doesn't actually do anything).
Chandra's Rage mono-red chandra planeswalker focused and a retrospective on the original sligh deck and how it transformed magic, and how to actually use all your resources effectively.
Zabaz the modular boros bug from Modern Horizons 2, a call back to modular and a pretty straightforward way to really lean into +1/+1 counters with a sideline in recursion for value.
Let me Extus you a question which is a deck built around Extus front face and mostly ignoring the whole "blood avatar thing" to utilize blood rush and Extus double strike and ability to get creature cards back as a magecraft trigger, to simply plow into people with your commander and kill them.
Ye Dragon Approacheth an approach of the dragon deck using Akiri and Kydele hoping to land a curiosity effect on Niv-Mizzet.
Kadena, Mighty Morphin' Slinkin' Sorcerer building a deck around morph and it's unexpected value cards, and leaning into extra untaps gaining flash, as well as the strangeness of abilities that don't use the stack.
Esika, God of Gods, a god tribal deck that will win the game by resolving The World Tree and of course how aggravating it is that Path to the World Tree doesn't fetch the world tree.  There's also a breakdown on how creatures can enter the battlefield simultaneously but also in order.
Kolaghan, a dash of Fire  a break down of good vs bad dragons and how to build a deck around the Dash ability, and the power of recasting the same spell over and over generating repeated triggers.
Ser Gwyn, the Night Rider a pretty straightforward exercise in casting knights and then equipping them and beating your opponents down with your boosted knights.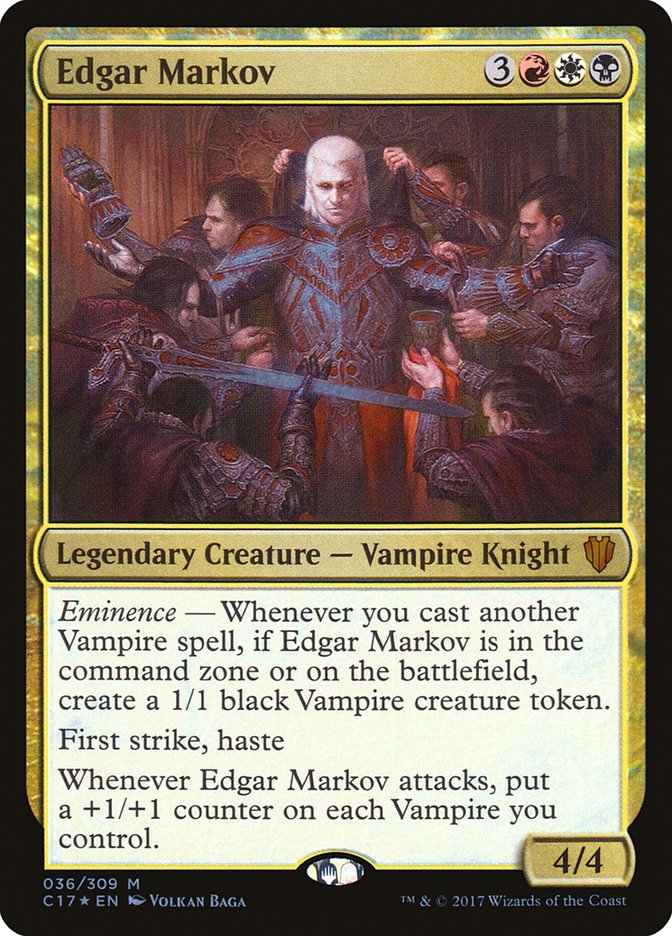 Markov, Blood on the Cheap this was an attempt to make a deck relatively cheap, and at the time it came in under $200 with most of that tied up in the commander, Markov's eminence ability lets you generate a ton of free vampire tokens, and black can get a lot of value by saccing those creatures getting a variety of triggers off each one.
Anowon, Feeling a bit rogue-ish is a rogue deck with a mill sub-theme, generating various triggers off the milling include damage and the ability to reanimate your opponents best creatures.
The Rubaiyat of oh my Tayam! building around Tayams strange recursion ability and how you can keep sagas around triggering over and over.
Horde of Notions an elemental tribal deck focused on value cards to repeatedly cast out of your graveyard.
Kenrith, It's a lock Kenrith's five-color identity used to build out various hard and soft locks so that your opponents can't cast spells, and then simply beat them down with Kenrith, who is one of the beefiest commanders in common play, and thankfully can just make himself bigger over time.
A Riku of Two Reflections two different decks built around Rikus cloning abilities, one that is more or less time tribal, and one that is built around suspend cards and the fact that suspend cards are "cast" when they come out of suspension, allowing Rikus ability to trigger at  that time.
Next week – a preview of the year to come, with our predictions about what we'll see in commander product, RC decisions, the movement of the meta, and goonhammers coverage.
Have any questions or comments? Want to tell us more about what you'd like to see in next year's articles, or the formats you want us to cover? Drop us a note in the comments below or email us at contact@goonhammer.com.