Call Kenny Loggins because we're back in the zone.
Writing last week's article I noticed something that seems really dangerous: If you leverage it the right way, there are 2 cards, all in Boros colors, that prevent half of the damage done to permanents you control, and to you. Well that's neat, right? But if you Earthquake for 5 it's going to kill your creatures and only do some damage to you.
But what if you just dealt 1 damage? Well, 1 damage, reduced by half, rounded down is 0.  And if you could just do 1 damage over and over then, uh, that would let you kill everyone. There's a whole class of cards that do precisely this, I don't know if they have a term in the broader magic community but to me these cards are Pestilence cards.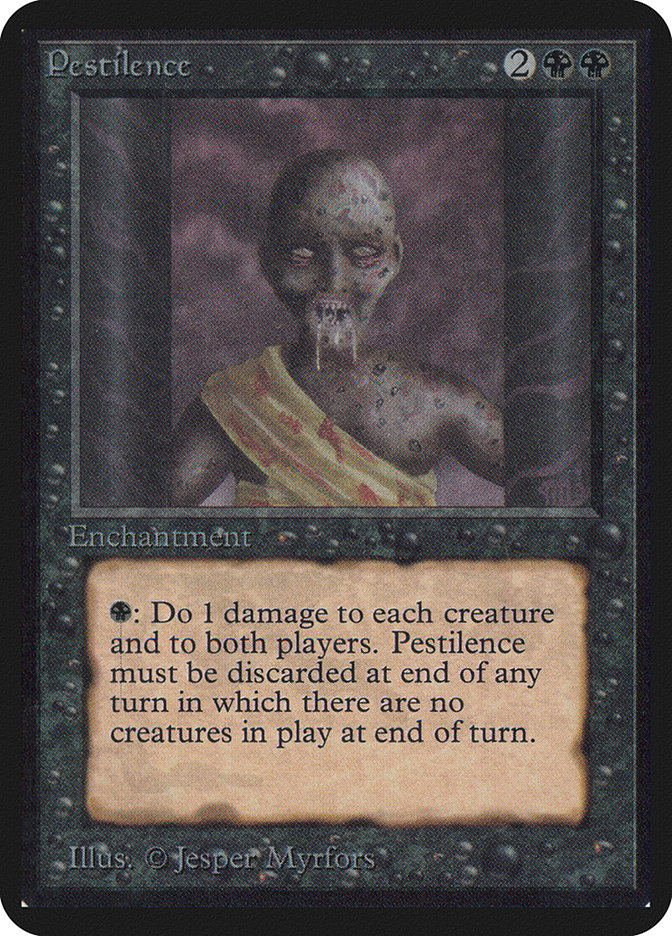 Pestilence cards are a bit nostalgic for me; I remember my friend Marco playing Pestilence back in the  day. I mean back in Alpha/Beta and hating it, hating how it would just clear everything out. Granted we were slamming creatures like Nightmare and Force of Nature into each other, so we were like, real bad.
Let's look at the list of Pestilence effects:
These cards pretty much all have the same ability – pay 1 mana: do 1 damage to every creature and each player. This is really a tremendously powerful ability, but the typical downside is if you don't control a creature at the end of the turn, you sacrifice the card. Some of the cards themselves are creatures, which typically can lead to them having a ceiling.  Combined with our ability to reduce damage to 1 this means a thrashing wumpus can kill everyone if you have enough mana. Granted, many things are possible if you have infinite mana.
So the next step is to get infinite mana, and since we're thinking old-school, I went with old-school cards, and for the XLT version of this deck it's highly recommended you run proxies, since Candelabra of Tawnos is by itself a $800-$1200 card.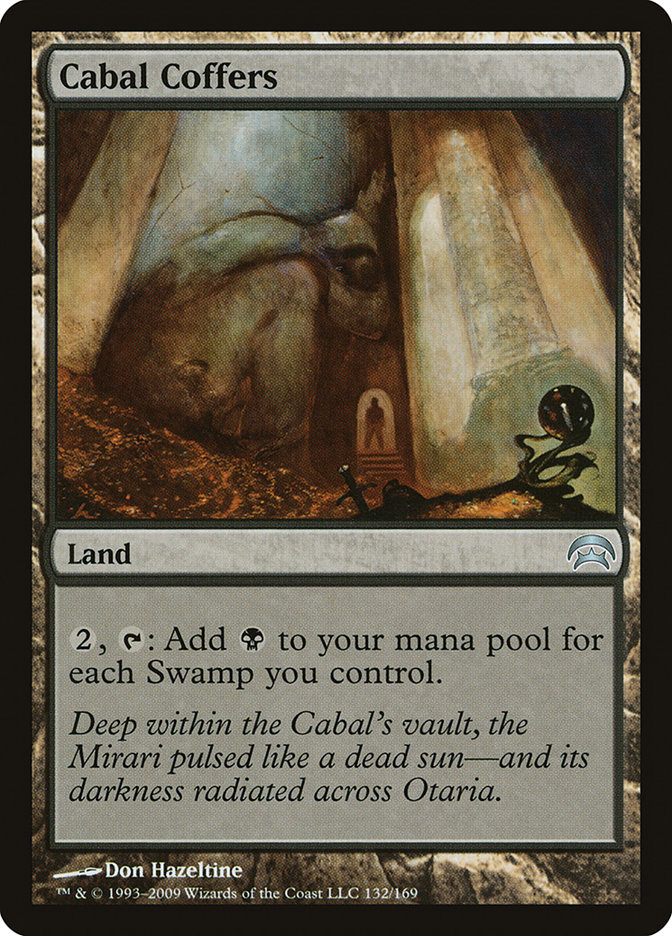 There's quite a few ways to get infinite mana, but they revolved around having either a lot of swamps or a lot of devotion, most likely to black.
Cabal Coffers + Candelabra of Tawnos + Rings of Brighthearth or Lithoform Engine + Galvanic Key or Voltaic Key
Magus of the Coffers + Liquimetal Torque + Rings of Brighthearth or Lithoform Engine + Galvanic Key or Voltaic Key
Or Magus of the Coffers + Umbral Mantle and 6 swamps (boring).
Or Cabal Coffers + Deserted Temple + Rings of Brighthearth
6 Swamps may seem like a lot, but there's Pilgrim's Eye, Solemn Simulacrum with etbs, and Sword of the Animist and Sword of Hearth and Home, all of which fetch swamps, and Hearth and home also generates more etbs for you.
Or with Devotion of 8 or 10:
You can use a Nyx Lotus + Rings of Brighthearth or Lithoform Engine + Galvanic Key or Voltaic Key.
Nykthos, Shrine to Nyx + Candelabra of Tawnos + Rings of Brighthearth or Lithoform Engine + Galvanic Key or Voltaic Key
This is essentially a pestilence combo deck, but the nice thing is pestilence is effectively a kind of Stax card if you are channeling 5 or 6 mana through it a turn. Zurgo Helmsmasher is mostly there for his colors, but he has a really nice side-effect, in that he's indestructible on your turn.  Meaning your can board clear but he won't die, so you won't lose your pestilence.  This doesn't work as well if you are using one of the creature pestilences.
To get pestilence protection you can use:
General's Enforcer + Rem Karolus, Stalwart Slayer or Tajic, Legion's Edge
Or
Or
Or
Or there are a bunch of other ways to make your creatures invulnerable via equipping or spells like Boros Charm or Chance for Glory (go for it) or just giving them protection from black so you can go off.
To get this deck going and actually win you need swamps, so one of your early tutor targets will probably be a way to get more swamps, sword of the animist is cheap and relatively non-threatening, it only makes Zurgo and 8 power, and doesn't grant trample.
Myriad Landscape and Burnished heart are naturally there to fetch more swamps, and the default target of the expedition map is Cabal Coffers, if you have that most likely Urborg, Tomb of Yawgmoth, or Deserted Temple or finally Nykthos, Shrine to Nyx.
In and of himself Zurgo really chops into your opponent's life totals, and if you can't go infinite this is how you can get people low enough to just straight up kill them with pestilence, Zurgo only has to hit someone 3 times to kill them with commander damage, and the pestilence should clear all blockers out of your way, so long as you get one of those effects going.
There is certainly a "friendlier" version of a mass damage pestilence deck you can build.  Less about going off, combo-wise, and more about ways to just have pestilence early and ramping out tons of damage.  What I don't like about decks like that is they are sort of dangerous if you should happen to a deck that doesn't run creatures, is very planeswalker our enchantment/artifact focused.  Since your deck isn't turbo-threatening you may be clearing the board.
Piloting this deck requires probably a nearly reckless disregard for the consequences, your combo isn't lock-tight, and you need to stop your opponents from out valuing you, so get Zurgo and a pestilence out as fast as you can so you can start keeping the board clear of pesky mana dorks and other small utility creatures, and as well as potentially value commanders, and finally things that can get in Zurgo's way.  The amount of land ramp should mean even if your opponents clear him off the board you can recast, but he's also not necessary not to win, so feel free to use him as a sort of threatening gambit piece.  His upside is really his invulnerability to keep pestilence on the board, and ability to get people low so that you can actually win via pestilence.
Have any questions or feedback? Drop us a note in the comments below or email us at contact@goonhammer.com.