We here at Goonhammer love when we have the opportunity to spotlight contributors and examples of excellence within the wider community, which is why we're so excited to introduce you to the Lord Marshal Conference! As the fancy boys fly overhead on their way from one coast to another, attending one of their big coastal ITC events, down below in the heartland something tremendous is growing. If you haven't heard of the Lord Marshal Conference it's probably because you're not from the Midwest, but in its 4th year the conference extends to 13 states, hundreds of competitive players, and thousands of games. We'll review the history and current status of the conference, overview the current standings, discuss how you can participate, and then introduce, for the first time, an all-new data tool unique only the LMC! So grab yourself a Pabst, a serving of your favorite hot dish (but it's the Midwest, so please, no spices), pull up a chair and prepare yourself for the next evolution of competitive 40k!
What is the Lord Marshal Conference?
The Lord Marshal Conference is a sub-circuit within the ITC that is focused primarily within the Midwest and Southern United States. Founded in 2016 by Jason "Official GW Warhammer Hero" Horn in partnership with the Tournament Organizers of some Midwestern majors, the Lord Marshal Conference pursues the following stated goals:
To facilitate and grow the Midwest Warhammer 40k community in an atmosphere that is fun, competitive, and personally rewarding to players
To encourage participation in regional RTT and GT participation by providing incentives through event and game points tracking
To encourage engagement with local game stores and provide regional players a local circuit for which they may set goals and strive for growth in the hobby
To expand the reach of the LMC into neighboring states, allowing for more local players to engage with the wider community.
To add at least one grand tournament each year – to bring more events to more of the community at a locally attainable level.
To promote sportsmanship and standardize integrity and fair play in events and to be known for as much
What we love about the LMC is its focus on the community as a whole – the above goals lay out a vision of facilitation and inclusion – where the LMC can be a tool that brings FLGSs and players together, and provides them a framework for which to engage the wider midwestern community in a manner which is fair, fun, and encouraging. Moreover, if you're not from the Midwest, it's easy to misunderstand the problem that is the tyranny of distance. That in order to compete in a meaningful way, many players need to travel hundreds of miles in order to engage within the competitive community. The LMC is looking to actively and specifically address that issue by bringing more quality events to players within their local regions. In the words of Jason Horn, "At the end of the season, we want to have been shown to provide an exemplary environment for all types of players within the LM region, and to offer them a satisfying, yet competitive circuit to show off their abilities and skills."
To meet this objective, one method of rewarding players is to actively track the performance and provide that feedback throughout the year via an LMC rankings – more on that later. In addition to actively tracking game and event results, the conference issues end of year awards for a variety of categories, including:
The Lord Marshal (top player)
Best Imperium
Best Chaos
Best Xenos
Best Team
Renaissance Man (battlepoints, hobby, sportsmanship)
The Renaissance Man is a new award this year and places an emphasis on not just competing at a high level, but also bringing a winning personality and a good-looking set of space barbies. While there is no reigning Renaissance Man, the current reigning champion of the conference, the Lord Marshal, is Ben Cherwien who closed out a tight race with Dan Sammons at last year's Iron Halo. And so it is that his Dorito dust stained bases have been captured in the hobby halls of history.
How Can I Participate?
The season runs from November to September with a one month "off-season" in October.
The LMC encompasses a range of RTT, GT, & Major level events and is anchored by a series of well-known Majors. This year the largest events include but are not limited to:
Renegade Open (Minnesota) – November 18th, 2019
Desperate Allies GT (Arkansas) – April 18th, 2020
Midwest Conquest (Missouri) – May 23rd, 2020
Bugeater GT (Nebraska) – June 6th, 2020
Show Me Showdown (Missouri) – July 25th, 2020
Flying Monkey (Kansas) – August 14th, 2020
Siegeworld (Missouri) – August 22nd, 2020
Iron Halo (Oklahoma) – September 26th, 2020
For the currently scheduled listing of upcoming events, including RTTs, GTs, & Majors, please see the official events page here.
As of March 9th, there have been 27 events with 288 unique registered players who've played over 1,800 games of competitive 40k – all tracked within the conference. However, the most heated action will occur over the summer months with 4 of LMC's 7 marquee events occurring between May & August. This scheduling sets up what becomes a flurry of competitive action before culminating in the September Iron Halo season closer.
Tracking & Rankings
The LMC leverages Best Coast Pairings to track results and submissions in a similar vein as the ITC. However, attendance at LMC events will net you scores that are submitted not just within the LMC but for the ITC as well. In this manner, the LMC does not seek to replace the ITC, but rather increases local player presence within it – and moreover to give the local player base a circuit of their own without having to travel outside the region. I do note that in the LMC consecutive, undefeated wins do not grant additional points as they do in the ITC and so scores are reflected differently. It's an interesting difference and comparatively this seems like a penalty for those who have won out throughout their early games vs those who have 'submarined' to the top. However, I note that the ITC system doesn't actually account for strength of schedule in any meaningful way – and the LMC system essentially states that it's unfair to penalize a player because they drew a rough matchup in the early rounds. After all, can you really say that in a round one matchup between two ITC top-50 players that one is deserves a point hit for the rest of the tournament for the loss?
Brian "BamBam" Hunter is the current leader within the LMC and isn't letting Ben forget about it. However, he'll need to have a good showing over the summer to hold off Scott Thompson and Cullen Burns who are both hot on his heels. As I mentioned, much of the wrangling within the LMC is yet to come with only one Major completed at this point and so it's fair to say that the race is early and it's still anyone's game. Bam did have a special message for the reigning Lord Marshal however: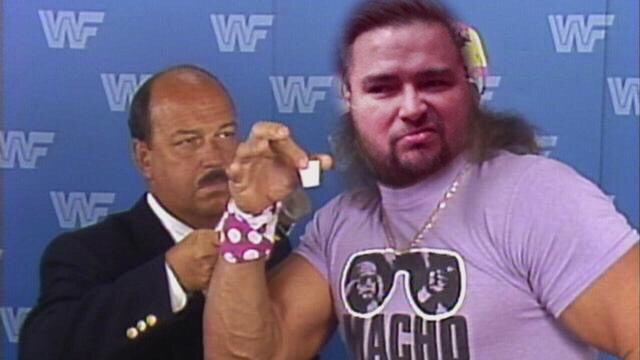 Can't argue with that – so let's take a look at the current top 10 and top teams in the conference!


NEW: Data!
Most exciting of all is a new player accessible data visualization tool that is set to go live today! We here at Goonhammer love us some numbers and so we're excited to offer you a glimpse into what the LMC is building with their new tool. As it opens – please submit any feedback, comments, or concerns to the LMC address at stats@lordmarshal.org
We'll briefly highlight the capability of the tool as we walk through the viewable/interactive pages that include:
Participants Overview page
Events Overview page
Team Overview page
Faction Breakdown page
Player Breakdown page
Custom Matchup Section (three types)
The first stats page is a player by state breakout of everyone registered to an event within the conference. You can sift through these by state and highlight specific players to identify selected stats about them including their number of games, win rate, and VP scored on average.
The Events Overview allows you to easily peruse all recorded events within the conference and then drill down to a given state to locate the number of events and particpants. While this is cool from an informational standpoint, what I really like about this is that it also serves to drive a bit of state-based rivalry amongst the particpants in the conference – want to better represent your state and the local community? Drive more events within the conference!
The Team Overview page features the similar national breakouts but then lets you zone in on specific teams, their membership, location, performance as a team and individually, and their general activity level within the conference. I really like this feature as it helps to push that cross-team performance rivalry and, perhaps more importantly, gives you the option to back up your intra-team shit talk with data. A nice future addition might be the capability to compare team vs team in a sort of Big Ten vs ACC challenge type of scenario. A data-backed Frozen North Gaming vs Warhogs annual challenge would be an addition to this community that no one is truly asking for and yet, may just be magical.
The Faction Breakdown page is probably the 'core' of the tool. This is what everyone comes to see – how is a faction performing in the current meta? Listed within the tool are a few things:
Faction specific breakout
Filters for GT and RTT only options
Weighting by Faction type (Imperium, Xenos, Chaos)
Total wins, average win percentage, players, and average wins before a loss
Average VP/round
These are all of the essential notes you'd like to use in order to cross compare performance of a faction and I think this is a powerful piece for looking at how armies are performing within the conference. The tool of course allows you to drill-down into specifics of a faction vs the overall which is a critical feature. Some possible features I look forward to in the future might include not just the average of VPs scored/round but also the VPs against per round. Why I like that particular component is because competitive 40k isn't just about scoring points, it's also about preventing your opponent from scoring – analyzing army performance on both ends is key. After all, the Milwaukee Bucks aren't good just because of their scoring capability… what a defensive team!
The Player Breakdown is a really cool addition to the standard data tracking. It lets you go a level deeper and see how players themselves are performing on a game-by-game basis throughout the course of the season. It provides both the overall performance as well as event performance and let's you really Facebook stalk someone but in a less weird and more cool and good way. It allows you filter for RTT and GT so you can separate out some of the local meta vs LMC meta and really gives you that look at a player's skill by identifying their average first round loss. I love this addition. The only thing I think it's missing, similar to the faction analysis, is a average VP/round against for similar reasons.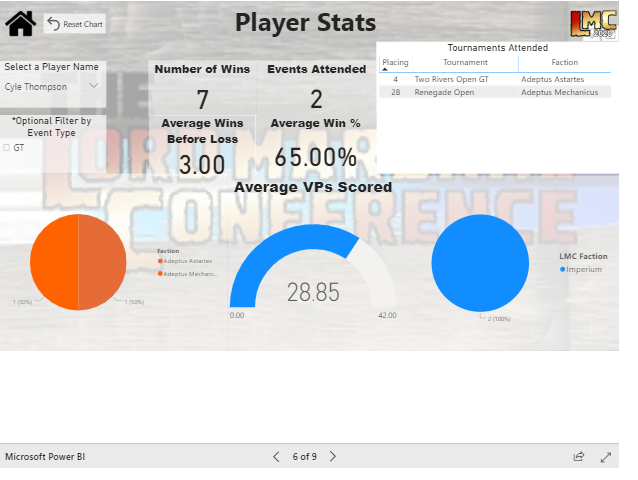 The final section is a custom matchup generator in which the tool presents three options:
Player vs Player
Faction vs Faction
Player/Faction vs Player/Faction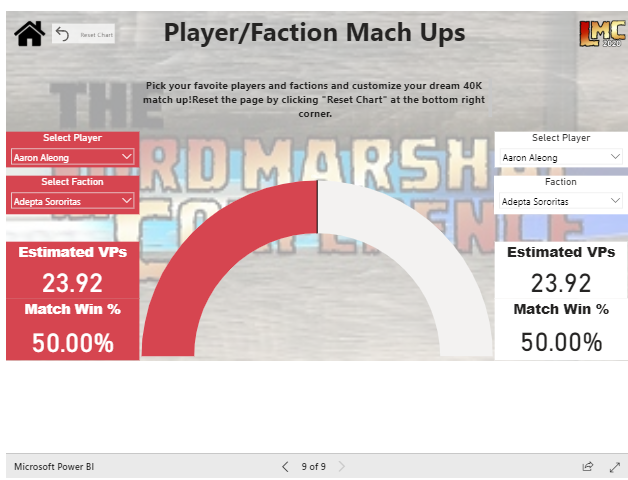 This is more of a fun addition this point due to data limitations – however, as the season (and years) go on and more data is entered, the tool will be a better representation of what may truly be possible in pairings. I foresee this being a fun addition for players and TO's at events to use as a yardstick and most importantly, to smack talk.
Final Thoughts
The LMC is truly a remarkable addition to the 40k Community and their latest step with an interactive data visualization tool really shows a commitment to the continued improvement of the community that we can get behind. We note that the data tool itself is an ongoing project and so while there is room for improvement (and Jason is actively and excitedly working on improving this!) it is at a point where it is already insightful and fun to use. We note that tools like this can only get better with more data, and as the season hits its stride in the summer, we expect that the tool will offer a lot of utility to players and TOs alike. Moreover, the custom matchups feature allows a lot fun "what-if" scenarios that we think it will be a blast for matchup previews in the big tournaments. If ESPN can do it, why can't we?