After a big old burst of activity last week, things were pretty quiet on the event scene this weekend just past, leaving me (hopefully for one of the last times this year) with a blank text window in front of me when it comes to pulling this column together. A thousand curses upon the plague and all that.
Having mulled it over, what I've decided to do is follow up a bit on last week's April Tier List update. Feedback has generally been pretty positive, but one area that always generates particularly vigorous engagement is the factions we put lower down the list. No one is particularly interested in contesting that Sisters and Harlequins are top tier factions, but when we rate a faction down in tier four it generates lots of opinions – generally a mix of theories as to why the faction isn't performing and some healthy pushback as to whether there's some angle we're not seeing that might allow a Codex to bust out to the higher tiers.
With that in mind, what we're going to do today is go through some of the factions that we ranked as Tier 4 and take a more in depth look at how they stand. All of these factions have problems, and we'll talk about what they are, but they also all have some redeeming features. Given that plenty of players are extremely loyal to their favourite factions (I'm still trying to make Craftworlds work) and we're all hopefully going to be getting a whole lot more gaming in soon, it's worth zooming in on what these upsides are to look at potential angles for experimentation. No one, least of all us, wants factions to be stuck in Tier 4, so if there's any room to make some magic happen, it's worth investigating.
Today we're going to look at Deathwatch and Chaos Space Marines, and I'll be back with parts 2 and 3 at some point where we need to fill a slot!
Also, fair warning – I've put together some army lists while mulling some of this over. These are not fully refined – they're mostly just attempts at putting a shell around some of the theories as to what might be usable, showing how they could be put on the table. I'd want to test and iterate all of them before actually taking them to an event!
Deathwatch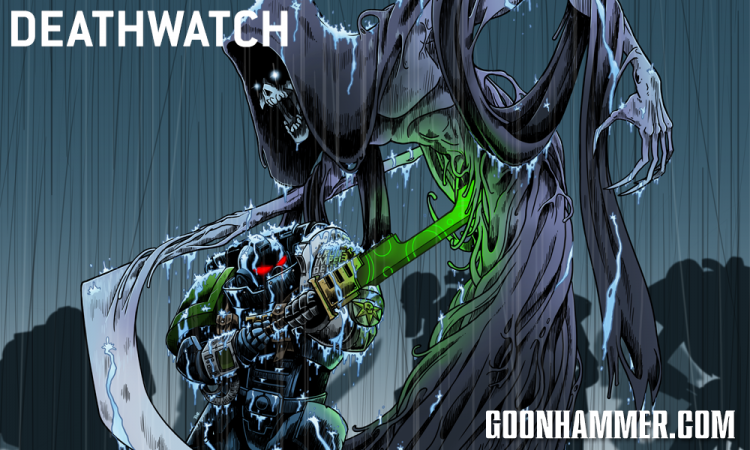 What's Wrong With the Faction?
Deathwatch are a pretty classic case of "jack of all trades, master of none", and suffering for it. Their Supplement is almost mind-bendingly flexible in what it can put down on the table, and that flexibility extends beyond just army list construction – you get to make on-table decisions about what battlefield role you're going after for your Xenos Hunters Chapter Tactic, and pick which Doctrine is active turn-to-turn. Backing up the Space Marine army list, this feels like it should be very strong.
Thus far, it has not gotten there. The Space Marine codex is no longer, by itself, enough to put a strong army on the table (reflected in many other chapters dropping down a Tier), and for a Chapter to really perform you now need a unique draw to make them worthwhile, something they consistently do better than anything else, and unfortunately Deathwatch lack that almost by design. The thing they are supposed to be best at is beating up Xenos (and they are great at it to be fair), but in a competitive environment it's perfectly possible to go an entire event without running in to any Xenos armies, leaving you with part of your Chapter Tactic, one of the better Secondaries and a third of your Stratagems just dead in the water.
Stratagems is worth a particular look here, because this is where a bunch of the power for some Chapters comes from, but Deathwatch's are extremely situational. You have five stratagems dedicated to specific Xenos factions (meaning at minimum four are blank each game), and three more that provide what used to be datasheet abilities in 8th at a price. Add in the standard upgrade options and a few more pretty niche choices and you end up with an extremely short list of things that are actually relevant. Some of the good ones are very good (as we'll come back to), but you're really pining for a couple more slam dunks here.
Doctrines are the other place where you really want something more. Mission Tactics is super cool and thematic, but the good superdoctrines out there provide such spectacular force multiplication that it doesn't really compare – especially when abilities to switch Doctrines are available to lots of Chapters, some very easily. For Mission Tactics to feel "worth it" it needs to be providing something genuinely unique, and right now it bluntly doesn't (especially as superdoctrines provide value against invuln-heavy armies).
Finally, a couple of things Deathwatch can't do unit wise hurt a lot. Losing the ability to get access to Special Issue Ammunition pretty much anywhere other than basic Veterans strips away one possible angle for Deathwatch to put together some unique unit configurations, which is a shame. New Editions are the right time to make wide-ranging changes like this, and I don't think anyone wants to go back to the storm shield/SIA storm bolter days, but the near complete swing away from this turning up anywhere other than as a curiosity on basic Veterans feels like an overreaction. Were it up to me, I would probably kill two of my problems with one stone here and allow any unit to choose to operate as if they were firing Special Issue Loadout (i.e. SIA, but Heavy 1) on the turn the Devastator Doctrine was active. Gives you one turn of setting purging to maximum, which feels pretty cool.
The other thing is that they can't take Attack Bikes. I'm aware that I'd have gotten some weird looks if I'd gone back in time 18 months and cited that as a real problem for a Marine army in the next edition, but they sure are one of the best units in the book, and Deathwatch sure can't take them. It's really a last kick in the teeth.
What is There to Work With?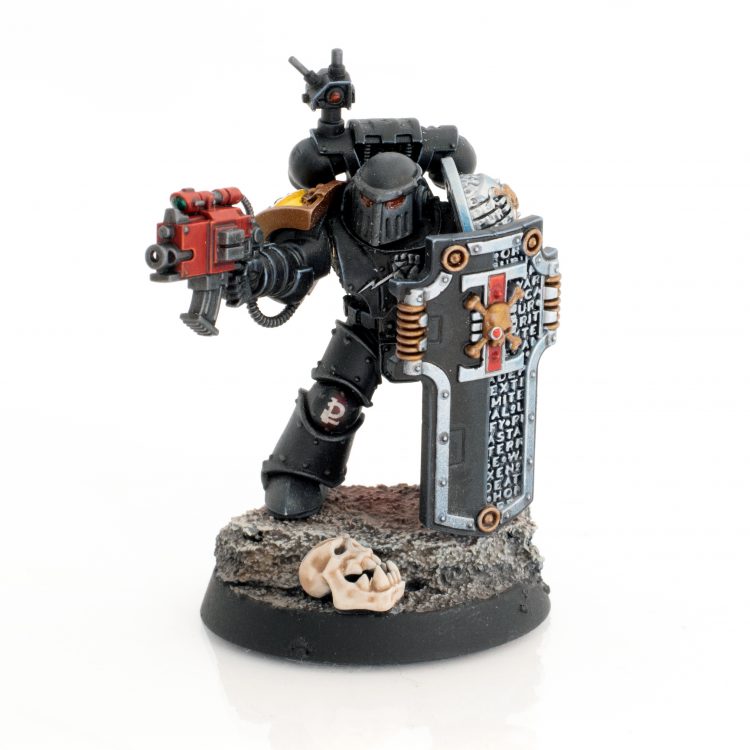 That's the moaning out of the way – on to some goodies. I should cite some sources here – to make sure I wasn't missing too much I've been through some better performing lists, and also followed up a link from a comment on the tier list to a pretty in-depth guide that someone put together for their Deathwatch league list on Reddit. You can find these from the links below:
So, the good:
Kill Teams: Mix-and-and match unit building is extremely potent, and the option of splitting these into combat squads lets you set up some powerful and unique configurations on the table. Notable tricks include:

6 infantry, 4 bikes (either Outriders and Intercessors or five Veterans, one VanVet and four bikers). As long as you've got one Infantry model in the bike unit they can ride through walls and perform Actions to your heart's content, and they're always ObSec, making them extremely flexible. My eyes are drawn to the option of Veterans with a VanVet, as it makes the whole unit mobile, but the size of the bases means you can still make effective use of the high movement on the bikes themselves while they're carting around a slower infantry model, and that's fine for a moving castle.
5/5 Infiltrators/Incursors – split into two units that can leverage the Infiltrator bubble at a discount.
Nightmare deathballs including either a trio of cyclone Terminators protected by storm shield Veterans or the Gravis shooting options with Heavy Intercessors to soak up fire.

Combi-Flamers: Getting their own entry here – combi-flamer Veterans out of a drop pod is something uniquely nasty that Deathwatch can throw down.
Relics: The Dominus Aegis, Beacon Angelis and Tome of the Ectoclades are both extremely powerful relics that work well with the strategies the kill teams pull you towards. The Aegis is also great with Redemptors, as it lets you set up with an easy invuln.
The Good Psychic Powers: Fortified with Contempt and Premorphic Resonance are extremely powerful on hefty kill teams, and makes a central deathball tarpit a very good plan (and that's something that's generally strong in 9th).
The Good Stratagems: All-purpose Deep Strike (including for Dreadnoughts) is great for 1CP, and Brotherhood of Veterans gives you that real flexible hit on the table.
While We Stand, We Fight: Amped up Kill Teams are extremely good for this, either because they're hellish tarpits that take serious killing, or extremely lop-sided units where you can split off one half and hide it. Being very good at a niche Secondary goes some way towards mitigating the pain of their chapter options being very matchup dependent.
This is a long way from nothing – there's some real tools to work with here, and despite the drawbacks listed, it feels like there should be enough to do something with. Here's what I've cooked up.
List Concept
Deathwatch Battalion
HQ
Captain on Bike, thunder hammer, storm shield, Hero of the Chapter – Imperium's Sword, Relics of the Chapter – Dominus Aegis – 130
Primaris Chaplain on Bike, Master of Sanctity, Hero of the Chapter – Wise Orator, Relics of the Chapter – Beacon Angelis, Canticle of Hate, Exhortation of Rage – 140
Primaris Librarian in Phobos Armour, Premorphic Resonance Fortified with Contempt – 100
Troops
Proteus Kill Team – 285
5 Veterans w/Deathwatch bolter, storm shield
4 Bikers with power swords
1 VanVet with lightning claw/storm shield
Proteus Kill Team – 285
5 Veterans w/Deathwatch bolter, storm shield
4 Bikers with power swords
1 VanVet with lightning claw/storm shield
Proteus Kill Team – 359
5 Veterans w/Deathwatch bolter, storm shield
3 Terminators w/cyclone, lightning claws
1 Terminator w/hammer/shield
1 VanVet w/2x lightning claws
Teleport homer
Elites
Primaris Apothecary, Warlord, Tome of the Ectoclades, Chief Apothecary, Selfless Healer, A Vigil Unmatched – Adept of the Codex – 95
Redemptor, plasma, onslaught, icarus – 185
Redemptor, plasma, onslaught, icarus – 185
7 Vanguard Veterans, 6x claw/shield, 1x hammer/shield, jump packs – 205
Servitors – 30
Total – 1999pts, 7CP
Each different Deathwatch player I've seen content from seems to swear by one flavour of kill team and pour naught but scorn on the others, so I'm sure this is hacking some people off, but combining some of the elements I liked in the various lists I looked at has left me on this. The thing that pushed me towards the biker/veteran teams is, paradoxically, something we've seen elsewhere – basic bikers are performing strongly in Ravenwing lists at the moment, and that's because in Ravenwing they can be ObSec and have an invuln. With the Dominus Aegis kicking around, these ones are ObSec, have an invuln and can powerslide through walls, and that seems pretty cool. Using the size of the models in the unit and the large base on the Bike Captain who's carrying the Aegis gives you a large amount of reach while remaining "shields up", and splitting off the Veteran half of the units makes these very tough to deny While We Stand off. We can also cover the Redemptors in the protective bubble for at least turn 1, and maybe turn 2 depending on how measured an advance we make.
At some point, however, I think the expectation probably is that the Captain will shoot off to do some mischief alongside the bikers, meaning that we need a deathball that doesn't rely on the Aegis for its invuln. That leads towards a Terminator flavour rather than Indomitor, so that's what I've plumped for, loading up the maximum number of missile launchers along with plenty of storm shields, including a Terminator who can be repeatedly filled full of Combat Revival juice to drive the opponent up the wall. By itself this wouldn't feel like quite enough shooting, but a pair of Redemptors significantly shores that up. Both they and that big block are pretty decent in combat too, with the main shooting blob being surprisingly deadly in a fight, allowing you to make them tough to charge with Premorphic Resonance. To finish stuff up, I wanted one more roving combat unit, and felt that being able to make good use of Beacon Angelis into Canticle of Hate was desireable, so went with Vanguard Veterans.
I strongly suspect there are a number of sliders you could tweak here, but on paper this looks like a list I'd be at least interested in trying out, and I'd be genuinely fascinated for the Deathwatch fans who I know will show up in the comments to let me know what I'm missing.
Chaos Space Marines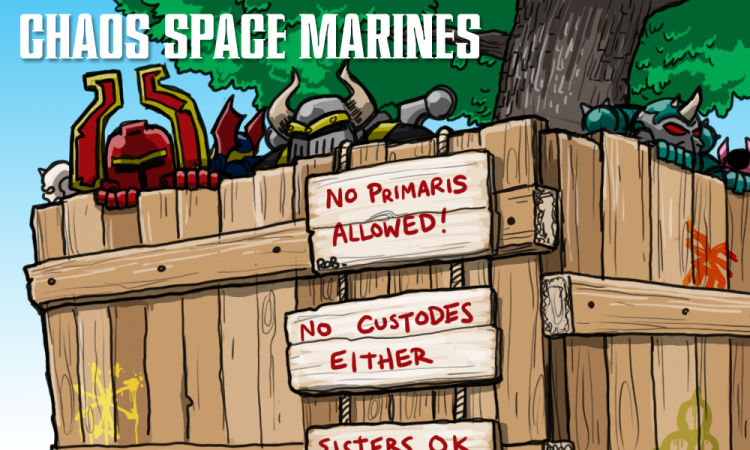 For a full version of what you can do with Chaos Space Marines, you should take a look at Rob's lovingly curated Start Competing guide, which goes into options for all of the Legions. I'm going to be focusing on what seems to be specifically challenging this faction right now.
What's Wrong With the Faction?
Chaos Space Marines are in a very odd place – they're got some of the very oldest datasheet rules and subfaction traits that are still live, but also received a vastly larger set of new tricks from Psychic Awakening than most, with a page of stratagems, relics and Warlord traits for each individual Legion in Faith and Fury, as well as another set of rules in War of the Spider.
Your basic issue ends up being, therefore, that a whole bunch of your datasheets are kind of naff and you can't cram nearly as much of the good stuff as you'd like into any given list.
The Faith and Fury legion rules were pretty much wall-to-wall awesome, but with the relics being locked down to just whichever legion your warlord comes from, and no generic "additional warlord trait" stratagem, the number of them you can actually use in any given game is vastly more restricted than you'd like. Each legion also tends to be quite specialised in what it supports, and most of them don't quite reach the level of being a complete package by themselves, which is where you'd want some generically high quality datasheets that can go into any list and shore things up.
Unfortunately, the datasheets are a mess. Without getting the upgrade to an extra wound, many of the Marine units feel a bit overpriced for what they are, and are extremely brittle on the table, while Cultists are very much something you grit your teeth and put into your list since they got their 6ppm price tag. It also feels like any attempts to make the "classic" suite of Marine/CSM vehicles worth taking have been essentially abandoned at this point, meaning that some of the old standbys are pretty much irrelevant. You just don't quite have good units for doing everything, and the fact that your subfaction traits are both weak and narrow makes this even worse.
The natural answer to this, of course, is to soup. With loss of access to the legion relics being the only real downside for CSM, the obvious way to exploit their (very real) upsides is to combine them with other forces, usually Daemons right now. Bloodletters and Daemonettes providing two options for actual good troop choices, plus some excellent role fillers for pretty much everything except shooting (which CSM can handle) make that combination extremely appealing – and that kind of sums up the problem for CSM. In common with several of the other factions in Tier 4, they have things that they're extremely good at, but to make a complete package you end up reaching elsewhere, and that's a rough place to be.
What is There to Work With?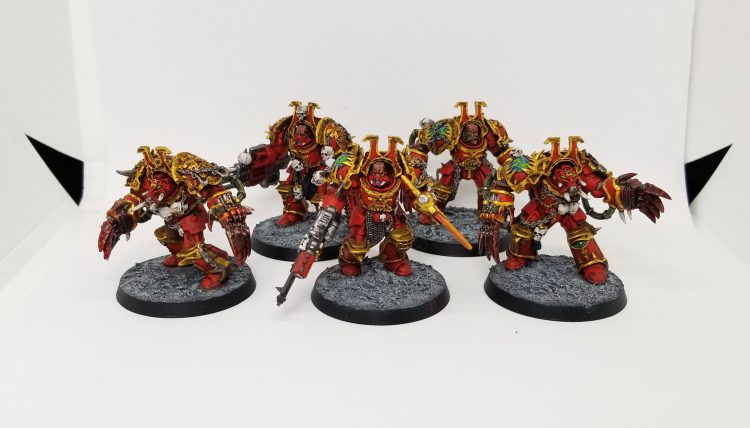 That's the end of the doom and gloom – we've said there's some good stuff here, so what is it?
Terminators: All the goodness that the other CSM units are missing got concentrated in here. At a mere 28pts each with a free melee weapon, these are absurdly cost efficient brawlers that put most of the faction's other units to shame. Particularly good as Emperor's Children and World Eaters.
Emperor's Children in General: Lots of the Legion rules are strong, but the Emperor's Children probably take the prize for biggest standouts – and that's reflected in them seeing the most success in soup. Noise Marines and great buffs for Terminators do the heavy lifting here.
The Big Four Buffs: Warptime, Prescience, Veterans of the Long War and Endless Cacophony – all still extremely good, and hugely valuable to many lists.
Daemon Engines: A bit uneven still, but in general Daemon Engines have a lot more going for them than other vehicles, with the Decimator looking especially strong at the moment because ranged mortal wound output is absurdly desirable, and Defilers pulling an amazing turnaround from previous editions by being pretty great now. Iron Warriors and Word Bearers support these especially effectively. This is where legion traits not applying more widely hurts mind!
That's a decidedly shorter list than we had for Deathwatch, but given the fundamental cause of our issue here is a weak suite of datasheets, it's not that surprising. It also, happily, gives us a fairly clear direction for where to go with trying to make this work – shooty Daemon Engines, and Terminators for melee.
List Concept
This list is inspired by Robert Hortin's 6th place list from the recent West Australia Iron Man, with this mostly being me trying to keep some of the same flavour while translating over to pure CSM.
Iron Warriors Patrol – 1050
HQ
Lord Discordant, techno-virus injector, autocannon, Insidium, Slaanesh- 195
Master of Possession, Cursed Earth, Infernal Power, Warlord, Daemonsmith, Slaanesh – 95
Troops
Chaos Cultists, Slaanesh – 60
Chaos Cultists, Slaanesh- 60
Elites
Decimator, 2 soulburner petards, Slaanesh – 180
Decimator, 2 soulburner petards, Slaanesh – 180
Heavy Support
Defiler, scourge, reaper autocannon, Slaanesh – 140
Defiler, scourge, reaper autocannon, Slaanesh – 140
Emperor's Children Vanguard – 950
HQ
Daemon Prince with Wings, Hellforged Sword, Intoxicating Elixir, Slaanesh – 195
Sorceror, Diabolic Strength, Prescience, Slaanesh – 90
Elites
10x Terminators w/lightning claw/bolter, Slaanesh – 280
10x Terminators w/lightning claw/bolter, Slaanesh – 280
Mutilators, Slaanesh – 105
Total – 2000pts, 8CP
I went back and forth on whether to go Iron Warriors or Word Bearers for the Daemon Engines here, but in the end the extreme power of Daemonsmith with the engines was enough to lure me to the Iron Warriors end of things, over and above the improved cast chance out of Word Bearers. Methodical Annihilation is also super good with a Decimator, as it lets you push up your shot count to get even more value from the warlord trait, allowing this army to reliably grind down big tarpits. While that's happening, the Defilers and (if needed) one unit of Terminators on the board provides a discouragement to any opponent planning to rush you down, and then once the rest of the Terminators show up you have a fairly hefty brawler contingent, and certainly one that should be able to finish off units that have been mortaled hard, with a couple of nasty murder characters well placed to finish the job. Mutilators are mostly here to fill out that detachment and be surprisingly effective Scramblers fodder; if the idea of putting those models in your list is just too horrific you could change that detachment to a Patrol by shifting one of the cultist units over, but since you'd realistically be looking for something that could help with Actions, I'm reasonably happy with it as-is.
Wrap Up
I'll be back with part 2 looking at Genestealer Cults and Astra Militarum at some point in the next week or so, and there's a Major going down in Australia this weekend (Ratcon), so we'll have our regularly scheduled look at army lists that didn't come from my fevered imagination next week. Make sure to join us then, and in the meantime if you have any comments, questions or suggestions hit us up at contact@goonhammer.com.