One of the less well explored parts of competitive 9th Edition is games played at the Incursion (1000pts) level. 2000pts play was overwhelmingly the norm in 8th Edition (where the community exploded in size), so it's no real surprise that Strike Force gaming is the default for most events in 9th, but the designers have put substantially more effort into supporting Incursion-sized competitive games this time around, including a dedicated set of missions in the GT2020 pack.
If, like me, you spend far too many hours each week trawling BCP and DUP you'll know that there has been a general slight uptick in events running at the 1K size, and the weekend just past saw one of the largest yet fire, a 92-player four round event hosted by Objective Secured (whose major we covered back in January) featuring a number of familiar names sitting near the top of the standings. Incursion events are a great entry point for newer players, and we get a reasonable number of questions about how to build lists for them, and how better to answer that than to look at what happens when some of Australia's finest turn their minds to the format.
Five players emerged undefeated from the pack, so we'll take a look at each of their lists, and then sum up if there's any takeaways about what you need to be ready for at any Incursion event you attend.
If you want to do a bit of pre-reading about what might be different at smaller game sizes, you can check out previous articles we've done on this topic:
Objective Secured First Blood – Undefeated Lists
All the lists from this event are in Down Under Pairings.
Craig Sumpton's Necrons – 1st Place
The List
Army List - Click to Expand

++ Battalion Detachment 0CP (Necrons) [47 PL, 5CP, 995pts] ++

Dynasty Choice: Dynasty: Novokh

+ HQ +

Chronomancer [4 PL, -1CP, 80pts]: Dynastic Heirlooms, Entropic Lance, Relic: Veil of Darkness

Lord [5 PL, 100pts]: Relic: Voltaic Staff, Resurrection Orb, Staff of Light, Warlord, Warlord Trait (BRB): Inspiring Leader (Aura)

Royal Warden [4 PL, 75pts]

+ Troops +

Immortals [4 PL, 85pts]: Gauss Blaster, 5x Immortal

Necron Warriors [12 PL, 260pts]

. 20x Necron Warrior (Gauss Reaper): 20x Gauss Reaper

Necron Warriors [12 PL, 260pts]

. 20x Necron Warrior (Gauss Reaper): 20x Gauss Reaper

+ Fast Attack +

Canoptek Scarab Swarms [6 PL, 135pts]

. 9x Canoptek Scarab Swarm: 9x Feeder Mandibles

++ Total: [47 PL, 5CP, 995pts] ++
The Standout Features
Necrons pack in tonnes of bodies to flood smaller boards and claim victory
Novokh flexibility allows the list to just roll over most opponents.
Royal Warden and the Veil of Darkness ensure the list can't get bogged down.
Why it's Interesting in 9th
Much more so than at 2,000 pts, the holy grail of incursion play tends to be to find a skew build that doesn't have any unsalvageable matchups. At Strike Force game sizes players can generally pack in some tools to address most kinds of matchups, meaning they'll have some angle for attacking almost any opponent. At 1000pts that's less true, and the power of a list like this is that the tools needed to deal with it are going to be absent from quite a few lists.
The basic battle plan here is fairly obvious. On Incursions smaller tables, two full Warrior bricks can dominate a huge proportion of it, and between their mixture of high volume S5 shooting and decent melee threat (combining Blood Rites and Disruption Fields can push a block to 40 S5 AP-1 attacks on the charge) they're willing to advance towards most kinds of opposition. Shifting them is also a huge pain – Strike Force lists will generally be able to burst a warrior block down in a turn if they really have to, but in Incursion pulling off the full kill is going to be unreliable, meaning that the Resurrection Orb is going to be a constant threat. Pinning them down with bully charges isn't going to work either, as the Royal Warden can use Adaptive Strategy to pull one unit out (even just to let them shoot then re-charge), and the Chronomancer can use the Veil of Darkness to extract the other if both units ever need saving at once.
The characters also represent a moderate amount of chip damage, all having some sort of shooting attack, helping soften up anything that's too crunchy for the Warriors to engage with at full strength, and since they're often going to be safe behind the blocks for most of the game this provides a good amount of attrition. The remaining elements in the list are the Immortals and Scarabs, both of which shore up positional play and Secondaries. I imagine the Immortals are going to be screening out the backfield a lot of the time, while the Scarabs will be a bit more aggressive – they've got a lot of wounds to chew through, allowing them to ram into enemy shooting threats to shut them down, or sit on an objective with relative impunity.
Having those units on top of the Warriors helps give this game strong secondary plans – it has multiple strong options for Battlefield Supremacy between Domination, Purge the Vermin and Treasures of the Aeons, and the Scarabs mean that it'll confidently be able to take Ancient Machineries in matchups where one of the other two isn't needed. The list can easily fill out with Grind them Down, which it might drop on the first turn, but should be able to lock up with its relatively low count of durable units for the rest of the game. While We Stand is also a potentially strong choice against opponents short of anti-horde options.
Necrons in general feel like they have exceptionally potent plans at the Incursion game size, and this list shows off why – it takes tools that are already tricky to fully answer in Strike Force, piles in support to make sure they can't be shut down, and that was enough to allow it to roll to victory!
Courtney Hill's Khorne Daemons – 2nd Place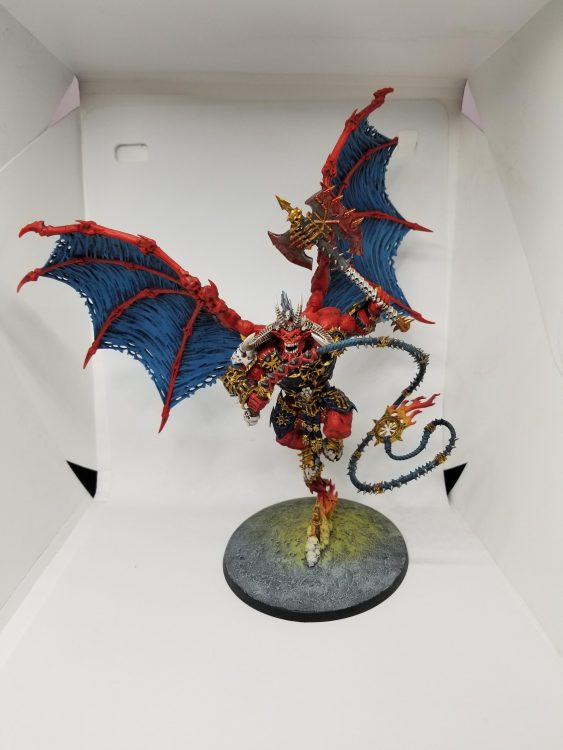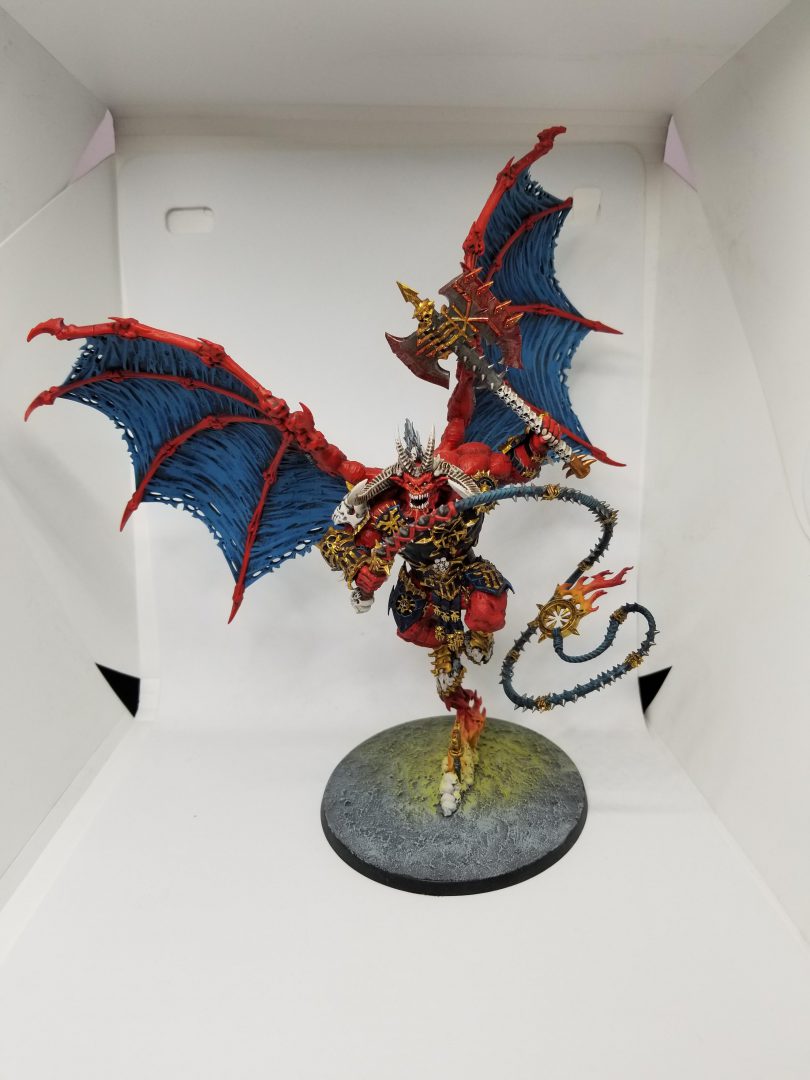 The List
Army List - Click to Expand

Stratagems used: Exalted bloodthirster(-1cp), 2x Banner of blood(-2cp), extra relic(-1cp)

Patrol: <Khorne>

HQ

Daemon Prince of Chaos(150), malefic talon(0), daemonic axe(10), wings(35), mark of khorne – 195 points 10PL Skull Reaver relic

WARLORD Bloodthirster of Insensate Rage(250) – 250 points 13PL (Random Exalted traits) Armour of Scorn relic Oblivious to pain WT.

Troops

Bloodletters – 185 points 8PL
· 1x Blood reaper(8)
· 19x bloodletters(152)
· Daemonic icon(15)
· Instrument of chaos(10)
· Banner of blood (-1CP)

Bloodletters – 185 points 8PL
· 1x Blood reaper(8)
· 19x bloodletters(152)
· Daemonic icon(15)
· Instrument of chaos(10)
· Banner of blood (-1CP)

Fast Attack

Furies – 45 points 4PL
· 5x furies(45pts)
· Mark of khorne

Furies – 45 points 4PL
· 5x furies(45pts)
· Mark of khorne

Heavy Support

Skull Cannon(90) – 90 points 5PL

Total: 995 points, 2CP
The Standout Features
Pure Khorne Daemons flex their muscles in smaller games.
Bloodthirster goes all-in on being hard to deal with.
Perfectly set up so you can go for the 0CP yolo by deep striking both units of Bloodletters.
Why it's Interesting in 9th
Coming in at second place, we have another list with some hard-to-deal-with threats and melee infantry blocks, but how they play out is very different. Unlike Necron Warriors, once Bloodletters are on the board they'll die to a stiff breeze, meaning you can't just slog them up the table and expect things to work out. Instead, the conventional way to use them is to stick them into deep strike with Denizens of the Warp and rely on the 3d6 charges from Banner of Blood to land them. While doing that for both the blocks here leaves this list with an eye-watering 0 starting CP, it doesn't really need them for anything other than charge re-rolls beyond that, and thanks to gaining one in the command phase it'll have one loaded up by the time the Bloodletters become relevant.
Until then the list needs something to do on the table, and it picks that up via the double team of a tooled up Bloodthirster and a Daemon Prince. Large, durable infantry blocks are more likely to overwhelm the opponent's tools in Incursion, and the same is true of big monsters, especially when you load them with defensive options as seen here (plus a good chance of rolling one of the defensive Exalted traits). It's (obviously) no slouch on the offence too, and the Insensate Rage Bloodthirsters is a particularly good choice for the format because its sweep attack allows it to engage with pretty much any kind of target. It can't quite wipe a Necron blob by itself, but it'll take a huge chunk out of most larger units while retaining the ability to chop any flavour of tank or enemy monster in half (something that the Daemon Prince is also very much capable of).
Factor in its massive threat range and you have something that will force the opponent to play cautiously out of the gate, buying time for the Bloodletters to turn up. If the Bloodletters and the 'Thirster manage to launch a multi-pronged engagement on turn two, they can potentially do catastrophic amounts of damage that none but the very toughest of lists will be able to recover from, allowing the forces of Khorne to dominate the rest of the game.
Like the Necrons, the list fills out the rest of its points with tools ensuring that it can control the board. The Skull Cannon provides a very cheap option to babysit a home objective while racking up some attrition damage, while Furies are as good here for zipping around the board, performing actions and grabbing objectives as ever. The combination of these two units means that the opponent isn't going to be able to use redeploys or deep strike to take over the board before the Bloodletters can do this thing.
Ultimately, this list also aims to overwhelm opponents with things they can't answer – but here the question its posing is "can your small army soak up multi-pronged Khorne charges". It doesn't surprise me that the answer turned out to be "no", taking this list to a high finish.
Jonathan Moreno's Necrons – 3rd Place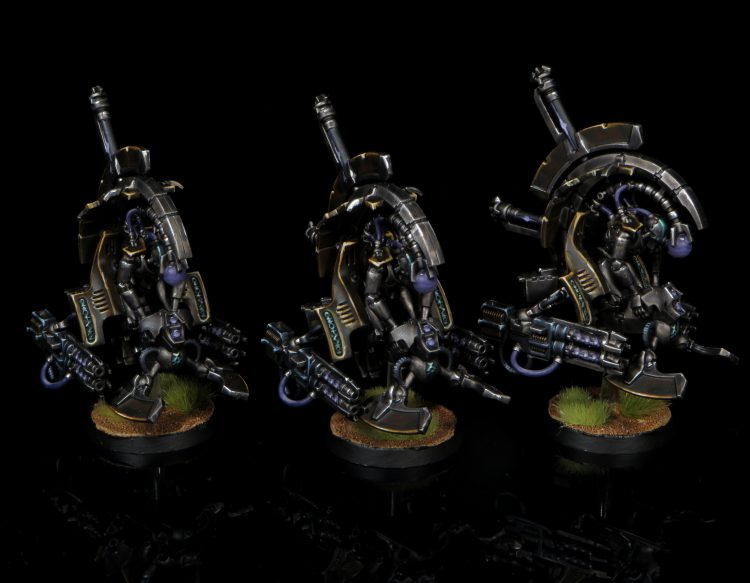 The List
Army List - Click to Expand

++ Outrider Detachment -3CP (Necrons) [51 PL, 3CP, 998pts] ++

+ Configuration +

Dynasty Choice: Circumstance of Awakening: Relentlessly Expansionist, Dynastic Tradition: Eternal Conquerors, Dynasty: <Custom>

+ HQ +

Catacomb Command Barge [9 PL, 150pts]: Gauss Cannon, Relic: Voltaic Staff, Staff of Light, Warlord, Warlord Trait (Codex 1): Enduring Will

Technomancer [4 PL, 80pts]: Canoptek Cloak

+ Troops +

Immortals [4 PL, 85pts]: Gauss Blaster, 5x Immortal

+ Elites +

Canoptek Spyders [4 PL, 65pts]
. Canoptek Spyder: Gloom Prism

+ Fast Attack +

Canoptek Scarab Swarms [4 PL, 75pts]
. 5x Canoptek Scarab Swarm: 5x Feeder Mandibles

Canoptek Wraiths [10 PL, 175pts]
. 5x Canoptek Wraith (Claws): 5x Vicious Claws

Tomb Blades [8 PL, 228pts]
. Tomb Blade: Shadowloom, Shieldvanes, Twin Gauss Blaster
. Tomb Blade: Shadowloom, Shieldvanes, Twin Gauss Blaster
. Tomb Blade: Shadowloom, Shieldvanes, Twin Gauss Blaster
. Tomb Blade: Shadowloom, Shieldvanes, Twin Gauss Blaster
. Tomb Blade: Shadowloom, Shieldvanes, Twin Gauss Blaster
. Tomb Blade: Shadowloom, Shieldvanes, Twin Gauss Blaster

+ Heavy Support +

Lokhust Heavy Destroyers [8 PL, 140pts]
. 2x Lokhust Heavy Destroyer (Gauss Destructor): 2x Gauss Destructor

++ Total: [51 PL, 3CP, 998pts] ++
The Standout Features
A very different Necron picks up a second strong finish for the robot hordes.
Eternal Expansionists combines with a mix of durable units to provide very powerful objective play.
Tomb Blades and Lokhust Destroyers provide a stronger ability to engage at range.
Why it's Interesting in 9th
Everything's coming up skeletons, apparently. As all these lists are showing, linear, proactive strategies to overwhelm the enemy are better than ever in Incursion, and this army demonstrates another one that Necrons have access to – ObSec everywhere thanks to one of the game's best faction traits. This is already strong in Strike Force games, and here forcing the enemy to try and chew through the tooled up Command Barge to take an objective back off it is vicious. So too are the Wraith and Tomb Blade units – both of these have strong defensive profiles that make cutting them down a chore, and need to be fully cleared before they'll give up the objectives they're holding. They're also going to be able to strike effectively at pretty much anywhere on the small tables thanks to their speed, and provide a good mix of offensive options. The Wraiths will rip apart unwary characters or light vehicles, while the Tomb Blades are a very strong anti-horde option (especially buffed by My Will Be Done).
Eschewing Warriors and paying for the Shadowlooms on the Tomb Blades means that the list doesn't need to bring a Chronomancer, instead allowing it to splash on a Technomancer. They help keep the Tomb Blades on the table by reviving models, and the Canoptek Cloak healing the barge in a pinch will be much more relevant here than normal because of how hard it'll be to burst down in a single turn (and can punish something like a failed attempt to kill the Spyder).
One of those is to blow something right up. Like the previous list, the remaining points here are spent on something to sit at the back to provide attrition and some elements to control the board. A unit of Scarabs and a unit of Immortals are familiar choices for the board control aspect, but the Lokhust Heavy Destroyers are a much rarer sight. That's largely because they're just a bit too fragile for their price for Strike Force play, easily countered off the board, but here with the opponent's fewer tools likely occupied dealing with the ObSec first wave, they're more likely to get a few turns of fire in, especially as they can use the Dynasty trait to move into cover as needed. They also provide a good answer to Redemptors, which are a particularly strong in smaller game sizes and resilient to most other Necron threats. Finally, unlike a Triarch Stalker (which would be the most logical alternative at the rough price), they are part of the Dynasty, so get ObSec, helping prevent enemy objective grabbers from flipping the primary by sneaking round and charging them. There are enough upsides to them here that I can see why they were chosen.
Once again this list poses some very tough questions for its opponents, here how well they can deal with an army where everything is tough and ObSec, and while it's not quite as overwhelming in terms of threats as the Warrior list, the tradeoff is that it can play a bit more of a varied game, as its units are faster and it has options for engaging at a wider variety of ranges. It looks like it's Necrons for days in Incursion, and they aren't finished yet.
Lachlan Rigg's Necrons – 4th Place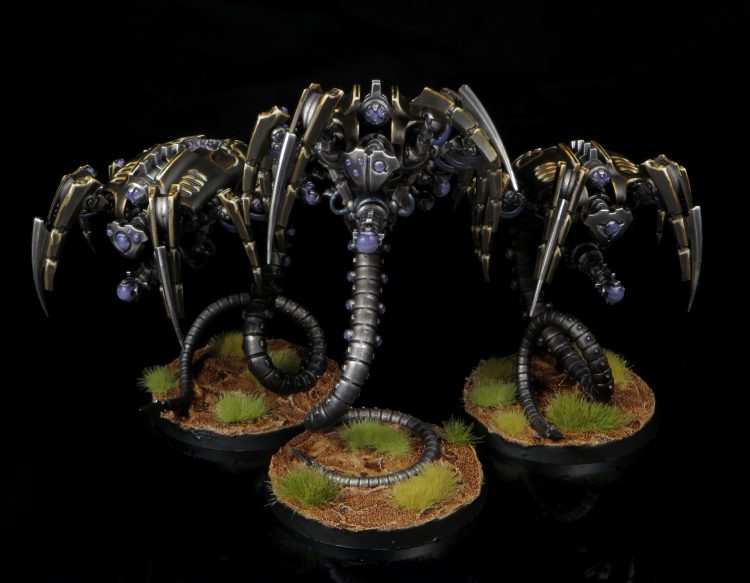 The List
Army List - Click to Expand

Outrider (-3CP, Dynasty Code: Eternal Conquerors, Relentlessly Expansionist)

HQ

Catacomb Command Barge, WARLORD: w/ Staff of Light (150) [9]:
· Warlord trait: Enduring Will
· Relic: Voltaic Staff

Chronomancer: w/ Entropic lance (80) [4]:
· Arkana: Countertemporal Nanomines (30)

Chronomancer: w/ Entropic lance (80) [4]

Elites

2 Cryptothralls (40) [2]

Fast Attack

5 Canotepk Wraiths (175) [10]

5 Canotepk Wraiths (175) [10]

9 Canotepk Scarabs (135) [6]

9 Canotepk Scarabs (135) [6]
The Standout Features
A hybrid of the two other Necron plans – High wound count units and also ObSec.
Quite capable of completely locking the opponent down in their deployment zone and just controlling the objectives all game.
Why it's Interesting in 9th
Finishing up our trio of undefeated Necron lists, we see the tools from the Eternal Expansionist build used to construct an even more extreme version of the plan from the Warrior list – overwhelm the enemy. Here, with their pre-game move, ObSec and either built-in or Chronomancered invulns, the Canoptek elements here can slam into the opponent's army pretty much straight out of the gate, and potentially cut them off from being able to achieve anything much at all all game. pushing through units of 36 wounds with an invuln is tough going, and while not as dangerous as the other two builds it's also not like this army poses zero threat. The Wraiths can badly maul things that expose themselves to a charge, the Command Barge remains an exceptional brawler in a small game, and larger targets have to worry about getting spiked by shots from the Chronomancers.
It's another powerful plan, plausibly the most overwhelming to deal with when unprepared of any of the ones we've seen so far, but it does have the tradeoff that if the opponent happens to be very well equipped with answers it doesn't really have much of a plan B. I absolutely wouldn't want to run this into an Ork Boyz Horde, for example, and there were a couple of those in the mix further down the standings – they'll just roll through the Scarabs without breaking a sweat and have their own go-wide Obsec, meaning the upsides of this list's plan are gone. That didn't come up for it on the day however, and there's an element of live by the skew, die by the skew – unless it hits one of its specific counters, this build is going to excel.
Callum German's Tau – 5th Place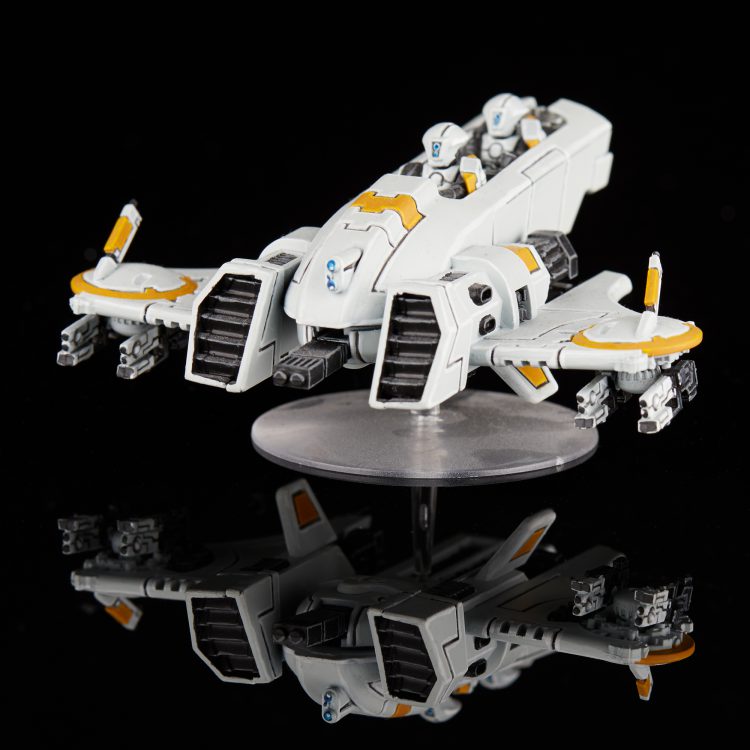 The List
Army List - Click to Expand

++ Battalion Detachment 0CP (T'au Empire) [56 PL, 5CP, 998pts] ++

+ Configuration +

Sept Choice
. Custom Sept: Hybridised Weaponry, Turbo-jets

+ Stratagems +

Emergency Dispensation (1 Relic) [-1CP]

+ HQ +

Cadre Fireblade [3 PL, 45pts]: 2. Through Unity, Devastation, Warlord

Commander in XV85 Enforcer Battlesuit [7 PL, 172pts]: Cross-linked stabiliser jets, 4x Cyclic ion blaster

+ Troops +

Breacher Team [4 PL, 90pts]
. Fire Warrior Shas'ui: Pulse blaster, Pulse pistol
. 9x Fire Warrior w/ Pulse Pistol: 9x Photon grenades, 9x Pulse blaster, 9x Pulse pistol

Strike Team [2 PL, 45pts]
. Fire Warrior Shas'ui: Pulse pistol, Pulse rifle
. 4x Fire Warrior w/ Pulse Pistol + Pulse Rifle: 4x Photon grenades, 4x Pulse pistol, 4x Pulse rifle

Strike Team [2 PL, 45pts]
. Fire Warrior Shas'ui: Pulse pistol, Pulse rifle
. 4x Fire Warrior w/ Pulse Pistol + Pulse Rifle: 4x Photon grenades, 4x Pulse pistol, 4x Pulse rifle

+ Elites +

XV8 Crisis Battlesuits [8 PL, 120pts]
. Crisis Shas'ui: 3x Flamer
. Crisis Shas'ui: 3x Flamer
. Crisis Shas'vre: 3x Flamer

XV8 Crisis Battlesuits [8 PL, 120pts]
. Crisis Shas'ui: 3x Flamer
. Crisis Shas'ui: 3x Flamer
. Crisis Shas'vre: 3x Flamer

XV8 Crisis Bodyguards [9 PL, 145pts]: High-powered incinerator
. Crisis Bodyguard: 3x Flamer, XV8-02 Crisis Iridium battlesuit
. Crisis Bodyguard: 3x Flamer
. Crisis Bodyguard: 3x Flamer

+ Fast Attack +

TX4 Piranhas [4 PL, 63pts]
. TX4 Piranha: 2x MV1 Gun Drone, Burst cannon

TX4 Piranhas [4 PL, 63pts]
. TX4 Piranha: 2x MV1 Gun Drone, Burst cannon

+ Dedicated Transport +

TY7 Devilfish [5 PL, 90pts]
. 2x MV1 Gun Drone

++ Total: [56 PL, 5CP, 998pts] ++
The Standout Features
Tau take this opportunity to remind us they exist.
Good board control and the flamers cross-covering each other makes this list ideal for countering hordes.
Tooled up Commander with enough units to screen him will be a total nightmare in small games.
Why it's Interesting in 9th
This list is a great one to close on, because it's very unique and attacks the metagame implied by the other four armies very effectively (though things change a bit down the standings as we'll cover in a moment). All four lists, to some extent, want to use high wound count units to bully stuff in melee and ride that to domination of the game, and the flamer Crisis Teams with boosted range line up very well against that. Thanks to For the Greater Good, try and charge one and there's a good chance all of them will be unloading, and if you don't engage with them then they'll gradually rack up chip damage over the course of the game, especially with the CIB commander backing them up. As we covered when we looked at them recently, they're also very independent operators, so if you are less worried about getting charged they can split up to tackle multiple small units around the board as required.
The list also racks up a pretty hefty number of shots across the rest of its forces, quite a bit of which is hitting at S5, meaning that with the backing of Through Unity Devastation it's going to be able to badly punish any opponent that does try to stay cagey. The only mild worry for that plan is that it's not really packing many weapons with good inbuilt AP, so it's very reliant on either lining up the perfect volley from the breachers or using the warlord trait to make any headway there. The list did manage to defeat a Grey Knight build packing Paladins and Terminators mind, so it's clearly not a dealbreaker, and that's probably because of how well it can dominate the board.
This list just has lots of stuff in a way that none of the other four armies do. The Crisis teams being dirt cheap means that it's got plenty of space to spare for other units, and by picking other cost-efficient tools like Devilfish means it's packing a whole bunch of things on the table (and several that will linger on defiantly thanks to dropping drones when they die). This army has a very easy route to maxing Engage on All Fronts, and will play mission secondaries very effectively too. The only real trade here is that it does become a bit vulnerable to Grind them Down, but there's a degree to which that's just tau.txt, and it's killy enough that opponents that overextend into it might just run out of steam, bleeding points in later turns. Taking this whole list off the board is really tough, especially if the opponent is relying on horde charges, and that's a whole upside in and of itself.
I don't think there's much more to cover with it, other than to say that it's nice to see Tau actually having somewhere they can shine! The ease with which they can pack in a relatively high number of units and shots, plus charge defence that this list goes especially hard on, make them highly suited to attacking skew builds head on, and appear to give them a real role to play in the Incursion metagame.
Incursion – Thoughts
The big takeaway from looking at these lists is that in Incursion you need a plan to deal with hordes that aim to overwhelm you. Two of the Necron builds will just completely no-sell an opponent who hasn't brought enough shots, and even 40 Bloodletters can be a big problem for an underequipped army (especially if they lose a couple key units when they turn up). That doesn't mean you can't turn up with a "fair" list (and indeed the Tau build and arguably the final Necron list look pretty well rounded), but you want to lean your resources more towards beating horde-skewed lists rather than heavier ones. That makes sense on some level – skewing towards hulls or guns can be very nasty too, but when a horde list finds itself with free reign it will utterly dominate primary scoring, making it much harder to play around with objective play. Small boards also favour hordes and punish shootier lists – the former can dominate more of the table, while the latter have less room to avoid getting charged and locked down. Finally, a bunch of Secondaries are a bit harder to max in Incursion, meaning that dominating the Primary (has hordes tend to do) is even better than normal
They're not the only thing you need to watch out for, however, and after going through these five lists I had a scan through the 3-1 armies to see if there was any obvious pattern, and there absolutely is – Terminators. Other flexible Marine units like Redemptors and various Gravis units show up as well, but Terminators are probably the biggest thing you need to be making sure you have an answer for in your list, as breaking through a 2+ save (or even a "1+" with Storm Shields) tends to need some specific tools. They're generally small in number, so you can play around them a bit more than with hordes, but if you've got efficient options in your codex for adding some answers, it's worth doing so.
On the flipside, if you want to get into Incursion, building a Marine list around a block of Terminators and a Redemptor is probably a good place to start, and this further hammers home that "fair" lists that just use good quality units can perform. Bearing in mind the likely presence of hordes, I'd look for ways to maybe get some Flamestorm Aggressors in as well (or instead), as they're likely to do well (and also like small boards).
What to take in other factions varies by book – just remember that you:
Want an answer to hordes.
Ideally want an answer to 2+ save infantry.
I'd be conversely a bit less worried about trying to build my list with a perfect answer to monster or vehicle lists, and would instead focus on making sure I had enough objective utility units to try and just outscore them. That's because these will also come in handy against hordes by helping prevent you from getting surrounded or losing to redeploys or deep strikes, meaning they provide an upside in a broader range of matchups.
Hopefully that's helpful if you're planning on attending an Incursion event!
Wrap Up
Back to our regularly scheduled content next week with a GT firing in New Zealand. Make sure to check back in then, and if you have any comments, questions or suggestions, hit us up at contact@goonhammer.com.