Hello Readers! The final event of the GW Open Series for 2022 is in the books – the GW US Open Finale! An adventure to the middle of the New Mexico desert the weekend before Thanksgiving was not really what I had initially planned for this year. As I said in my NoVA Open Recap, I had found the mental load of the Crusade System, on top of all the various rules of 40K, to be overwhelming. However, I had loads of fun with CK Studios at NoVA learning their painting techniques via the airbrush and during their NoVA Classes with Caleb Wissenback (1).
So while the Narrative wasn't quite what I wanted, a three day class spent painting one model seemed absolutely fantastic; the classes at NoVA all seemed a bit too short (and redundant because they had to reteach the airbrush basic technique every class), but a three-day seminar painting a Warhound Titan? Sign me up. And so I did, grabbing a ticket for the Titanic Master Painting Class at the Finale. A quick description of the event:
The Titanic Master Painting Class - click to expand

Calling all miniature painters – you can't miss an opportunity this TITANIC!

Let the sands of New Mexico reverberate with the heavy tread and clarion war horns of the mighty titan legions.

Join us this November in New Mexico for a unique and immersive three-day course on painting your own authentic Forge World Warhound Titan. In this course, you will learn the fundamentals of painting True Metallic Metals, heat stress, glowing effects, armour surfaces, freehand and detailing work. This class will feature both traditional brush work as well as airbrush work (an airbrush will be provided for use during the class, or you can bring your own).

This class is intended or intermediate to high level skill painters who feel comfortable painting game-ready miniatures and are looking to step towards parade-ready miniatures. This immersive master class will include hours of instruction each day, select Citadel paints, premium Citadel brushes and Citadel hobby products as well as a Forge World Warhound Class Titan that is yours to take home.
The downside to all this was that there were no direct flights from the D.C. area to Albuquerque, as the one direct flight (offered by Southwest) had been ended during the Pandemic. Still, as I was not going to be bringing an army with me but instead only going to paint and bring home an army, it seemed like a fair tradeoff. I've taken a total of four flights since March of 2020 that did not involve having to bring a 40K army or a small dog, so a 6:55 am plane flight from DCA to Dallas and then another two hours to ABQ wouldn't be that bad.
The Preparation
While everything would, in theory, be provided for me at ABQ, I decided to paint up a model for the event: A Titanicus Tech Priest from Forge World. This little guy embodies most of the old Forge World quirks – no instructions, a complete lack of understanding of contact points, and he came mounted on his base already so I had to cut the base off of the gate and then sand it down. Painting him wasn't too difficult, but some of the steps involved were inherently ridiculous.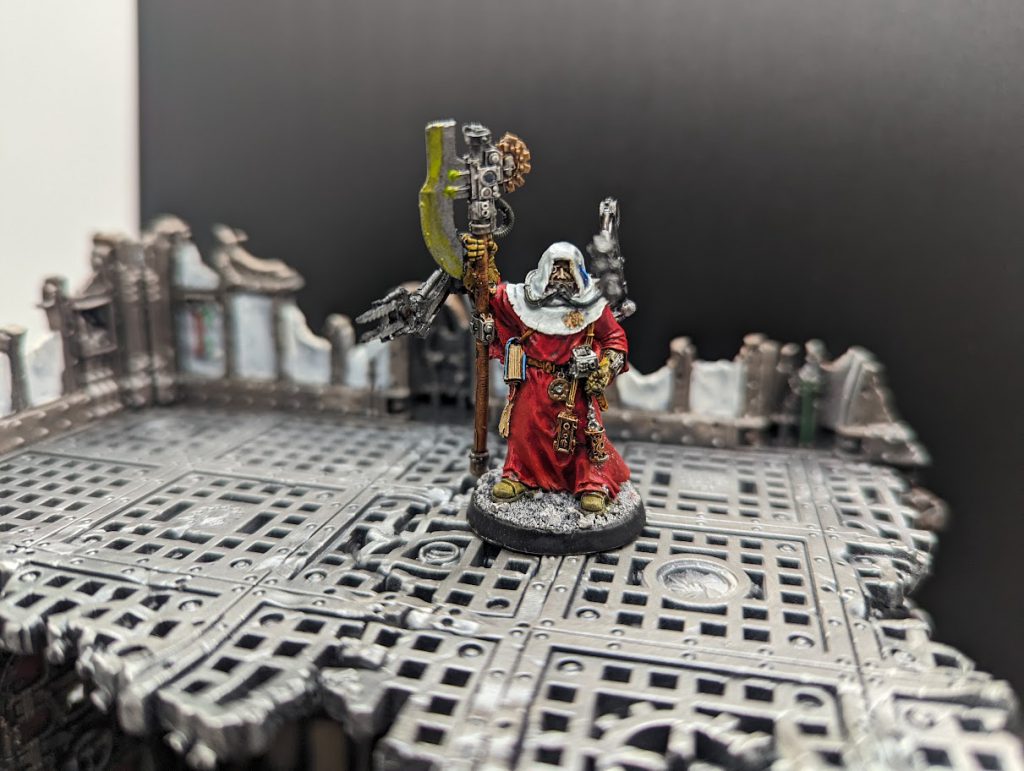 I also decided to bring some paints with me. Sure, I knew that CK studios had all of the various GW paints (and what they didn't have I could probably buy at the popup store, bar Chaos Black Spray), but there are certain paints which I just love. So I brought three paints with me: Retributor Armor (leftover from the NoVa Knight Class), Pro Acryl Black Primer, and Pro Acryl Bold Titanium White. I also intended to bring my pack of varying sized synthetic brushes, but because I was doing my final packing at 5:00 am that ended up not happening.
Thursday (Day 0)
I was hyped. I was awake at 3:00 am D.C., in time to work out before my flight, and made it to the airport with plenty of time to spare. That was a good thing – DCA was pretty busy despite it not being dawn yet. After an uneventful flight (aside from the passenger in the middle seat who was rather oblivious when it came to the topic of personal space), the plane landed in Dallas and we had to board a different aircraft. This was great since we got to get onto the plane before everyone else. Plane landed in Albuquerque, and since I had gotten to board quickly, I was *off the plane quickly*. Heading down to baggage claim, I encountered Craig "Master Slowpoke" Sniffen, his wife Sarah, and their friend. We were able to get aboard the shuttle with, I believe, Andrew "Hero of Team Imperium" Corban and several others. The driver of the shuttle was roleplaying as a servitor, and trying to play an audio briefing introduction to the event. However, between certain technical difficulties and the audio being somewhat quiet, it was hard to hear. GW was clearly going all-out to make this an immersive experience, but as would be a theme for this weekend, didn't *quite* make it.
We were staying at the Hyatt Tamaya Resort, which we entered and then spent 5 or 6 minutes driving from the entrance to the point where we were staying. The scenery was absolutely amazing to this city-bound East Coaster: blue skies, big mountains, endless scrubland. It was also cold. However, the temperature wasn't too bad – despite being freezing cold in absolute terms, and a smidge on the windy side, there was no humidity whatsoever. That was a good thing, because I found out I would be staying in the "Courtyard" area of the resort. This meant that the room was facing the open-air courtyard, and I would technically be going outside to enter and exit my room. This *mostly* manifested in my door having some trouble closing, but it was a very strange issue to have.
After dropping off my luggage, I headed back down to the lobby to see about getting lunch with the rest of the group. In addition to Andrew, Mike "Enzo The Baker" DiCianna and his wife Emma were there, as was Rocco, Andrew, Norman, and some other folks who names escape me at the moment. Point is, there were a lot of us, and we were 1) hungry and 2) not super-interested in hotel food. The plan was to go to one of the local breweries, and we settled on Bosque Brewery. While Enzo and Emma had rented a car, the rest of us had not. And it was at this point we learned that Ubers and Lyfts did not like to come out to the Tamaya Resort. We eventually found a taxi company that would pick us up, and then waited thirty minutes or so for them to show up. The time we had to wait was not clear, as the company's App was something like a bad copy of Uber.
We eventually got the taxi, and took it to Bosque. Despite the chill, we sat out on the heated patio and ordered beer and lunch. Rocco took the opportunity to learn Aeronautica Imperialis, which he is detailing in his article. I took the opportunity to learn more about these new friends I've met (as well as Scott and Katie Horas, who arrived about 20 minutes after the rest of us did). After awhile, we all pick up lots of six packs and head back to the hotel.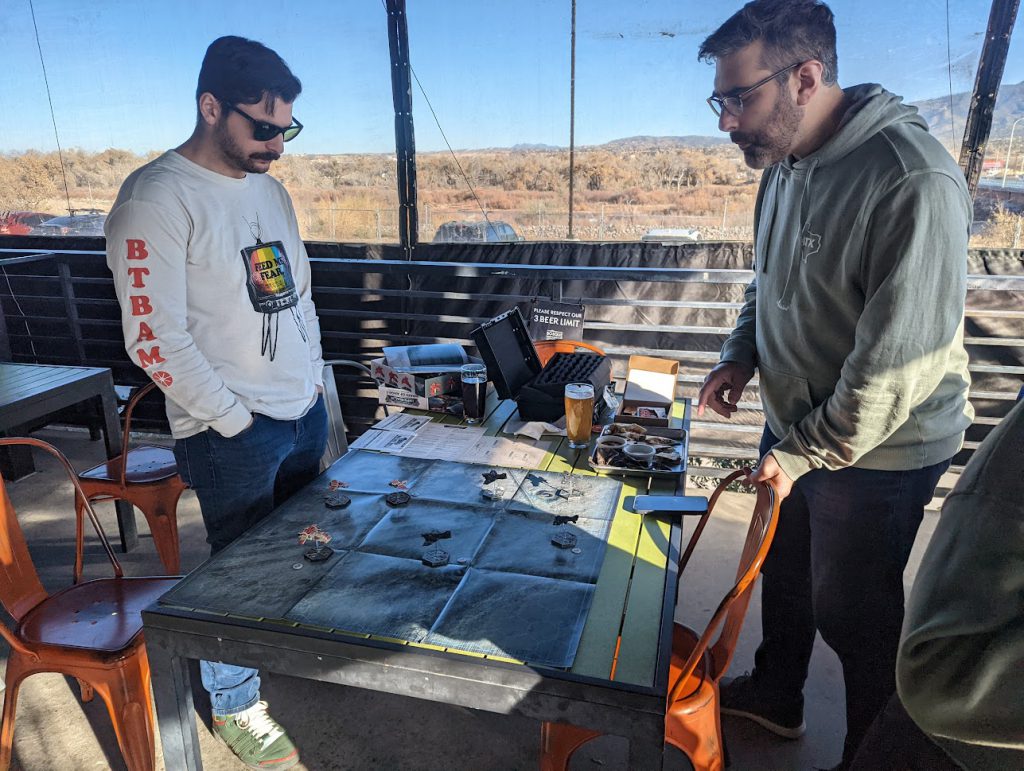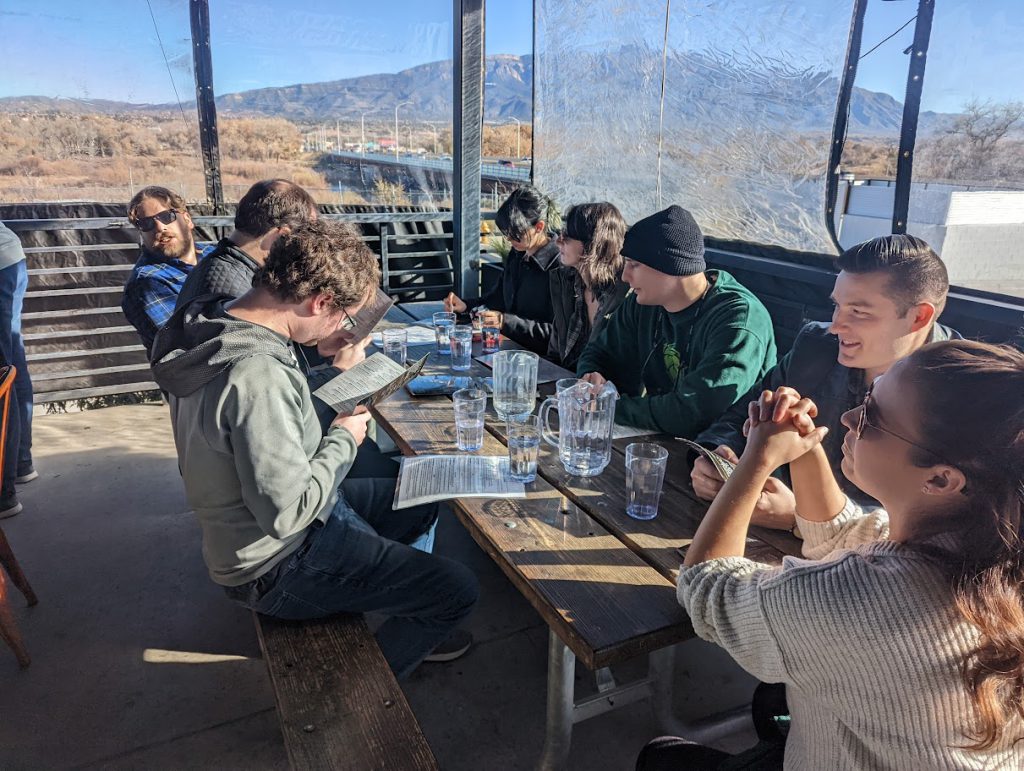 Returning to the hotel, many others had arrived – Andrew "Pendulin" Haywood (2) and his wife, Rob and Caroline, Erik and his wife Meghan, Condit, Jack Hunter, and most importantly Ryan "Ryolnir" Collins and his wife, Bridget. This latter one was especially important, since I am going to be doing San Diego Comicon 2023 with these two. Ryan and Bridget (and Erik) are also friends with a woman, Steph Newland of ESO studios whom I have yet to meet but have otherwise been friends with for years. So that was nifty.
Still not wanting to deal with the hotel bar food, I joined Condit and Pendulin for a trip out to a second brewery, Kaktus Brewery, to meet up with Rob, Caroline, Erik, Meghan, and Jack. After getting an OK pizza, and drinking more great beer, we head back to the main hotel for the evening briefing and to check out the GW Pop-Up Store.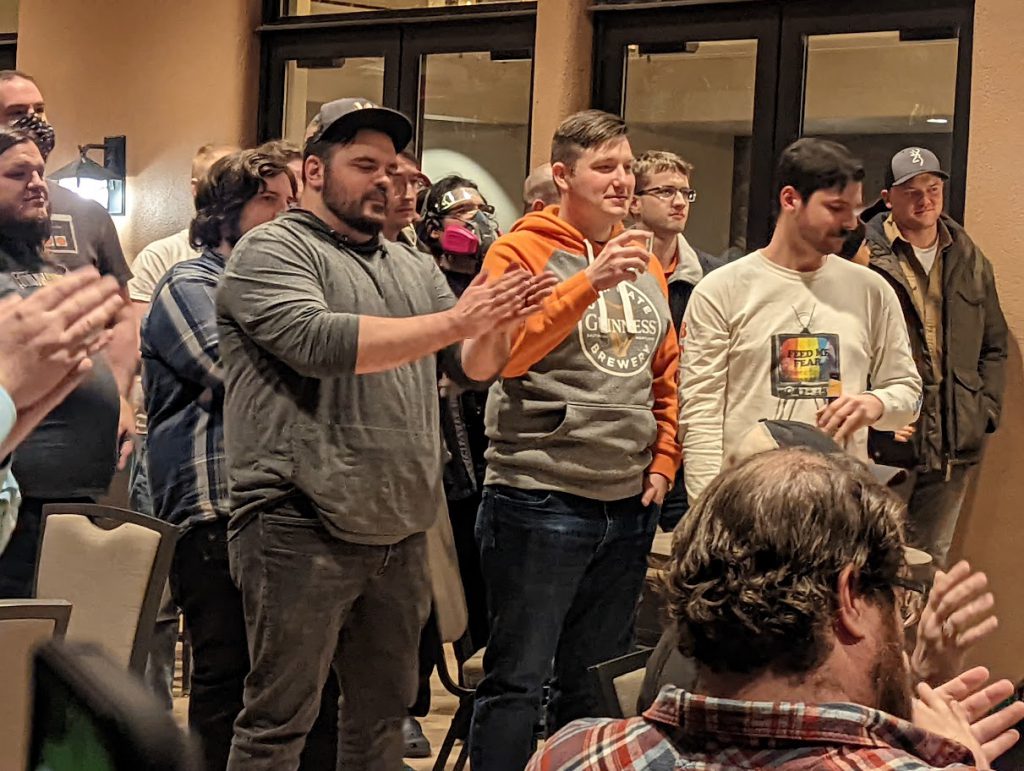 While I was there for the Titan painting class, the briefing was still fun to watch – Zach from the Warhammer Events team is playing "Krann the Beast", while Fred & Elle of Fred & Elle Cosplay Designs were the Imperium General and the Aeldari Farseer (respectively). Fred, when he gave his briefing, had a backing chorus of the various room attendants which added some glorious theme to his presentation. Lots of "The Emperor Protecting" from that speech.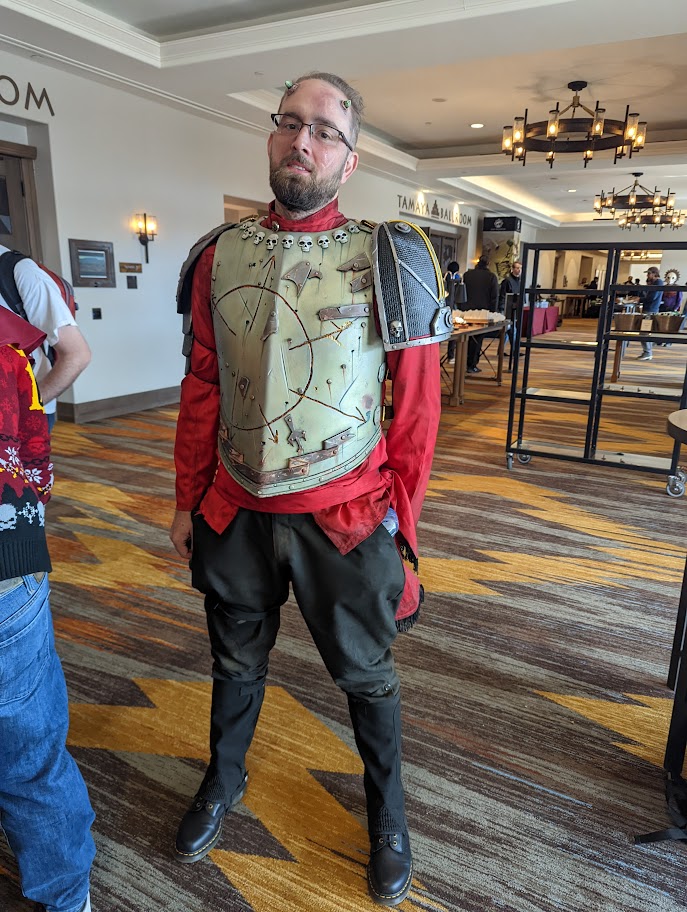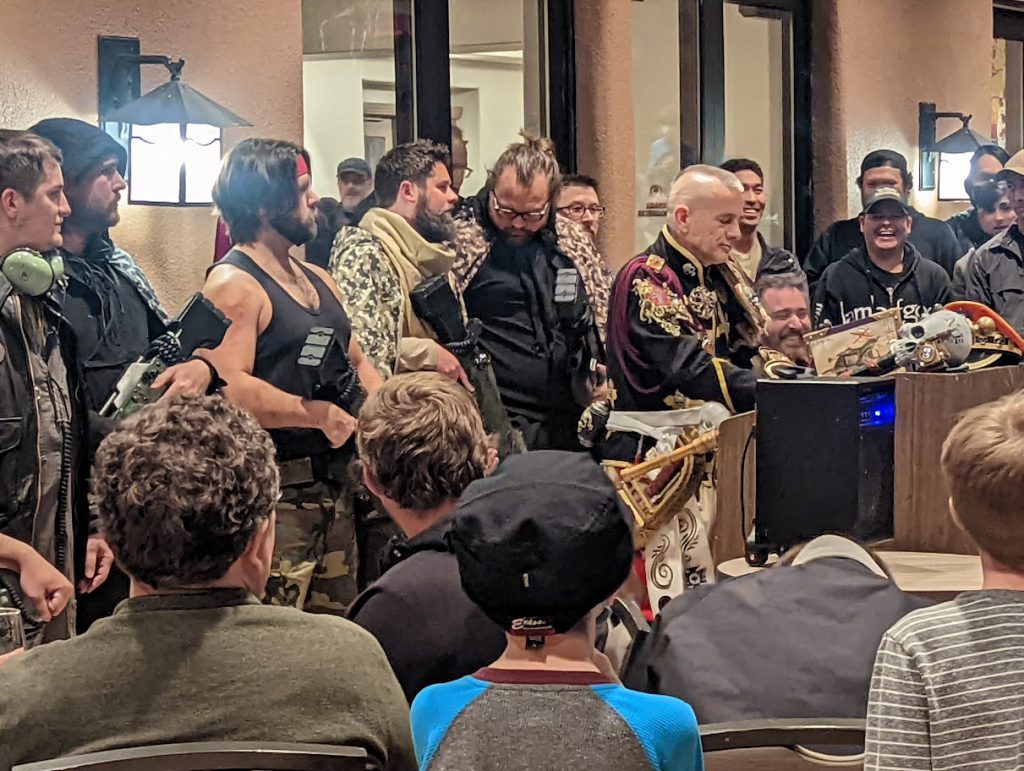 Afterwards, still relatively buzzed from the day drinking and the Warhammer hype, I go with Andrew to the store and make what will be my worst decision of the event – I buy a Forge World Thunderhawk. Given that 1) the build is apparently not all that bad and 2) I will soon have a place where I can build it and 3) will have an airbrush to paint it, the universe was calling out to me. I head to Condit's suite for a little bit to show off my purchase and to continue drinking, but after the first noise complaint I bail to go to bed so I can work out the next morning.
Friday (Day One)
Waking up in my slowly de-inebriating body Friday morning, I realize that one of the other mistakes I've made is that I did not have any fresh bottled water or my preferred soft drinks in the room to provide necessary hydration. I also realize that I had forgotten my preferred brand of workout gloves. I soldiered on into the gym to work out for a bit, and then head to breakfast with The Friends in order to 1) hand off the display tray to Rob and 2) combine the scrambled eggs with lots of diet pepsi. Both of these turn out to be a great decision.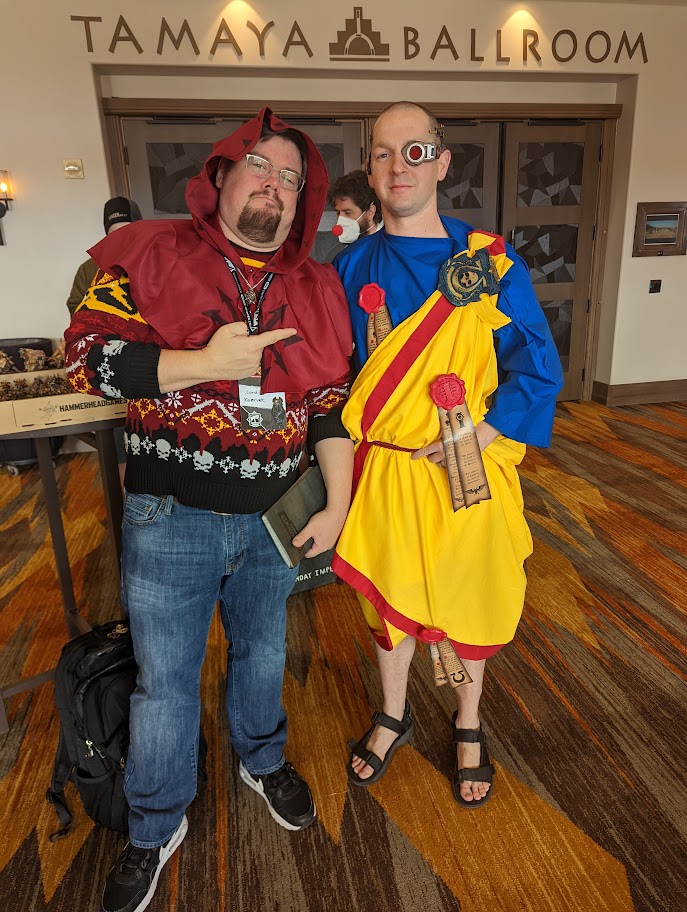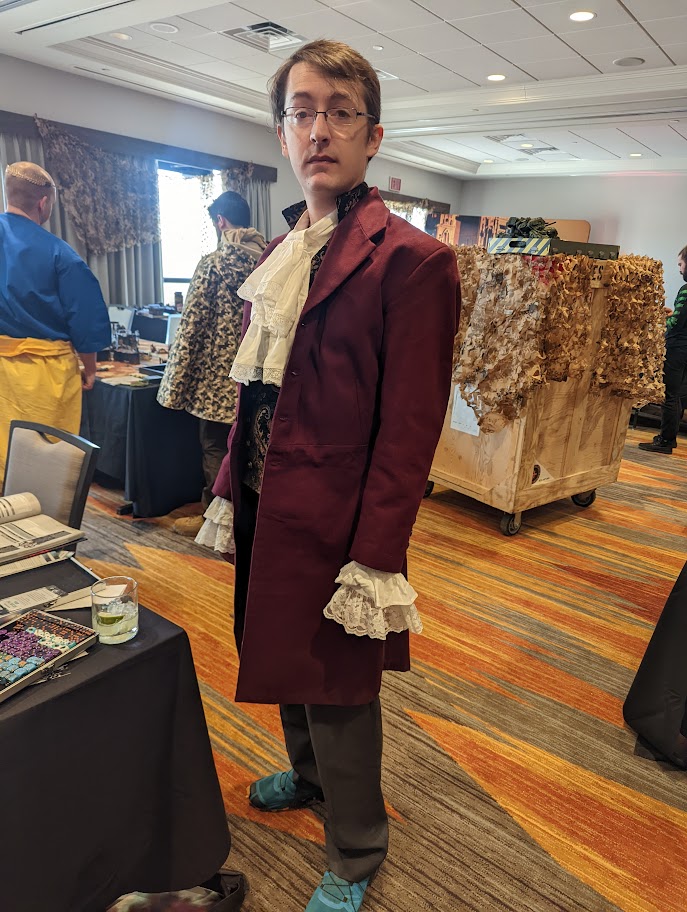 Following the morning briefing, the door is opened to the Wolf A Room and lo and behold on the table are what I was here for – TITANS!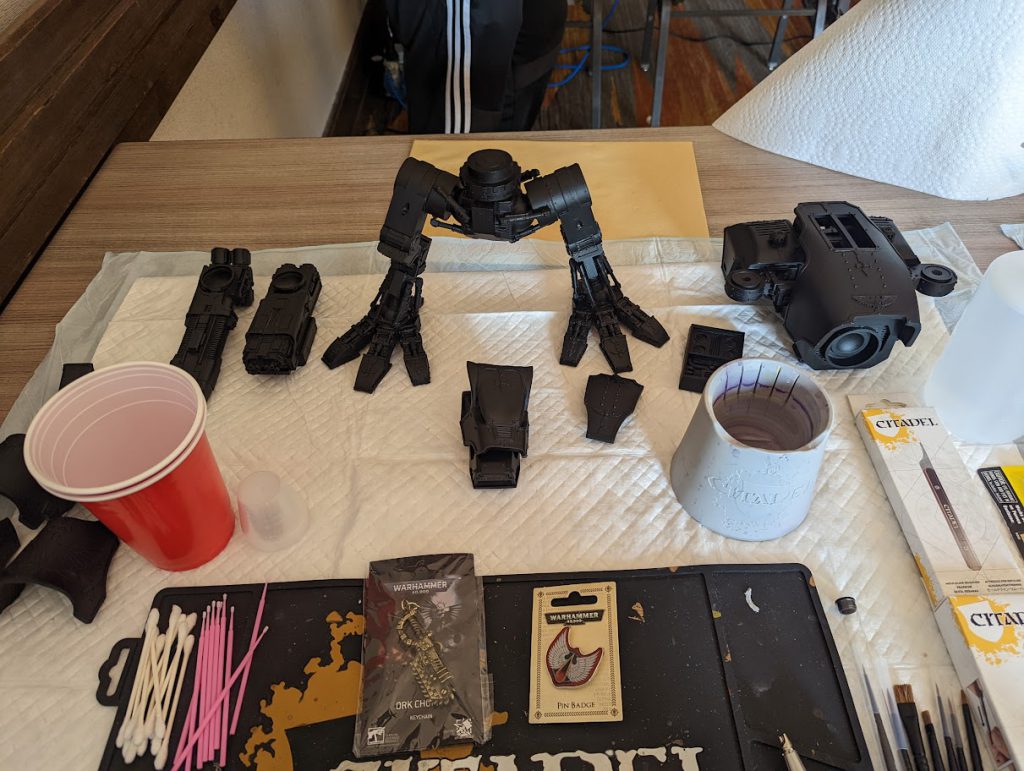 Along with the Titan was a fair amount of swag – in addition to oodles upon oodles of paints and brushes, there was also a Warhammer keychain and pin. The pin at the station with the Titan I took had a Blood Angels pin. I plopped my stuff down, and waited for class to begin. For the most part, the folks taking the class were a mix of folks, tending towards the higher end of the hobby – Todd from TableWar was there to paint up a Titan for charity; one of the managers from the Warhammer Los Angeles store was there, and so forth. There was one local there who was excited to paint his Titan and talk Warhammer, but otherwise this was mostly experienced/long term painters.
Day one would consist of painting the metallic understructure of the Titan. While not the most complicated element of Titan-painting, it was important because there was a lot of Titan to paint. The idea was, like with the Chaos Knight painting class, to make the metallics look more interesting than spraying them leadbelcher, washing them with Nuln Oil, and then drybrushing some silver on them. So we used the airbrush to make the metallics look more tarnished, used, and stressed. And then ultimately bringing them together with metallic drybrushing. It was a simple process, but time-consuming. During this period, I was also able to go out and take some pictures of my friend's games.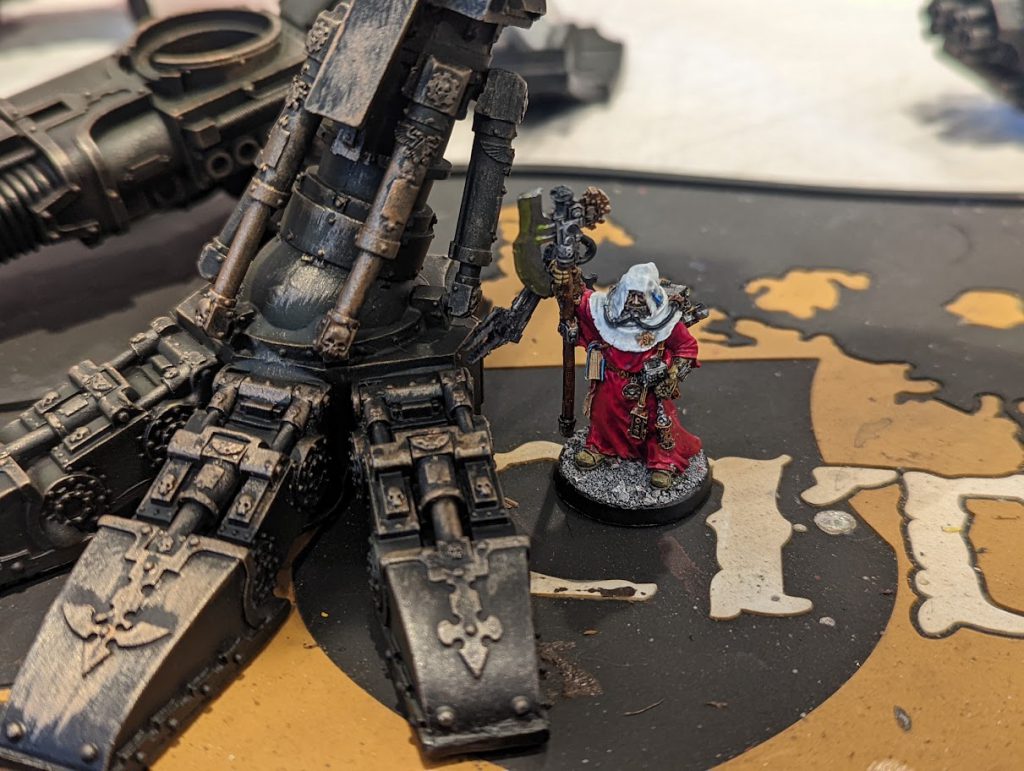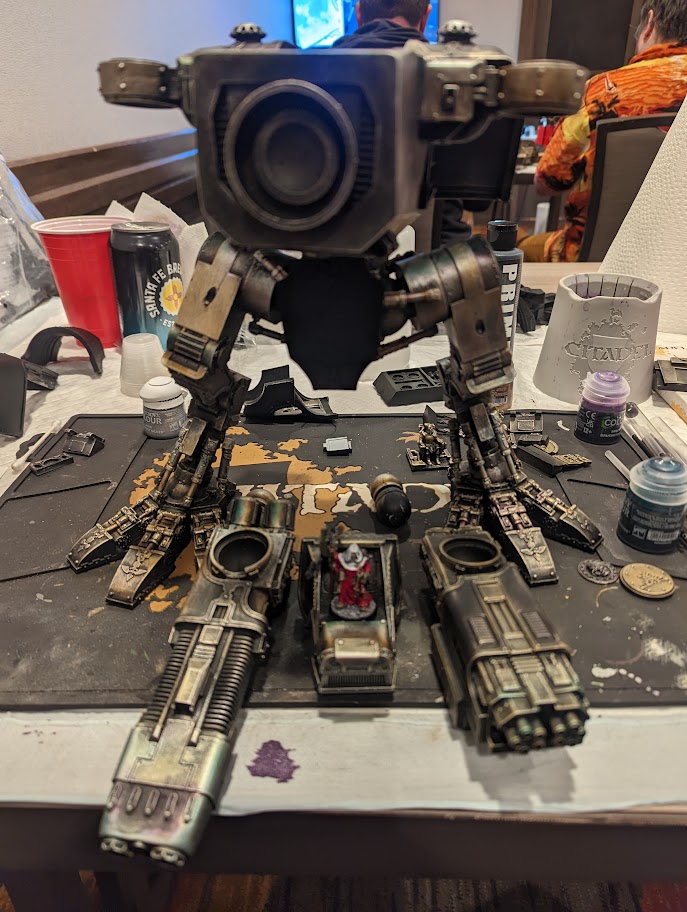 The evening was sedate – After the class ended at 6:00 pm, I finished my workout, showered, and went to the GW Preview. The reveals were pretty cool, but nothing super-exciting. We think that this is where they were originally planning on announcing/showing off Angron, but that got spoiled back in the summer. Potato Cam leaks are not cool, y'all. I got a burger at the hotel – it was fine, and the fries were excellent. And then I went to sleep.
Little did I know that Friday's relatively sedate pace would not be repeated on day 2.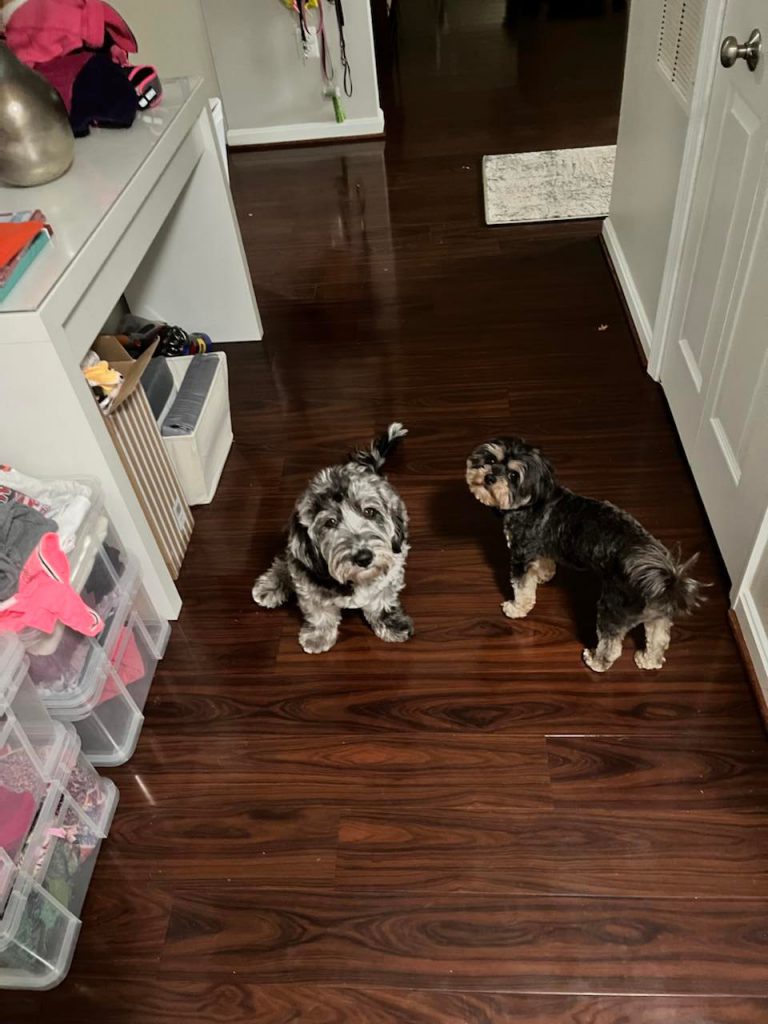 (1) Caleb is the "C" in CK Studios. Kat Jackson is the "K" in CK Studios. Both are exceptional teachers!
(2) For purposes of this series, "Andrew" will refer to Andrew Corban, while "Pendulin" will refer to Andrew Haywood. I would call the former "Hero Andrew", but that title actually *also* belongs to Pendulin because Administratum managed to work very smoothly despite the sheer number of people entering lots of games on it.
Have any questions or feedback? Drop us a note in the comments below or email us at contact@goonhammer.com.