The big finale of the Games Workshop US Open series of events is this week in Albuquerque and we've got a host of Goonhammer authors attending nearly every event. In these Road to articles our authors will talk about their armies, their goals, and their plans for the event.
I have not been playing a lot of 40k this year. If you regularly read this site, you'll mostly see my name gracing the byline of our Blood Bowl and Necromunda content. There are a lot of people that write for this site who are better at both writing about 40k and playing 40k, so I generally try to leave it to them. If you're new, you're probably wondering who the hell I am and why I haven't been playing much 40k this year. Well, sweet reader, I've got three reasons:
Last year I went to the New Orleans Open event and won Best Overall with my Raven Guard. I feel as if I have reached the pinnacle of what *I* could do in competitive play with my mall-goth bird-bros in 9th edition.

My other army, Astra Militarum (F.K.A Imperial Guard), sucks butt in 9th and I ain't about to live that Scott Horras Heresy life of scumming enough ITC points with my crap tier army to stay relevant.

My wife and I (mostly her, tbh) had a baby in March.
So you'll understand why I shifted my focus to a no-terrain-setup-needed skirmish game for the majority of this year. When the tickets to the New Mexico Grand Narrative/US Open Finale went on sale, I realized that I'd have to punch my ticket the easy way this time, as opposed to earning it like last year. So, I signed up for the Grand Narrative as an excuse to see my pals and treat the wife to a few baby-less days in a cool location. I could come up with a 150 PL Raven Guard Order of Battle in my sleep and basically play it on autopilot as, hell, it's only crusade! But all that went down before I was given The Opportunity.
The Opportunity
One fine day, I was chatting with a certain Games Workshop executive about the upcoming event and suggested that he let Scott Horras and I use the almost-released, brand-new Astra Militarum codex at the Grand Narrative. He responded with a "lol" and then the conversation moved on. A few days later, I received a cryptic message from him: "How much can you paint before New Mexico?" I answered that I honestly couldn't paint much, as taking care of a tiny human who wakes up at 5:30 AM every day in addition to my full-time day job, podcast obligations, Goonhammer, and strict-deadline painting projects, tends to constrain my free time somewhat. 30 seconds later, Scott messaged me saying that if he could paint 2 boxes of new Cadians for New Mexico, we could both use the new codex at the event, as long as we wrote about it for Goonhammer!
Hell yes! I get to do the cool stuff and some other jamoke has to do all the work! Huzzah!
I'm sure you can understand that this upped my excitement level for the event by about 600%. With the new book in hand, I set about planning my Crusade force: The Armageddon 59th Steel Legion, Beta Company.
The Order of Battle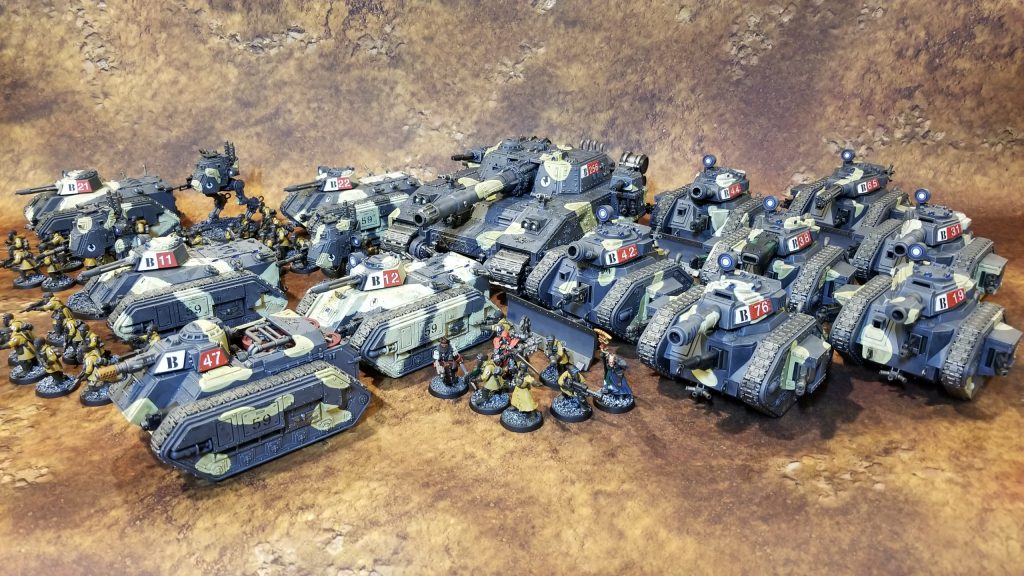 First things first: the Regimental Doctrines. Now, this is a Crusade event, so I've got to stick to my Steel Legion roots and make some lore-appropriate choices here. Thankfully, one of the first choices in the book is Mechanized Infantry. The Armageddon Steel Legion is famous for swarming their foes with Chimera-mounted infantry squads, so the choice was pretty much made for me. On the battlefield, Mechanized Infantry units can disembark from a transport after the transport has moved, giving me a ton of flexibility in where I can put my guardsmen. Additionally, this voice means that I can make use of the Mount Up! Stratagem, allowing my fighters to embark onto a transport after they've shot, with no restrictions on if they've disembarked that turn! So I could move up, disgorge a squad, blast away, and then have them immediately jump back into their Chimera! So cool!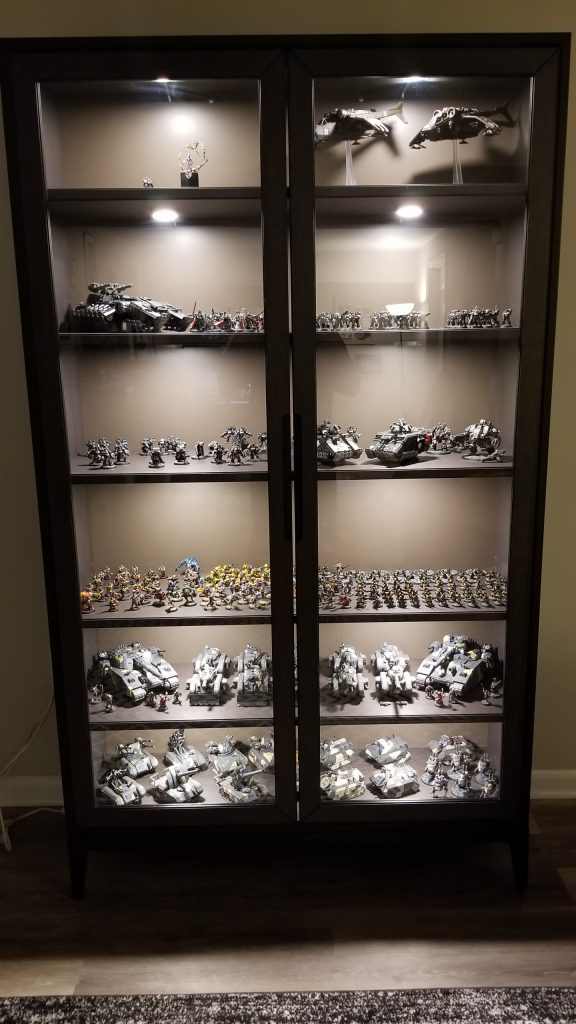 For my second Regimental Doctrine I turned to my display cabinet. As you can see, I've got a lot of tanks. I think tanks are the coolest part of the Imperial Guard, so I wanted my next doctrine to reflect the 59th Steel Legion's love of mobile armor. With that in mind my second choice would be Armored Superiority. This doctrine makes my sentinels, tanks, and superheavies count as 3, 5 or 10 models respectively for the purposes of determining control of an objective marker. To me, this made a ton of sense. I'm gonna bring a ton of tanks, and it would help if they were good at dominating the battlefield. Also, this doctrine gives me access to a discount when using the VengefulSalute stratagem which allows a destroyed tank to fire its Turret Weapon before it is removed from the battlefield! Absolutely fantastic!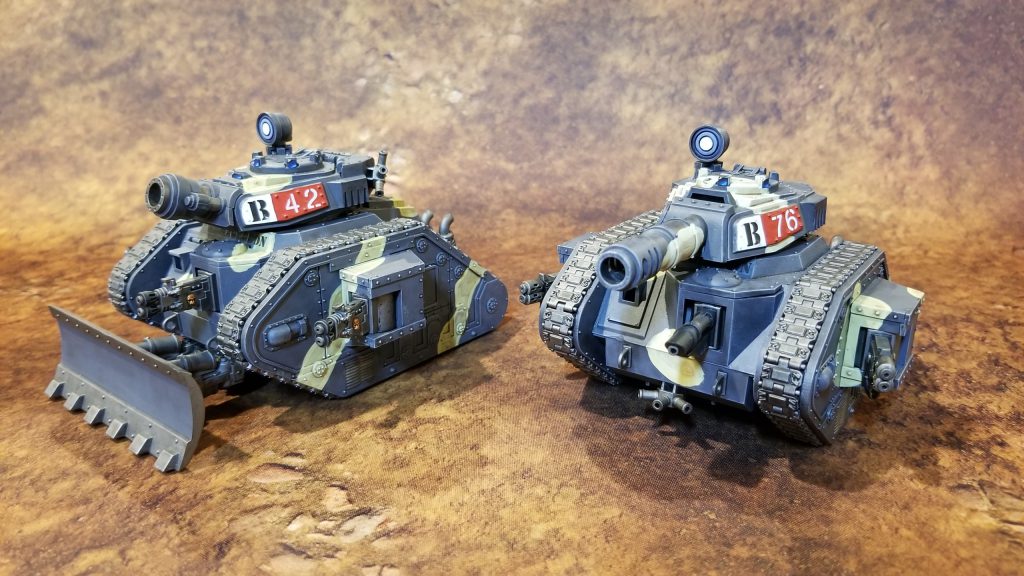 With those choices made, it was time to think about what units I was definitely going to include. First, I knew my Shadowsword, Xenophobic, was going to make it into the force. Maybe you haven't heard, but in this new book, the Shadowsword's Volcano Cannon has a damage characteristic of 12. You read that right. 12 damage per unsaved wound. That's really strong! I want to shoot that in a game of Warhammer 40,000! The tank comes in at an eye-popping 26 PL, but there was no way I wasn't going to include it.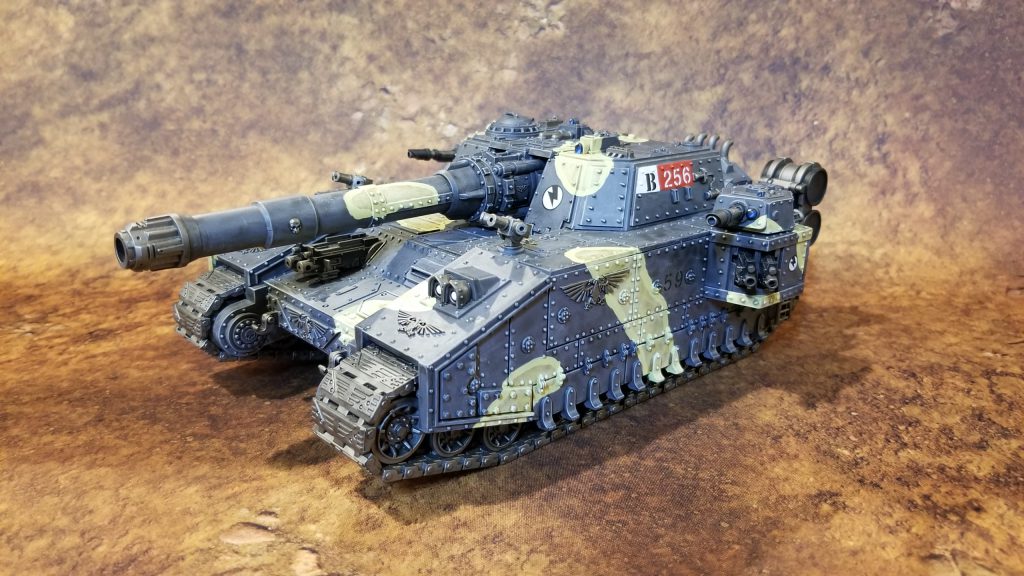 Next, I wanted to field a platoon of mechanized guardsmen. That meant 3 infantry squads and 1 platoon command squad, all with attendant Chimeras. The way they break it down in the new book is that you have 4 choices for infantry squads: the generic Infantry Squad, Cadian Shock Troops, Death Korps of Krieg, and Catachan Jungle Fighters. I really wanted to call my Steel Legionnaires Cadians, to take advantage of the fact that Cadians get two special weapons and are just better, but I couldn't. This, after all, is a Crusade event, and my guardsmen aren't Cadians. So I went with the generic Infantry Squad since they're not Catachans or Kriegers, either. With the command squad, I had a choice between the generic Platoon Command Squad and the Cadian Command Squad (RIP Catachans, I guess), and I once again made the right choice, and went with the generic option.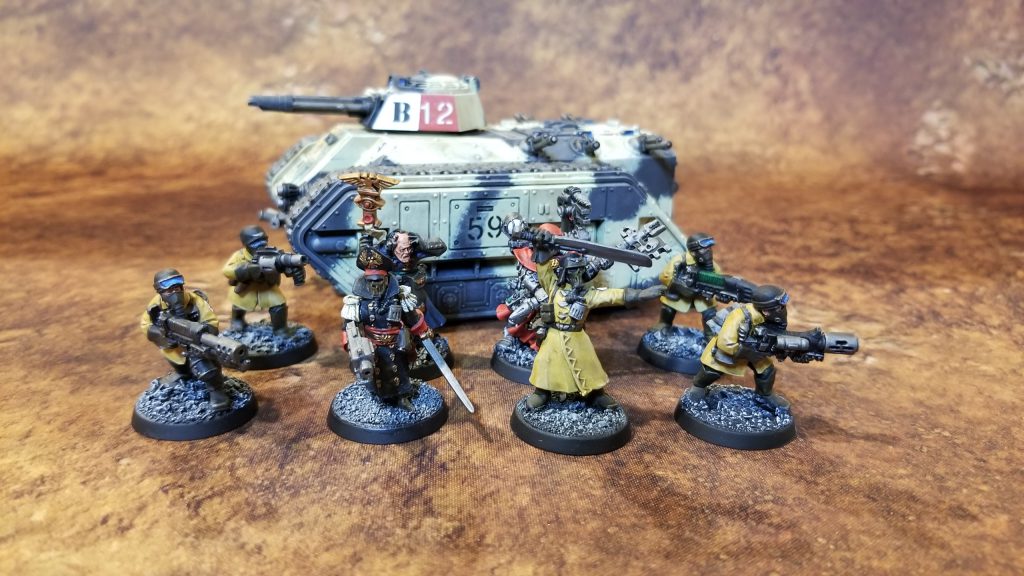 After that, all I wanted to use were tanks, tanks, and maybe some more tanks. Specifically, I was excited to try out the new rules for Turret Weapon. A tank armed with a Turret Weapon gets an always-on +1 to hit with that gun and can fire out of combat with it (though at a -1, or functionally at normal BS). This means that my expensive tanks couldn't be rendered useless if they're locked in combat by enemy models! This is a huge change for Guard players everywhere! So I set about picking my favorite tanks. After that, I filled in with a few characters, sentinels, and even a Hellhound, and my 150 PL Order of Battle was almost ready. Next? The Crusade selections.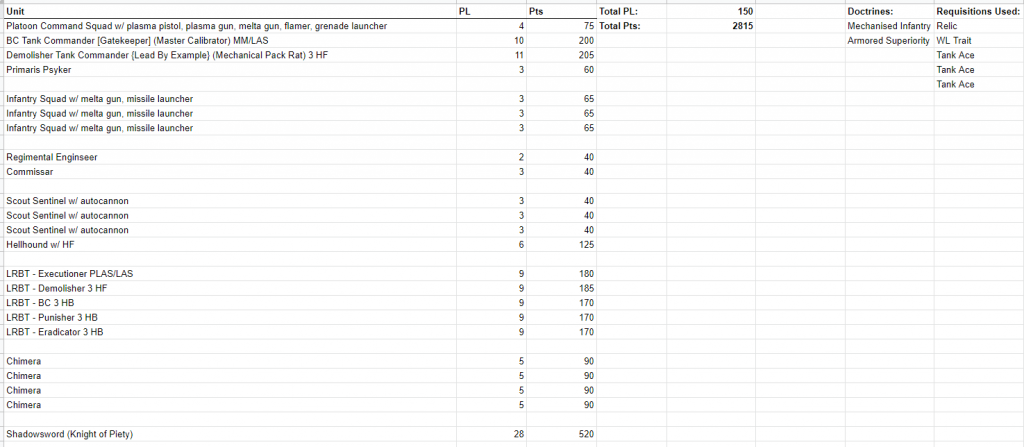 The Crusade Selections
With 5 Requisition Points to spend, it's time to figure out who my special little boys are! First, if I'm going to invest 26 PL in my Shadowsword, Xenophobic, then you can bet that I'd like to find some way to better protect it. With that in mind, I chose to upgrade it with the Tank Ace requisition, and I chose the Knight of Piety ability for a 5+ invulnerable and a 5+ Feel No Pain versus Mortal Wounds. Now, it's important to note that if you use the Tank Ace requisition, you're not just spending Requisition Points, you're also spending PL. Each Tank Ace on a non-superheavy will add 1 PL to the tank's cost, and each superheavy tank ace adds 2 PL. This puts the final tally for my Shadowsword at a frankly ridiculous 28 PL, but there's no way I'm missing out on D12 weapons, y'all.
Next up, my Warlord, a Battle Cannon-equipped Tank Commander. I've decided to call this tank The Old Man's Revenge to honor my favorite Imperial hero who's suspiciously absent from this book. I've decided to equip my Warlord with the Gatekeeper relic as it rips shit. And then, in the interest of making it even better, I've decided to spend 1 more RP and 1 more PL to upgrade it with a Tank Ace ability: Master Calibrator. This allows the tank to ignore cover, which will functionally make Gatekeeper AP-4. Hell yeah.
With two RP left, I decided to upgrade my other Tank Commander. Sorry, platoon commander, but also not sorry. Tanks are just cooler. I'm calling this tank From Hades With Love and I'm once again going back to the Tank Ace well, but this time I'm grabbing Mechanical Pack Rat. With a Demolisher cannon and 3 Heavy Flamers, From Hades With Love is going to be up in my opponents' faces all weekend, so I wanted to give it a little more protection. "Transhuman" on something that is T8 might seem redundant, but since Mechanical Pack Rat also works against melee attacks, which are frequently higher than S8, especially on the big stuff, I thought it might be worth it. Next, I've decided to purchase a Warlord Trait for this tank too: Lead By Example. This gives it the ability to order itself, and thanks to Regimental Tactics, that order can bounce to a nearby Squadron unit (in this case it will almost always be the identically-armed Demolisher LRBT) so both of my front-line tanks can always be under an order umbrella.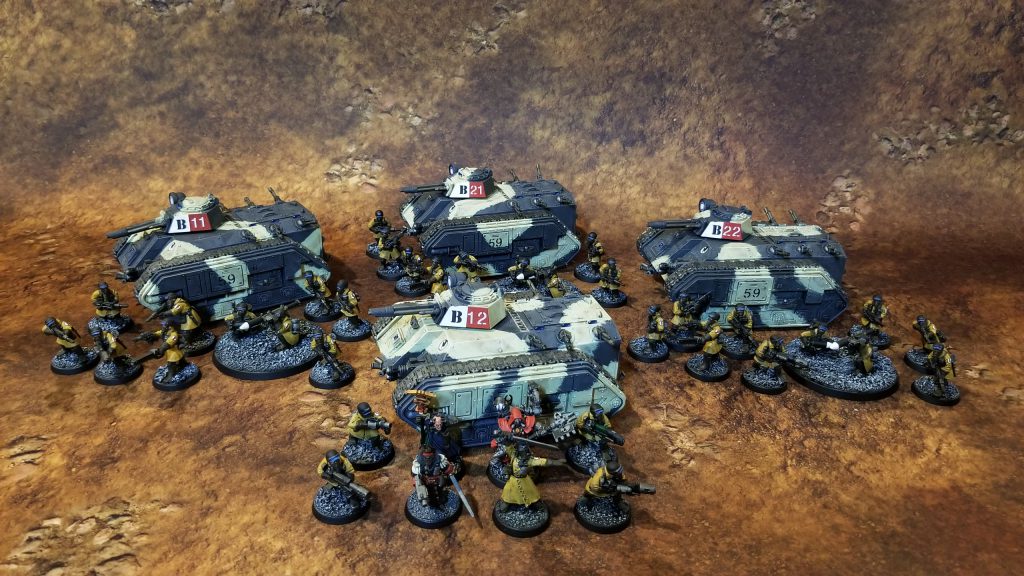 To Be Continued…
As far as Astra Militarum lists go, this one certainly isn't the most fearsome, but I think I have a fun, thematic force that opponents will enjoy playing. They might not enjoy the Shadowsword. But that's not on me. Either way, I'll be back next week with a wrap-up article ato tell y'all how the new book fared in the Grand Narrative! Thanks for reading, and make sure to check back next week!
Have any questions or feedback? Drop us a note in the comments below or email us at contact@goonhammer.com.