We previewed Eurobowl Malta 22 a couple of weeks back, and now we're here to tell you how it all shook out, analyse the results, and reveal a first-time winner!
Eurobowl Day 1

Eurobowl represents the biggest prize in National Team Blood Bowl and this year's event, kicking off on 4th November, drew teams from across the world for fierce competition. 192 coaches spread across 24 national teams (8 players each) met at the National National Sports School in Pembroke, Malta, to compete in the event and upsets and drama followed immediately.
The biggest of these surprises on day 1 was Team England losing their first two matches to Sweden and Poland. This meant the decade-long Champs' title defence was all but over with two thirds of the event yet to be played. But while England faltered other pre-tourney favourites were sticking to form, with France, Sweden and Germany losing only one tie, and the others unbeaten.  Which meant that at the end of Day 1, Italy and Denmark were the top two, on 3 wins apiece, with Switzerland, Spain and Austria on 2 wins and a draw each.
Eurobowl Day 2
Day 2 saw much more carnage as the top teams played into each other.  Early contenders Switzerland had a bit of a mare, losing all three of their day 2 matches to knock them out of the running. Austria lost two games and fell out of the top six. Spain and Italy both went 1-1-1 to drift out of contention.
As the dust cleared, the finals came down to the matchup between Denmark and Germany, who had both won both of their games on the day thus far.  In an extremely close tie, Germany prevailed 4.5 – 3.5, meaning both teams finished on a record of 5W 1L, and left both teams with a tense wait while the organisers calculated tiebreakers. Once all the results were totaled, Denmark were declared winners by the narrowest of margins, thanks to their better individual coach results. After 16 years of nearly earning the prize and going home empty-handed, they had finally claimed a Eurobowl crown.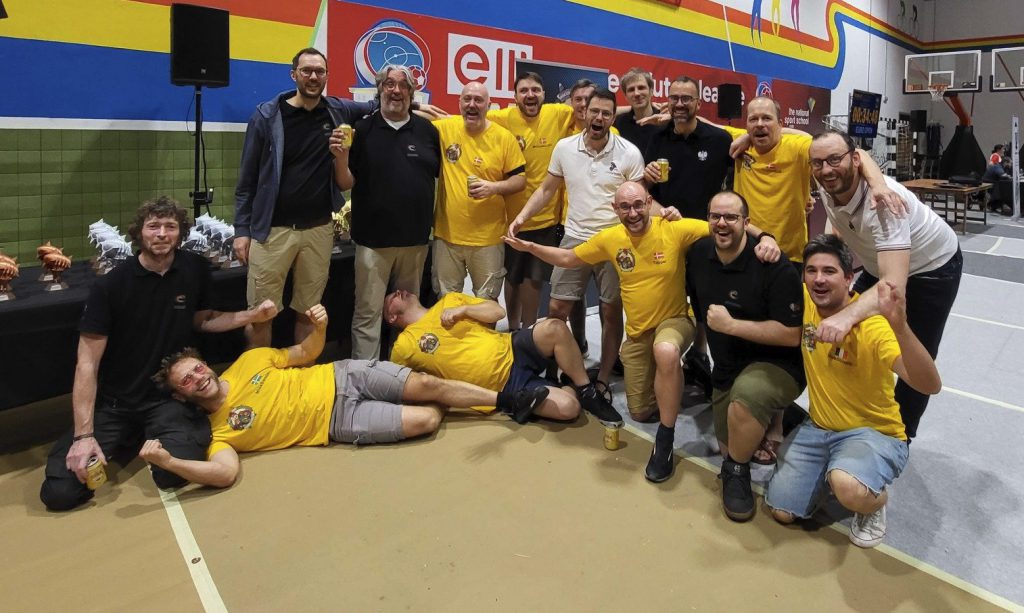 Team USA gamely accepted the challenge of taking on the Europeans on their own turf and finished with two wins, one draw, and three losses over a series of close matches.
Europen Round-Up

Run alongside the Eurobowl was the Europen, a teams event with 4-player teams and no  national restrictions. The Europen competition saw 232 coaches enter from 58 teams and the French team COCORIPOW dominated, winning all six of their rounds with a squad of Dark Elves, Undead, Necro, and Lizards. England's WaterBowl and Team Wales would take second and third at the event.
In the Individual standings, Simon_ACP from COCORIPOW won all six of his personal games with his Dark Elves. Second place was javin23 of Team Spain, with 5 wins and a draw with Dwarves, and third, with the same record, was Helborg of LGBT, with High Elves.
A final word regarding both tournaments is to say a hearty congratulations to the Maltese hosts for putting on what was a fantastically well-run event by all accounts.
Analysis
Once again we are hugely indebted to the work of Mike Davies for compiling and sharing the Eurobowl data with the community. And we must of course preface any kind of analysis with the caveat that we are often dealing with relatively low sample sizes.
Race Results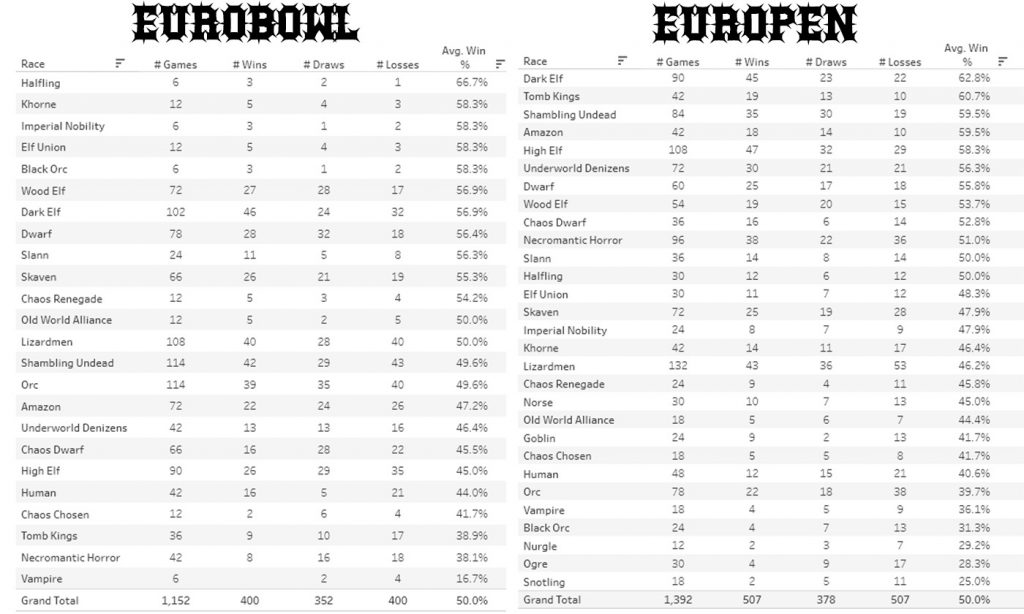 In our preview we touched on some interesting trends in team selection in modern Blood Bowl, and one of those is the emergence of High Elves as a very popular and seemingly successful team. However Eurobowl was not kind to the High Elves, who finished with one of the worst win rates of the event and what was certainly the worst among the most popular races.  In Europen, they fared much better, with the 5th best win rate.  Now without deep diving into matchups we can only speculate as to why the difference should be so marked, but my hot take would be that in Eurobowl the High Elves faced consistently higher tier opponents, while Europen had a much more diverse lineup of lower tier races.
And what of the formerly pre-eminent pointy-ears?  Wood Elves and Dark Elves were the most successful of all races taken in quantity in Eurobowl, posting extremely strong 56.9% win rates.  Dark Elves also utterly dominated Europen, with a staggering 62.8% win rate.
We also touched on the continued popularity of Tomb Kings and they produced similarly stunning win rates in Europen, albeit with fewer coaches.  Again this was not echoed in Eurobowl, where they posted the third worst win rate.  Feel free to form your own hot takes on that one, but again it seems we have not quite solved the riddle of the sands where Tomb Kings sit in our our BB Meta.
Chaos Dwarves, Humans, and Necro probably go into the category of most disappointing Eurobowl performances.  All were around the top 10 most popular races, but all posted 45% and below win rates in Eurobowl, with Necro putting up particularly bad numbers.
In our preview we mentioned that this would be probably the last major Tourney in which the old Amazon roster took its final bow, but it was not a triumphant final hurrah.  Amazon teams had a dismal 47% win rate in Eurobowl, with the best individual performance a creditable, but not spectacular 3-2-1 record.  With the arrival of a new Amazon roster that is almost certainly weaker, we could see more middling tourneys in future for the disciples of Rigg.
Individual Results
Individual results can be a bit misleading at Team events because strong players playing in the top teams against other strong players can show mediocre results vs strong players playing on weaker teams against weaker players, but, with that caveat in mind, let's look at some of the individual results.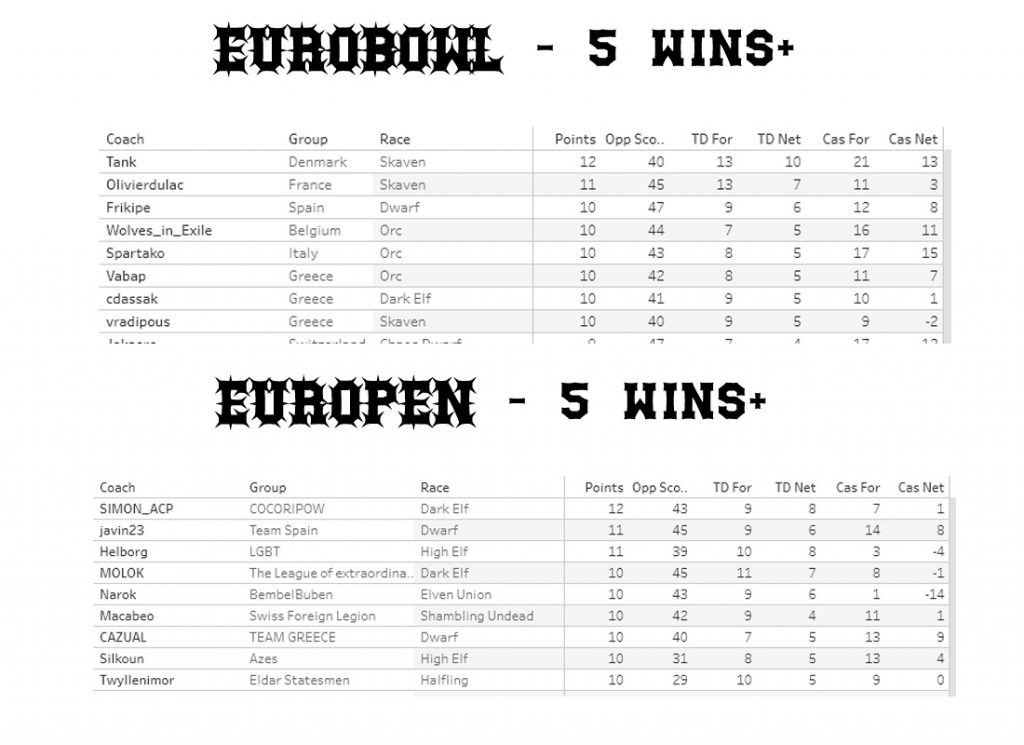 3 Orc teams and 3 Skaven teams in the Top 8 Eurobowl performances is a remarkable showing.  Orcs actually had posted sub-50% win rates as a race, and we have talked before about their difficulties securing wins, so credit to these players here.
Skaven taking both the top two spots in Eurobowl suggest they remain an elite race at the very highest level.  The top player, Tank, won all of his six games for the Danish champions, defeating Amazons x2, Dark Elves, High Elves, Wood Elves and Orcs, in what were almost exclusively matches against other very strong players on the top tables.  And Tank, like 21 of the other 23 Skaven coaches at Eurobowl/Europen, took the Rat Ogre (with Juggernaut) on his team.  His Cas record suggests it did plenty of work.
On the Europen side we see lots more Elf success, including an incredible Dark Elf display by SIMON_ACP, and showing their famed defensive prowess by conceding only one TD in six games.  Twyllenimor's Flings were the only significant Star-based build here, with Griff Oberwald putting the team on his back.
Individual results here continue to show that overall race win rates are only half the story of the BB Meta.
Have any questions or feedback? Drop us a note in the comments below or email us at contact@goonhammer.com.