We're covering everything shown off at the annual Summer Games Fest, which is more or less the new E3 in terms of what it means for gamers. In this article we're covering everything shown off at the Tribeca Game Showcase during day 4 of the event. If you missed coverage of day 1-3, you can find our coverage of day 1 here and here, day 2 here, and day 3 here.
Day 4 of the Summer Games Fest is rolling on, and it started off with an absolute explosion of titles from Xbox's first party developers, as well as numerous exciting games from multiplatform partners. It's safe to say that Microsoft has really stepped up their game variety and breadth, and their showcases tend to be filled with a lot of exciting games for Xbox and PC gamers to look forward to playing. 
Today's show also included a secondary showcase dedicated entirely to Bethesda's upcoming Starfield, including some hands-on gameplay, discussions with the developers, and most importantly: a release date! Let's get into some of the games that really stood out before we get to the main course, shall we?
Fable
Playground Games
Platforms: PC and Xbox series X/S
Release Date: TBA
I am going to be honest, the most shocking part of this trailer to me was the voice of Richard Ayoade, which immediately made me very interested in this game beyond what I expected to be. I'd never had a lot of personal luck with the Fable series, but the new trailer has me quite interested. This version of the game leans heavily into comedy and fairy tales, and this year's trailer also did a lot more to make me interested in the game than the initial teaser one did. That said, not a lot of other news here, but there's hope that this will shape up into a fantastic comedy role-playing game, a genre that is honestly pretty hard to pull off well. At the very least, I'm excited to see what use they get out of Ayoade's talents!
Rob: Fable and its sequel are some of my favorite games and underrated gems in my opinion. I'm happy to see the series return with the trademark humor it's known for and interested to see what they do with it. I'm on record as preferring the original's swords-and-sorcery setting to the more industrialized, gun-based setting in the second game, and this looks like a welcome return to form for the series.
South of Midnight
Compulsion Games
Platforms: PC and Xbox series X/S
Release Date: TBA
There's an old warning in games reporting about not falling for reveal trailers, but I have to be honest: I absolutely fell in love with what Compulsion Games is trying to sell me with this trailer for South of Midnight. I love games that try to utilize underrepresented aspects of American culture, and Southern Bayou Country is woefully underutilized, and Black characters and culture still vastly underrepresented. The stop-motion style of this trailer made me intrigued, but sadly there isn't much shown in the way of what type of game it is, or what the game will be about or do. Still, there's a lot of charm in this trailer, so here's hoping. 
Star Wars Outlaws
Ubisoft
Platforms: PC and Xbox Series X/S (other platforms unclear at time of publication)
Release Date: TBA 2024
Although just a cinematic trailer, this game grabbed our attention for the sole fact that it is another big Star Wars title, but most interesting, a title that isn't focused on Jedi and lightsabers. Personally, I got some huge Shadows of the Empire flashbacks from it, which I'm all for. The trailer itself looks great, to the point where one can only hope the game looks half as good in engine as the reveal trailer did, but rogue run and gun gameplay and space battles sound extremely promising. I've always loved the aspects of Star Wars that didn't revolve around, well, magic, and the showcase of Canto Bight makes me hopeful that this will be a great 'den of scoundrels' style action game. 
Like a Dragon: Infinite Wealth
Ryu Ga Gotoku Studios
Platforms: PC and Xbox Series X/S (other platforms unclear)
Release Date: Early 2024

I am a huge fan of the Yakuza/Like a Dragon series. It's one of the only series I've imported ahead of time just to play it fresh, and the change from action-brawler to turn-based RPG was something that I absolutely loved about Yakuza 7. Turns out that we're getting TWO new games in this universe, and we already talked about The Man Who Erased His Name in our day one coverage. But if I can give a possible hot take, I love Ichiban as a protagonist a bit more than I love Kiryu, so this new trailer seems amazing. I like how the trailer plays up Ichiban's somewhat comedic luck, while also setting up how, following his victories in 7, he's likely back to 0 again in this game. 
Payday 3
Overkill Software and Starbreeze Studios
Platforms: PC, Xbox Series X/S, Playstation 5
Release Date: September 21 2023
The most fun you can have (legally) robbing a bank with your friends is back, and sooner than you think! Payday 3 is slated to hit in September of this year, and the trailer shows that developers Overkill and Starbreeze know what made the first two games such a hit and don't seem to be trying to reinvent the wheel with this new iteration. I'm interested to see what new life they breathe into the game, but Payday 2 is some of the most chaotic fun you can have with friends online, so if you liked the previous bank heist shooters, keep your eyes out for Payday 3 coming soon! 
Sea of Thieves: The Legend of Monkey Island
Rare and Lucasfilm Games
Platforms: PC and Xbox Series X/S
Release Date: July 20th, 2023
Probably one of the reveals most out of left field but also the one that makes the most sense, seeing Monkey Island return through the lens of Sea of Thieves has me interested in giving the multiplayer nautical exploration game another chance. How it will integrate into Sea of Thieves remains to be seen, but the trailer promises that the game will be free, meaning that as long as you own Sea of Thieves you'll be able to give the expansion a try. Also, it's coming out far earlier than expected: July 20th, so the wait won't be long, matey!
Rob: I'm fascinated by Sea of Thieves' ability to not only continually stay afloat (har har) but also continue to be relevant with events like this one (and I thought the Pirates of the Caribbean crossover was pretty damn cool as well). Whether I fire the old copy back up will depend heavily on my friends' interest in taking to the seas again, but I'm definitely excited for this one. What a great crossover.
The Elder Scrolls Online: Necrom
Bethesda Studios
Platforms: PC, PS4, PS5, Xbox One, Xbox Series X/S, Mac
Release Date: June 20th, 2023
Well, let's get this out of the way: No, we didn't get any news about the next mainline Elder Scrolls game, but TESO rolls on extremely strongly with a new expansion, Necrom. While it looks interesting, there are a lot of ways in which this is only going to appeal to you if you already like the idea of TESO or  MMOs, so I understand completely if this isn't people's jam. That said, TESO does have a fairly large player base and a ton of content, and it's great to see the game continuing to develop and thrive over time. And, the expansion releases on June 20th, meaning if this is what you're into, you can play it very soon!
Metaphor: ReFantazio
Atlus
Platforms: PC and Xbox Series X/S (other platforms unconfirmed)
Release Date: 2024
Probably the biggest surprise of the showcase, Atlus's newest RPG roared onto the screen with this exceptionally stylish trailer. Despite the Persona 3 and Persona 5 Tactics leaks seeming to take a lot of wind out of Atlus's sails, it seems they had the perfect answer in their brand-new RPG, developed by Studio 0, lead by Katsura Hashino and featuring Shigenori Soejima's now iconic character designs. The Persona series of RPGs have always been a blast and exceptionally dripping with style, but everything about Re:Fantazio seems to be kicking up that style to exceptional levels; I don't think I can often say I've ever been excited by a menu before, but these menus look sick. Also, I love the modern fantasy world the trailer shows off, so I'm excited to see where this goes.
Starfield
Bethesda
Platforms: PC and Xbox X/S
Release Date: September 6, 2023
There's an entire 45 minute presentation devoted to just Starfield, so if you'd like to watch the whole thing, you can do so here; what we were shown today in terms of gameplay looked very promising, and also comfortably familiar to fans of Fallout and Elder Scrolls. I'm fine with familiar in this case, because just based on what we've seen so far, Starfield looks like it's going to take 'massive open world gameplay' to an extent that almost seems impossible to digest. I think comparisons to Outer Worlds is fair, although I bounced off of that game fairly hard when the narrative choices didn't match the realities of what you chose to do. So, I'm hoping Starfield might be more interesting to explore. Certainly, the game looks gorgeous so far, reminding me at times of how beautiful Oblivion looked when it first released, so I'm excited to simply explore the game when it releases; hopefully the narrative elements and size of the game will live up to the hype.
Rob: Starfield was a game that I was aware of but not really interested in, but now I'm officially on board.
Wrap-Up and Other Games to Check Out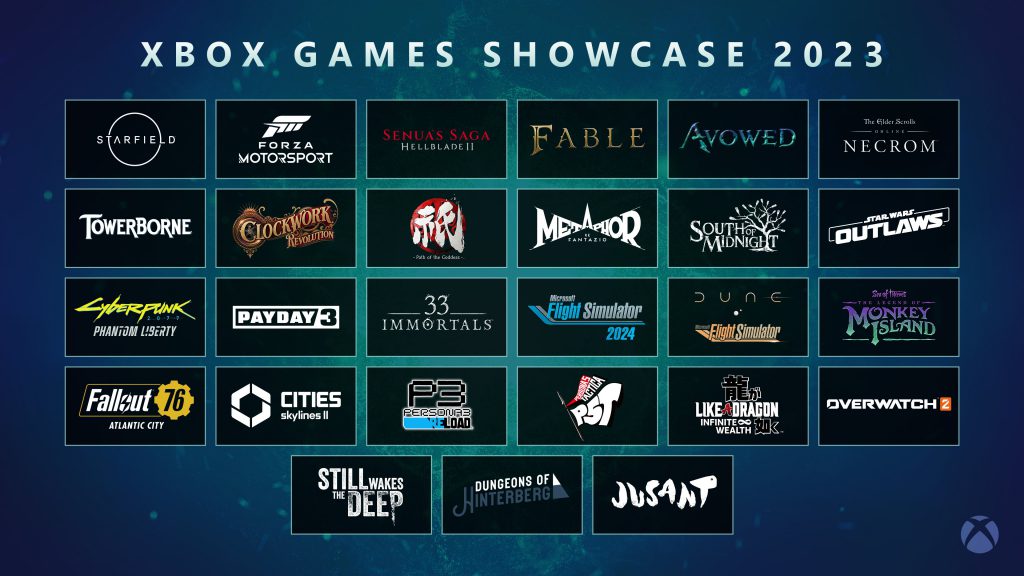 Xbox's Showcase had quite an exciting collection of games, and while we can't talk about all of them, what is certain is that Microsoft has stepped up on delivering a variety of games for a variety of tastes, and does so in spades. A lot of these games have unconfirmed dates and releases, meaning that it will be a bit before we see how they shake out completely, but I'm also curious about Clockwork Revolution (big Bioshock vibes), Avowed, and Cities Skylines II. 
Rob: Microsoft needed an impressive show today and I think they mostly delivered. The company has been on fire with Game Pass but needed more compelling reasons to buy an Xbox for titles you can't get anywhere else. Also they needed to finally start having anything to show for all those acquisitions and it's good to see some games finally come out of those studios. Fable's the biggest one for me but I'm in for Starfield now and also likely to pick up Sea of Thieves again for the Monkey Island expansion.
Tomorrow: More Coverage!
That's right, there's even more stuff coming up aside from the PC Game Showcase! Capcom has some things to reveal, and Tuesday will also bring expansive coverage of the Ubisoft Forward show so look forward to us wrapping up our coverage of the event with recaps of those. 
Have any questions or feedback? Drop us a note in the comments below or email us at contact@goonhammer.com.