In this final episode(s) of Road to Goonhammer, I'll be going over the final sprint to the event, as well as the event itself. I'd planned to do these as two separate episodes, but, uh… I chose sleep. It was the correct choice.
Last we left off I'd just finished Celestine and had 34PL remaining to paint. Tight. But doable. So first things first let's… Help assemble a bunch of terrain for the GT. On August 21st, Gregdor called for aid, and we answered, with a group of us putting together a half dozen tables of MDF. People also helped out on the 28th, but I didn't make it as I was frantically painting models.
NOW I got to working on the last models. First up on the chopping block was assembling a second rhino, 6 miscellaneous infantry to fill out some various squads, and 5 more Celestian Sacrestants to bring that squad up to 10 models. I put them together in the first half of the week, then got to painting.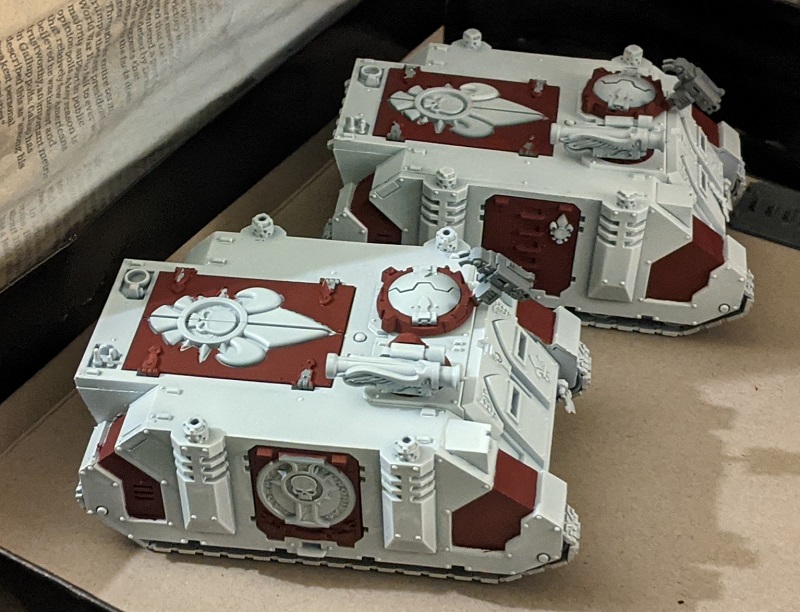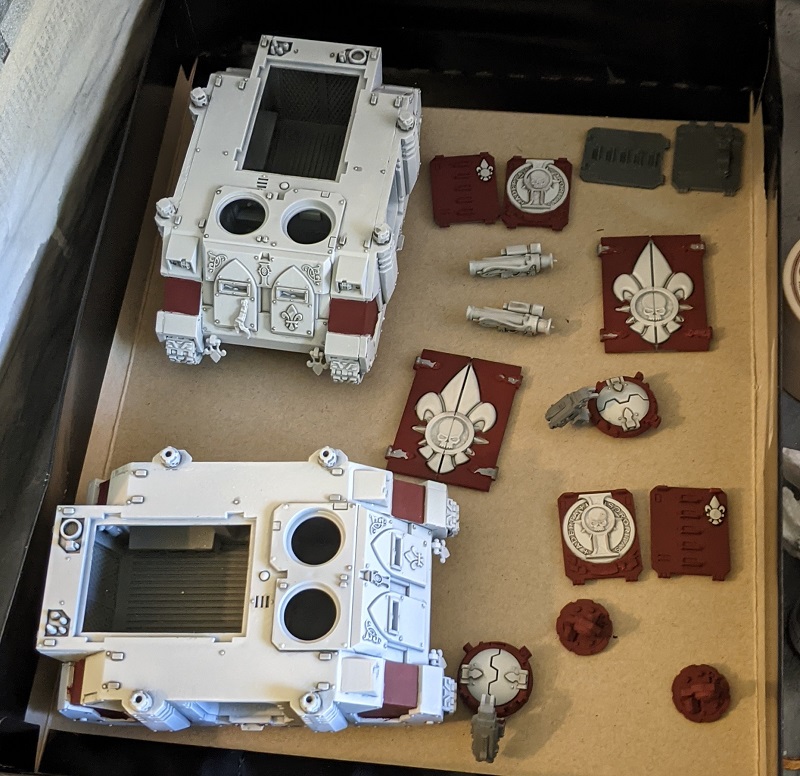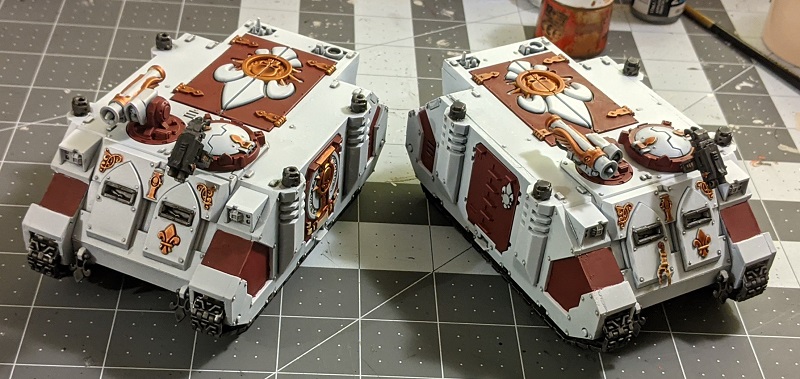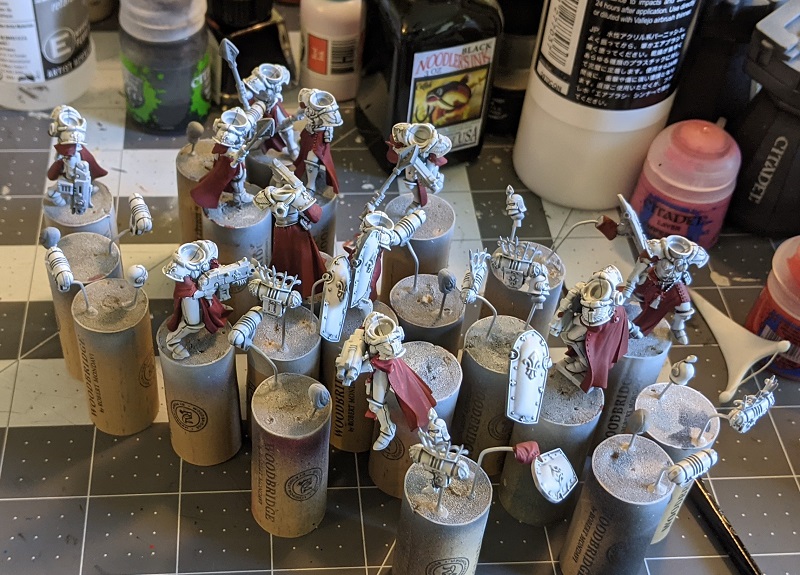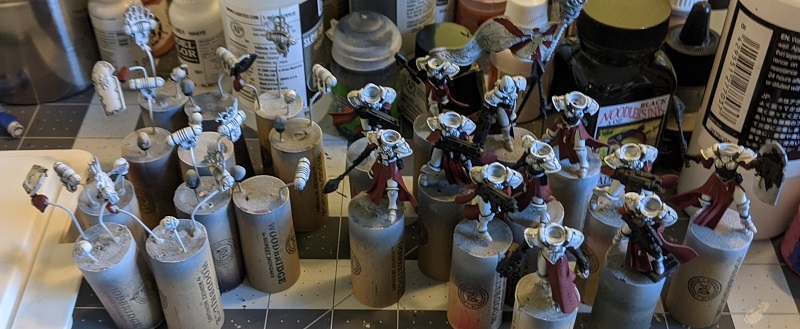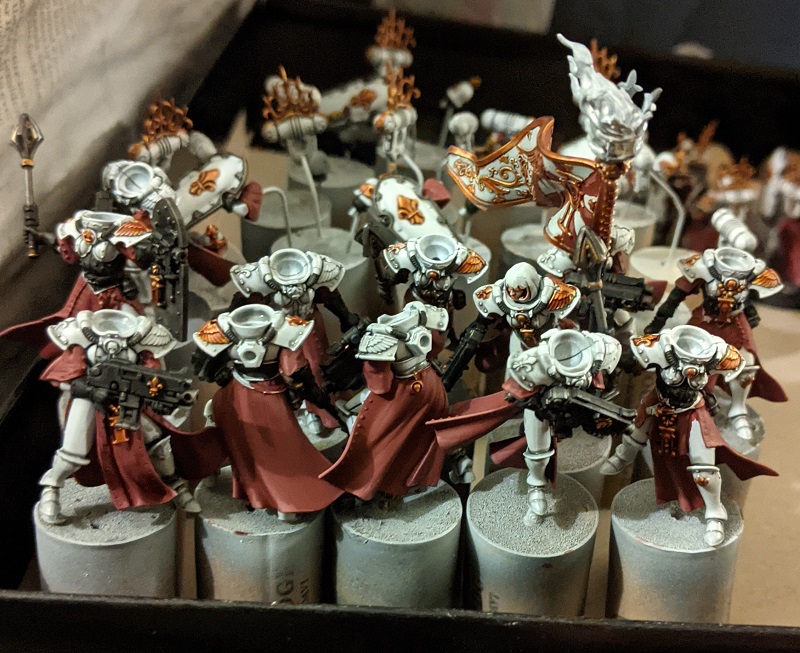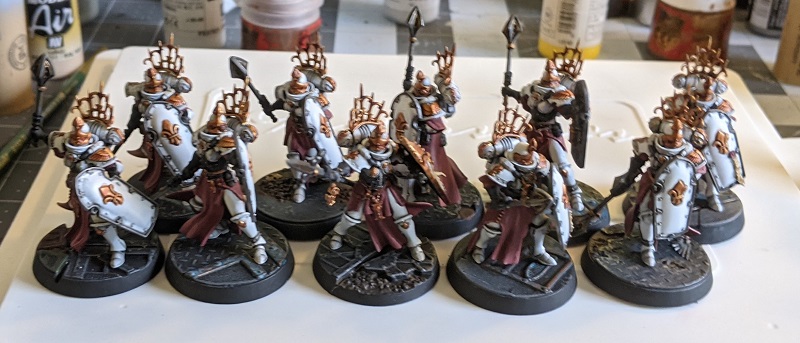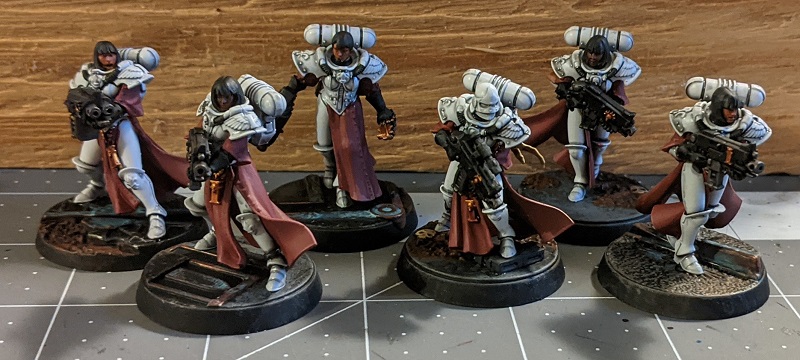 The eagle-eyed among you might have spotted a giant flag sneakily joining in along the way. She was primed already, and on the list, so along came the Imagifier to join the ranks of the completed models. She's converted up with a Zephyrim pennant. I have a normal Imagifier, but I put this one together back when it was looking like you'd want multiple in a list.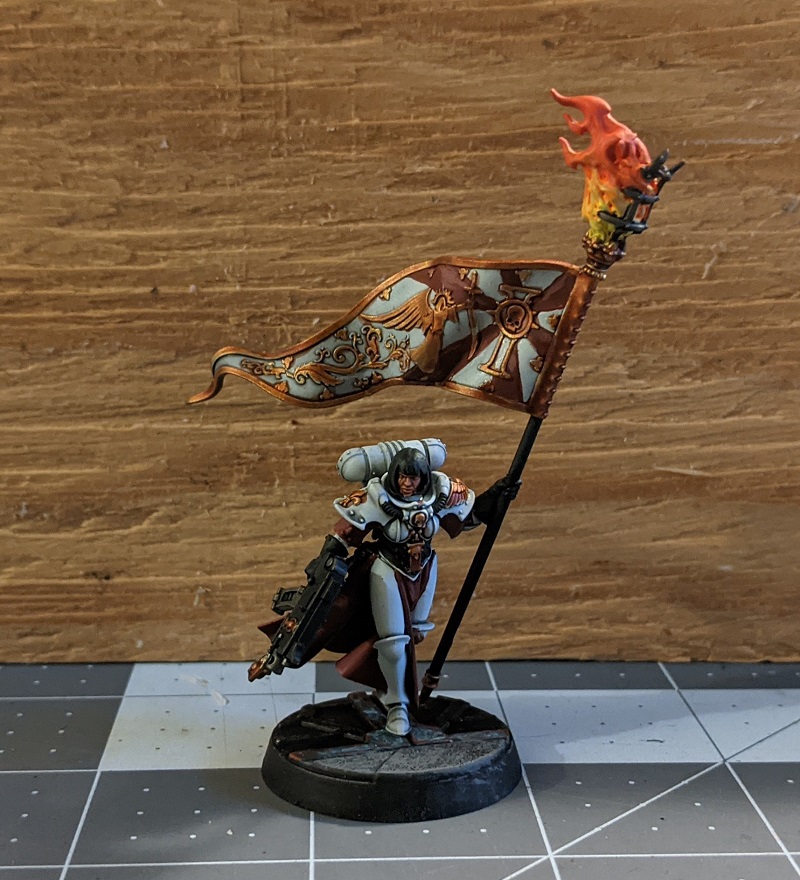 So at this point it's the morning of Tuesday, Aug 31st when I've stuck them on bases, let's take a quick look at the scores as they stand now.
Days Until Goonhammer Open: 3
Power Level Painted this 'Week': 24
Power Level Complete: 115/125
Well, getting tight. The units still needing completion are a unit of Zephyrim and the preacher I converted up. At this point I made the executive decision that the preacher wasn't getting painted. She's a really cool conversion I really want to put the time into to do justice, and that just isn't happening on this schedule. Instead I swapped in a unit of Death Cult Assassins I'd already painted. That brings me up to 124PL total, and I plan on giving my Canoness Word of the Emperor at some point along the road, which will bump her up by 2 PL anyways, so no big deal. Just the 10 Zephyrim to paint and we're golden!
So let's get to assembling the second 5 Zephyrim.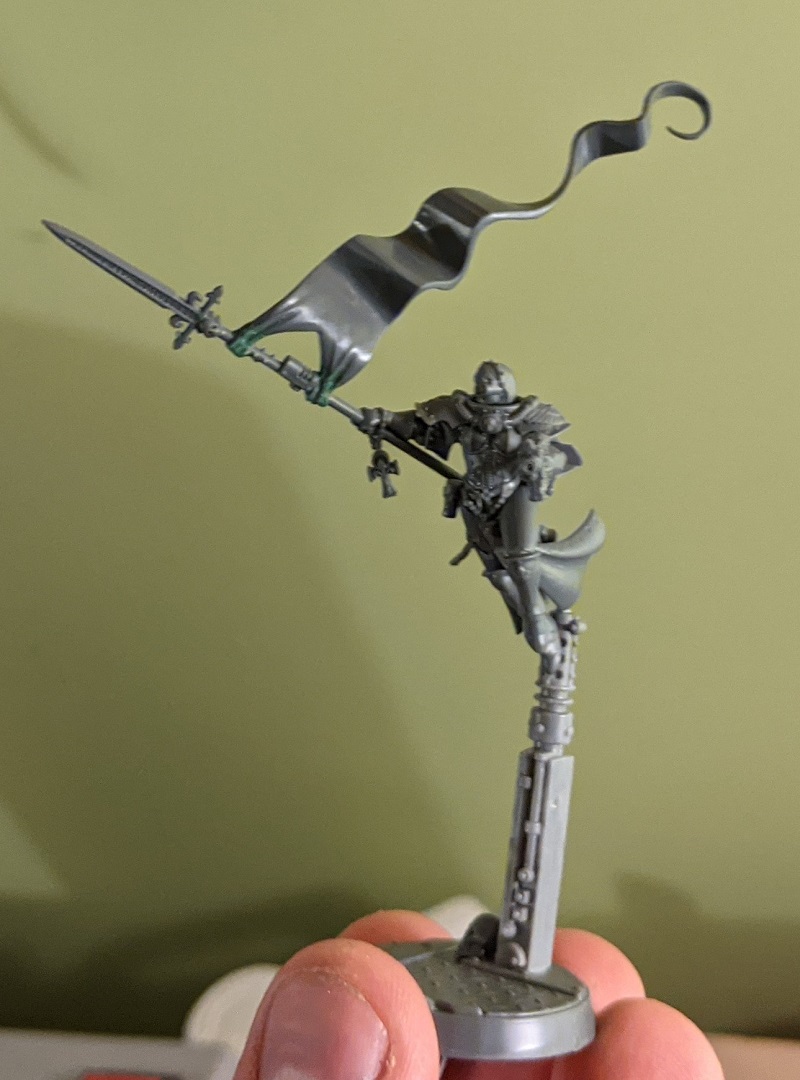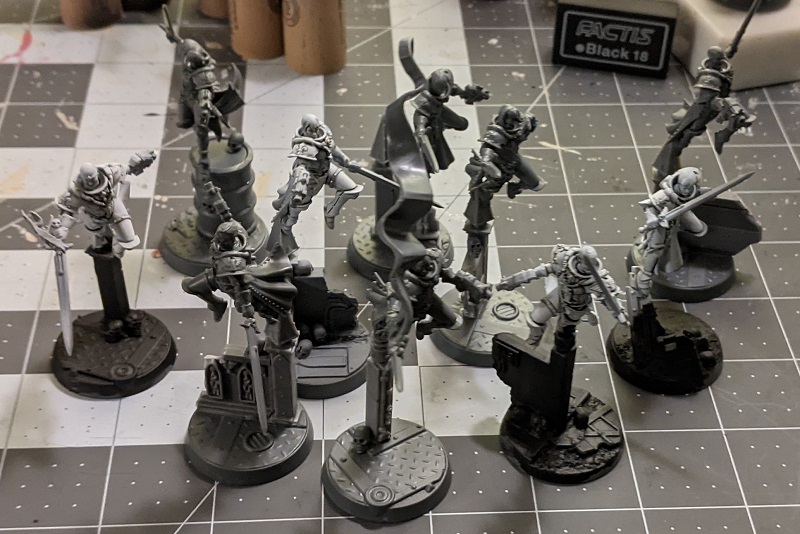 And it's at this point I remembered that I'm lovingly posing and converting every one of them and scratch building scenic bases to mount them on. 3 days was it? Uh oh. Well. That's one day of hobby time gone on that.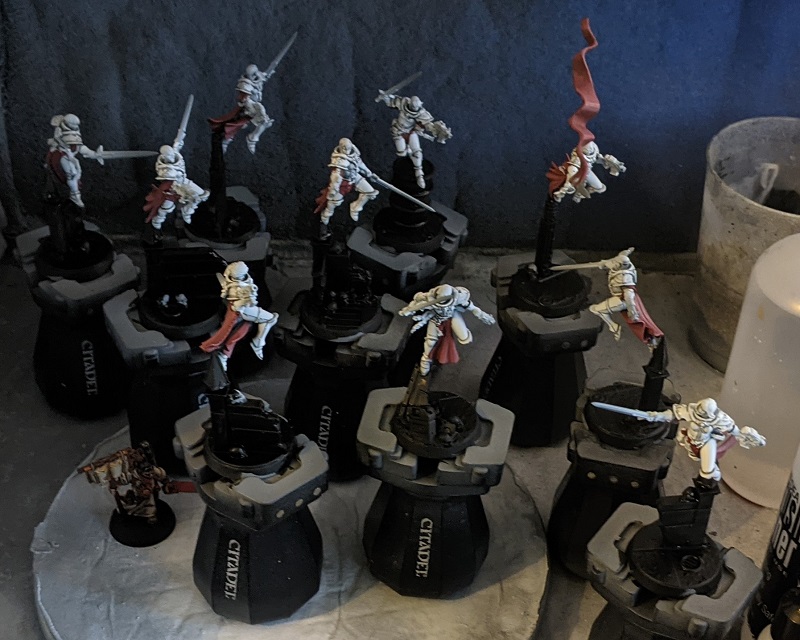 Aaaaaa.
Aaaaaaaaaaa!
AAAAAAAAAAAAAAAAAAAAAAAAAAAAAAAAAAAAAAAAAAAA!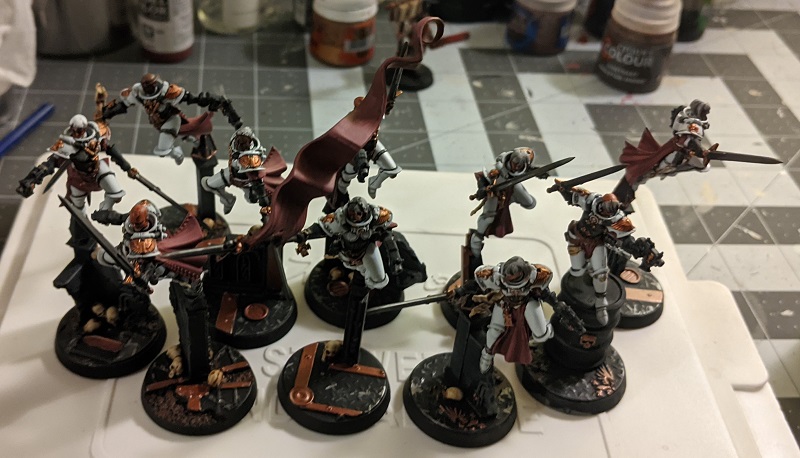 And uh, this potato picture is the point when I decided it was bed time on the day before I headed off to Goonhammer Open. They're not done, but they're battle ready. The faces need a bunch more work. The hairs are all white, and the bases most certainly aren't done. But they will look okay-ish. Enough nobody's going to be mad at me for showing up with unpainted models.
But that wasn't the only hobby adjacent stuff that I got done this week.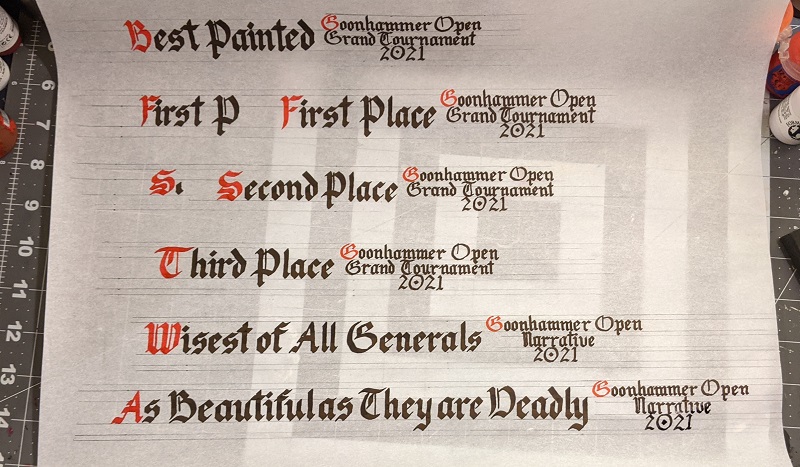 In one of the earlier articles, I had played around with some painted calligraphy. In the interim, I had… expanded that interest. Mostly as a creative break from plowing through Sisters squads. Then there was some discussion of getting little trophies made for the victors of the event. One thing lead to another, and suddenly I'm driving up to the cool art store in Annapolis to get some really nice paper to make awards with.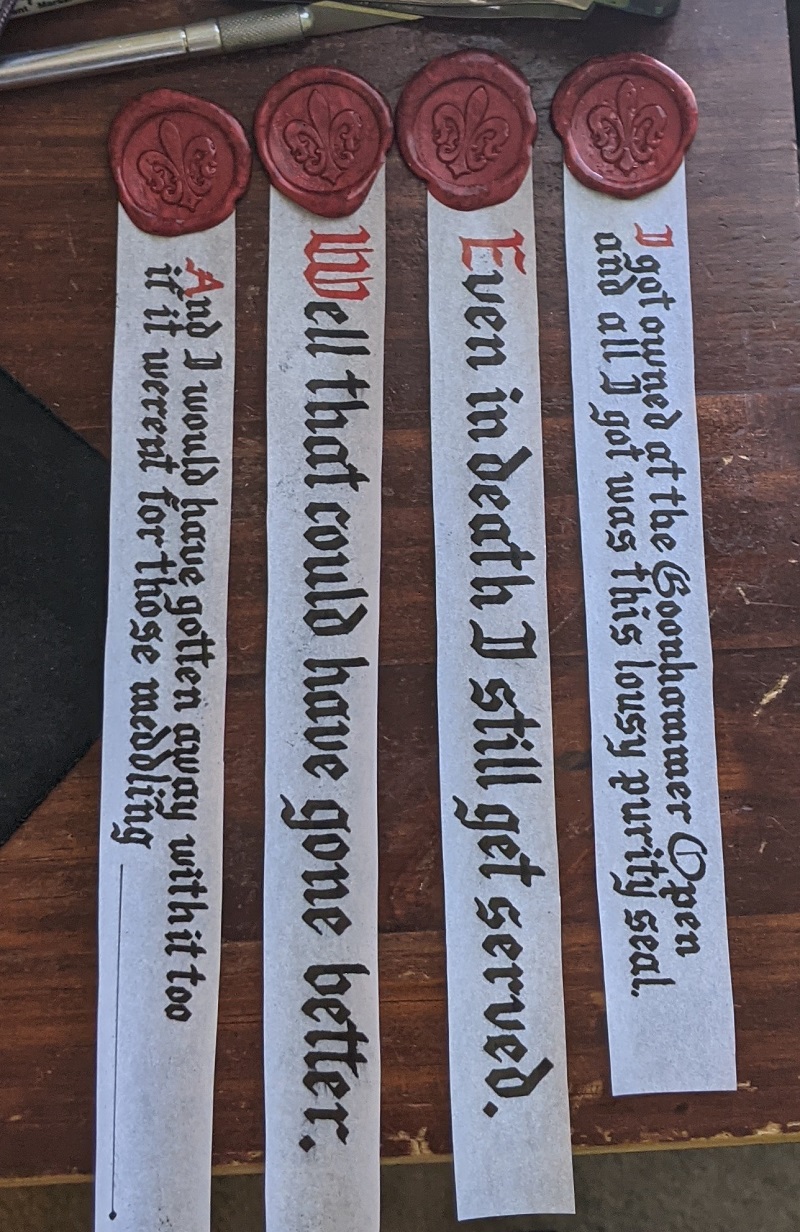 My original plan had been to make some little party favors to hand out to opponents. Little dunks or kudos for winning. The plan for the scooby doo seal was to fill in my opponent's army name in the blank. It… uh… didn't turn out that way. We'll discuss that later.
And now, It's time for the Goonhammer Open, and the final scoreboard.
Days Until Goonhammer Open: 0
Power Level Painted this 'Week': 32
Power Level Gained through Administrative Means: 1
Power Level Complete: 124/125
Eh. Close enough.
As ostensible 'staff' for GHO, I showed up on friday to help set up. The first two hours consisted of helping unload the Uhaul, dragging things into the event space, and unpacking things onto the tables and then… we were done. With a whole bunch of of there putting in work, that went smoother than expected. So we went for dinner, got some Ramen, and afterwards I engaged in the most important task of the day.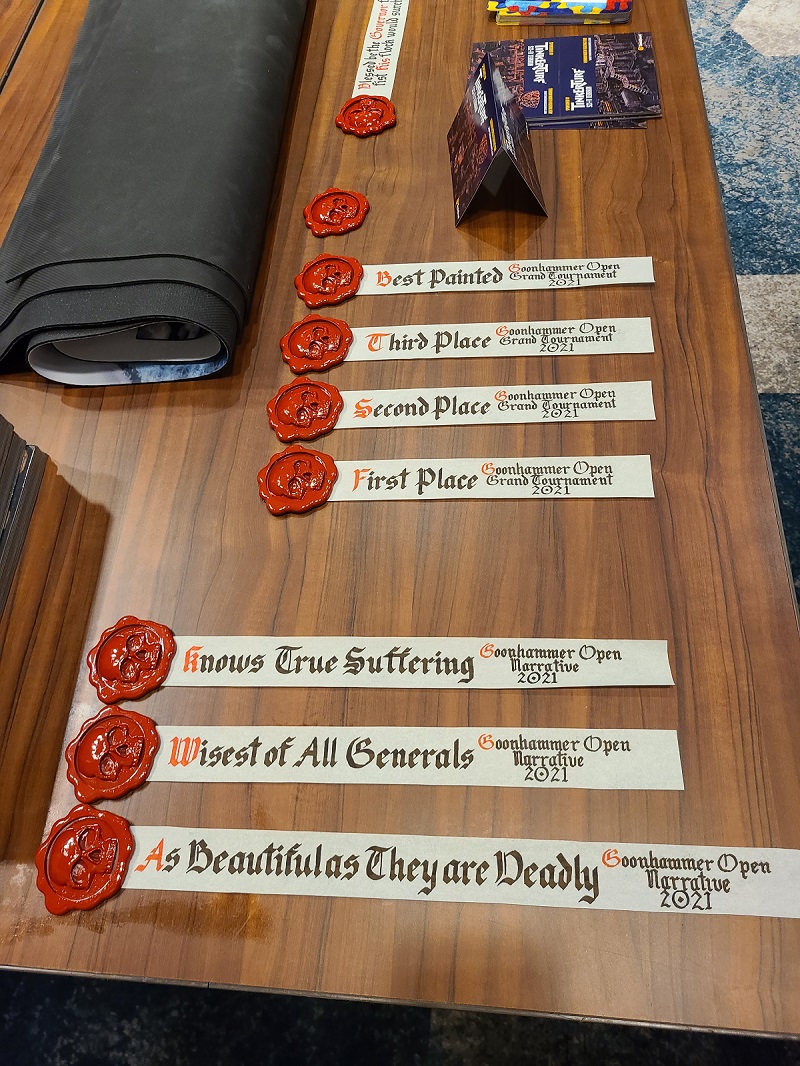 As I didn't have a skull stamp, fellow Goonhammer author Primaris Kevin Genson had generously printed off and spraypainted some faux seals for me to hot glue onto these.
I also managed to get in a quick 50PL warmup game against fellow White Armored Sororitas Owner Greg N. He was shamefully playing his Eldar. His shameful, absolutely beautiful eldar, which I forgot to take pictures of in this game. We rolled up the Recon Patrol mission (In which half your units are forced to be strategic reserves.) and it was a bit of a clusterfuck. He was successfully pushing me back early on in the game, but some good luck with multi meltas managed to down a few smaller vehicles, and then when repentia, canonesses and dominions started showing up in random spots the eldar quickly started to dwindle. Still, when we did the math at the end, it turns out I only won because my flamer squad of Sisters managed to successfully kill two shining spears in overwatch, then have the Sister Superior survive to hold an objective in the subsequent turn. (This became a bit of a theme over the weekend for them) Overall a great game against a great opponent with a beautiful army. (Also a running theme.)
And then it was time for sleep, and after a little bit less of that than I would have liked, the Goonhammer Open proper.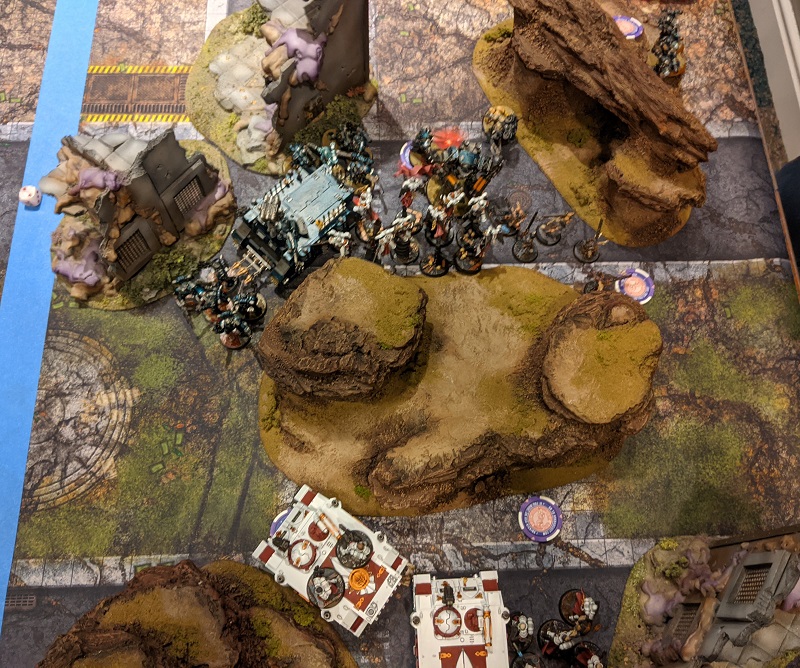 Game 1 of the narrative was The Relic. I was attacker facing off against Rocco playing Alpha Legion, who is a lovely guy who had also come to help out with terrain assembly. A lovely guy that after his first turn was about 20 inches away from my Zephyrim and 17 inches away from my Repentia in a rhino under the +1 to charge sacred rite. The Repentia and Zephyrim died, eventually, but not before extracting a bloody toll and essentially winning the game for me.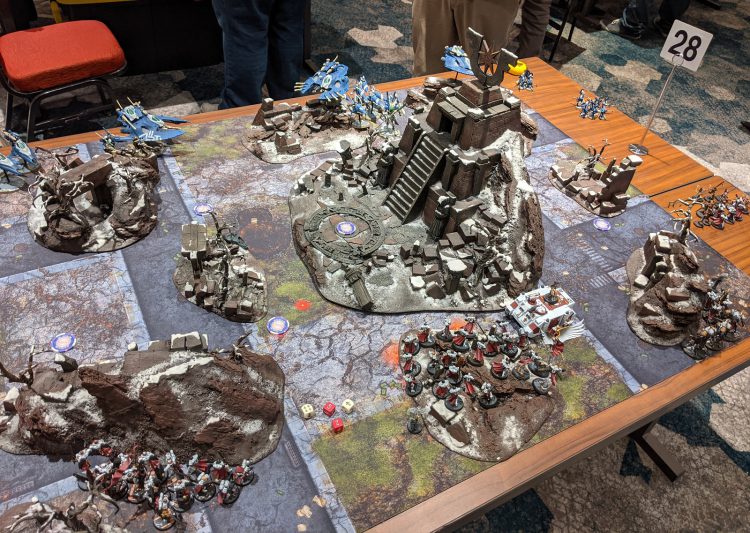 Game 2 I was up against Greg's Eldar once again in a 75PL game of Supplies from Above. In this mission the objectives blew around randomly each turn, pushed around by the wind. I ended up getting stuck with first turn. The wind was not kind to me, blowing all of the objectives a good ways towards Greg's deployment zone.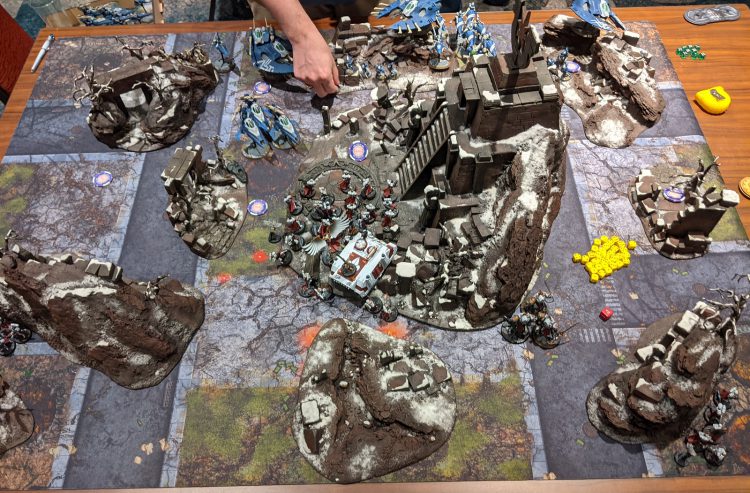 So instead of being able to just waltz up onto the objective to enable the sisters version of Transhuman Physiology and shoot at some eldar on turn 1, I had to run and do pretty much nothing but bunker up and try to weather the oncoming storm. And oh boy was it a storm. The heavily buffed 20 woman squad of sisters took a lot of fire to put down, but down it went, eventually. With the help of a wraithseer shooting through walls which I didn't know was what they did, the squad of Paragon Warsuits also bit it without firing a shot. It wasn't looking good at this point. Of note is that the Zephyrim spent a command point to go back into reserve on my first turn, as all the objectives had blown away from them. They will be relevant later.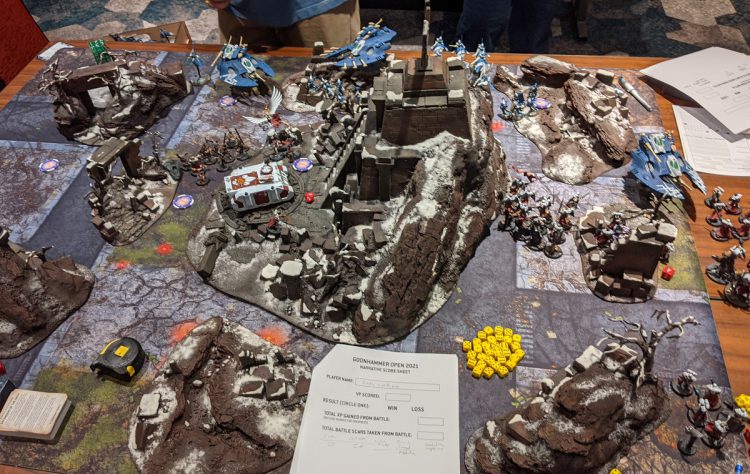 On my turn 2, the Zephyrim came back down, I moved up, and shot and chopped some Aeldari. There was an amusing moment where my Death Cult Assassins popped up out of reserve and absolutely mulched a squad of rangers, so that was nice. Unfortunately both the Zephyrim and Celestine failed their charges, with Celestine rerolling a double one into a double 1.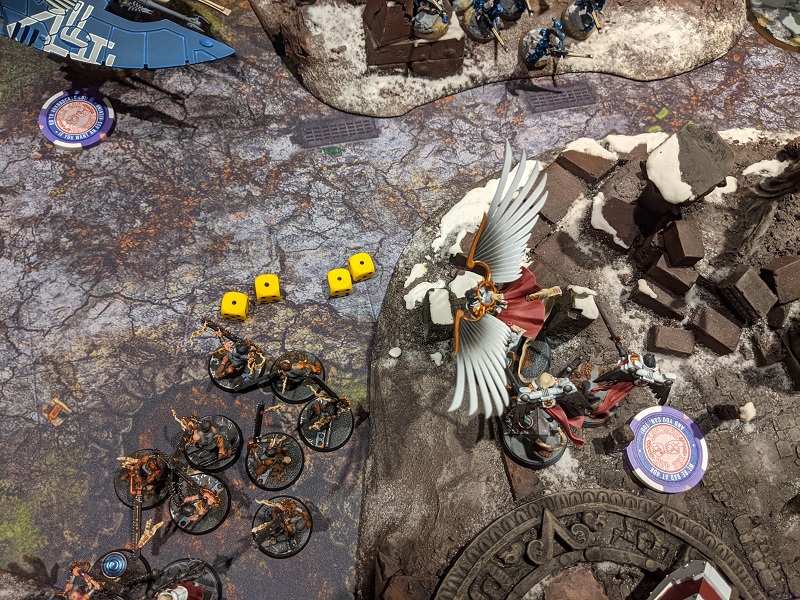 But I'd still done some damage, and Eldar were starting to come off the field. I'd also started to establish some board control, which would be crucial in the coming turns. Unfortunately this is the point during the event where I stopped remembering to take pictures of anything, so a narration of the rest of the battle will have to suffice. On his turn 2, Celestine and the Repentia bit it, with his shining spears having to charge in to put her down the second time.
In my turn 3, him moving all his mobile elements to the center to deal with Celestine started to bite him. I was able to contest most of the rest of the objectives, denying him points, while on the right flank I had 2 objectives essentially uncontested after the Zephyrim charged into a squad of dire avengers and casually removed them from existence. The winds also started to turn my way again, blowing the objectives further towards my board edge. Speaking of casually deleting things from existence, my Canoness charged in and swatted an entire squad of shining spears out of the sky with a little help from the dogmata.
In Greg's turn 3, he removed most of my models from the center, but he soon realized that the one model left was not going anywhere fast. Let me introduce you to Canoness Apraxia Val. At this point she has the Mantle of Ophelia, reducing the damage characteristic of all attacks allocated to her to 1, along with her native 4++ invulnerable save and a 5+++ Feel no Pain shrugging wounds from the Artificer Bionics Crusade Relic. His wraithseer mostly bounced off of her and took a few wounds in the process.
In my turn 4, I took a unit or two of his off of an objective and moved the Zephyrim up to start cleaning up some dire avengers in his back field. In his turn 4, Apraxia Val continued not dying, going down to 1 wound at the hands of the wraithseer.
In my turn 5, the score was close, but not quite close enough for the eldar to squeak out a victory. As he only had his wraithseer on an objective with my warlord, all she had to do to win me the game was fall back and contest the objective. Sometimes the coward's path is the best one. All in all an amazing game and one I learned a ton from.
---
I didn't take any pictures of game three because I'm dumb. It was a 50PL doubles game on Narrow the Search, and I'd paired up with Phil and his SpeedWaagh versus a pair of Eldar, Joe and Quinn. Joe had a Wraithknight, a small flock of wraithseers, and a warlock. Quinn had a small pile of dark eldar and harlequins I will not even pretend to remember. To quickly summarize the game, Phil and I took control of the field early and scored a good bit, but the Orks took a bit of an early bruising. The Zephyrim dropped in on our turn 2 and proceeded to fail a 7 inch charge with a reroll, leaving them high, dry, and promptly murdered by the wraithknight. After a long, hard fought game where it looked like I might have had a shot of denying enough points to eke out a tie, my hopes were dashed when the last few shots available took out my outflanking squad of sisters who had flamethrowered a Dark Eldar Succubus and a squad of Incubi to death, and who were poised to deny an objective. Again, an excellent game with amazing players all around.
---
I also didn't take pictures of game four. I'm very bad at taking pictures. I'm sorry. I was up against Bobby's Death Guard on Cut Off the Head. He went first and I took a hammering early on, but managed to keep my characters alive turn 1, while he moved up a bunch of very durable infantry backed by a big Dreadnought and Plagueburst crawlers blasting away at me. On turn 2, I failed to kill his chaos lord, charged some terminators with a squad of Zephyrim and only managed to kill one, and mostly killed another squad of terminators with a mix of shooting and Celestine charging into them.
On turn 3 he moved in for the deathblow, but made some crucial mistakes. First, he moved up his Chaos Lord, who is ordinarily exceedingly tanky, but between game 3 and 4, Apraxia Val had taken the Word of the Emperor blessing, which allows her to turn off invulnerable saves in an aura once per battle. He had also moved up another of his three characters, a Foul Blightspawn, protected by the last deathshroud, a myphitic blighthauler, and a few chaos marines. Crucially, he'd also fallen back from the Zephyrim with his terminators. Because I was able to bring in my strategic reserves within 1″ of my board edge in my deployment zone, I got to bring in my Paragon Warsuits perilously close to his Foul Bightspawn. My Canoness moved in to deal with his Warlord. My inquisitor moved up and put some mortal wounds on the Foul Blightspawn, and the Zephyrim and Celestine utilized their flight to zoom into his back field and threaten his third character, a Psyker. After I took all 30 of his intel points off the board in one turn, the game was essentially over. A very close fought game, and if I hadn't managed that last minute explosion across the board I would have lost the next turn.
---
No pictures of my final game as well. Ironically, after pushing so hard to finish 125 PL worth of models, my opponent and I rocked up to the table and promptly agreed that playing a 50PL game rather than an 125PL slugfest sounded absolutely lovely. My opponent for this was Chris, an amazingly pleasant opponent playing Custodes. If you will allow your eyes to drift upwards to the bolded phrase in the above paragraph, it might offer a clue as to how this game went. The Sororitas were victorious. Swiftly. Apraxia Val took out almost an entire unit of jetbikes on her own. I definitely look forward to playing Chris again in a less lopsided matchup, as he's also from Maryland.
And thus, Goonhammer Open was over. I spent a few hours helping pack up in between resting my legs and chatting with other players before heading home. All in all, an amazing experience, and I'm looking forward to the next one. I don't regret doing this hobby project, it's by far the largest one I've embarked on and I've ended up with some really amazing results, but I don't think I'll go quite so hard next time.
Now, to make up for all the potato pictures quickly taken as I finished each unit, here's good pictures of all of my units taken half-competently in a lightbox.