It has been two long, long years since Nova 2019. Far to long since I've seen my east coast Goonhammer buddies and greater DC area ham-slammers. The second that the Goonhammer Open Narrative was announced, I knew I had to be there.
My brother Jason offered to do videography for the event, which involved a car load of equipment, so we were stuck driving up from southern Georgia to get there. It's been many years since I've made this drive, and I don't recommend it. To help pass the time, I bought the audiobook of Robert Rath's The Infinite And The Divine to listen to on our trip up. It was fitting, as the Narrative was themed after Trazyn the Infinite – we were all captured in his pokeballs, and we were pitched against one another because he was bored. It's the first book I've read by Rath and I highly recommend it. After 14 grueling hours of driving, we arrived, and I got to game with all my friends.
My List
We had 125PL to build our lists, and I decided to go with the Rainbow Warriors I've been running for almost all of 8th/9th. I did not get nearly as much painted as I would have wanted to over the pandemic, but I did have a few newer additions to my force that I wanted to use. We had 4 RP to spend on our lists as well.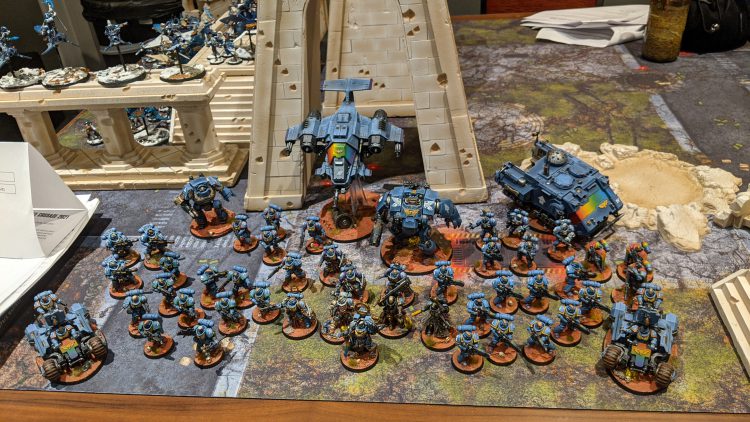 Army List - Click to Expand
**Chapter Selection**: Bolter Fusillades, Master Artisans, Ultramarines Successor

+ HQ +

Captain in Gravis Armor w/ MC Power Sword and Boltstorm Gauntlet- Warlord
Relic [-1 RP]: The Armor Indomitus
Warlord Trait [-1 RP]: The Imperium's Sword

Primaris Lieutenant w/ MC Power Sword, Neo-volkite Pistol, and Storm Shield
Relic [-1 RP]: The Seal of Oath

Primaris Chaplain w/ Recitation of Focus

+ Troops +

5 man Infiltrator Squad w/ Helix Adept

5 man Intercessor Squad w/ regular Bolt Rifles, 1x Grenade Launcher, Power Fist

10 man Intercessor Squad w/ Auto Bolt Rifles, 2x Grenade Launchers, Thunder Hammer

+ Dedicated Transport +
Impulsor w/ Shield Dome

+ Elites +

Redemptor Dreadnought w/ Macro Plasma Incinerator, Onslaught, Storm Bolters, Icarus Pod

Contemptor Dreadnought w/ Multimelta, Dreadnought CCW, Storm Bolter

Primaris Apothecary

Judiciar

3 man Bladeguard Vets
Indomitus Vets [-1RP]: Rank up to Blooded, got Bladesmen's Honor on roll after 1st game

+ Fast Attack +
Single Invader ATV w/ Multimelta

Single Invader ATV w/ Multimelta

+ Flyer +

Stormhawk Interceptor w/ Las-talon, 2x Assault cannon, 2x Heavy Bolters

+ Heavy Support +

10 man Hellblaster Squad w/ Assault Plasma Incinerators 

Eliminator Squad w/ 3x Bolt sniper rifles 

Eradicator Squad w/ 3x Melta Rifles 

++ Total: [121 PL, -4RP, 2,430pts] ++

In 9th I've really been enjoying both of my 10 man Primaris squads – the Assault Bolter Intercessors and the Assault Incinerator Hellblasters. I was turned onto these units by fellow Goonhammer author Artum. Combined with the Seal of Oath and Chaplain support, these units put out an absolutely incredible amount of firepower – 30 shots each, with the Hellblasters being S7/D2 and the Intercessors getting the grenade launchers and the ability to shoot twice. These are my answer to Mortarion in normal matched play games – it's so fun to bleed off 5 wounds turn 1 on him from Frag Grenades, of all things.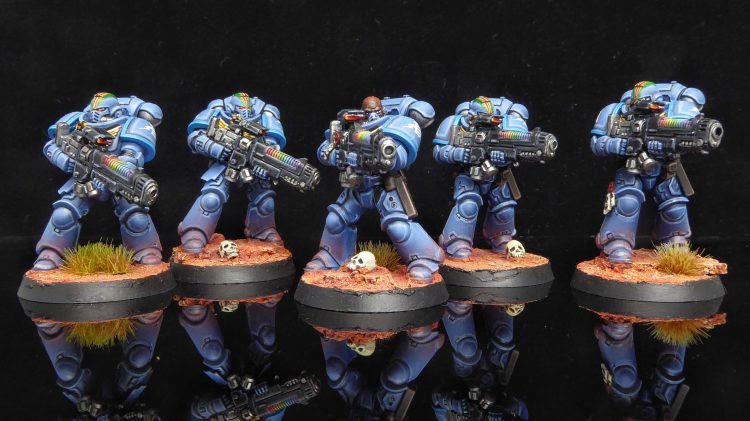 The rest of my list is fairly standard for my Rainbow Warriors. It was a little painful not having the crutch of Chapter Command units being available out of the gate – my chaplain failed so many litany rolls, and I nearly forgot to spend a CP to pick up burnt-out Hellblasters with my Apothecary. It's definitely a good thing that these are locked behind latter stages of Crusade games, as they'd be a bit much out of the gate, and practice without all of those force multipliers will do me some good for competitive games down the road.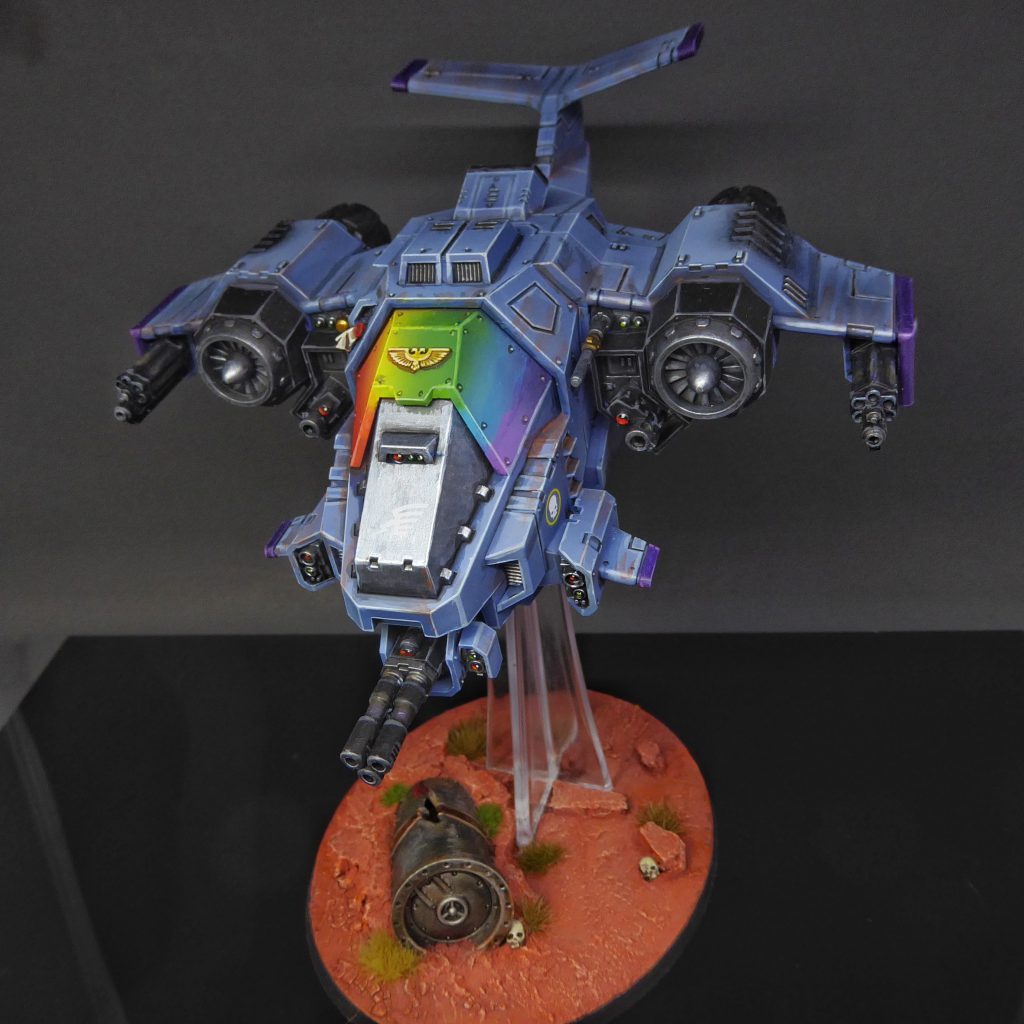 The Stormhawk Interceptor is my only non-Primaris unit (although with that closed cockpit, who knows who is driving?) and I pretty much took it simply because it was something I bought at Nova 2019 with my swag bag bux. I figured I'd take it out on a homecoming — which, incidentally was fairly uneventful — I only used it in one game, where it blew up 5 Dire Avengers and was promptly shot down. At least it looks cool!
The Event
We had about 2 dozen players show up for the Narrative, which was great! We arrived early, ate some delicious bagels, and had fun shooting the shit before Dan gathered us in the hall. He announced Trazyn boredly was letting us fight for our freedom, and fight we did!
Game 1 – Dash's Chaos Knights (50PL)
Dash was a new face to me – I don't think he's been part of the Nova before. He was a great opponent, though, and I'd love to see him at the next GHO.
The Army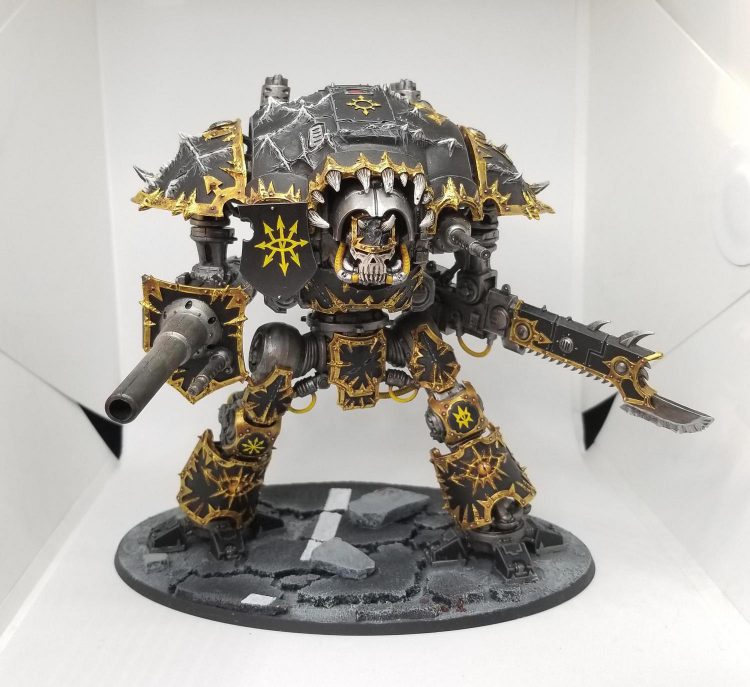 Note: We obviously did not use BCP for this event, so the armies are mostly based on my shoddy memory.
Army List - Click to Expand
++ Chaos Knights ++

Knight Despoiler w/ 2x Gattling Cannons, big missile launcher on top, Character, Warlord

3x Wardogs w/ Helverin Autocannons

The Mission
Our first mission was The Ritual. The Defender got half of the battlefield to deploy in, and their Warlord was to perform actions in the center of it for Victory Points. The Attacker's mission is to kill the Defender's Warlord. There were 4 objective markers for both players to fight over for additional points. I won the roll off and picked Defender, as forcing a Knight player to waste their only Questoris model on performing actions seemed a bit mean.
For my list, I took the Chaplain as my warlord for the mission, and the LT for the super important Seal of Oath rerolls. Rounding out the list were my Apothecary, the 10 man Intercessors, the Hellblasters, and my Redemptor. Only after I deployed did I realize I should have picked the smaller Intercessor squad – bolt rifles aren't doing much to knights, Seal or no Seal. I used the Chaplain over the Captain both for Power Level reasons and the fact that his litanies were not auras, so he could hand them out while also performing The Ritual.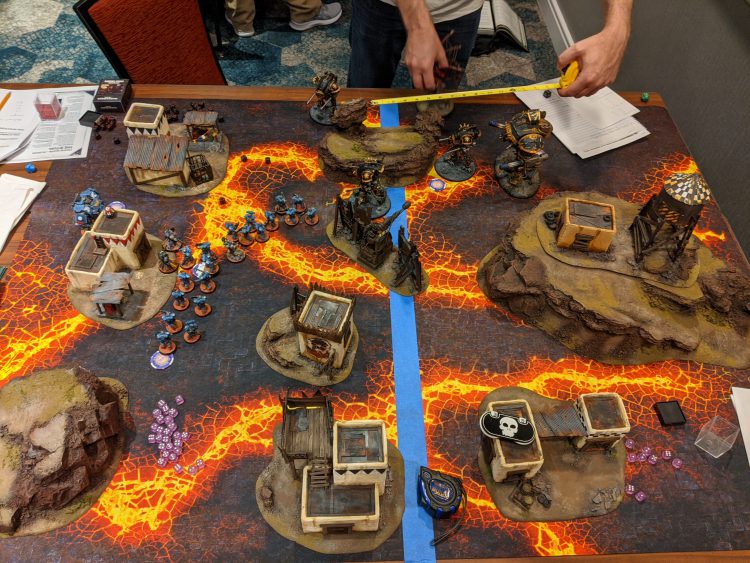 Dash got first turn but did minimal damage due to lack of LOS and the Redemptor's Duty Eternal rule. Unfortunately I did not do much in the return fire – I half killed an Armiger and bracketed the Despoiler. Dash was very pessimistic about his ability to win this game though, and asked for my permission to summon some Daemons. Summoning is a bit weird in Crusade – unlike in Matched Play, you don't need any reserve points. I appreciated him asking me if it was kosher, and I agreed. I mean, how bad could 10 Bloodletters or a pack of Flesh Hounds be?
He rolled 17 on his 3d6 Summoning test and in came a Bloodthirster. lol. lmao.
He bracketed down the Redemptor and killed a few Hellblasters in shooting, then charged in. I was very lucky he decided to use an Insensate Rage 'thirster, and he only killed like 6 more in combat. It did get fairly heavily damaged on Overwatch, however, and between the fall back and shoot strat, a ton of bolt shots, and one well placed bonk on the head from the Chaplain, the Bloodthister went back into the warp. Unfortunately, this meant I didn't get any Ritual Points for the turn, and I lost a lot of momentum. Dash was able to expose my Chaplain and gunned him down, and I ended up narrowly losing. My Agendas were Know No Fear and Priority Target, so despite my loss I got a TON of experience. The Hellblasters leveled up, but I only got Service Studs on their roll. Always in Tactical Doctrine is nice, but a little overkill when you're already AP-4.
Loss, 60-50
Game 2 – Joey's Custodes (75PL)
Joey is a fellow Goonhammer contributor (you might know him better as Crab Stuffed Mushrooms), but this was the first time I got to play against him and his gorgeous purple Custodes.
The Army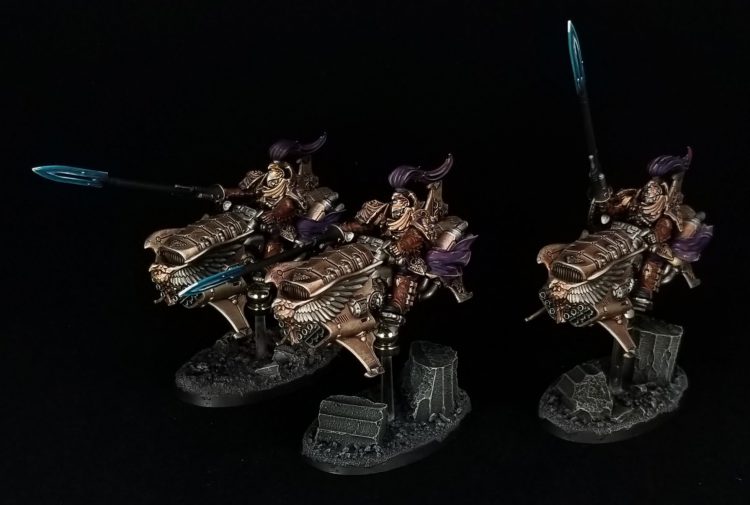 Army List - Click to Expand
+++ Adeptus Custodes +++

+ HQ +

Shield Captain on Dawneagle Jetbike

+ Elites +

3 Allarus Terminators

5 Sisters of Silence w/ Flamers

+ Troops +

4 Spear Custodian Guard

3 Shield Custodian Guard

+ Fast Attack +

3 Vertus Praetors

+ Heavy Support +

Telemon Dreadnought

5 Sagittarum Custodians

The Mission
The mission here was Supplies From Above. This is a dreadful 6 objective mission where the objectives always move 4-6" at the start of every round, before anyone's command phase, making actually holding them a very difficult task. We played on this beautiful marble palace themed board, very fitting for Joey's Custodes. I very nearly had an illegal list – I forgot Patrols only had 2 Elite slots, so I had to quickly alter the list. I filled out a Battalion with the other two troops, then threw in the Bladeguard, one Invader ATV, and the Captain to pad me out to 75PL.
I ended up taking first turn, and knew my 2 biggest threats were the Jetbikes and the Telemon. The Hellblasters were well positioned to deal with the Dreadnought on turn 1 – they needed to advance to do it, but that's part of the magic of Assault Plasma Incinerators – you have that option. They burned the Dread down, with a lot of help from the Seal of Oath. The Jetbikes on the other hand were completely out of sight, but that also meant they would need at least a turn to get into a threatening position.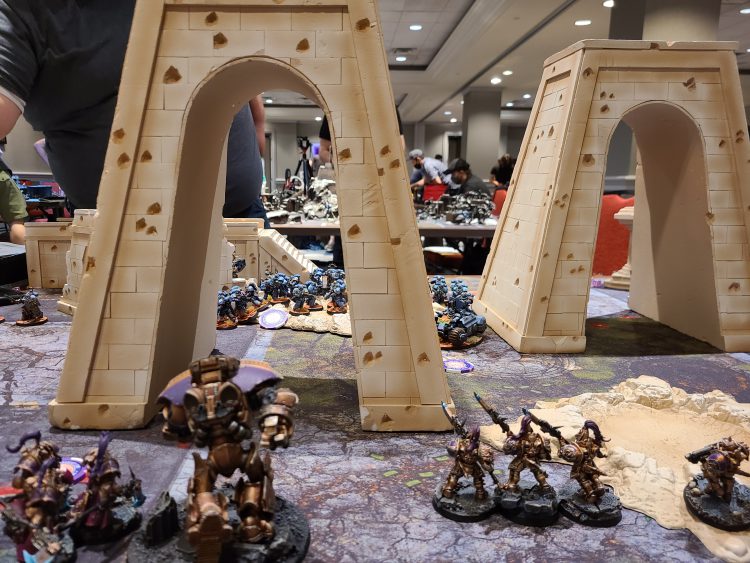 Joey's next few turns were mostly about movement – he needed to advance onto those moving objectives and wanted to get out of sight of the Hellblasters. Unfortunately, he lacked the long range shooting to really threaten my marines. By the time he got into my lines, he only had a couple Sagittarum, a single Praetor, and the Allarus Terminators. They did a lot of damage on the charge, but I simply had the bodies to absorb it and enough dice to throw at AP-1 Assault doctrine punches to whittle the golden boys down. I ended up winning this game. My notable level ups here were to give the Hellblasters a totally Fair and Balanced +1 BS, and the 10 Assault Bolter Intercessors got a similar but far less useful +1WS.
Victory, 60-20
Game 3 – Team up w/ Campbell's Ultras VS Joey's Custodes and Bobby's Death Guard (100PL)
Our third game was the Narrative's famous night doubles game – we missed out on filling out bodies with meat from Fogo, and instead filled it with beer and 40k. Joey was on a vendetta to take out those Hellblasters that shot him up in our last game.
The Armies
Army List - Click to Expand
I remember these even worse than most games, but something like:
++ Custodes ++

Captain on Dawneagle Jetbike

3x 3 man Vertus Praetor Squads

5 Sisters of Silence Prosecutors 

++ Death Guard ++

Lord of Contagion

Malignant Plaguecaster

Stinkyboi w/ Ranch Dressing Hose

3 Deathshroud Terminators

5 Blightlord Terminators

2x Fighty Plague Marines

1x Shooty Plague Marines

The Mission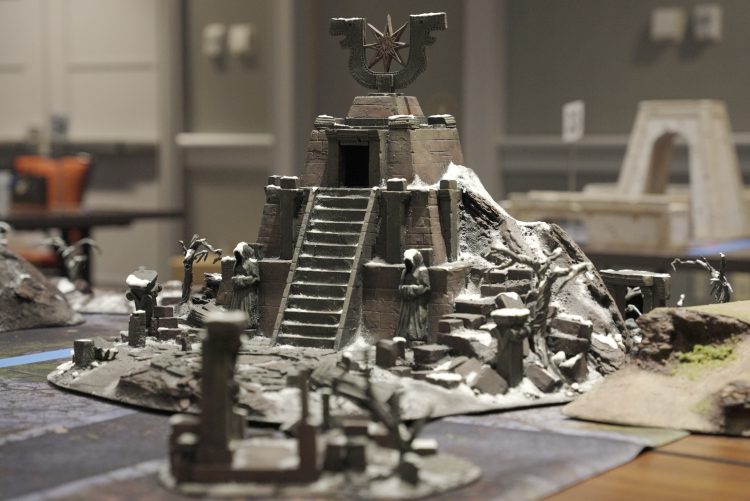 For this game we played Narrow the Search, mostly because Dan wanted everyone to finish up early. This features a normal Take and Hold primary objective, alongside a king-of-the-hill style bum rush into the center of the table, where invulnerable saves were turned off because of Reasons. We also played on the giant 'Ultramarine' temple board, which Bobby picked as it was very fitting for the game. I took the same list that I did in my first game, and Campbell took a similar force consisting of a Redeptor, but with some bikes and Heavy Himbocessors instead of the Hellblasters.
Because of the Null Zone in the center of the table, Joey kept all of his jetbikes on the edges of the battlefield. Joey had only one mission this game – to kill any plasma wielding Space Marines he could to avenge our last game. Cambell and I got the first turn and I almost did the job for him – I had to advance my Hellblasters up to get range, and Joey activated Arcane Genetic Alchemy and The Emperor's Auspice to turn off all the hit and wound rerolls and give their target a required 4+ to wound. I still overcharged the Incinerators (I am many things, but a coward is not one of them), resulting in 5 of them blowing themselves up. After our turn there were about 4 jetbikes left standing, and they made it into combat unscathed. Both Campbell and I activated Defensive Focus, and between the two of us overwatching we got a grand total of zero wounds dealt. The Hellblasters were wiped, and Ultramarine Assault Intercessors never got to lift their Chainswords in anger. Unfortunately for Joey, Space Marines are very good at disengaging and dealing with chargers, and he was essentially tabled after the top of turn 2.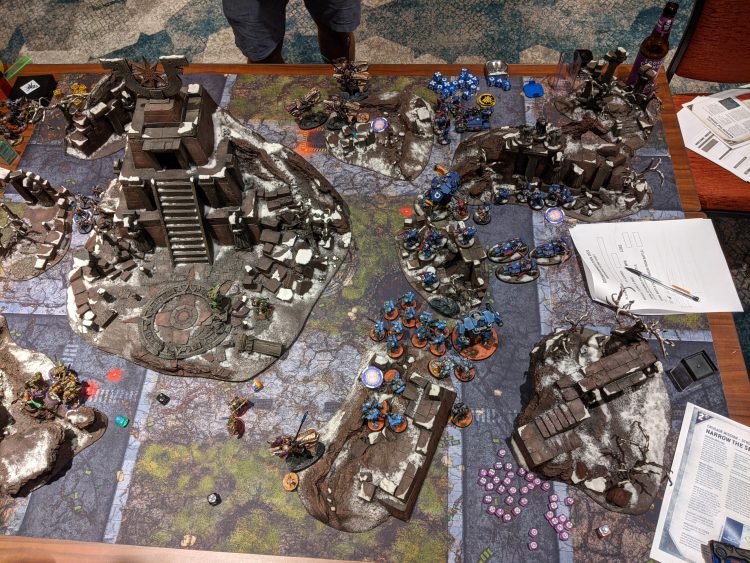 Bobby's Death Guard were the second wave. I had moved up with my Intercessors, Redemptor, and my gaggle of characters, and I figured dealing with the Plague Marines in combat would be prudent. I sent my full squad of 10 Intercessors into two measly little Plague Marines, and the Redemptor went to deal with the Deathshroud and Foul Blightspawn. My Ints were just barely in Stench Range of the Blightspawn, so all my stuff went last, but how dangerous could 2 Plague Marines be? The flail guy had 6 attacks, and rolled 3 6's to hit, which exploded for Crusade Reasons, resulting in 9 dead Intercessors. My stunned Sergeant whacked one of the Plagues on the head with a Thunder Hammer, before running away like the coward he was. The Redemptor fared a little better and squashed the Blightspawn. However, by the end of the top of turn 2, like Joey, I was essentially tabled.
Joey and I from that point mostly watched Campbell and Bobby duke it out. My remaining Redemptor held the center for a while and killed a few shooty plague marines before getting smited to death, and my Chaplain and LT went to help Campbell deal with the Lord of Contagion and his Blightlord bodyguards. Bobby performed an expert superliminal persuasion technique on Campbell – he straight up told him to mash his squishy Captain against the immovable object that was Bobby's Lord. The Captain had no shot, fulfilling Bobby's headhunter agenda, then ate a ton of Macro Plasma Incinerator fire and perished. Because of our massive numerical advantage, our opponents had no real shot of holding the center of the table, and we won with a massive 100-20 victory. Our reward for this was to roll up a weapon upgrade on one of our units, and my Dread was lucky enough to walk away with a +1 Damage plasma cannon. Righteous.
Victory, 100-20
Game 4 – Vore-man's Death Guard (100PL)
I somehow woke up on time the next morning, and even had a chance to grab a shower. It was needed, because I was about to wash myself in the filth of another Death Guard player, this time at the capable hands of Norman.
The Army
Army List - Click to Expand
++ Death Guard ++

Lord of Virulence

Malignant Plaguecaster

Tallyman

Foul Blightspawn

Plague Surgeon

5 Deathshroud Terminators

2x 5 man Plague Marine squads

10 Poxwalkers

2 Blight Haulers

2 Plagueburst Crawlers

2 Fleshmower Blight Drones

The Mission
Our mission this morning was Cut off the Head, a very fitting mission as we both had 5 characters to play with. This is a very interesting mission with a very atypical scoring method – turns 1 and 2 you want to kill characters, turns 3-5 you want to keep yours alive, and the whole game you want one character slamming their face on one of the two Victory Point buttons deployed in no man's land. All of your non-character models simply exist to facilitate these three win conditions. For my list, I took the 75 PL I took against Joey in game 2 and added in the Impulsor, the Judiciar, the Eradicators, and the other ATV.
We played on a beautiful dense urban board, and I was lucky enough to go first. I had my Judiciar with the Bladeguard in the Impulsor, and it was able to move and disembark them in range of the objective marker slightly less threatened by Norman. They immediately enacted Coward Doctrine, and the Judiciar spent the whole game there, windmill slamming his Tempormortis onto the "I Win" button hiding in that building. The Hellblasters were able to advance up and get shots onto the Deathshroud – in order to deal with any characters I had to deal with them first. With the Seal of Oath active on them, I was able to take out 3 of the Terminators, which demoralized Norman a little bit. I think it lead to him playing a little less aggressive than he could have been in this game. The Redemptor and the Intercessors were able to clear off a few Plague Marines and a Blighthauler, taking a little pressure off of the coward Judicar's objective.
Norman's turn one was very anemic. His rolls on his Plaguebursts were unfortunately dreadful the entire game – in this turn his Disgusting Force one merely managed to deal a single mortal wound to an Intercessor. He was able to luckily draw a bead on my Redemptor and take it out with Miasma Cannons – Duty Eternal just doesn't cut it vs D3+3 damage weapons. It never really got a chance to play with its new and improved Plasma Cannon.
From this point on Norman couldn't really claw back any momentum to get the game back into his favor. The Intercessors and Bladeguard were able to clear out their side of the board to ensure my Judicar's safety. Norman's Poxwalkers made a valiant charge into my Bladeguard to try and protect their Tallyman, but their Mutant Strain stratagem only took out two marines, and the remaining Sergeant was eventually able to make it to the Tallyman and run the bean-counter through. He was able to whittle down the Hellblasters to only a couple models, but by that point my Captain and Chaplain were in position to charge his characters and wrap everything up. I ended up taking this one in a victory.
Victory, 100-40
Game 5 – Finale vs Joe Adonis's Wraith Eldar (125PL)
Against all odds, it turns out there is only one foe between me and freedom from Trazyn's tesseract labyrinths. My final foe for the Narrative are the Wraith constructs piloted by the venerable Joe Adonis, the only player to go undefeated throughout the event.
The Army
Army List - Click to Expand
++ Craftworld Eldar, Expert Crafters and some other Trait I forget ++

Warlock on a Jetbike

5 Dire Avengers

3 Wraith Seers with big no-LOS cannons

3 Wraith Lords, with Bright Lance/Sun Cannon/Glaive each 

2x 5 Wraithblades with Axes and Shields

2x Wave Serpent with twin Suncannons

Hemlock Wraithfighter

Skathach Wraithknight with 2x Suncannons

The Mission
Our final mission was an Onslaught one: Field of Glory. I've never played an Onslaught mission before, and this one features a staggering eight objectives. For whatever reason, though, GW decided that this should be a hold one/two/more primary mission? With so many objectives littering the board, that kind of boggles the mind. The other objective for this mission was to have your Warlord always end your turn either in close combat or out of your deployment zone, at least 6" closer to the enemy's edge than they started. That was a tall order for my fatass Gravis Captain and his 5" move. For my forces, I took everything on my Order of Battle. I was even able to upgrade the Apothecary to a Chief! Thankfully I had a few PL to spare. I had thought that Chapter Command was easily doable in this event with doubled experience, but Heroic rank takes a LOT of work to get to.
Our game was on the same table that I played Dash on in the first round. The battlefield was dominated by a massive hill that we thankfully decided wasn't totally obscuring, aside from the building on that hill, of course. One of my main objectives for this mission would be to take out his puny Warlock – with him dead, Joe is locked out of scoring 10pts each turn. I tried deploying my Eliminators in a position where they could draw a bead on him, but that hill was just too massive to make that a possibility. My Seal of Oath target is the Skathach, obviously, but Joe keeps it in the Webway to keep me from blowing it up on turn one.
Joe gets the first turn and devastates my heavy weapons – almost his entire list is T6 or better, and he wants to ensure it is safe. He nearly destroys one ATV, implodes the Impulsor, brackets my Repemptor, and leaves the other ATV on one wound. He expends one Wave Serpent's shield to knock off that last wound. My counter attack goes after what I can see and deal with – the shielded wave serpent goes down to the meltas, the unshielded one is hosed down by Hellblasters, I throw the Intercessors into Tactical doctrine and one squad of Wraithblades goes down in a hair of bolt fire. The Stormhawk makes its only move of the game – dealing some chip damage to Wraithlords and killing the Dire Avengers – I'd like him to have to waste a Wraithlord on holding the objective they were just on. Finally, I use Rapid Fire to shoot with my Intercessors again and they manage to shoot down the Hemlock, taking Joe by surprise. I feel like I'm in a fairly good position – all he has left are the Wraithlords and Seers, the Warlock, and a 4 man unit of Wraithblades.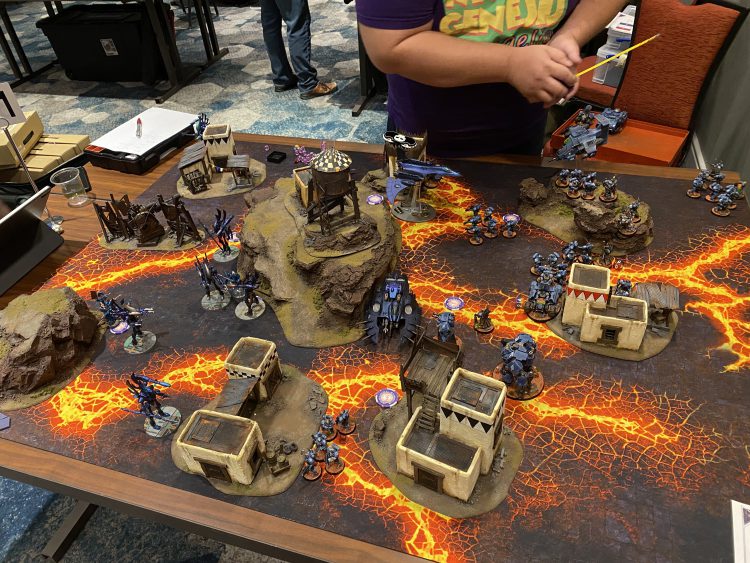 Then, the Skathach comes in from reserves, whoops.
I'm lucky that the only position it can reasonably deploy to is fairly far from my infantry, and directly in line for an Auspex Scanning unit of Eradicators. I do respectable damage to it, and knock it down to 17 wounds remaining. In return, its shooting mostly whiffs, an leaves the Eradicator sergeant alone on a single wound, takes out a few Hellblasters. I do however lose the Stormhawk, the ATV and the Contemptor Dread, and my Infiltrators sitting on an objective have a Wraithlord assault their face. Luckily for me, it only gets a single wound through, which is promptly discarded by the Helix Adept. His Wraithblades charge into the Hellblasters, but Joe didn't count on Defensive Focus, and only one Wraith makes it into combat, dealing no damage, and is torn down by their gunbutts and fists.
Their hands fresh with Wraithbone ichor and dust, they advance up into range of the Skathach and atomize it with quite a bit of help from the Seal of Oath. My Judiciar and wounded Redemptor attempt to alleviate the Infiltrators from their Wraithlord oppressors. The Redemptor kills his quarry and jams his titanic ass into a chokepoint, preventing the Wrathlord and Seer on the other side from advancing into my lines. The Judiciar isn't so lucky though – he fails do do any damage and is crushed into paste by a Wraithbone fist.
At this point, Joe is pretty pessimistic about his prospects after losing the Wraithknight. I still have a fair number of Intercessors and Hellblasters on the board, and his wraiths' weapons are mostly aimed at anti-tank – not really suitable for dealing with a mass of Primaris bodies. He also had to retreat his Warseer, as if it had advanced anymore it would have been immediately destroyed by my guns. He does get a bit lucky, though – my Captain had advanced far enough up the field and his big stupid icon let him be shot by a couple Wraithlords, and not even The Armor Indomitus could save him. The Infiltrators are whittled down to a single model, but he can hold onto the objective over the towering Wraithlord and Seer above him with his ObSec ability. I'm very glad I painted a Helix Adept for this event, as he saved the squad at least 3 times. The remaining Intercessors charge into the two giants, but can only leave them on a couple wounds remaining each and get scythed down for their trouble.
By the bottom of turn 4 only have the one Infiltrator, three Hellblasters, 5 regular rifle Intercessors, the Chaplain, Apothecary and Lieutenant left alive, but I'm still out holding him on objectives 4-2. The hellblasters are able to take down the Wraithlord threatening my Infiltrators, and the incidental pistol and bolt rifle shots take down the Seer. Finally, my Lieutenant makes a charge into his Warlock and slices him in half, cutting off Joe's victory point potential. Joe won't be able to take me off enough objectives that will matter, and I win a very narrow victory.
Victory, 100-80
Wrap Up
I can't believe it – my Rainbow Warriors have escaped Trazyn's Hyperspace Oubliette! Knowledge that my dudes don't have to sit in a stasis crypt for eternity is prize enough, and I'm stoked. It's been a long time since I've done this well at a tournament.
However, my surprise doesn't stop there. The Rainbow Warriors of Prism also took home Best Painted! I'm absolutely floored by this – there were only 24 participants in this event but the competition was fierce. Campbell's Ultramarines, Joey's Custodes, Quinn's Eldar nightmare list, and Andrew's Skitarii could all have taken home that prize and deserved it, and those are just the ones off the top of my head.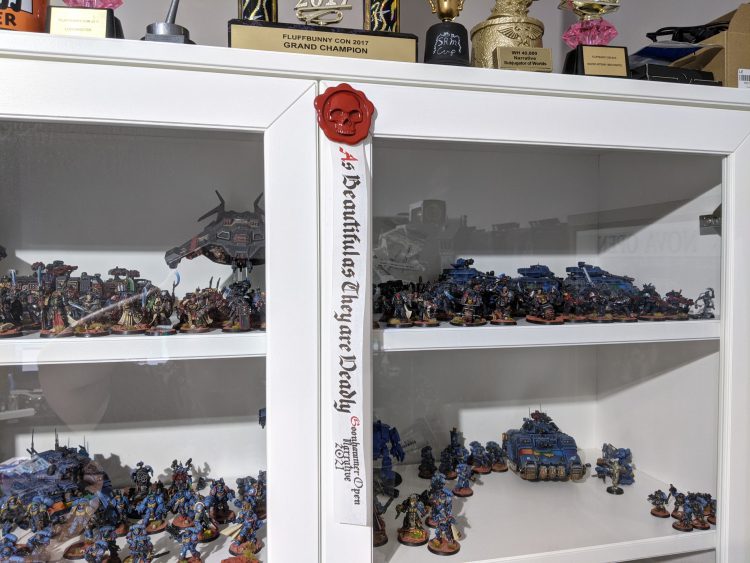 For posterity/my own amusement, here's my roster with all crusade upgrades/battle scars going into game 5. We didn't bother tallying up XP after the game, as neither of us were in the running for most experience. I'll consider all the XP gained was spent sneaking out of Solemnace.
Final Order of Battle - Click to Expand
**Chapter Selection**: Bolter Fusillades, Master Artisans, Ultramarines Successor

+ HQ +

Captain in Gravis Armor w/ MC Power Sword and Boltstorm Gauntlet- Warlord
Relic [-1 RP]: The Armor Indomitus
Warlord Trait [-1 RP]: The Imperium's Sword
Blooded: Weapon Upgrade: Exploding 6's on Boltstorm Gauntlet (melee)

Primaris Lieutenant w/ MC Power Sword, Neo-volkite Pistol, and Storm Shield
Relic [-1 RP]: The Seal of Oath
Blooded: Laurels of Victory
Warlord Trait [-1 RP]: Master of the Codex
Battle-hardened: Weapon Upgrade: Exploded 6's on MC Power Sword
Battle Scar: -1 Movement

Primaris Chaplain w/ Recitation of Focus
Blooded: Terminator Honors
Relic [-1 RP]: Benediction of Fury
Warlord Trait [-1 RP]: Warden of Macragge
Battle Hardened: Heroic Constitution

+ Troops +

5 man Infiltrator Squad w/ Helix Adept

5 man Intercessor Squad w/ regular Bolt Rifles, 1x Grenade Launcher, Power Fist
Blooded: Marksman's Honor

10 man Intercessor Squad w/ Auto Bolt Rifles, 2x Grenade Launchers, Thunder Hammer
Blooded: Bladesman's Honor
Battle Hardened: Marksman's Honor

+ Dedicated Transport +
Impulsor w/ Shield Dome

+ Elites +

Redemptor Dreadnought w/ Macro Plasma Incinerator, Onslaught, Storm Bolters, Icarus Pod
Blooded: Repair Systems
Game 3 Victory: +1 Damage weapon upgrade on Macro Plasma Incinerator
Battle Scar: Angered Machine Spirit

Contemptor Dreadnought w/ Multimelta, Dreadnought CCW, Storm Bolter

Primaris Apothecary
Blooded: Halo lndomitus
Battle Hardened: Heroic Constitution
Heroic: Swift and Agile
Chapter Command [-1RP]: Chief Apothecary

Judiciar
Relic [-1RP]: Master Crafted on Relic Executioner Blade
Warlord Trait [-1RP]: Paragon of War

3 man Bladeguard Vets
Indomitus Vets [-1RP]: Rank up to Blooded, got Bladesmen's Honor on roll after 1st game

+ Fast Attack +
Single Invader ATV w/ Multimelta (turning guy)
Battle Scar: Disgraced

Single Invader ATV w/ Multimelta (pistol guy)

+ Flyer +

Stormhawk Interceptor w/ Las-talon, 2x Assault cannon, 2x Heavy Bolters

+ Heavy Support +

10 man Hellblaster Squad w/ Assault Plasma Incinerators
Blooded: Centurlos Service Studs
Battle Hardened: Marksman's Honors
Battle Scar: Fatigued
Heroic: Sergeant has exploding 6's and +1 Damage on Assault Plasma Incinerator
Battle Scar: Battle-weary

Eliminator Squad w/ 3x Bolt sniper rifles 

Eradicator Squad w/ 3x Melta Rifles 

++ Total: [121 PL, -9RP, 2,430pts, 18 Crusade Points] ++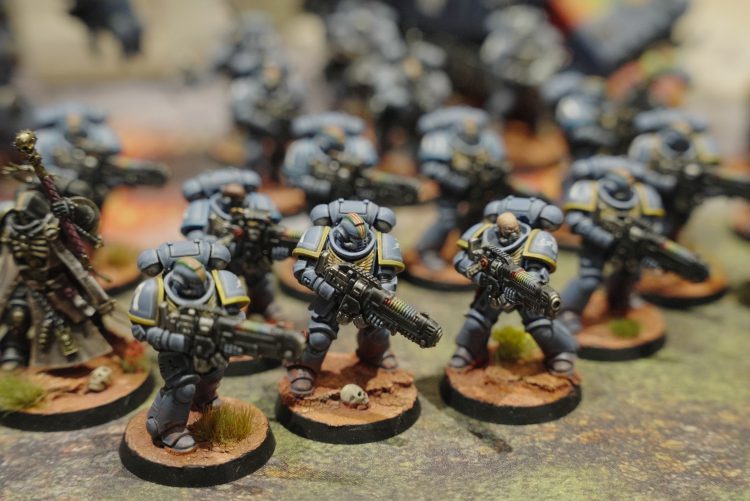 I could not have had a better time at the Goonhammer Open this year, and it felt good seeing all my friends, new and old, after 2 long years away from Nova and Adepticon. Winning Best Appearance in this lauded field is beyond amazing. I'd like to thank Rob, Shane and Fowler for getting the event started and running smoothly, Dan Boyd for running an excellent narrative campaign, my opponents/teammate Dash, Joe, Bobby, Campbell, Normal, and Joe for 5 unforgettable games, and you, the reader, for getting down this far!
I'm now incredibly excited for the New Orleans open, the Las Vegas Open's Narrative event, and Adepticon/Nova and beyond in 2022! I'll keep you all updated on my plans/reports for those events.
Have any questions or feedback? Drop us a note in the comments below or email us at contact@goonhammer.com.