Forge World has had a long history of absolutely gorgeous Tyranid models with mediocre-to-bad rules. Overcosted or just plain unworkable, except for the Malanthrope these centerpiece units were often locked out of competitive gameplay. The Imperial Armour Compendium offers some surprisingly big changes to Forge World bugs which are sure to be reflected on tables for a while to come. We called upon two of our biggest Tyranid fans to discuss some of the huge changes that this faction has seen.
Coming from the 8th Edition rules, there wasn't anywhere to go but up. The Tyranid are debatably the biggest winner in the Forge World release with some role changes, points decreases, and rules clarification to bring them in line with other factions.
HQ
Malanthrope
The initial preview article touched on this, but it's worth restating–the Malanthrope is an incredible surprise. Many people thought this thing in its current rule-form was dead. Instead, the unit takes no stat changes and gets solid upgrades to every aspect of its rules for just a minor point bump. The standout change is the four-fold aura area increase for Shrouding Spores (going from 3" to 6"), making this much easier to maneuver on the table without the massive pain of crowding models to ensure first-turn coverage. That alone would have been enough to warrant the point increase, but it also received a buff to its weapon (hitting stronger for solid damage, rerolling wounds), its Enhanced Toxic Miasma is more deadly, and its Prey Adaptation can now trigger on nearby destroyed units instead of just those that were in combat with the unit. This has been a solid support character for Tyranids for multiple editions now, and this update ensures that it will remain a common staple.
Something to note if you've fielding more than one of these in the past: the unit is no longer a "brood" and has been modified to be a single model, meaning you'll be allocating an HQ slot for each. For a lot of players this isn't a significant issue, but it might make list-building a bit trickier if you want multiples.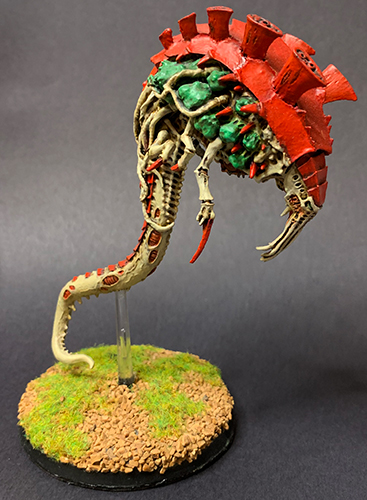 PierreTheMime: I'm sure everyone is aware that the 9th edition made hit modifiers slightly less important due to modifier caps and terrain rules, so even buffed a Malanthrope is not an auto-include due to the point cost. I tend to lean toward Nidzilla, so I'll still be taking one to protect all my precious monsters from first-turn shooting and backfield support. B+
Gunum: I think the increase of the range of the minus to hit is a huge buff for this guy, as well as Prey Adaptation being buffed so we can keep our floaty boss as a casual observer to violence.  Constantly I have played my nids in, tightly packed, to benefit the most from this aura. Having the extra range lets us place our hive guard in better locations, and honestly, it just spreads out our deployment zone even more. A 
Fast Attack
Meiotic Spores
These continue to be neat little models with lackluster rules, especially since it loses its Outriders of the Swarm deployment and instead arrives normally from reserves. The Floating Death rules have been somewhat improved, but with no point change, there's minimal incentive to field these if you're going to field large spores. These edge out Mucolids, being slightly cheaper and doing more mortals on average.
PierreTheMime: I love the idea of them, so my hope is someday spore mines will be good. Maybe in the coming 9th codex? Certainly not now. D
Gunum: I have played almost 3 to 6 of these in all of my lists for so long due to their aggressive deployment options. Now, Pierre pointed out this isn't really the days of the spore mine. But hey, they might be coming soon? Hopefully. D
Sky-Slasher Swarms
Flying swarms that compete with standard rippers, it's a bit hard to justify these unless you're going all-in on gribbles. Swarms exist to drop onto the field and contest objectives/score secondaries, so paying more for better movement and fly adds up with little benefit, especially since they lose out of Objective Secured and the Hidden Threats strat.
PierreTheMime: I have never fielded these, and based on their new incarnation, I don't think that's going to change, especially with the damage output of most armies creeping up over time. D
Gunum: I've never played these ever. I think they are fast attacks? Well, forget these guys, just take more gaunts. Let's get right into my favorite fast attack option next! F
Dimachaeron
Here we have one of the units that will be another standout unit for the bugs. For a small point increase, our giant Xenomorph-Praying Mantis hybrids finally achieve some of the durability they have been starving for since their inception. Being raised to the tanktastic heights of T7 and blessed by the Hive Mind with an invulnerable save to start with, we may finally see Dimachaeron finally living through some first turns. This monster is in our unit-light Fast Attack slot and it will quickly become a king in this area.
Some interesting changes we see are with the Thorax Spine-maw as well as the Massive Scything Sickle-talons. Currently, the talons and the spine-maw are combined with some crazy grabby hands that work together to kill an infantry model to give our monster a 5+ feel no pain. Well, they edited it to be a special rule that simulates a man trying to escape the creepy hands of a cruel bug god. After it gets done attacking, a model within Engagement Range rolls a d6 and adds its strength characteristic. If these combined values don't beat the strength of the Dimachaeron, the whole unit takes a large number of mortal wounds. If any model is killed in this way, boom, 5+ Feel No Pain for the rest of the game.

We keep our ability to jump over a tall building in a single bound. The models strength has been reduced a bit, but its main sickles are now doing substantially more damage. This feels like the close combat monster it looks like. Kraken players are going to love this guy, especially.
Gunum: I own three of these. I will be playing three of these. That's all. Thank you for coming to my TED-talk. These got literally everything that I wanted to see them get with a Forge World change. From doing -REAL- damage with their close combat weapon to allowing their giant chest-mouth-stinger to do real damage. A
PierreTheMime: I know I'm probably in the minority here, but I really don't care for the look of these models and felt they were the only real "miss" in the Tyranid Forge World range. If I ever decide to go full melee Nidzilla, I'm probably going to have to bite the bullet here because these new rules are great. A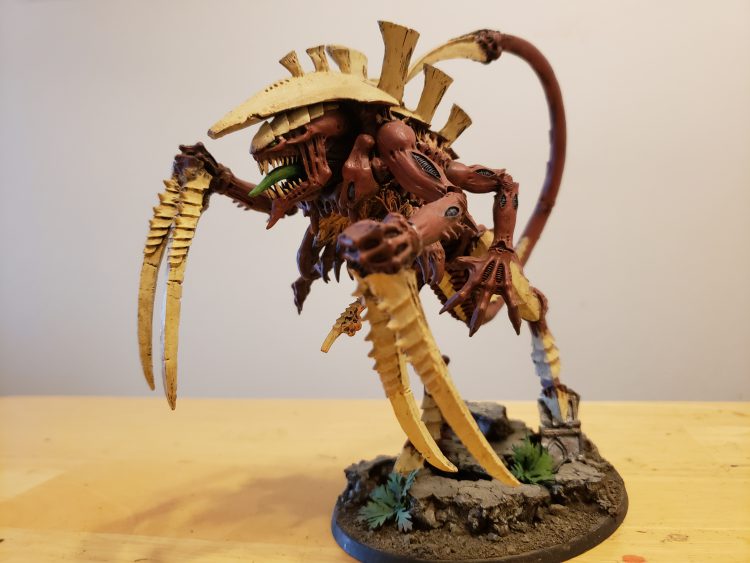 Heavy Support
Stone-Crusher Carnifex
So, the Carnifex is still in a little weird place right now. They're not quite Dreadnoughts and not quite… good. The Stone-Crushers of yore used to reduce the strength of weapons that were shot at them, but alas. The new Stone-Crushers charge things. Without an invulnerable. Or any modifier to hits. Or anything to keep them alive at all. Old One Eye could have some excellent friends running up the table with him, laughing as Eradicators melt one after the other.
This new book did do them some small favors though–their claws are pretty mighty and do big damage to vehicles. So their job is obvious: peel open tanks. We'll leave it to greater minds than ours to figure out how to get to said tanks.
Gunum: I don't play Carnifexs right now. The night is dark and full of AP -3. D
PierreTheMime: Let's see, they each take up a HS slot and can't gain biomorphs? That's a pass for me, thanks. At least they're relatively cheap, so you won't feel so bad when they get mowed down. They might be okay in Incursion-level games? C-
Hierodules
These are the breakout stars of the Tyranid update. Coming from being incredibly expensive Imperial Knight-equivalent bugs with worse rules, they have undergone a dramatic overhaul and–I think we can officially break out the phrase–these things fuck. 
Clocking in at slightly over half of what they used to Hierodules sport upgraded weapons and stats (though they've lost some wounds to compensate for cost), are now Monsters instead of Titanic, and–here's a big one for you–are Heavy Support. That's right. You can field multiples of these incredibly dangerous bugs with ease. For example, their scything talons now hit like heavy laser destroyers, which feels absolutely great coming from the incredibly swingy d6 damage of the past.
There are a few downsides to keep in mind. Firstly, the units are just at the wound limit that Obscuring terrain does not protect them, so you'll want to rely on other defensive options like shrouding spores or dense terrain to blunt incoming damage. These still do not naturally have an invulnerable save but ideal for Dermic Symbiosis to make up for it. Having lost Agile, their advance/charge is reduced, and losing Titanic means they cannot naturally shoot/assault after falling back, so Kraken's adaptations are actually valuable here.
Barbed Hierodule
The big change here is our shooting monster finally has decent ballistic skill! At BS 3+, you're going to get a lot more out of your twelve shots. The gun is essentially the same, though similar to other previous d3 weapons, its damage has been normalized, making it more reliable. Something worth mentioning here is that these used to have the ability to take d3 wounds to increase their gun's strength and they no longer can. In short, they have strong shooting and are still not a thing you want to be in close combat with.
PierreTheMime: It's definitely fine shooting, but in this weird world of Tyranids actually having good mid-to-long range shooting it's not necessarily crucial. I'd stick with a Scythed variety for the points since you're going to lose a lot of the benefits of shooting if you make it to combat. Still nice to see good BS on a non-Tyrant model without paying upgrades or dealing with movement restrictions. It's notable that this flavor has a better armor save which might be enough to win over some people, especially Jormungandr players. B+
Gunum: They have the range on their guns to be good at shooting, and in Kronos, they would even get the reroll 1s to hit. We could see two of these guys with the following Scythed Hierodule all under 1k. Scary to think about. A-  I give these guys high grades pure because of their change to the Heavy Support slot. Huge, amazing adjustment.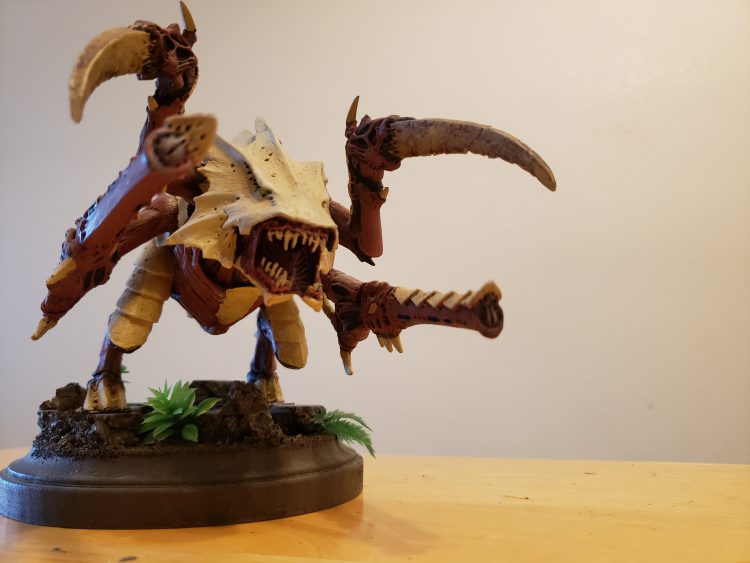 Scythed Hierodule
The melee Hierodule continues to get more attacks than its barbed brethren, albeit one less than before. The bio-acid spray has traded damage for more shots and a much better range, making it very useful for anti-horde. Its flamer-like gun is good enough for the approach and if you stick in combat with a unit (remember Monster units can fire in melee and auto-hitting shines here), but if you lose a turn of it to jump away and wreck something else you're not going to be feeling too bad about it.
PierreTheMime: Considering how the rules have treated these awesome-looking beasts in previous books, I've always put off getting them. I will freely admit that as soon as I saw the new stats on these things, I set aside some funds to get them into my collection ASAP. I primarily play Kraken, and these fit perfectly into place as huge threats to shove down my opponent's throat. A
Gunum: Double move one of these with Swarmy and watch your opponent's eyes grow wide as he realizes you're throwing a Heavy Support choice down their throat that's as powerful as an Imperial Knight. I think that Role change for these guys, especially, was an amazing change dodging the LoW tax on our CP. A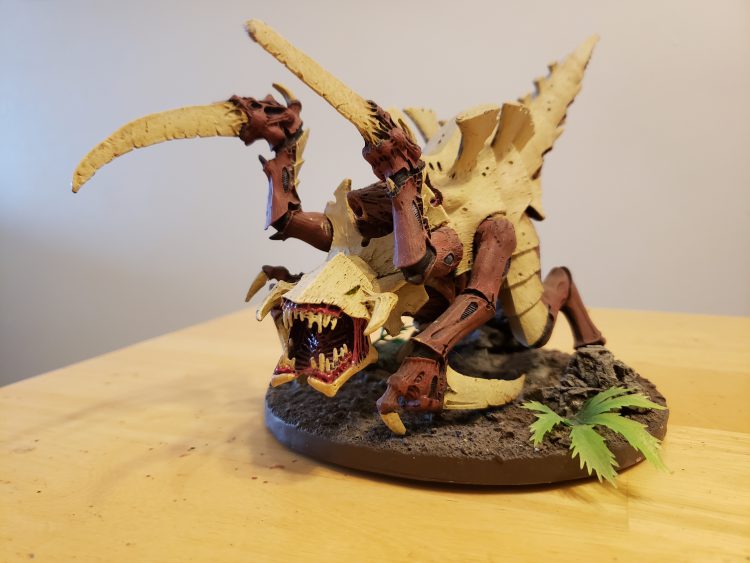 Lord of War
Harridan
The flying Super Heavy of our faction gets its own level of buffs on top of everything else we have seen this far. Getting the same guns as the Hierophant and boasting BS 3+ on top of now being Aircraft, the age of the dragon may be finally upon us. It gains the Supersonic rule and gains the Hard to Hit rule, bringing it in line with other flyers. Additionally, you can opt to Hover and assault something with its impressively dangerous talons. For you Gargoyle fans out there, it still retains 20 of the little guys in transport capacity. For people who don't care for Gargoyles, too bad, you get Gargoyles.
Gunum: This is the model that got me into the depths of 40k. The one that made me perk up and go, "Who gets to play that." Now, it comes in at a reasonably high cost, so finding ways to fit it into your list when it is a third of it may be hard. But the fact that it can hover can charge anything, and it has a 20in move on turn one to start its grim harvest. I give this guy a strong B+ if only because of his massive points of investment.
PierreTheMime: I agree that this looks fun, but it's a lot of points and CP to bring it to the table. The units Titanic rule fails to mention shooting after falling back, so if you decide to flap away, you're losing your precious guns for a turn. (Update: I'm completely wrong on this. Having not used Titanic enough, I should have known that the exception for falling back and shooting is in the first paragraph of the Shooting Phase rules [pg.216]) The transport capacity on this isn't all that impressive since you're only carrying Gargoyles. However, they can still be used to decent effect for controlling your opponent's movement and opportunistic captures/secondaries. Aside from the CP, you're shelling out for the LoW detachment. The Harridan doesn't have an invulnerable save on its own, so you've pretty much had to provide one via Adaptive Physiology, which limits your options for other units. It's got a lot of wounds, sure, but they're going to melt away quick against a lot of heavy weaponry. B- Updated rank: B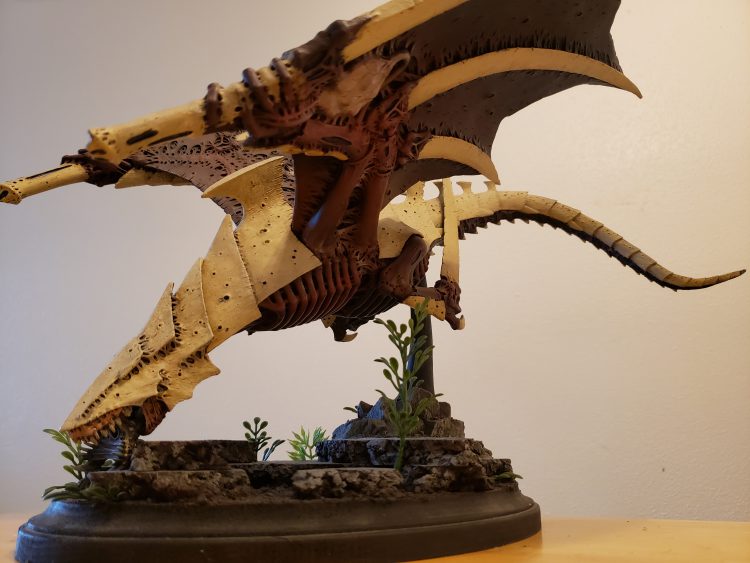 Hierophant
The Hierophant is a towering Lord of War that is supposed to trade fire with the Titans of the Imperium. Protected by Bio-titan Warp Fields and a high wound value, these monsters can hammer into any unit they want and are also close combat threats to be scared of. Now, the issue, of course, is the sheer size of these long-legged Tyranid titans. Due to their size, Games Workshop had the foresight to give them the Fly keyword. Thanks to this, the feeling of their height is fully realized as they stride over terrain features and units. The biggest issue here is again their playability on the table. Though they may have fly, imagine having a base on these guys, crushing the terrain they move over. To actually play this model on the table, I don't think a base can actually be used.
Besides being a close combat monster, the Hierophant also works as a transport for up to 20 infantry models. If a model has more than one wound, it takes up two spaces inside, making quite a bit of sense when we look at things like terminators. Unfortunately, it is not an open-topped transport (which honestly would be quite the weird visual) so putting in 20-Devilgaunts may not be the best choice. A Genestealer or Warrior delivery system, though? It could be handy for getting our troops to where they need to be. Even transporting a full unit of Zoanthropes could be useful here.
The largest change to the Hierophant was its points cost. At less than half a Strike Force list, we may see a couple of these guys on the table surrounded by a gaunt carpet. We're excited to see what people decide to do with these guys.
Gunum: Okay, let's be honest, it's a lot of points. Now, these guys do -a ton- of close combat attacks in a way that makes Imperial Knights quiver in hateful jealously. Their shooting is also just fine, wounding pretty much any non-vehicle in the game on 2s. If we could find a way to keep it alive through things like Eradicators, I think this guy could see a little bit of play. Nobody would be able to get near mid-table objectives, that's for sure. I own one of each of these big bugs we just finished talking about, and I honestly think I'll need to remove my Hierophant from his glorious base to give this daddy-long-legs some table time. We can play him now, so that's enough for a high rating for me. B-
PierreTheMime: I'm a little disappointed with the stats on this thing, honestly. Sure, it's no longer 2000pts, but I feel you're not getting the new value of shooting or melee out of this thing, especially since its Titanic rule (which is different wording from the Harridan's Titanic rule) does not allow you to fall out and shoot so you can easily lose a lot of value to assaults by chaff. Are you going to kill those Ork boyz? Absolutely, but that handful of points is holding up close to half your army. (Update: Titanic units have an exception for falling back and shooting is in the first paragraph of the Shooting Phase rules [pg.216]) For something so large I'm a little surprised they didn't kick it to T9, but as-is if you keep this thing at range with only a 5++ you're going to see it quickly shot up by Eradicators and the like. The model is physically so large and unwieldy that having it crawl all over the terrain is just asking for some terrible (and expensive) accident. For the points, CP, and dollar cost, you could invest better elsewhere. C Updated rank: B-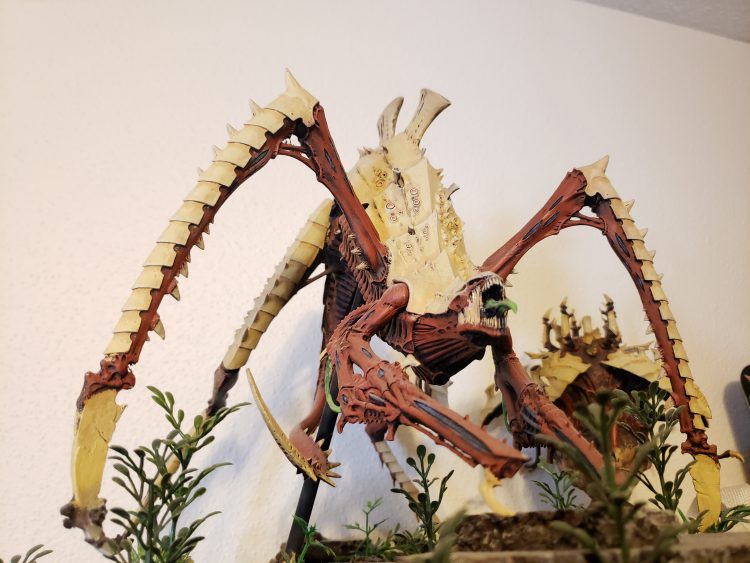 Closing
Well, there you have it! Considering the treatment Tyranid units have received over the years, we were expecting the worst and pleasantly surprised that the faction has been provided some strong rules. While it's not a complete win, there's enough here to give competitive lists some new powerful tools to play with and we hope to see them scratching and clawing their way into the meta sometime soon.
Have any questions or feedback? Drop us a note in the comments below or email us at contact@goonhammer.com. Or if you're a patron, head on over to our Discord and chat with us!