Last week the GW Open in Kansas City closed out their string of open competitive events for 2022. And rounding out the final Age of Sigmar GT were Gavin Grigar and El Miller, the event's first place and best overall winners, respectively. In today's interview we're talking with EL Miller about their list, the state of the game, and what's next for them.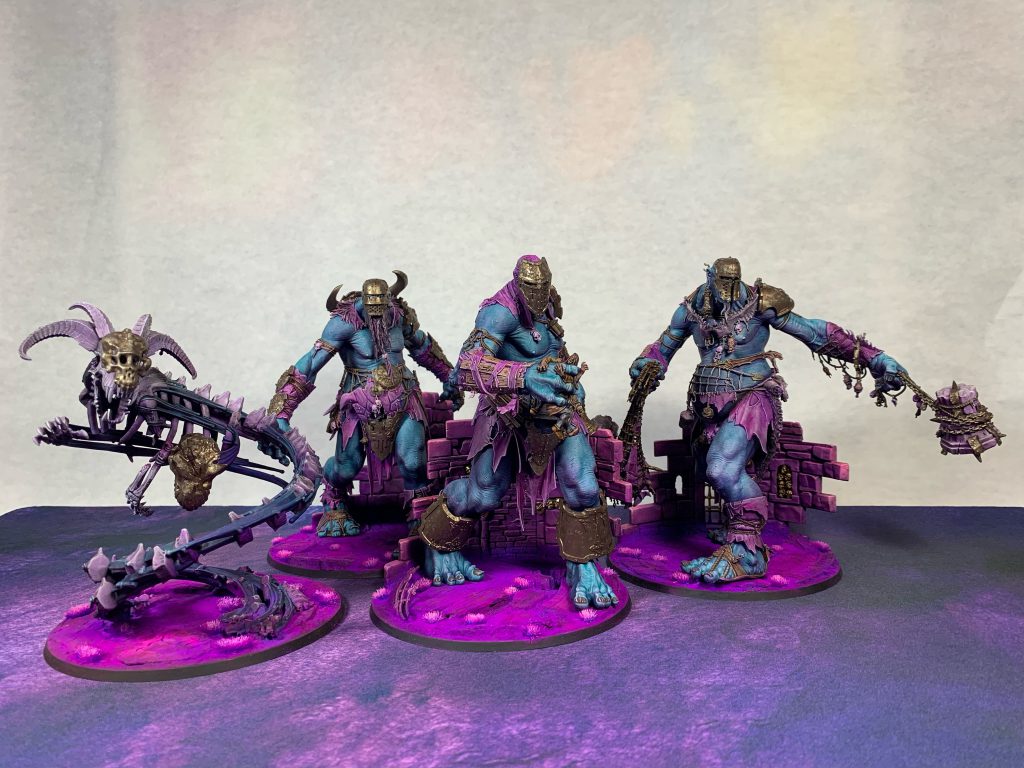 "El's
PURPLE REIGN
Allegiance: Sons of Behemat
– Tribe: Breaker Tribe (Fierce Loathing: Bossy Pants and Clever Clog)
– Mortal Realm: Ghur
– Grand Strategy: No Place for the Weak
– Triumphs: Inspired
Gatebreaker Mega-Gargant (520) LIL CHOPPER
– General
– Command Trait: Monstrously Tough
– Artefact: Amulet of Destiny (Universal Artefact)
Gatebreaker Mega-Gargant (520)* LIL MURDER
Gatebreaker Mega-Gargant (520)* LIL HALF CUT
– Artefact: Amberbone Totem
Krondspine Incarnate of Ghur (400) SPACEGHOSTPURP
– Allies
*Bosses of the Stomp – Magnificent
Artefact
Total: 1960 / 2000
Reinforced Units: 0 / 4
Allies: 400 / 400
Wounds: 105
Drops: 4
First off, congratulations on winning best overall! Your list is peak efficiency with no frills. What made you settle on 3 Gatebreakers over anything else?
Thank you! I really think the Rend -3 on the Fortcrusha Flail sets the Gatebreaker apart from the rest of the Sons. The Pulverizing Strike the Gatebreaker received in the new book is certainly a dangerous option, but I only used it once during the five rounds in Kansas City. I really came to love the Gatebreaker in the old book and the recent book release caught me by surprise, so I didn't have time to change any models ahead of the event. The Gatebreaker remains my favorite.
When it came to painting and modeling the army, was there anything you're particularly proud of or extra that you put into the project?
I'm happy with the outlandish color scheme I selected, it was my first attempt at something so colorful. I am also happy with how the scenic bases turned out. The walls are stolen from an old Warhammer Fantasy terrain kit.
Were there any stand-out matches for you at the KC Open? Any which were particularly difficult or nail-biters?
My matches against Flesh Eaters Courts and Tzeentch came down to the final turn, final dice rolls. It's a blast when the game is so close, it's such a rush, win or lose. The battle plans with 6 and 8 objectives are definitely a challenge for my army, especially against armies with the capacity to teleport and fly.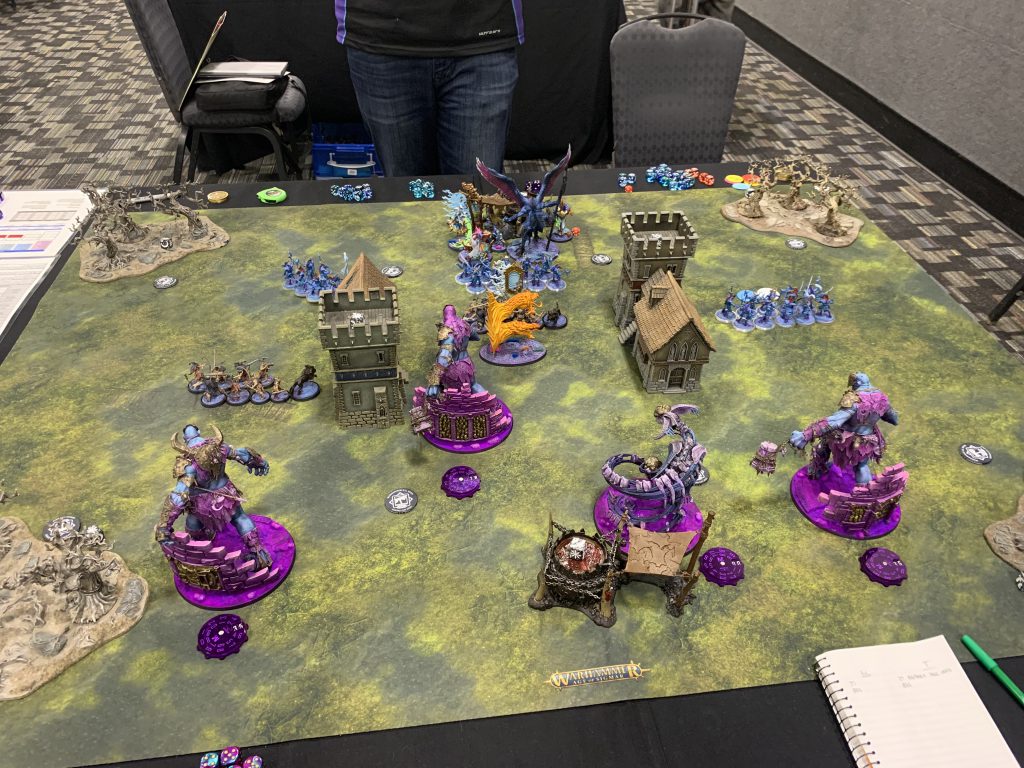 Do you tend to jump around on armies or have you settled on the same list for a while now?
I have been exclusively playing Sons for this year, I estimate I have played 75+ games in the last 12 months with the Sons. List wise, I had been settled on 3 Gatebreakers and Krondspine ever since I read Krondspine was 400 points.
Any changes you plan on making before New Mexico, especially since the Krondspine is now 80 more points with the battlescroll?
Unfortunately, Kansas City was probably my last hurrah with Krondspine. I still think Krondspine will be useful in other armies, but I was personally always a little disappointed in how Krondspine performed offensively. I often found Krondspine stumbling at the finish line, particularly at the end of close games. Really I think the best benefit of Krondspine was making room for 3 Gatebreakers, but since that is over, goodbye Krondspine. You can expect me to revert to the comfort of my Adepticon list, 2 Gatebreakers and 2 Warstompers, for the US Open Finale.
Besides New Mexico, any other events coming up you're excited for?
I was really excited for the Renegade Open this November, as the Minnesota Age of Sigmar community is really flourishing. It happens that the Renegade Open is the same weekend as the US Open Finale, so I won't be able to make it this year. Nevertheless, the Renegade Open is always a quality event!
What's your opinion on the state of Age of Sigmar? Any future changes or releases you're hoping for?
I am delighted with the state of the meta for Age of Sigmar. Looking at the many events across the year, I am happy to see the great diversity of armies that can perform well at a tournament. I think the changes to Krondspine were justified and there is nothing that is really bugging me at the moment. I am pleasantly surprised how engaged Games Workshop has been with the competitive community. I'm really optimistic about the state of Age of Sigmar as I look forward to 2023!
Thank you again for your time!
Have any questions or feedback? Drop us a note in the comments below or email us at contact@goonhammer.com.