Playing at home can be a wonderful experience, but creating a great gaming space with limited time and resources can be a massive challenge itself! Each week in our Gaming Spaces series we'll be looking at an author's gaming space, how they built it, and the interesting flourishes that make it theirs. This week we're looking at Pendulin's gaming space.
---
Let's take a look the man behind the curtains. Well, actually, let's look at the gaming cave those curtains are in. Cave curtains. And the man is pulling them back to reveal the cave. Wait, we're already in the cave. "Behold," the man says "the gaming cave you are currently in," he says. What a way with words the man has.
Warzone: Pendulin
Welcome to my warzone, my gaming room. Shown above is the final view that many a soldier bear witness to in the grim darkness of the 41st millennium. But to truly appreciate the doom it foretells, let's pull the camera back.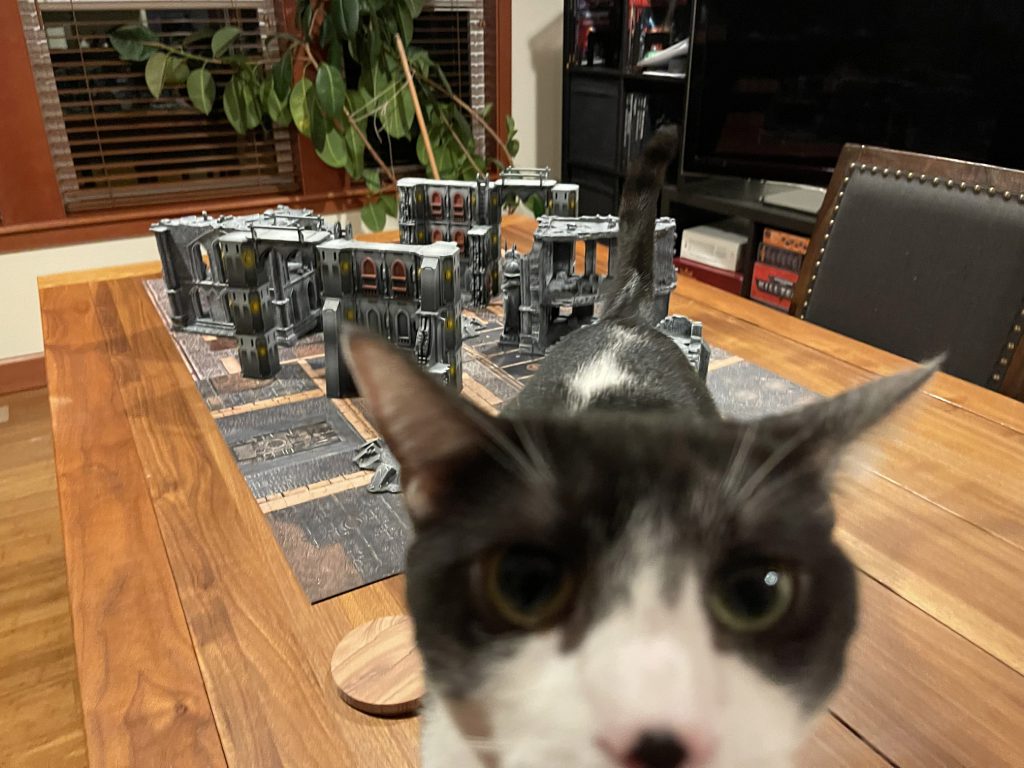 Amos! Okay. Give me a second. This boy, I swear. He just keeps headbutting me. You know what, why don't you come back tomorrow, and maybe Amos will give us the room.
The Next Morning
Amos refused to leave, you can see him by the window about to bat at a rubber tree. But regardless, welcome to my game room with all the amenities: display cabinets, terrain, TV, genuine Geek Chic table.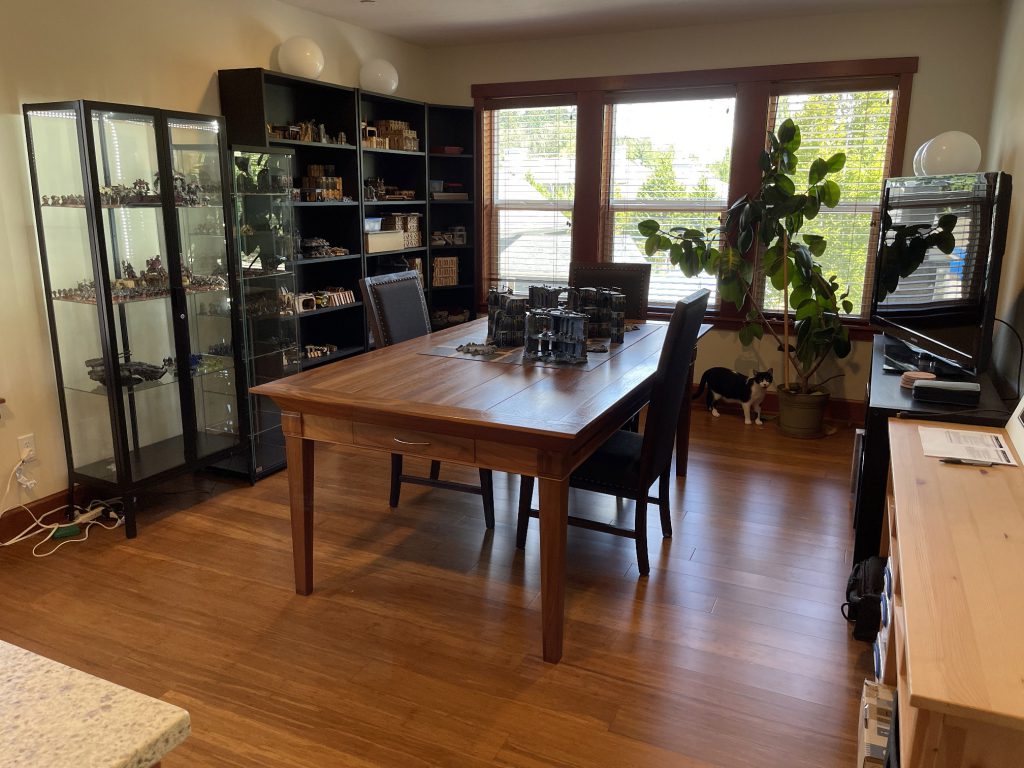 To show off this room's greatest feature, I'll need flip the camera around though. And through the magic of editing, I'll also set up a full Strike Force board.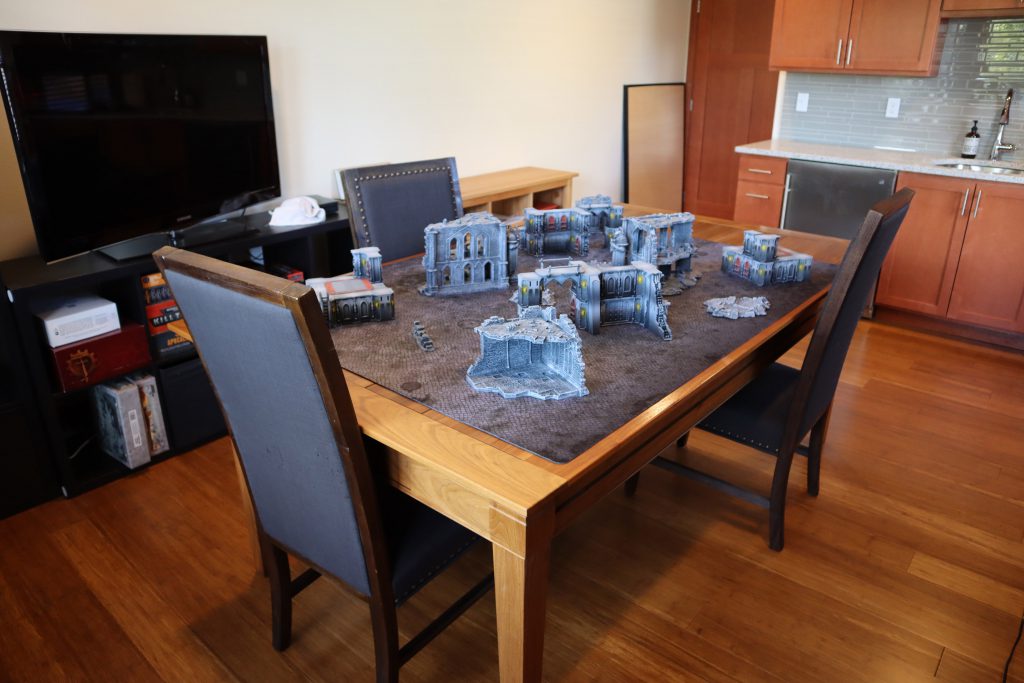 Tada! Room for terrain, comfortable seating, and oh yeah, sink and mini fridge. Truly the bee's knees. You can also see some plywood by the door. I have two 3'x4′ boards that I can put on the table and push together to form a traditional 8th edition 6'x4′ table.
You might have heard me mention that this is a Geek Chic table. "What's so special about that?" you might ask. Two things – one, that company went out of business so this table is no longer being manufactured and is a collector's item (that is, assuming there's some weird collector's market for used gaming tables). And two, well …
Secretsss
The most important feature of this table is that it's got a secret. It's got a little special something under the hood.
That's right, it's got a gaming vault.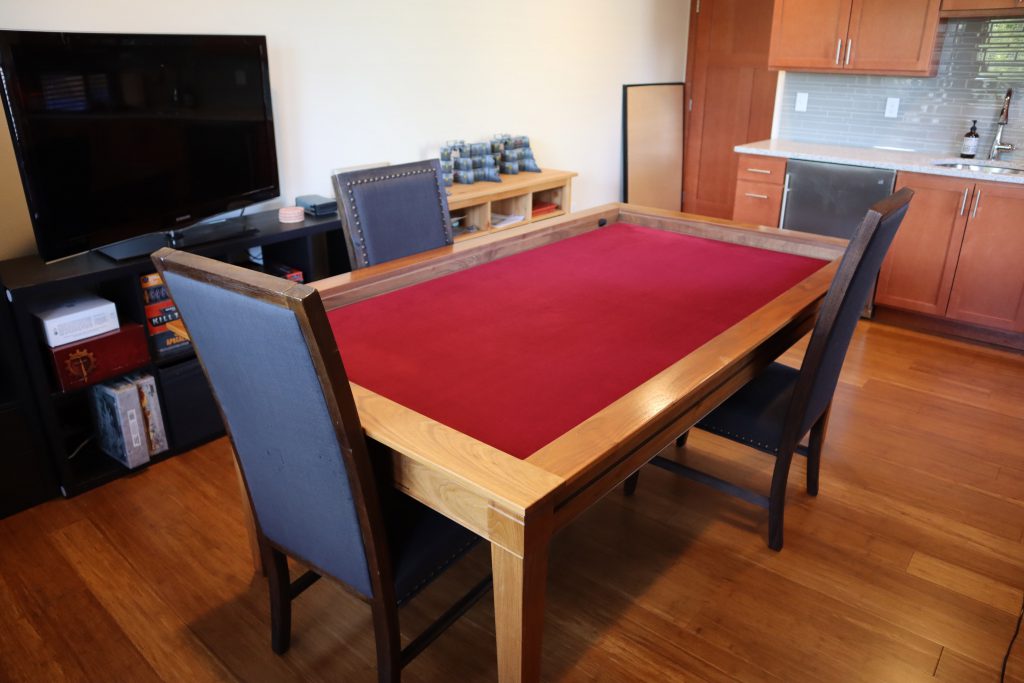 The whole top comes off and I've got this great sunken area for gaming. Unfortunately the table isn't wide enough to accommodate a 60″x44″ board in this configuration, but it's great for board games.
And what's that? This tables got one more trick up it's sleeves?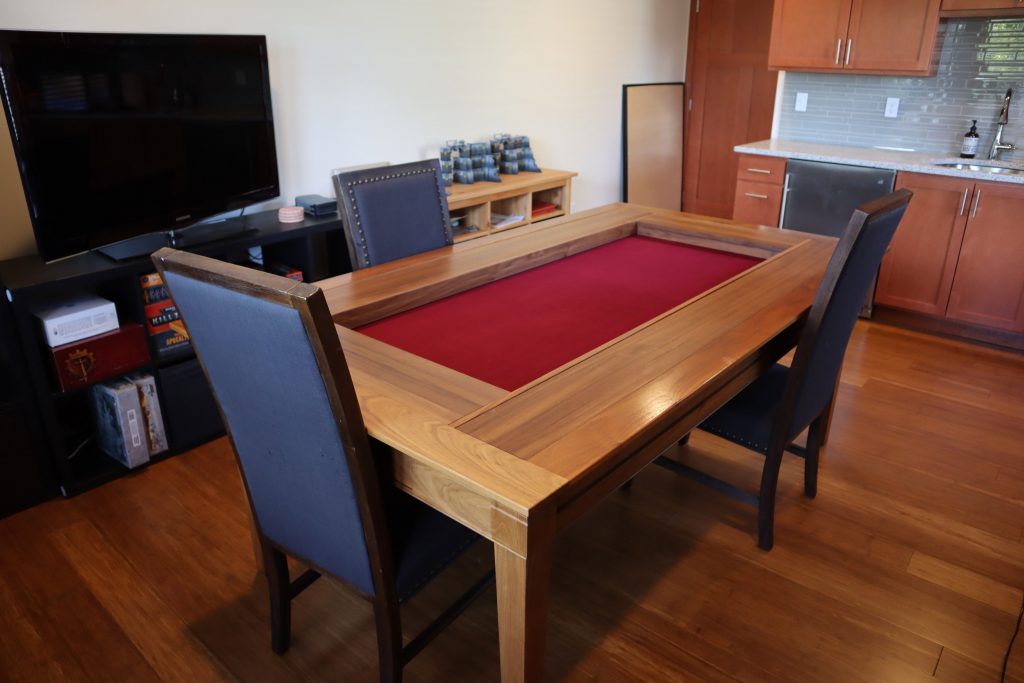 Like half the cars in my area, it's a hybrid. Half regular table, half gaming vault, all the time. This configuration is actually pretty dang convenient. Plenty of room for books and snacks on the sides, and big area in the center for gaming. Great stuff.
The Rundown
In practical terms, what went into setting up this games space. I'm not going to cover every bit and bob, but I'll cover the big ticket items.
House – I was able to buy a house with a room I could fully dedicate to this space. In addition, the minifridge and sink were already installed, which was a nice bonus.
Table – As I mentioned, this is a Geek Chic table. Back when I got it 7 or so years ago, they were the big name custom gaming tables, and so they charged a pretty penny for it. Four figures pretty. Several of four figures.
Nowadays, that bubble burst a bit, and there are quite a few more companies that manufacture these kinds of tables, and so the price has dropped significantly.
Furniture – Almost all the furniture in this room is from Ikea, and most was just what I happened to have lying around when I got this house. I'm not in love with any of it, but it's functional.
Terrain – A hodgepodge of terrain I've accumulated over the last couple years from Death Ray Designs, Urbanmatz, TTCombat, and Games Workshop themselves.
Mats – I've got a handful of cardboard mats from Games Workshop, and a single neoprene mat from Urbanmatz.
What's Next?
Honestly some lighting. There are only four overhead lights in this room, none directly over the table, and it gets pretty dark. I know installing a new light fixture is a relatively simple homeowner task, but I'm a pretty bad homeowner. I channel powerful Tom from Parks and Recreation energy: "One time my refridgerator stopped working. I didn't know what to do. I just moved!"
Additionally, I want to pick up some more neoprene mats. Specifically at the Combat Patrol and Kill Team sizes, as I've been playing a lot of the former and am getting excited about the later.
One last thing though, Amos is pretty timid in person, but he hams it up around me and in front of the camera. I'll leave you with my true experience in my gaming space. Say hi, Amos.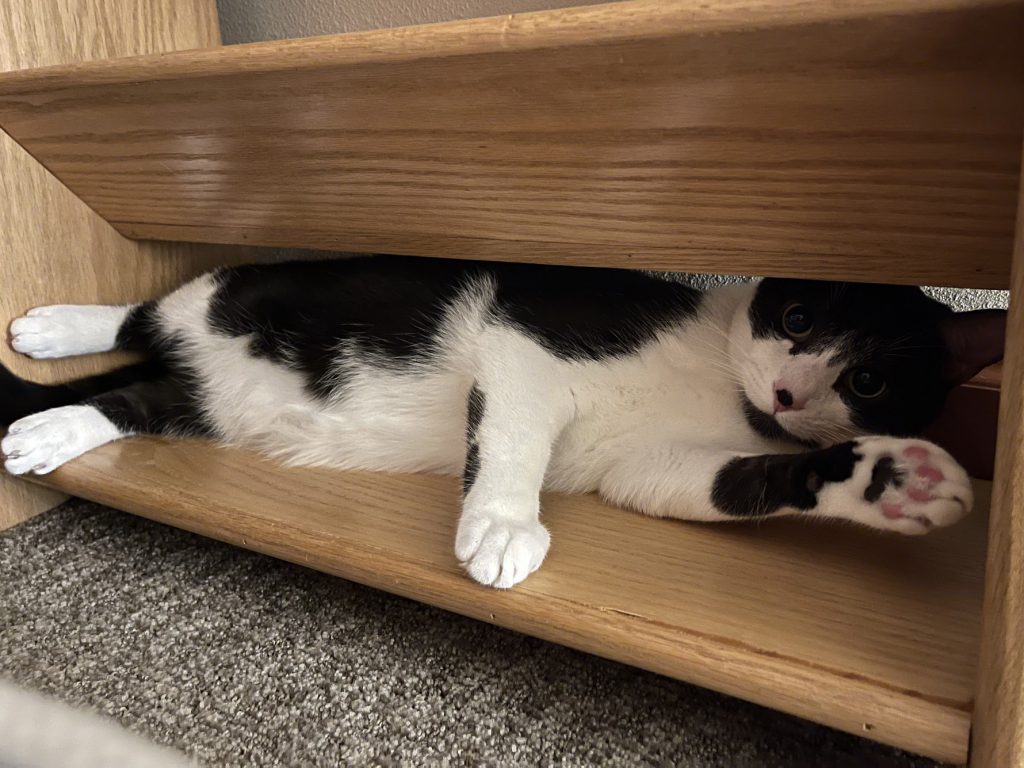 Have any questions or feedback? Drop us a note in the comments below or email us at contact@goonhammer.com.