Playing at home can be a wonderful experience, but creating a great gaming space with limited time and resources can be a massive challenge itself! Each week in our Gaming Spaces series we'll be looking at an author's gaming space, how they built it, and the interesting flourishes that make it theirs. This week we're looking at Tanya "the Warmistress" Gates' gaming space.
---
My husband and I always dreamed of having a space dedicated to painting and playing wargames. After we got married we decided to start the search for a bigger home. Previously we were living in a tiny, one room apartment, and as you can imagine this made every object in the space multipurpose. Plastic storage totes became the legs of a gaming table once stacked and a sheet of plywood placed on top. Kitchen chairs became painting tables. This idea is one that I still implement to this day. Storage of terrain and miniatures is as much a nightmare today as it was back then.
We continued living in that tiny space while saving money, because like most places in the world, the area that we live in has an affordable housing crisis. We knew that we had to buy a space, and buy relatively quickly. At that time, my husband and I both worked full time in retail, and so the pay was not great. We looked at the options that were within our means and saw that if we were savvy we could double the square footage we were currently living in. We found an amazing real estate agent who got us our townhouse in the area that we wanted. It really was an amazing score and the stars aligned just right that day to make it happen. The home we bought is just over 950 square feet: it's still a small space by North American standards. We now had 2 bedrooms and there was not even a discussion: the larger of the two rooms would be our new game room.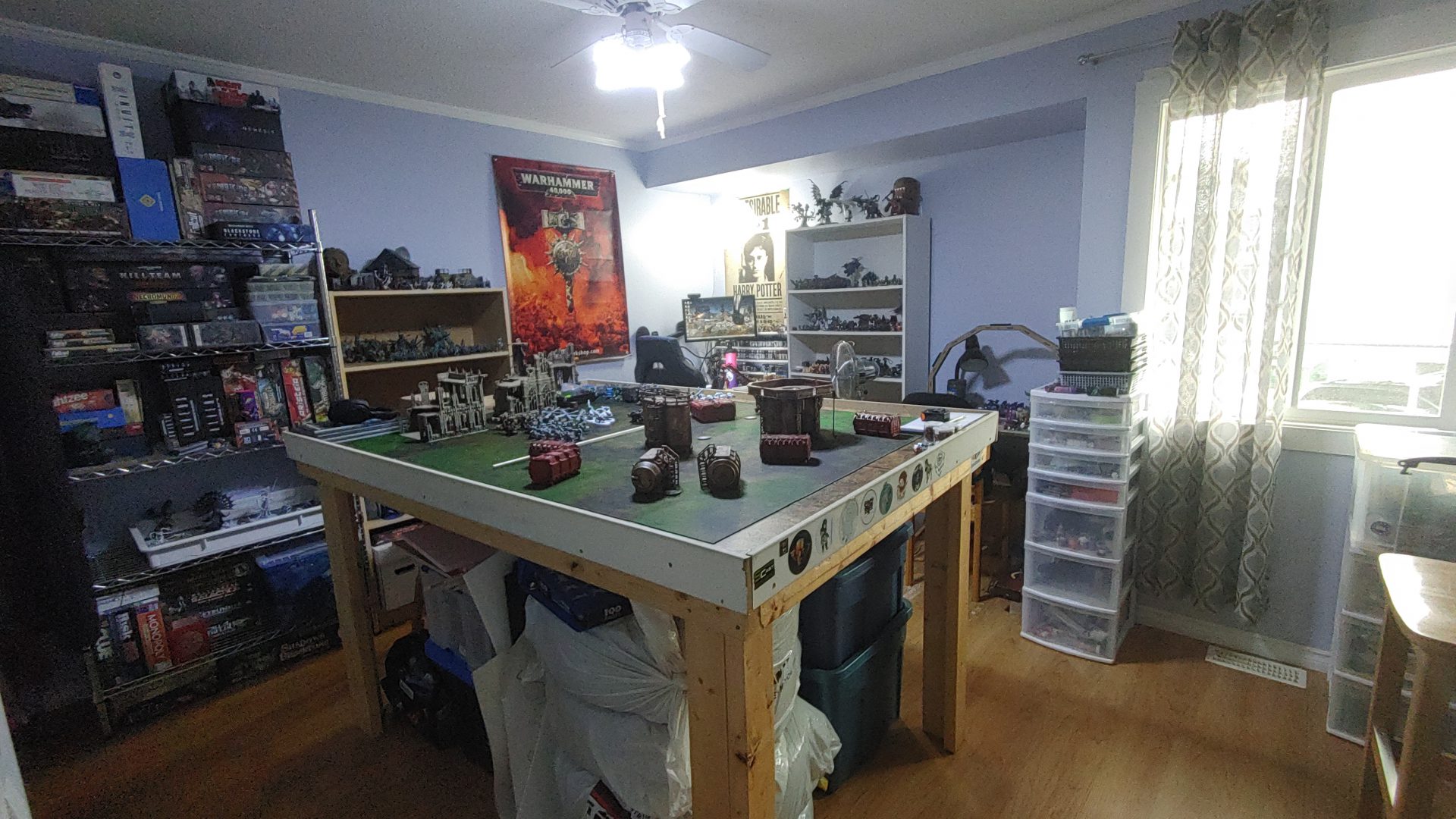 All of our savings went into buying this new home so we had to build or buy everything as inexpensively as possible. Thankfully, both myself and my husband adhere to the idea that function takes precedence over aesthetics and this opened up our options quite a bit. The hunt for used furniture began right away. Our TTRPG and wargaming rulebook/codex collection is quite large so we started there. We had a set of TSR branded shelves from our old place that we had salvaged from a local game store. These shelves were destined for the dump, but besides being kind of ugly, they were perfectly functional. They fit our new space pretty well, but we knew we could get a little bit more out of them. We fitted a top shelf on them and now we store our favourite terrain pieces there. We had a couple of tall bookshelves from our old place that also fit the space quite well so displaying minis was taken care of.
Next we went on the hunt for desks. We needed two as my husband and I hobby together, but also to foster harmony in our relationship. I am a very organized person and I need my space to reflect that. My husband is chaotic in his creative process. Sharing a desk would just never work for us. We took some measurements of our space and headed out to a charity run, second hand furniture shop. We knew we wanted tall desks: after years of back breaking painting and horrible posture, we were not going to settle for anything that didn't meet this requirement. Luckily for us there was a vintage school desk that fit the bill. It was perfect for my husband's long legs. There was nothing for me however, and nothing even remotely suitable in the online second hand advertisements either. Knowing that we also needed a tall gaming table of specific dimensions, we realized we would have to make both this table and my desk. We headed off to the home improvement store.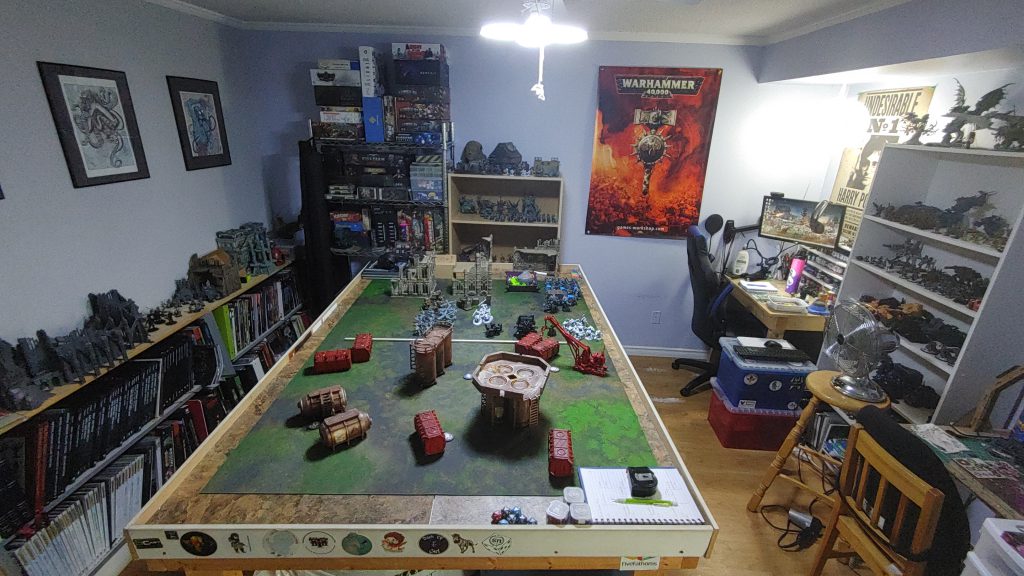 A quick note to start us off here: we did all of this building when lumber was relatively inexpensive. This is no longer the case, at least not where I live. There are building supply salvage centres and this might be the place I would start now, but back then we bought new lumber. Before we made our way down to the store we drew up some plans for what our table and desk would look like and what we needed to buy in order to make them. We are not handy people at all, so we kept it very simple and functional. The home improvement store offered to cut the lumber to size so we took advantage of that service and then came home and assembled the beasts.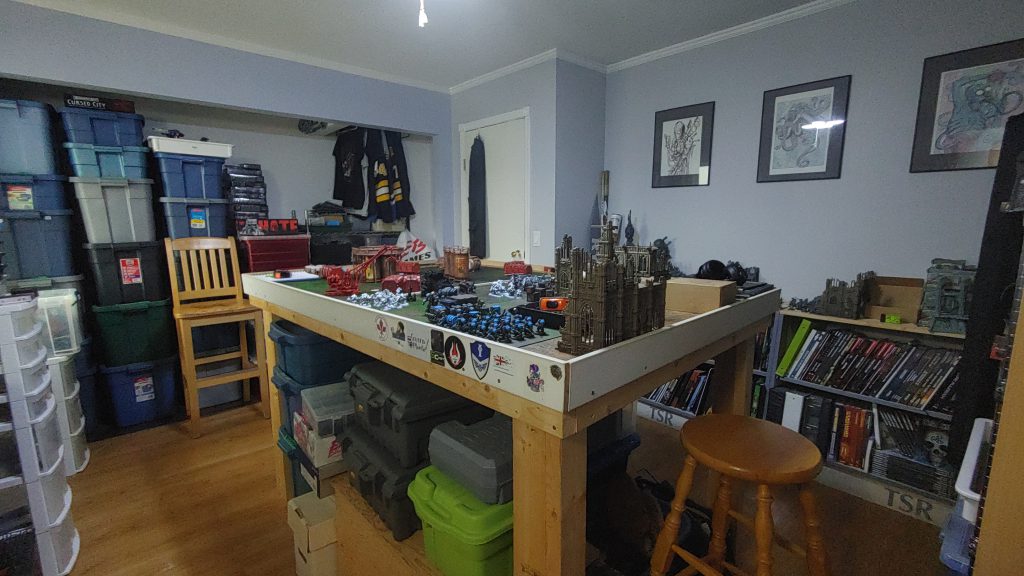 Our table is 41 inches tall, 72 inches long and 48 inches wide. We found some laminate floor tiles that sit on top of the surface to protect it. If one of us wants to hobby on it and gets glue or paint on a tile then we can just replace the tile. Our dice and models were falling off the table regularly, so we found some moulding to make a frame around the perimeter. The left-overs I used to build a paint rack attached to my desk. The desk is 31 inches tall and perfect for keeping my back straight while painting.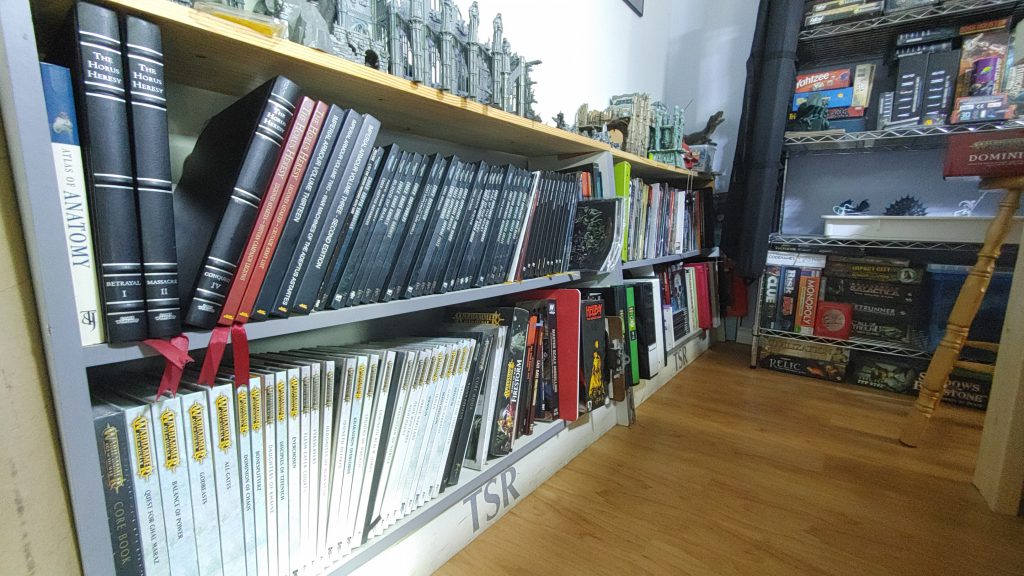 Storage continues to be a problem for us. Our board game collection was paired down heavily after the move but we still needed a place to store them. We originally had them in rubbermaid bins and stacked in the closet, like most of our other storage. We really haven't found a better way to store the minis and terrain yet but we moved the boardgames into a metal rack that we bought new and it's nice to be able to see all the box art. A potential idea for mini storage is smaller clear totes with some sort of rack or shelving system but we haven't found anything cost effective yet.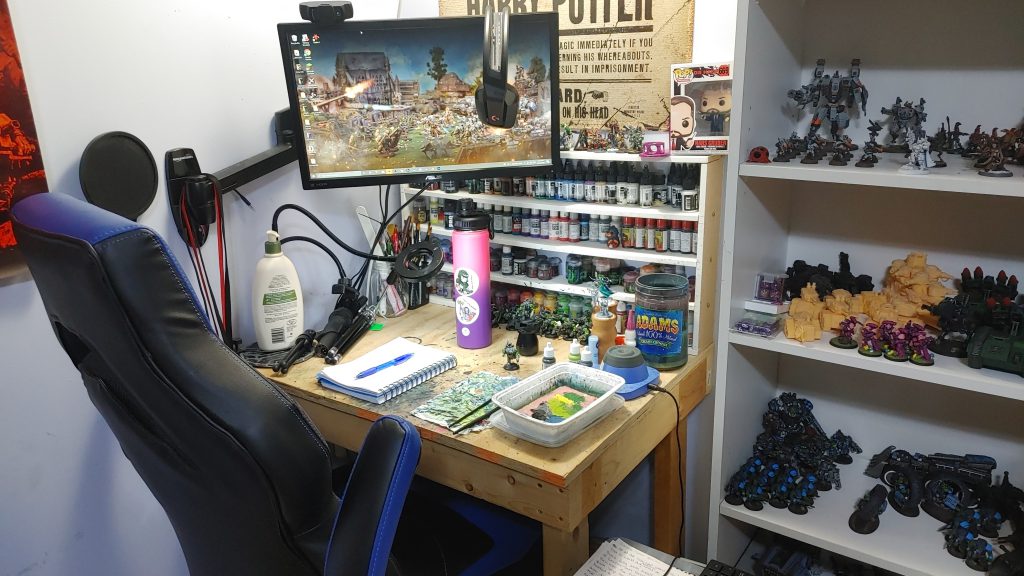 As a new content creator I also work with limited room and budget, and I just wanted to go through my cheap and cheerful setup. My PC is under my desk and the monitor is mounted to a swing arm on the wall. This keeps my desk as clear as possible. My top down camera for Twitch streaming is on a compact tripod. My podcasting microphone is much the same. These I keep folded up when not in use, and my pop filter is mounted to the desk and it's able to be pushed away out of use. I have a ring light that has become a surprising must-have for streaming. It also has a telescopic neck so I can fold it away when editing or working at my day job. I know lots of folks have spent a fortune on lighting for streaming but I use that ring light, a $30 daylight LED bulb in a pendant light and a paper lantern shade. It's almost too much light sometimes. I will upgrade at some point but it is more than sufficient for now. If you want to make content, please don't let the cost of expensive gear stop you. Get creative and work within your means and you can figure out the rest along the way.
And that is it! A cheap and cheerful, ugly but functional, game room. She might not be much to look at, but many a game night has gone down at the table here. I like to think that this room is one of the local gaming hubs and I love that it is mine.
Have any questions or feedback? Drop us a note in the comments below or email us at contact@goonhammer.com.