The first ever UK Goonhammer Open event finished this weekend, and was a smashing success, with Mike Porter's Aeldari claiming top honours from a field of 102 after six rounds of grueling combat.
Before getting onto the rest of the winners, we'd like to say a huge thank you to all of our sponsors and those who helped out on the weekend.
The team at FactoruM/4Ground Publishing and Vanguard Tactics, who provided a huge amount of resources to help us run the event, and without whom it wouldn't have been possible. If you want a set of the fantastic terrain we played on for your own tables, make sure to head over to the 4Ground website.
Hellstorm Wargaming, who streamed games all weekend so the whole world could watch the action. Details of the VODs from each round are at the end of this post if you want to catch up, or want to hear some of the mightiest Waaaghs in 40k.
Mohawk Miniatures, for sponsoring and judging the Best Single Miniature competition.
Koyo and Darkstar Molten Metals for helping out with some fantastic prize support.
The staff at the venue, who were extremely helpful and accomodating, especially duty manager Wendall, who went above and beyond helping out.
Jim Grover, for taking lots of fantastic photos that you'll be seeing plenty of on our website in the next few weeks! An album of some of the best shots is available here, please credit Jim Grover if you use them anywhere.
We'd also like to thank all the players who pitched in to help with breaking down at the end of the event – our staff had been expecting to be at the venue till late packing tables, but the hall was cleared out before the prizegiving had even concluded. This helped us out a ton so thank you so much!
With that, on to our winners. Mike Porter's Aeldari took home the coveted championship belt by a single victory point, with David Gaylard's Adeptus Mechanicus hot on his heels as the second undefeated player. David had given himself the best possible chance at the top spot with a smashing 100pt win in his final game, setting the pace for Mike who needed a 90pt+ win to outmatch him – which Mike achieved with perfect Eldar-like economy of action by scoring 90pts exactly. Martyn Cooper, who faced off against Mike on table one in the final, took third, giving us the following podium:
1st: Mike Porter
2nd: David Gaylard
3rd: Martyn Cooper
We also had a prize for the highest performing player in each bracket, which were taken by:
5 Wins: Martyn Cooper
4 Wins: Christopher Radford
3 Wins: Peter Dunlea
2 Wins: Lyle Torok
1 Win: Jim Shacklock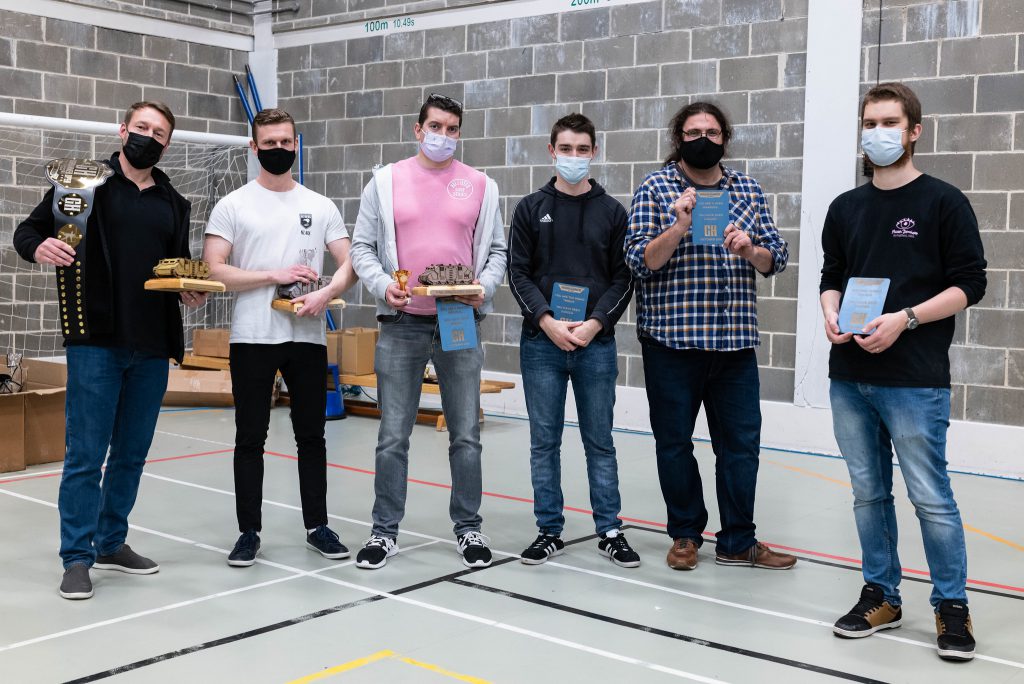 We also shouldn't forget our most determined player, Craig Spiers, who was awarded the coveted plushie Nurgling for soldiering through six rounds in the face of adversity.
Next up, Best in Faction, where the following players emerged as standard bearers for their codexes of choice:
Aeldari: Mike Porter
Adeptus Mechanicus: David Gaylard
Drukhari: Martyn Cooper
Adeptus Astartes: Konrad Bartkiewicz
Death Guard: Greg Chamberlain
Thousand Sons: Chris Tutill
Harlequins: Ben Allen
Imperial Knights: Jay Middlecote
Adepta Sororitas: Jonathan Clarke
Grey Knights: Andrew Bourbon
Orks: Tom May
Chaos Daemons: Josh Hill
Necrons: Daniel Grant
Imperium: Gareth Chambers
Chaos: Ben Wadsworth
Chaos Knights: Kevin Nicholls
Adeptus Custodes: Alex Fowler
Tyranids: Matt Palmer
Chaos Space Marines: Joe Coles
Astra Militarum: Mark Cawdrey
Tau: Kenneth Ward
Next up, best painted. For these, we'll be going through albums and pulling some pictures of the models themselves over the next few days, but our winners were:
Single Miniature (judged by Jay Middlecote from Mohawk Miniatures)
1st place: Ben Allen – Harlequin Skyweaver
2nd place: Josh Hill – Be'lakor
3rd place: Mike Roberts – Primaris Gabriel Seth
Best Army (judged by the Goonhammer and FactoruM teams)
1st place: Ben Allen – Harlequins
2nd place: Chris Tutill – Thousand Sons
3rd place: Mike Roberts – Flesh Tearers
In case you missed any of the exciting games on the top tables at the event, our friends at Hellstorm Gaming were on site to stream the games live, and you can watch the recorded matches with commentary over on their YouTube page. Check out the links below for videos from each round:
Thanks again to all of our wonderful sponsors for the event and everyone who attended, and stay tuned for more content about the event in the coming days.