The Michigan GT happened this past weekend (Sep 30 – October 2) in downtown Lansing, Michigan at the Lansing Center. The event has been going for about a decade, first starting small as a Warhammer 40k GT and now encompassing a ton of different games and event types. To say that I'm mega proud of where the event is now is an understatement. I'm local, only living about 45 minutes away, so I always run an event and attend others. Lansing is very easy to get to by major highways from Illinois, Indiana, Ohio, Pennsylvania, and of course Michigan.
The GT takes place at the Lansing Center, a large conference center in downtown Lansing. Parking is not bad – there are plenty of garages around. I paid $10 a day to park which was more than I wanted to pay, but I parked right underneath the conference center and barely had to walk. There are other, cheaper options around for sure. If you're staying a local hotel I believe you can get it comped.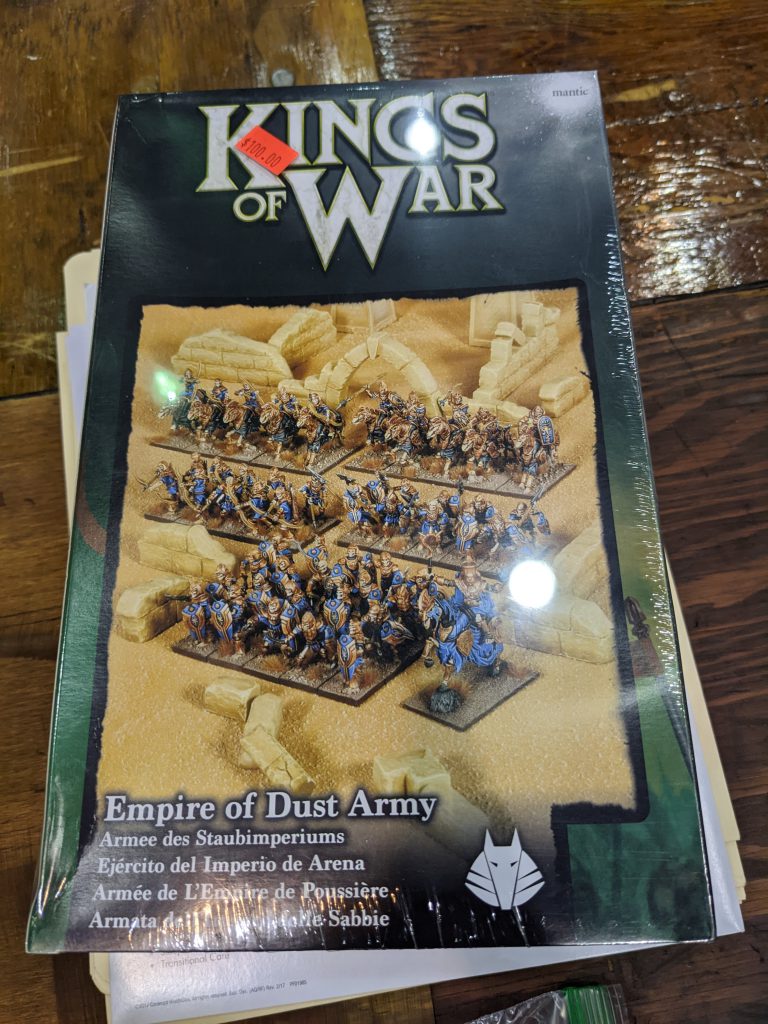 The venue itself is very large – with huge rooms akin to what you're used to at a big show center like GenCon (the event isn't nearly that big, just giving you an idea of what it looks like). The event sold around 600 tickets to events this year, with over 700 unique attendees. This is the 9th time the GT has been held. There are events for:
Age of Sigmar Championship
Age of Sigmar Doubles
Kings of War Armada
Bolt Action
Warmachine
Conquest
Deadzone
Dropfleet Commander
Fighting Napoleon
Firefight
Horus Heresy
Kings of War
Marvel Crisis Protocol
Warhammer 40k (Crusade)
Sludge
Star Wars Armada
Star Wars Legion
Star Wars X-Wing
Warhammer 40k Doubles
Warhammer 40k Championship
On Friday I ran a Necromunda event called The Return to the Fatberg Falls. Last year we had six players and we had six players again this year. I hope to expand it a little more for next year. Ten players would be great!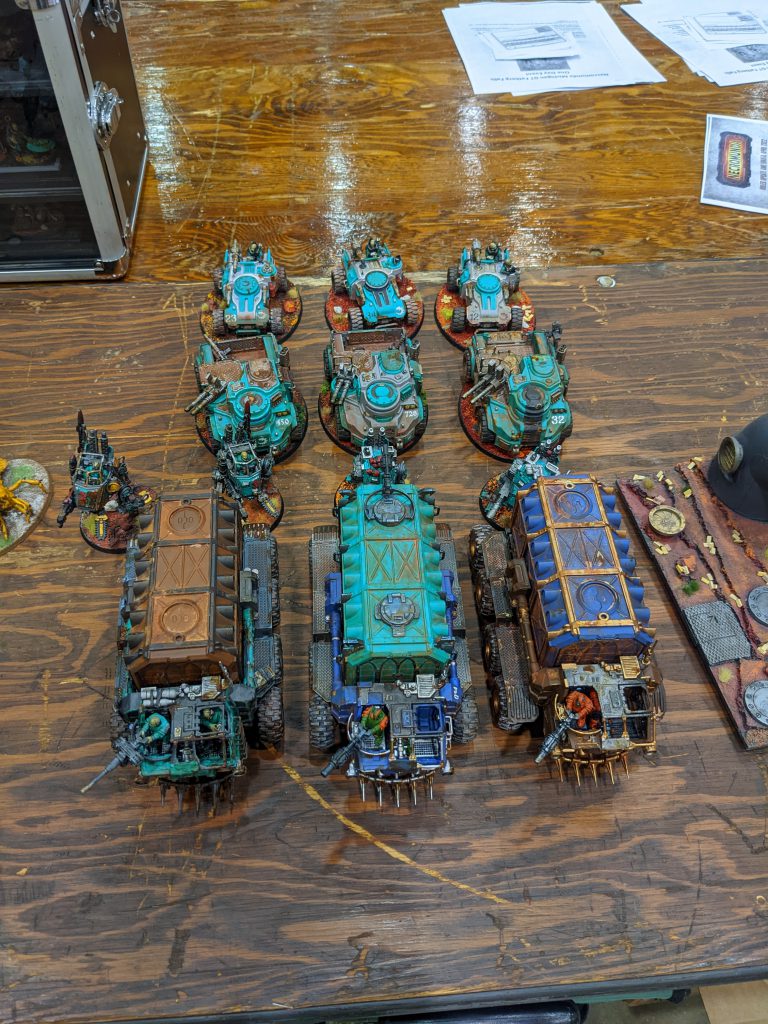 I generally use the 'one day event' guidelines from the Necromunda books. Players get extra skills to start, and halfway through they get 250 credits to increase their gang size. Gangers don't ever die, but may get seriously injured. Each round a ganger gets a random skill. We used a theme of beast hunting – the gangs had been tasked with collecting carcasses for protein to sell back in the underhive.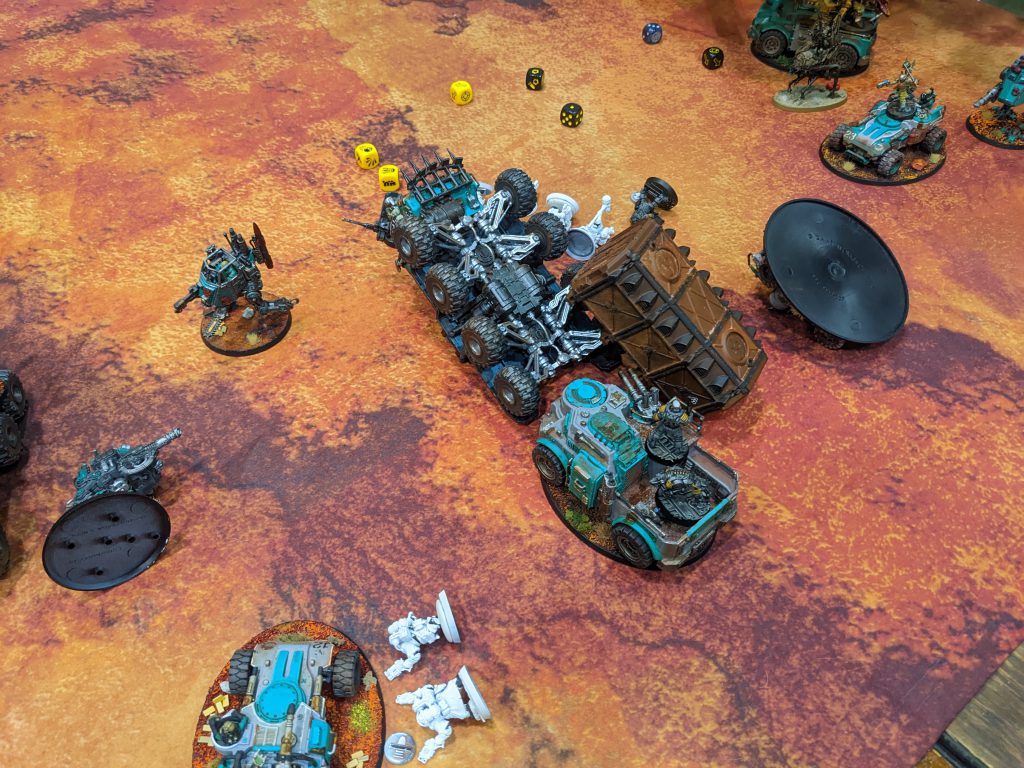 This year I really wanted to include the Ash Wastes but I knew a lot of players wouldn't yet be prepared for that with the rules and the vehicles. Instead, I ran it as an Ash Wastes event, with environmental rules, scenarios, etc from the books but players did not create or purchase their own vehicles. I brought them and provided them for scenarios three and four. In Scenario Three, the players had to restart their truck and get it off the board (a book scenario). In Scenario Four, players had to ride their trucks back to the underhive with the carcasses intact.
All of the scenarios went great, bar the last one. I had planned for players to team up in three teams of two, but that put one truck right in the middle of the other two going horizontally down the table and it didn't work at all. In turn two they got hit by a mining laser, the driver blacked out, and the vehicle rolled, destroying it. It was definitely a learning experience. Overall the event was a lot of fun and we had some sweet gangs participate.
This slideshow requires JavaScript.
On Saturday and Sunday I participated in the Warhammer 40k Crusade event – a friendly progressive crusade campaign where your units advance just like a normal crusade. It was laid back and had a great atmosphere. I brought my Genestealer Cult – the Forlorn Collective (I use Rusted Claw). We used Power Levels and Administratum made everything very easy to do.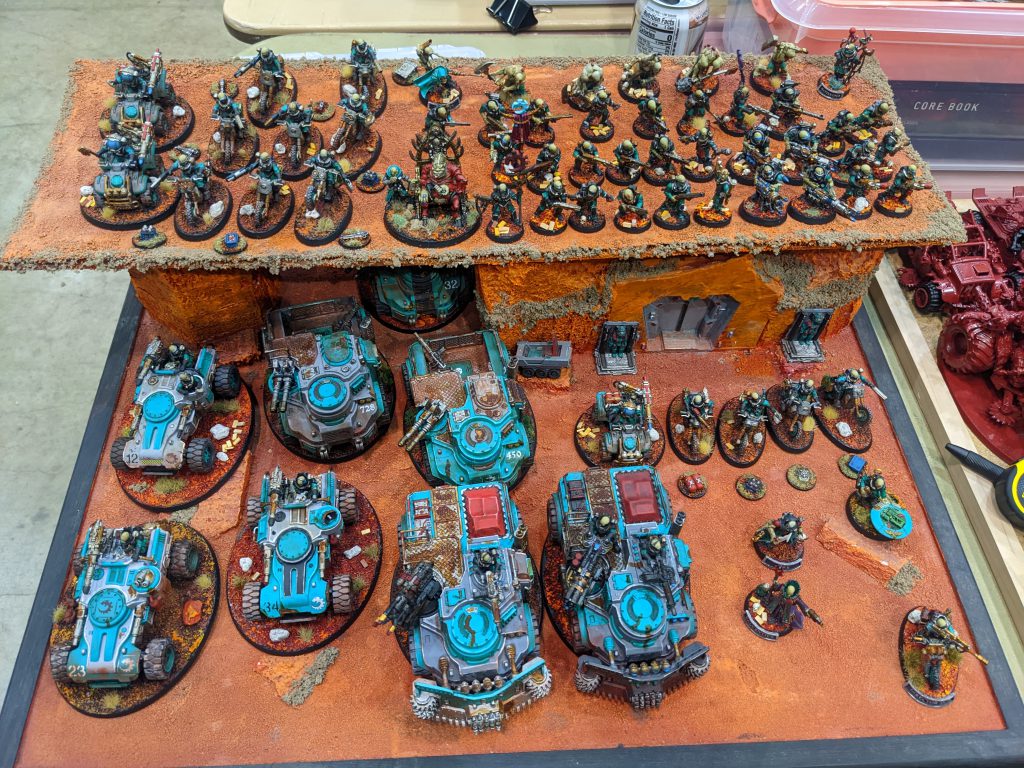 Here's my 115PL crusade force from the end of the day on Sunday. I didn't do particularly well so most of my stuff did not advance, heh.
Director Skyr JACKAL ALPHUS

HQ

4 PL

2 XP

1 CrP

Magister Balventius MAGUS

HQ

4 PL

5 XP

2 CrP

HQ

4 PL

0 XP

1 CrP

Troops

8 PL

0 XP

0 CrP

Troops

4 PL

3 XP

0 CrP

Troops

4 PL

3 XP

0 CrP

Troops

4 PL

3 XP

0 CrP

Elites

7 PL

0 XP

0 CrP

Elites

3 PL

0 XP

0 CrP

Elites

3 PL

0 XP

0 CrP

Elites

6 PL

0 XP

0 CrP

Lieutenant Scoins SANCTUS

Elites

3 PL

2 XP

1 CrP

Fast Attack

12 PL

11 XP

2 CrP

Fast Attack

9 PL

7 XP

1 CrP

Fast Attack

4 PL

3 XP

0 CrP

Heavy Support

6 PL

1 XP

0 CrP

Heavy Support

6 PL

1 XP

0 CrP

Adjutant Michon ACOLYTE ICONWARD

No Force Org Slot

4 PL

1 XP

0 CrP

Comrade Peri REDUCTUS SABOTEUR

No Force Org Slot

4 PL

0 XP

1 CrP

Dedicated Transports

5 PL

3 XP

-1 CrP

Dedicated Transports

5 PL

2 XP

0 CrP

Dedicated Transports

5 PL

1 XP

0 CrP
This slideshow requires JavaScript.
I had a ton of fun playing. Crusade is just a blast and my absolute favorite way to play 40k ever. Every single person I played against except my clubmate who I play all the time had not played against GSC before, so I got to explain a bunch of stuff. I played against Orks, Tyranids, White Scars, and Death Guard. We played one 25 PL game, two 50 PL games, one 75 PL game, and one team game where each teammate had 50 PL.
Overall it was a ton of fun. We were in teams and were competing to get our team the most points by matching up our armies against each other strategically, similar to what they'd done in the past with Horus Heresy. I did end up taking Best Painted army, which I was very happy to achieve! I have worked on these GSC guys a ton for a long time.
I did end up walking around a bit between events but didn't get nearly enough time to see everything. There were around 7-8 vendors there selling everything from used 40k minis to historical minis to paint supplies. I ended up grabbing a few things.
Below I've included one more media gallery of stuff I saw – check it out! The next Michigan GT takes place October 6-8, 2023 in Lansing, Michigan. You can find summaries of the major tournaments at the GT here for Age of Sigmar and here for Warhammer 40k.
This slideshow requires JavaScript.
Have any questions or feedback? Drop us a note in the comments below or email us at contact@goonhammer.com.