As historicals go, I love a lot of stuff, but I have some lanes that I like to stay in. I love anything in the black powder period (in my opinion, from French and Indian War to sometime after the Civil War), viking age, pirate age, WW2, Vietnam, and modern stuff. Along with that, I've never really touched anything that has to do with naval gaming. I did buy that one game Dread Fleet but that box is holding a table leg up somewhere in my house.
I think I was probably afraid of the tables, charts, indexes, glossaries, quick references, computer driven calculations, wind directions, draft statistics, and tide calendars that I thought might pervade these types of games. A certain part of me thought it was 'just dudes lining boats up, driving by with broadsides, and calling it a game', which is ignorant on my part.
Since then, I've gradually gotten into American Civil War Ironclads – it's easy because the ACW is my favorite period, and I knew relatively little about the war on the waters. There is a ton to gobble up. I had written a review of Ironclads (now called Dawn of Iron) last year during our ACW themed month. I'm going to update that next week as well as provide some info on other rulesets so that readers can get an idea of what's out there.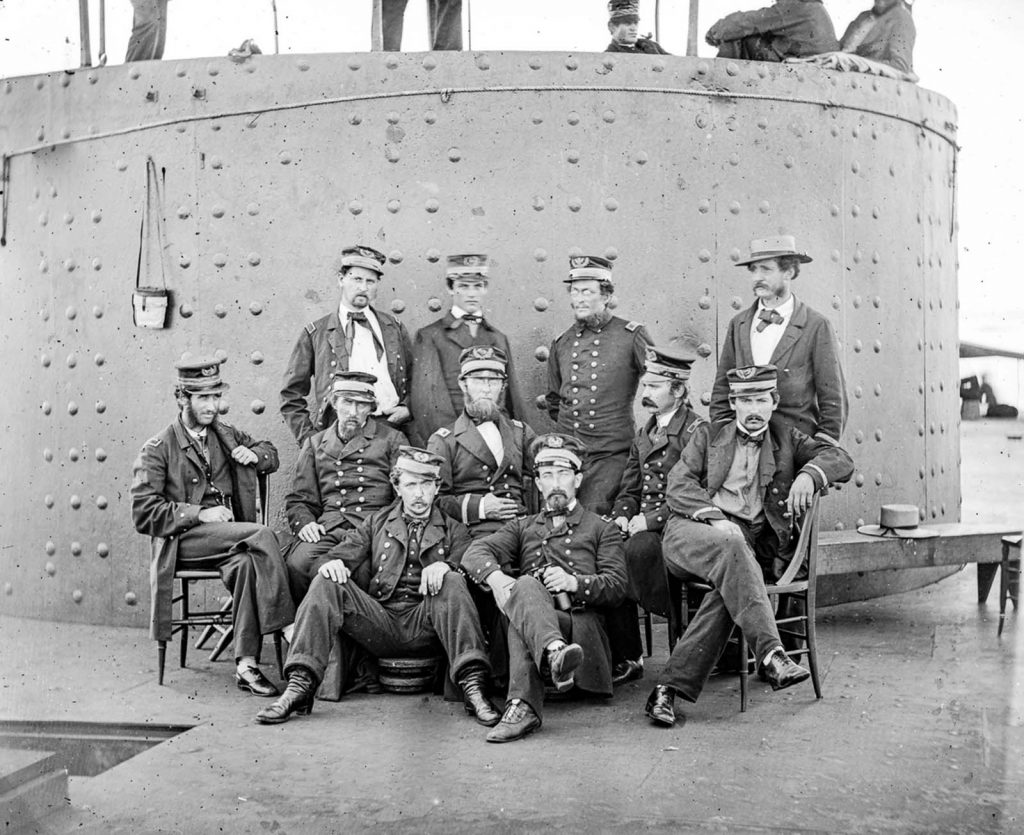 Inspiration
One of the things that I always like to cover in articles like this is how to get some inspiration. As grogs we watch Sharpe and immediately want to create a Napoleonic force, we watch LOTR and get into MESBG (ugh, I'm in this photo and I don't like it).
Unfortunately there ain't much when it comes to ironclads in film. Ted Turner produced two movies – Ironclads (1991) and The Hunley (1999). Ironclads has some fiction in it to create a love story, with spies and all kinds of drama, but it's a fun watch. The Virginia and Monitor models are great. It gives you an idea of how important the development of ironclad warships was to that time period, and how the age of wooden ships was over.
The Hunley is better produced and stars Armand Assante and Donald Sutherland (as PGT Beauregard no less). It is about how Lieutenant Dixon recruited and trained a crew to man the Hunley, the first working military submarine. They go through all the trials and tribulations. It's a fun movie with a little bit of 'evil Yankees' to it, though I can get by it to see the cool Hunley model and big ships.
There are other ways to gain inspiration for a project like this – including going to historic sites. I have been to four naval related sites that I can recommend.
This slideshow requires JavaScript.
The Hunley exhibit in Charleston, SC is an absolute gem. The Hunley was first raised in 2000 and has since been in a museum while it is being cleaned, preserved, and researched. The museum itself is definitely off the beaten path of Charleston but well worth a visit. It is very modern, with a lot of great research and presentations. They have the reproduction model used in the Hunley movie and a ton of other great stuff. Seeing the actual Hunley hull is amazing.
This slideshow requires JavaScript.
The CSS Neuse Museum in Kinston, NC is a great site that is a bit hidden away. It's not really on the way to anywhere that I could figure out – it's kinda in the middle of nowhere. It's again another modern museum, created within the last ten years. The hull of the Neuse was raised in 1963 and stored outside for a long time (!). The museum itself has the hull with a wire-frame showing what the iron would have looked like (it was salvaged long ago). There are a ton of great exhibits about the navy, where you can learn how a ship operated back then.
This slideshow requires JavaScript.
Fort Fisher is in Kure Beach, NC accessible by road or ferry from Southport, NC. It is a small site with a visitor center from the 60's. While it looks dated from the outside the exhibits themselves have been updated, including exhibits on the USCT at Fort Fisher and the Lumbee tribe in the area.
Fort Fisher was a huge earthen fort used to guard the Cape Fear inlet that hid blockade runners on their way to Wilmington. The US Navy and Army finally took it in January 1865 with a massive bombardment preempting an infantry and naval landing. The history is great reading, and the site is in a beautiful location with great views.
This slideshow requires JavaScript.
Fort Sumter is of course where the ACW started and is still very well preserved. There is a ferry that takes you out to the fort (it is expensive!) and the National Park rangers will tell you all about the fort if you ask questions or listen to their speech. The kids loved it, and you can learn all about the fort, the ships that attacked it, and it's later history in the museum.
Honorable mention – the Mariners' Museum in Newport News, VA. I haven't been yet but I'm told it's amazing. They also have artifacts from the USS Monitor (including the turret) there and a big replica outside.
There are a ton of books to read as well – but I can't make any personal recommendations yet as I'm working through them.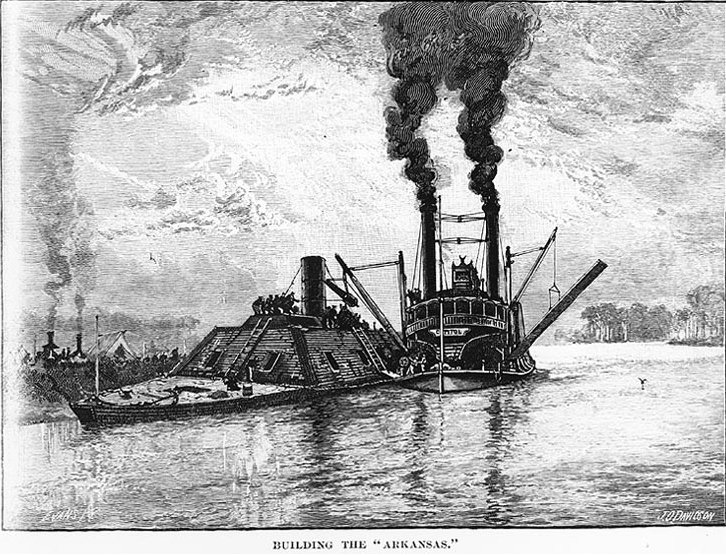 Sourcing Minis
There are a variety of minis available in the market and even more now that 3D printing is more affordable and better quality.
This slideshow requires JavaScript.
Thoroughbred Miniatures makes both 1/600 and 1/1200 ships with a huge line. They're all pewter, sculpted years ago but extremely detailed and very crisply cast. Right now you have to email for 1/600 scale because the owner had some health issues and is just getting back to casting etc. 1/1200 are all on the site. It is well worth checking these ships out. They're located in the USA.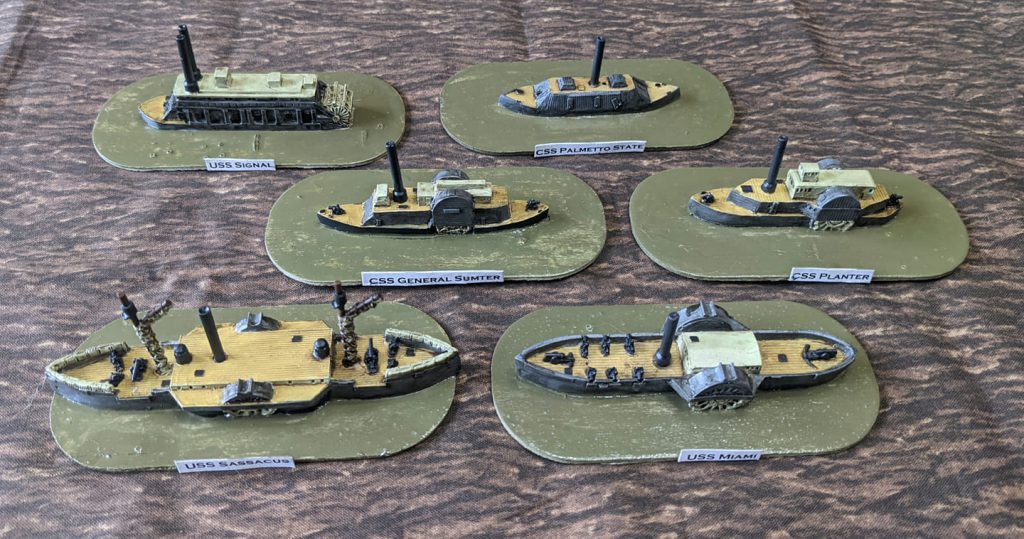 Peter Pig is a manufacturer that has also been around for a while and they have a huge range of 1/600 ships that are very well priced. They're resin, not metal, so they're a little lighter and will probably have paint rub off less. They also produce their own ruleset, Hammerin' Iron, which is well worth a look. They are located in the UK.
There is also a line called Houston's Ships, all 1/1200 scale. This is available from Wargaming Miniatures and they're a very good price. They are all pewter from what I can tell. They are located in the USA. If you pick some up, also grab some of the Stone Mountain naval paints as they're a great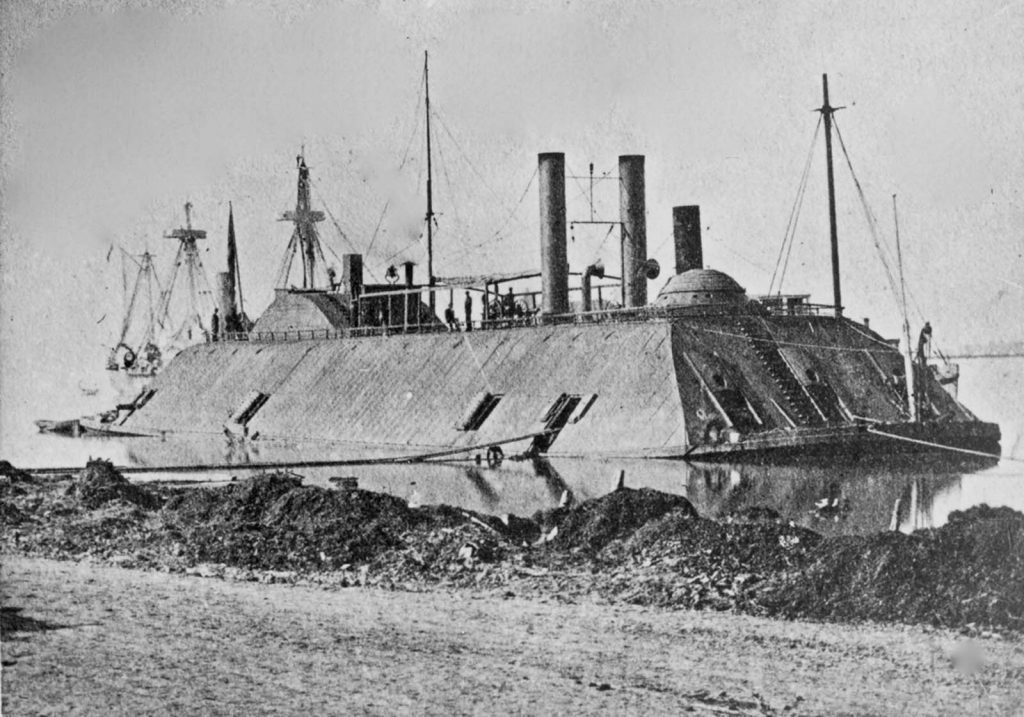 I've also had some experience now with 3D designed miniatures. East Coast Ironclads sells 3D designed ships for around $4-5 each that you can pick up individually or in packs. They're great designs and have worked really well for me – my buddy has a resin printer and he has printed them out pretty quickly. I use these at 1/600 scale but I assume you could scale them however you want in a 3D software. This particular development is great because from my understanding, we may not be getting any more new minis from the other companies, while East Coast is releasing new minis still.
Next week I'm going to be detailing my experience with Dawn of Iron, a ruleset by Scary Biscuit Studio, as well as going over some of the other rulesets available out there. Thanks for reading! 
Have any questions or feedback? Drop us a note in the comments below or email us at contact@goonhammer.com.