Look upon our works, ye mighty, and despair. Or just let it inspire you to paint your own models, that sounds healthier.
Corrode
It's been a productive month here at the Goonhammer Offices, at least for me. I've gotten some more Battle Sisters done, a few more Fallout models including Lance-Captain Kells, a couple of Field Scribes, and some Enclave Soldiers, and then finally a Vindicare Assassin. I bought this back in December with no particular plan except that I really enjoyed painting my first Vindicare and wanted to do another. That turned into painting one to match my Crimson Fists, and now has metamorphosed into the kernel of an idea that I want to paint assassins to match my Fists and also my BA and Sisters (who luckily share the red/gold/black). I am a sick individual who needs help. I do think the blue and red is pretty fun as a look here, though, and I'm looking forward to doing some of the other assassins in a similar scheme.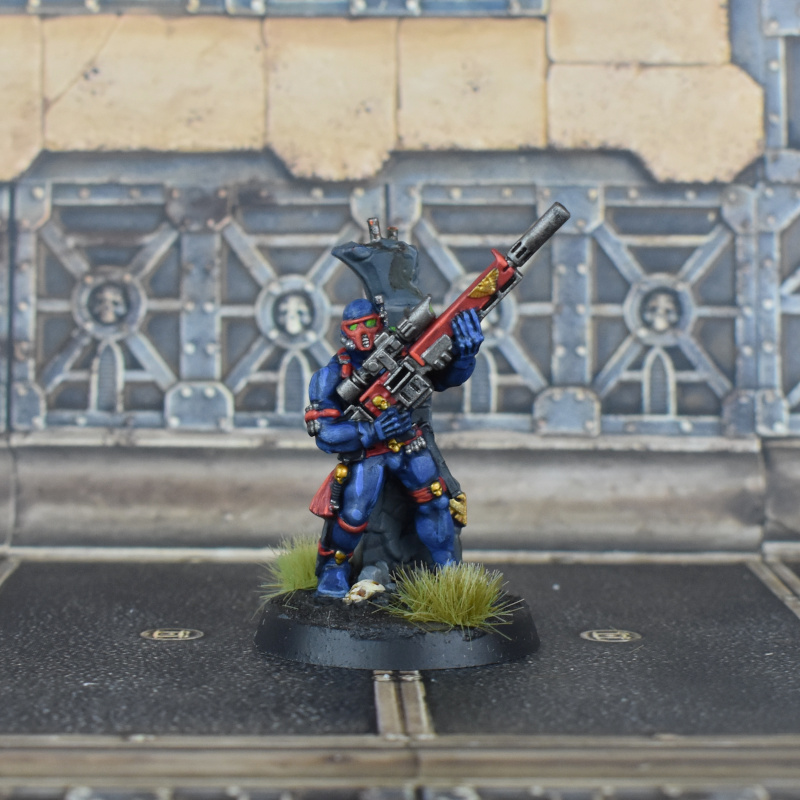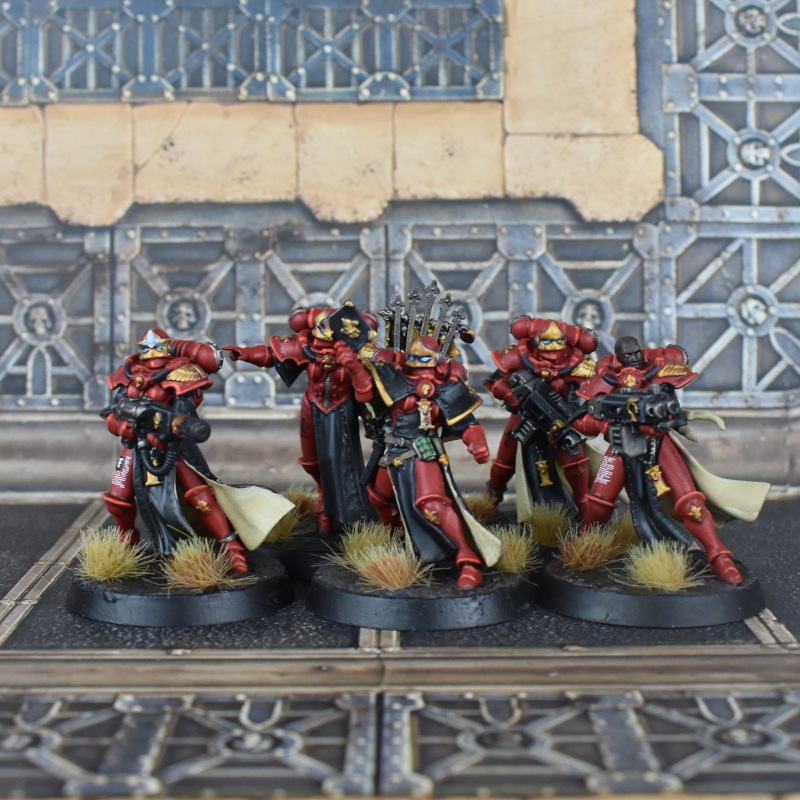 SRM
This month I'm going hard into characterful Age of Sigmar models, as I've got not just a Warhammer Underworlds warband, but the beginnings of my Cursed City set! Let's get this ball rolling: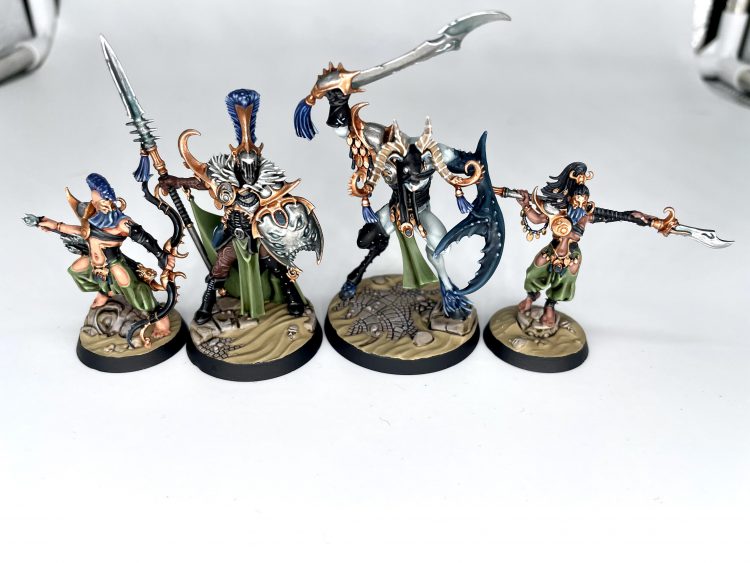 First up is the Dread Pageant; I was having a particularly shitty day and had been thinking of these himbos for a minute, so picked up the Direchasm set from my FLGS. I had a ton of fun transposing my typical Daves to Darkness scheme onto these Slaaneshi models, as I'd like to add some Hedonites into the mix and get a grand army of Chaos together at some point. These models were great because they let me kind of explore how I'd like everything in the army to be painted – the cloths, metals, and skintones I was hoping to use, as well as some more esoteric stuff like the big honkin' lobstah claw. I only wish the mortal Hedonites were a little stronger in-game, but what are you gonna do. Anyway, onto something altogether more heroic: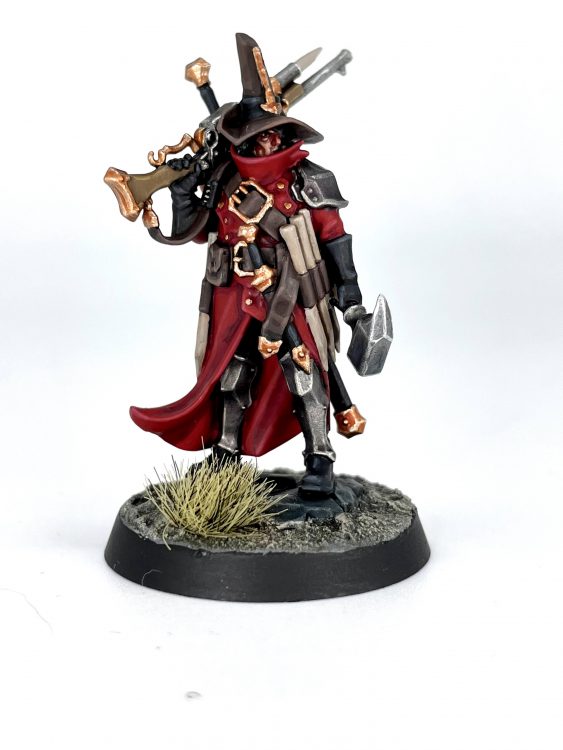 My first model from Cursed City is the one who spoke to me the most – Jelsen Darrock. I went with something akin to the classic Warhammer Fantasy Witch Hunter scheme, which I realized made him look kind of like a renfaire version of Vash the Stampede. He was a ton of fun to paint though; you'll definitely be hearing the phrase "this miniature almost paints itself" from me over the coming months as I knock this stuff out.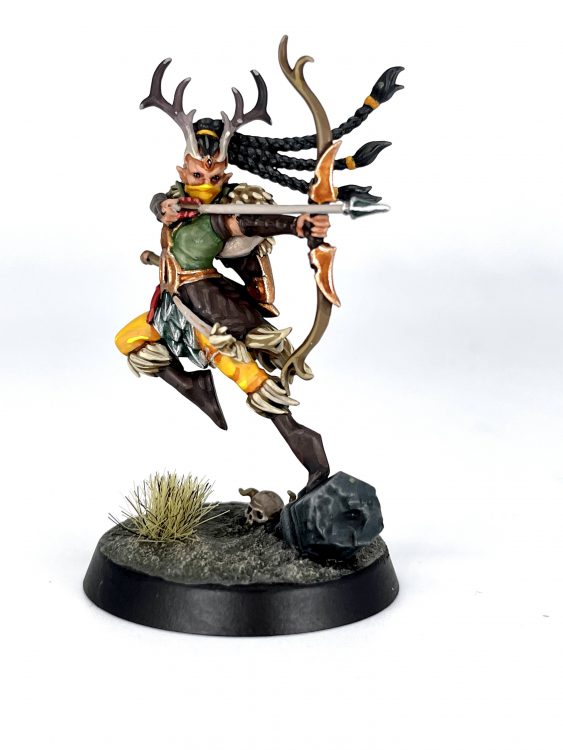 Next up is Qulathis the Exile. She's my wife's favorite model in the set, and I'm hoping to rope her into some Cursed City dungeoncrawling. While I was excited to go for a real 5th edition Fantasy Wood Elves look with her, the antlers were the highlight for me. Getting that nice, fairly smooth blend was a ton of fun, and unlike anything else I've painted. My plan is to paint two heroes, then a couple villains, and alternate back and forth from there. Naturally, I started with the big bad himself: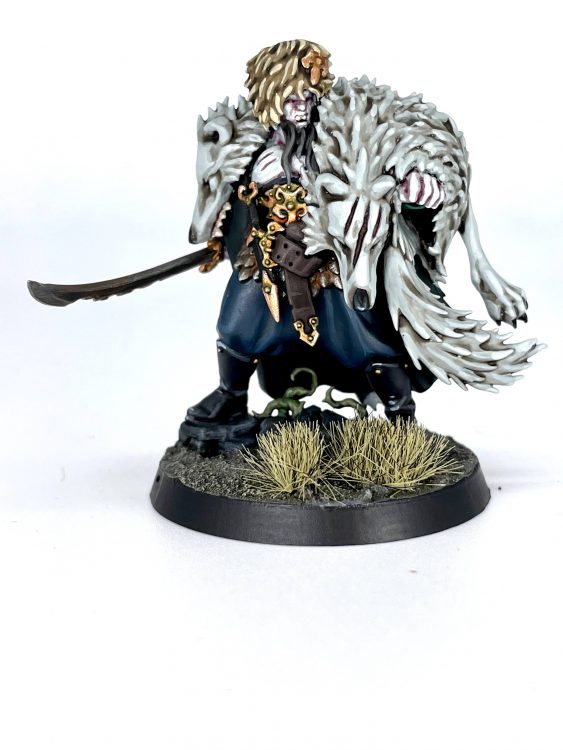 This bad boi was a bit of a challenge, mostly due to how many "bananas" of fur I had to paint, as well as reaching his face behind the hat. His skin's a test run for how I want to do my vampire skin, with his rust and verdigris-encrusted metals being the basis for my undead metallics. You can't see it in the photo above, but he's got a coat that's a vibrant green on the outside, which you'll see repeated with the next couple of weirdos from this set I painted up: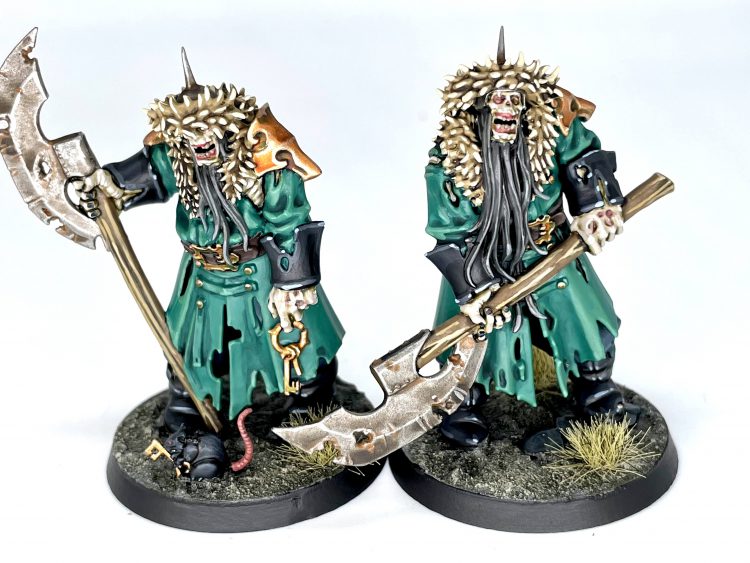 These guys were firmly the models I was least enthused about in the set, and yet I had an absolute blast working on them. They're huge, almost like painting 54mm models, and their fairly simple details made painting them straightforward. With these guys (and Radukar above) I've got methods down for painting pretty much all the materials I'm going to be dealing with on the baddies in this set, so bring on the skellymans! My running plan is to paint this entire set before working on anything else. There should be enough variety to keep me engaged, so here's to petering out when I get to the objectives or rat swarms or whatever.
Robert "TheChirurgeon" Jones
I painted some more Death Guard mans this month. Also a Master of Possession. Pretty happy with all of them. The Plague Marines are basically filling gaps on the army for specific models I didn't have but wanted to field, and the Deathshroud is the first of a set I'm painting so I have a full squad. The Master of Possession has been on my desk for a while and I finally got around to painting him. Real happy with how the OSL turned out on the flames.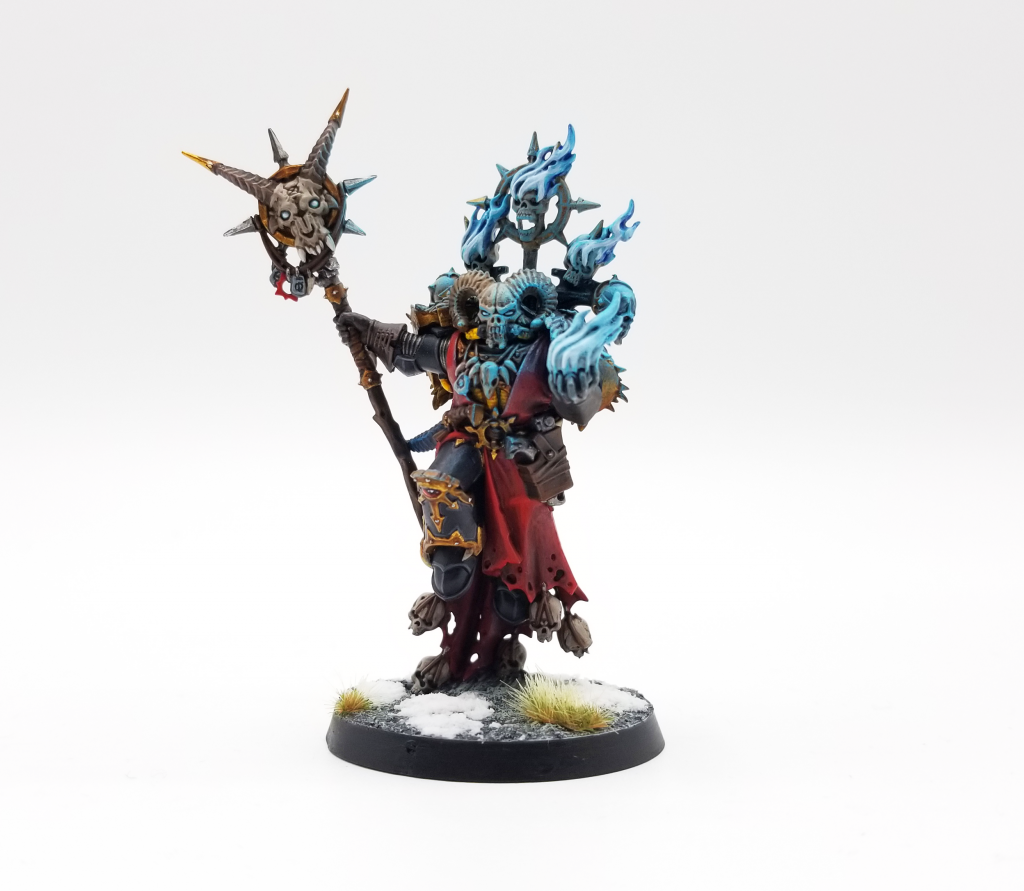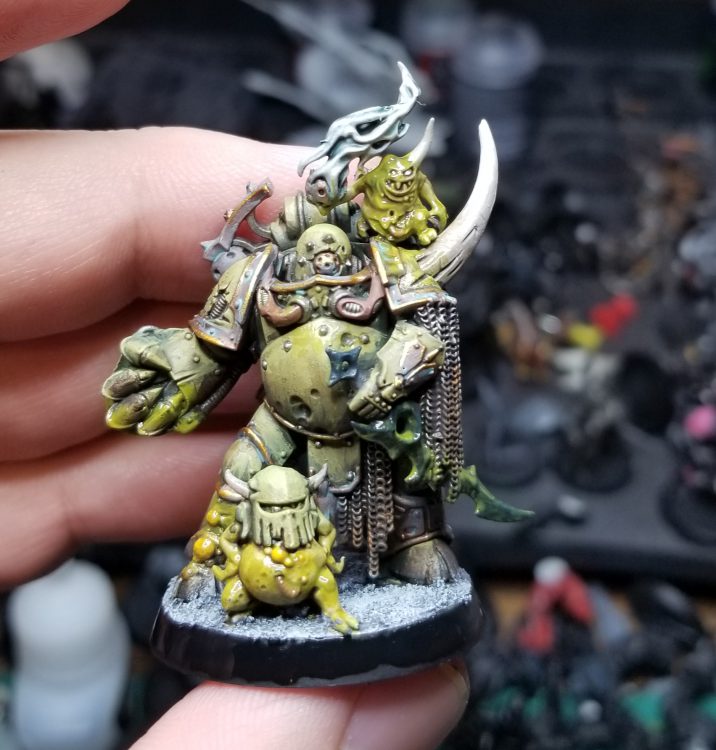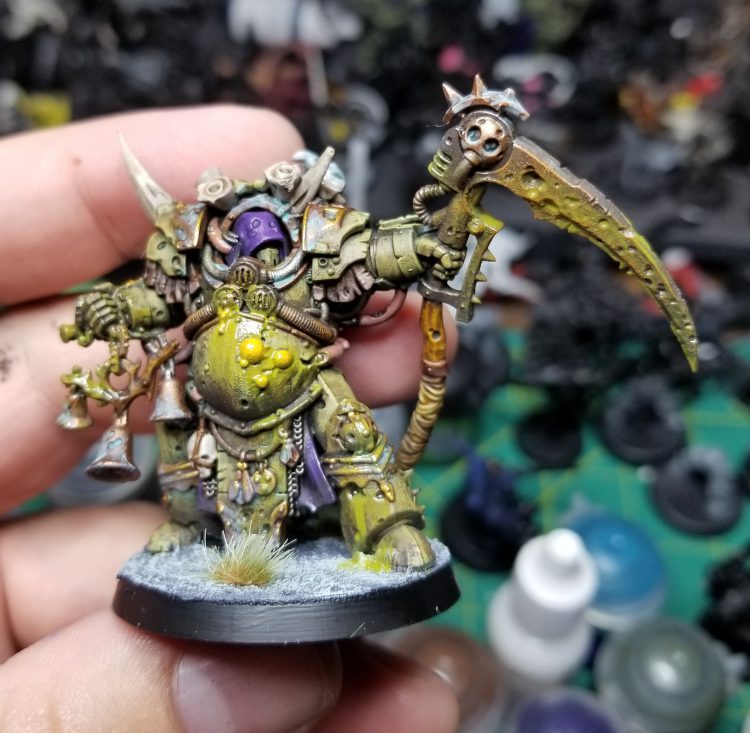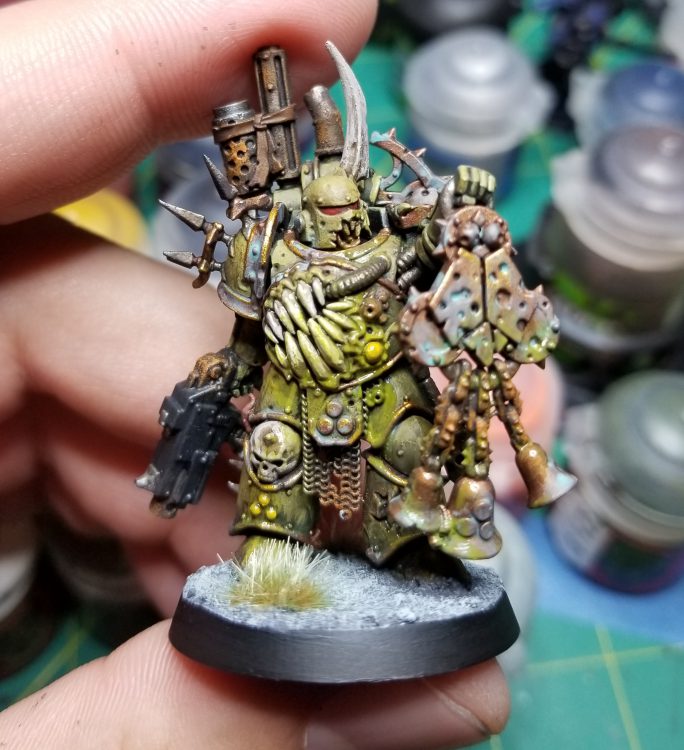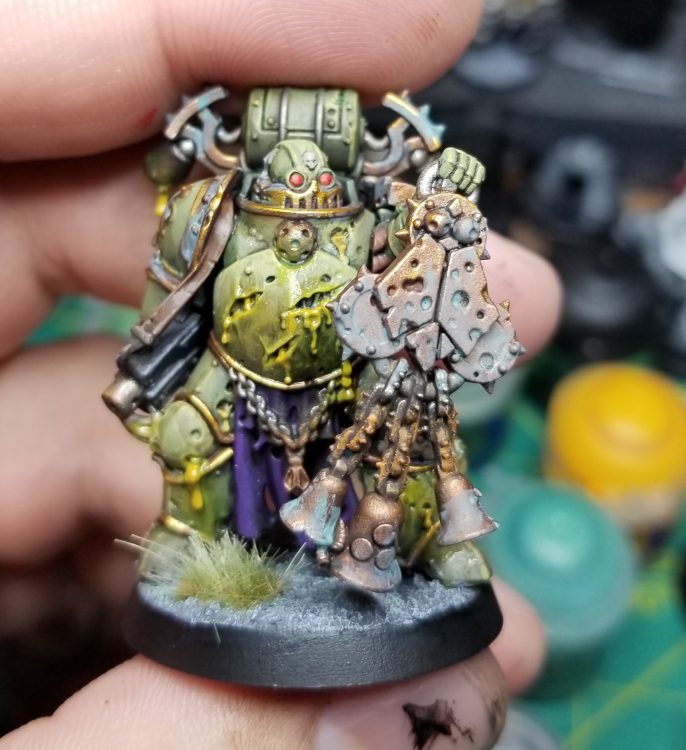 Skails
This month I finished a wandering skeleton bone merchant and his bodyguard. These are a couple Citadel C17 skeletons from 1987. These guys are two of my favorite from that set. The one with the staff and bag of bones is 'Wanderer' and the skeleton with the weapons is 'Ambidextrous Warrior'.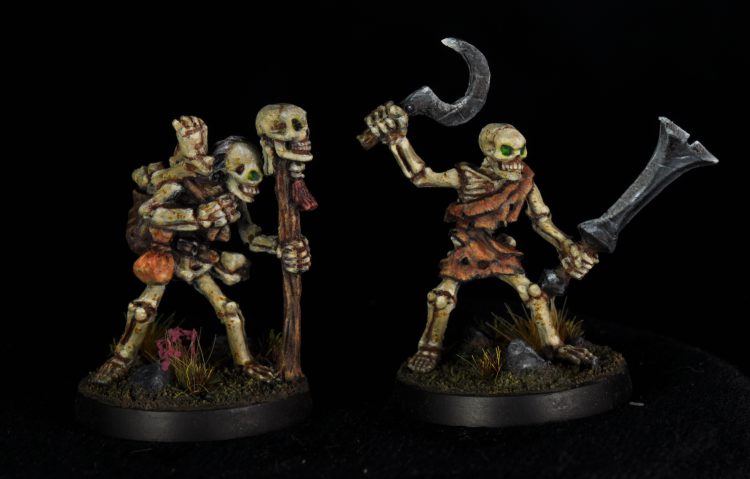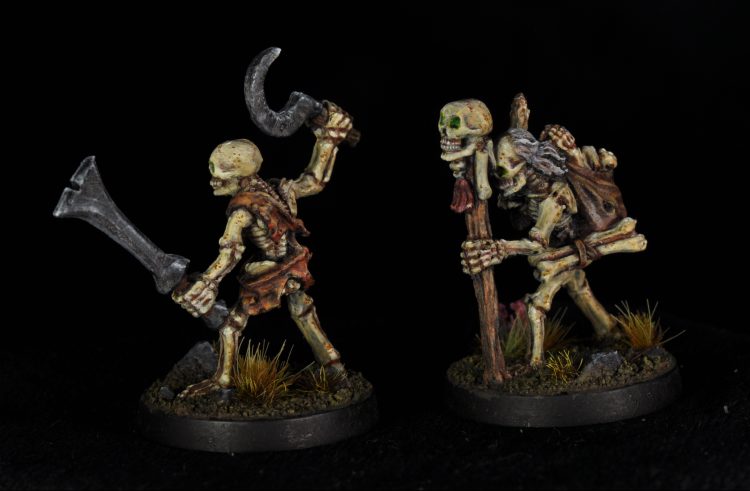 Charlie B
Are you sitting down? No? You should be, for I have made mother—-ing BEIGE PAVING SLABS. And I am excited. They're modular lightweight foamex, and this was just a 2'x2′ tester. I intend to carve a full 6×4 board of this stuff, and fear not, I'll be sure to post a tutorial when that happens. One day you too will be able to enjoy beige paving slabs of your own. Get excited.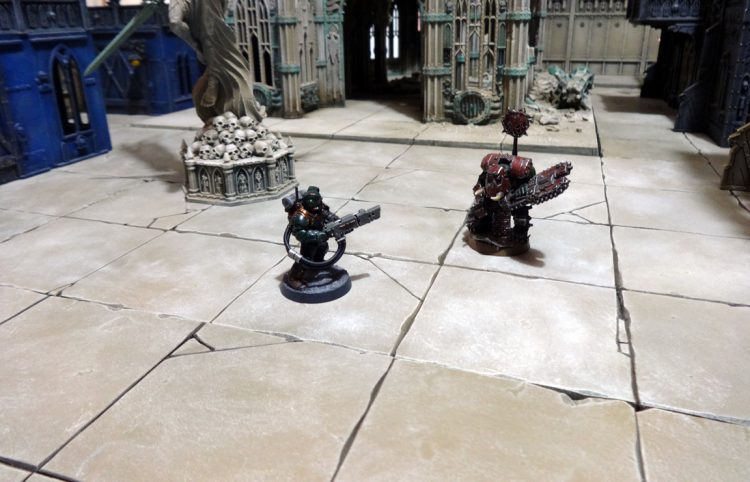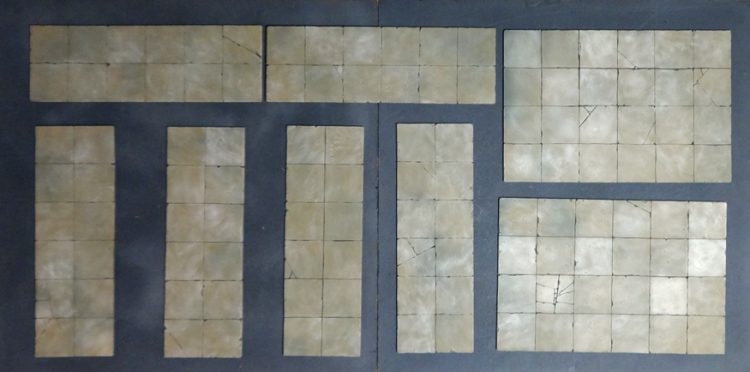 Rockfish
I am going to lead off with the most recent thing, mostly because I am super excited because I got a new camera!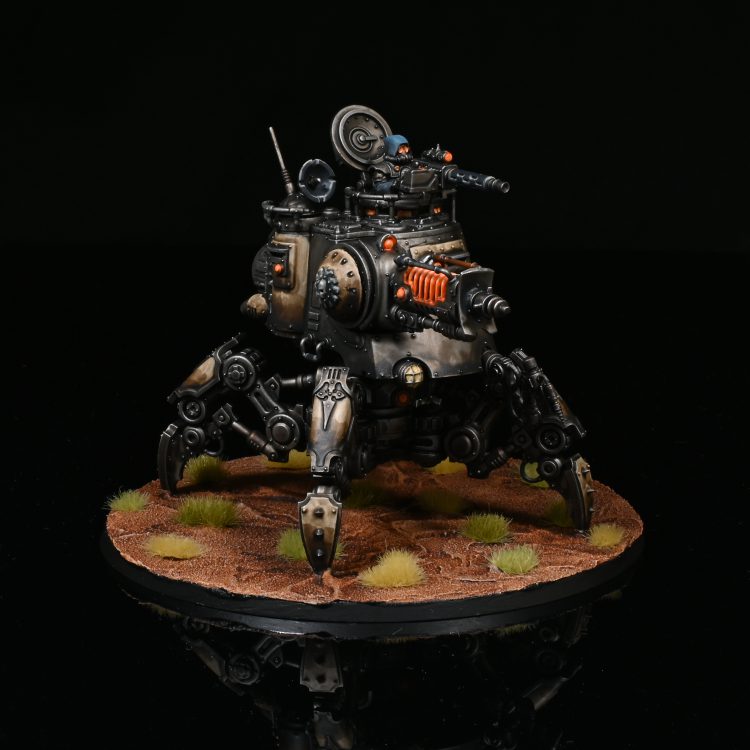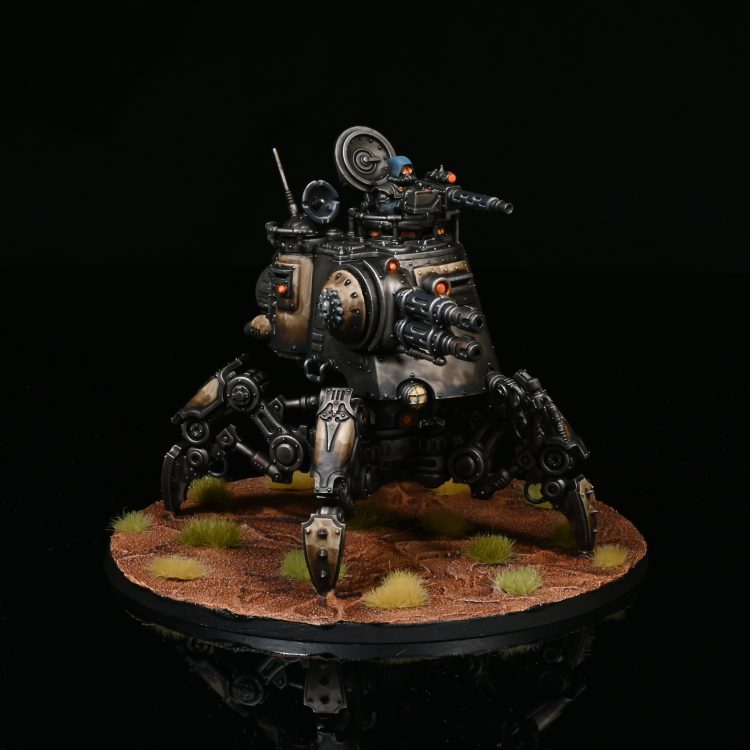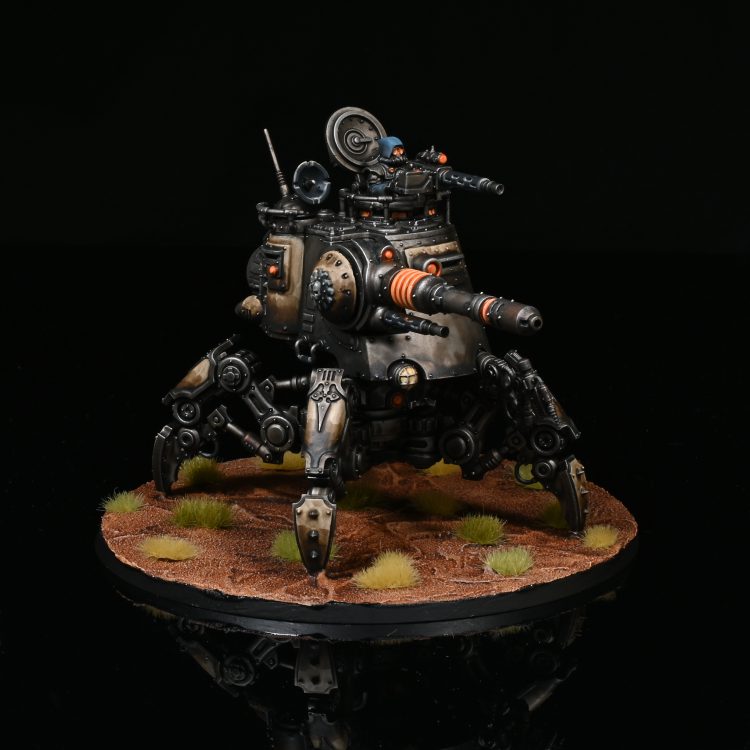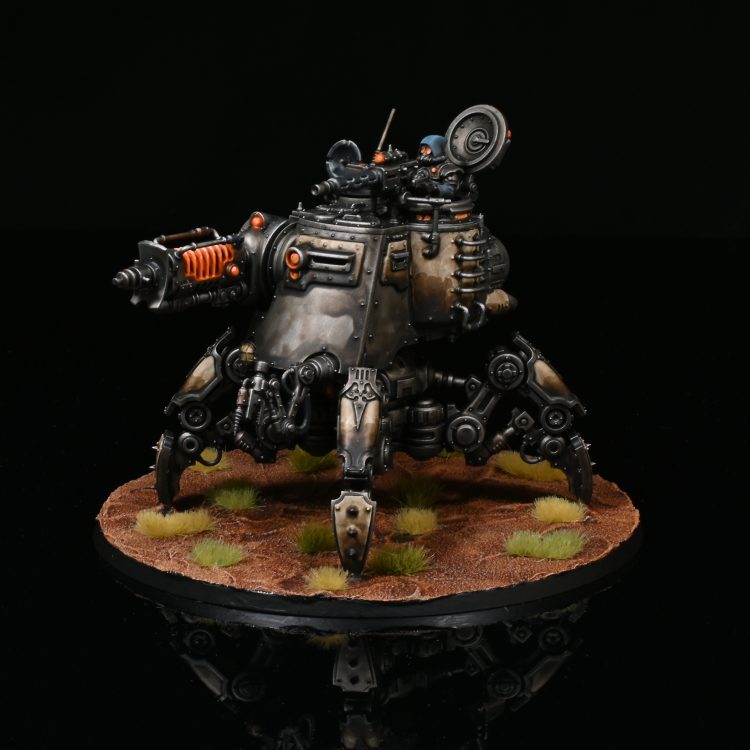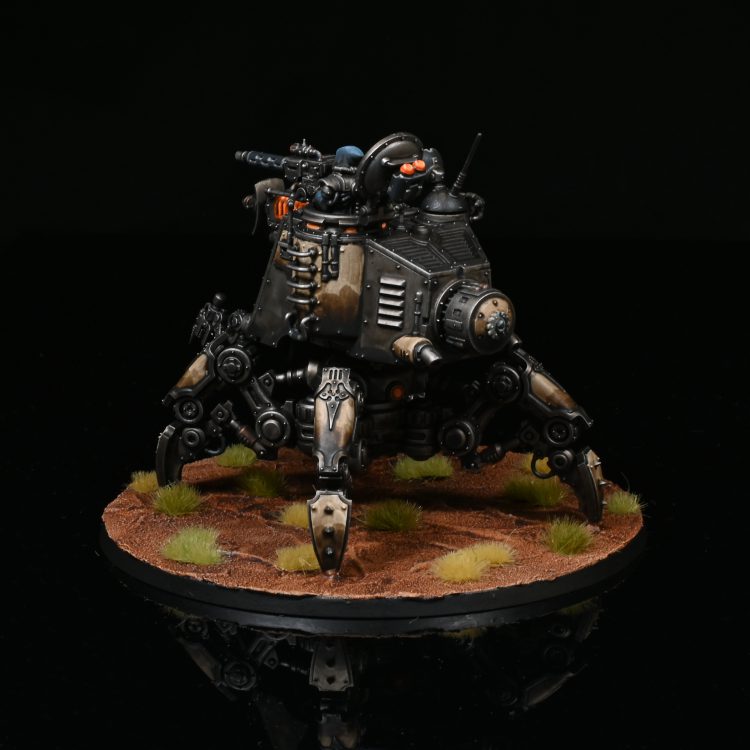 I messed up the focus a bit on some of the pictures, but I am sure practice will help! Getting into older pictures I added another three kataphrons to my collection: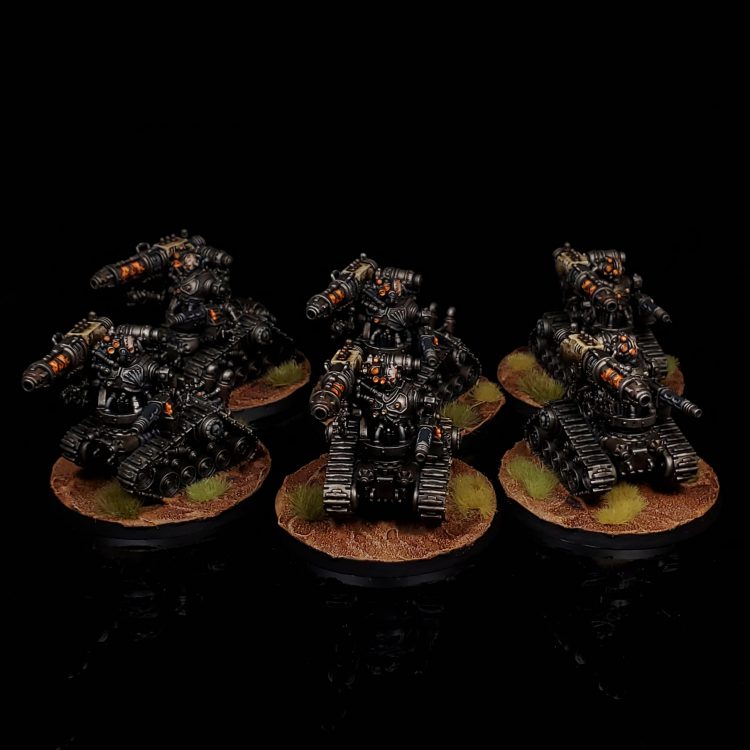 I also painted some more of cursed city, this time the rats, bats, and zombies.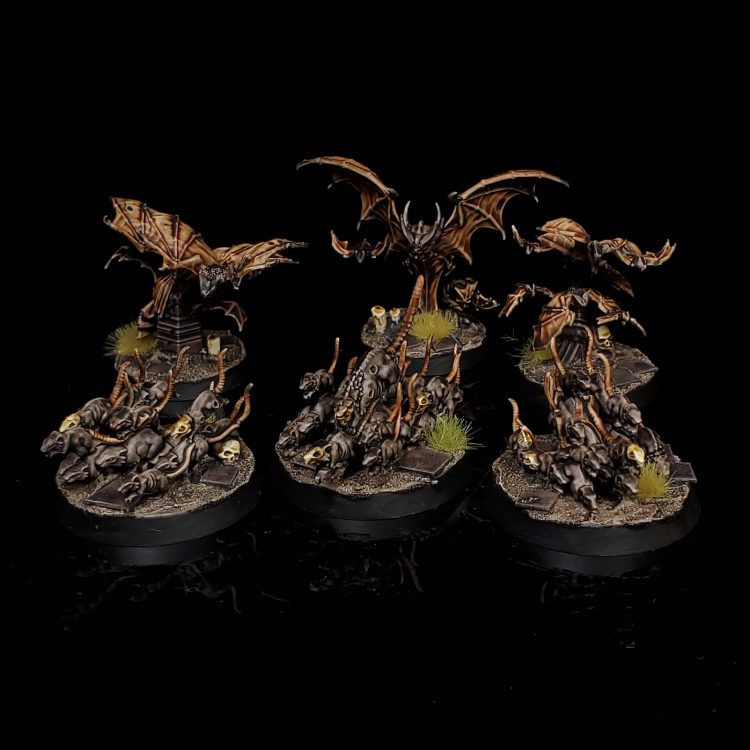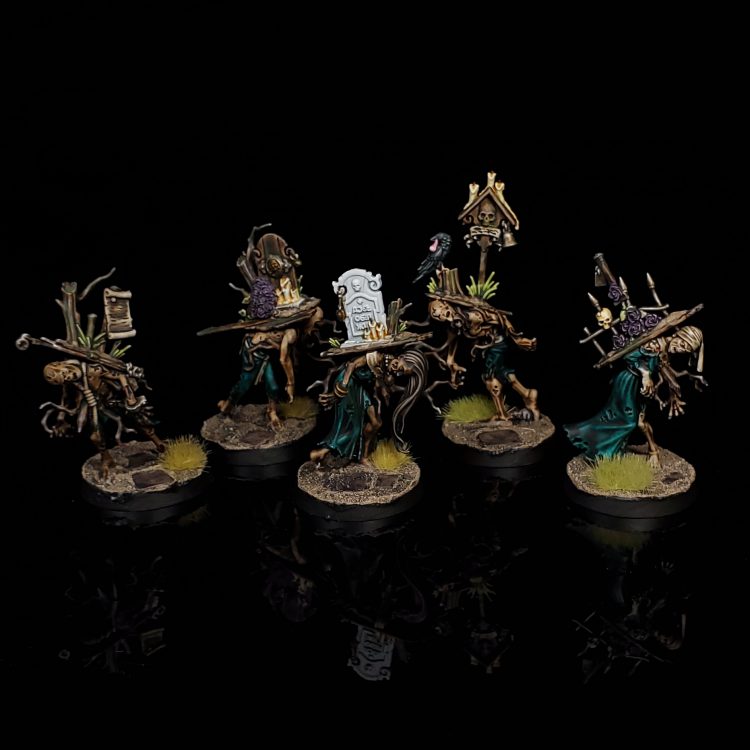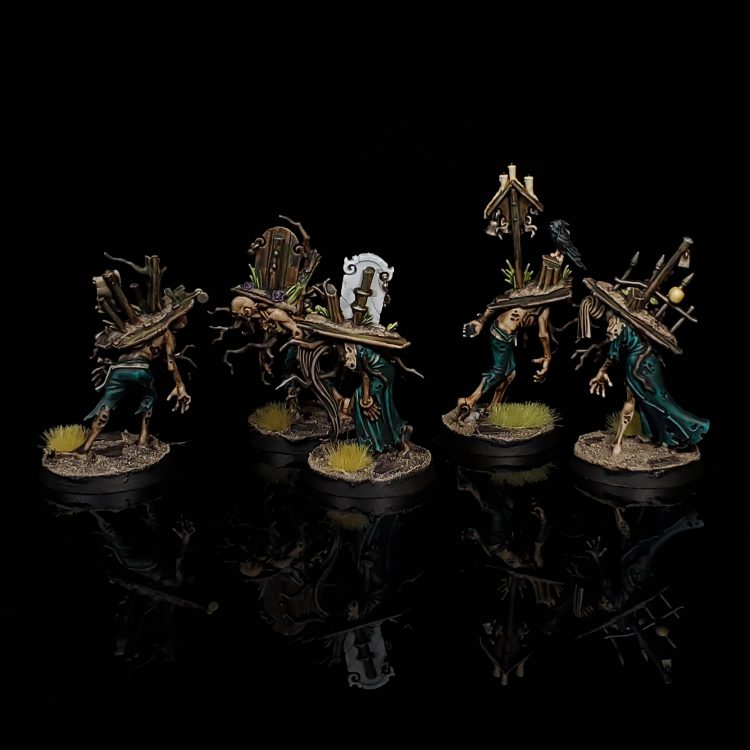 I also did a quick Spiritseer for something different.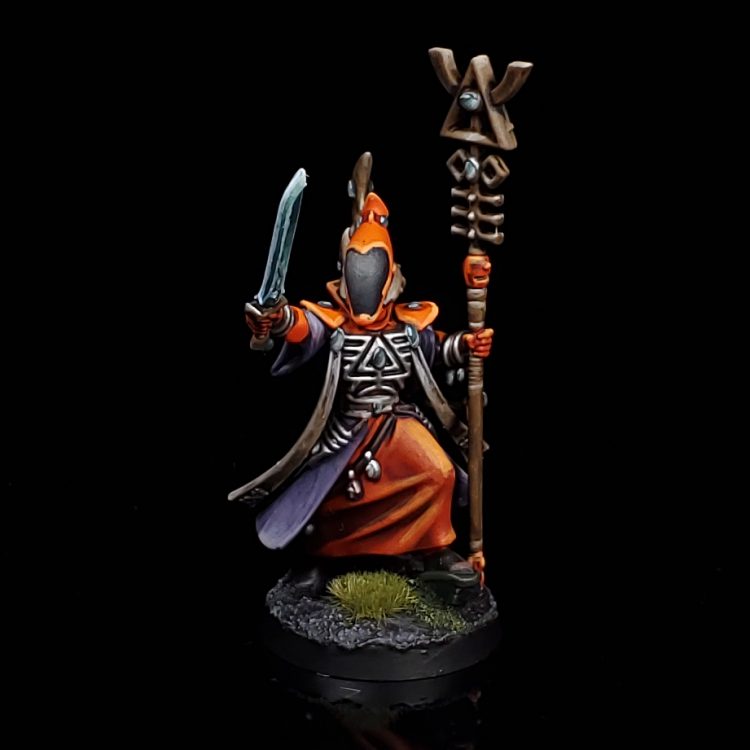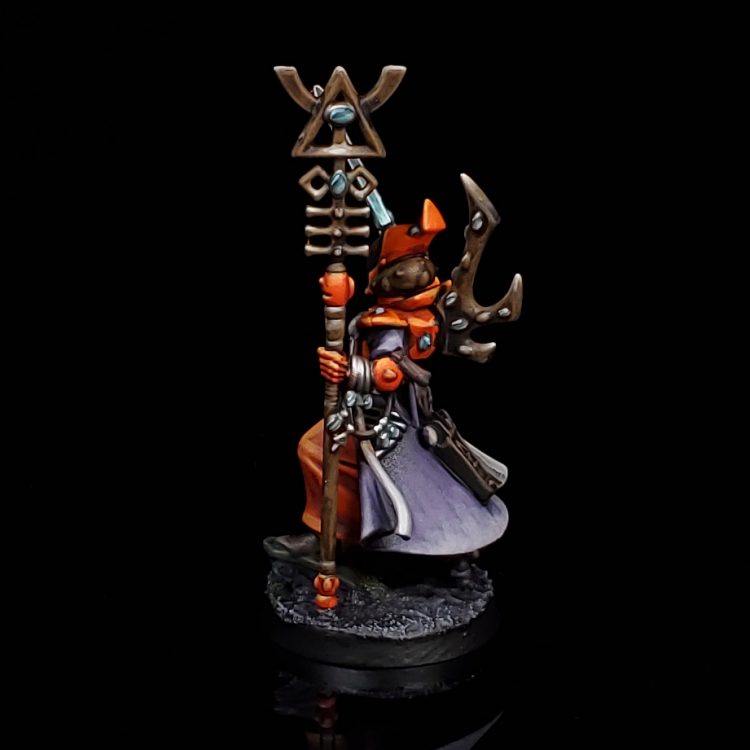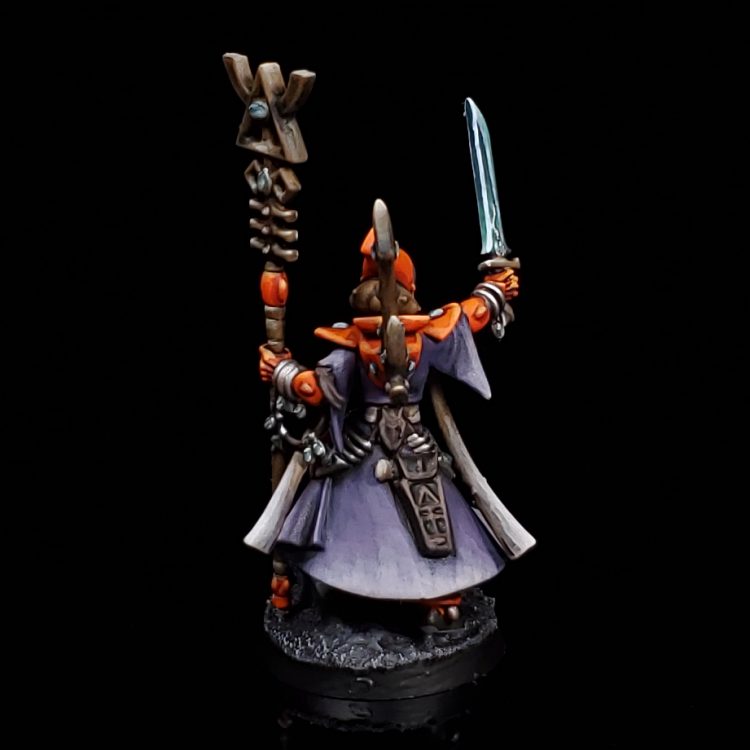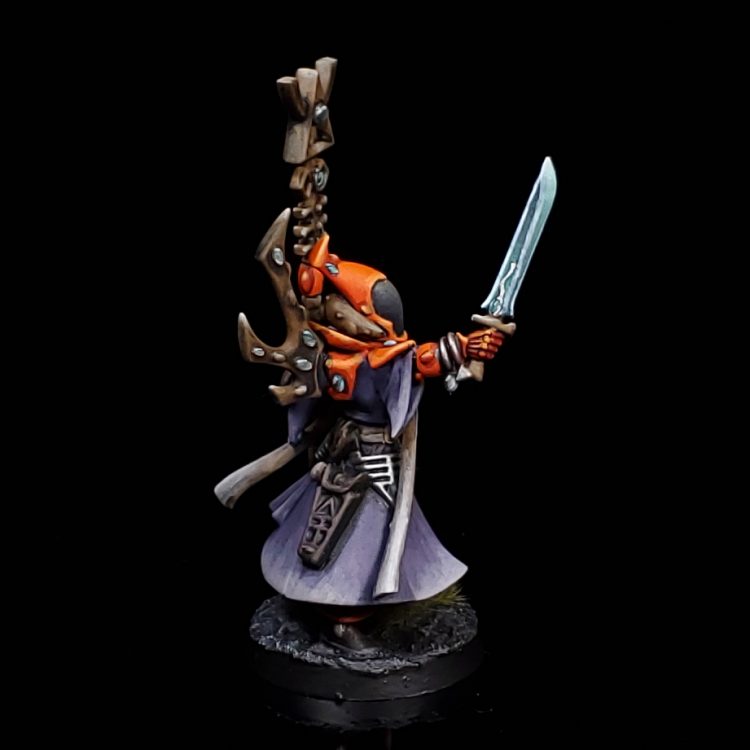 Colin
April was a busy month for me on the commission front, but I did manage to add a few models to my personal armies over the course of the month. The first model I finished was was the new Warmaster Titan for Adeptus Titanicus, in the colors of Legio Defensor. The model was more of a logistical challenge than a painting one, as I've painted a few titans for Legio Defensor already. It's a great kit and towers over the rest of the Maniple. I can't wait to get it on the table.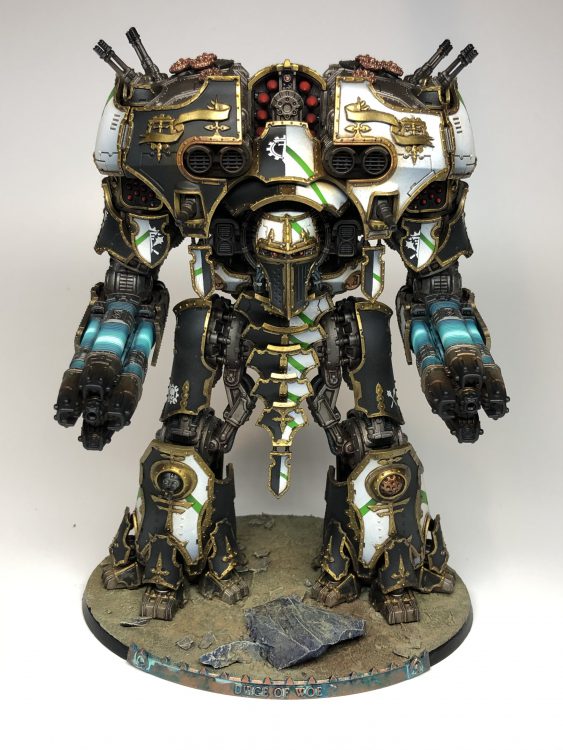 At the end of the month, I turned my attention back to my Blood Angels. I had a unit of Incursors and a Reiver Lieutenant that I've been looking forward to painting, so I decided to knock them out. I love painting their Ossian Suppression Pattern camo, the leather pouches, lenses, everything. I'm particularly pleased with how the darker skin tones came out. I had so much fun painting these that I've resolved to adding another 5 each of Incursors and Infiltrators to the army.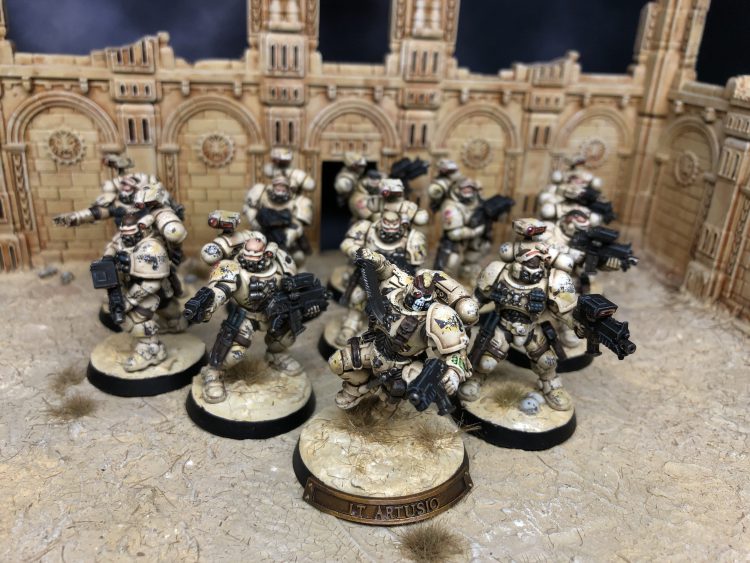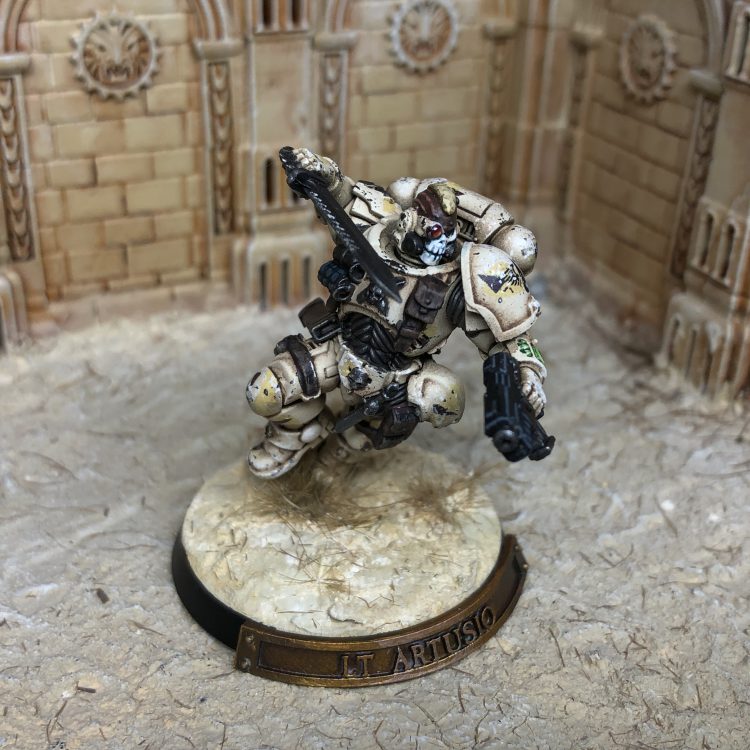 Silks
It's been a while! I can't remember the last time I had models to add to one of these. I haven't been slacking, rather I've been doing a lot of commission work rather than getting to paint my own things. But I'm back on it with my new army… the bogeymen of the new edition, the Drukhari!
I've actually made a fair bit of progress, most of the models I own have had the initial airbrushing done, but I'm finally getting to the point where I can go and add the rest of the bits. I decided to start with a unit of Kabalite Trueborn. In order to distinguish which unit was the Trueborn I did a simple headswap with the bare heads you get in the Incubii kit, which I think makes them look pretty mean!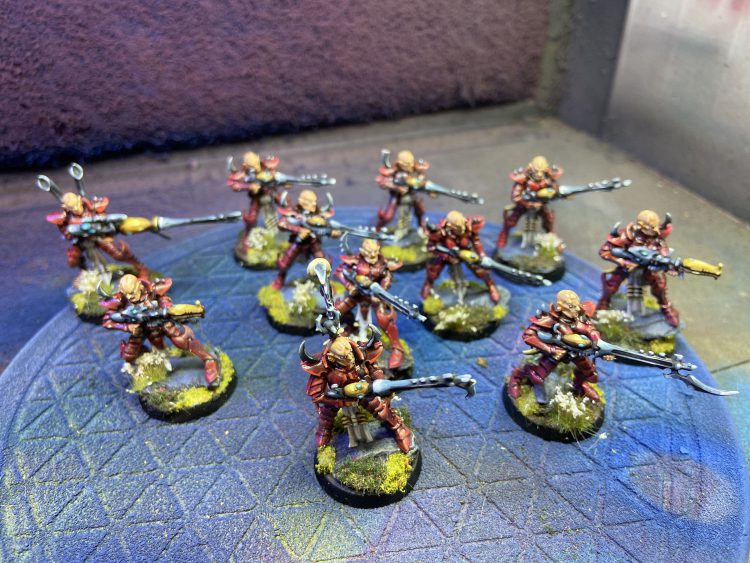 After getting this first unit done I decided to work on something to transport them. I only got as far as doing the gold but I am super happy with how it turned out. Deciding to pick a NMM scheme over a TMM one had me worried when it came to doing the vehicles, but I'm very glad I put the extra effort in. Doing the decking only took an hour or so and whilst it's not perfect I think it looks pretty darn nice!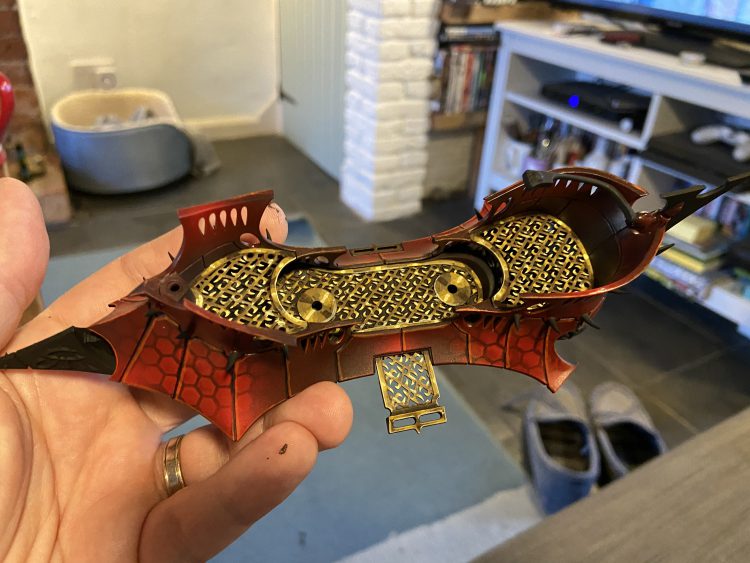 Pendulin
It's hodgepodge time. It's time to sift through the backlog and see what rises to the top.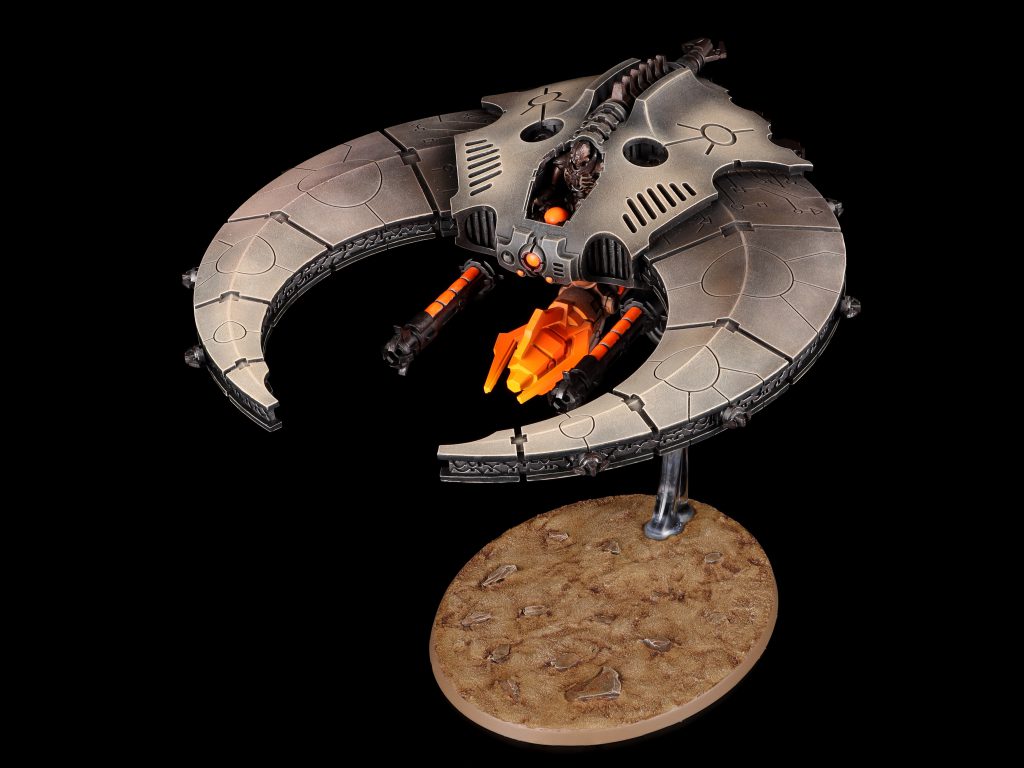 My first Necron vehicle, and I'm really excited with how this Doom Scyte/Nightscythe turned out. I painted this solely to be a test model for these soft drybrushed colors, and the final product is precisely what I wanted. I'll be using this scheme in The Silent King, which I've been building for a while (step off my back, I'm a slow builder mom), and seeing this Doom Scythe turn out as it did makes me really eager to paint some more Necron vehicles.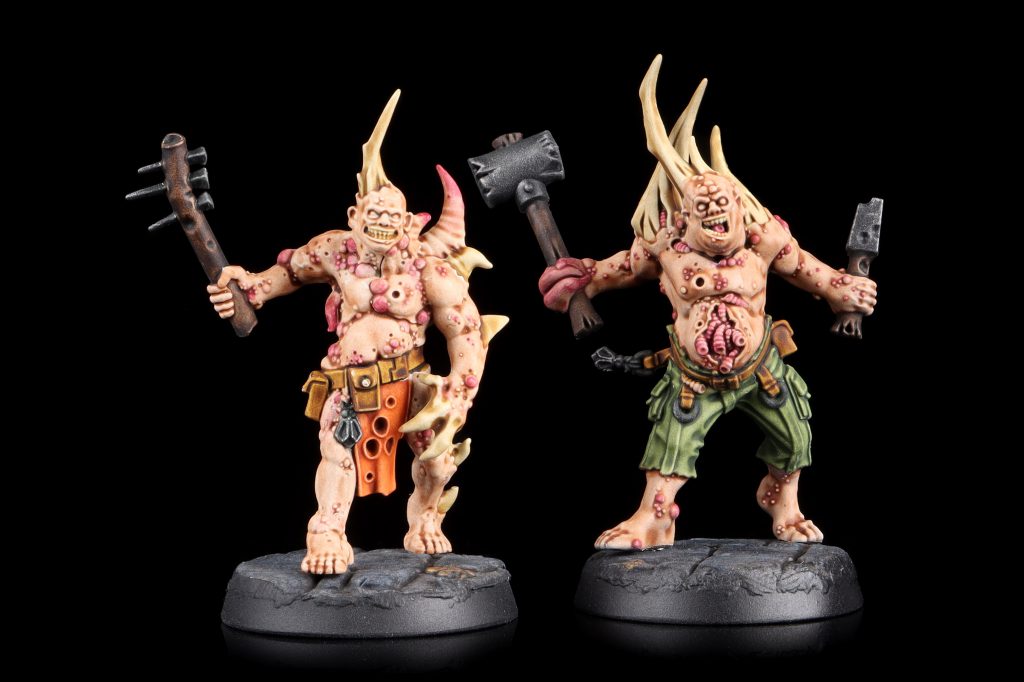 I have a First Strike box from 8th edition that I've had lying around for years. In between waiting for glue to dry on The Silent King, I built a couple Poxwalkers and painted them up with Contrast paints. No real plans on building a Death Guard army, but I do love how these two models turned out.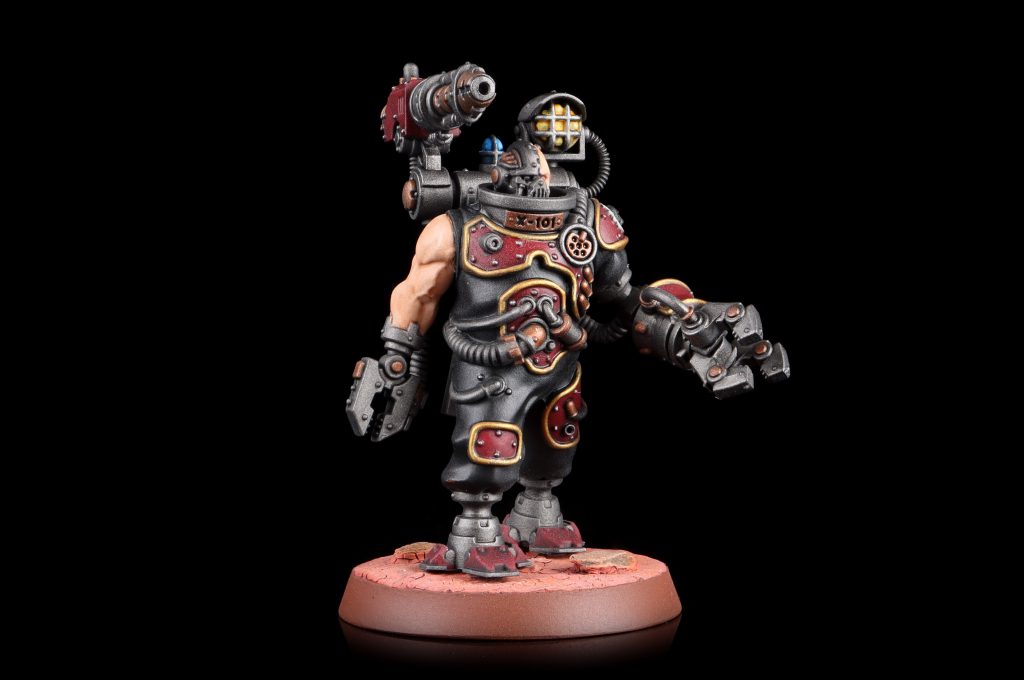 I finished April off with one of Admech's most forgettable units, X-101. It's a shame, though, because it's a great looking model, and I hope to see more weird, one-off Admech stuff in the future. X-101 likely won't be hitting my battlefield anytime soon, but he'll be great in my display case.
Crab-Stuffed Mushrooms
New Year, New Army… -Wait, is anyone still sticking with that? Well, I did: With Adeptus T I T A N I C U S:
AT really is the best game you haven't played. What's more, the smaller scale lets you get away with more on your paintjobs: Whether you're drybrushing or airbrushing, these tiny Titans will still look good. If you haven't already, now is one of the best times to get into the game with some of the best deals from GW:
The gold trim was painted with base metallics and shaded with contrast paints. The hotrod flames were done with stencils and an airbrush, but you could use a sponge as well. The bases were from Unreal Wargaming Studios and the name plates were from Versatile Terrain:
PierreTheMime
After a bit of a while away from the painting desk, I've decided to spring back into action by clearing off my second (and final) Hierodule model. My first kit had a hell of a time getting its scything talon to fit into the socket on the base, so I'd improvised with some foam rock but had committed to getting the second one in properly. This meant I had to do a bit more greenstuff-ing to get the legs into the position to angle the body in the proper way but I think it worked out. It's a much more low-lying 'dule than the first and its pose gives off a menacing "do not approach" vibe, which I think is pretty appropriate for a biotitan bent on murder.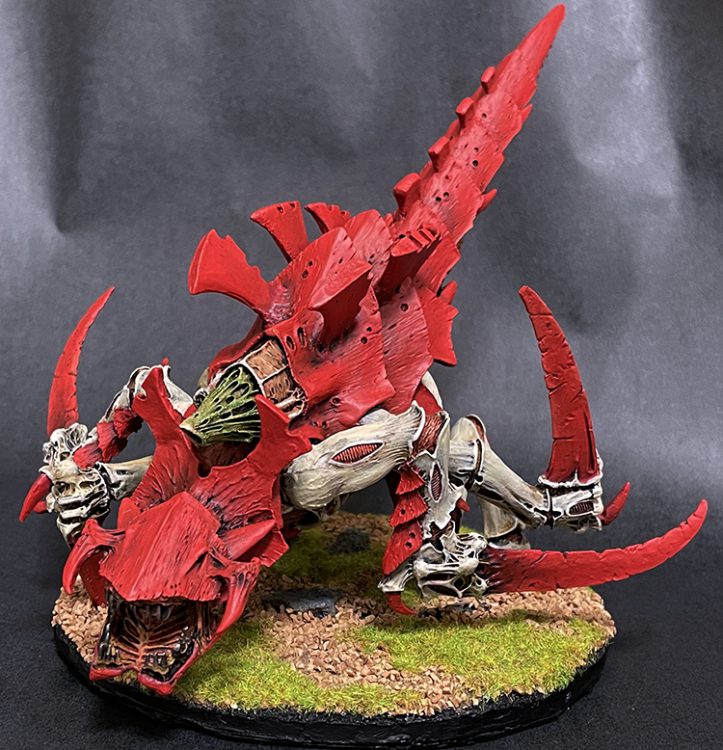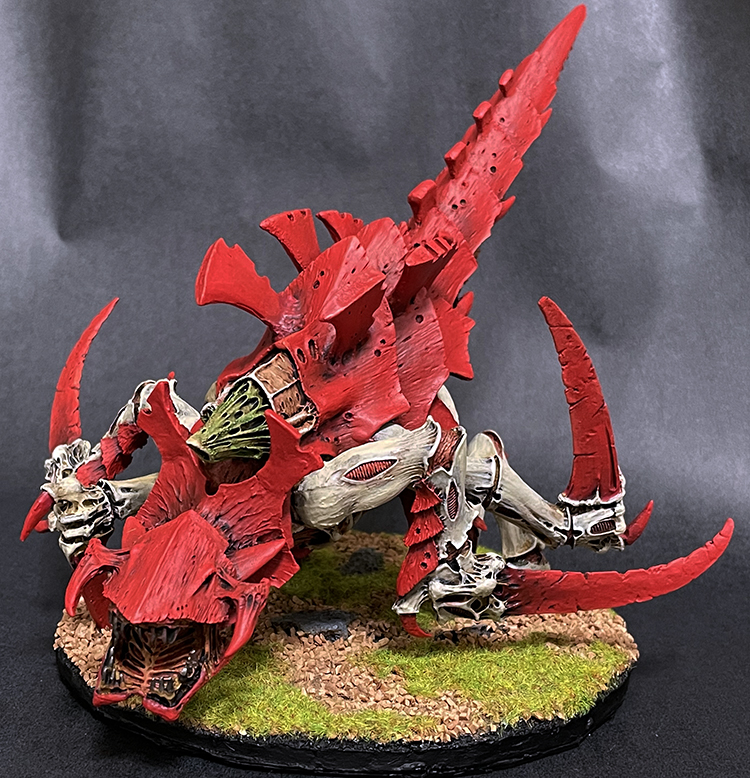 With that finished, I've finally convinced myself I want to jump into Age of Sigmar proper so I picked up the Soul Wars set along with a few other items. Having previously painted the Briar Queen and co. I felt I already had my scheme down, but I wanted to do what other models I had on hand before my larger project arrived.
These Easy-To-Build Glaivewraith Stalkers are neat models and the bases look great but I couldn't imagine doing an entire army in those types of bases, they're just so detailed and busy it would take me forever. Still, good to sprinkle in some graveyard stuff.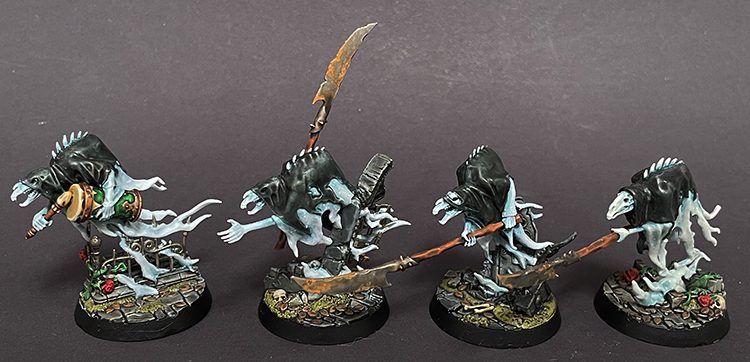 Bair
The last couple weeks I've been building and painting Kharadrons, I did start to collect these when they first came out but quickly scrapped them as a project. Wanted to revisit the army and give them some old school dwarf mountain vibes with their bases and darker colour scheme. These were really fun to do, very simple but effective I think as I wanted them to look properly cold and chilled. I used an ice and snow wash from a brand called Krycell which I had never seen before on the decking and the balloon-esque portions of the models to help give that iced over look since I don't think anything they use would actually create heat to melt it off. The bases are super simple too, thick cork ripped to shape and stacked with some Corvus Black painted over, drubrushed in Eshin Grey and then Valhallan Blizzard snow on the flat surfaces.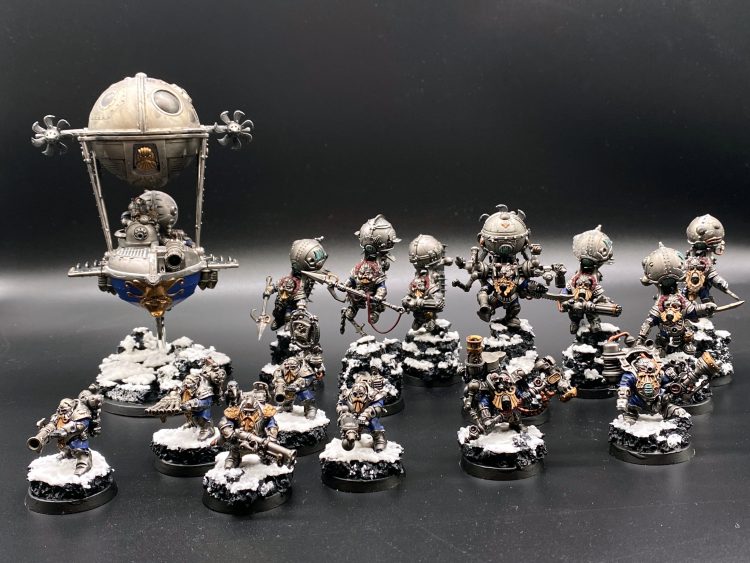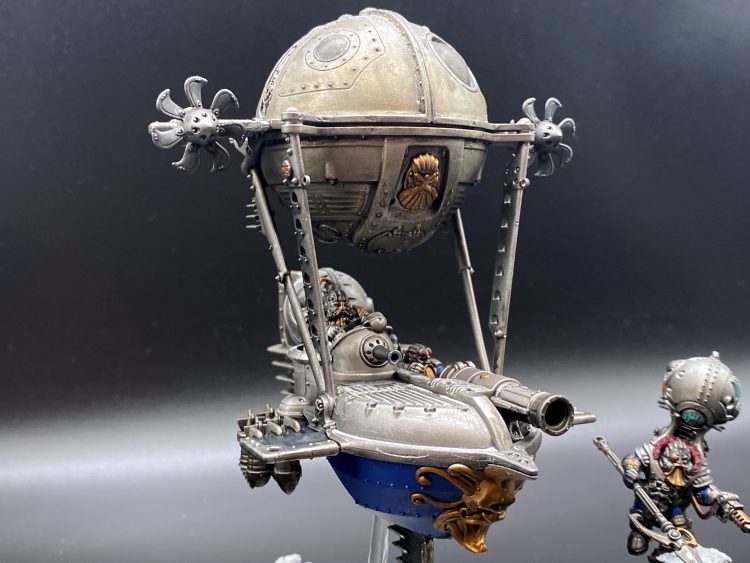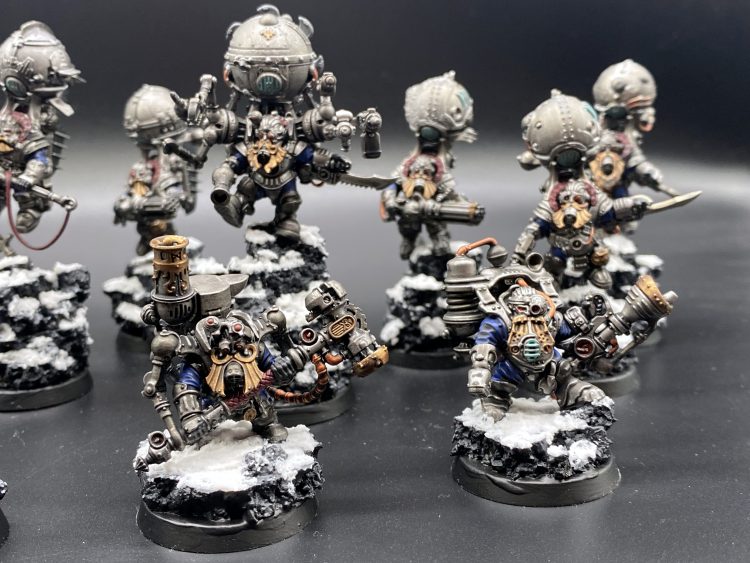 Beanith's last second addition.
So my hobby Cairn of Oppurtunity might have had a Fungi outbreak…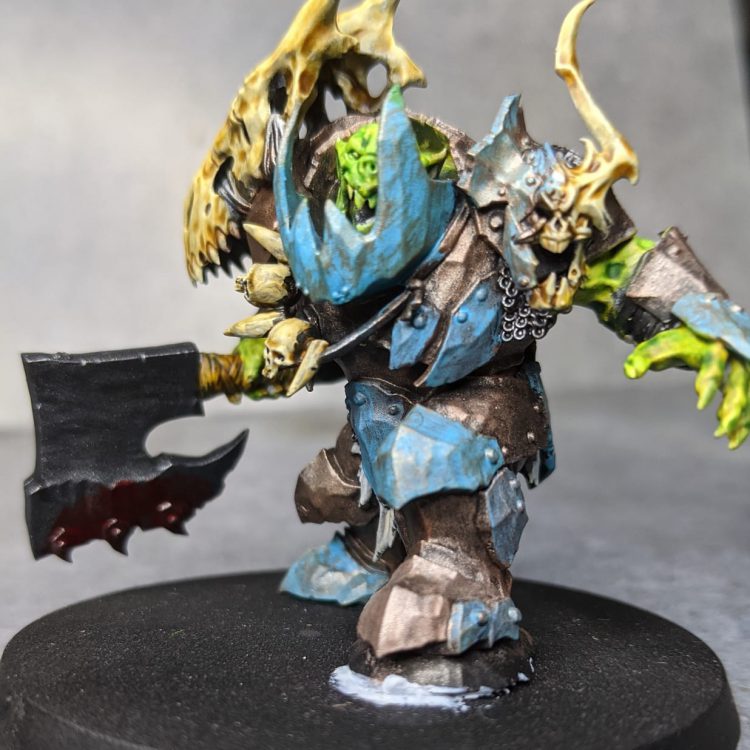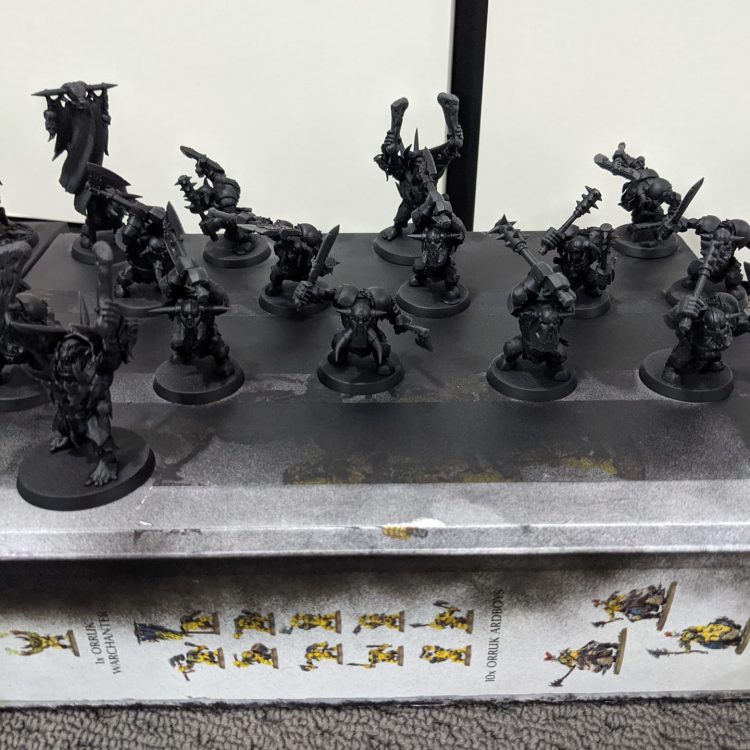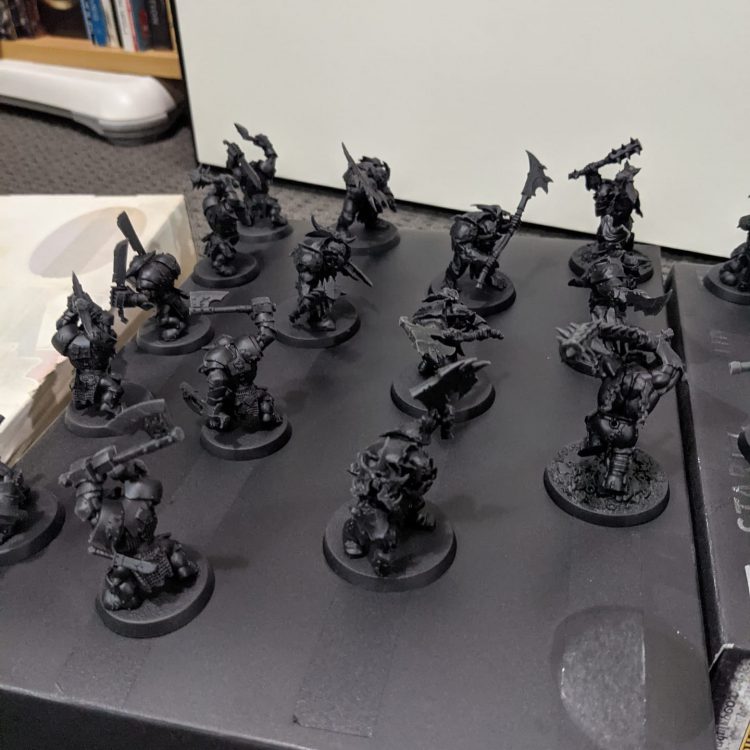 A good friend told me Warhammer minis are not Pokemon. You don't need to catch them all.
Lies, there's always room in my heart for more.
It might look like an Age of Wossname Orruk army but it's actually the start of my Ork Crusade Force which thanks to being WYSIWYG is absolutely in no way, shape or form, competitive… but I love my little fungal children regardless. The Ardboys are perfect for Nobs, the Brutes are excellent Boss Nobs, and the Warchanters make for cool Weirdboys. The Gore-Gruntas were a stand-in for Nob bikers but recently the Squighogs got previewed I'm not too sure…
As it stands, it's a nice little Vanguard force with room to add in an Outrider detachment. I'm still working on the fluff but it's roughly along the lines of a group of orks who look on all that new fashion tech with suspision and would rather get in close and krump things instead. I am tempted to get some Savage Orruk Arrowboys or even some Gloomspite Gitz Shootas for a troop tax. I even have some vague ideas about using Rockgut Troggoths as Killa Kans or something.

Oh and if my better two thirds asks, "New Quarter, New Army" is totally a thing.