A new month means a new round of hobby progress! What have our contributors been up to?
Soggy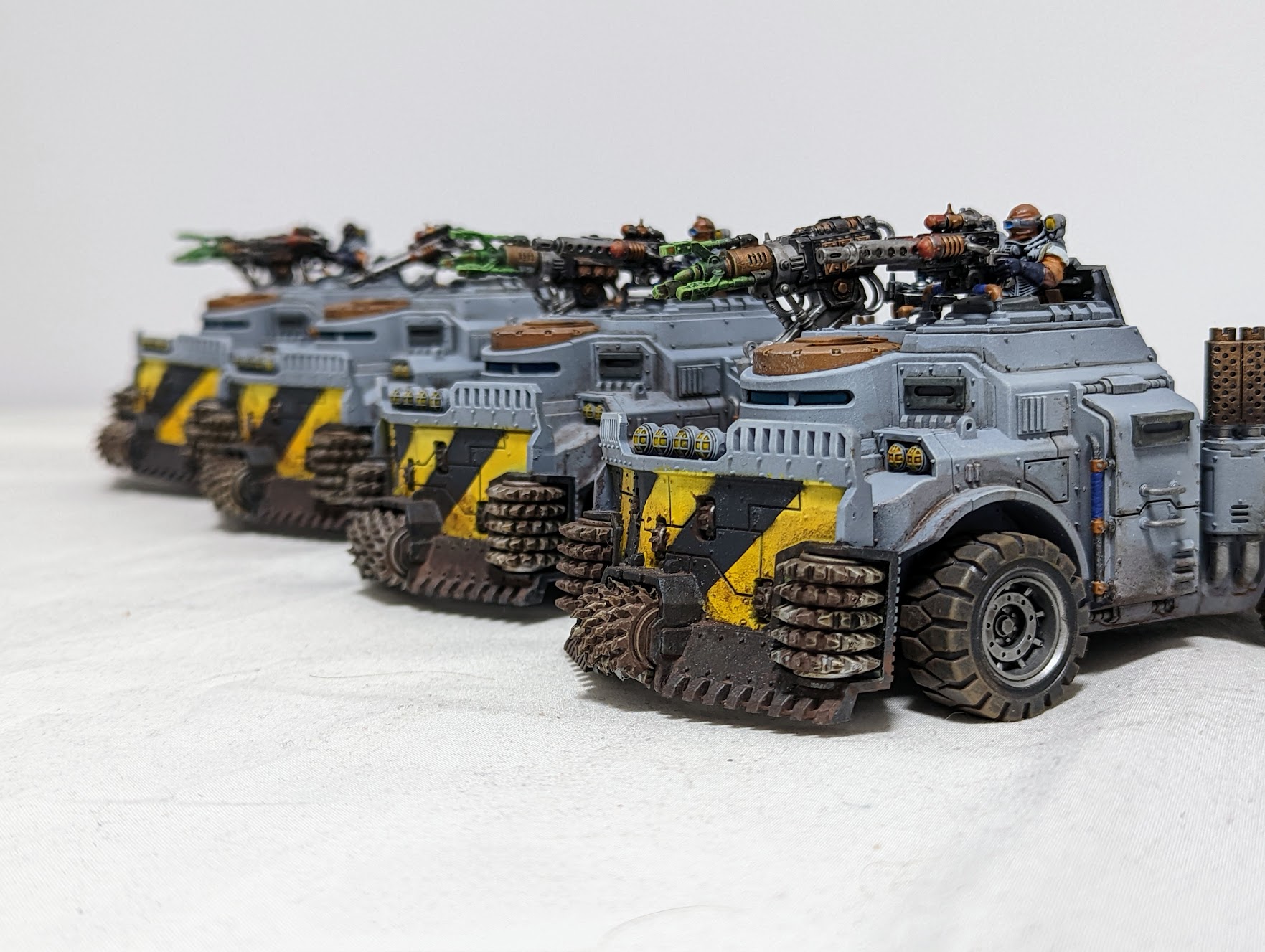 February's hobby was spent on two batch painting projects to fill out some gaps for my GSC. I should really know better than to do four vehicles or 30 infantry at a time, but I'm a slave for punishment.
The genestealers were an awful contrast paintjob, so it was good to give these some TLC given they are actually worth taking these days. Likewise, I never bothered fielding goliaths in 8th edition but with the massive glow up they've been given it was time to crank some of these out. These are lovely kits that go together really quickly and are easy enough to magnetise the various options on.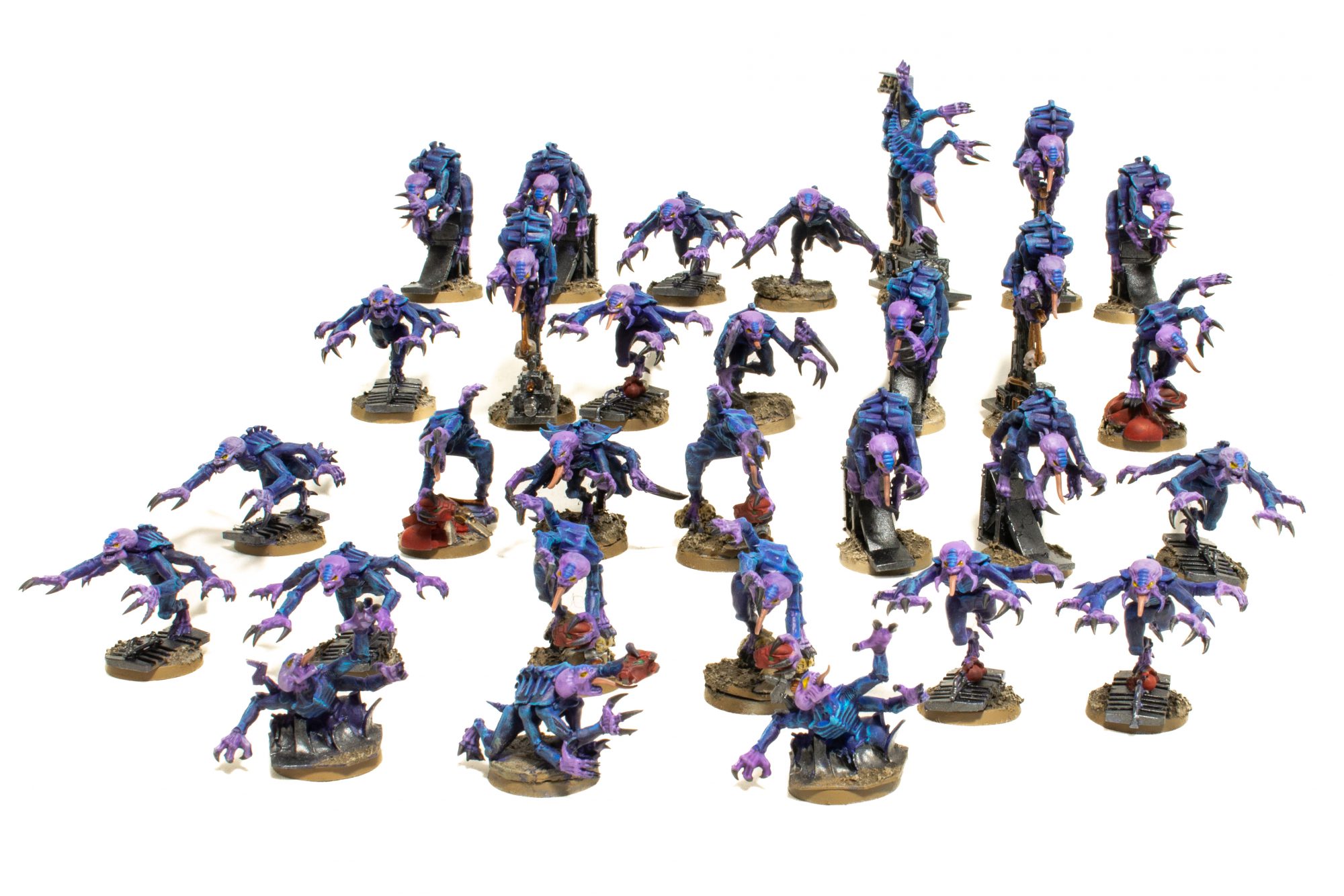 Next month I've got a third gap to fill in my roster – metamorphs. As is common, I'll be converting some delaques for this as it's a bit more economical and makes them stand out from the other acolytes on the field.
Rockfish
As usual I have been painting a lot, probably the most notable stuff is what GW sent me ahead of release though, in this case a bunch of eldar and some 30k characters!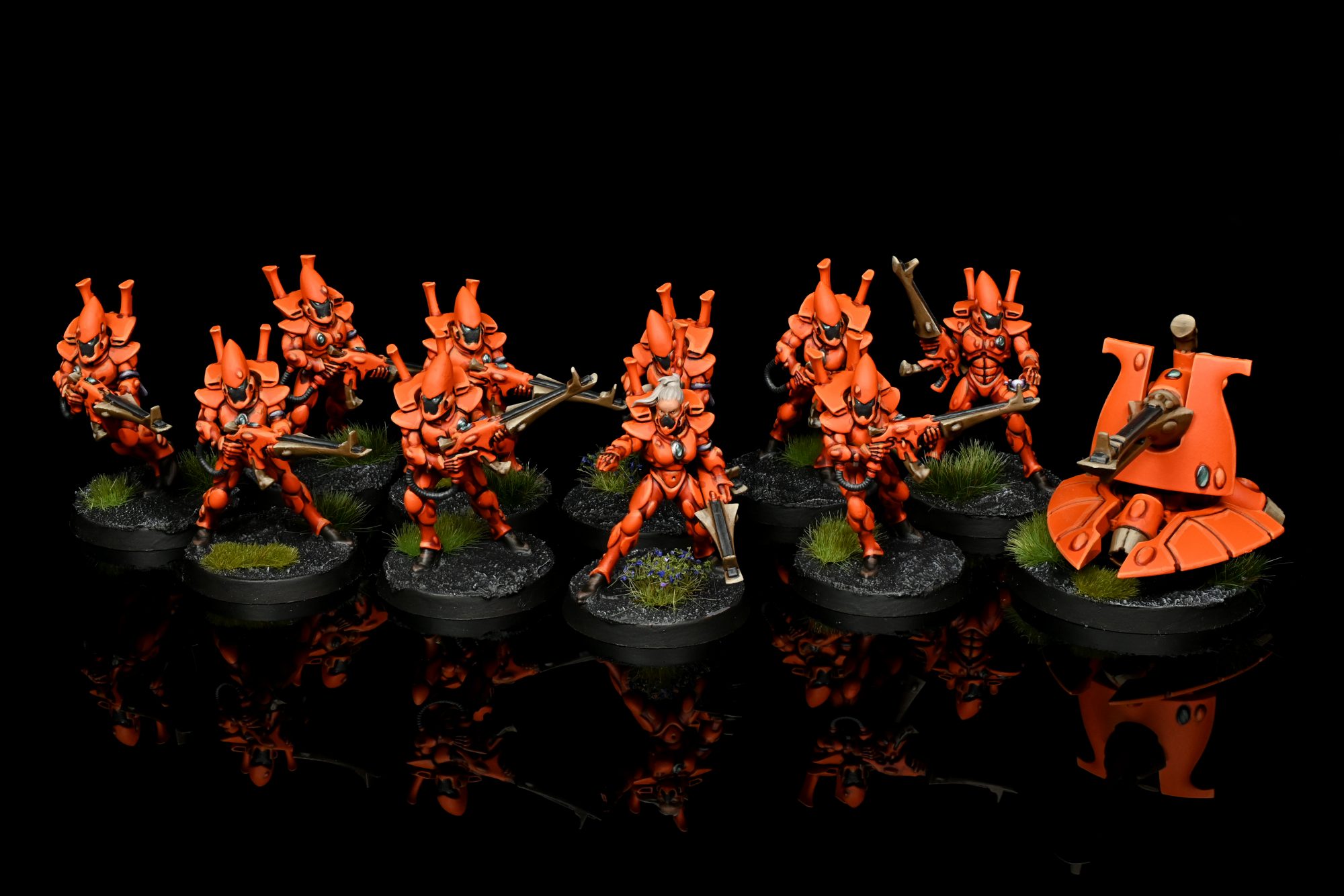 I also did some tau stuff too
Only 5 of those breachers are new I will admit. I did also end up painting some eldar stuff from my backlog too, in this case a Wraith Knight and some Rangers!
TheArmorOfContempt
As Adepticon approaches I hurry to paint the few models I need to complete my Wyrmblade Kill Team, as I scroll up I see Rockfish has painted like an entire army in the two weeks it took me to paint these two guys. What a jerk.
Genestealer Cult Sanctus and Locus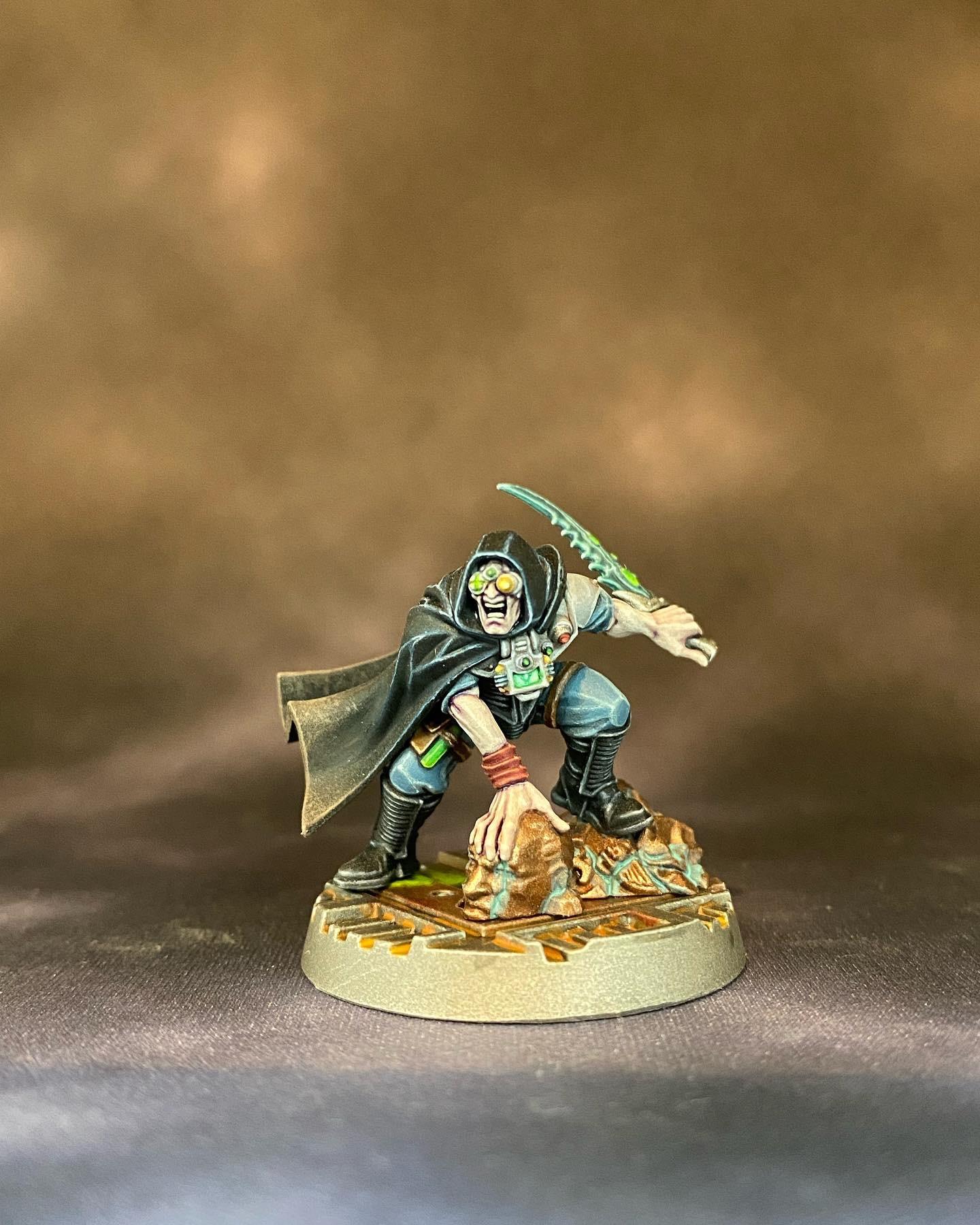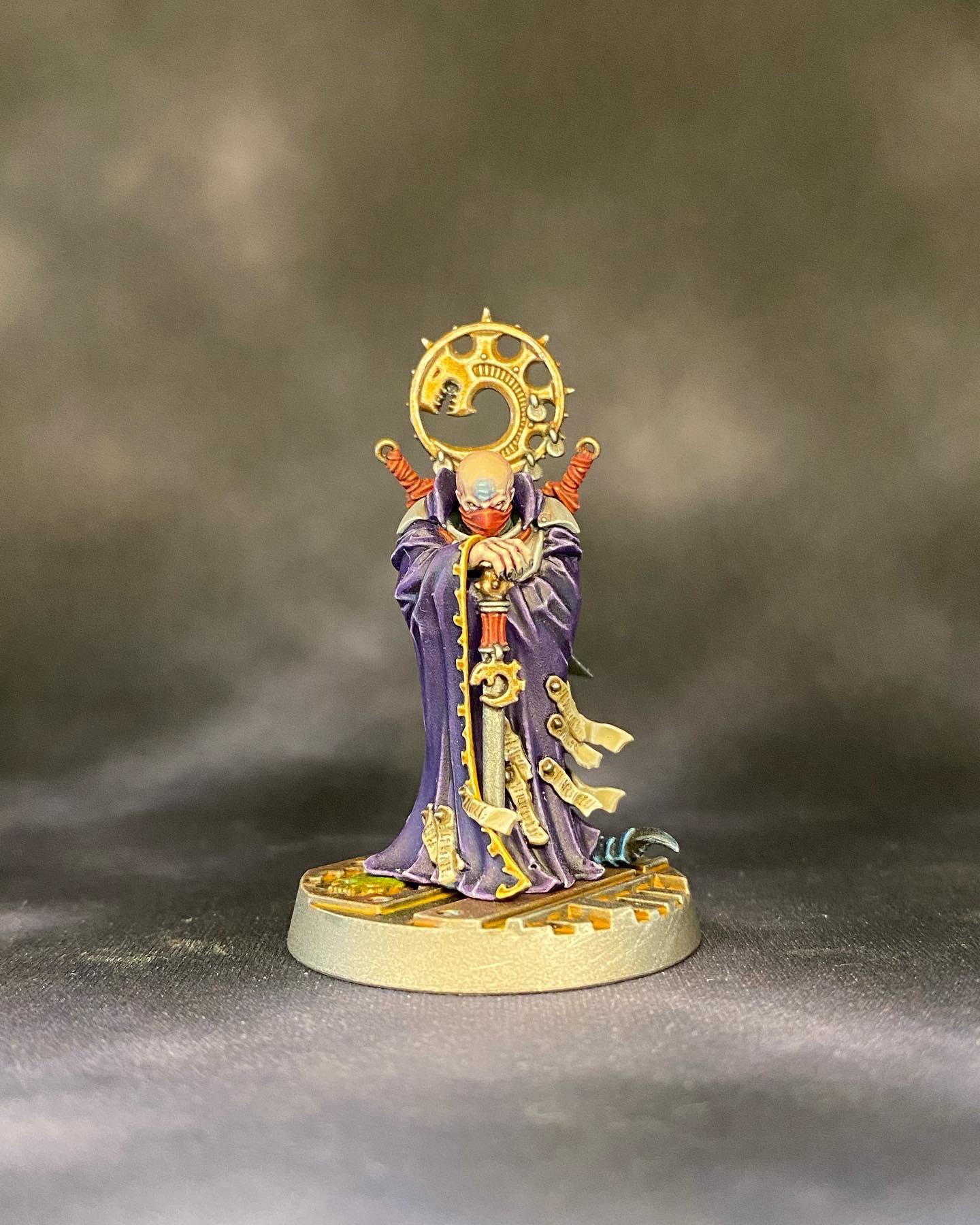 SRM
The shortest month of the year hit me like the longest month of the year, so unfortunately I haven't gotten a ton painted. By the time I got my ducks in a row the month was almost over and Elden Ring was installed. However, I still got a little bit done!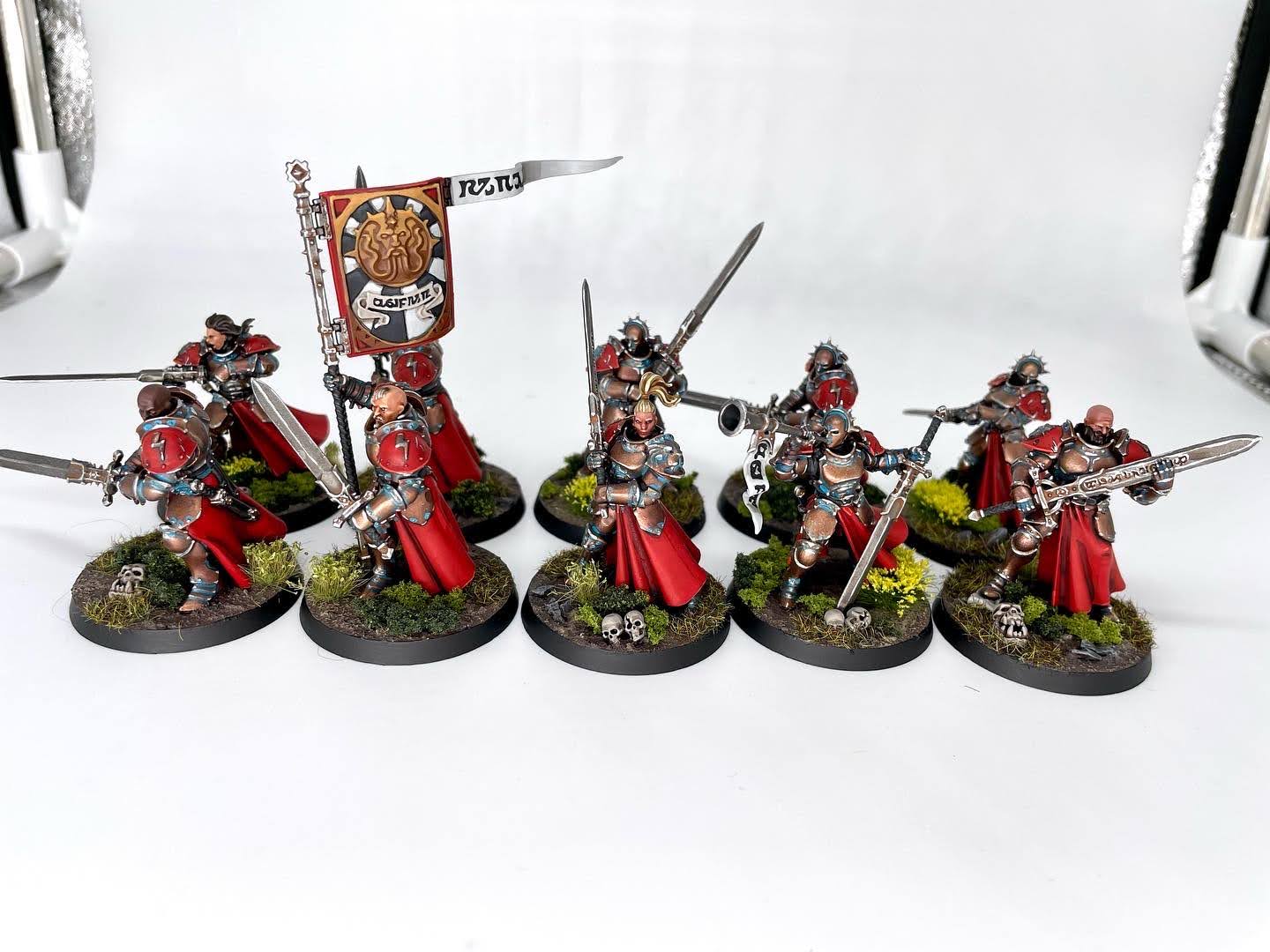 I painted up a proper regiment of Vanquishers, with a champion, musician, and standard bearer. I always love painting full command for my regiments when I have the opportunity. The banner was a slight pain, but building and painting these guys was pretty swell – much easier than the Vigilors I painted a few months back anywhomst.
I unfortunately wasn't able to finish my Repulsor Executioner in time for the end of the month. I'd done a little bit of Templar-ing to it, but my Army Painter black primer went semi-gloss and as a result the model was partially hydrophobic. This meant if I slapped a coat of paint on there – and mind you I was trying to do just that all over to even out the black primer – the paint would just recede away. I had to do a coat of gloopy thicc paint to cover it, then a thinner one to even it out – it was all just a goddang mess. Anyway, it's basically done after bashing my head against the wall for a week. I'm writing this in March so, legally, I can't post it until the March roundup.
Charlie B
Every player in my gaming group makes a point of maintaining at least one non-Imperial faction so that we never have to worry about the standard Astartes overpopulation problem. For my part, I've been playing Evil Sunz since fifth edition, and at this point they've run their course, bless 'em. It's time for something new. Something COMPLETELY different.
Goffs.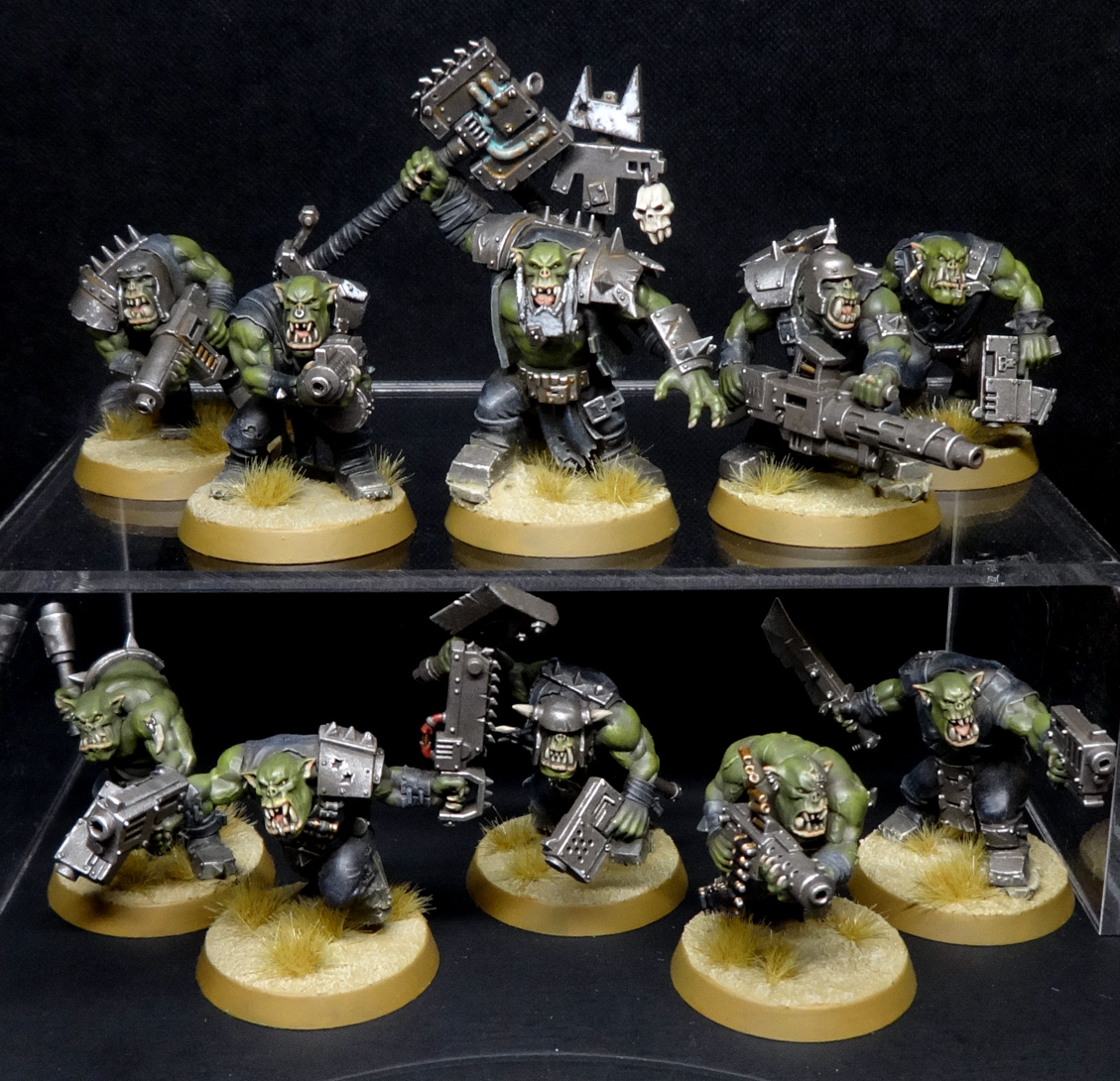 Sure they might run the risk of being comparatively visually dull, but they let me make dumb heavy metal references. It also means being able to use a bunch of things that felt wrong in a speed freak army, like kans and dreads. Before I can have my clanking dessert, though, I have to paint my greens. Hence: new ladz. Here's the first ten. They took about an hour per dude, but I'm hoping to get that down as I do more of them.
Mugginns
This month I've been prepping for AdeptiCon. I'll have a "Road To" article next week but wanted to show some progress here.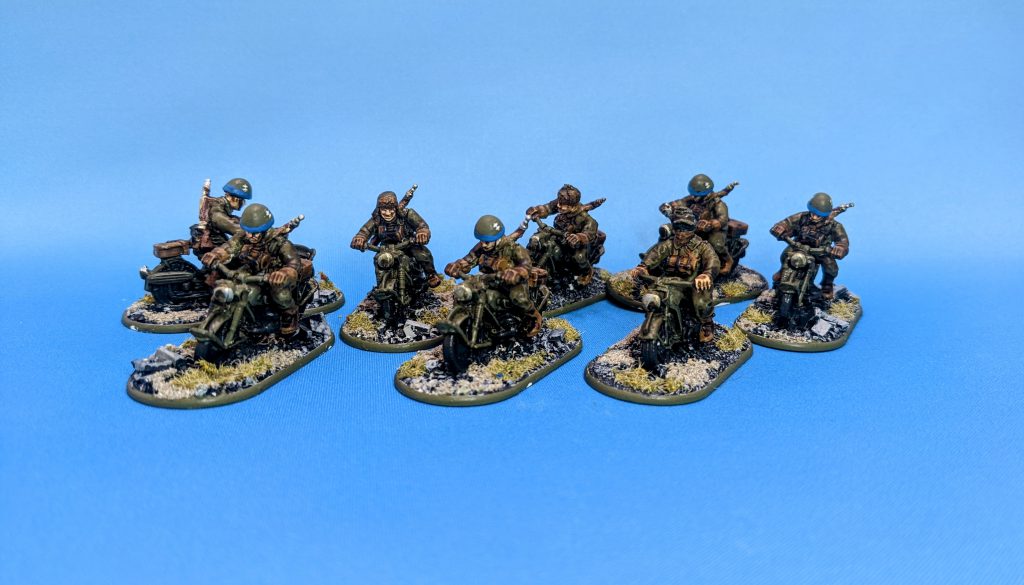 These guys are for my Slovak Fast Division. They're Kradschutzen from Warlord Games that I've converted with some winter hat heads and Slovak helmeted heads. I don't freehand the Slovak symbol on the helmet, it's actually a decal I printed up.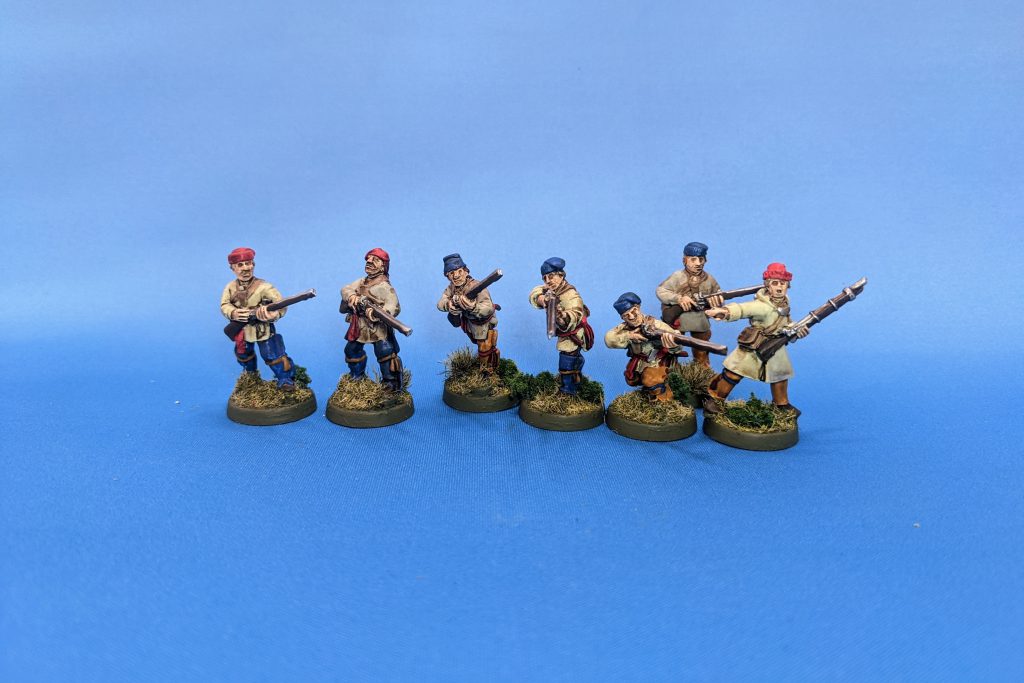 These guys are Milice Canadienne for Sharp Practice. There are six troops and one leader. They're all Galloping Major minis except the leader, who is from North Star miniatures. They're magnetized on bottom for skirmish bases.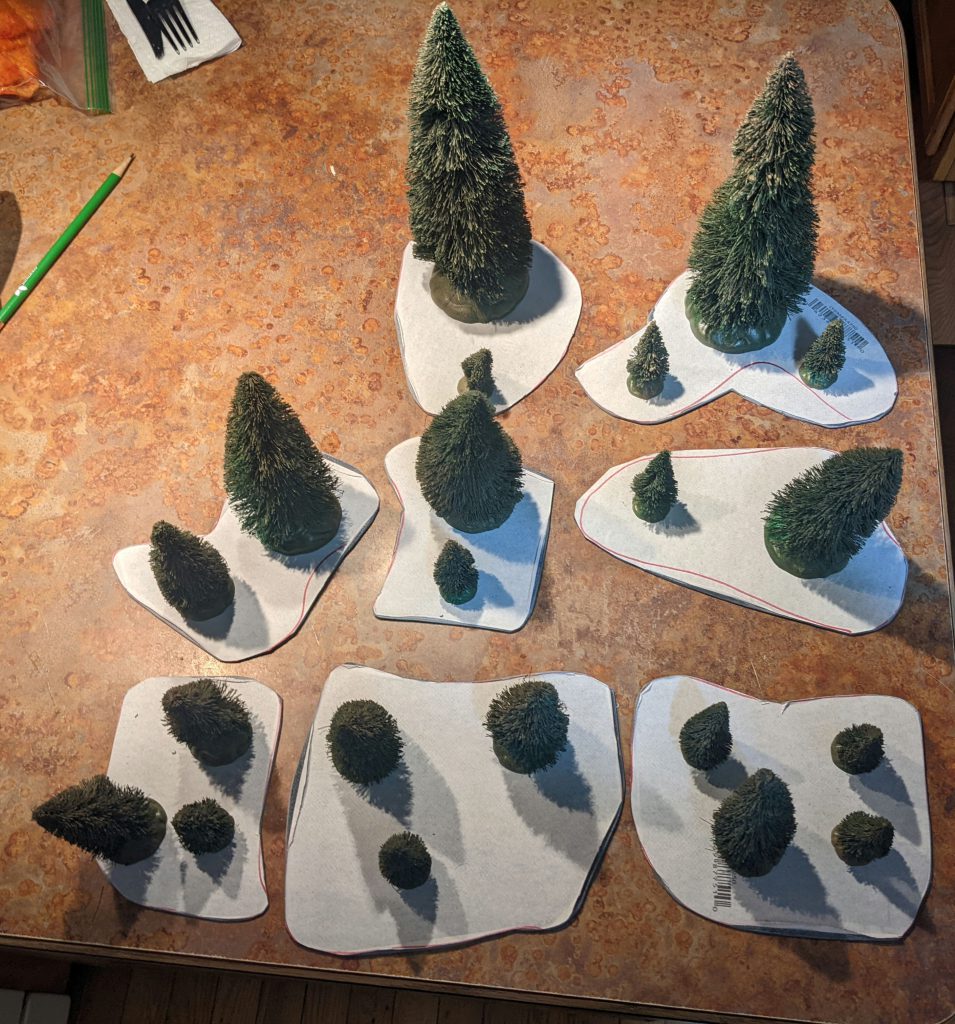 Lastly I have this set of terrain I'm working on. It's obviously not finished, but I'm proud of the bases. They're made from vinyl tiles – you can find the idea here. The vinyl works really well and is easier to cut than MDF stuff. The trees are just holiday trees you see at stores during that season that I picked up years ago. I sprayed them green and brown to hide the snow. If I have time I'll flock the tree bases. I plan to paint and flock the terrain bases.
Skails
First model finished up last month was 'Rambones', a 1988 Aly Morrison sculpt. There are several skeletons of this era that are quite charming and clearly made just for the fun of it.
The other model I finished before diving into building skeletons and zombies was Anasta Malkorion, the special vampire from last fall.
Ilor
For my birthday last year my FIL got me a gift certificate to the local model store. That gift had been burning a hole in my pocket, and while the store doesn't sell much in the way of tabletop gaming supplies (at least for any of the games I play), I did decide to step outside my comfort zone a little bit. As a result, for the last couple of months I've been working on a model airplane, in my case a Junkers Ju-87B Stuka. It's one of the newer 1/48 scale kits from Airfix. I had heard that Airfix had recently taken a big step up in terms of quality, and I have to say that I was blown away by this kit. The interior detail alone is amazing. I'd always been fascinated by model planes and ships as a kid, and now I have actually finished my very first model airplane. Took me long enough, I turn 50 this year!
Anyway, this little gem was an absolute joy to put together and paint, and is destined to grace the tabletop as terrain for North Africa-themed games of Chain of Command. I have a British Hawker Hurricane and a Messerschmitt Bf-109 in the same scale on my shelf as future projects.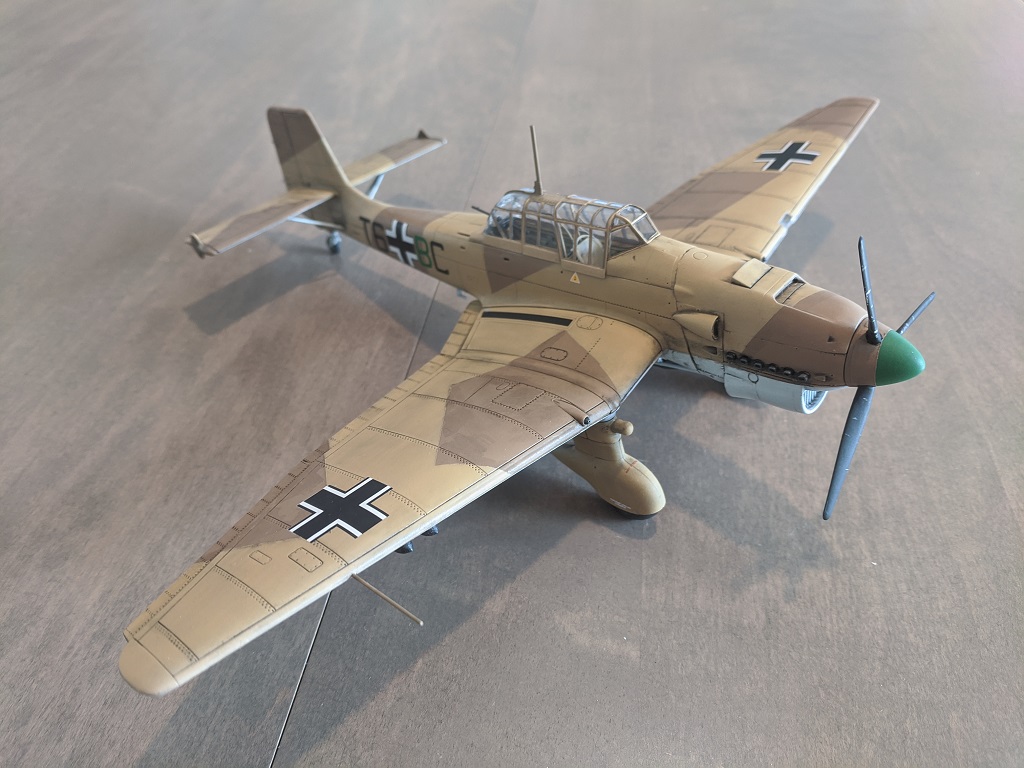 Colin Ward
February was another highly productive month for me, with a nice range of projects completed! I continued on my quest to eliminate my backlog on projects and was happy to finish of both my Stormcast Eternals and my Feral Knights in February. I also completed the penultimate chunk of models for my Blood Angels! With a sprinkling of models for Warhammer Community, overall it was a very fun February!
First up are the Stormcast Eternals from the Dominion release. I had these on the shelf in various states of progress since August/September, and it was past time to get them finished! This was a great group of models to work on, with a lot of character and some truly great sculpts. The highlights for me were painting Bastian Carthalos (and that BEARD!), Yndrasta, and the awesome Stormstrike Chariot. The Chariot, in particular, is a fantastic model and I will definitely add another to the force at some point.
With these models completed, my Stormcast Eternals are now 'current' in the sense that there's no backlog for them. Everything I have is built and painted. This now puts me in the position to grab a box here and there, paint it up and add it to the army without getting buried! We'll see if that holds, but it's a great feeling to cross off an army project.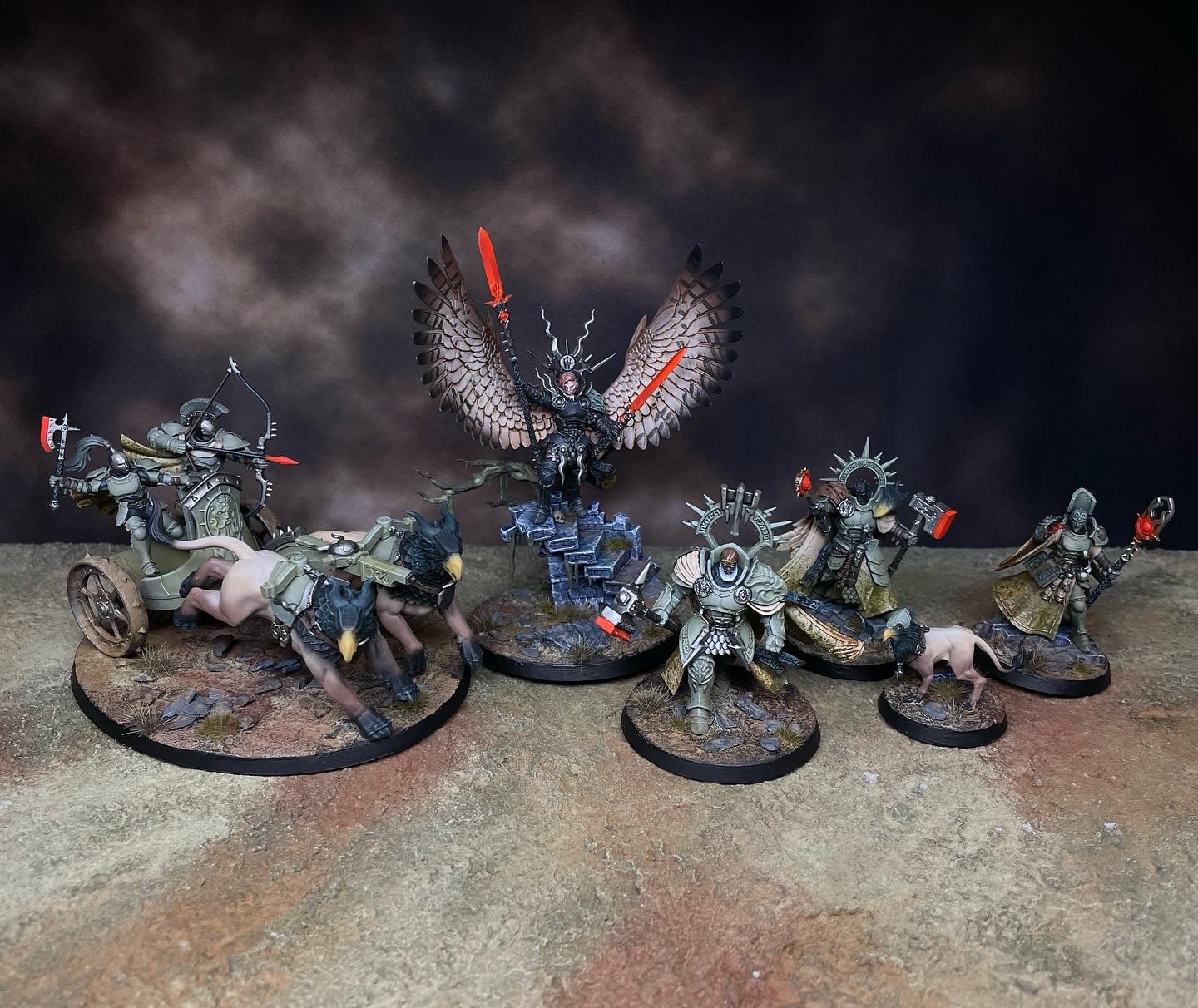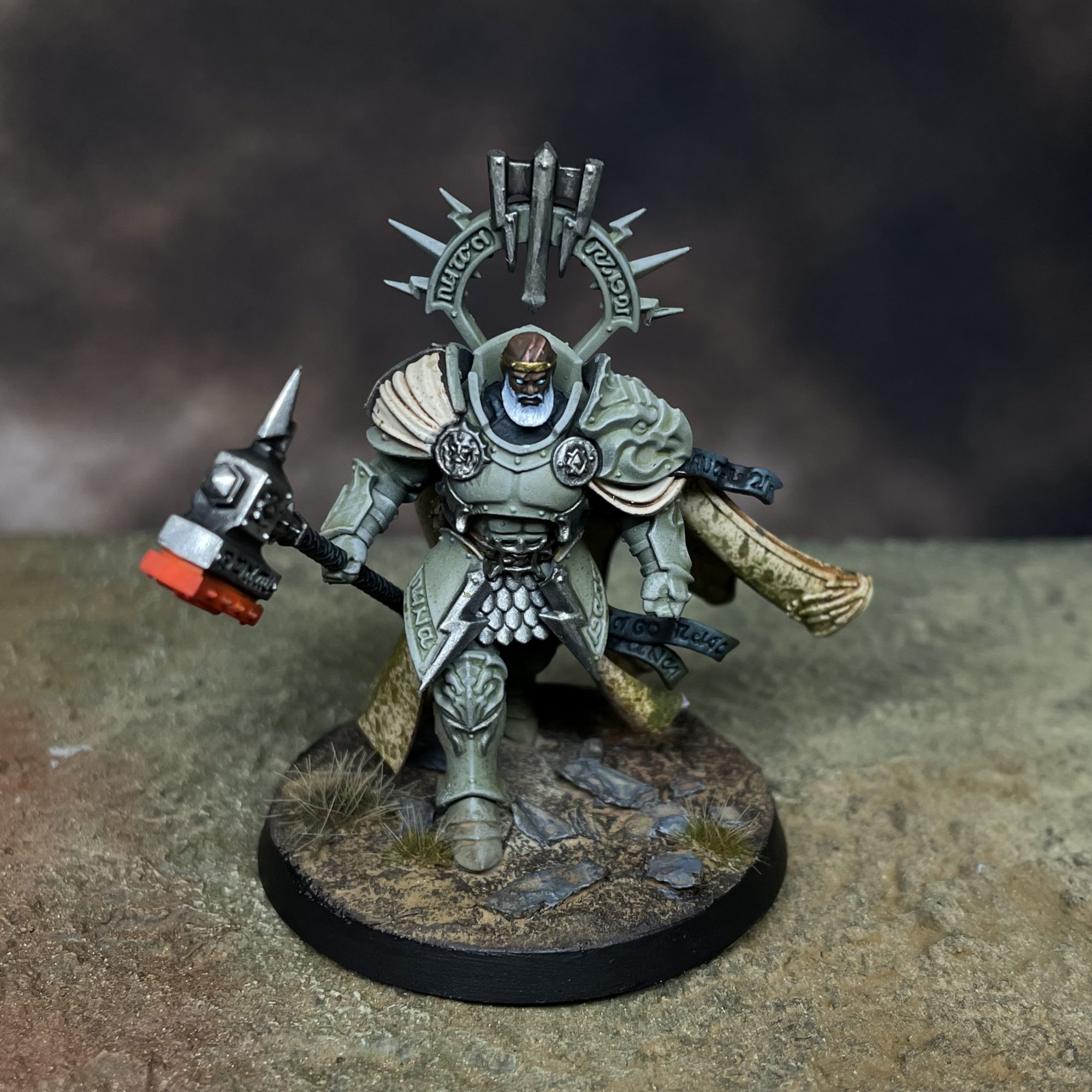 The next models I worked on were for my Feral Knights. I already had a bevy of Armigers and Moriax painted for the army, but had a few Very Large Robots in the backlog for them. Built and Converted at the end of last year, I was eager to tackle them and get that army current as well! I couldn't be happier with how these models turned out. By far my most ambitious conversions/kitbashes, but thanks to the way I paint my Feral Knights, actually painting the models was just relaxing and fun (though the veil on the High Priestess was a little stressful).
Firs up is 'Sar-Kissati – Last of the Saddle Born', a Feral Knight Lancer. The animal skull faceplate and tusks from the Ogre Stonehorn/Thundertusk kit were perfect for this model. I added a mohawk of slate chips by pushing them into a layer of epoxy clay and then integrated them into the model with the moss texture around the base. Some HAWT orange OSL punched it up a little bit, and this guy is ready to rock and roll.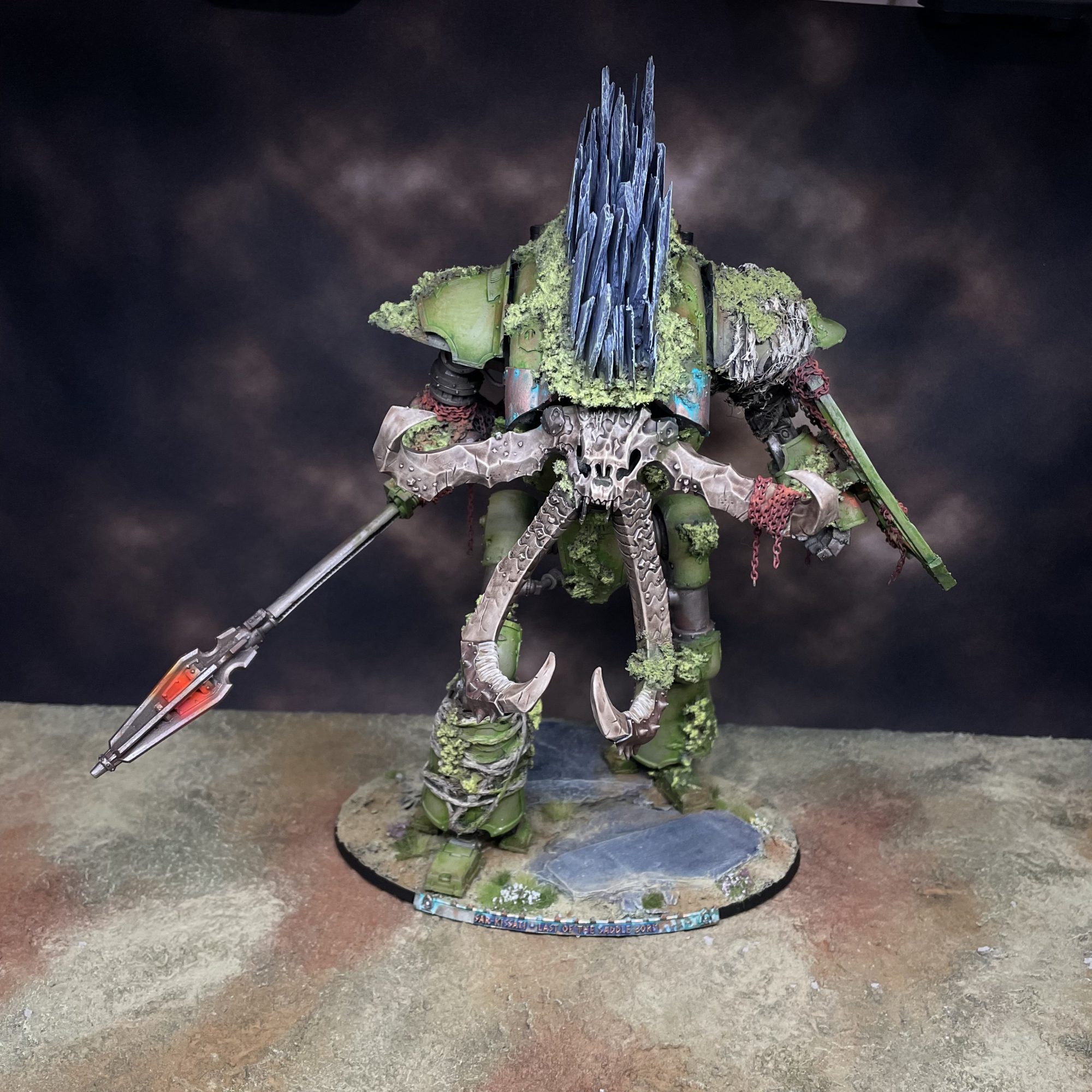 The largest and by far most batshit model in the army is my 'as-yet-unnamed' Acastus Asterius. The base model is just ridiculous and peak-40k for me, with the little skull cockpit and giant conversion beamers. It's also trash in-game, which is an added bonus. With the missile rack on top filling in the void of the Idoneth Gloomtide Shipwreck, the old boat actually fits the model really well! a lot of cutting and positioning and swearing was needed, but I got it on there (the mossy texture also helps hide a lot of sins). I love this model, and I'm really happy to see it finished and in the case.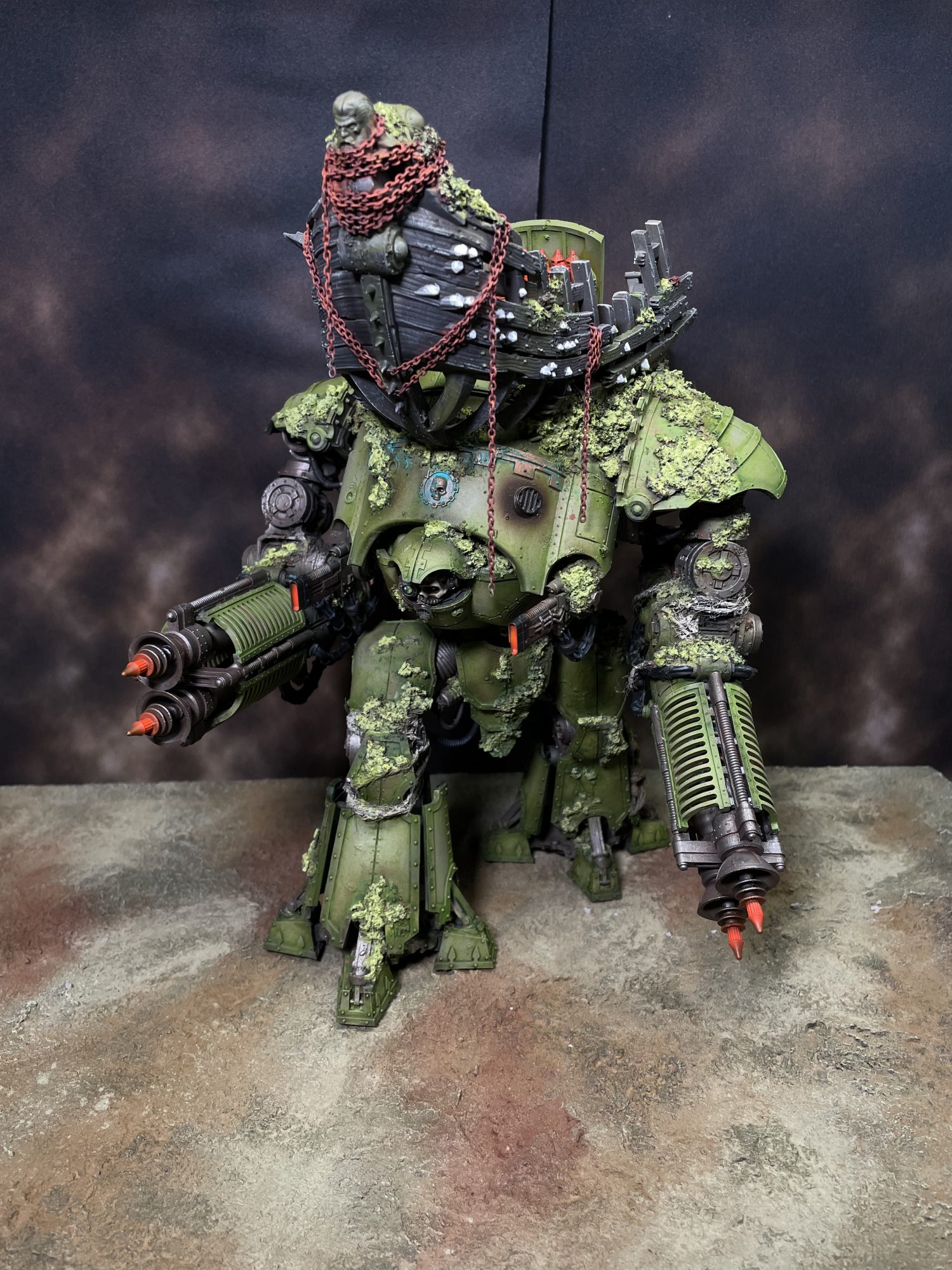 As impressive as the Acastus Asterius is, the true centerpiece of the army is 'Inaana – Queen of Heaven', a Feral Knight Dominus and walking fane. The Beastmen Herdstone and slate platform dominate the top of the model, highlighted by the High Priestess of Inaana (made with a pared down Lumineth Scinari Cathaller). I also replaced the Knight head with one from a Warmaster Titan from Adeptus Titanicus, which I love. I want to get some better pictures and do a more in depth army review/writeup in the future, so I'll just finish by saying I'm incredibly proud of this model from start to finish.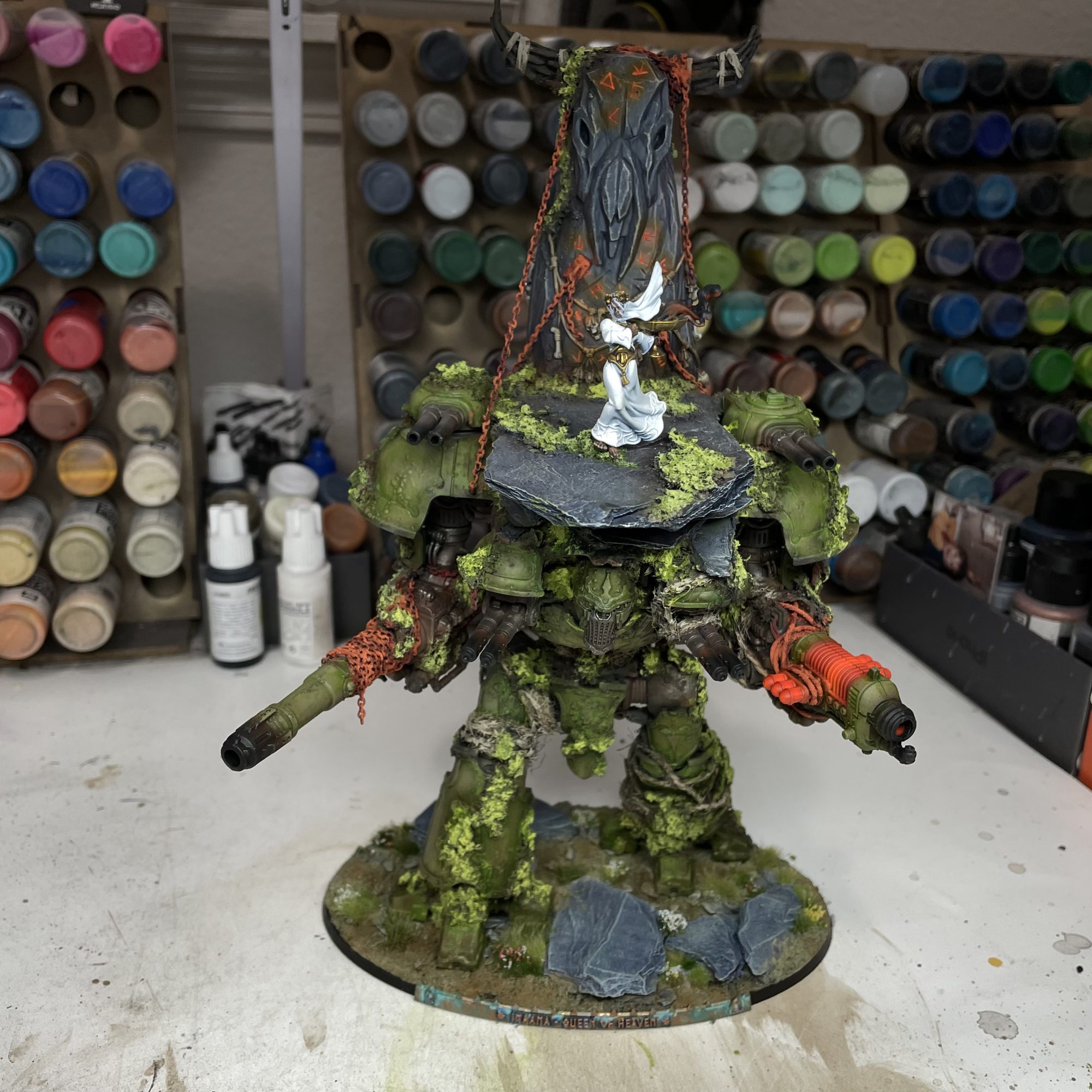 I had the opportunity to paint a few models for Warhammer Community this month, which is always a lot of fun! First up were Fafnir Rann and Dominion Zephon from the new plastic Horus Heresy line. These models are incredible and have some wonderful detailing throughout.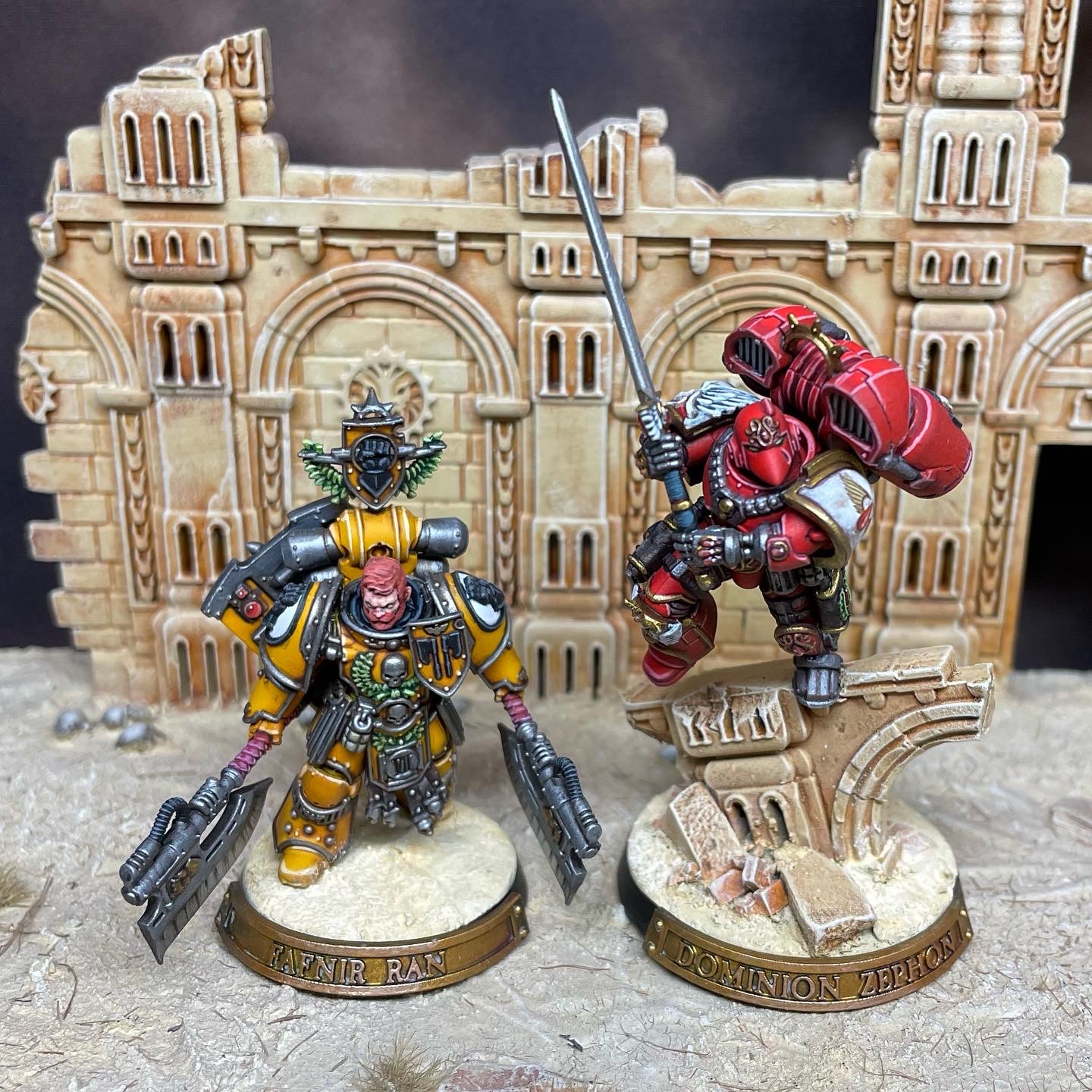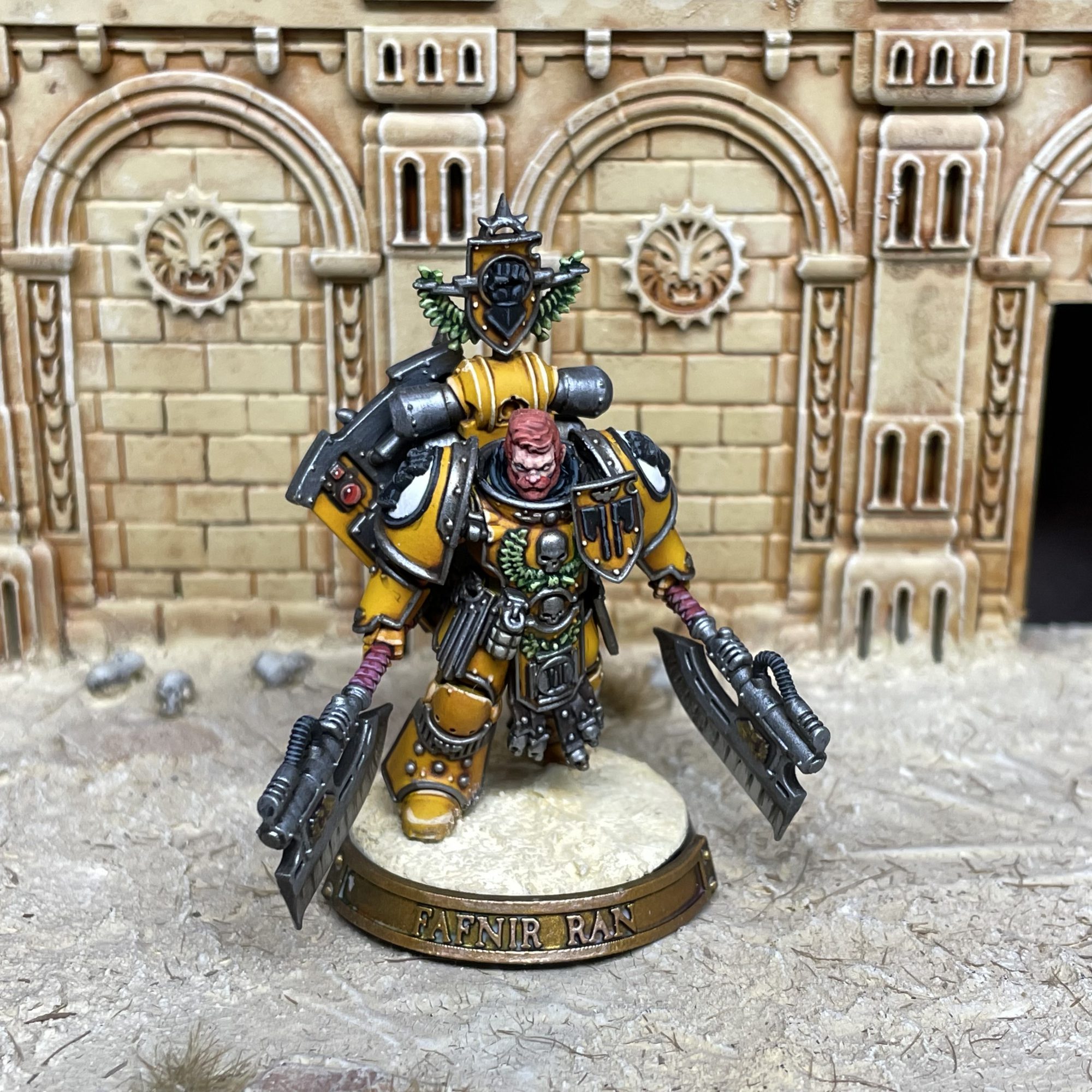 I also got to paint some Aeldari for the new release, finishing a couple of Warlocks and kitbashing and painting a massive Maugan-Ra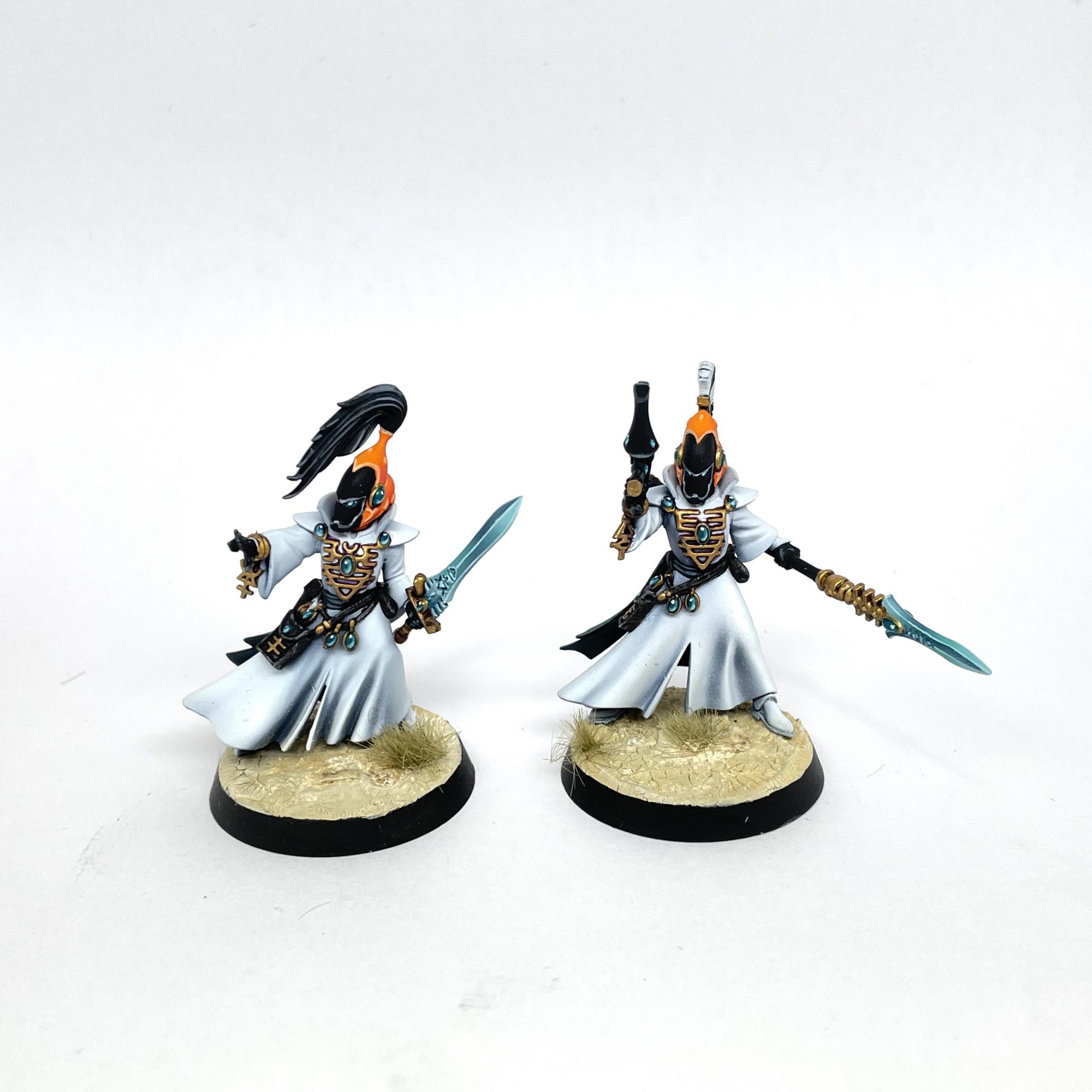 Finishing out the month, I knocked out a huge chunk of the remaining models for my Blood Angels army: 20 Sanguinary Guard. These were the first models I built this year, and some of my favorites in the entire army. It's always a joy to paint them, though I won't get many more opportunities as this brings me to the 30-model threshold. Any future additions will just be for wargear options. Finishing these took me across the 16,000 point threshold for my Blood Angels and left only 20 Death Company remaining (which I will cover in the March roundup!).
Fowler
I assembled and painted a bonkers amount of scatter last month.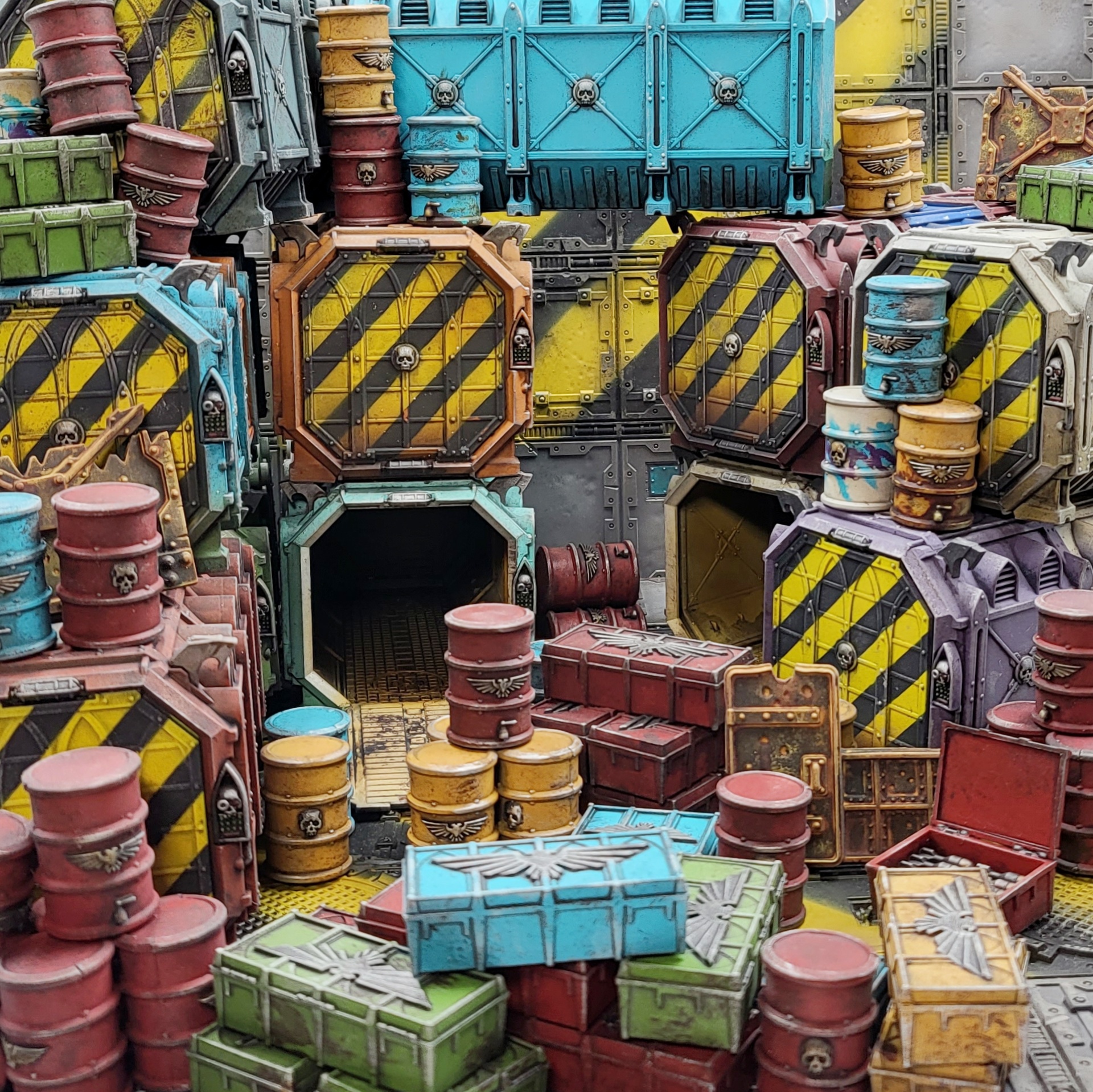 Below are the results of a neat experiment I tried out during that batch – Necromunda barricades with minimal painting steps! The majority of the detail you can see is Dirty Down U-Rust, over some very light drybrushing.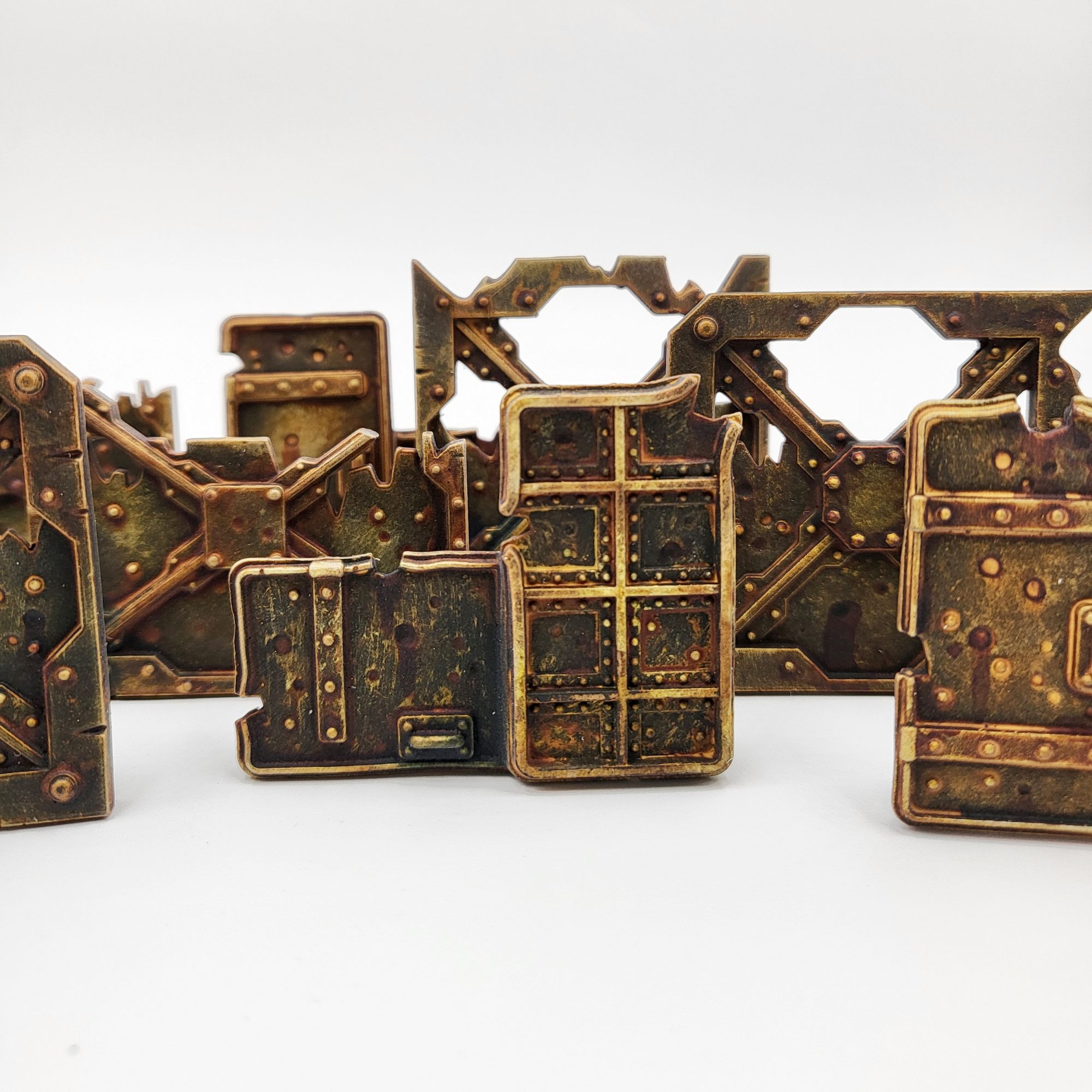 In March I'm hoping to knock out a secret Necromunda gang and put a dent in the remaining pile of terrain. See you all in a few weeks!