A new year brings more painting – check out what our contributors have been up to in January!
Lupe
This month has been a wild dash for me to get some new armies up and running – it's been such a massive undertaking, I've in fact been writing a whole new series of articles detailing this dumb as hell project, so watch out for that.
Before I started out on that though I was finishing off the end of last year's project – some terrain and models for the skirmish game I'm developing at the moment. When I can I'll be pulling out the whole board and taking some lavish pics which I'll include in a future article about how I put the whole terrain board together. But until then, here's a sneak preview.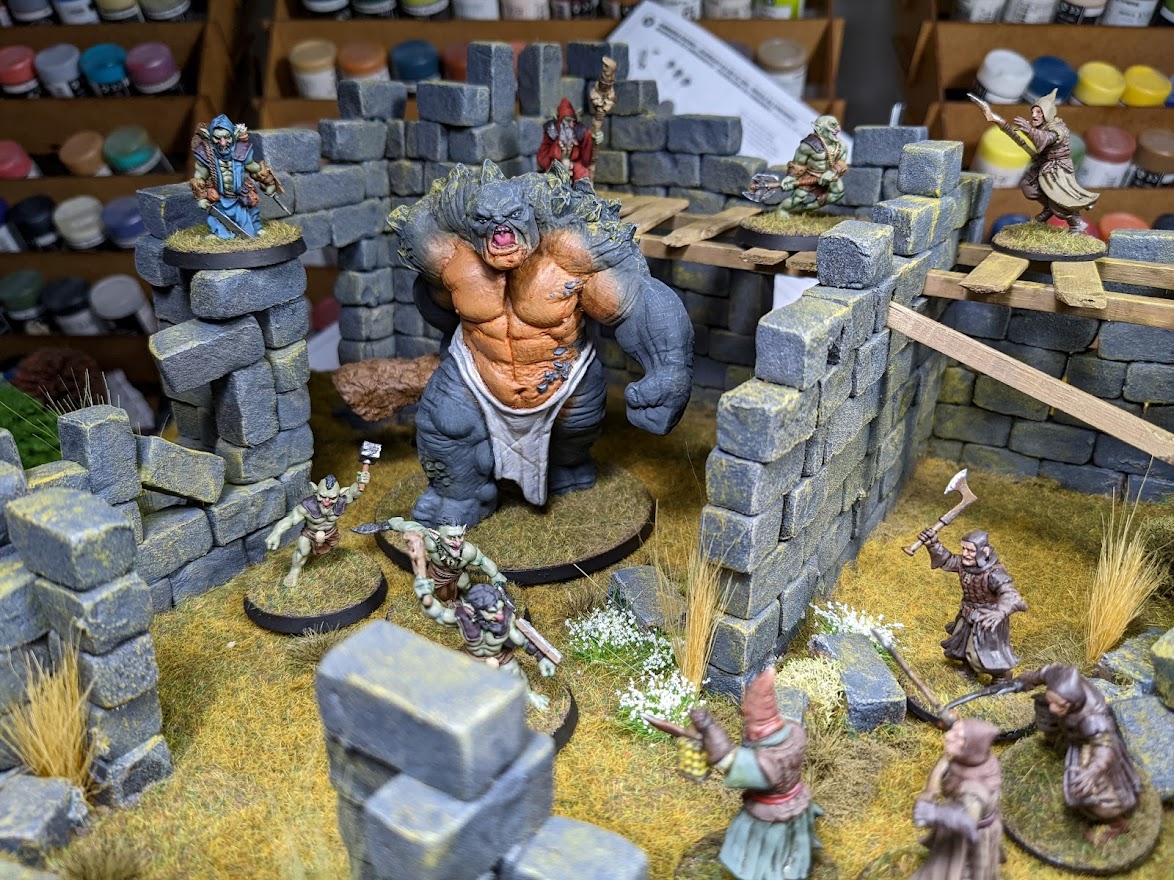 And now onto those new armies. I managed to get two of them finish this month (a 700pt Return of the King army for MESBG and a 1000pt Crusade force of Astra Militarum) with work starting on some models for my Maggotkin army too.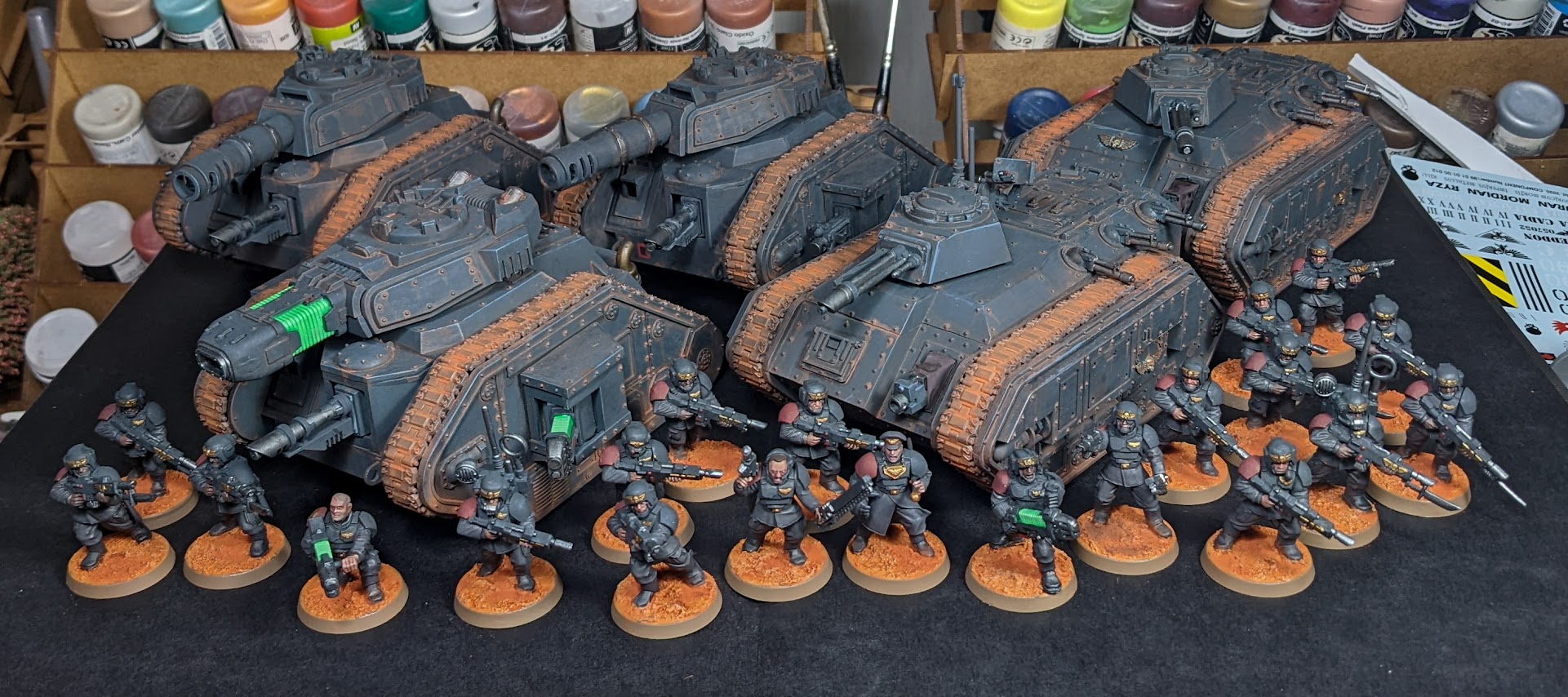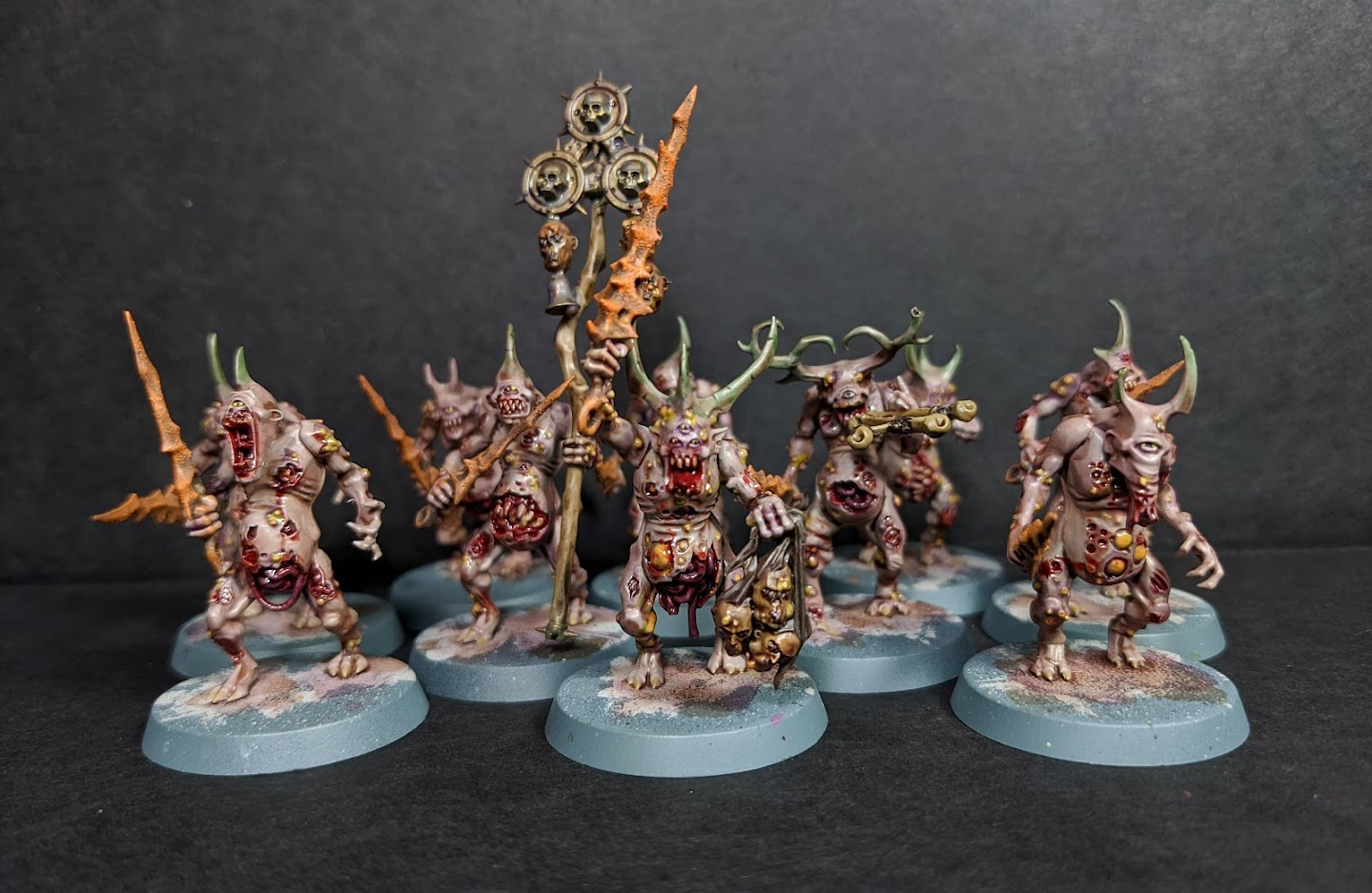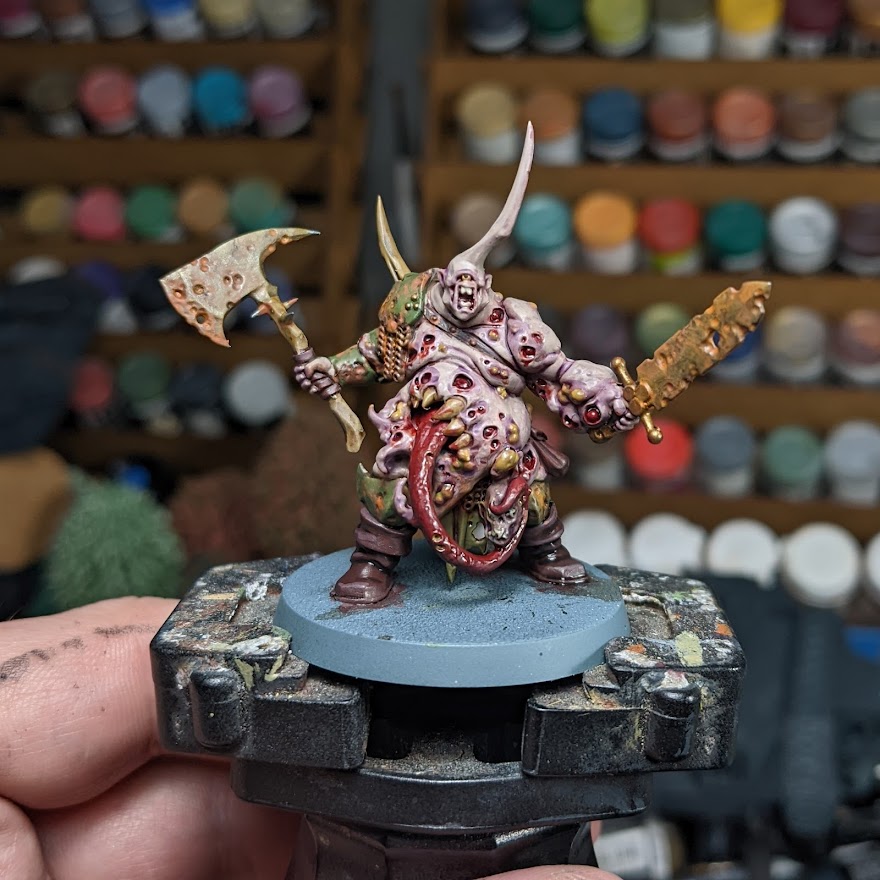 Soggy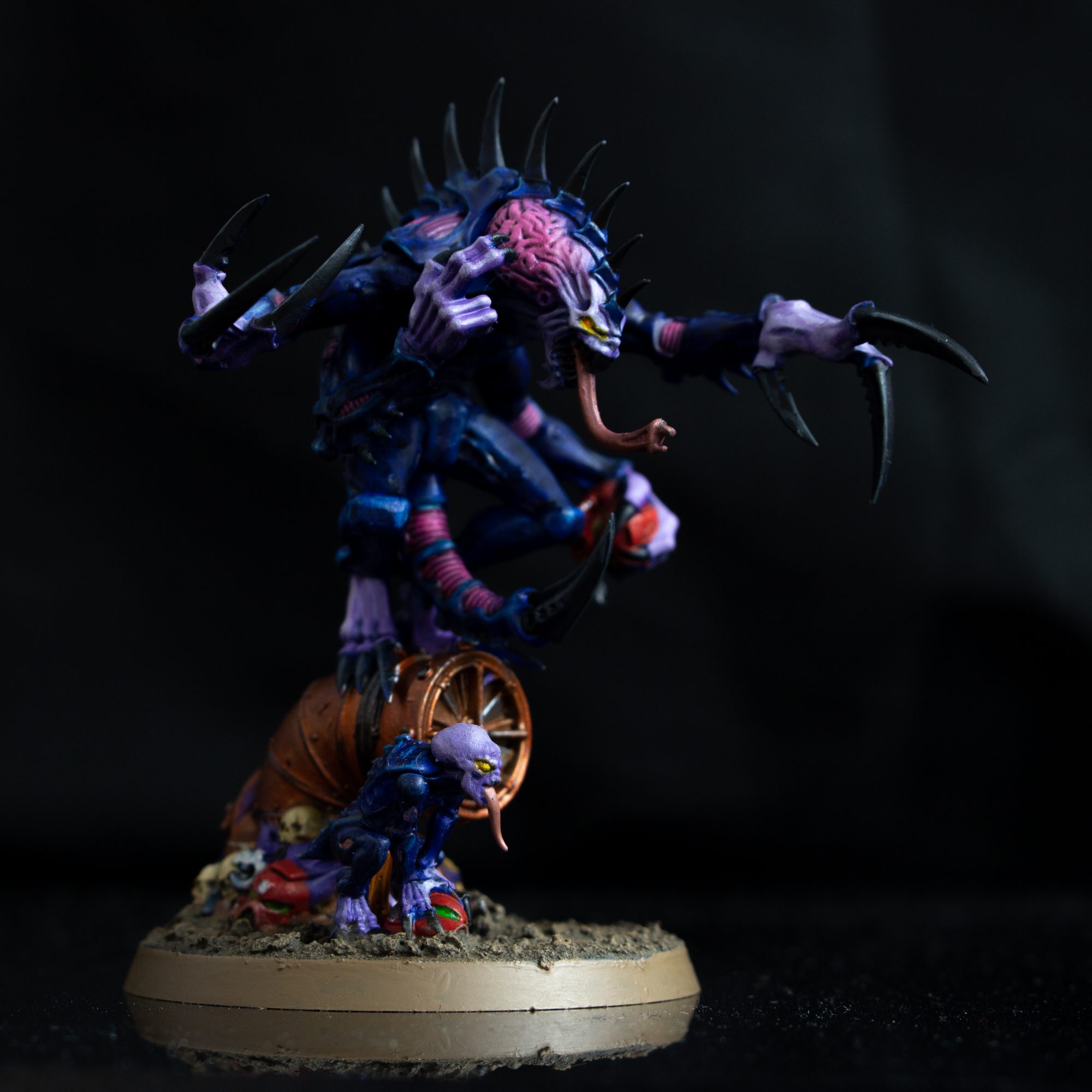 With Ascension Day imminent, it was time painted my fourth Patriarch model. The others in my collection are second hand or half assed paint jobs on my part so I thought it was time to try and do it properly. It came out ok, I'm just not a fan of painting blue it seems.
With the updated rules for cult icons in the Shadow Throne boxset, it finally made sense for Neophyte banner bearers to be a thing so I did up a few on a semi productive afternoon.
The main thing I worked on in January was my second Warlord for my Legio Ignatum battlegroup. I've always been a big fan of the Ignatum art on the cover of Burden of Loyalty by Neil Roberts and went to emulate this paint scheme. I also finally painted up a bunch of Forge World weapons that I picked up when I was up in Nottingham for the UK Goonhammer open.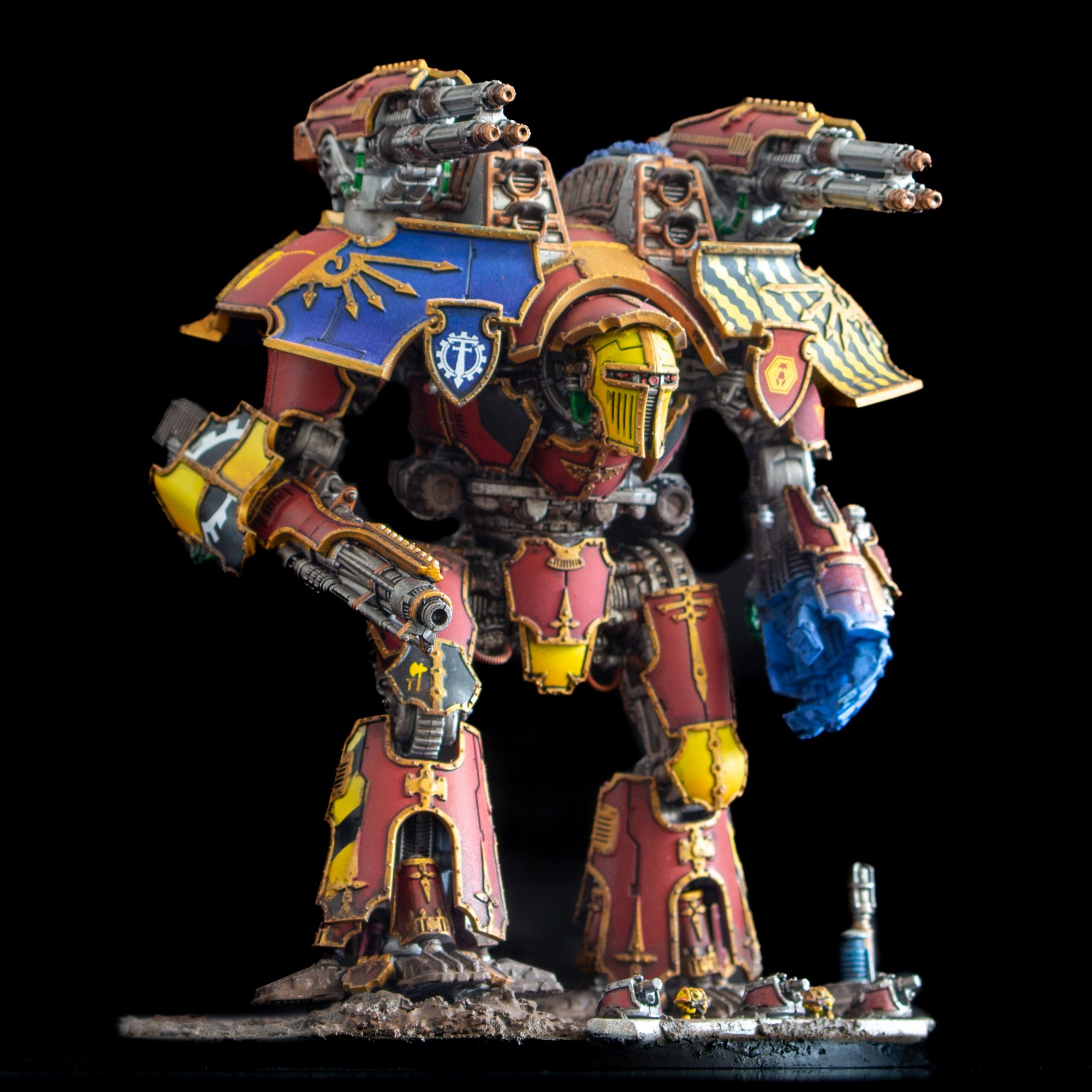 SRM
My first painted model of the year was a weird one. My dear friend and Goonhammer contributor Dylan gifted me this classic Empire Regimental Advisor when I was visiting him back east in 2021, and I was due for a palette cleanser. I had a ton of fun knocking this guy out in a day, and there's something charmingly groggy about just drybrushing a normal-ass bear for a while. Unfortunately my varnish kinda fucked up since it was like 20 degrees outside, but for a unit filler in a block of State Troops, it'll do just fine.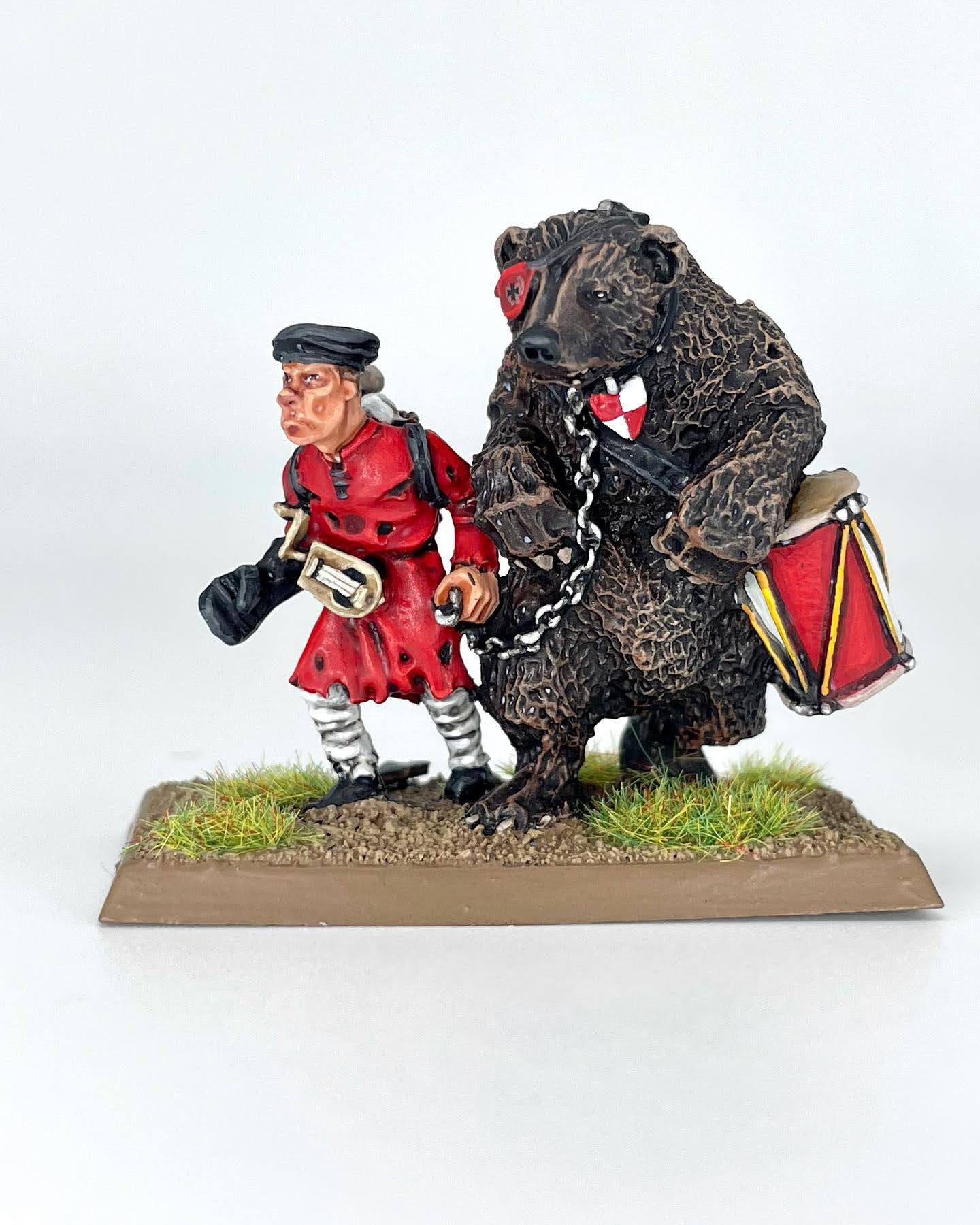 I then got to work on the Stormstrike Chariot, which was a ton of fun. The subassemblies were easy, the kit itself went together like a dream, and painting it was pretty frictionless. I broke it down by painting the two birbdogs first, then the riders, who were all temporary bases. After that I knocked out the chariot and the base then slapped it all together. Putting together already painted and subassemblied models is extremely satisfying.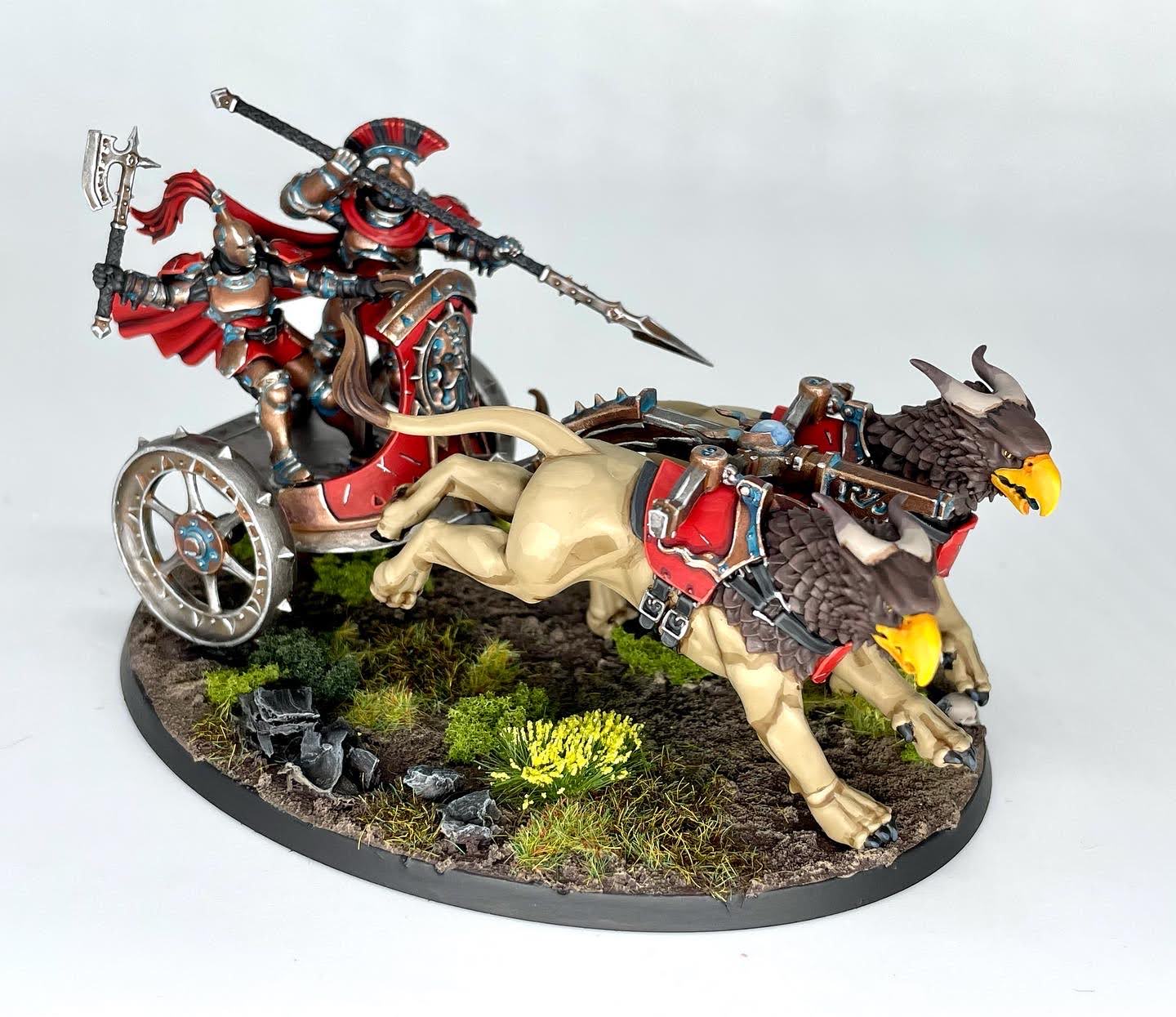 After getting dunked on by my wife in a game of Age of Sigmar, I decided it was high time I added some new terrain to my rinky dink fantasy terrain collection. I'd dolled up these Warlord Games ruins with some old Empire bits in like… 2017? Now was as good a time as any to paint them up, and over the course of like 2 days I knocked them out too. Props again to Dylan for giving me these as well as the Masonite bases he cut for them.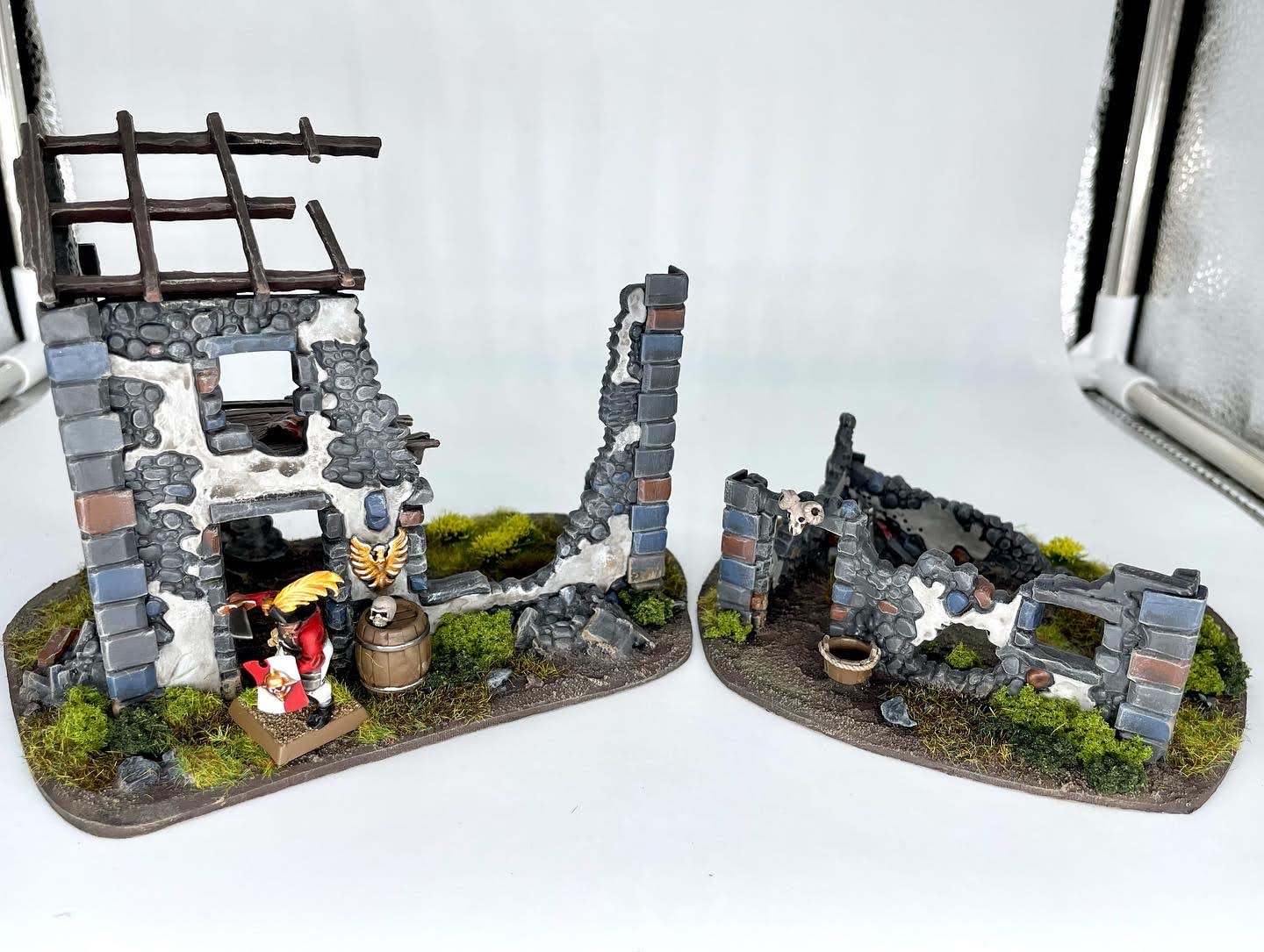 It was high time my ~3000 points of Stormcast became a legal army, so I painted the Knight-Judicator to make my two units of Vigilors Battleline. Much like the chariot, this was basically two painting projects in one – first I knocked out the birbdogs, then got to the big bowman himself. The only things I did all together were the bronze collars with his armor and the basing. Again, absolutely killer models, and a ton of fun to work through.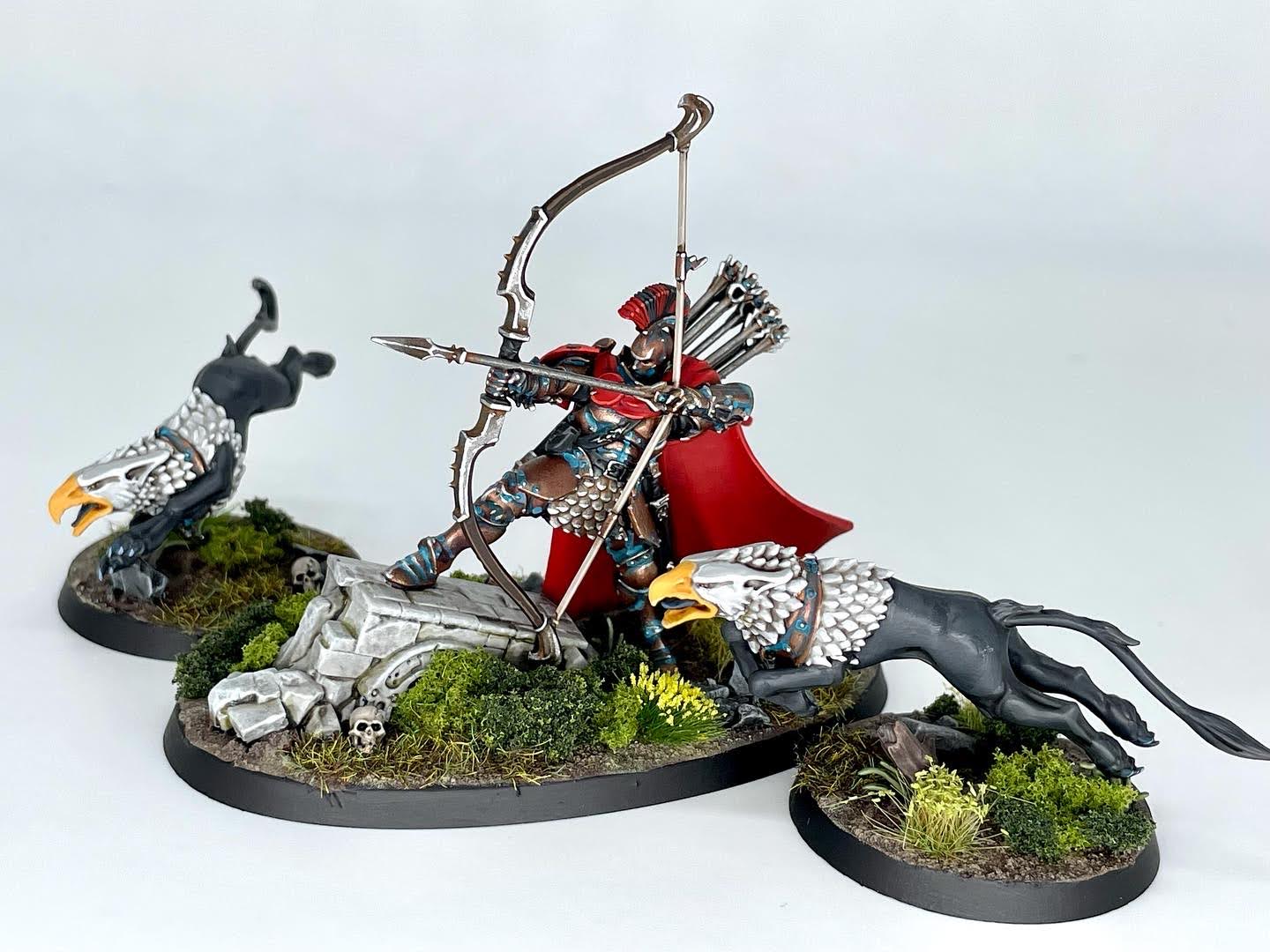 The doldrums of January were cold as all get out, so I dug around for more primed models – I dug out Magore's Fiends, some Adepticon freebies from years past. I have a pipe dream of someday having a grand unified army of Chaos for AoS, so slightly adapted my typical Slaves to Darkness scheme for these boys. It was a nice way to get a taste of that Bloodbound lifestyle, and I know now that I do not wish to paint that much trim ever.
I next pulled my favorite trick from last year, "batch painting a character and a detailed squad all at once" with some of the Stormcast I received for Crimbo. First up is the Knight-Relictor. His rules are uninspiring, but I thought the model looked cool and it's not like I've even played a game with this army yet, so who cares. He was a fun one to knock out, but I wish he had a bare head.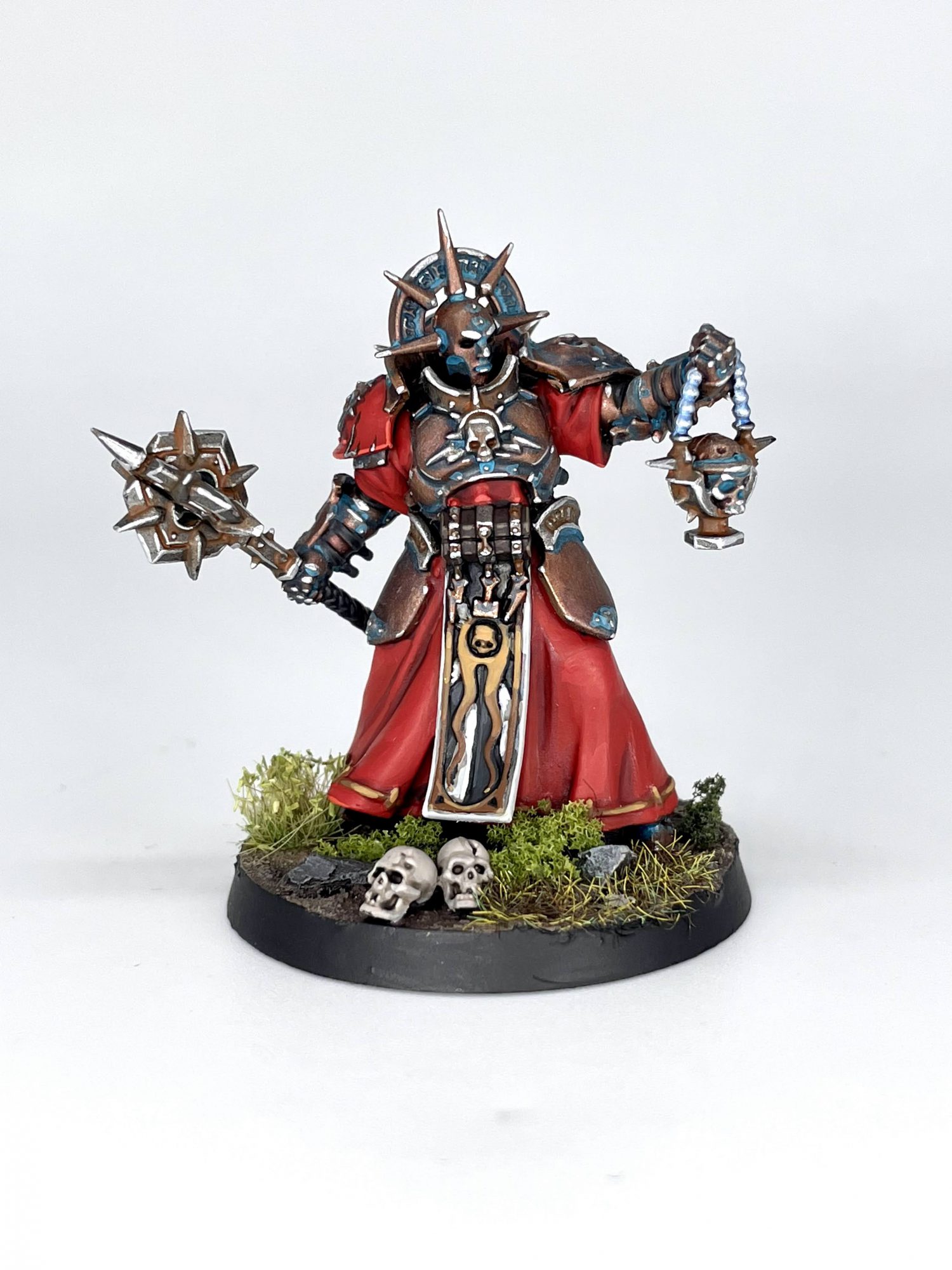 I batch painted the above man in a bathrobe alongside these chonkers, who absolutely will see some play if I ever field these Stormcast. I went with all bare heads since I don't love their pinhead helmets, but these guys are, in my personal and professional opinion, cool as hell.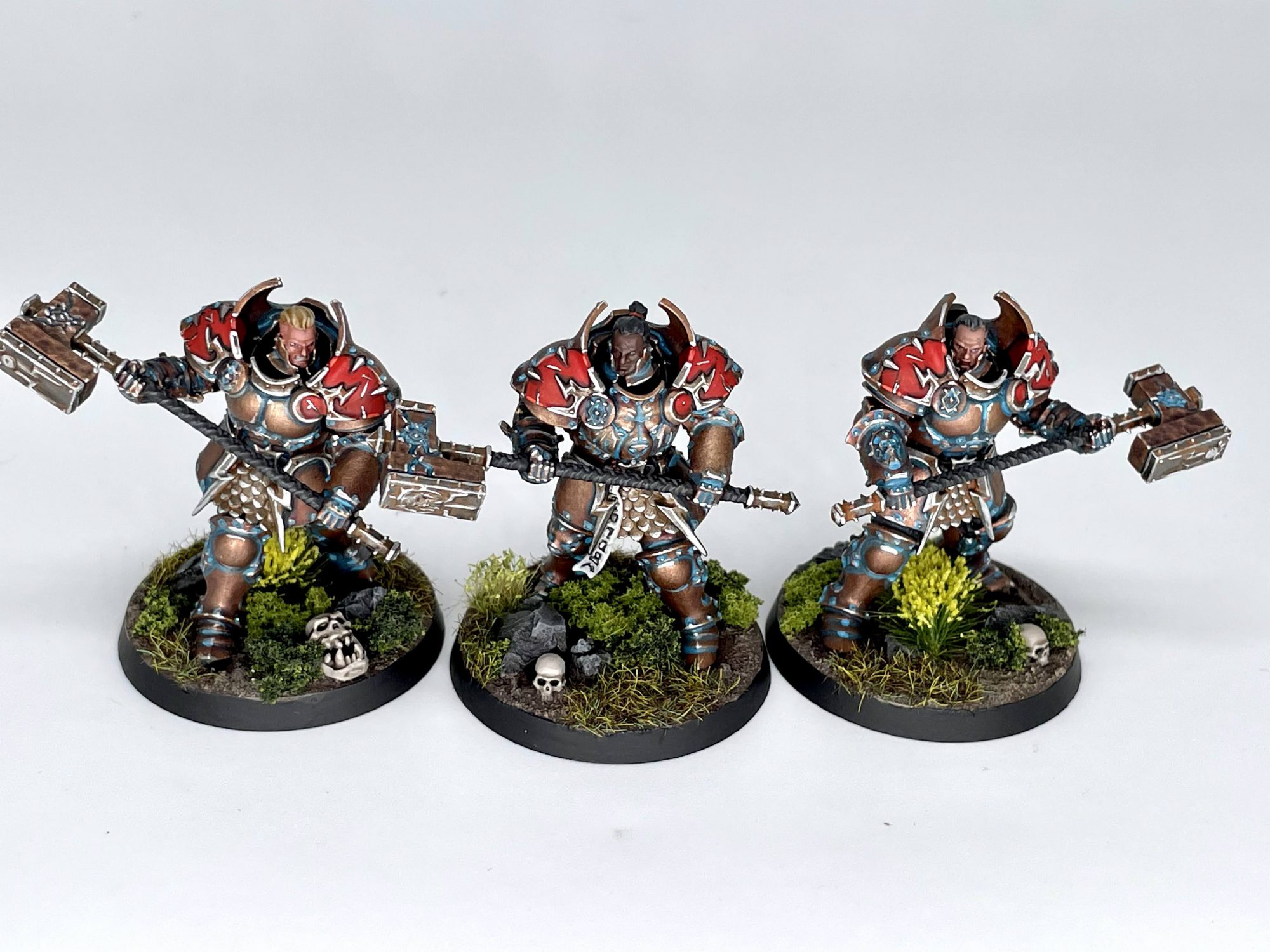 Lastly, I painted this pump station I built back in November 2019. I don't know why I painted so much terrain this month as I don't really enjoy it, but my tables needed some refreshing. I won the walls for this from an AoS tournament at Alpha Omega Hobby back in the day, then bashed them together with some 8th edition objectives, OOP Prometheum pipelines, diamond plate plasticard, and another Masonite board courtesy of Dylan. I wanted a piece of terrain that could actually hold a 10+ man squad, as most can't comfortably hold more than 5 in my experience. Painting this thing was a huge pain since I lacked the foresight to leave the walls off before painting, but it's done now and that's all that counts.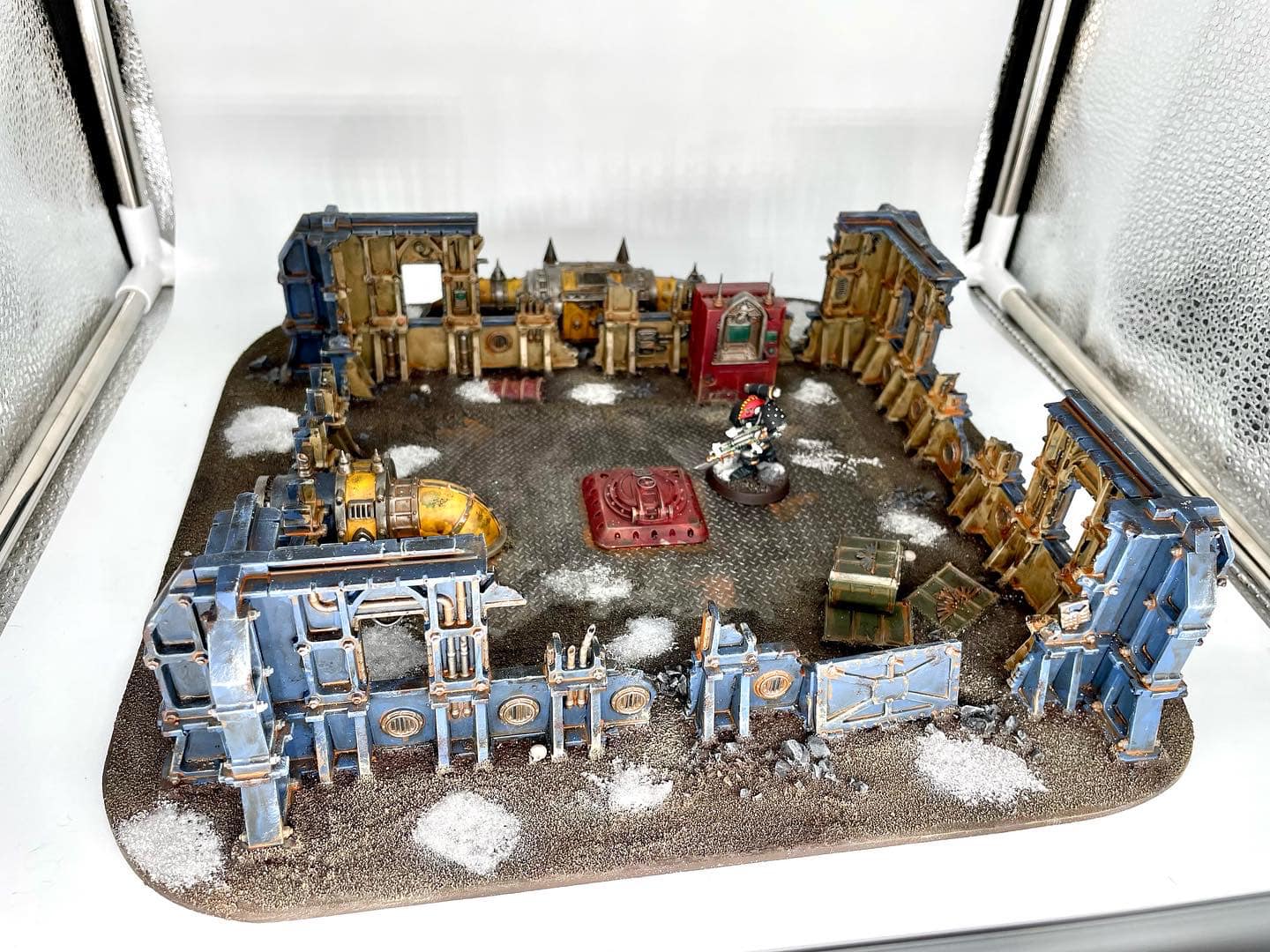 As for next month, I think I'm done with terrain for a minute. I've just built some Vanquishers for my Stormcast and I still have a pair of dragons to go for them, so maybe I'll finish up my Stormcast backlog before the month is out. It's more likely I paint some Necromunda idiot or predominantly lead weirdo from before I was born, but we'll find out together soon!
Skails
First up was this Liche to be a Necromancer for my Soulblight Gravelords. This is the first model for the army and will be the color scheme for the rest. You can see my conversion process here.
Next up was this Undead Chariot. This is an early 90's kit that I picked up last year. I've been collecting up old undead and vampire counts models that I always liked but had not picked up when I first got into the hobby. This one was a lot of fun to do. The crew were cut and reposed, as well as the horse necks, to loosen up their posture as the stock build can be kind of stiff.
This Tyranid Warrior was painted up with a color scheme I've had the idea of doing for quite a while now. It's based on the patterns of a black and yellow garden spider.
Rockfish
So uh I have been painting a lot of Tau, like a whole lot of them. Probably my favorite of them is this Stormsurge which I am exceedingly fond of.
KV128 Stormsurge. Credit: Rockfish

KV128 Stormsurge. Credit: Rockfish

KV128 Stormsurge. Credit: Rockfish

KV128 Stormsurge. Credit: Rockfish

KV128 Stormsurge. Credit: Rockfish

KV128 Stormsurge. Credit: Rockfish

KV128 Stormsurge. Credit: Rockfish

KV128 Stormsurge. Credit: Rockfish

KV128 Stormsurge. Credit: Rockfish

KV128 Stormsurge. Credit: Rockfish

KV128 Stormsurge. Credit: Rockfish
I also got to paint up the new Darkstrider which was wonderful, if a touch rushed due to post issues.
I also think my riptide is worth a call out!
The rest are quite nice too!
TX78 Sky Ray Gunship. Credit: Rockfish

TX78 Sky Ray Gunship. Credit: Rockfish

TX7 Hammerhead Gunship. Credit: Rockfish

TX7 Hammerhead Gunship. Credit: Rockfish

Cadre Fireblade. Credit: Rockfish

Cadre Fireblade. Credit: Rockfish

Breacher Team. Credit: Rockfish

Breacher Team. Credit: Rockfish

XV25 Stealth Battlesuits. Credit: Rockfish

XV25 Stealth Battlesuits. Credit: Rockfish

Ethereal. Credit: Rockfish

Ethereal. Credit: Rockfish

TY7 Devilfish. Credit: Rockfish

TY7 Devilfish. Credit: Rockfish
I did a handful of models for other factions, like this Haruspex I finished the other day and is perfect for hyping up the new nid book!
Another model with a upcoming book is this Nightspinner!
Last but not least was this Patriarch for my GSC.
PierreTheMime
Surprising no-one, I've started the new year by jumping back to bugs and their associated bug-people, as the Crusher Stampede rules and the new Genestealer Cults book demands I freshen up my collection.
Starting out, I scavenged a unit of Tyranid Warriors out of my bitz pile. As it was important to keep them cheap, since they're just existing to hand out Bioweapon Bond, block enemy reserves, and hold points. I found the genestealer scything talons look good on them, compared to the original ones which look a tad cartoonish.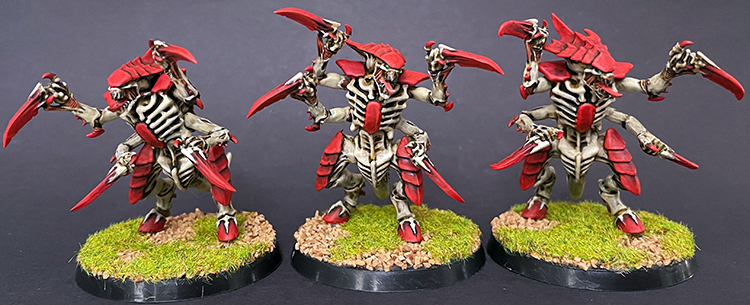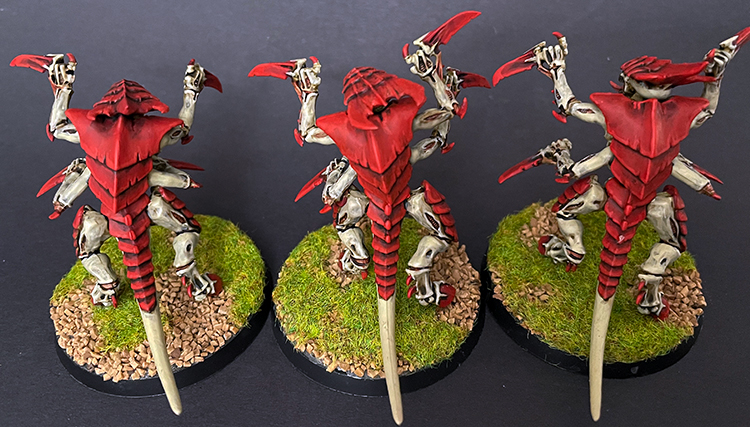 Next I jumped into some GSC characters and unique leader/cult icon models, doing some minor modifications for boneswords and cult whips.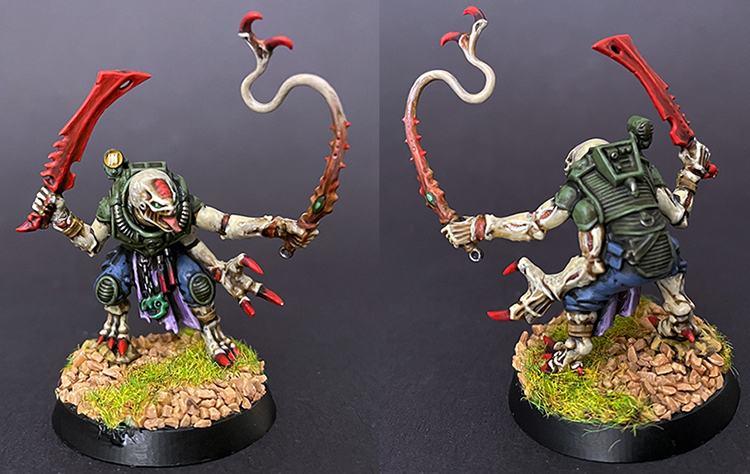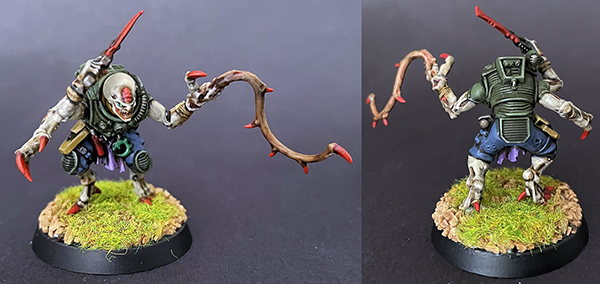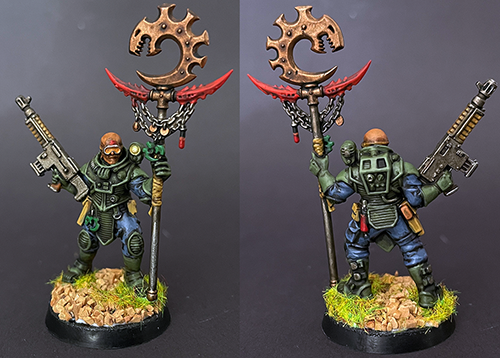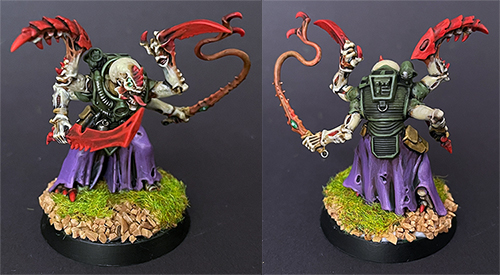 Finally, right at the end of the month I've started in on my two units of Atalan Jackals. I've just got the one for now, but I suspect that there will be another nine models ambushing next month's hobby article.

Charlie B
There were two flavours of painting for me this month: physical, and digital. Physically, I finished my first squad of Phobos-armoured marines. If you want the recipe for them, you can find it over at the Beard Bunker.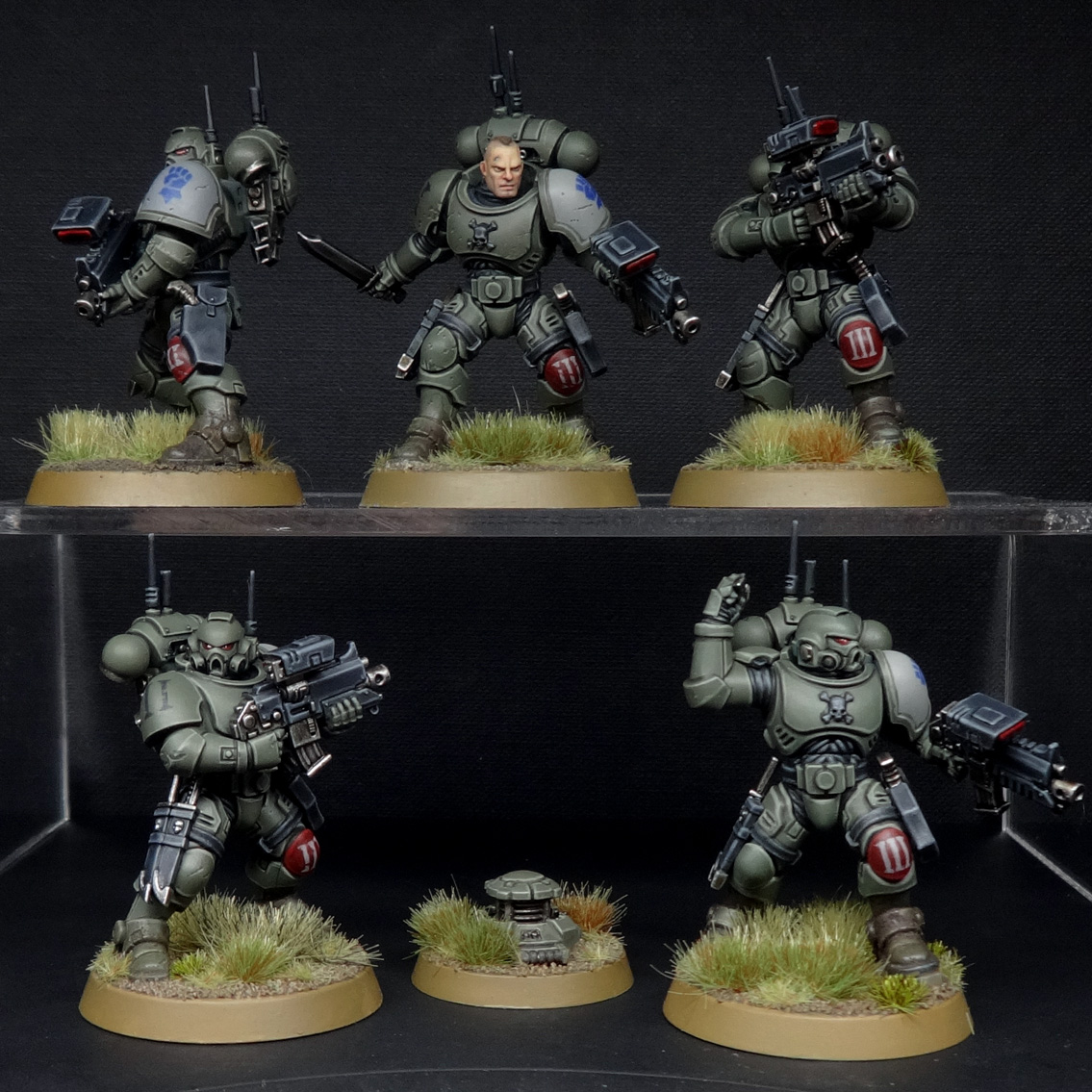 Digitally, I've been painting faction icons for my gaming group's campaign wiki. I've still got a bunch to do, and have definitely gotten carried away with the details, particularly with the Chaos ones.
If you're curious, you can see some of the stages in the process below: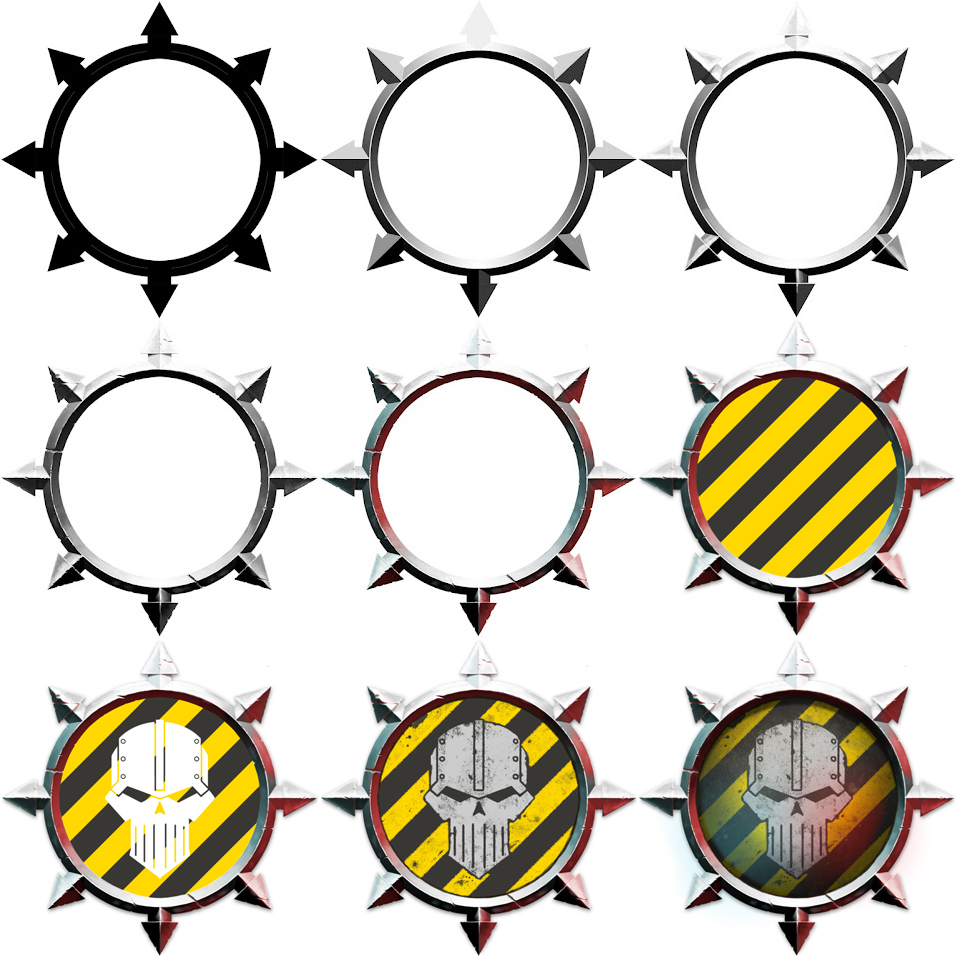 Naturally after I'd finished, some clever sod suggested the Red Corsairs icon would look cool with more firey lighting, but that looks weird on a white background, and, well, one thing led to another: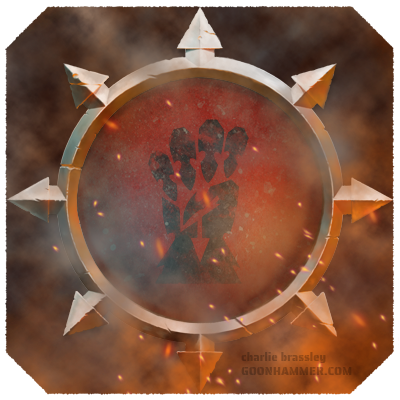 Finally, and perhaps even more obscurely, I've been further decorating said campaign wiki with images of some of the many locations in our sector of space. Since actually painting all this stuff would be an insane time investment, I've been using SpaceEngine in conjunction with Photoshop.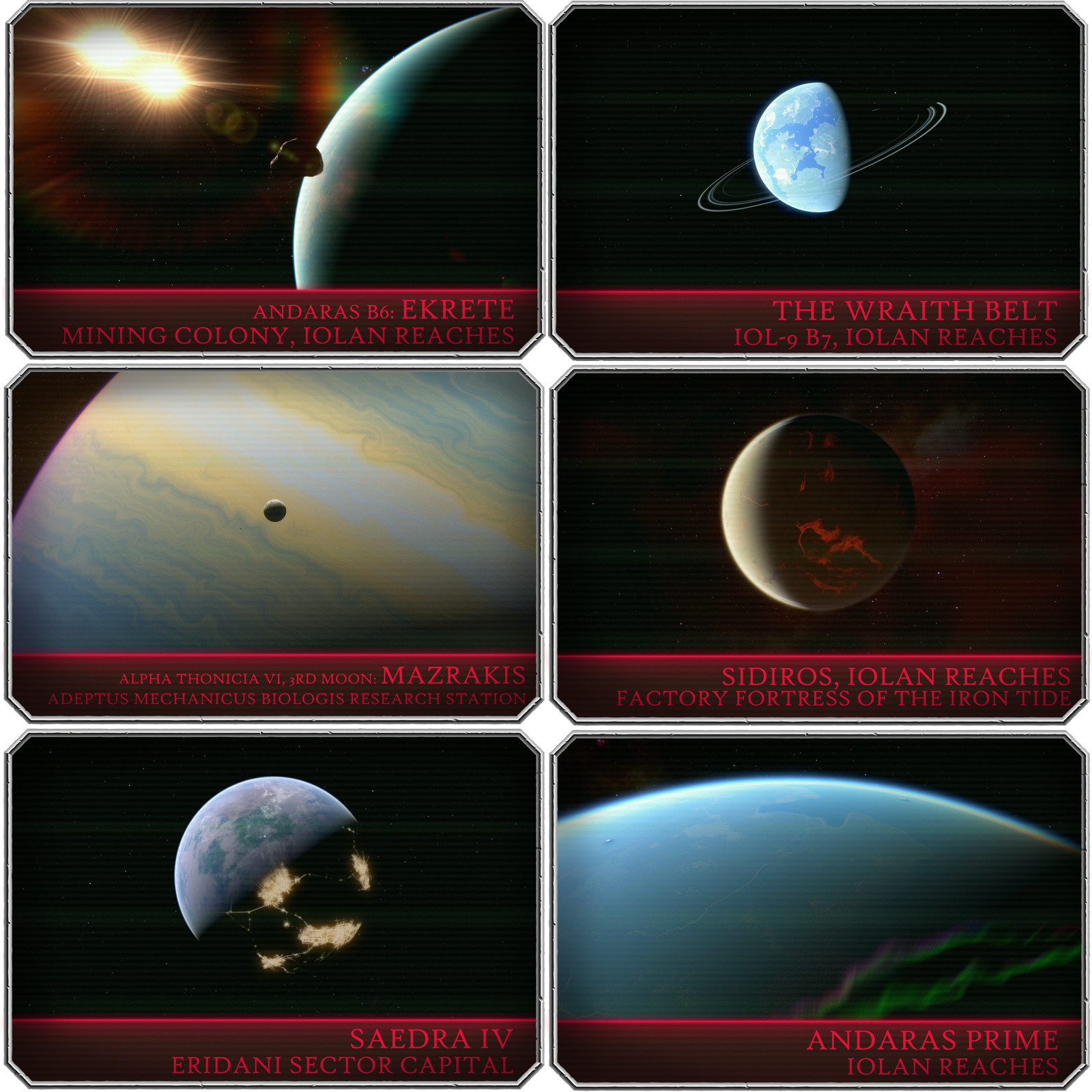 All this was in fevered preparation for a week of Crusade games. That was last week, and it was hella fun. If you want a vicarious hit of narrative 40K, you can read about how that went in this post on the Beard Bunker.
Lenoon
January has been a hellmonth of painting Frenchmen, frantically trying to keep ahead of a self imposed deadline that noone was holding me to – but I also managed to make a proper start on a slow burn project: The Ultramarine First Company at the Polar Fortresses. This is the boys in blue at the height of their power, just after the Tyranid vanguard organisms landed on Ultramar, but before a hive fleet worth of gribbly bugs reduced them to a fine paste inside ancient armour. The idea is to use as many horribly static and wonderfully retro models as possible, mostly in plastic and paint on the details lacking in some seriously ancient kits.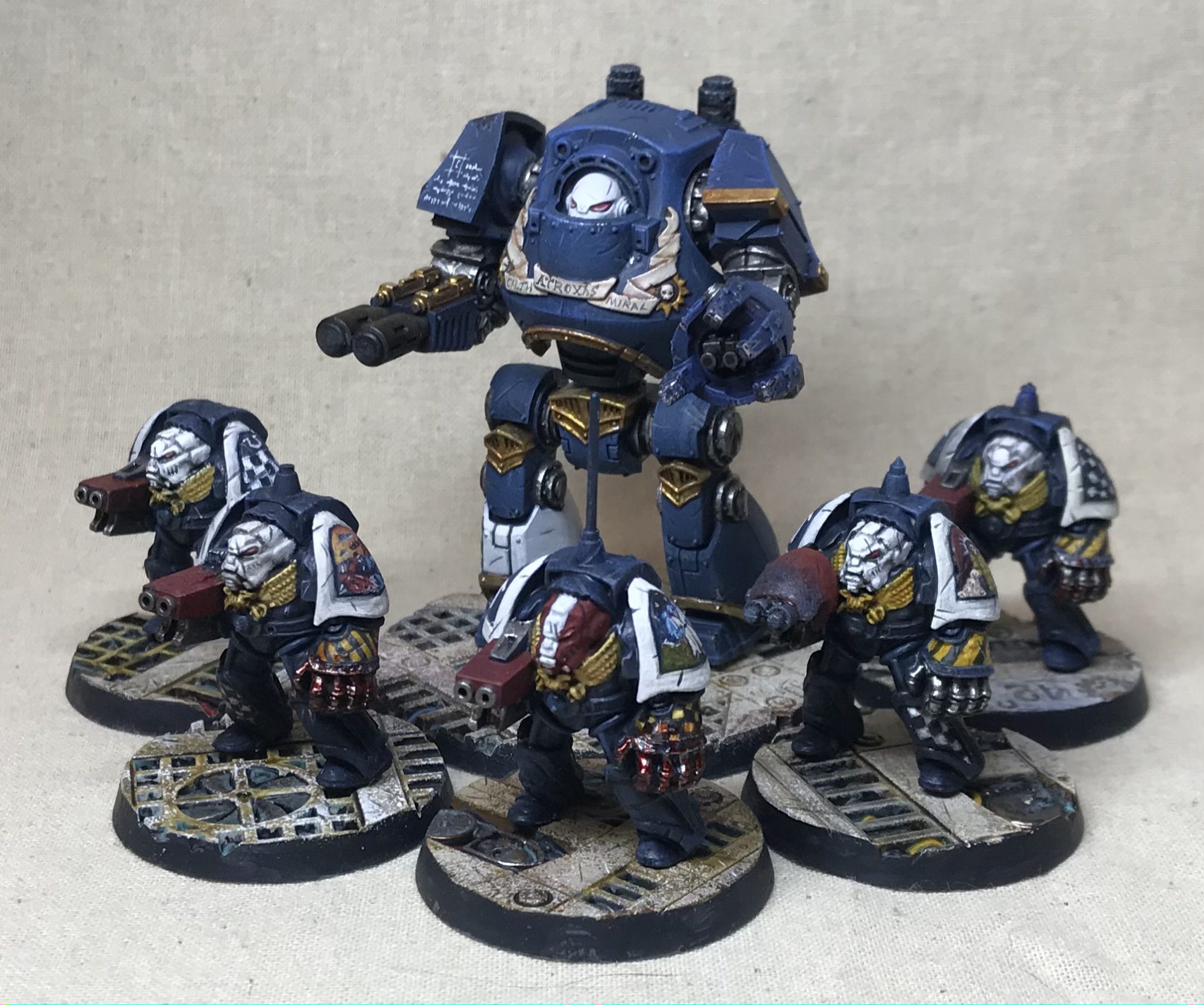 Five out of the 30 Space Hulk 1st edition terminators done, and one of the two dreads I want in the final force. This is the plastic Contemptor, and even magnetised it's the single blandest kit I've seen from GW since, ironically, the Battle for Macragge Tacticals. For particularly epic deeds the Terminators get a little bit of shoulder art, just as a treat, stretching my freehand skills to and beyond their limit.
TheArmorOfContempt
Looking at the above photos I am once again filled with envy at the rate in which my fellow users paint. That being said my years long project of trying to create a studio quality Marine army continues, but with Space Marines occupying a rather low spot on the competitive listing this will likely be my last contribution to them until after Adepticon.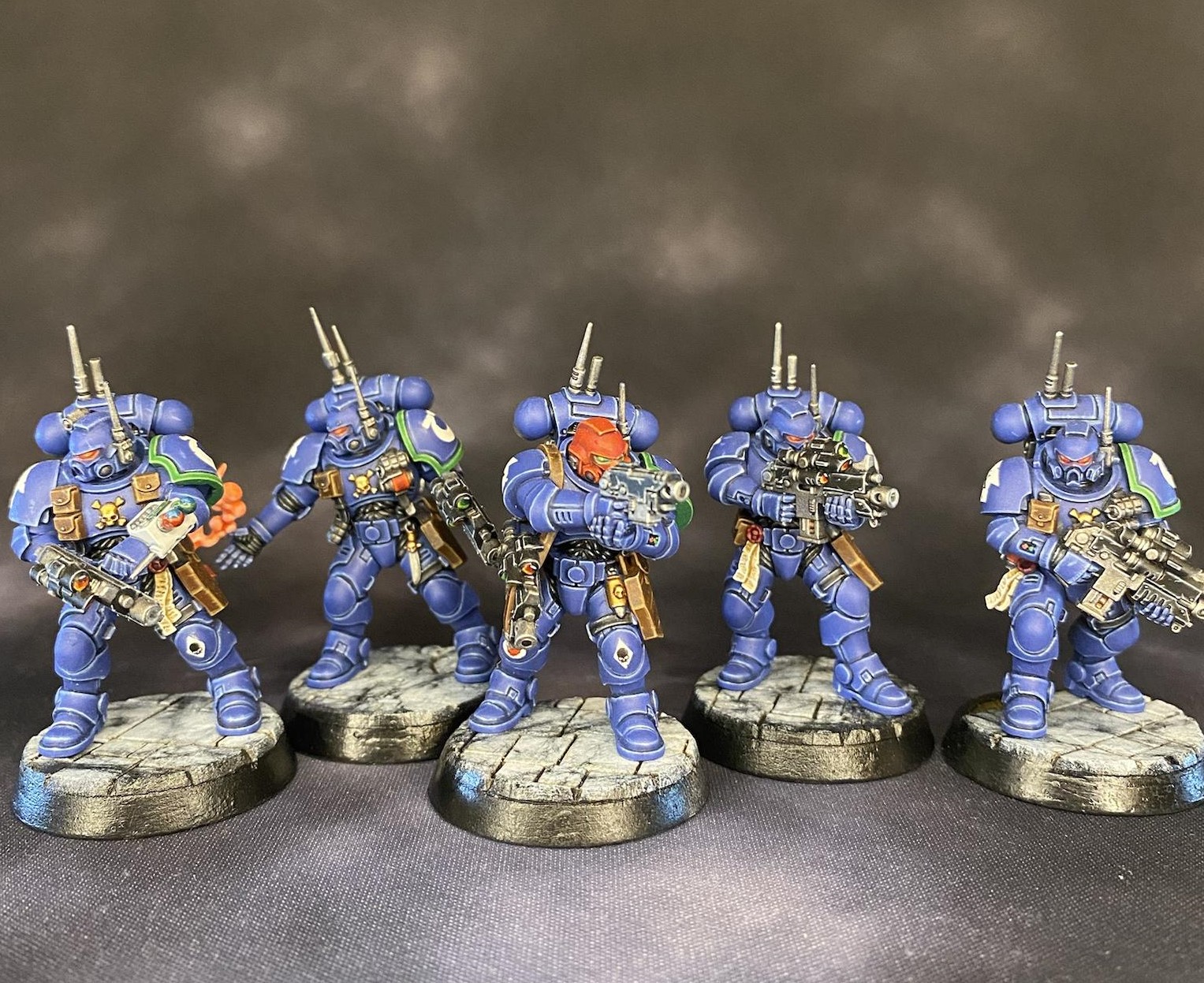 Colin Ward
I entered 2022 determined to finish off some of the smaller projects in my backlog. Those goals provided a lot of clarity for me and my workflow. That, coupled with finally working out the correct dosage for my anti-anxiety medication and I was off to the races. Even for me, January was a very productive month. I had a blast painting as much as I could, and ended up finishing a few projects that I'm really proud of.
The first chunk of models I finished were my Primaris Scale Terminators for my Blood Angels. These are some of my favorite models in the army and they turned out exactly how I envisioned them, which is always a relief. Terminators, and Blood Angels Terminators especially, are so iconic in 40k that I had to have a unit in my army. To get them to be the right scale, I used legs from Forgeworld Custodes Aquilon Terminators. This gave them the necessary height to stand a head taller than a Primaris Intercessor. The torsos and weapons are from the Blood Angels Assault Terminators kit, while the oversized shoulder pads were from Master Crafted Miniatures (LINK). Because the Aquilon Terminators come in sets of 3, I ended up with 12 of them, so I made a Terminator Librarian and Terminator Ancient to accompany them. I couldn't be more proud of how this unit came together and will definitely add another unit eventually!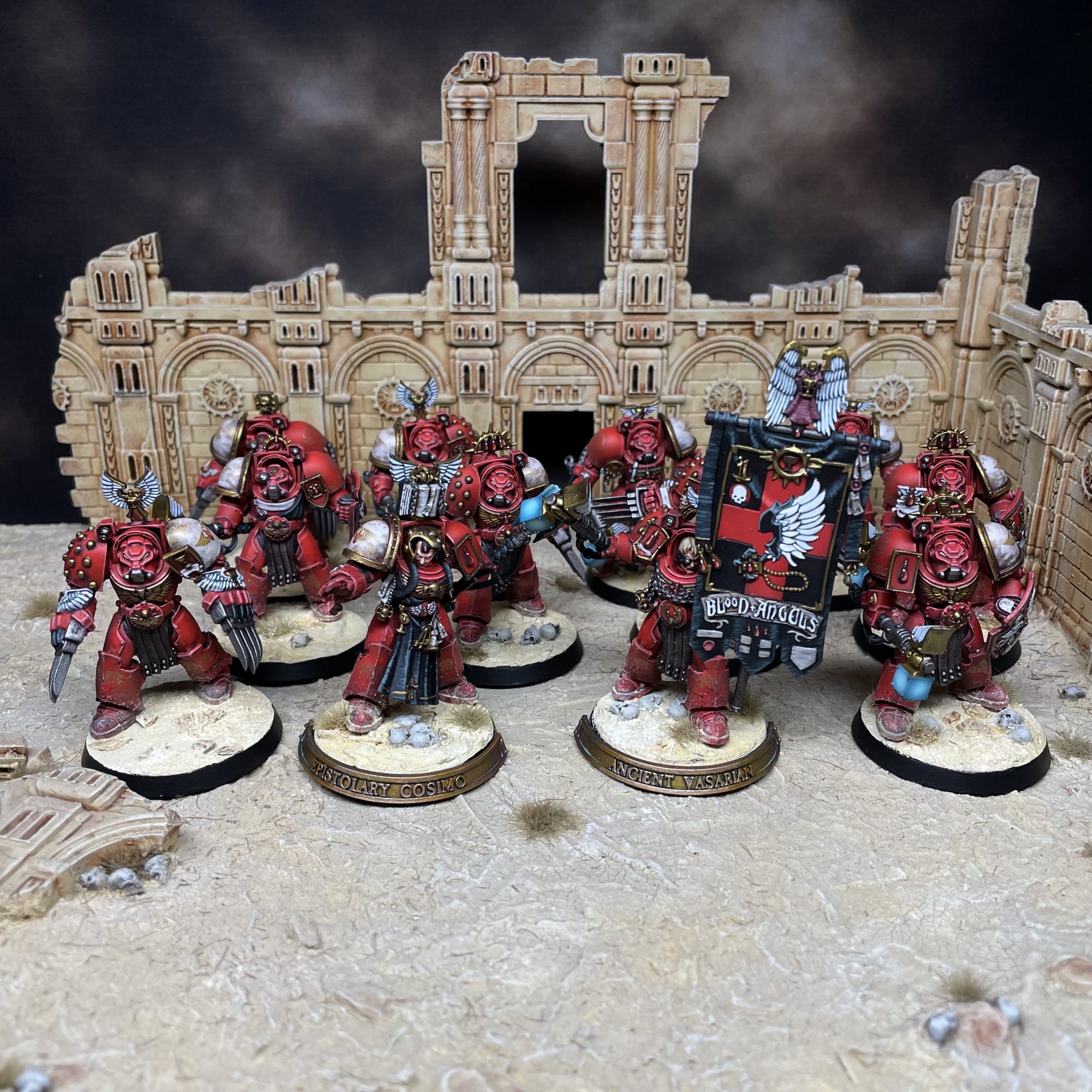 Hot on the heels of the Terminators, I decided to knock out a ride for them: a Spartan Assault Tank from Forgeworld. Another iconic unit, this time for 30k, but an absolutely hellish kit to assemble. I will absolutely never assemble another one of these things in resin. I am really hoping the rumors of the plastic Spartan are true. The marble helps to tie it in to the other 'relic' units in the army, and I finally found a use for the Trojan Angel transfer, which was a nice bonus. Seriously if you're painting Space Marines of any kind, do yourself a favor and buy a Forgeworld HH transfer sheet for your chapter, they're incredible.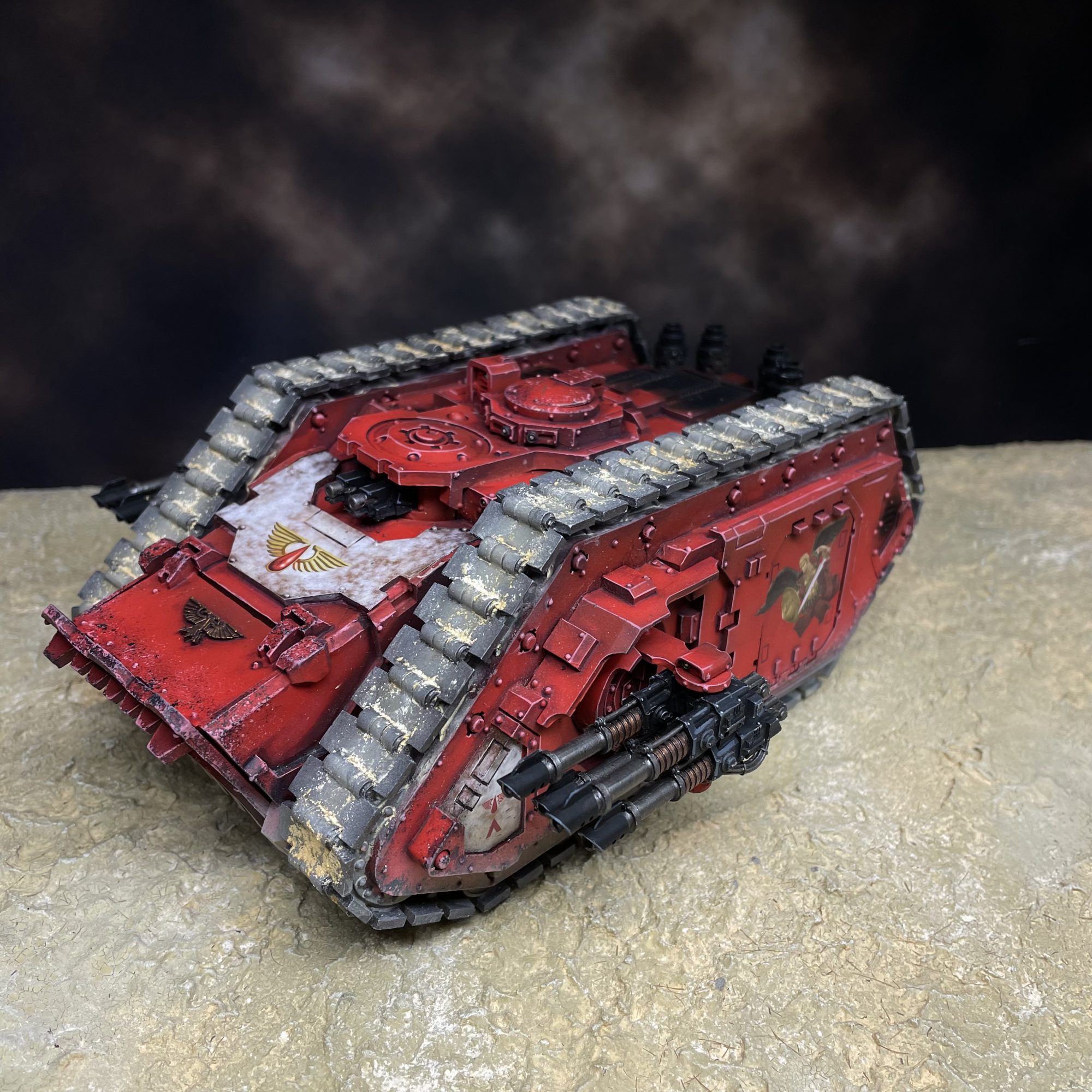 After the Spartan, I turned back to the 30k side of the army and knocked out a couple of Gladius Tanks in Ossian Suppression Pattern camo for my Blood Angels. They were the last two models to complete my Forward Recon force within my Blood Angels army, which was a great feeling. I love this army of fast movers and infiltrators, and the two medium tanks were the last element to make a nice little force that will be great for a narrative campaign or Crusade/Escalation league. I'll probably add a couple of Invictor Warsuits later, but for not this force is done!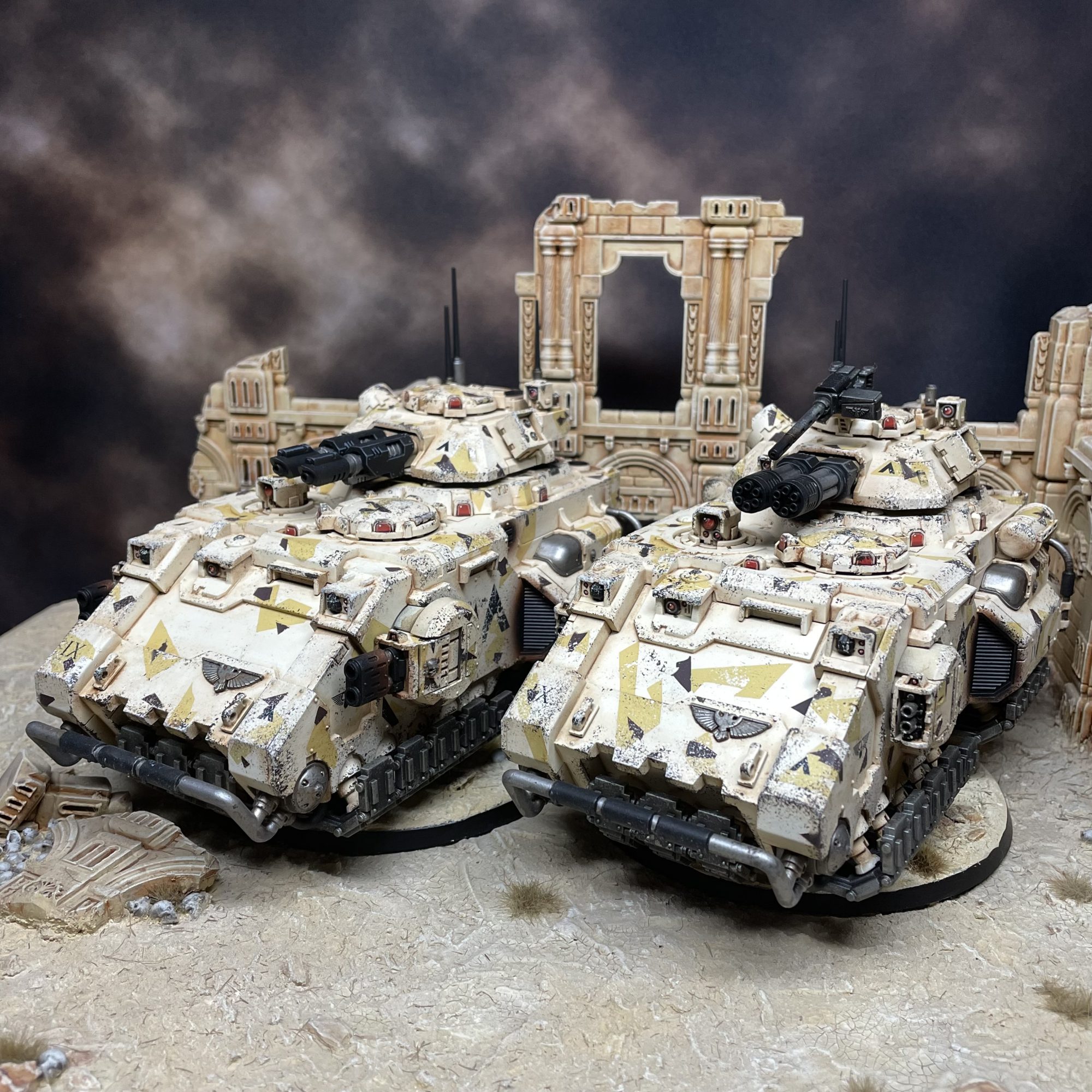 This model may have been my favorite model of the month, and really one of my favorite models I've ever painted. Castigator Battle Tank of the Adepta Sororitas – Order of the Gilded Cilice. From the panel modulation of the white armor, to the verdigris relics, the flames, really the whole thing just worked together. I love this model, and this scheme, and I can't wait to add to this army. One of my motivations for clearing out smaller army projects is to spend more time on my Adepta Sororitas army in 2022.