Let's check in on what hobby the crew have been up to the past month
Rockfish
So I might not have nearly as much for this round up as the last, but I still got a decent number of things done this month despite being distracted with 10th being playable!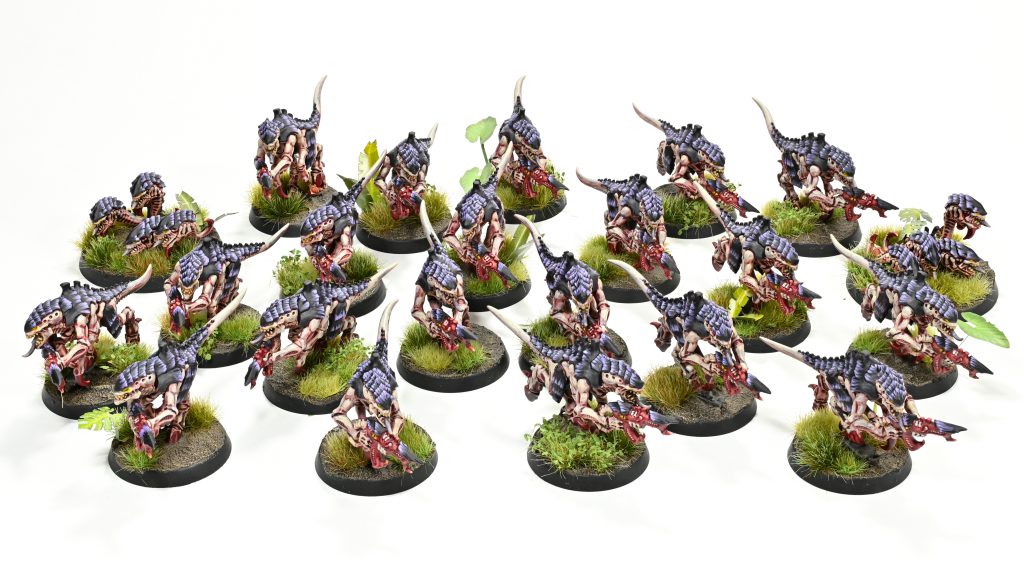 I filled out the termagant unit from the leviathan box as a first point of order, I forgot to take a picture of them separately from the others so uh, have a full 20 blob plus rippers I guess lol.
After finishing out the box I continued the theme of forces from it with this quick Stormspeeder!
Then it was time for a break from marines and nids, first with a hunchback…
then a Armored Sentinel I whipped out in a hour and a half after a movie!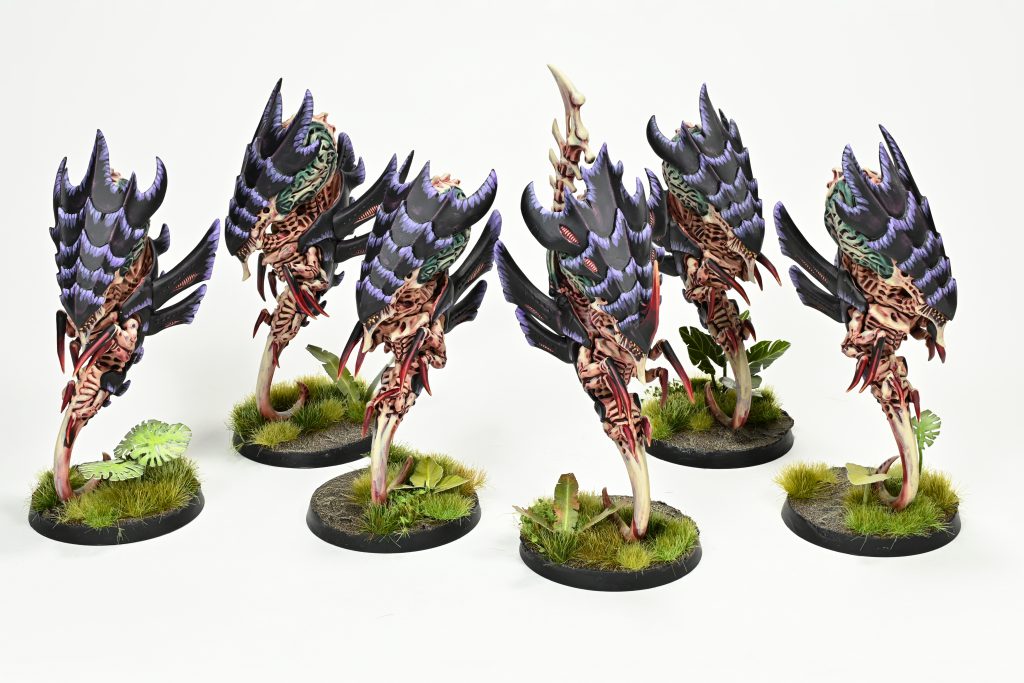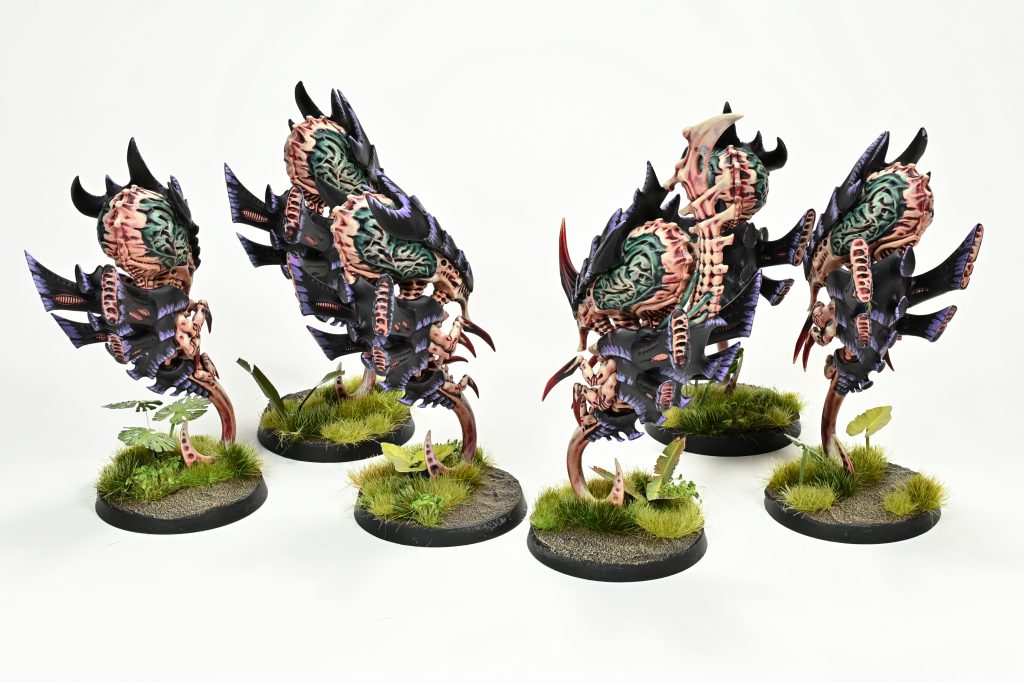 With a little bit of the burn out brushed off I knocked out a unit of Zoanthropes over a week…
Along with a Repulsor that ended up taking most of a week on it's own just due to having like no time to paint!
I also had some fun trying out a bunch of things on this Hellhound, it took quite a while all things considered, but I am really pleased with how it turned out anyway!
While the paint on the tracks for the Hellhound was drying I knocked out this quick Rifleman.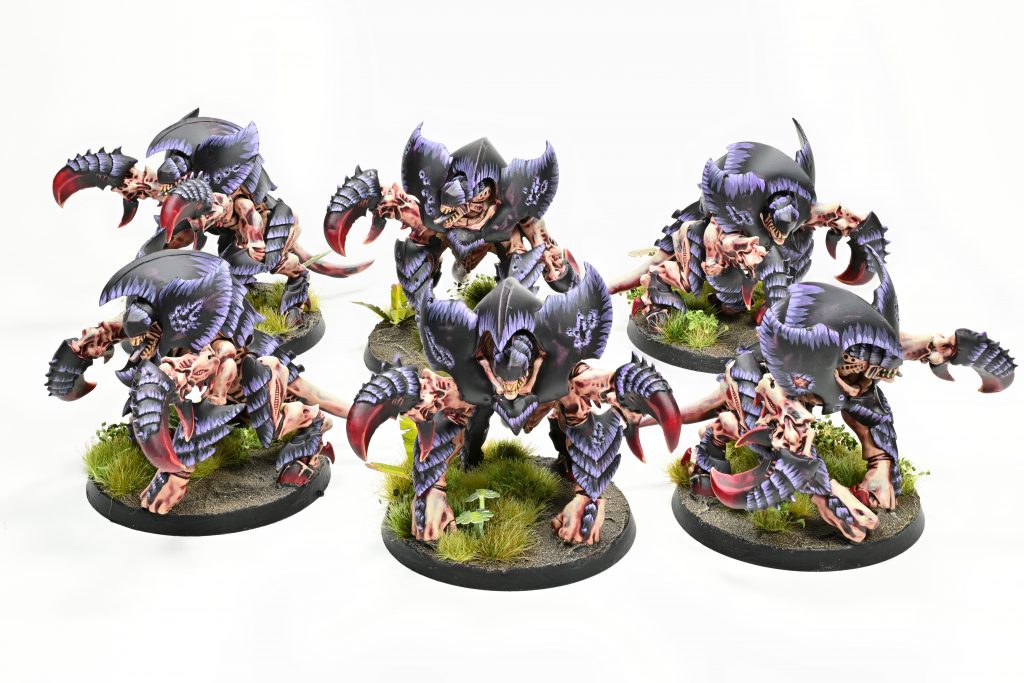 Then it was on to the last nids of the month, a crowd of Tyrant Guard!
I encountered a slightly awkward time slot where I had to wait for the primer on the guard to dry, so I knocked out this King Crab.
This was a Stinger I worked on during a lunch when I just wanted to do something quick instead of getting more contrasts on the nids.
SRM
I'm not convinced Rockfish doesn't have some kind of Techpriest mechandendrite situation going on to help their painting output, criminy. Anyway, I painted some stuff too.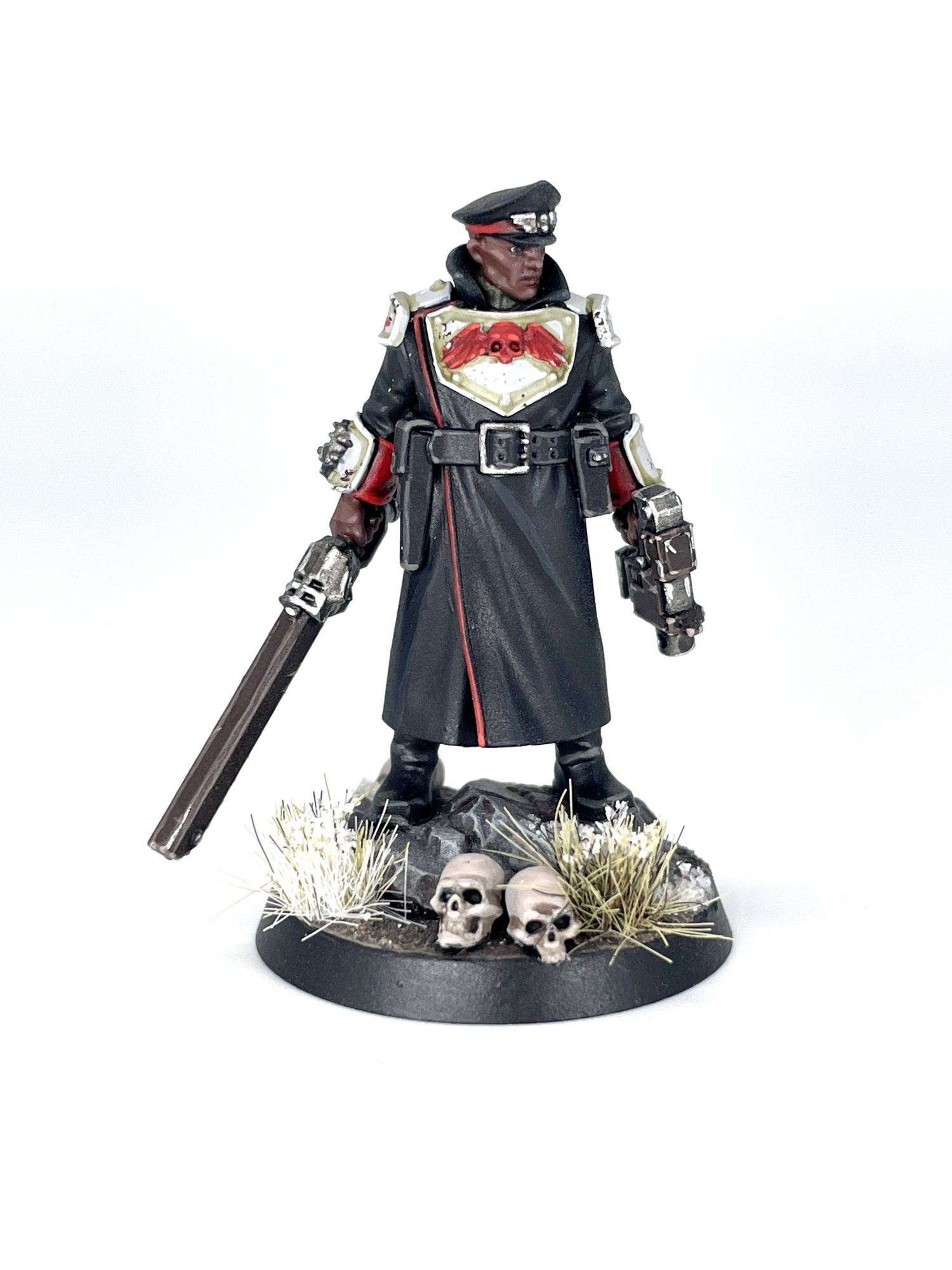 Leading from the front this month is a Commissar for the refreshed Imperial Guard army I've been chipping away at here and there. He's not an especially exciting model, but I'm pleased I was able to get the trenchcoat and leather both looking like different black materials. He was part of my batch painting assembly line, as I was concurrently working on: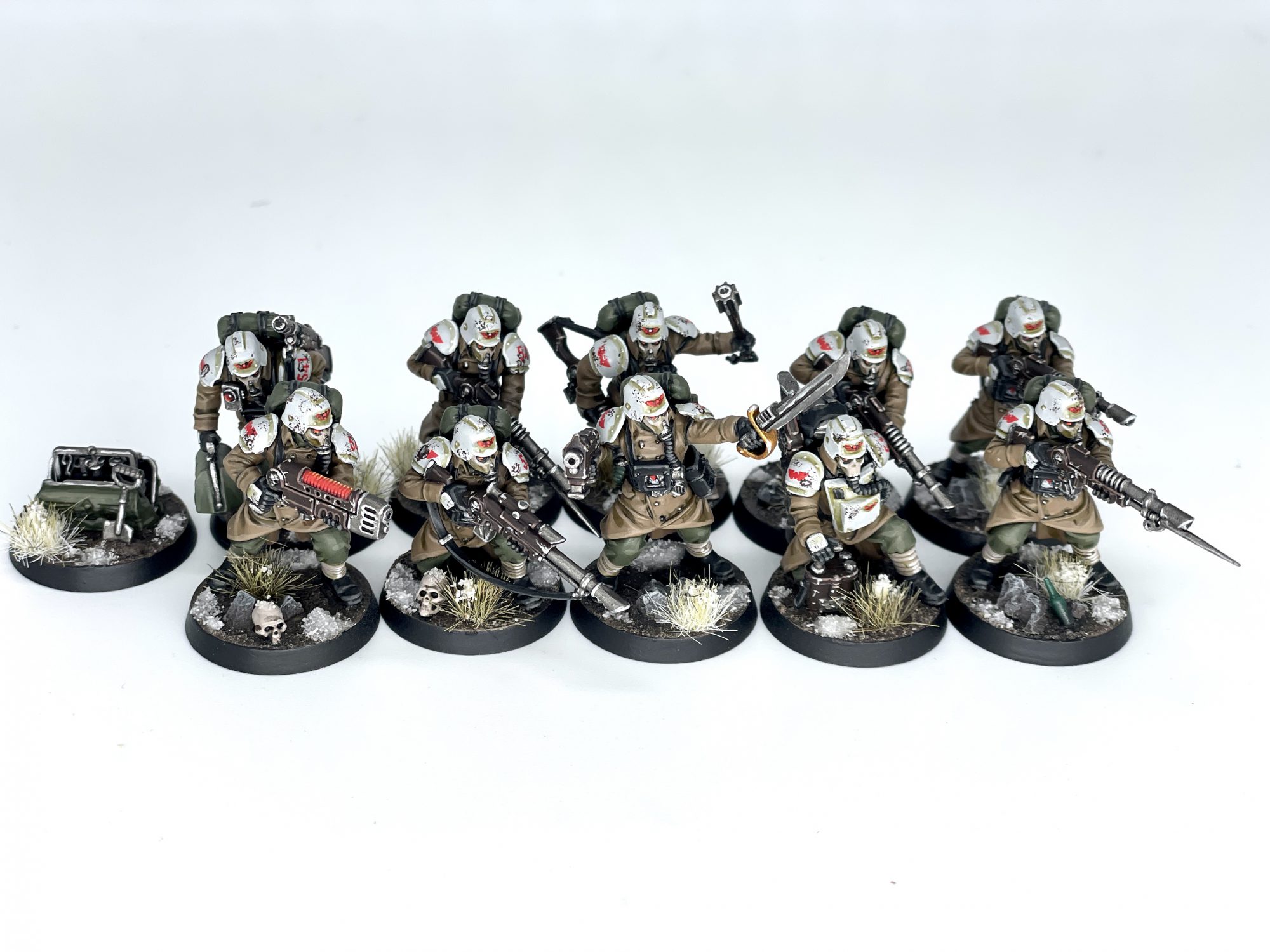 More Kriegers! After some assembly mishaps last time, I was able to outfit this squad with a bunch of options I didn't do the first time, plus some alternate poses. Turns out the highly prescriptive instructions leave out the fact that you can use most arms on any body without much of an issue, so I got to make some slightly different riflemen with this set. After painting all those shiny new Terminators last month, it felt good to paint some normal-ass dudes.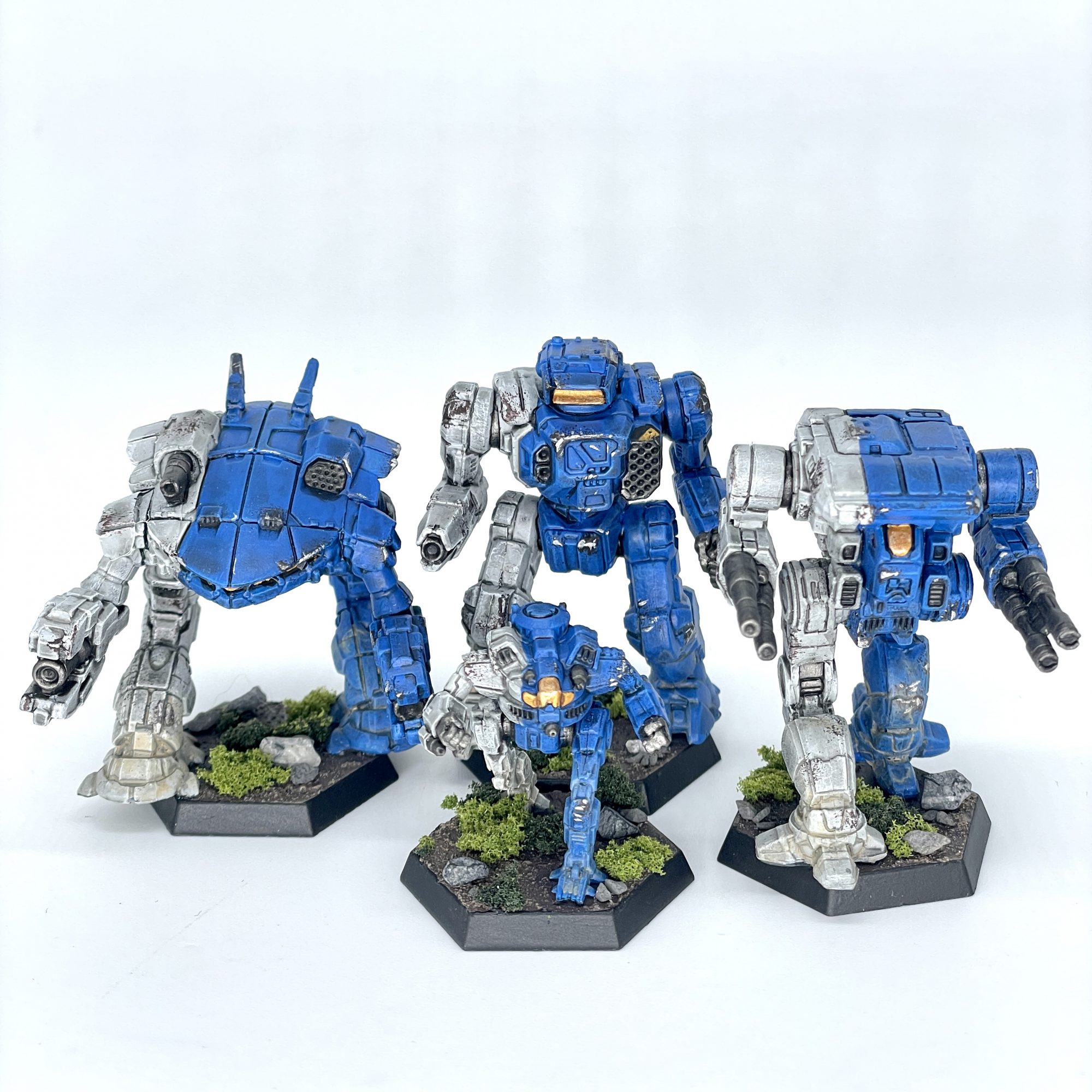 I kept my momentum going by knocking out another lance of mechs, this time for my Lyran Commonwealth collection. I added a little personal flair with some hazard stripes on the Highlander's missile launcher, but these were a pretty standard painting experience. I can knock out a few mechs at this level in like 3 hours so they're good to cleanse the literal and figurative palate between more involved painting projects.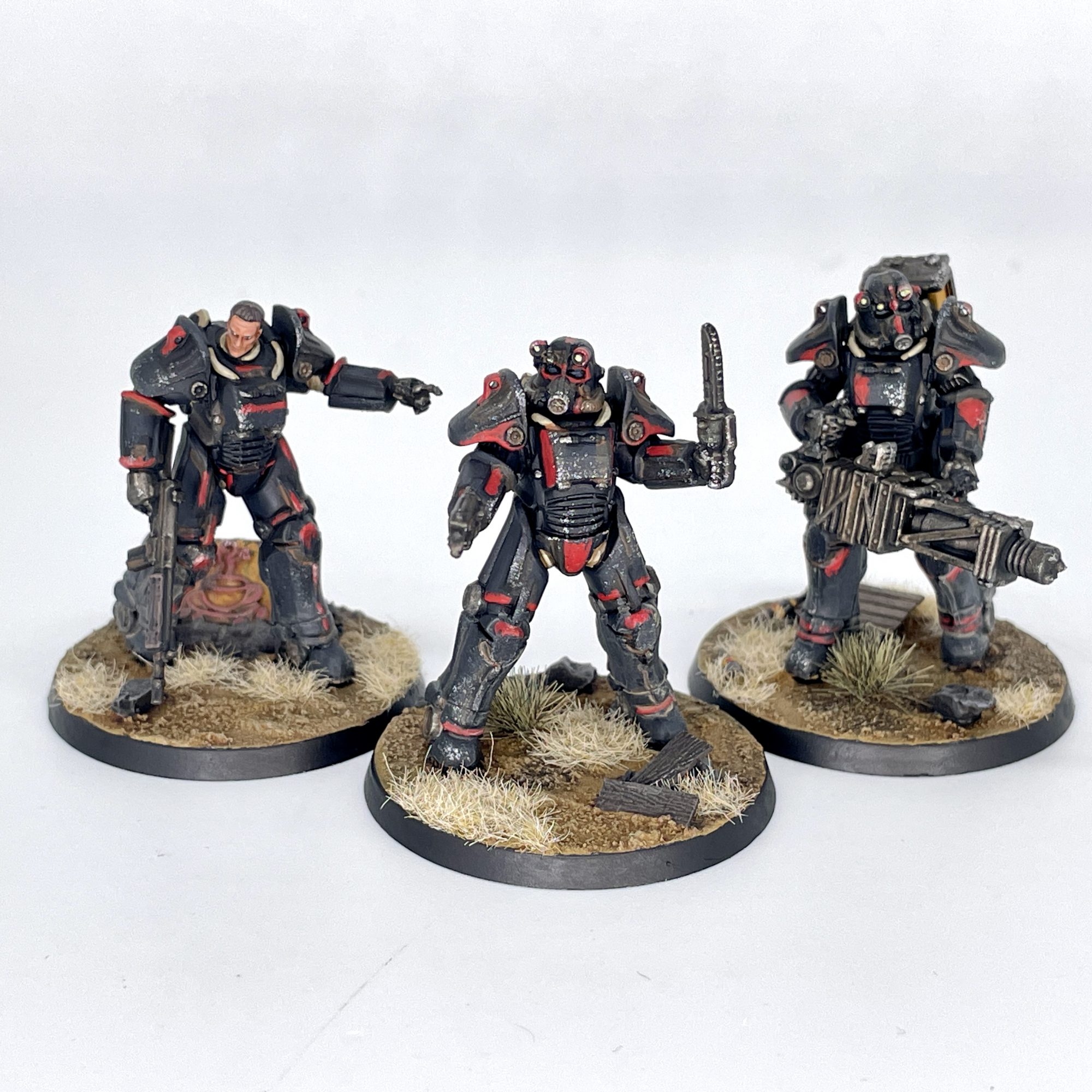 I was fortunate enough to review the new Brotherhood of Steel Heavy Armor Kit, and painted up these models for that article. It was a bit of a challenge figuring out how to replicate the splotchy, haphazard feel of the red and black paint on these, but I think I did an okay job. The kit was pretty enjoyable to put together, and painted up without much fuss either. What I'm happiest with is the basing, since I don't do desert bases often and I got to use some of the random stuff I've had lying around in my bits box for years on these models. There's a coffee sign on the base of the bareheaded guy that comes from a coffee cup plug I've had in a bits box for 3 years. However, I wasn't quite done painting black and red for this month.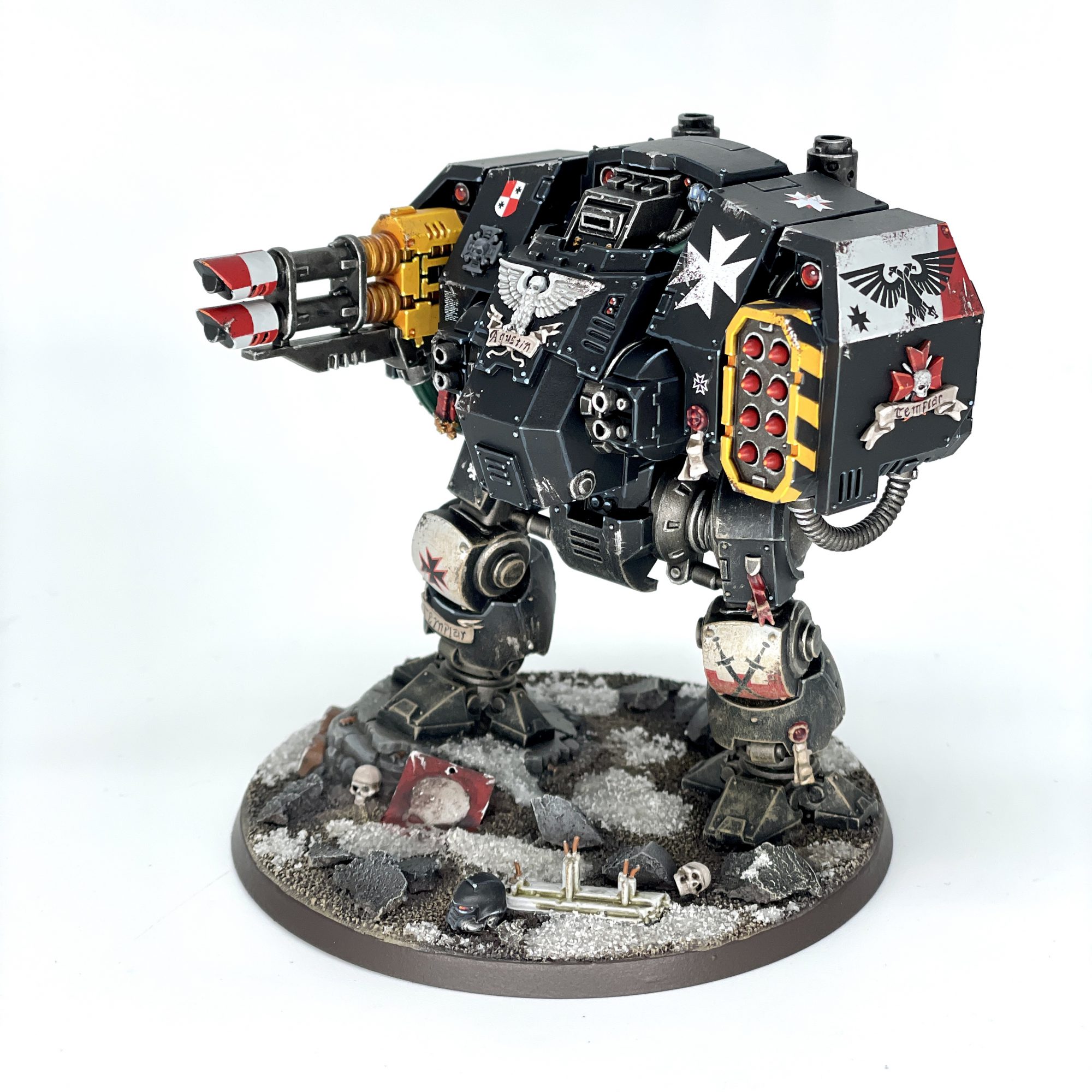 Getting back to Leviathan business, I painted up this Ballistus Dreadnought for my Black Templars. This dread (officially named Agustin, unofficially named Gunk Chunkems) has been clutch in both games of 10th I've played so far, and has been giving my Templars some much-needed firepower. The model took like half an hour to clean up and build, including basing. I realized the little white bit of structure on the base doesn't make any sense, since it's just floating on its own, but whatever. I also got to use a brass sign from the old Cities of Death basing kit, which was cool. Only had that set lying around for half my life or whatever. This model is genuinely a fun canvas to paint on though, with enough room to add personal details and heraldry between all the big guns and scrollwork. The crossed swords in his personal heraldry come from one of the Knight transfer kits, the Aquila is from an old Space Marine vehicle sheet, and the rest are just Templar ones. I just feel lucky that I found a heraldry one that matches the design I painted on his lascannon!
As for next month, it's probably gonna be more Marines. I'm jazzed about 10th, and I'm gonna have quite a bit to do before the Tacoma Open next month!
HardyRoach
I've been painting some delightful Burrows & Badgers minis. These are, to be honest, the most fun I've ever had painting anything. They're an absolute delight.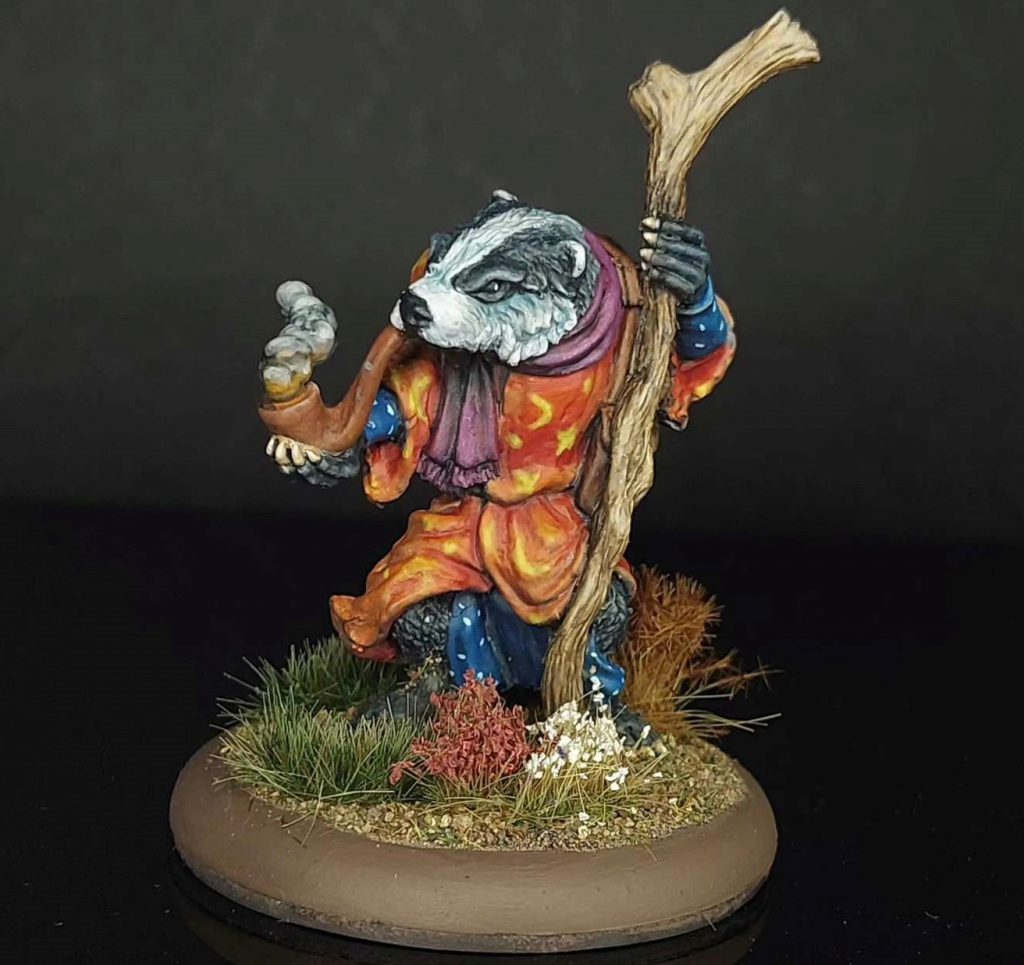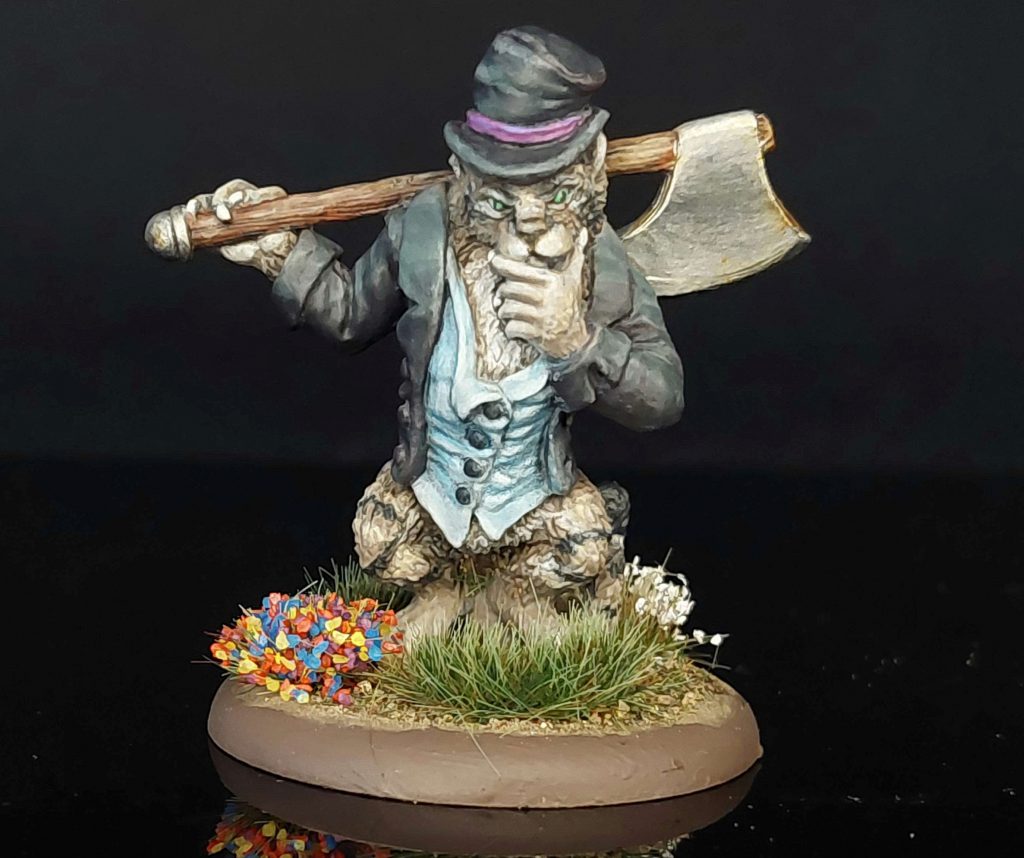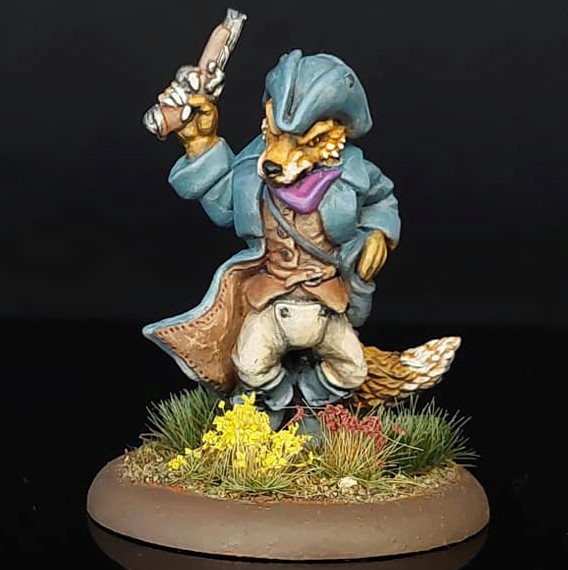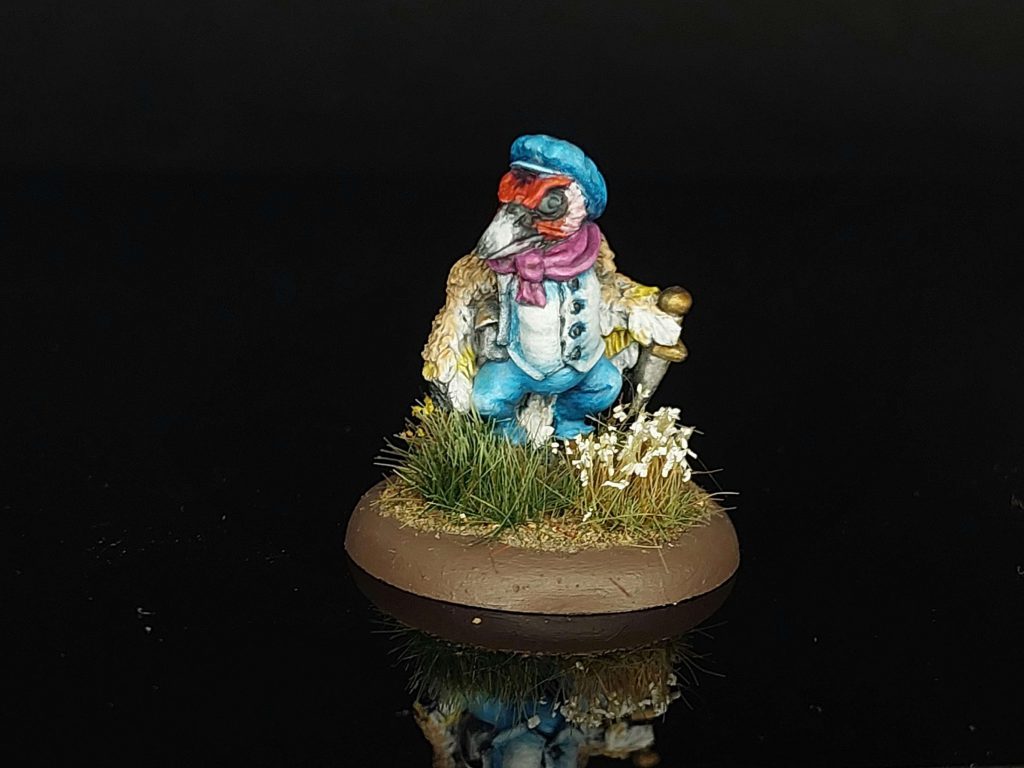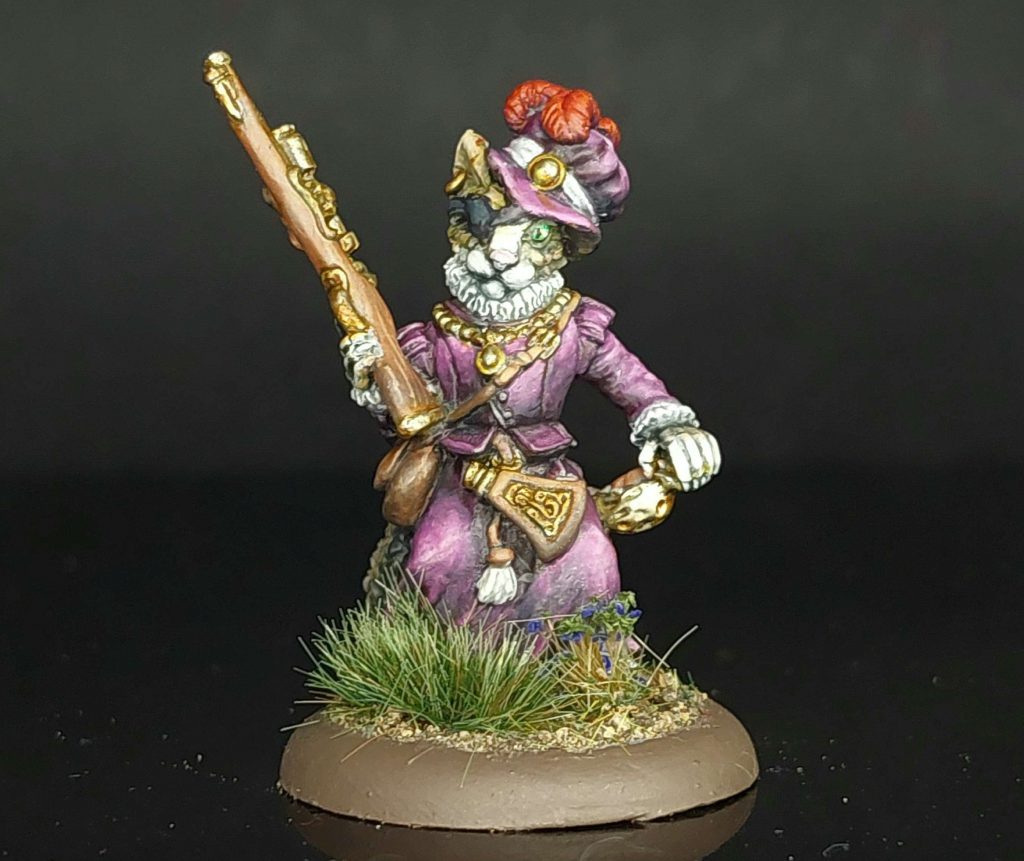 The cat there is actually based on my own little murderbeast, Lula: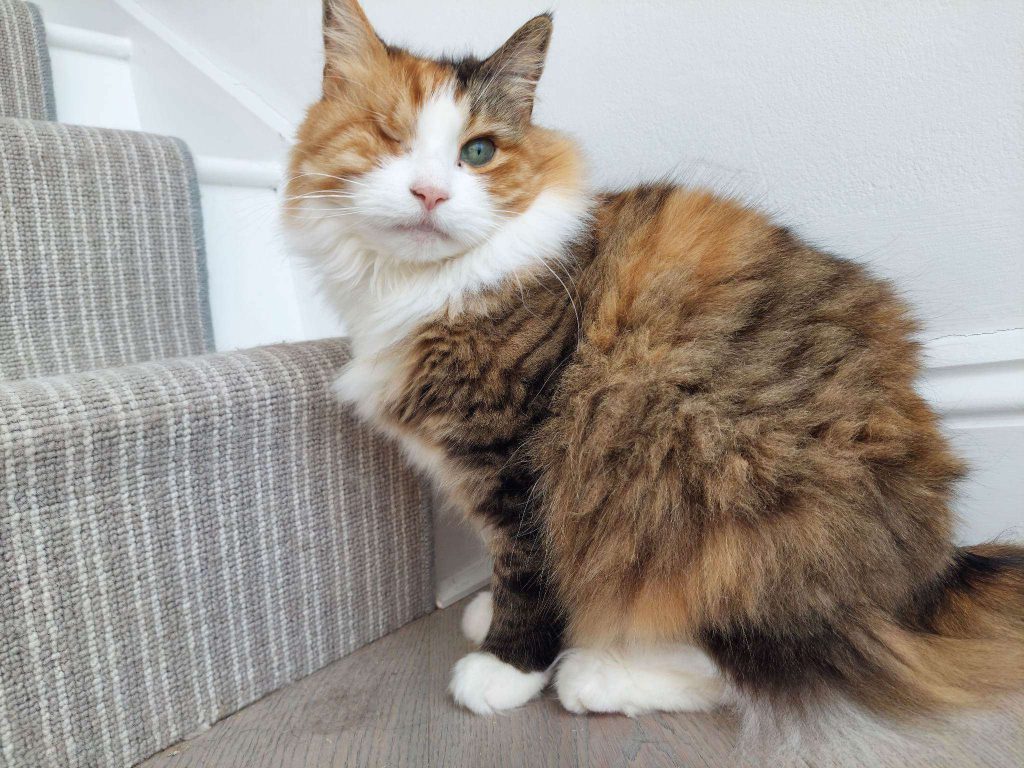 It's hard to define exactly what makes these models so lovely to paint. Perhaps some combination of their charm and detail, combined with their relative simplicity and hand-sculpted vibe. Check out Burrows & Badgers!
Summer
I'm petitioning to rename this article series to How Rockfish Paints Everything.
Anyway.
My June project was a contribution to the End of Edition Painting Challenge. I completed my pledge ahead of schedule and above expectations (try finding those words in project development).
While my pledge only called for five-person Tactical Squad, I ended up doing a full unit of ten, in two combat squads. Just in time for combat squads to stop being a thing.
The first half is a short-ranged assault element led by a veteran sergeant (Deathwatch veteran, too). They bring a mix of shorter-ranged weaponry including a power sword, shotgun, carbine, auto-bolt rifle, and plasma incinerator. They're the squad's doorkickers.
The ranged fires element includes the missile launcher, vox trooper, and designated marksmen. Bolt rifles with optics and a sergeant's boltgun round out the squad.
I'm really happy with the outcome because after working on my homebrew chapter for nine years, I finally have my workflow. I've always wanted my marines to be grungy, weathered, but easy-to-paint. The accumulated skills from my time have finally achieved this.
I followed the tactical squad with Outriders converted to a more recon aesthetic. I don't respect melee motorcycles, but can definitely picture an Outrider squad being used for long-ranged recon. That means binoculars, vox sets, and climbing equipment.
I also fiddled a bit with very simple displays for the recon riders.
Lastly, some counts-as Vanguard Veterans/Assault Marines. I didn't pay much attention to their armaments and just wanted a cool melee assault squad. My next assault squad will be a bit more diversely equipped. Aaaaaand it was only while typing this that I noticed the tilting shield on my shield-brother lacked a decal. Ugh.
Togepi
Eagle-eyed viewers may have noticed a dearth of Malifaux content on the site recently.  My wife and I welcomed our first child at the end of March and taking care of him has been a mostly-full-time job.  (Now that he's sleeping 7+ hours at a stretch, though, I think I'll be back to writing regularly soon).  Watching a baby involves long stretches of doing nothing, but being ready to do something at a moment's notice, which is basically the perfect situation for painting.  I've been taking advantage of the time to practice some new techniques (do not ask me how my experiments with oils came out) and catch up a bit on my backlog.
First up are some more Sisters of Silence; as I await the revelation of, I dunno, a second plastic kit for the army, I'm continuing to build out my backbone – this time with a Raptora Squad.  I'm using cloak colors to distinguish battlefield role: red cloaks are troops, blue cloaks are elites, purple cloaks are characters, and green cloaks are retinue squads.  (Fast attack will be yellow and I haven't decided on heavy support yet; I have a nice teal I like).  I found that highlighting black has become lightyears easier with the addition of a Vallejo Glacier Blue to my paint stable – it's almost white, but not quite, and the small amount of color that it injects makes a huge difference.


Next, I have been painting my way through Malifaux's Angler keyword, the newest addition to the Bayou.  These guys are great, full of character and detail (don't ask about the assembly process).  I decided to go with tropical fish colors, different for each model.  Sally the Silurid, the mount for the Clampetts, Fisherfolk, got the Nemo treatment.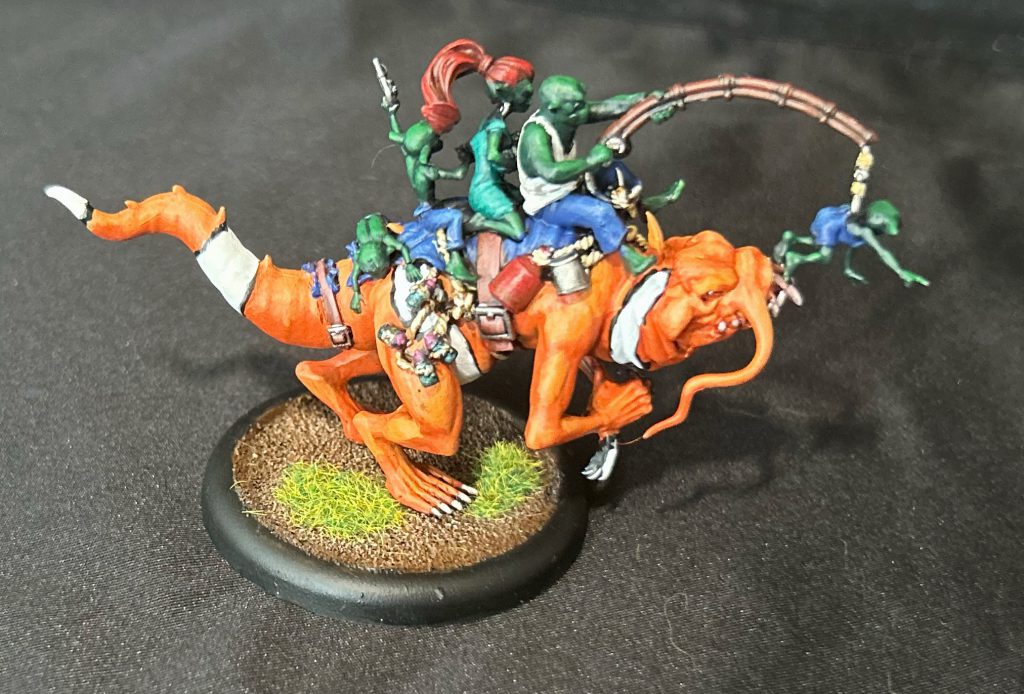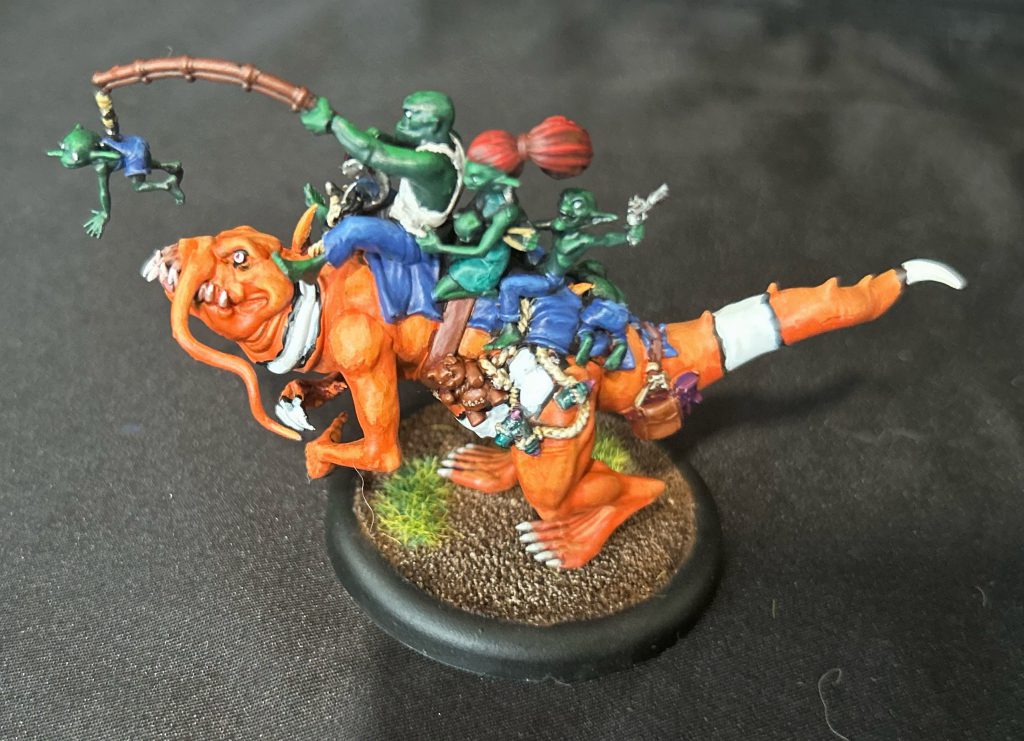 The Bally-Hoo Bucket, the Clampetts' title form, was a bit more subdued, but let me practice wood grain patterns.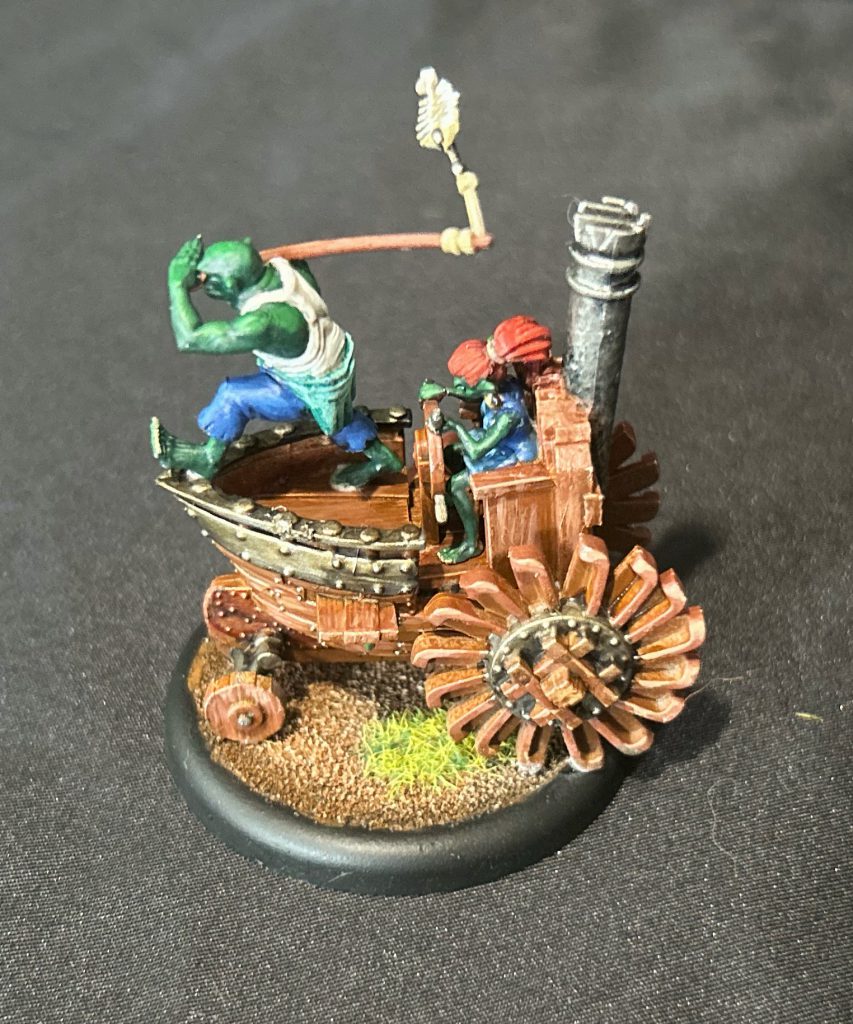 Bruce, the Clampetts' Totem, got the Dory treatment.  I don't have a good lighting setup to photograph black, but it looks pretty solid in person.  His base is an insert I got with my Duncan Rhodes Two Thin Coats paint kickstarter.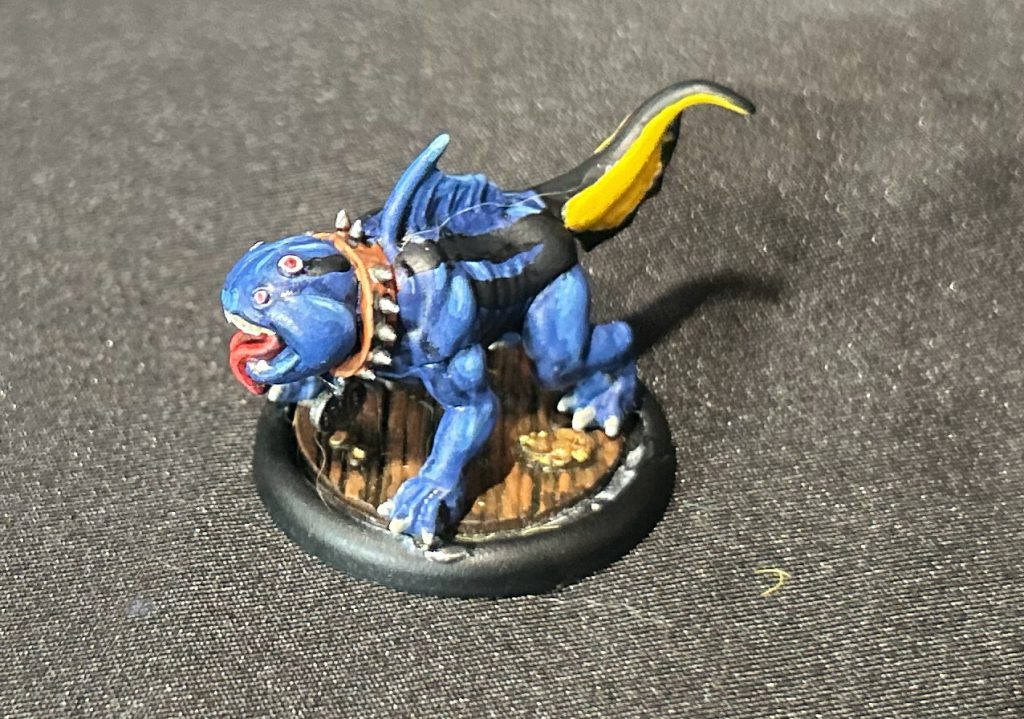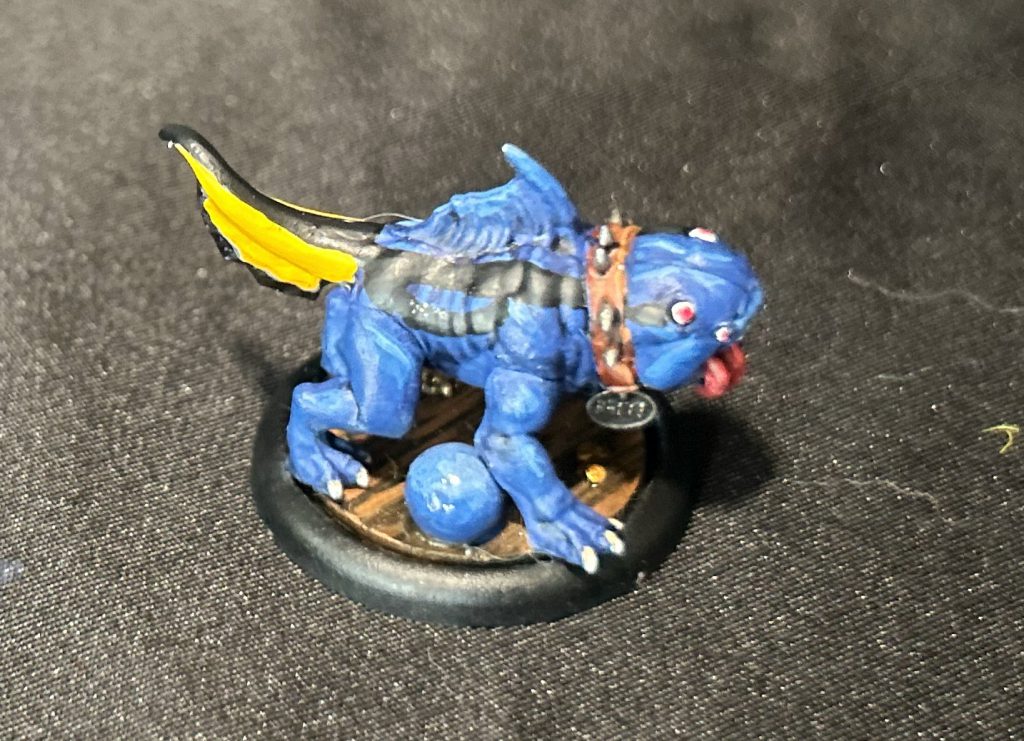 Uncle Bogg rides the biggest gator you ever saw, in an easy chair, with a beer in his hand.  Giving him Florida University pennants was the easiest decision ever.  I added one U Miami one for flavor.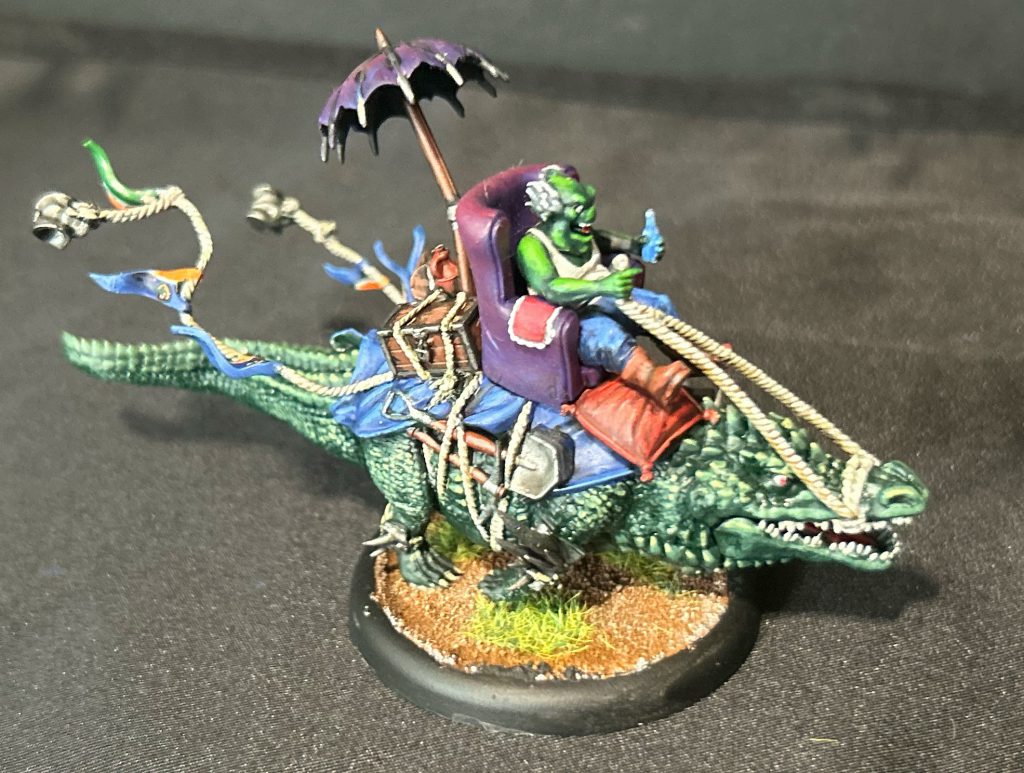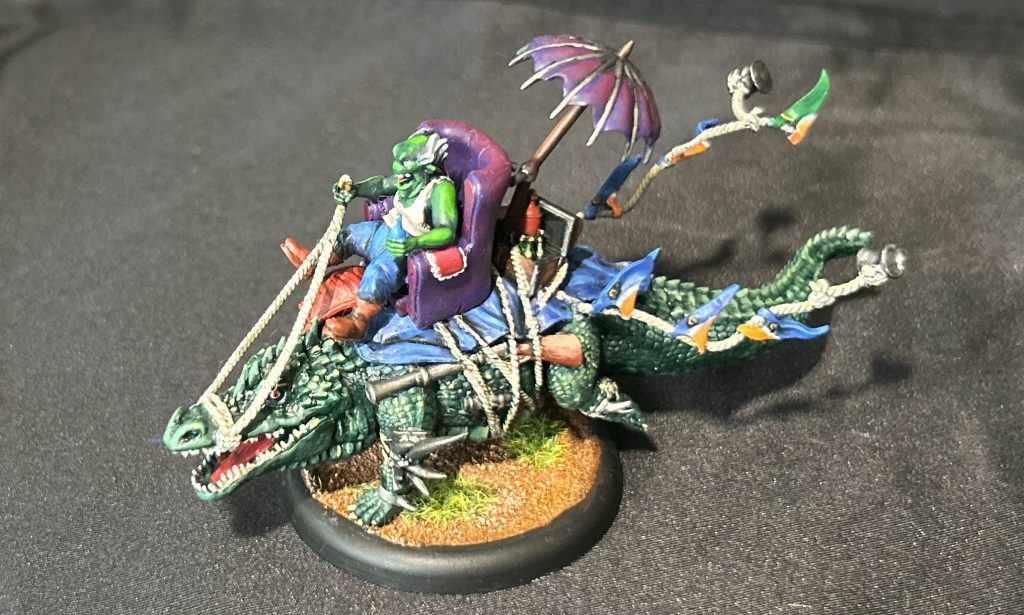 A few of the Angler models feature shells; for these, I decided to try the coconut crab pattern that's been making the rounds.  It's tricky to do, and I definitely didn't nail it first try, but I think the more cartoonish version I have here actually fits well with my painting style: bright, even colors and big dramatic highlights.  These are Hermits.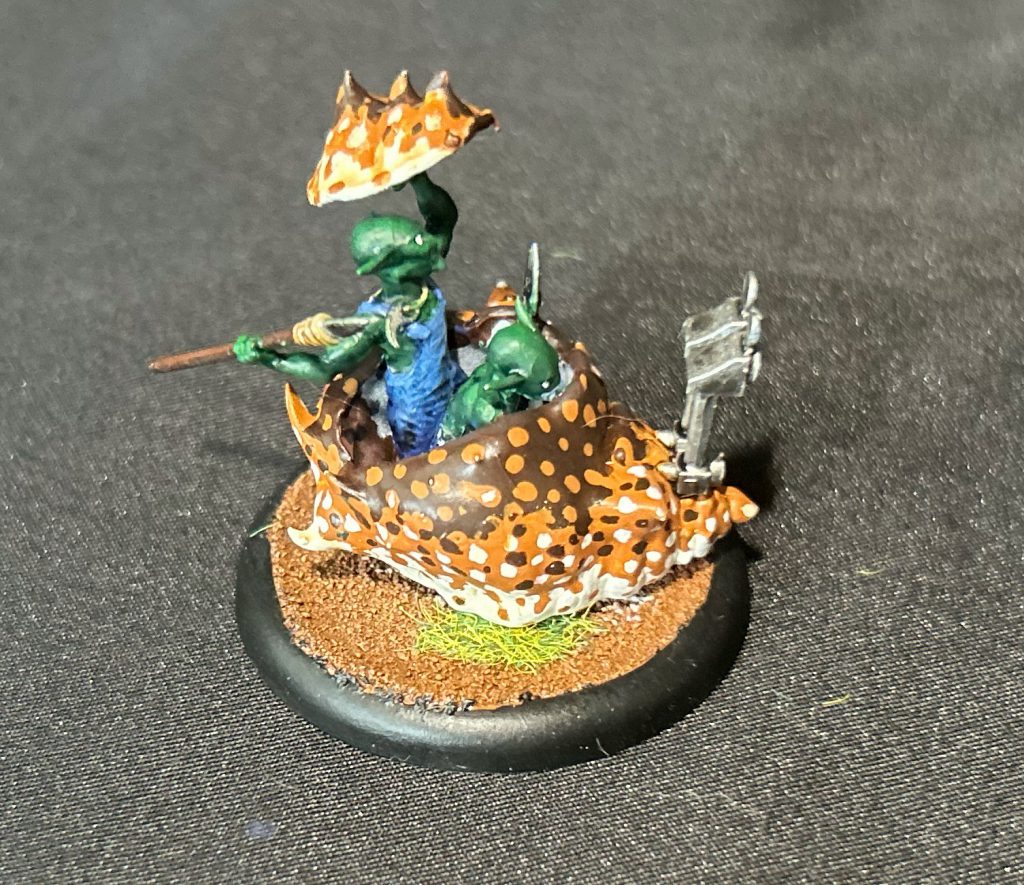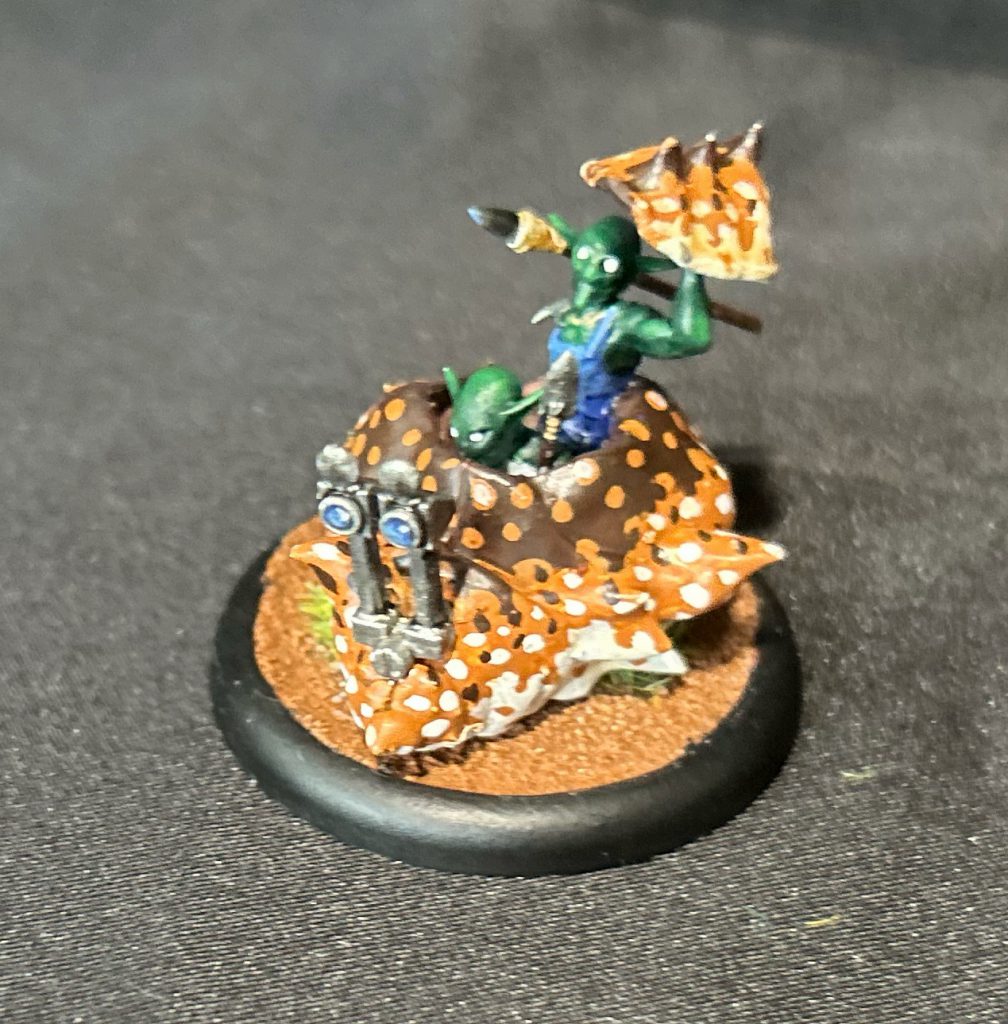 Aunty Mel was surprisingly frustrating to paint – there's less detail on that model than it felt like there should be.  And her harpoon tip is tiny and immediately snapped off before I even primed the model.  Wyrd was good enough to provide a replacement, I just haven't figured out how I'm going to make it stay on yet.  Maybe the world's smallest pin?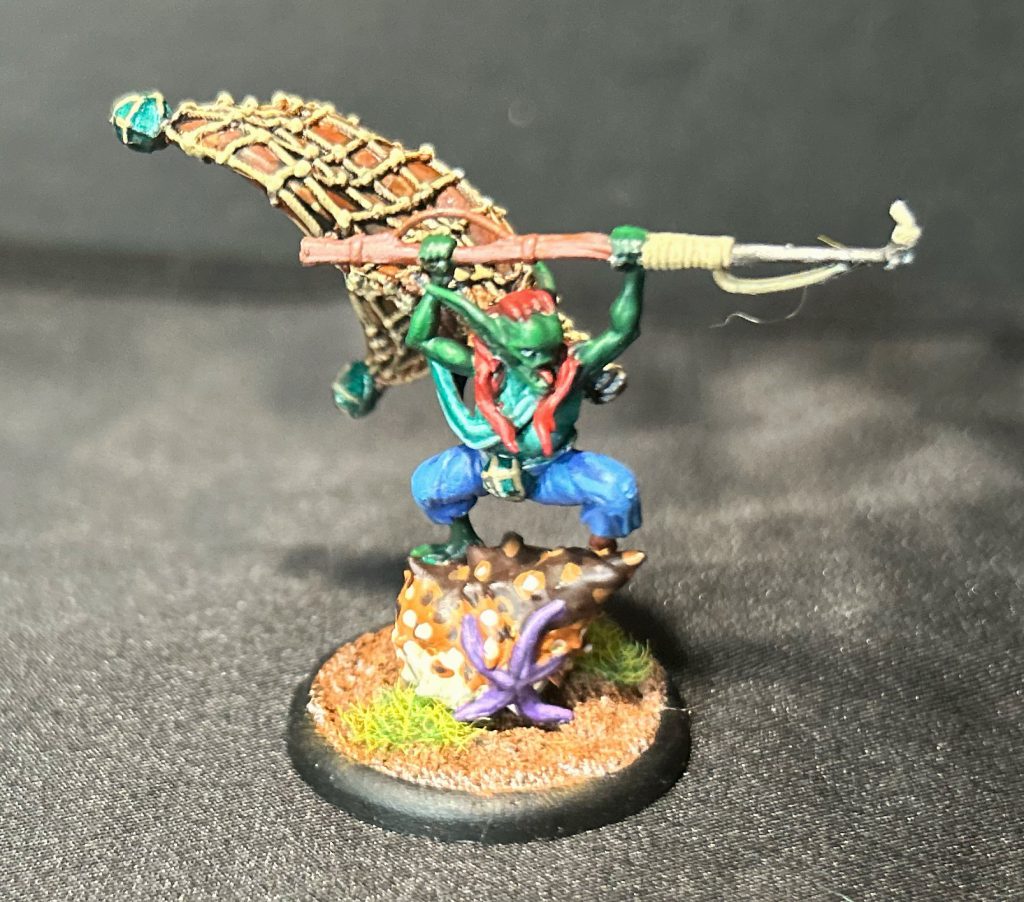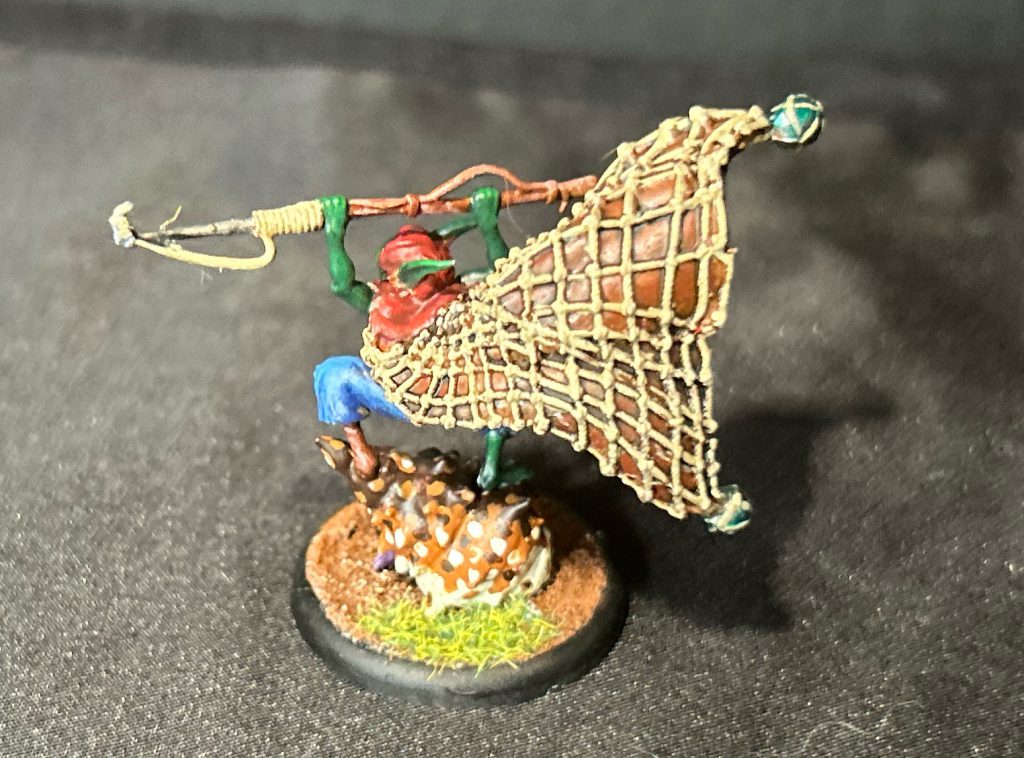 Sir Vantes is one of the greatest models in the history of the game.  A+ rules, too, just an absolutely perfect execution on a concept.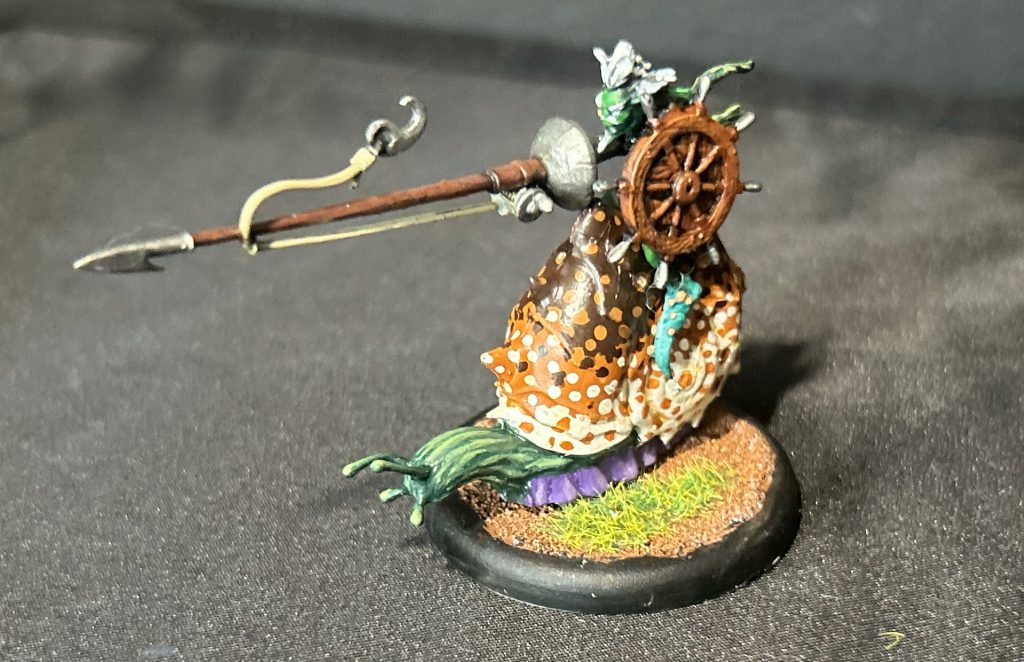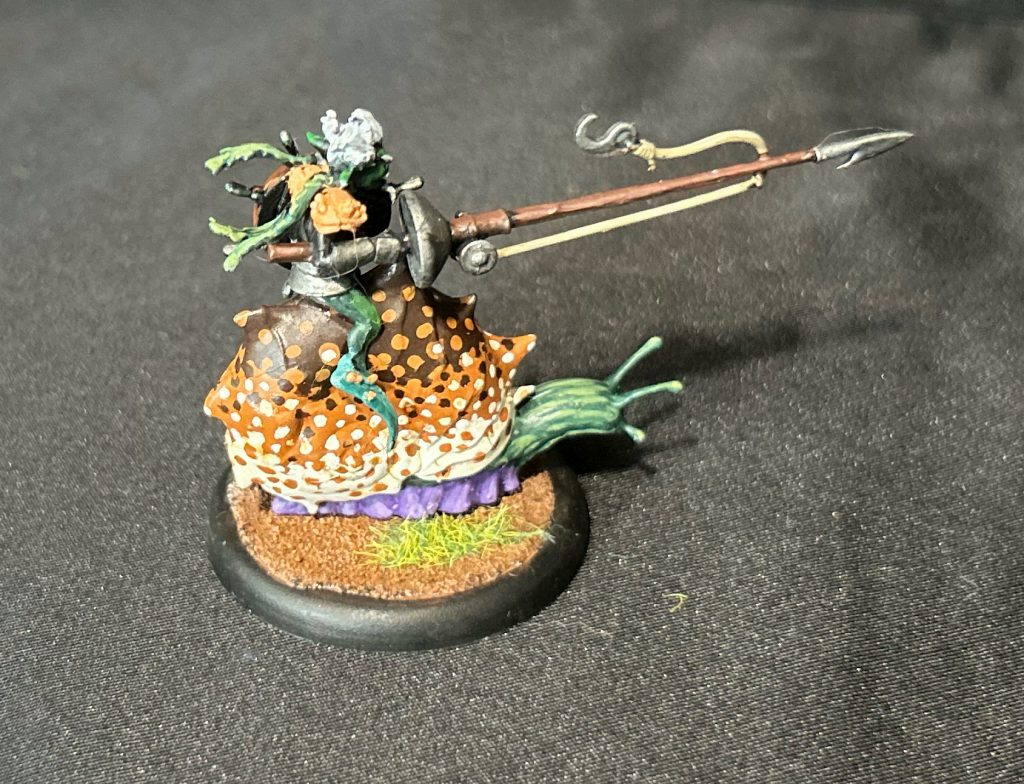 Judd and Honey are kind of weirdly out of place here, since there's nothing particularly nautical about this model.  I chickened out of doing fire OSL at the last minute, but since his hat is black I can pretty easily go in and add some later if I get my courage up.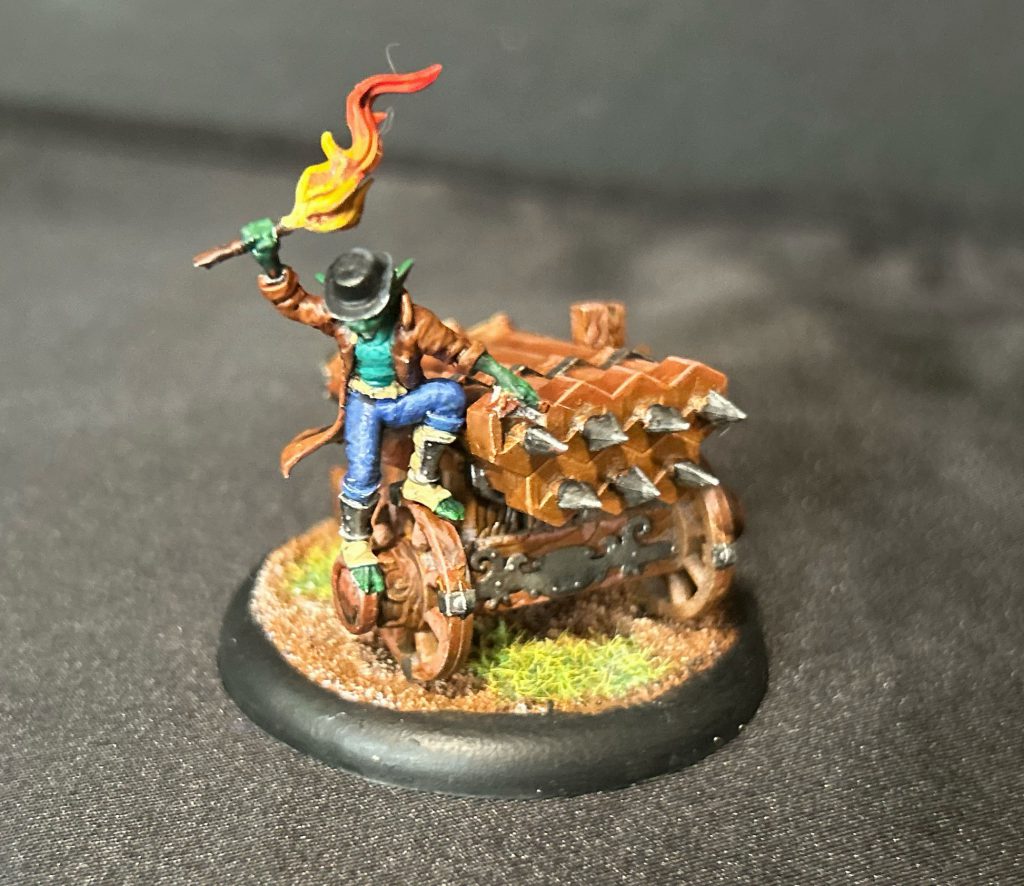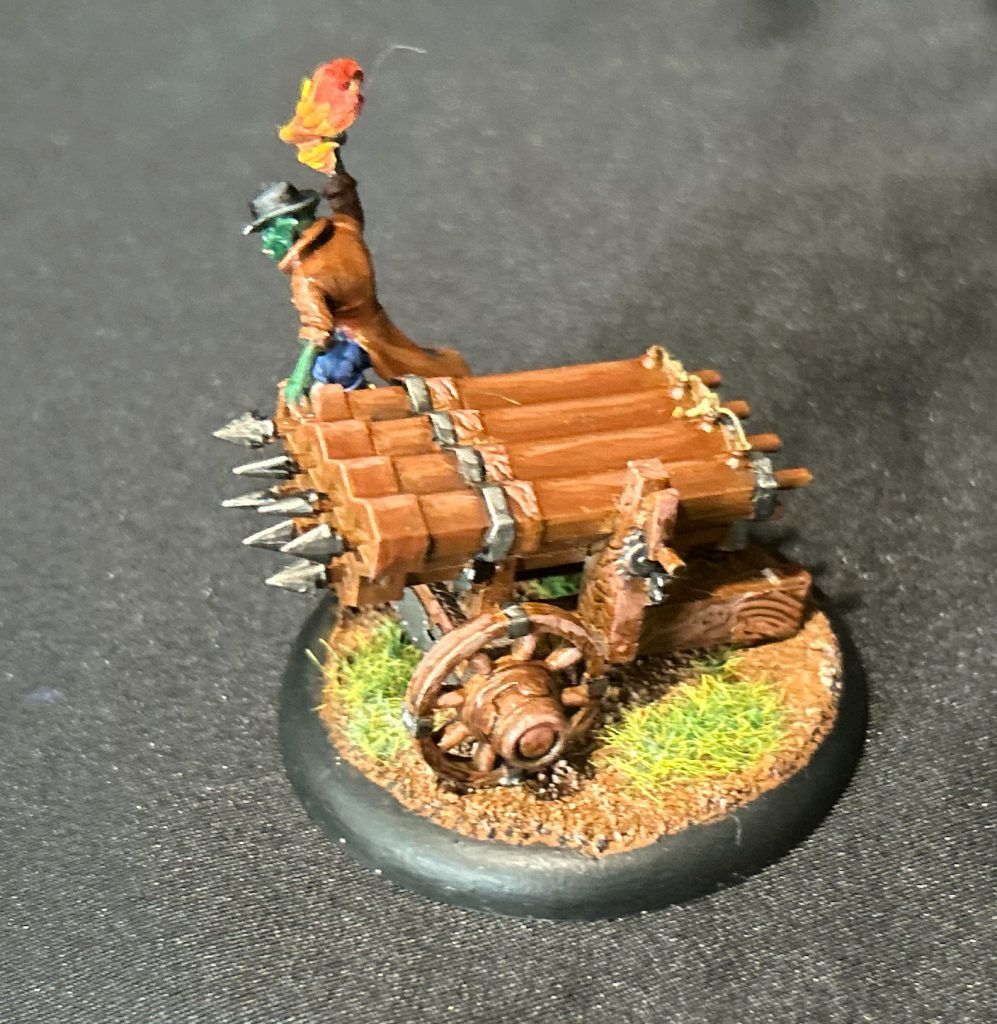 For the rest, the Buckaroo and Skulker Skins, I just had a lot of fun googling tropical fish patterns and mixing up colors.  I tried to blend the purple into yellow but I just couldn't get a smooth enough blend for my liking.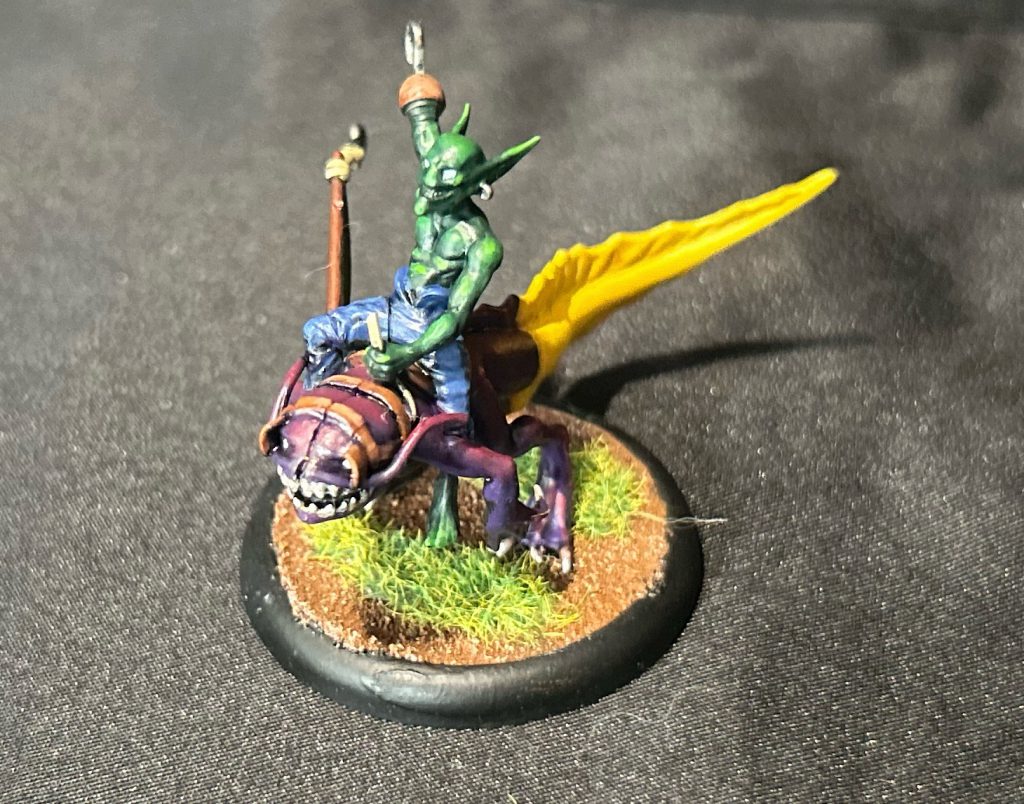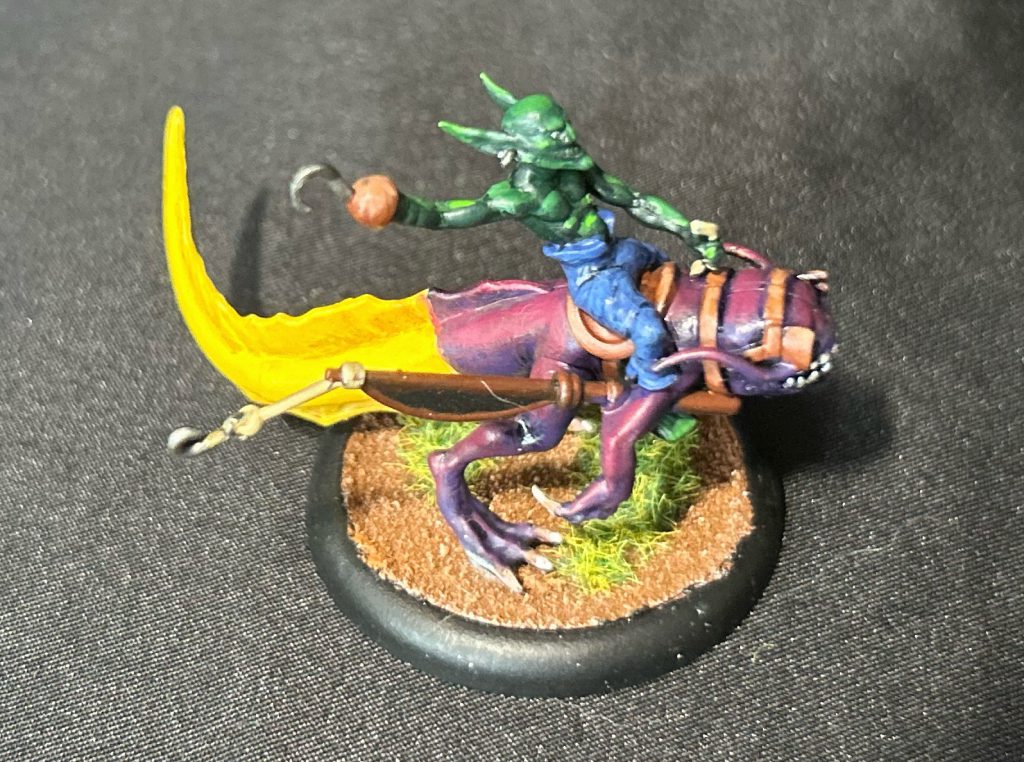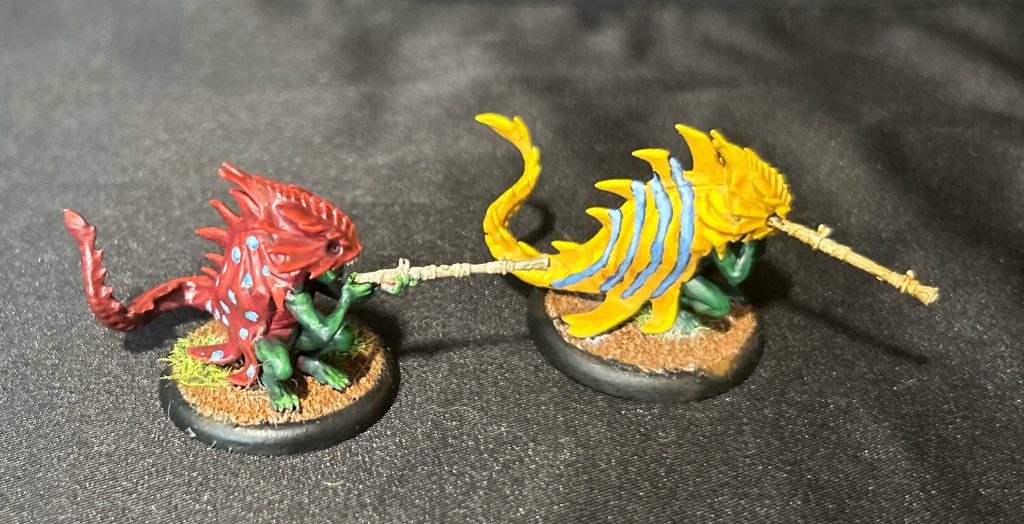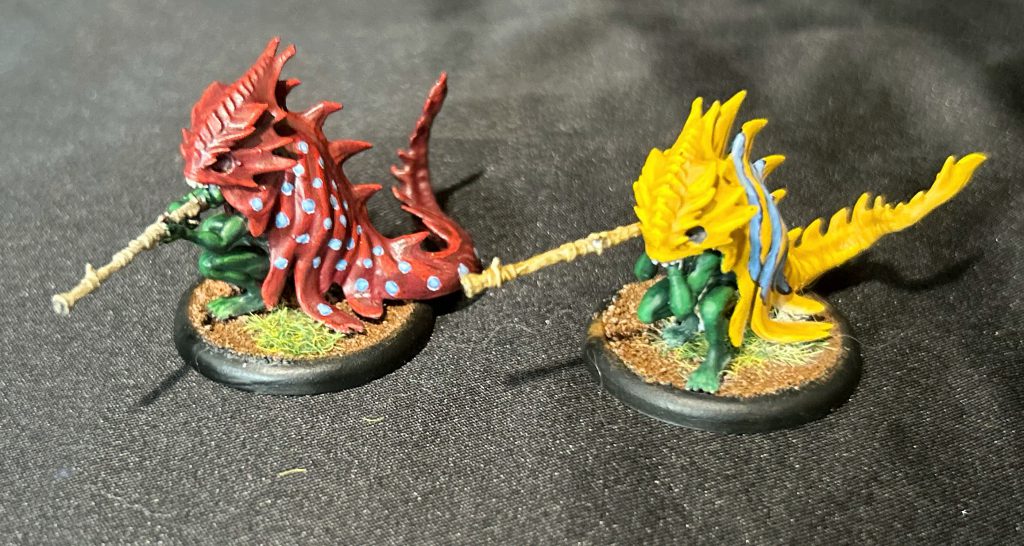 I'm still working on a pair of Kharon Pattern Acquisitors and my Oblivion Knight, converted from Katarina Greyfax.  I also am debating painting a second Hermit and a second Buckaroo.  It's very rare for me to paint the full field allowance of Malifaux minions, since it's so rare that you field them all, but the Angler keyword looks so cool I'm really tempted.
Penguin
New kid on the block, and I'm starting off small. A squad of rebel scum from Star Wars Legion, painted up as the infantry equivalent of Red Squadron.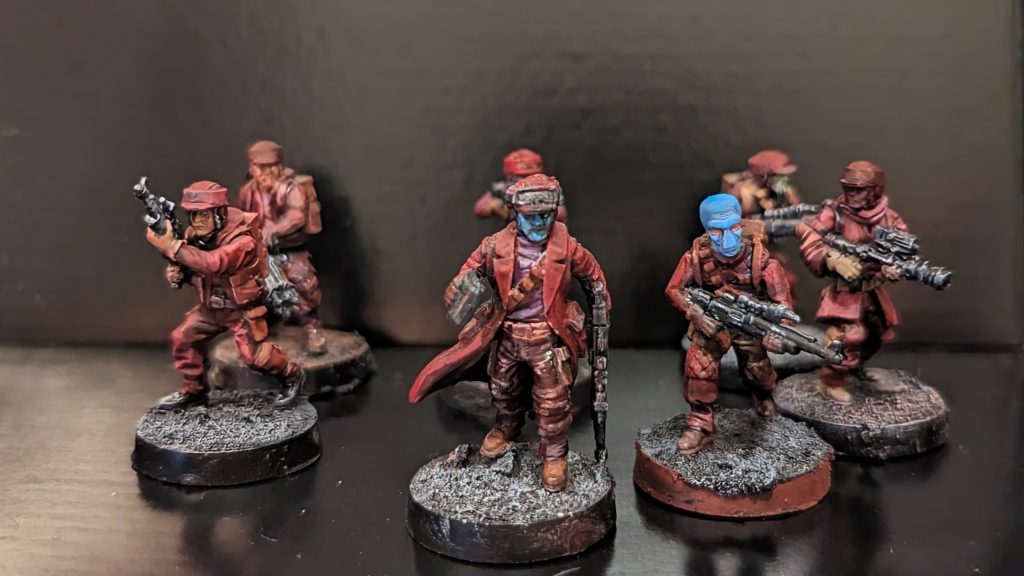 I like how they turned out, or at least I will once I finish painting the base rims. Especially proud of how they show off some of my best and worst jobs with skin tones and highlights.
On the hobby desk right now is the Leviathan box, marking the first time that I'm putting a ton of effort into bases and modeling. Don't have any good pictures of them yet, so it's a surprise for when they're all done and painted up.
Craig "MasterSlowPoke" Sniffen

June was a busy month for me. First, I finished off two of the marine character models for our Leviathan model review, the Terminator Librarian and the Apothecary:
Afterwords, I got the Infernus Marines painted up. I've never done heat staining on brassy metal before, and I'm both not sure I've made the effect too subtle or too stark.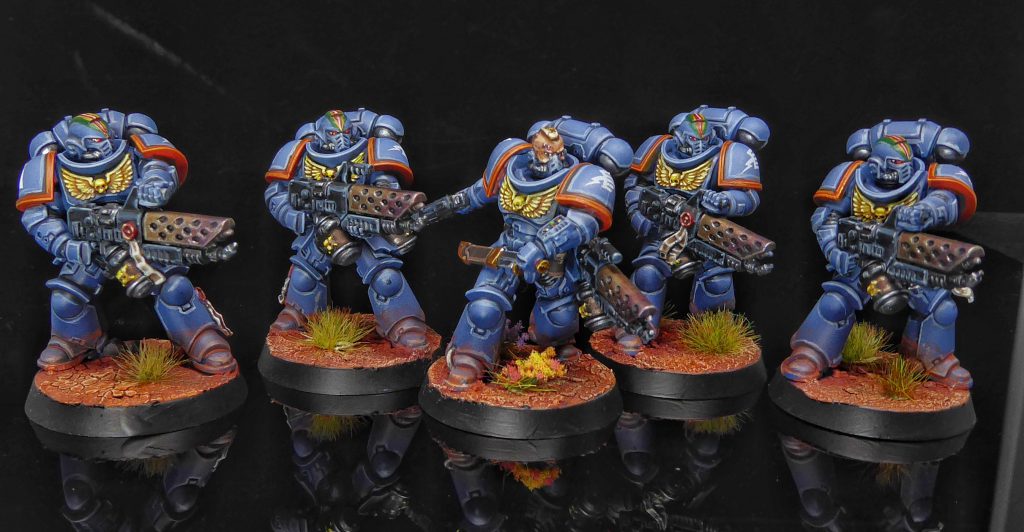 Next up was getting some stuff out of the backlog in preparation for 10th. With all of the increased toughness on vehicles, I knew I was going to want some Grav Devastators: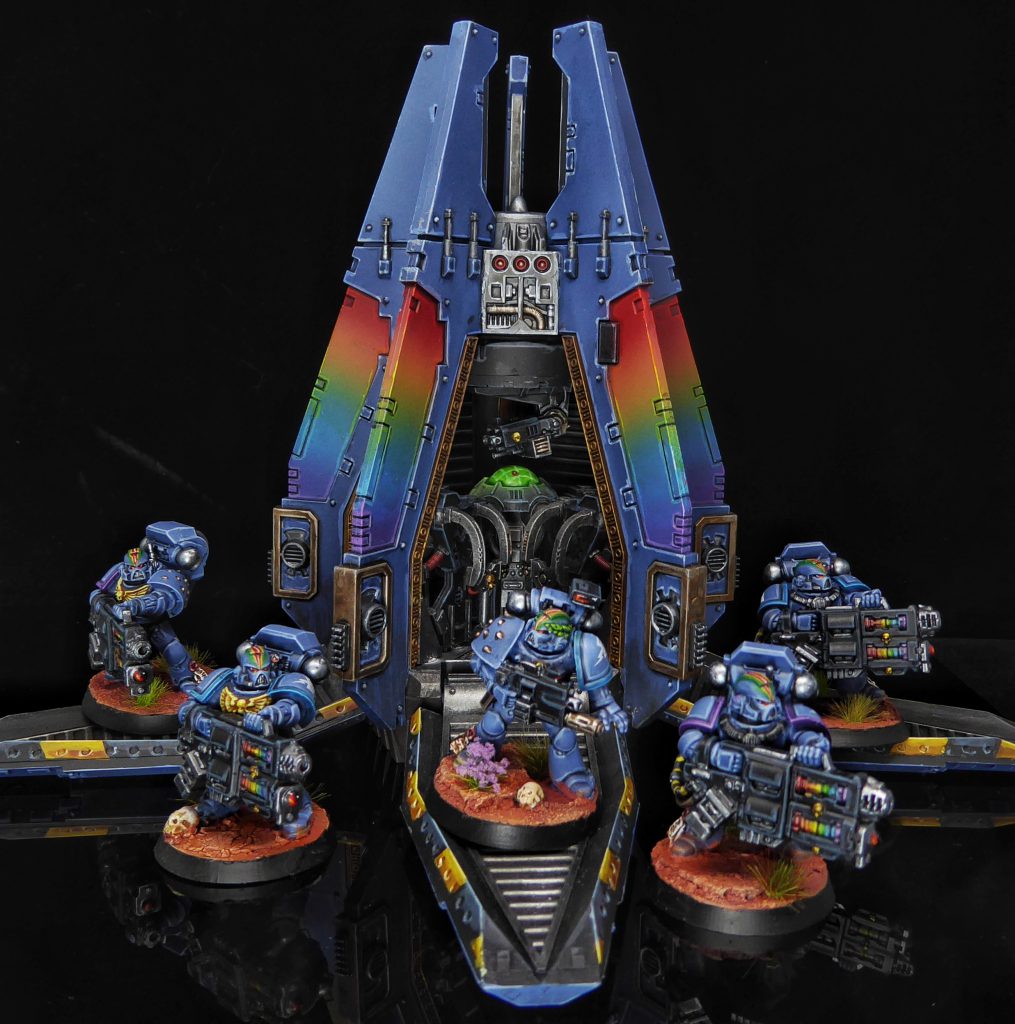 I got five more and their cherubs on the docket for July to fill out their Drop Pod. I also put the final touches on my Stormraven Gunship. This is a salvage job, from a lot of minis I used to start my Space marine collection over a decade ago. It took about 4 bottles of LA's Totally Awesome, a giant scrubber, a bucket, a week to strip it down from the janky paintjob it started with:
It was missing a few parts, but luckily I was able to convince SRM to part with the Hurricane Bolters and to upgrade those armorless assault cannons into plasma cannons. I used a few spare bits from the Stormhawk Interceptor to bulk them out.
I originally built this flyer for the Adepticon Friendly event this year. It was Top Gun themed, and everyone needed to bring a Flyer of some kind. This Stormraven did me well, I don't think it was ever shot down. I was only barely able to get it ready in time there, and it still needed weathering and some other final touches before I could call it complete: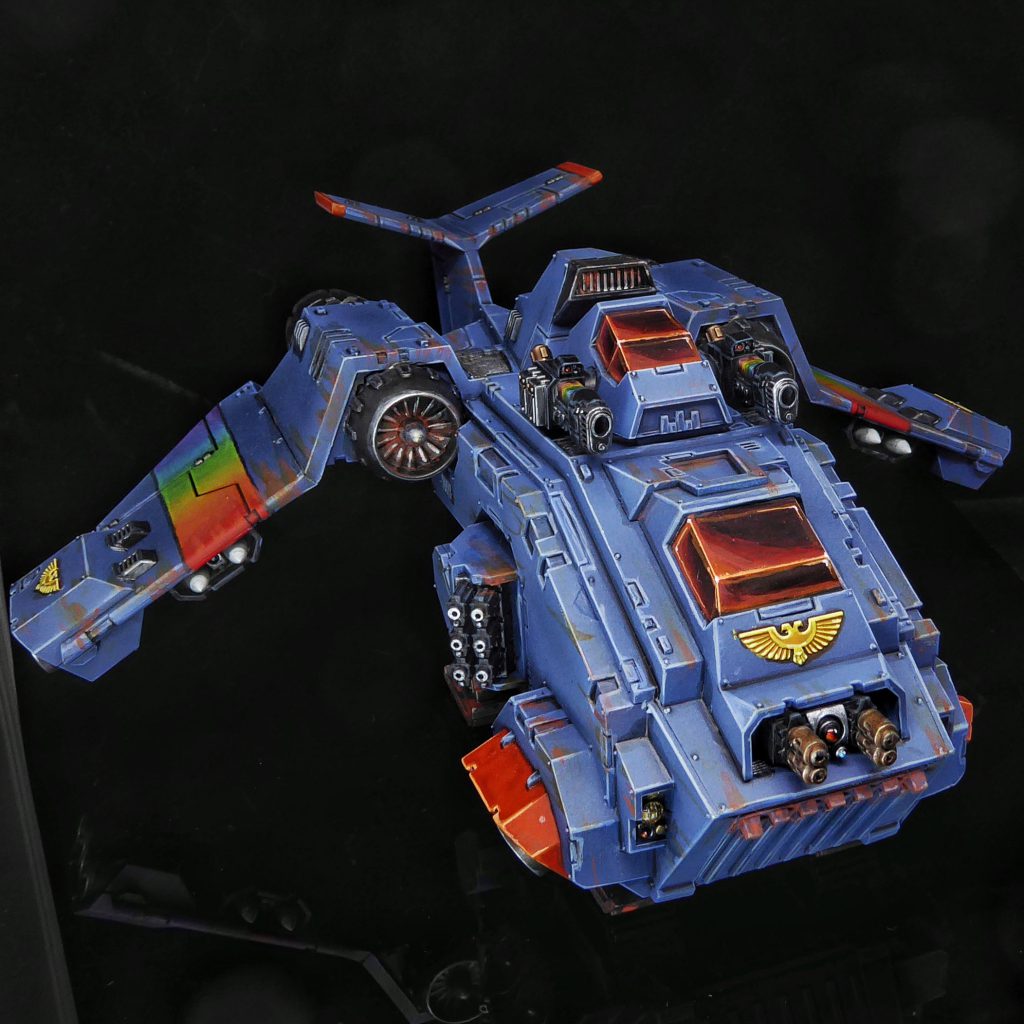 Actually looking at it again as I write this I still need to throw a few decals on it, so I'll get on that today. I'm really proud of the transformation, though, and I think it will do well on the battlefields of 10th.
Soggy
After the flurry of painting last month with Leviathan, I took it easy the month – only completing a single model.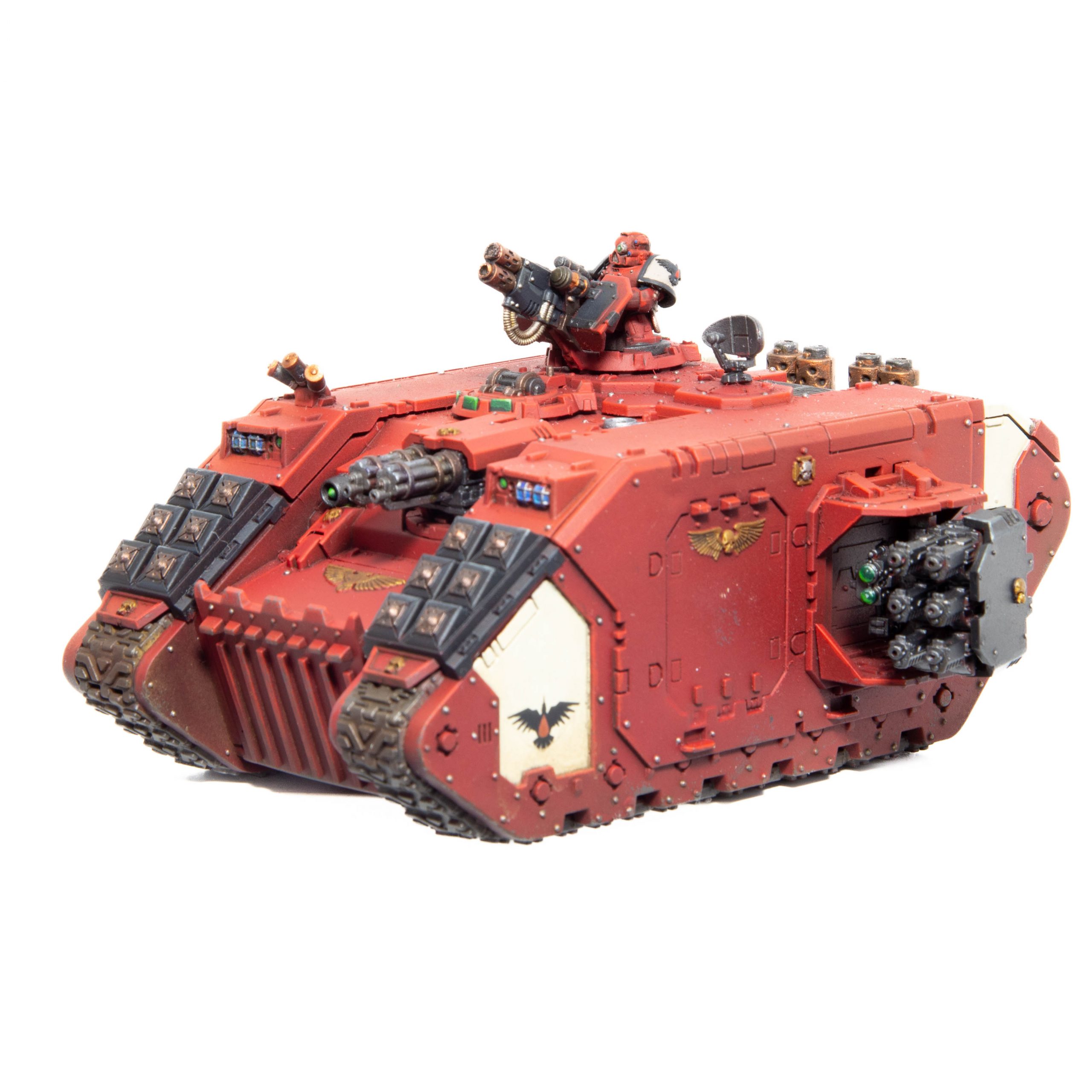 It was a second hand rescue, requiring a few bits to bodged but I'm quite happy with the result and looking forward to it ferrying bladeguard up to the frontline. Next month I'm hoping to get back into the hobby groove and painting up a few more tanks, which seem to be all the rage right now.
Skails
Jumping on the Leviathan train with some Tyranids I got to paint from the preview kit. After quite a bit of consideration I decided to go with Hive Fleet Kronos for their color scheme. Besides just looking cool, I also had the right paints to have an efficient approach. They're primed with Stynylrez Ebony Flesh, a slightly reddish medium tone brown. The skin is hit with Contrast Black Templar and a couple progressively lighter highlights of grey. The carapace is Khorne Red then recess wash of nuln oil. Then striping is Mehiston Red up to Wild Rider Red, then some spot highlights of Vallejo Ice Yellow. First up was the Winged Tyranid Prime: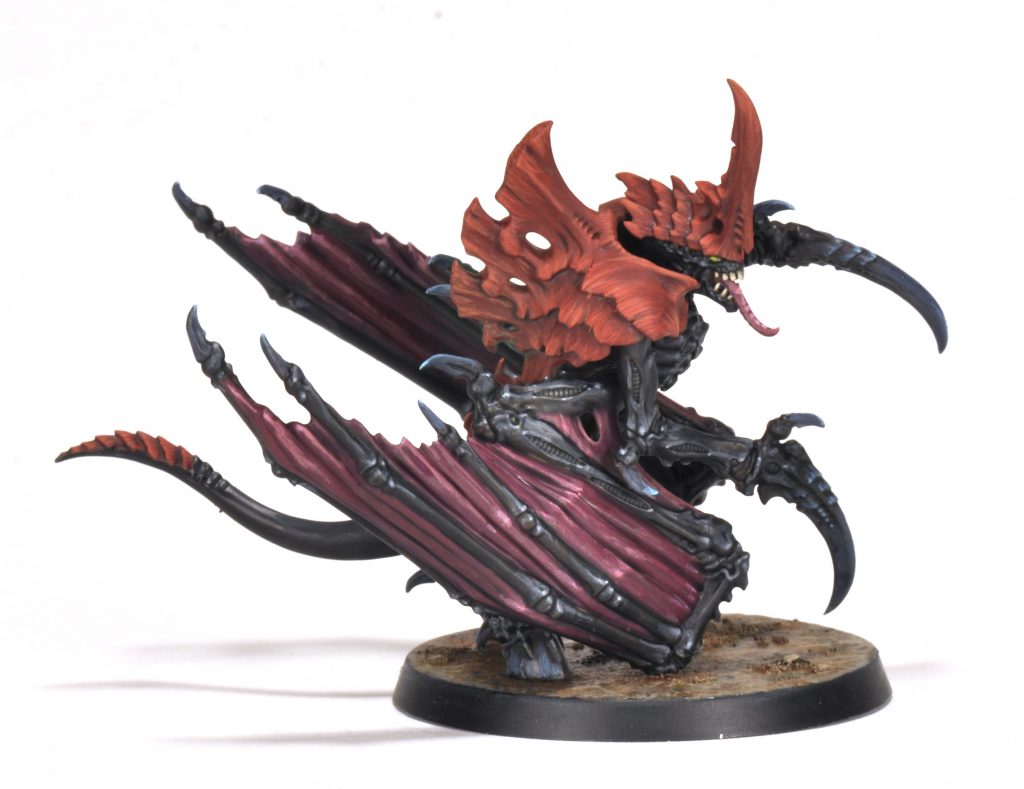 Next was a Termagant. Really like the way these new models look. Lots of menace.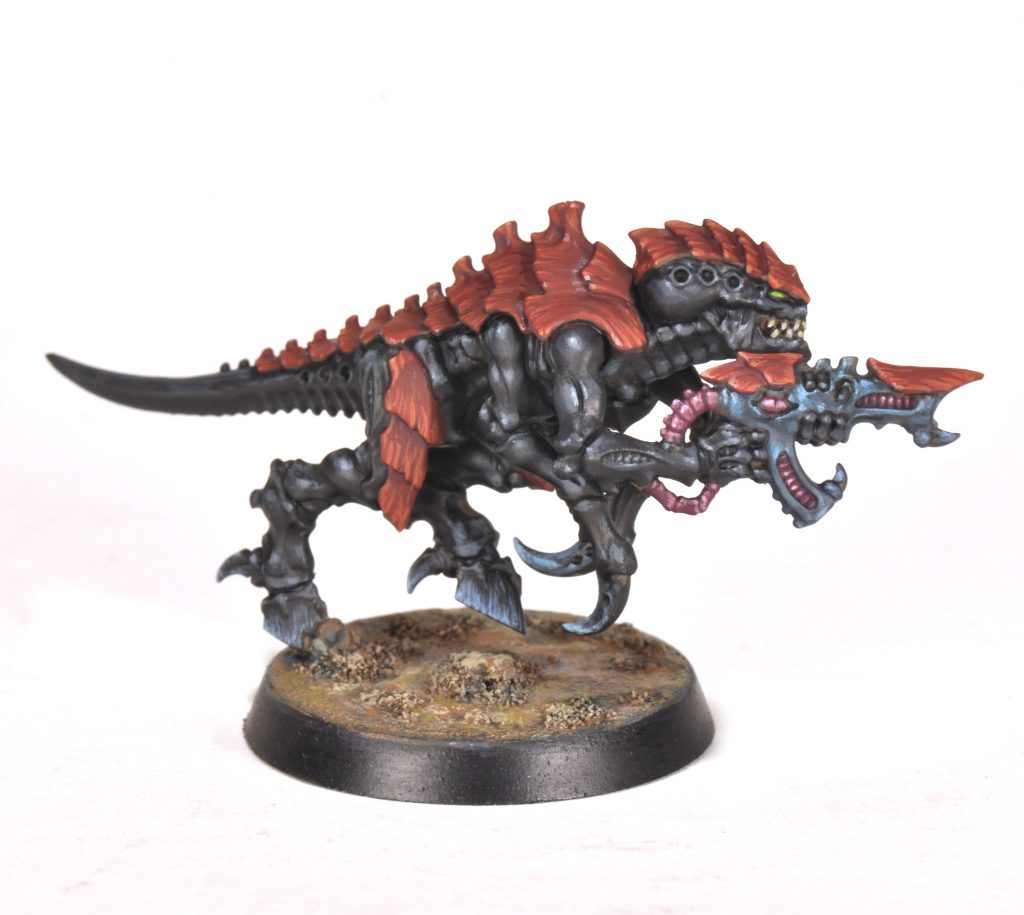 Finally did a Neurogaunt to round them out.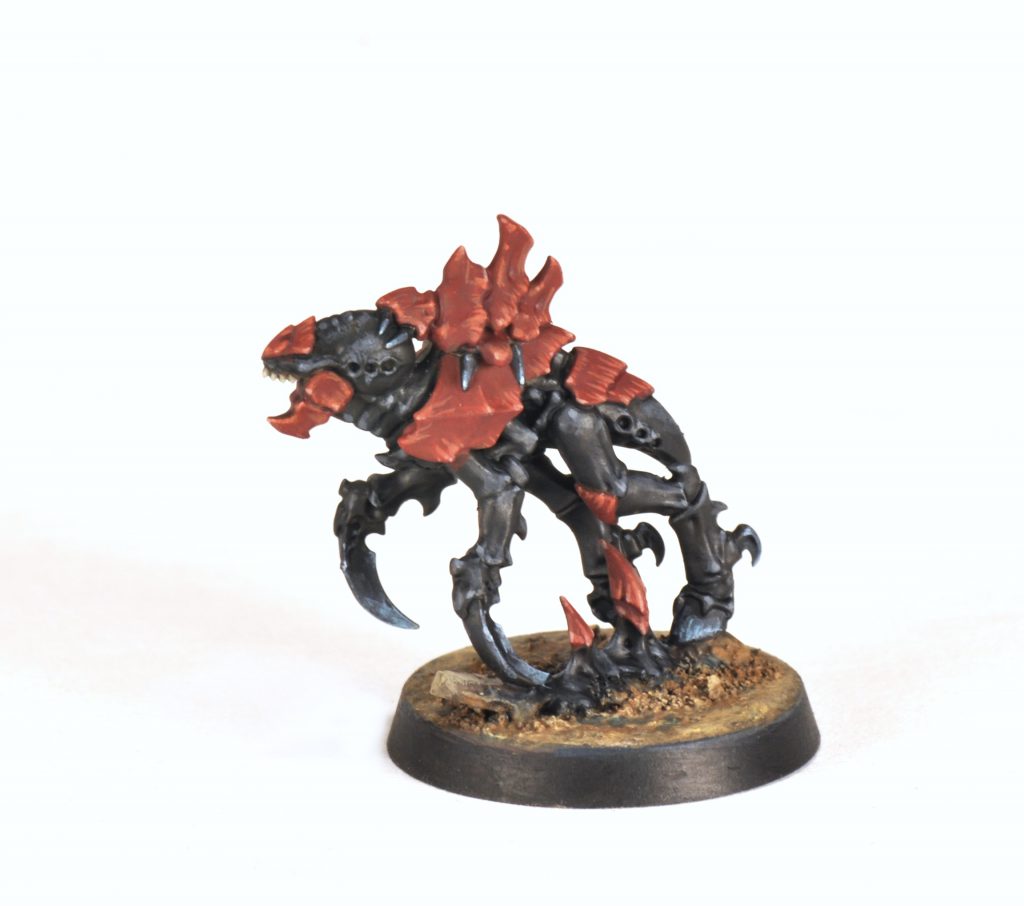 Bair
A less busy hobby month for me overall, with familiy visiting from overseas only 36 minis painted in June leaving me on a total of 299, couldn't quite do 1 more for an even 300!
First up I finished off a 1500 point Nords list for Conquest as part of a 6 player event I ran to try and kick some of the local community into gear. A small event but already planning largr! I finished up 12 Raiders, 3 Ugr, and a couple of heroes for the army:
I also continued on with my Burrows and Badgers kick because these miniatures are just too fun to paint. Single piece metal minis are just something entirely different to work on from start to finish, and considering these come pre-cleaned without any mould lines or the like it's very easy to get them painted up; they take contrast and shades extremely well!
A knightly warband of royalists setting out on a crusade to find their king:
And a ranger warband, raiding the rich and generally causing havoc for the royalists, keeping their own scattered villages fed and as happy as they're able to: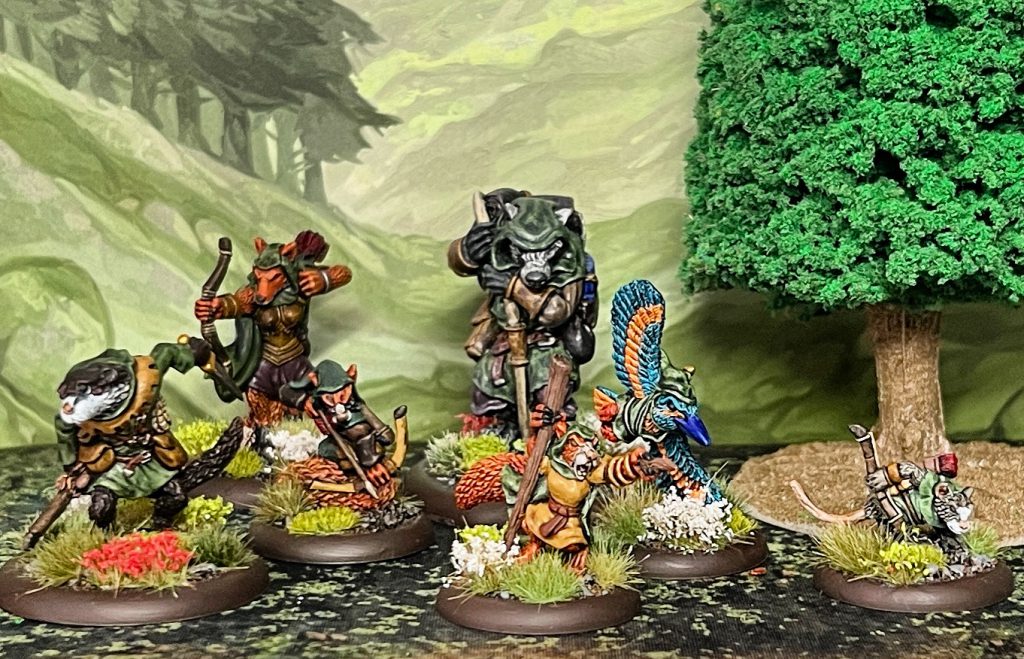 I also got the chance to work on two new models for Age of Sigmar: the new Harbinger of Decay and Grimhold Exile. The Harbinger especially is such an amazing model and I knew I had to lean on the Death look with him; giving him a scythe, pale horse, and black robes.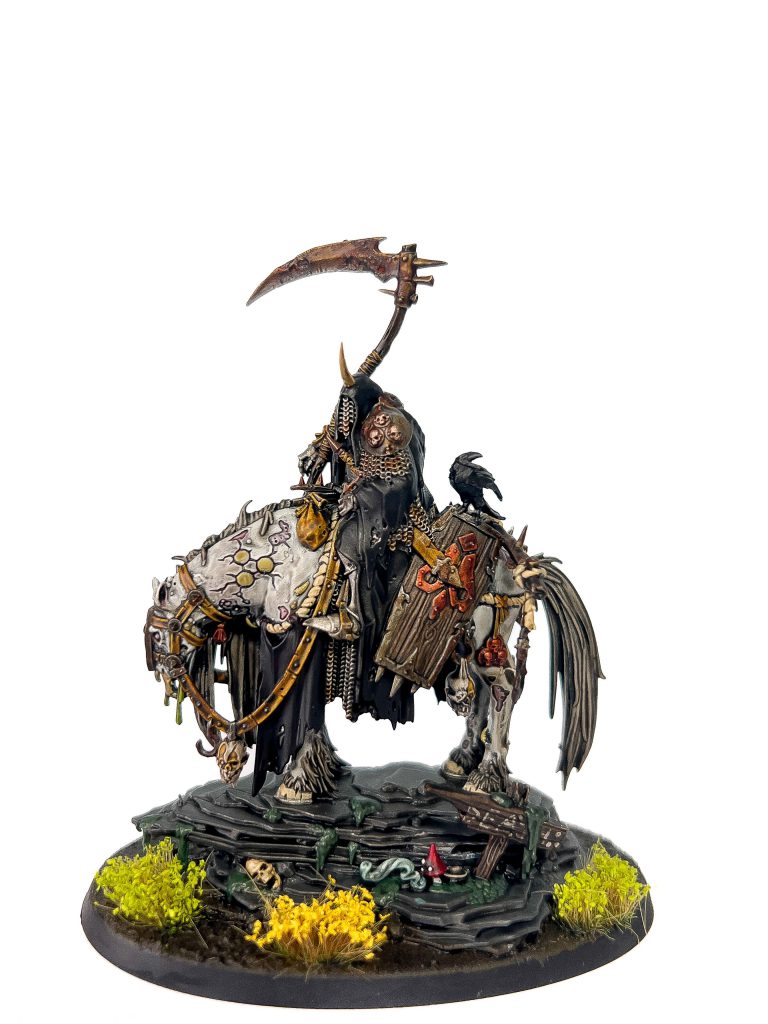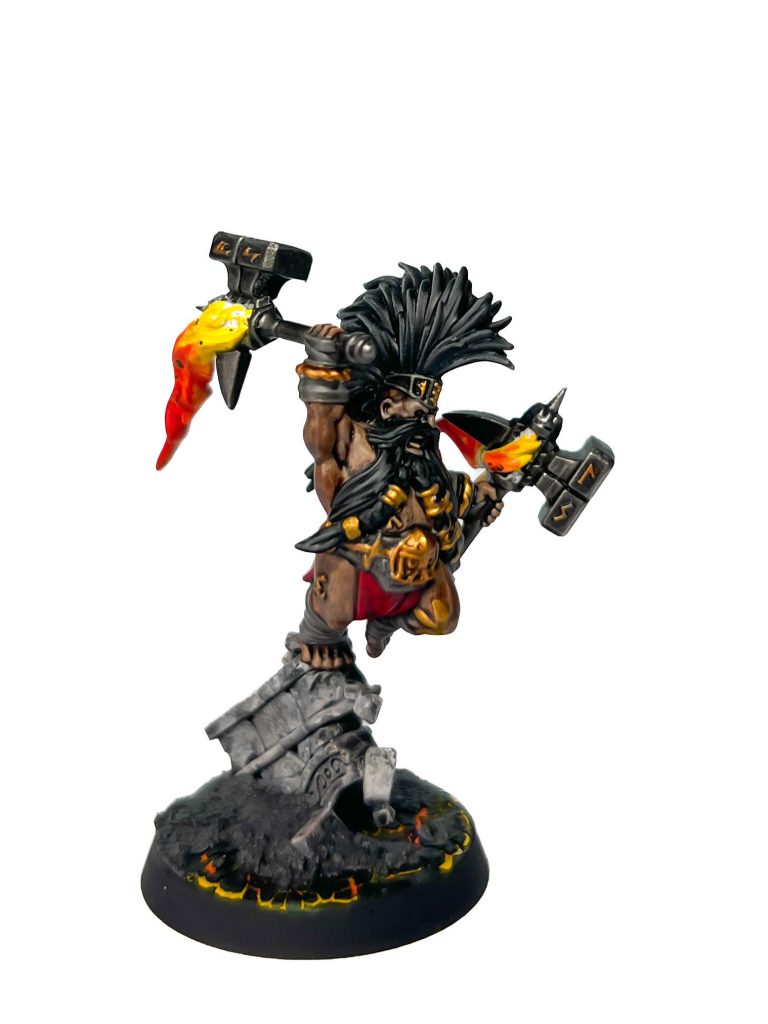 Last but not least I built and painted a pair of Armigers on the last day of the month. My 40k Death Guard are in the off-white scheme and wanted to tie these in so went for a light sickly green with stippling with rusted trim: