It's been a busy month of painting here at Goonhammer Towers – check out everyone's progress below!
Corrode
I had a very busy and productive May, with a mighty 56 models painted – the second-most I've ever done in a single month, beaten only by December 2018 when I took the entire month off work.
I was ably aided in this by the Cursed City box, which is full of nice, simple paintjobs – there's the Ulfenwatch, of which I painted 8/10, but then also a bunch of objective markers and rats and bats that can be done very simply indeed. These were great fun for doing a bunch of rest and oxidisation on.
As well as the board game bits, I painted a whole array of stuff for different armies. I had a Firestrike Turret kicking around, and I tried out a new Ad Mech scheme – my previous AM army had an orange scheme with snow basing which I a) hated doing and b) didn't think looked that good, so I switched it up with a nice easy dark grey/black scheme with some red pieces to break it up. That let me bash out two Kastelans and three Kataphrons very quickly, a definite win as it means I'm likely to actually paint the rest of the army now instead of putting it off.
Finally I painted a whole bunch of new Drukhari. I have a large Drukhari army already, but a lot of it was painted as much as 10 years ago, and is both not that good and, in some cases, fairly badly damaged. It's also somewhat boring – ironically enough, with a black and red scheme similar to the Ad Mech one above, but executed worse. With that in mind I decided to try out a couple of new schemes for Kabals and Covens, knocking out 10 Hekatrix Bloodbrides and some Kabalite Trueborn as well as a new Archon. I also painted some Wracks I'd had waiting in the wings – naturally I finally put a liquifier on one of these just in time for the Dark Technomancers nerfs to go through. I also painted the new Lelith in the same red Cult scheme.
Finally there's some Death Guard, remnants of my Dark Imperium box from way back in 2017, as well as a Palatine.
Not pictured: some more Fallout guys, a kitbashed Commander Dante, and some more Battle Sisters. Overall a very busy month!
Skails
This month I painted up my old metal Heinrich Kemmler, and a vampire conversion for the beginning of a Mordheim war band.
For Kemmler's cloak I detailed in some foggy trees to represent his Cloak of Mists and Shadows. This model was fun to paint, but there are so many details it looked very incomplete until everything was defined. It was hard to get a good feel on how it was going until he was almost finished!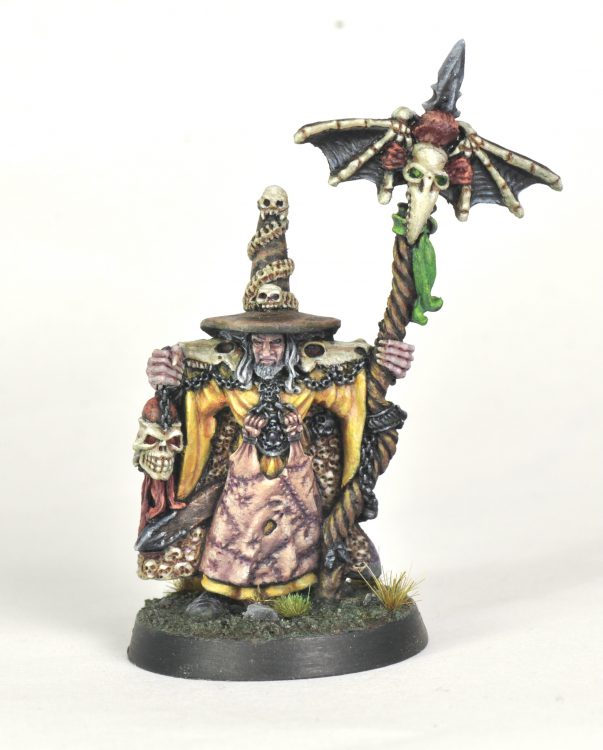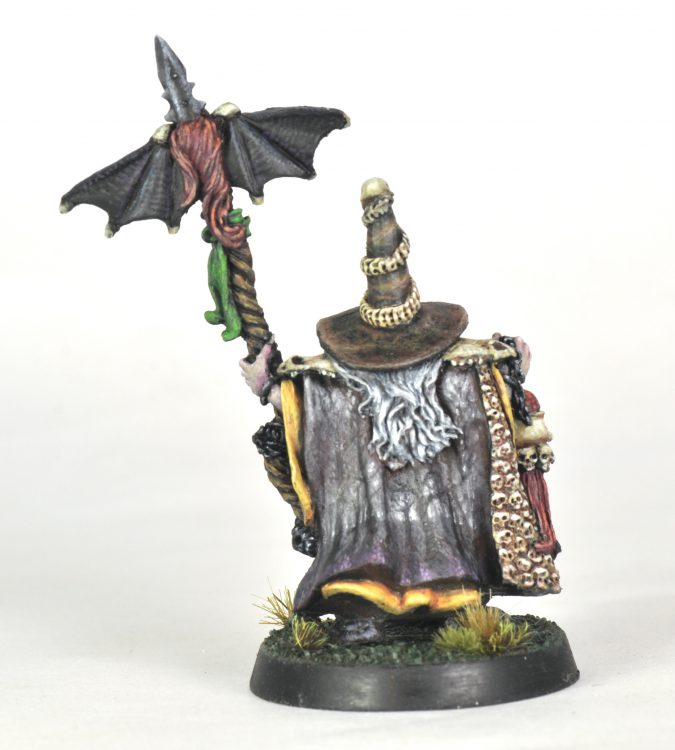 For this vampire I veered away from my normal approach quite a bit. I went for strong directional lighting from the sides, more brightly lit from his right. His right has warmer tones mixed up to Scale75 Hyek Yellow. His left has blue grey mixed for most colors up to a highlight of Citadel Pallid Wych Flesh. Everything is painted with a limited palette of grays and browns.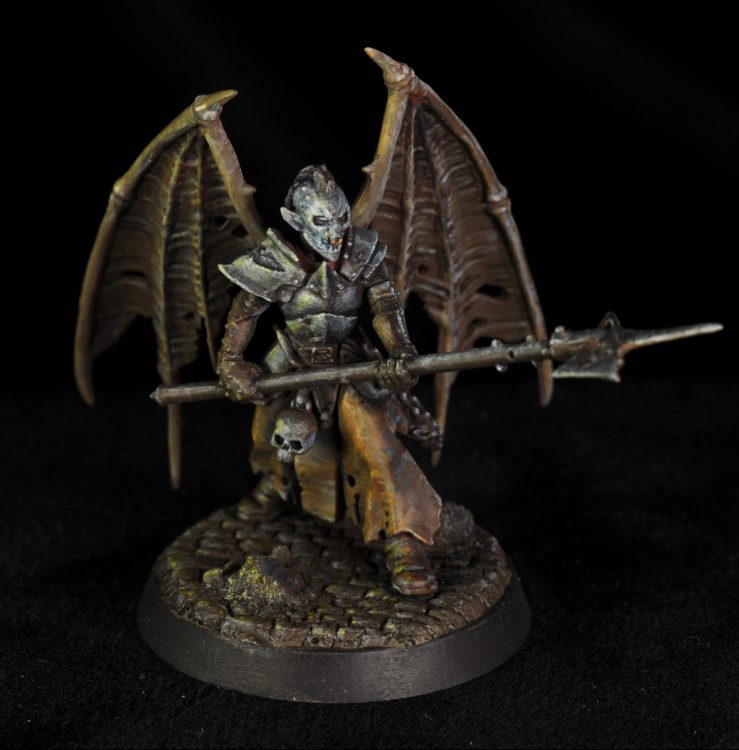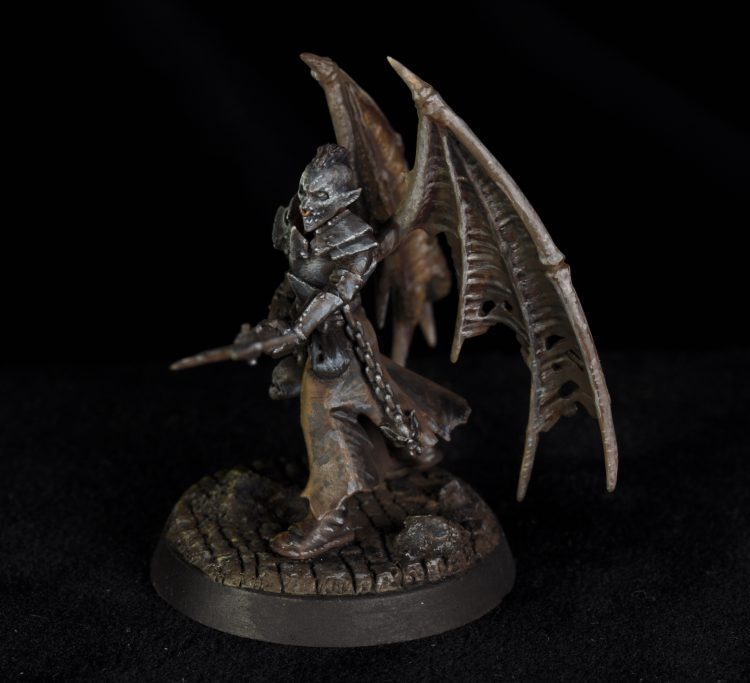 Primaris Kevin
Look reader, at this point we can all accept that my painting schedule is driven by events and gimmicks. With no events in the foreseeable future, it is only because of articles like this one that I compel myself to put paint to model. In the middle of the month I finished my Hive Tyrant for Hive Fleet Dendrobatidae, and now I've painted up an additional six Rippers to go with it. Next up are… more Rippers! I have another 12 in various stages that need to be completed in preparation for our upcoming Astradus campaign. After that it will be time for monsters. Lots of monsters.
PierreTheMime
A miracle has occurred and I've managed to keep momentum going, rewarding myself with a myriad of frightful ghosts. I tried to space things out to keep things interesting, and tossed a couple future-friends in there to break up all the Nighthaunt Gloom and Black Templar contrast.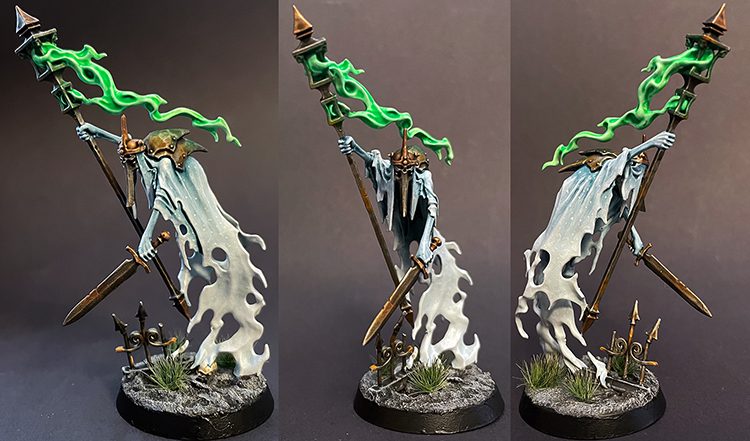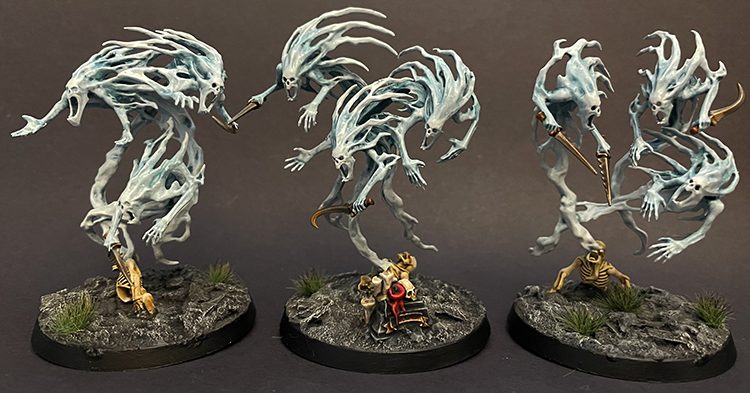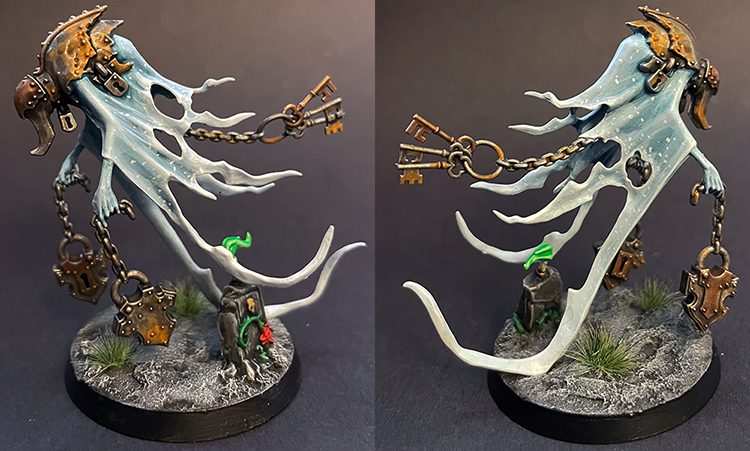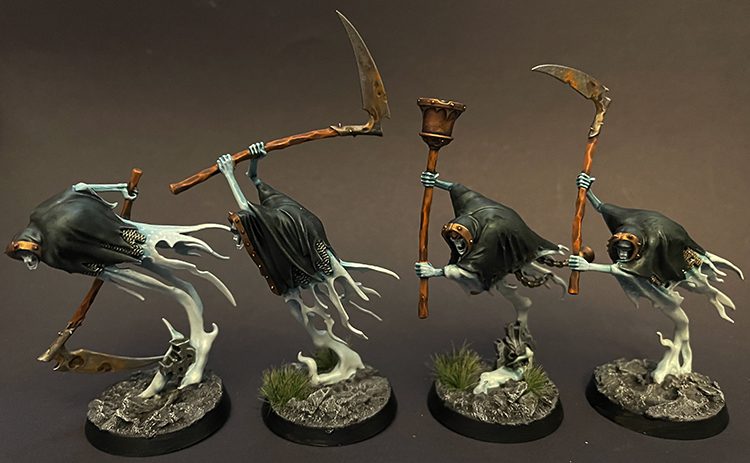 At this point, I took a gander at my painting queue and grabbed a model that had been sitting there, mocking me, for ages. Will it ever see the table? Well, it's many, many Terminator friends are going to have to see some paint before that happens.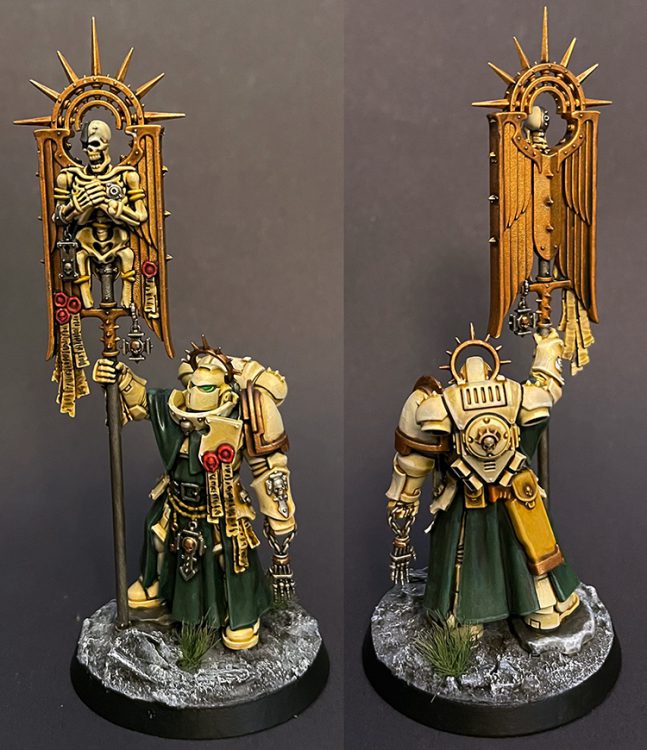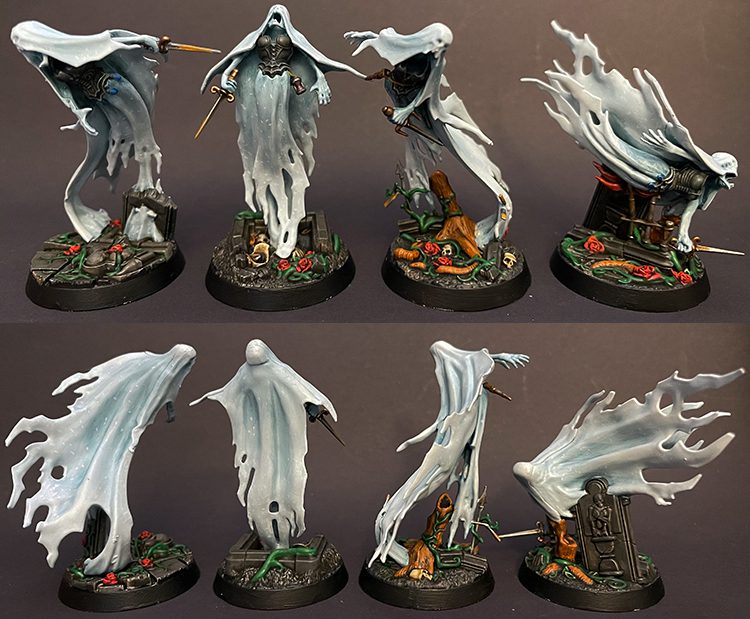 Final, a brief pause to add a Sigil of Decay model into my Death Guard Plague Marine unit:
Not going to lie, that was probably the most productive two weeks I've had in a long while. Let's see if I can keep this up. I've got five more of both Chainrasps and Glaivewraith Stalkers before I can reward myself by cracking open that Sorrowmourn Choir box I picked up for my new-found spectre obsession. I'm honestly not thrilled with the prospects of eight more Banshees, but the Dreadscythe Harridans and ol' Olyder herself is going to be fun.
Beanith's Quiet May
I'm slowly chipping away at my Ork Crusade army with a few of the Characters done I've started working my way through the squads in batches.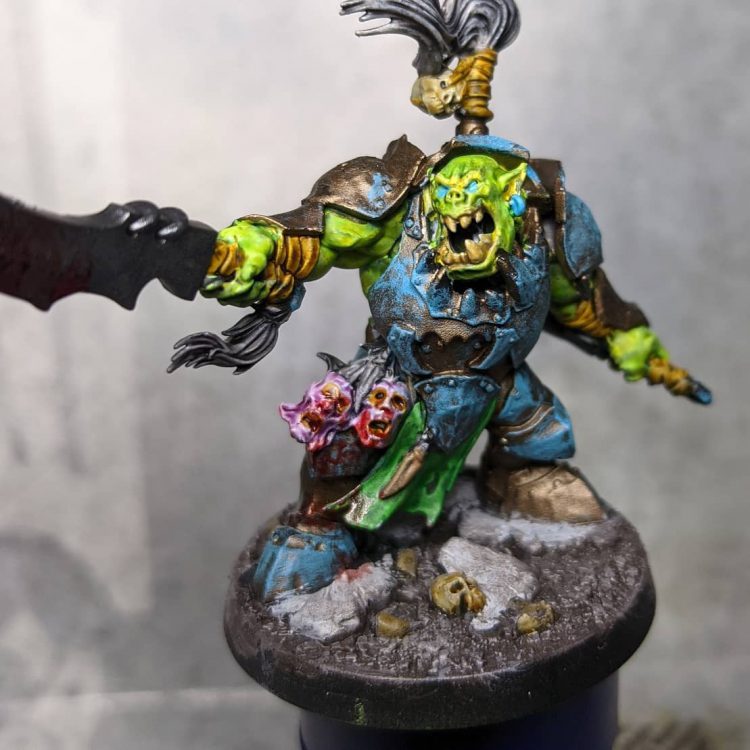 I'm still working on the fluff for these guys but a rough description for this guy is he is the Boss Nob that my Warboss is keeping a very close eye on as he seems to find more lucky blue ochre than anyone else.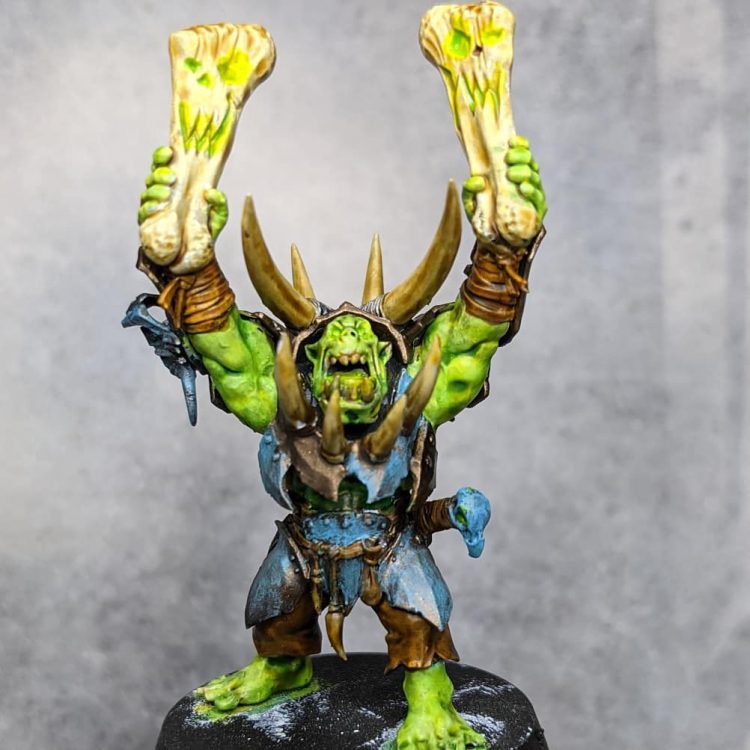 This is Chaz'rk the Weirdboy, Gork (or possibly Mork) is sending him and his brother Dav'rk visions of a powerful idol hidden in a place where I have an excuse to use the 3D printed Jungle bases I'm slowly printing out.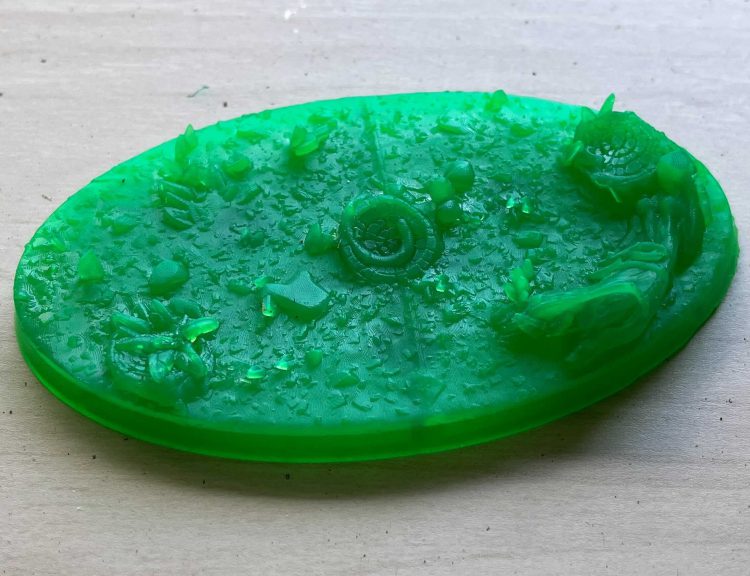 Plans for this is to prime it and slap on some Stirland Mud and Wyldwood. But thats future Beanith's problem.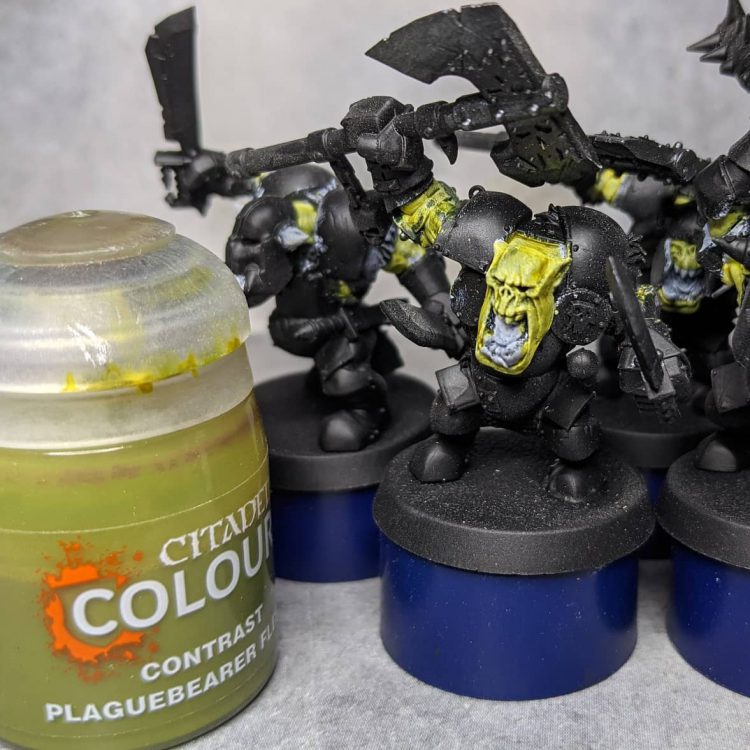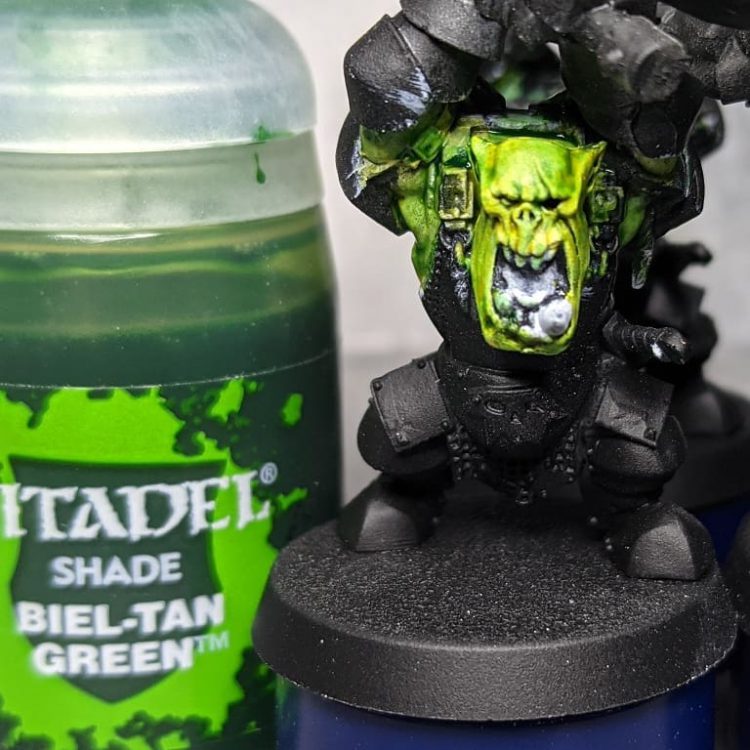 I've had a couple of people ask me about the steps I'm using for my Ork flesh and it's pretty much a couple of steps taken from R0ckfish's Method in How to Paint Everything: Orks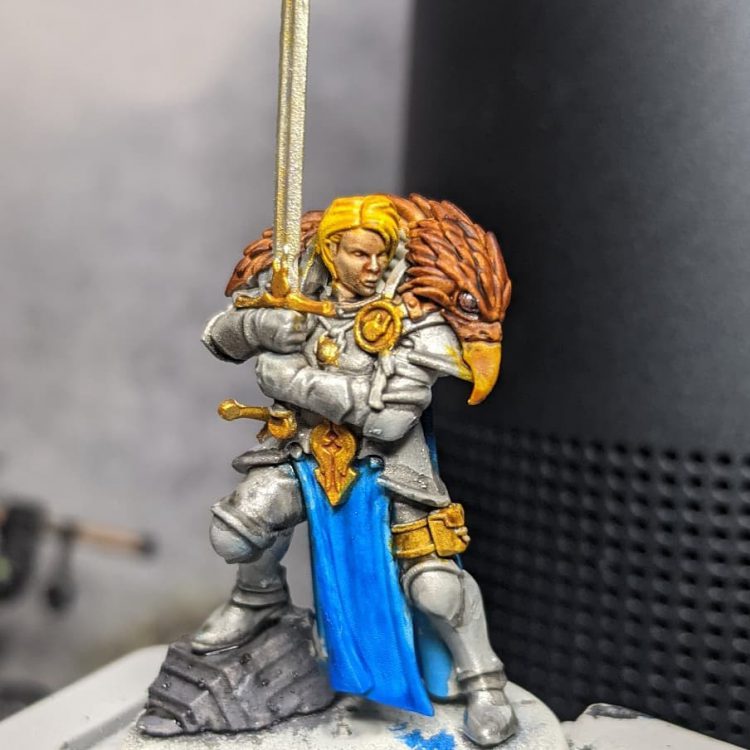 I also treated myself to a hero from Cursed City and started playing with some Vallejo 72.052 Silver and Army Painter Strong Tone. I'm happy with how she turned out and I'm just waiting to 3d print the bases to stick her onto. Until then it's snowing in Ulfenkarn.
Rockfish
As usual an assortment of stuff from me: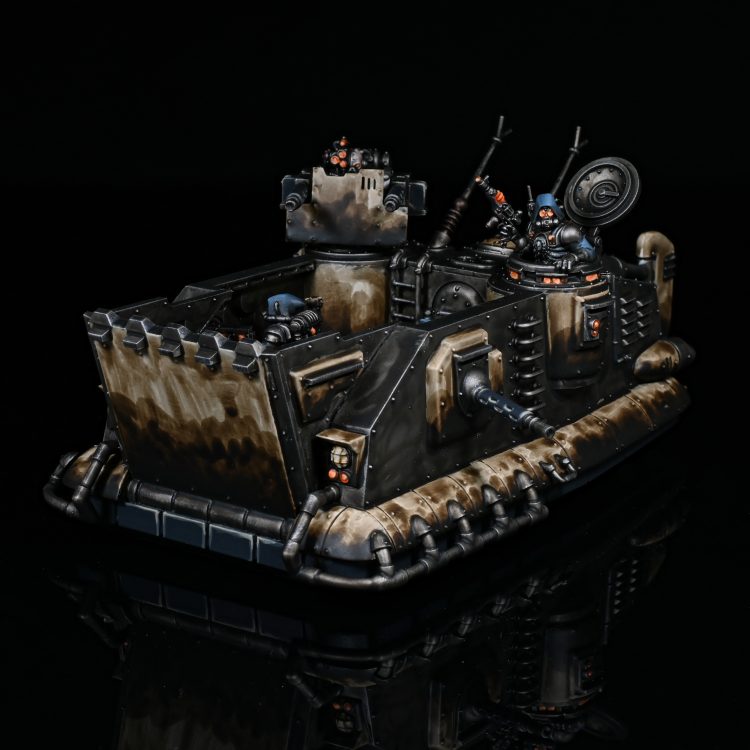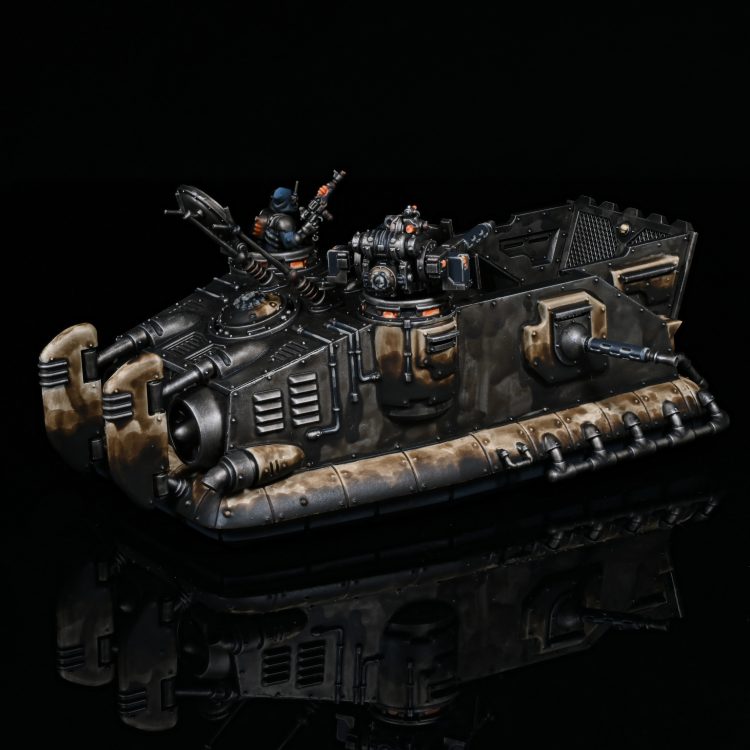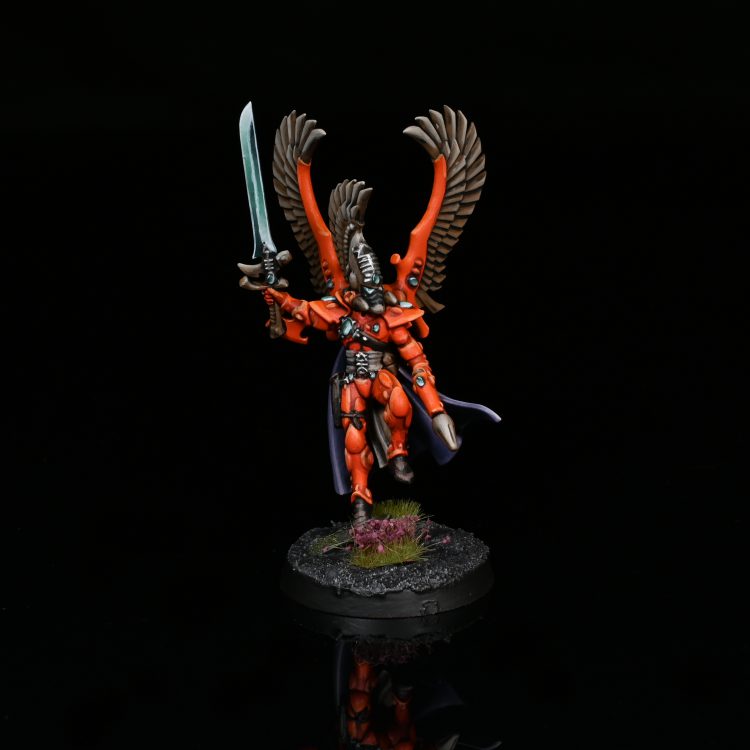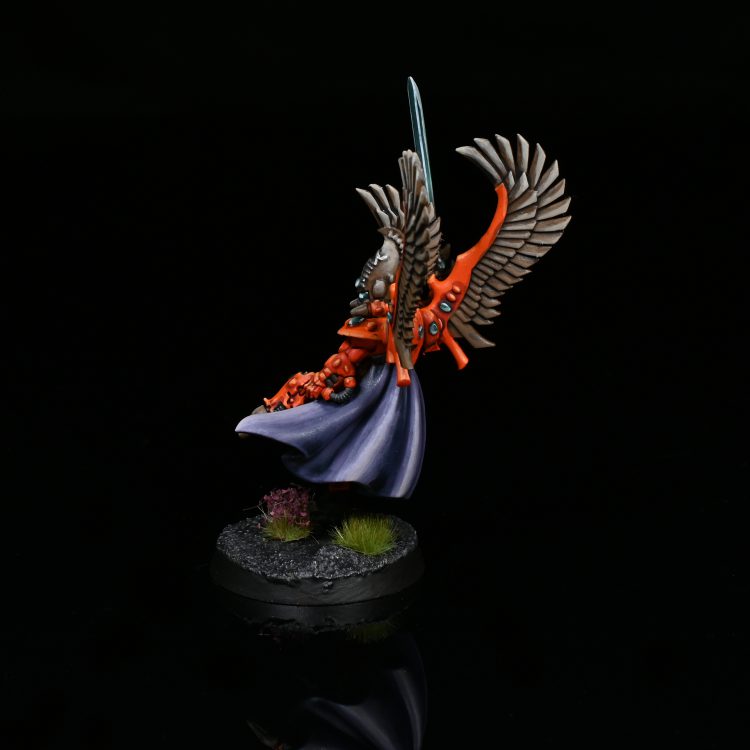 IT was at this point where I ran out of agrax and discovered the earliest I could get it was the following week, so I worked on something that didn't need it. Its a nice coincidence that the speeders got a points drop while I was in the middle of working on it.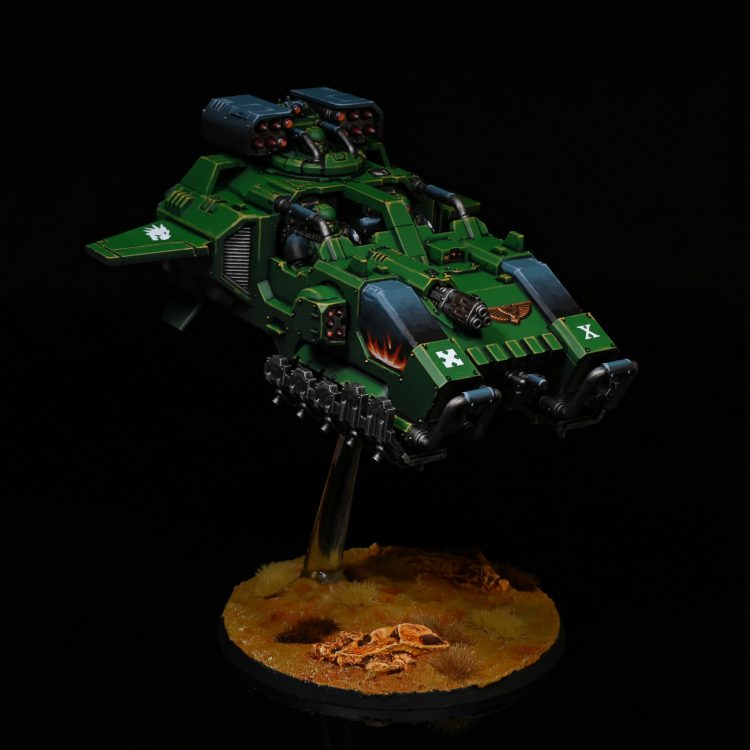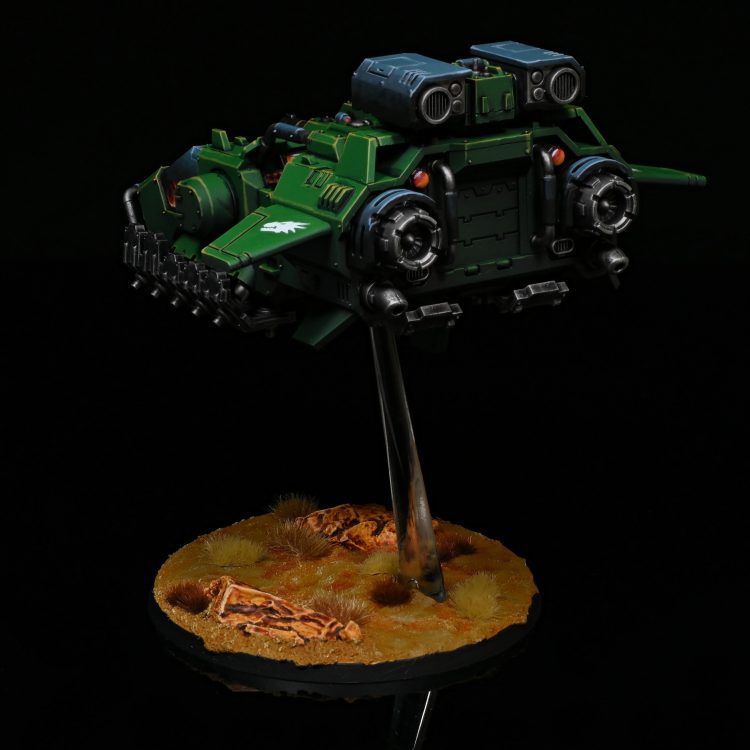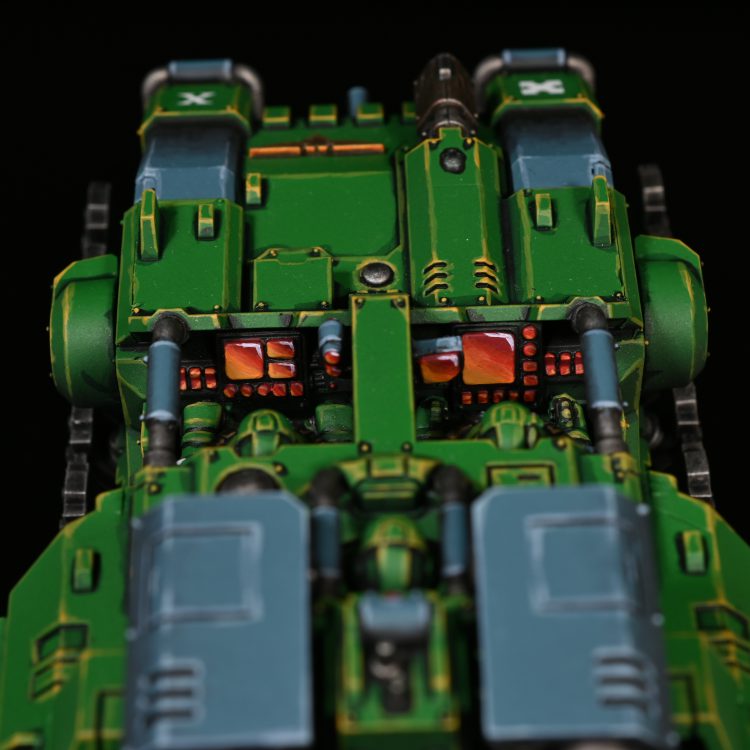 Fowler
I've been dabbling with Nurgle in 40k for a loooong time, and I've finally worked out a scheme that I: 1. Like. 2. Enjoy painting. and 3. Can slap onto models with relative ease. I'm letting Golden High-Flow Acrylic Teal and Winter Streaking Grime take the wheel here. My test model was a Chaos Lord kitbash that I have had sitting around since the multipart Plague Marine kit was released.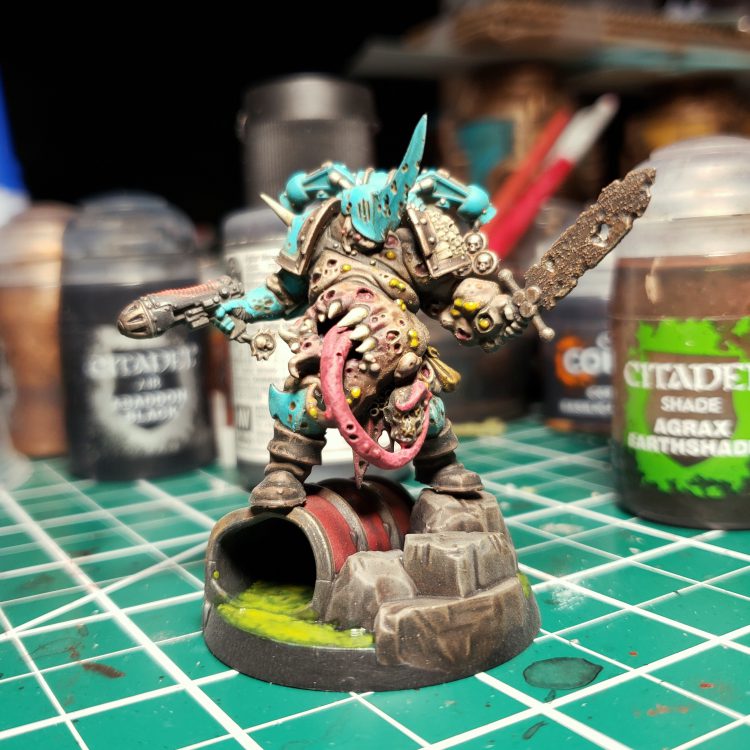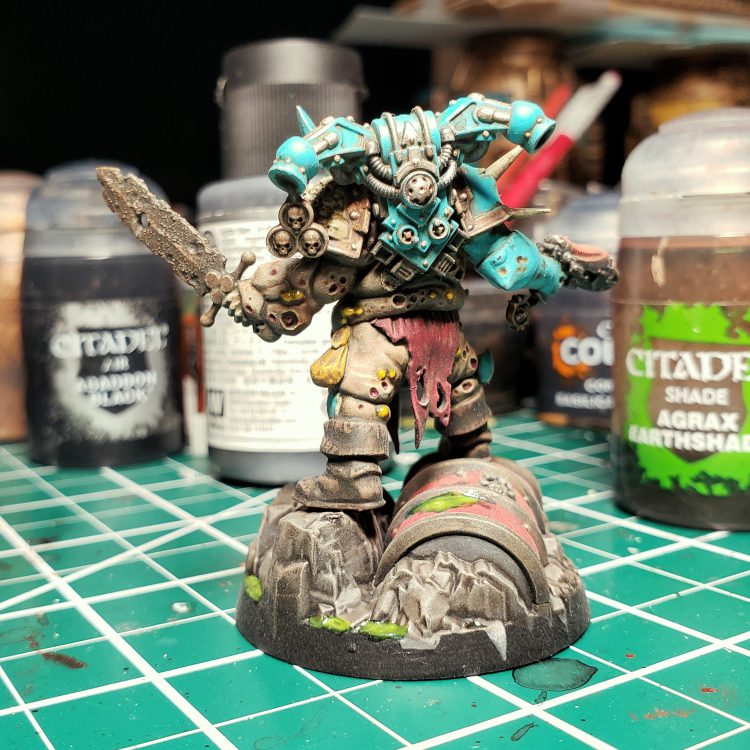 Pendulin
I've been a busy beaver this month, so let's get right into it.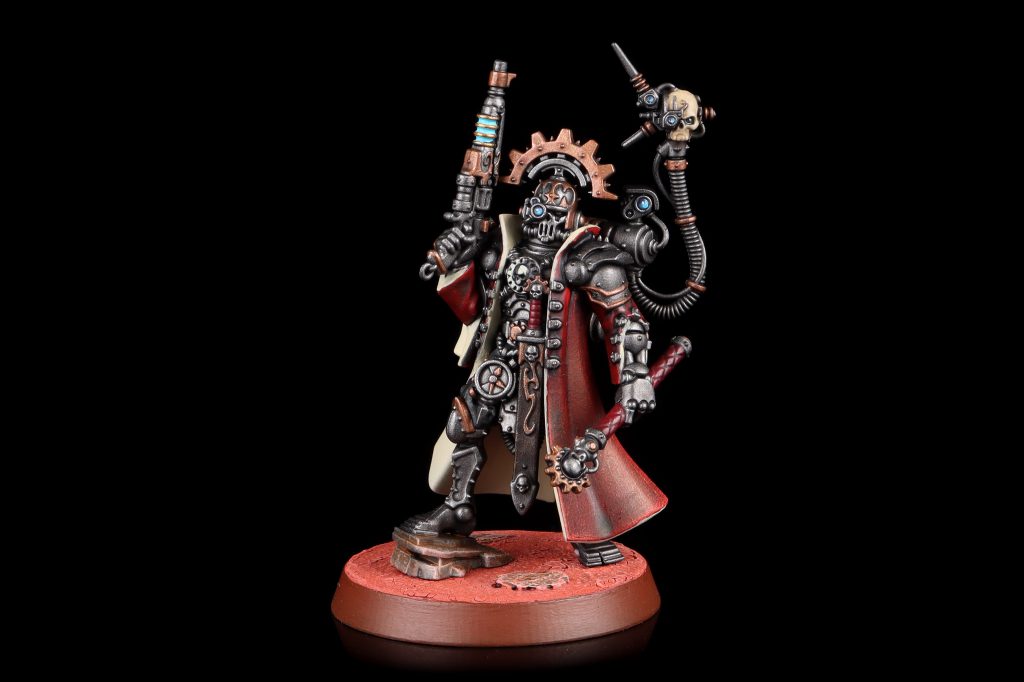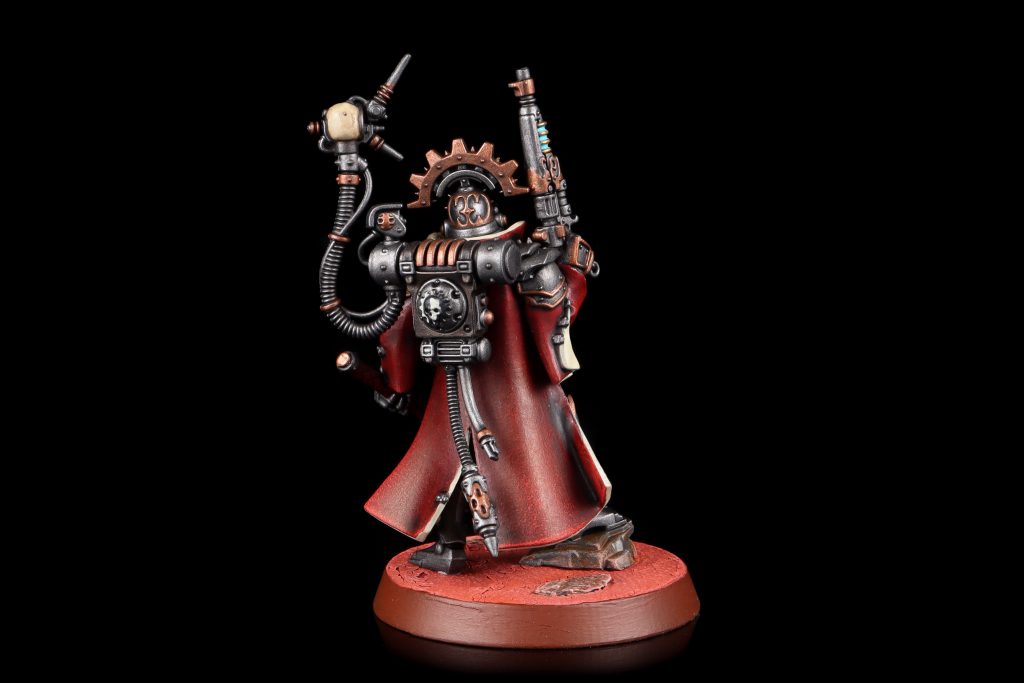 The new Skitarii Marshal is finally out, and had him built and painted the day after release! I would have had him done day-of, but primers gotta cure 🙁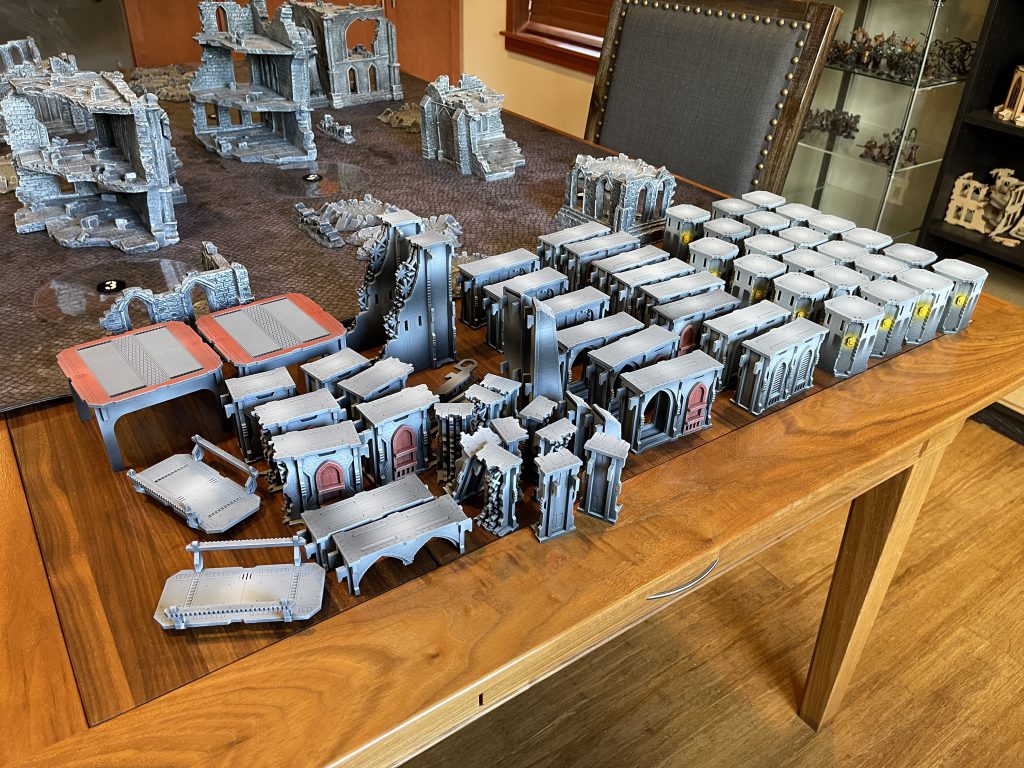 I painted a whole bunch of Deathray Designs MDF terrain. And despite painting all of this, this is only half of the DRD terrain I have ready to paint. And then I have that much again unassembled.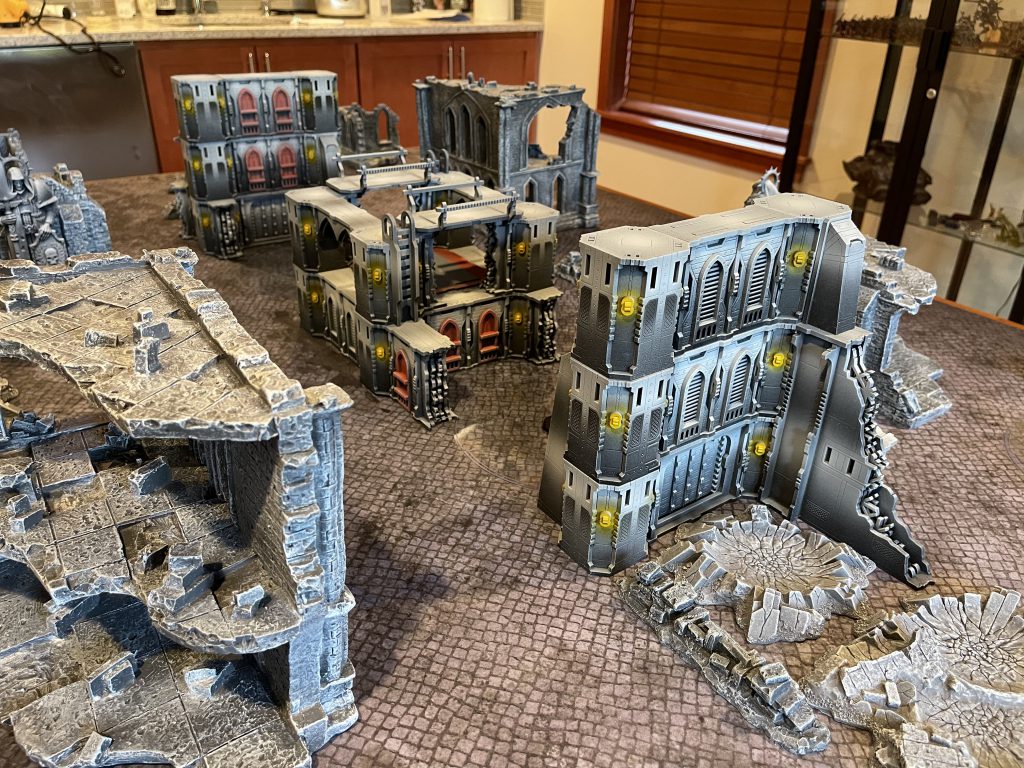 Set this up to make sure it looked good with some other terrain, and boy howdy does it look sharp.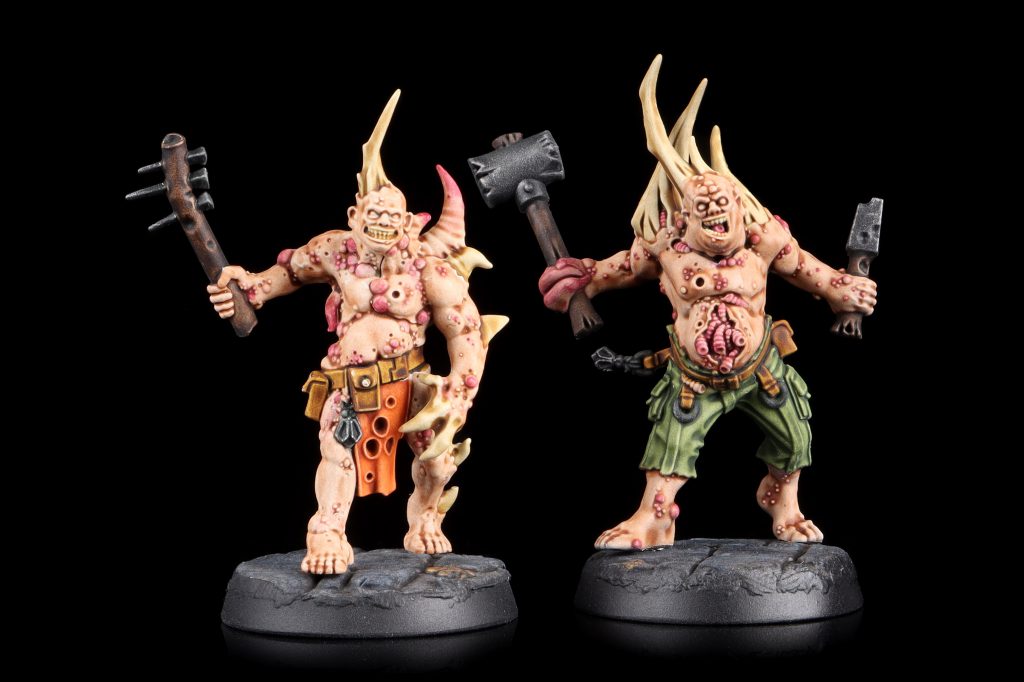 In a complete whim-of-the-moment, I also painted up a pair of Poxwalkers I had lying on my desk. No plans for these at all, but I was looking at the Gellerpox Infected in my display cabinet, and I wanted to paint some more Nurgle boys.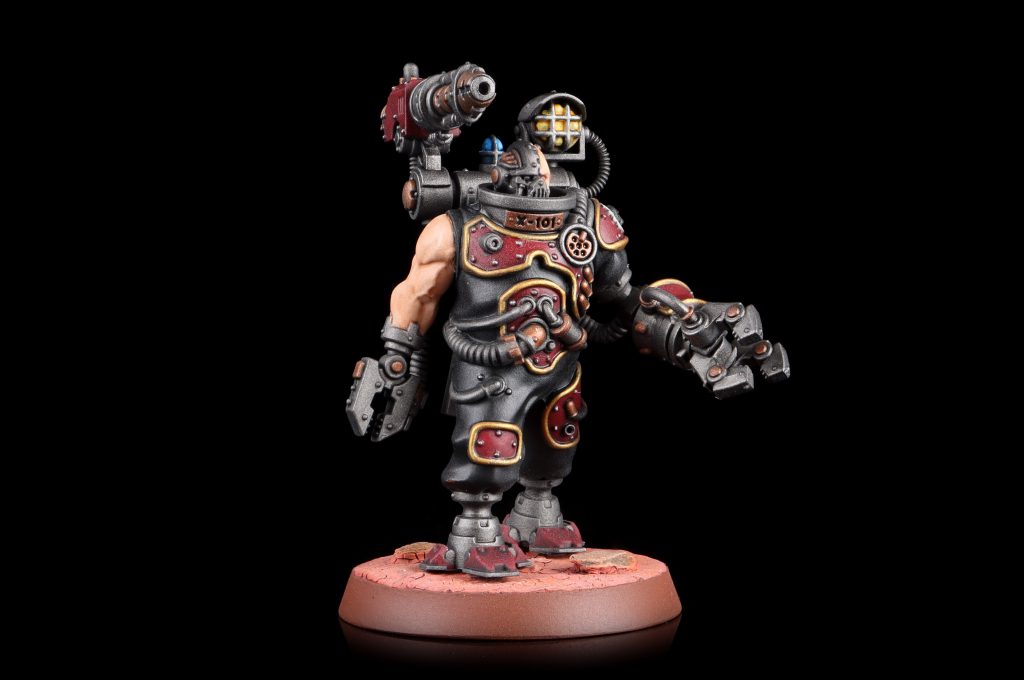 I painted up X-101, who I was sure would get cut in the new Admech codex. But apparently since he has points in Chapter Approved 2021, I guess he's still legal to play? Hurray, I suppose!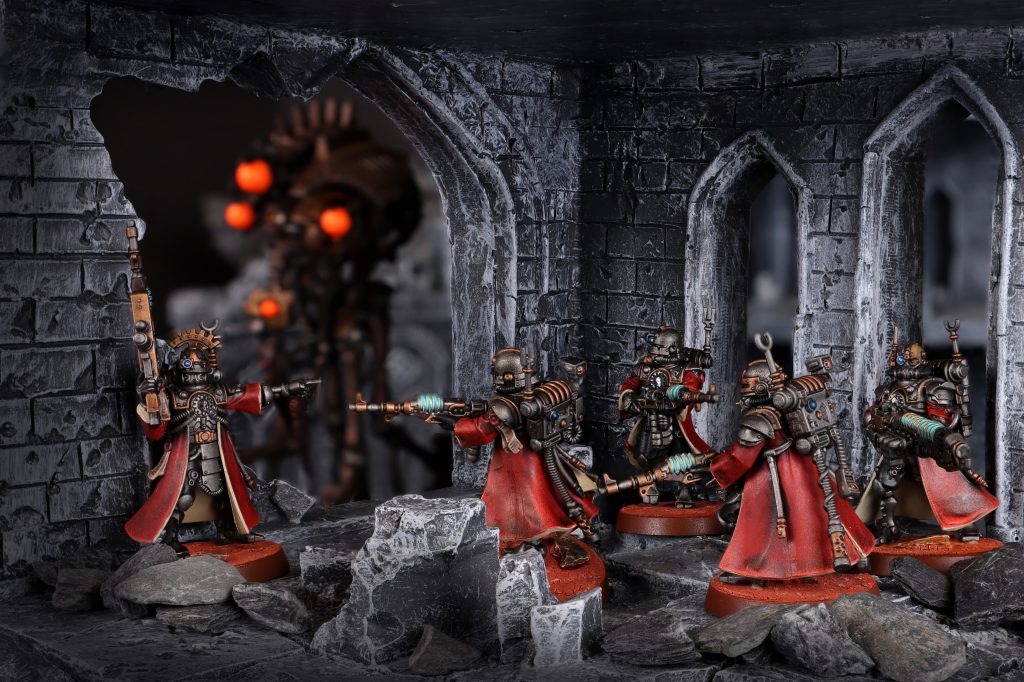 I took a couple dramatic pictures for our Adeptus Mechanicus codex review, and of all of them, I'm the most proud of this one. I actually took this picture before the codex was released, thinking it would be Admech up against their backs while a towering Necron construct looms in the distance. However, after looking at the Hammer of Math: Skitarii Deep Dive, I think the Canoptek Reanimator is in more danger than the Skitarii Vanguard here …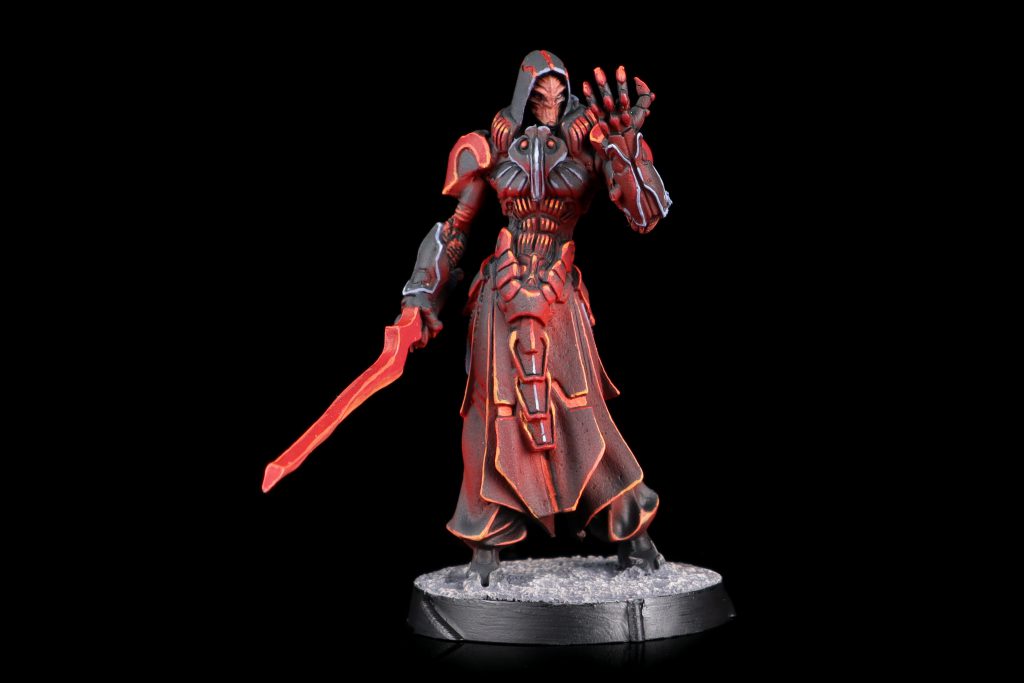 I also took my first dabble into Infinity, painting up an Umbra Legates. Absolute blast painting this model, and I look forward to trying the game itself soon!
And one last little something something to talk about. Not going into details quite yet, but stay tuned to your local Goonhammer and you might be seeing more soon about this little project.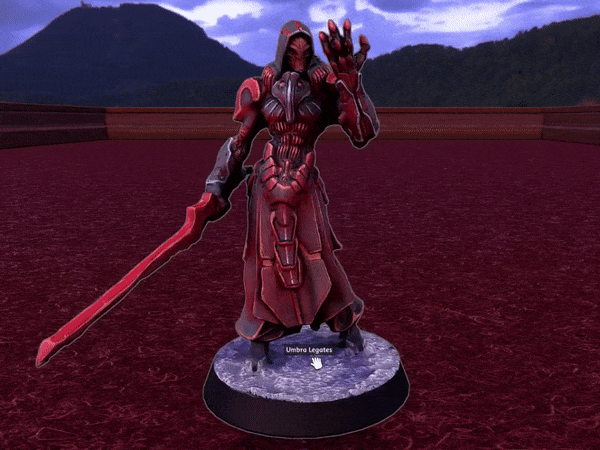 Crab-stuffed Mushrooms
@Pendulin: I would like to hear more about this cool project, please!
I spent the past month finishing my first Axiom Titan Maniple. I'll do a tutorial some day, if there's interest. I utilized methods predominantly from Richard Gray's tutorials, which you should check out if you want to paint tiny Titans.