Look upon our works, ye mighty, and despair. Or just let it inspire you to paint your own models, that sounds healthier.
Silks
I've been pressing on with my new Drukhari army. I've built and done the red airbrushing for the whole army already so these stages are mostly panel line, highlight and then paint the details / NMM. Painting NMM is my absolutely favourite thing to do so I'm having great fun. I've also been working on the bases for the army. I have a terrible habit of buying resin bases which cost a fortune so I've been teaching myself how to make better ones. These are laser cut MDF bases which I've put some bark chippings, texture paste and sand on then added tufts. The "flying stands" are actually brass rod. It's a bit more immersion breaking than see through plastic but they're a lot sturdier! Two boats down, many more to go (although in my usual "competitive" way I'm not planning on using any Wracks so it's not going to be the sort of list that you'll see in Wings' roundups!)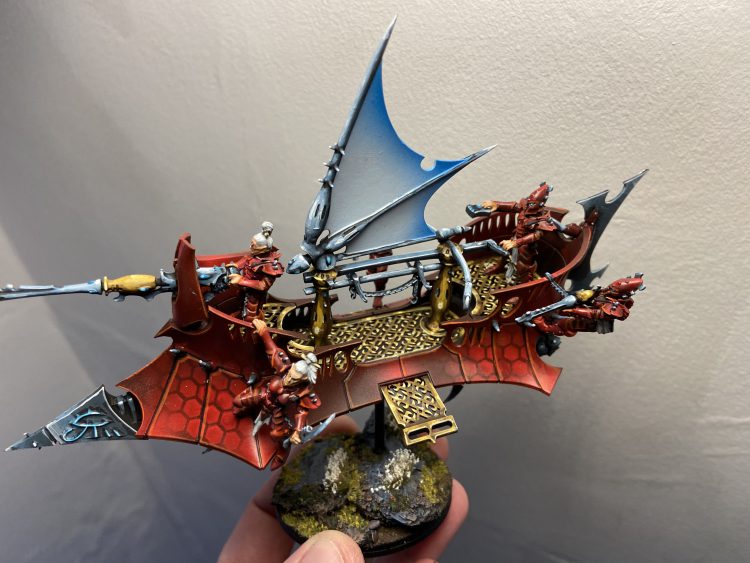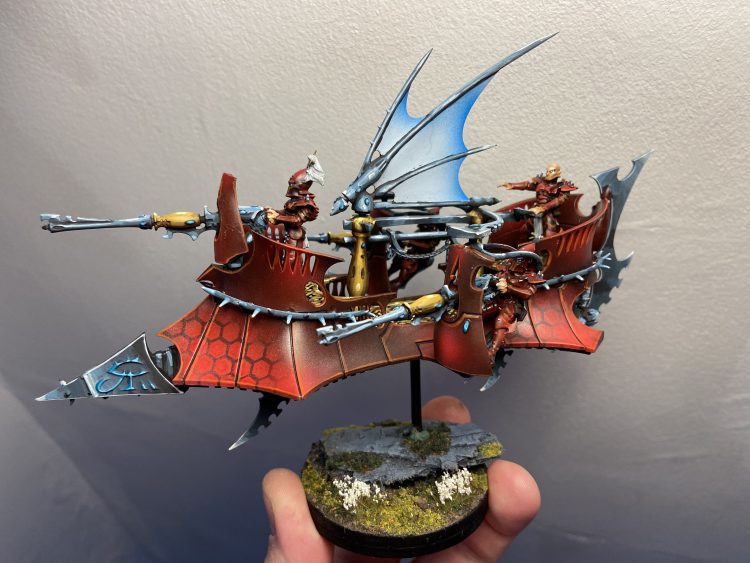 PierreTheMime
I did it. I completed all of my Death Guard models and I think* I'm done with my collection! I tried some kit-bashes for a Foetid Bloat Drone with Fleshmower using the model from the Dark Imperium set, but I was never satisfied with the result so I gave in and got the official model. I decided to take a little time on it and ended up with a pretty satisfying result.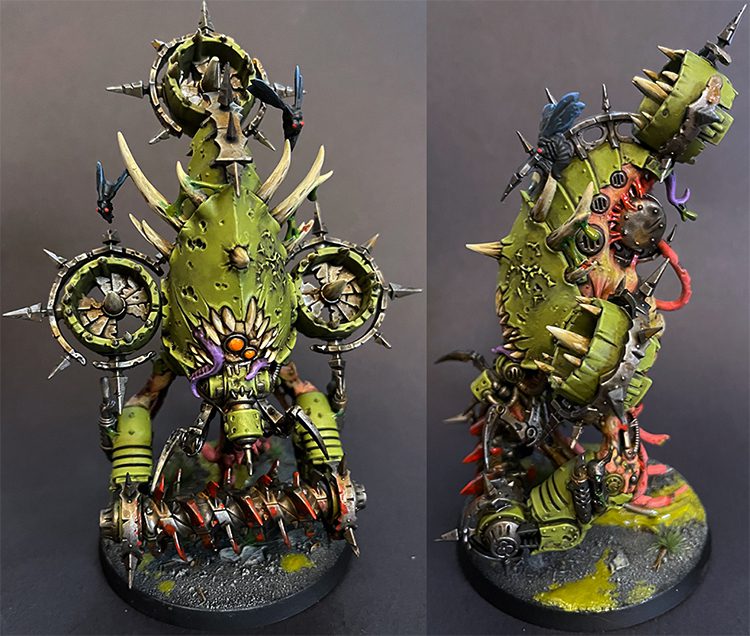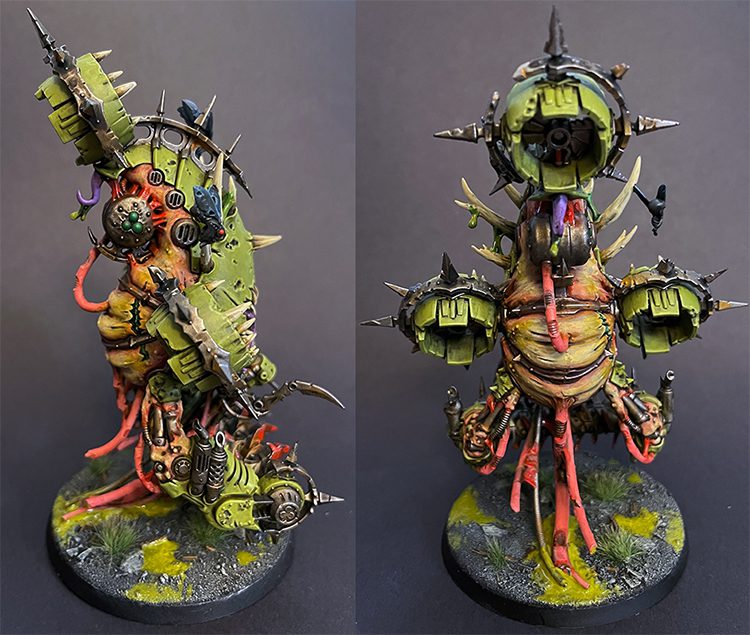 On the Nighthaunt front, I've started in on my pile of Chainrasps. As I'm already a veteran of painting a horde of skeletal models thanks to the Necron refresh, hopefully these don't break my sanity too much. Thankfully the paint scheme is relatively quick and fun. I plan on rewarding myself with a hero model for every 10 I get done (which should hopefully appear in the next roundup).

* lol there is no way this will be my last Death Guard model, I am truly a fool
Rockfish
I did a Knight!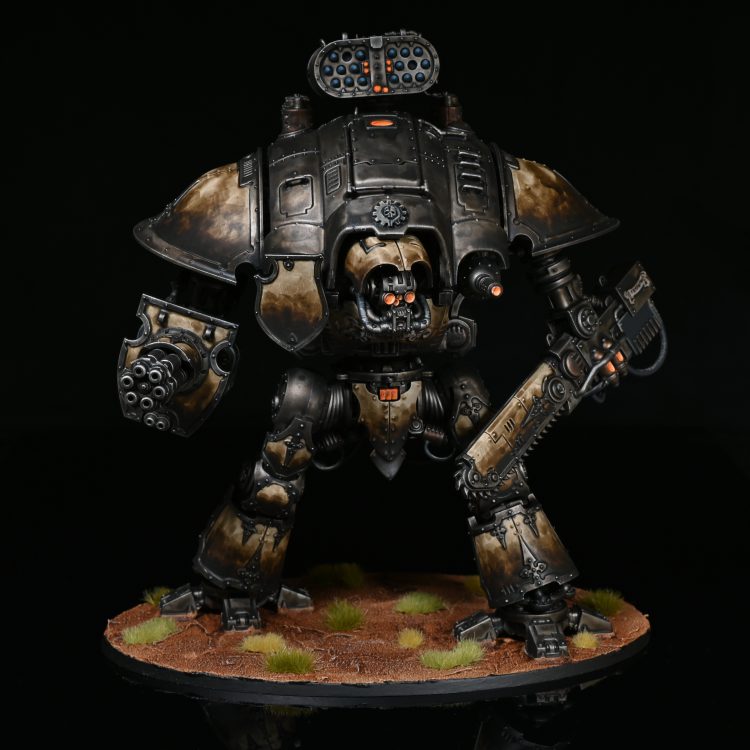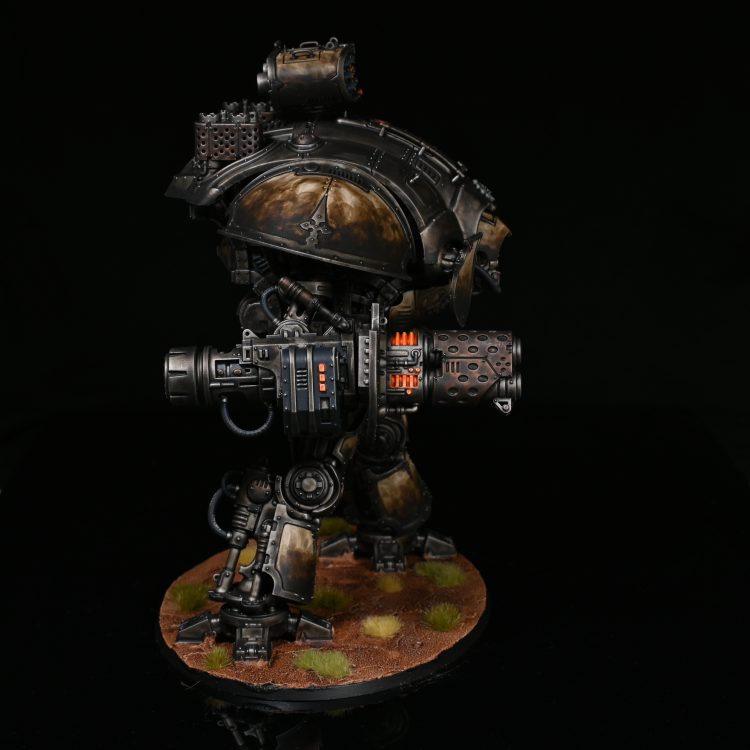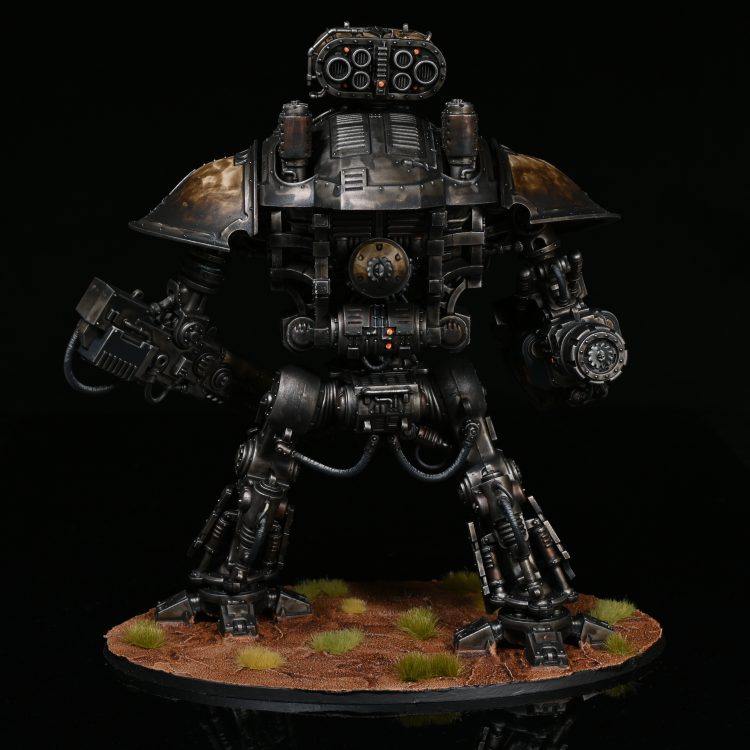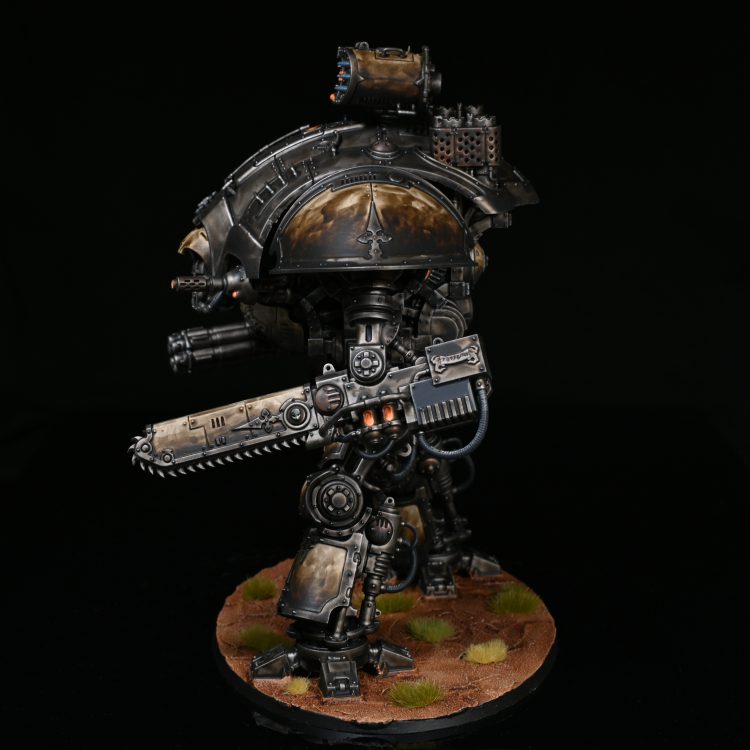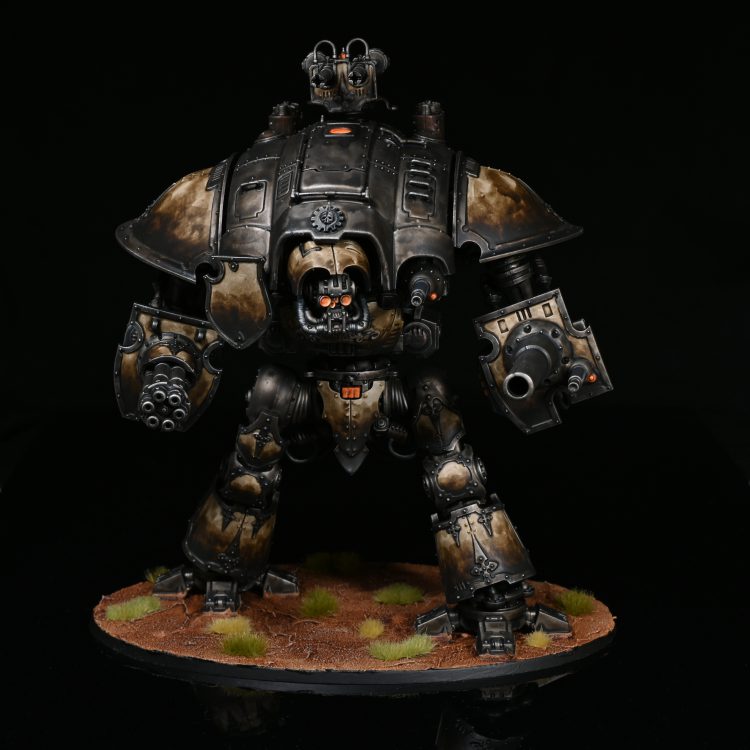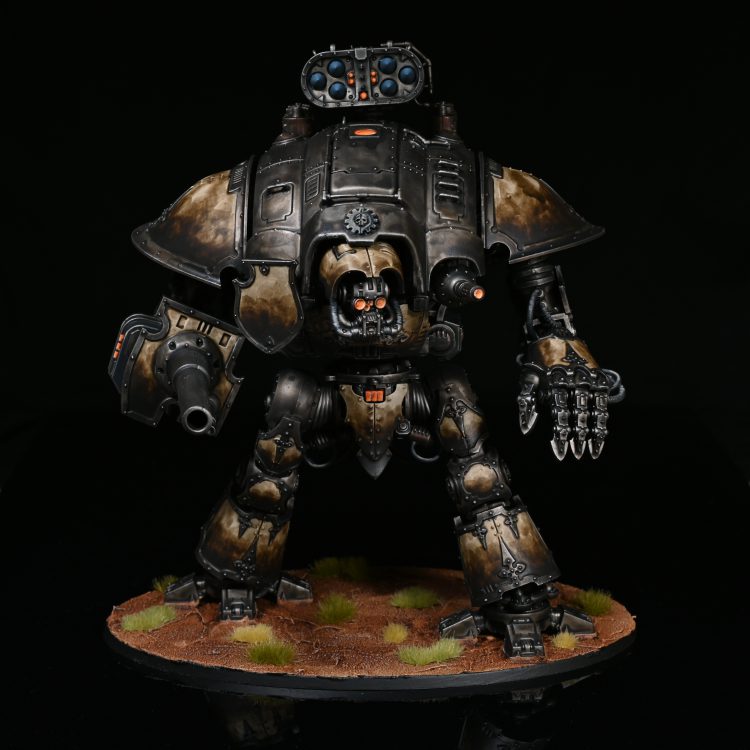 I also continued to make progress on the rest of my assorted parallel projects, including more Ad-Mech: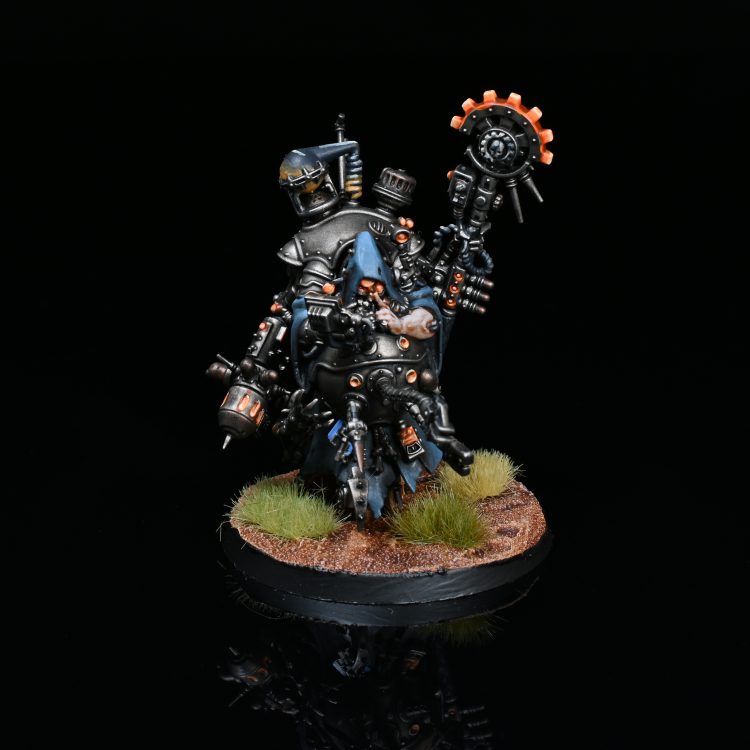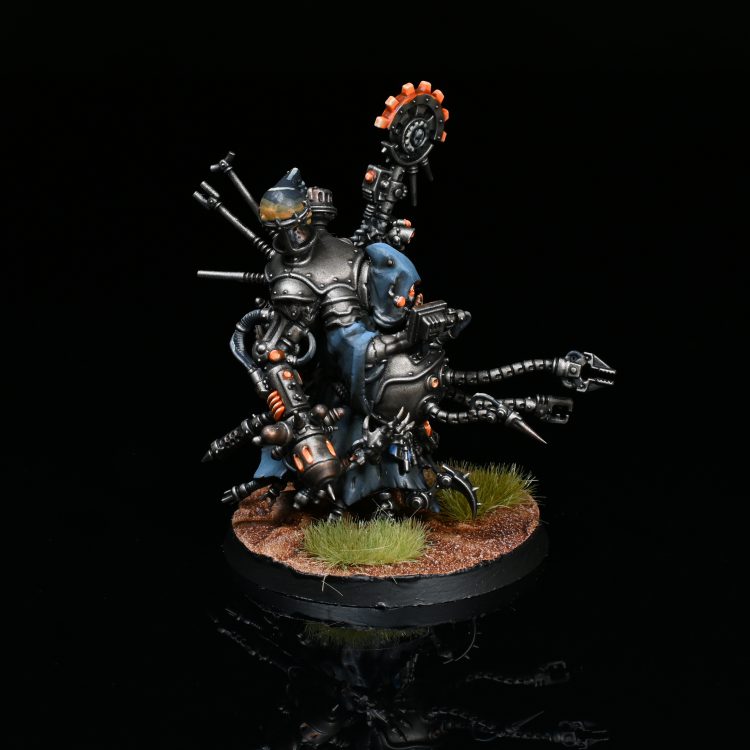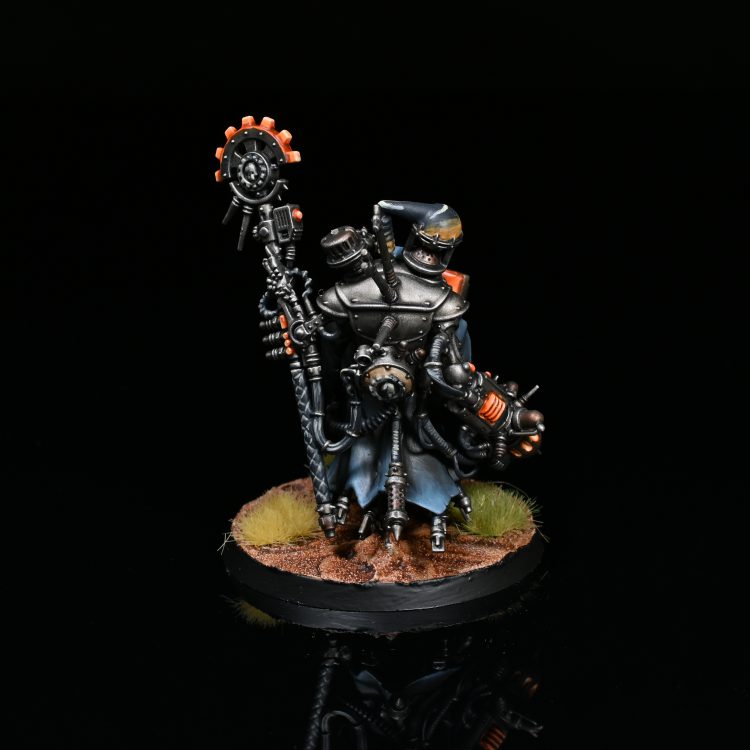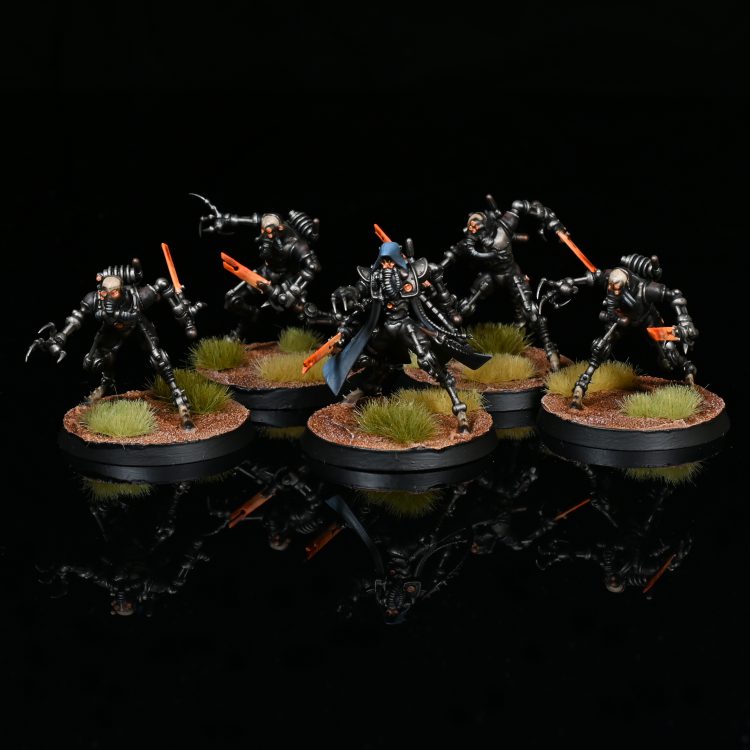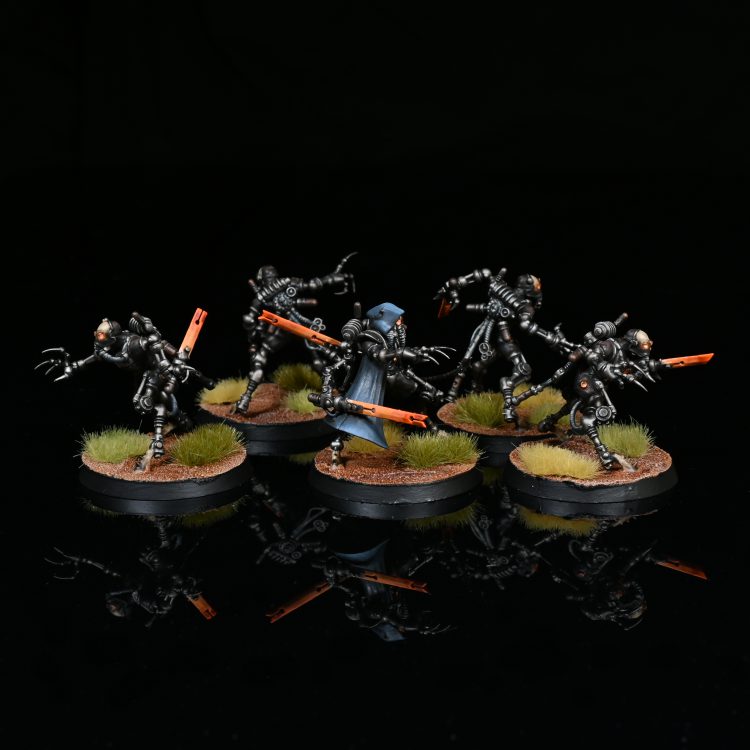 I am somewhere like half done the enemies for cursed city too!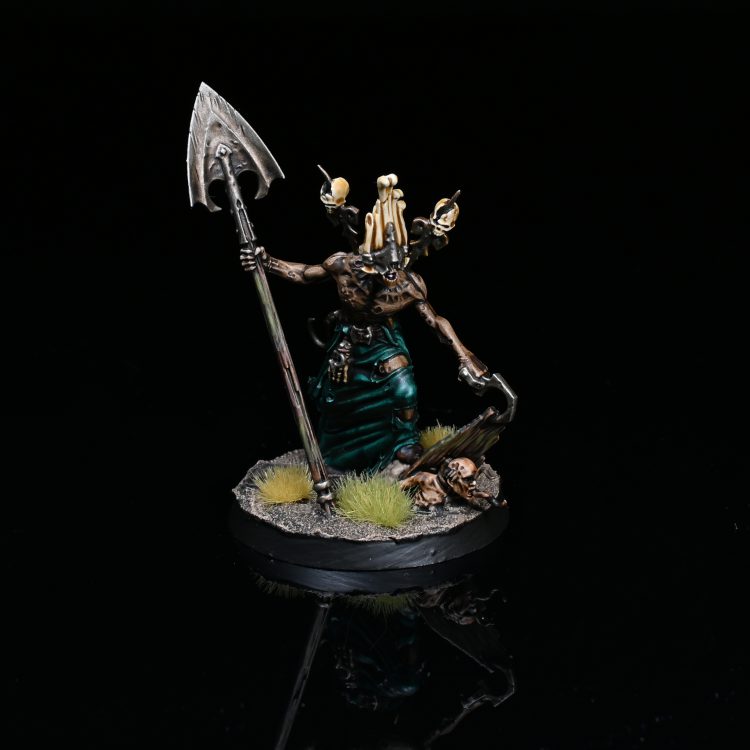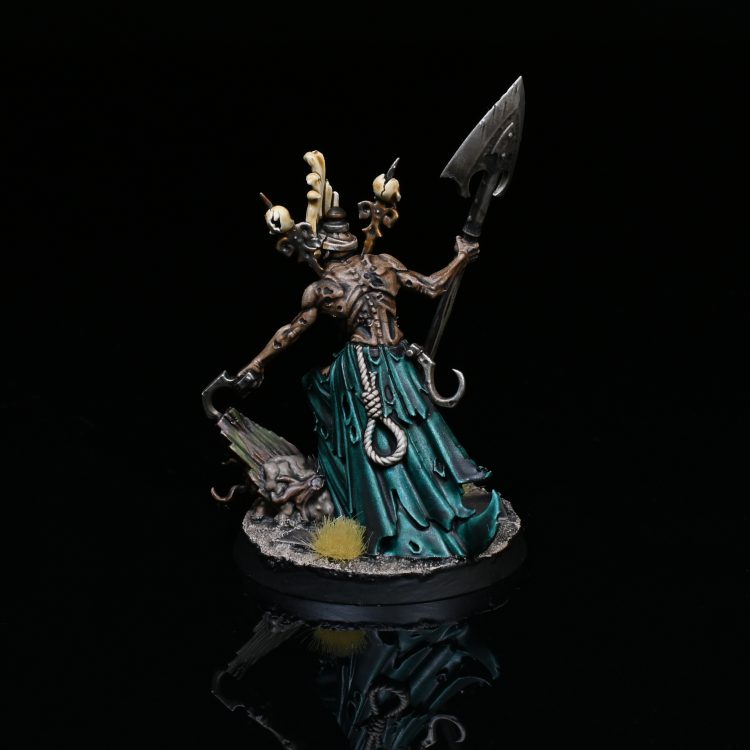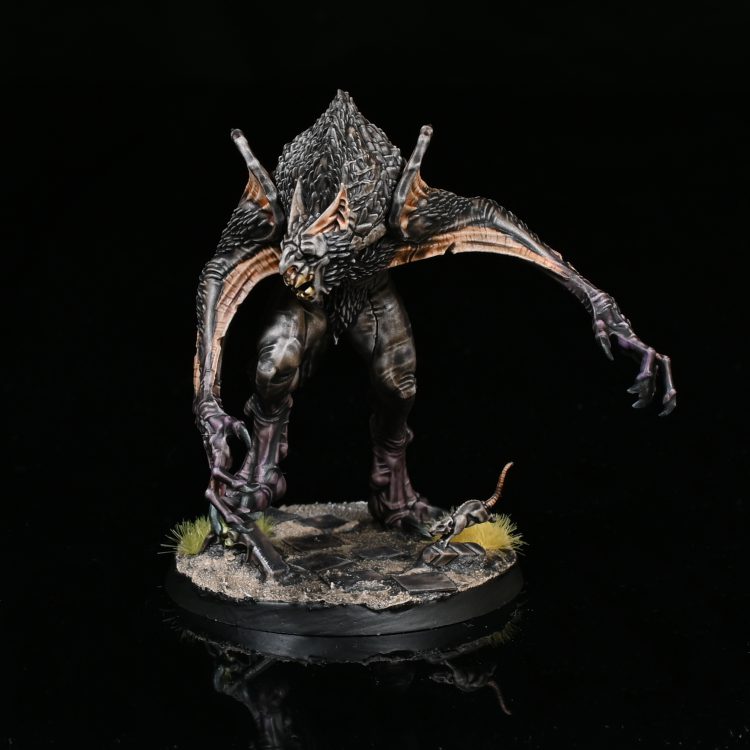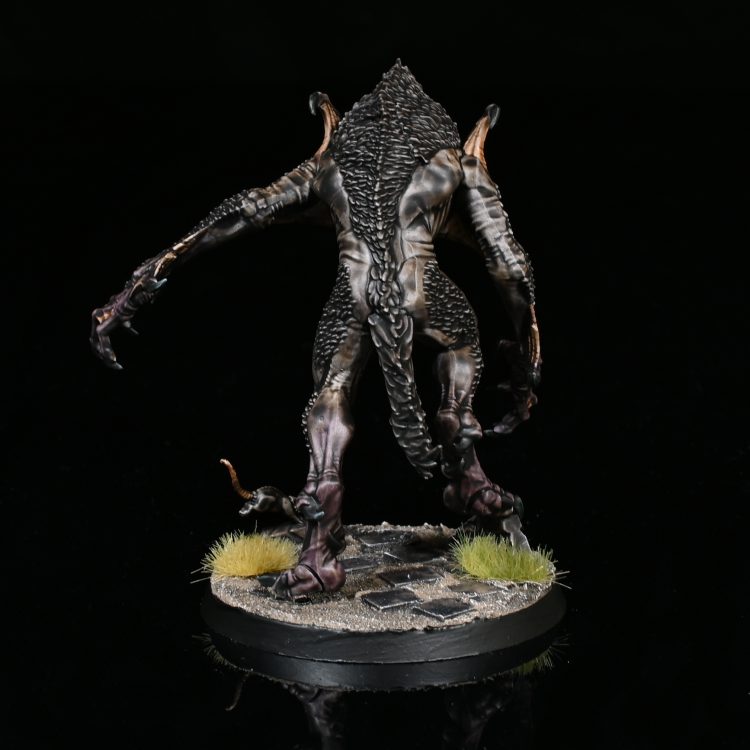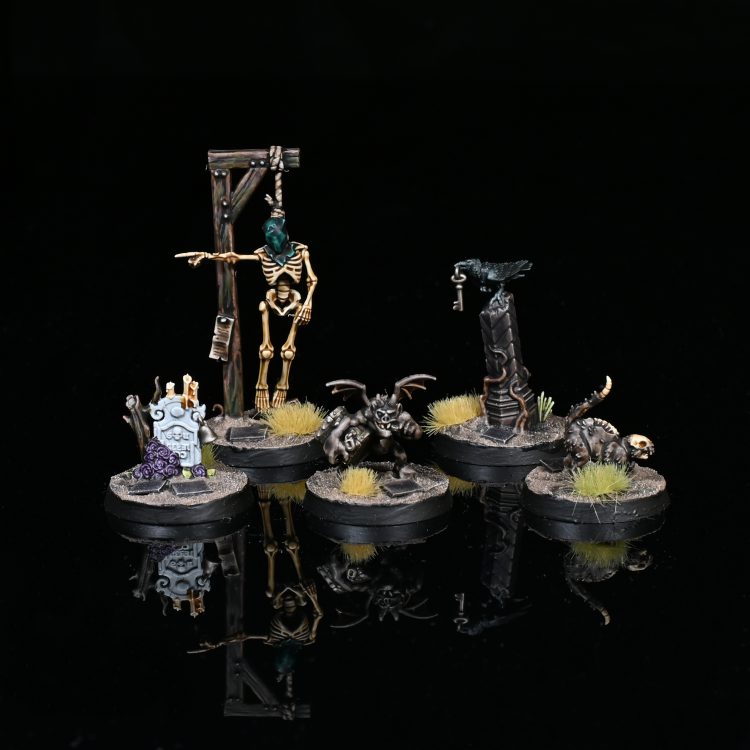 SRM
I too am going hard on Cursed City! Aside from building some odds and sods, I've made a point to work exclusively on Cursed City until I'm finished – Build and Paint, Until It Is Done. So far I'm about a quarter through, though that quarter is mostly characters who are more time intensive than the skellies, zombies, and other random bits.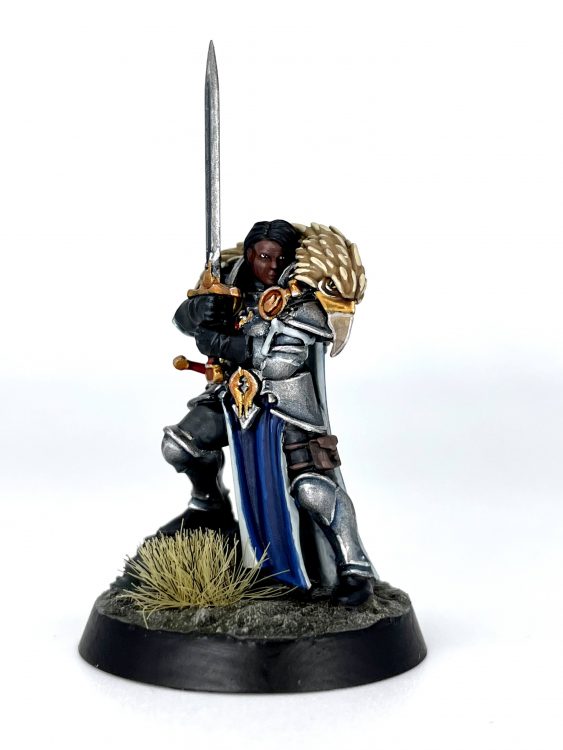 Emelda Braskov was a model I was pretty stoked to paint. The moment I held the model I knew I wanted to paint her in a scheme reminiscent of a Warcraft 2 footman by way of the old 'Eavy Metal technique for painting Grey Knights from 3rd edition. This intersection of nostalgia meant I used some of my precious Guilliman Blue glaze. While I went for a classic "heroic" scheme with her, I decided on something a bit weirder for Octren Glimscry: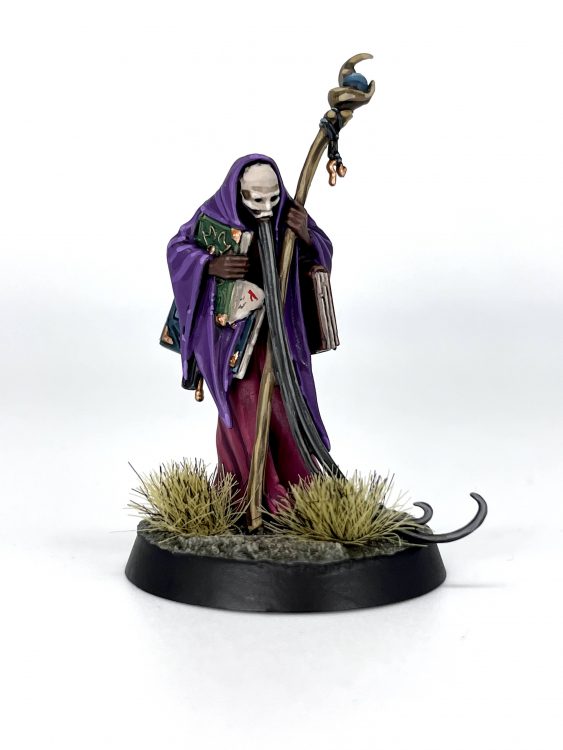 I knew the old man would be fairly simple since he's mostly robes, and I desperately wanted to get some purple among my heroes. His Oops! All Secondary Colors scheme is pretty close to my Escher scheme, but on a much, much different kind of model. Painting around his beard and staff was a little tricky, but nothing too bad. He was pretty quick to knock out, and also let me establish how I was going to be painting bones in this set – something that would come in handy later.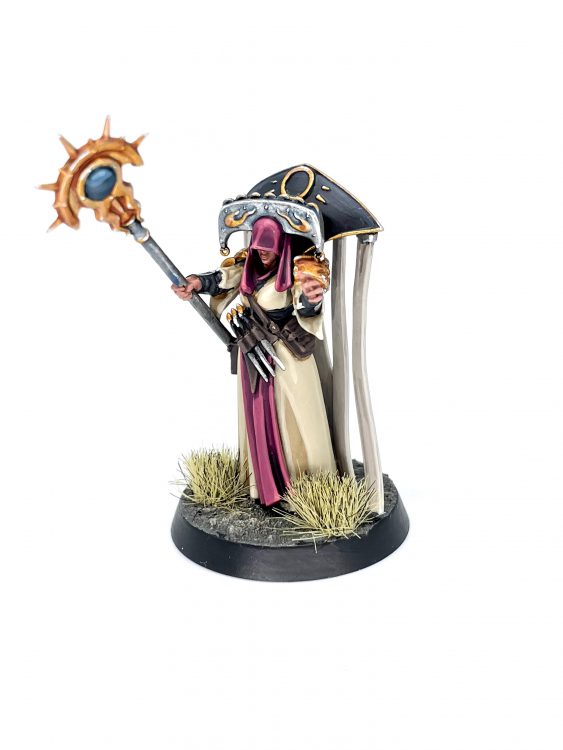 Naturally, I painted the other robed weirdo, Cleona Zeitengale. She's probably my least favorite hero of the set on account of her very, very silly hat and toilet paper scrolls, so I thought I'd knock her out and treat myself to some of the heroes I like more later. I feel like there's not enough detail in her robes, there isn't much in the way of fabric folds or decoration, and painting around the long papers is extremely tricky. Enough about the heroes though, let's get to the bad guys!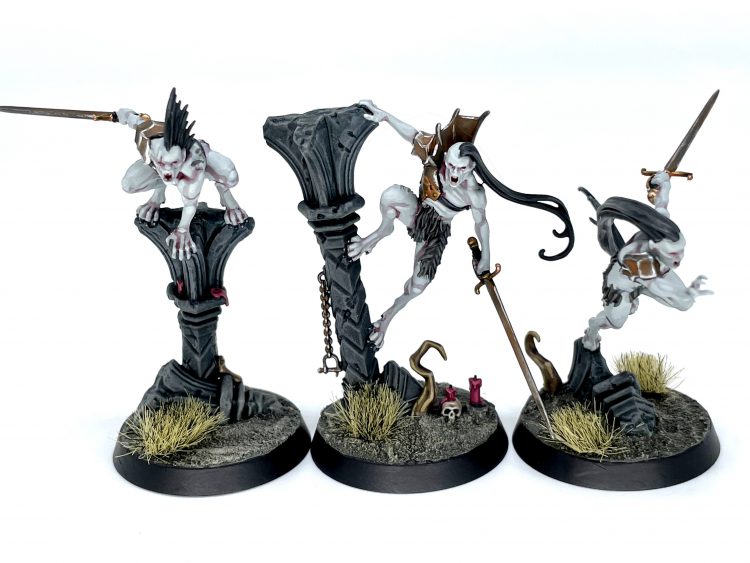 I got the goth party going with the Vyrkos Blood-Born, using a pretty similar scheme to Radukar from last month. I really enjoyed painting the Slaangor from Direchasm in a white scheme with thinned washes in the recesses, so did that again with these bois, using Carroburg Crimson instead of Drakenhof Nightshade. There's just something creepy about it I really dig. I kept up the same rusty metal scheme as I did with Radukar's bunch last time, as establishing a repeatable process is pretty key to painting any army, gang, or warband. Speaking of repeating a process: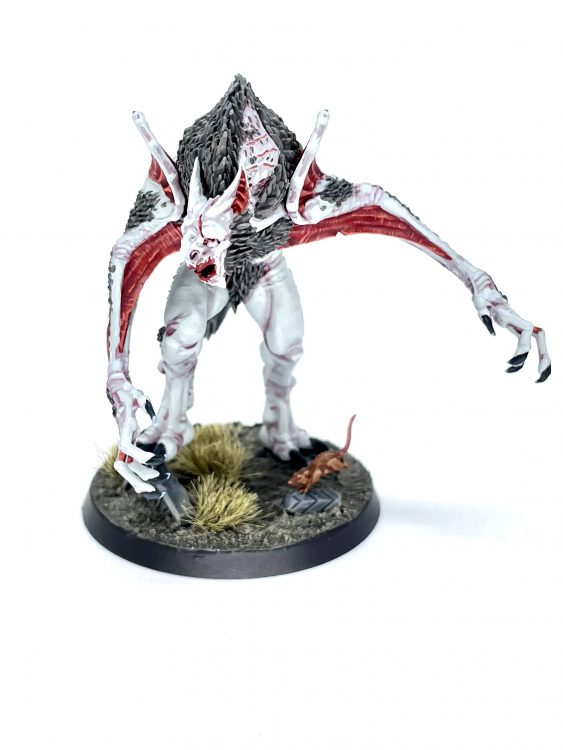 I painted this big lad at the same time as the Blood-Born. I found the transition from fur to skin to be a little muddy so he's not quite as tidy as I was hoping for, but I'm happy with him. The gross membrane things were an experiment with thinned Flesh Tearers Red Contrast, and the eyes and mouths on all these vampire-adjacent weirdos is too. I individually highlighted each hair on all of these guys which is something I would have found maddening before, but now is kind of comforting in its mundanity. It just looks cleaner than drybrushing, and if you feel like taking the time I think the results are worth it. Anyway, last but certainly not least, I painted Watch Captain Halgrim: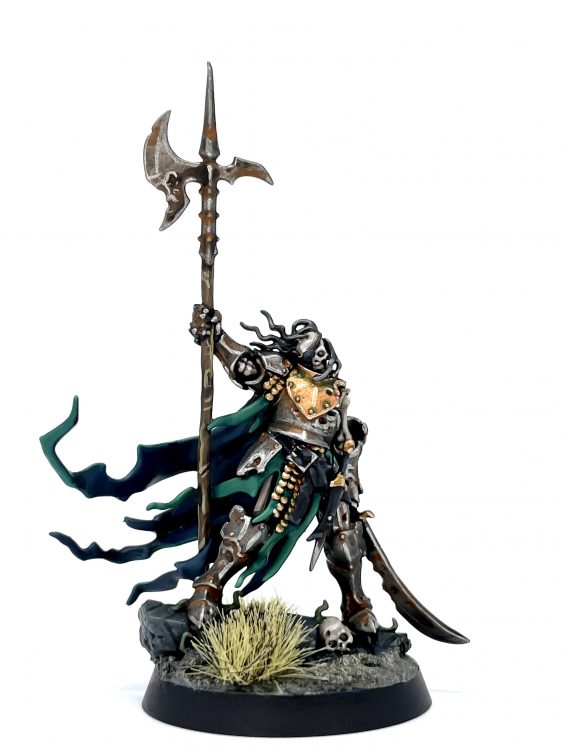 After establishing how to paint bones with Octren Glimscry (foreshadowing!) I was able to knock this guy out pretty quick. There isn't anything to him I haven't done already with the Kusagi, so he was also pretty relaxing to paint. I don't know if I'll do the dual cape colors for the rank and file skellies, as I think it marks him out as slightly more important than the normal Bone Buds. They're next on my painting table, so look for them soon!
Primaris Kevin
I painted a snake!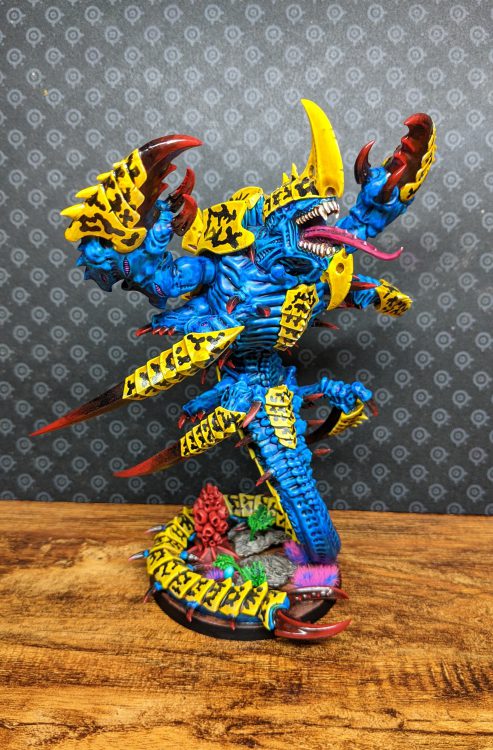 Okay technically he's a Hive Tyrant. He's also been a WIP for over a year. Rob's putting together a new campaign and me, not being satisfied with already having an army of purple Regal Skulls, and working on defeating my backlog of bugs. The skin and yellow pieces were painted using the same technique as Rippy the Ripper, but after some more thought I changed the claws to be a steady transition from black to red. I start with a layer of Contrast Blood Angels Red, then blend between using Liquitex INK! Carbon Black and Pyrrole Red until I achieve the desired blend. I also added some extra plants to the base. In addition to the GW flexible plants, I 3D printed some designs from GrimGreeble that look amazing. I highly recommend checking out his designs, which are available on multiple sites including Thingiverse. 
James "One_Wing" Grover
As Drukhari subreddits and Facebook groups everywhere will tell you, I shockingly guilty of anti-Drukhari bias. My painting output reflects this.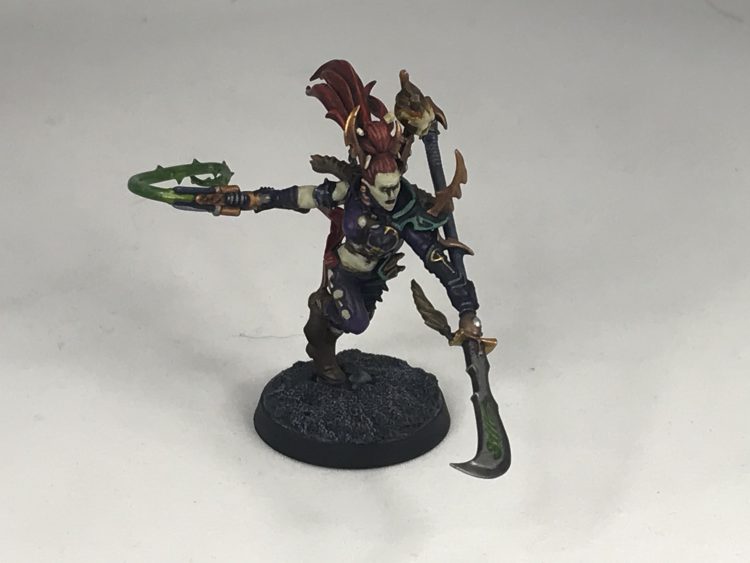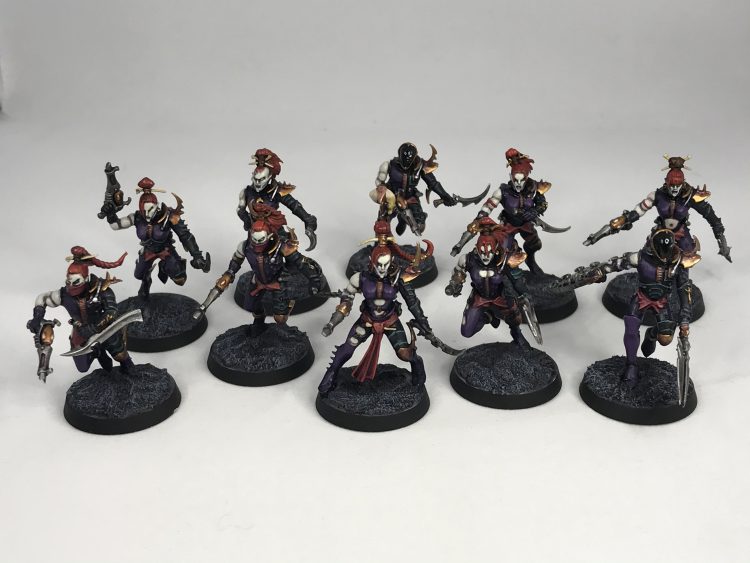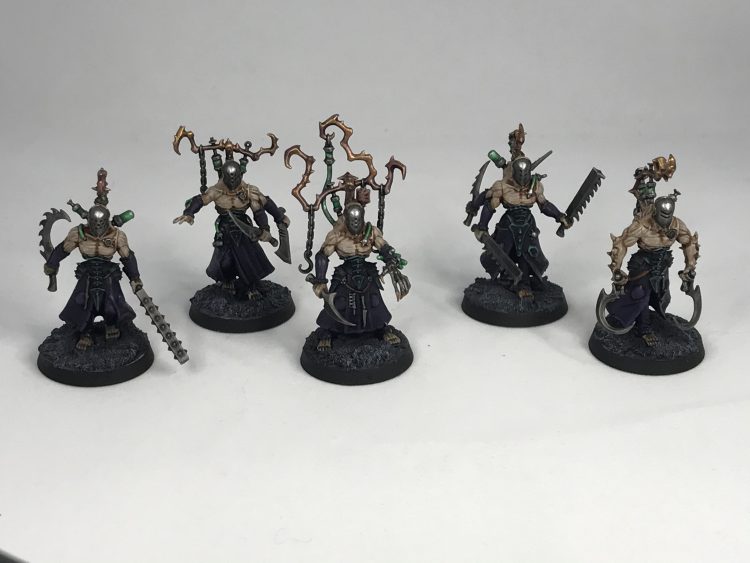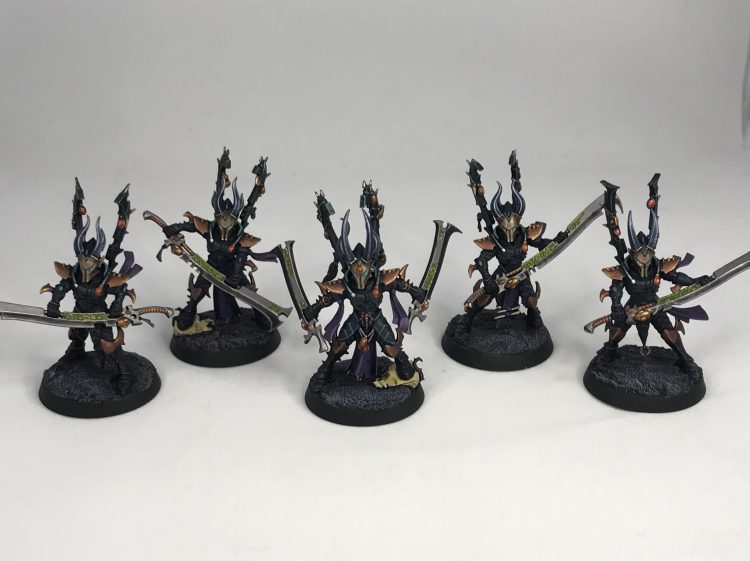 Next on the list – a Raider, more Incubi and Drazhar. Really feeling the hate flow through me here.
Colin Ward
The first part of this month was spent preparing for my first tournament in a year and a half: The Salty Alliance GT in Tooele, Utah! I didn't have too much to do in preparation, but these things always take longer than I anticipate. I needed to build and paint a travel-sized display board and accompanying terrain, as well as paint a Primaris Chaplain on Bike, a singularly badass model and one that I've been looking forward to painting since its release! The travel board was straightforward enough, with a piece of 1/4″ Birch Plywood cut to 15″x22″ size. I then applied fine tile grout for the ground texture, using a piece of lightly crumpled tinfoil to give it variation. After that, I painted it in the same process as my basing. The terrain elements are separate from the board for ease of transport. 
I can't wait to spend a weekend rolling dice with friends and meeting other humans again over a game of 40k. It'll be a joyful struggle to the mid-tables, but I'm happy my army will look good doing it!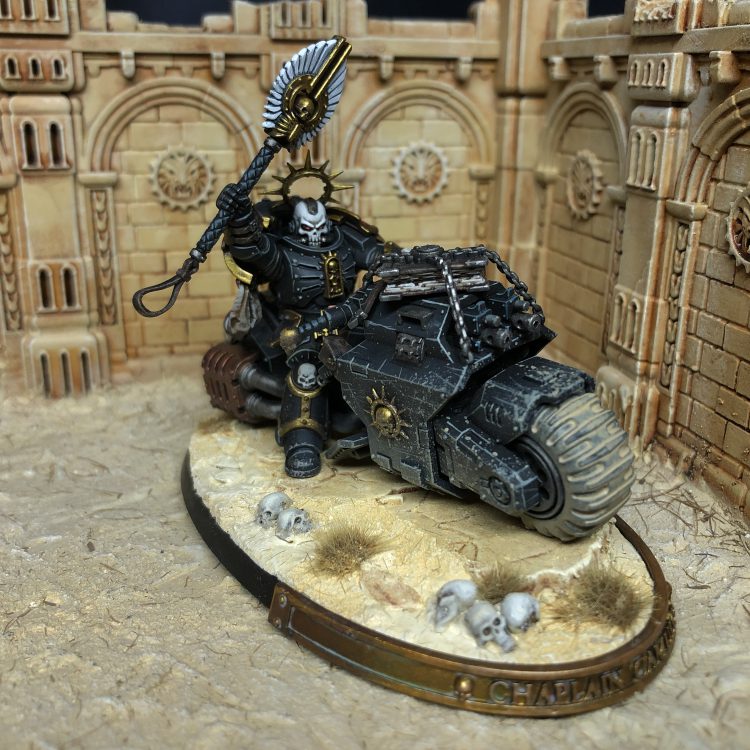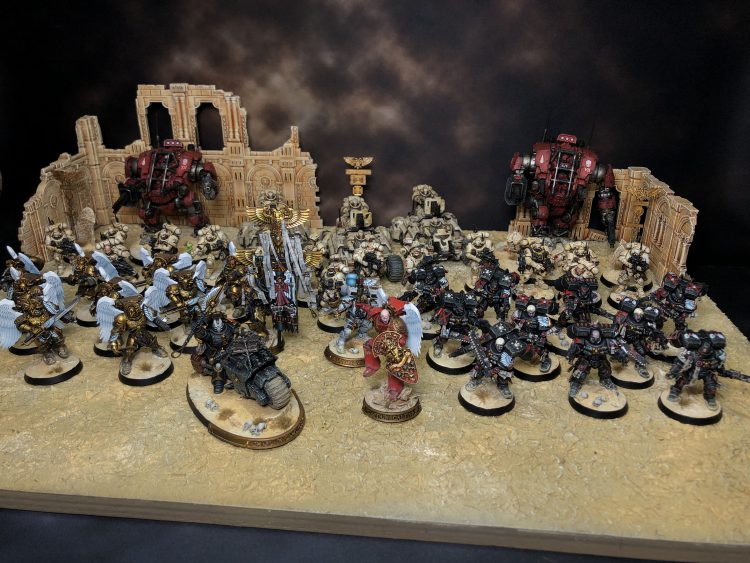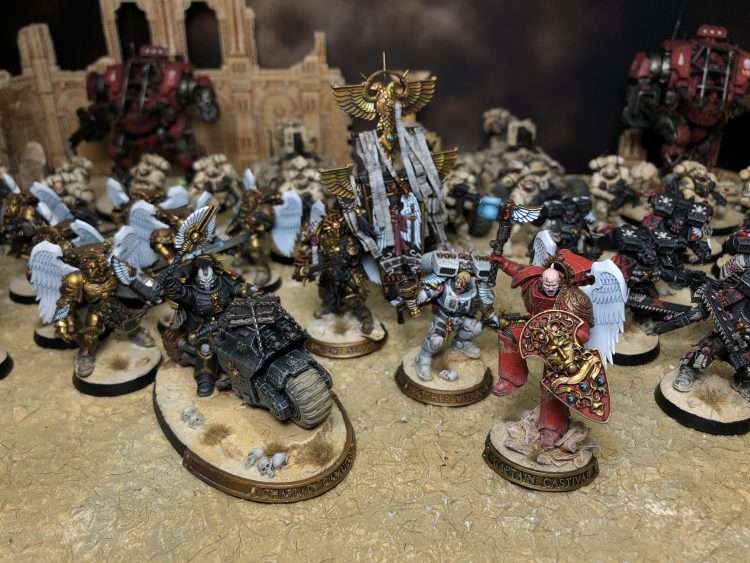 Bair
I've been taking a break from painting (so many) Titans lately to focus on something entirely different: Kharadron Overlords. I wanted these to look dark and cold, based on mountainous snowy rock with the elements really getting to their gear. I don't actually know if it's canonical but I don't see how using aether gold as a source of power would run hot and melt the snow and ice off of the ships, so I got some Krycell brand Ice and Snow Wash to try out on the Endrins (those balloon things) and the decking of the ships as if they were in the middle of a snow storm. I also really dislike the little easy-to-break flying stands GW has moved to in recent years. The ball joint ones are ok for the Gunhaulers it seems, but for the little flying dudes I just built up more cork to attach to so they're an appropriate height. The Ironclad (and future Frigates) however needed a nice big acrylic rod instead to keep it stable since it's too front heavy to go on the ball-joined stand like the Gunhauler can.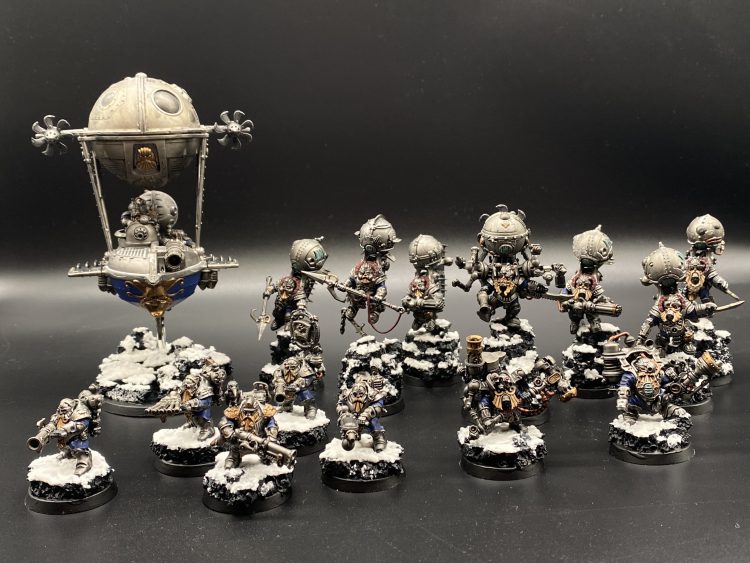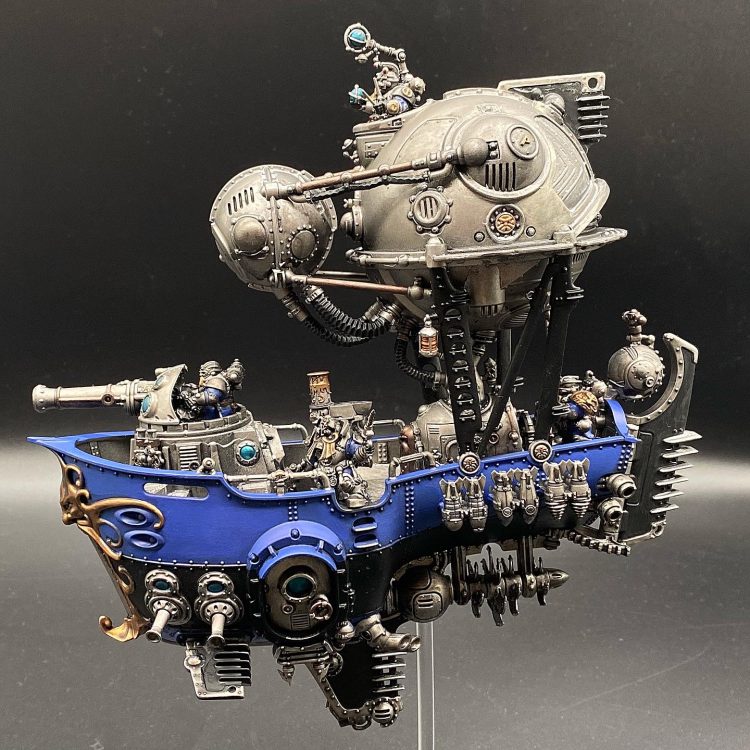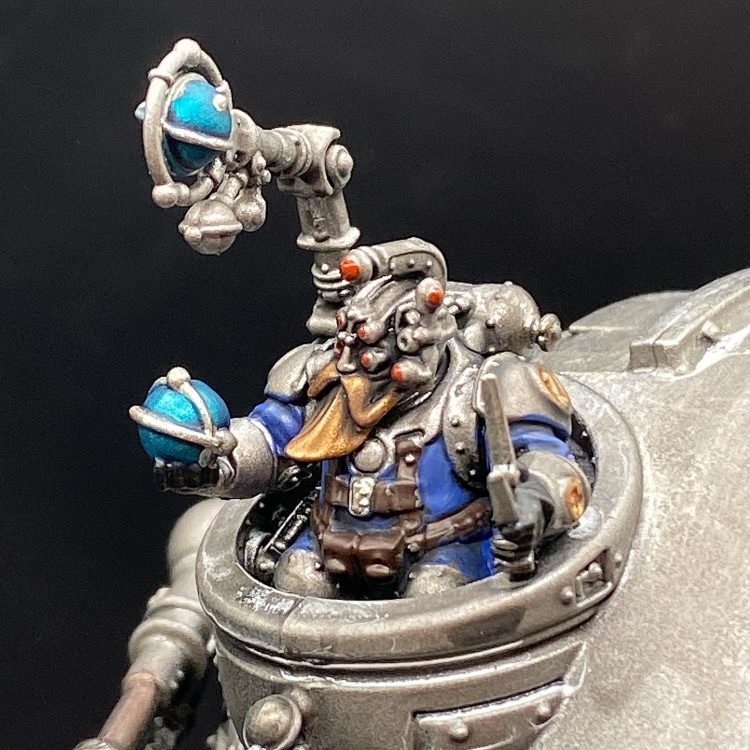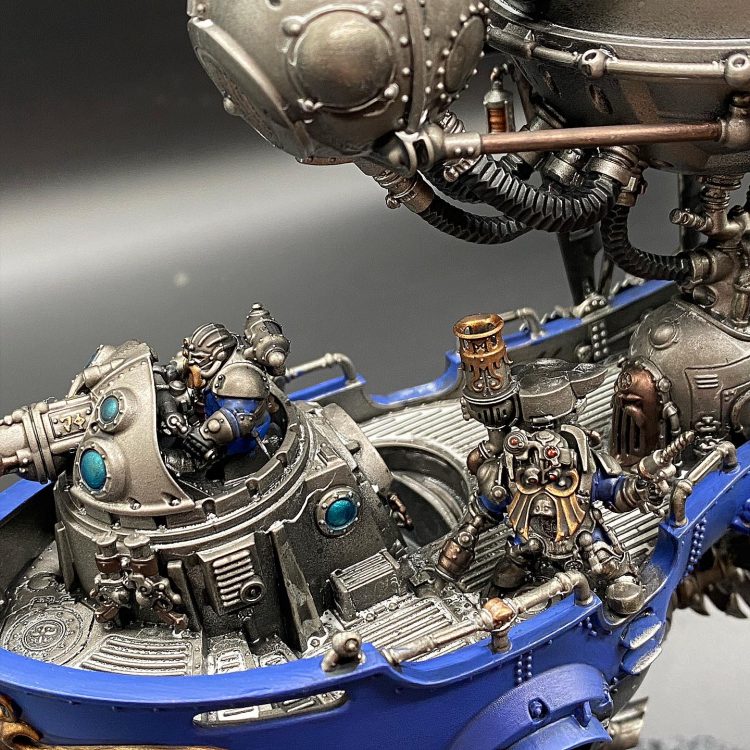 Yet to be painted is the second Endrinmaster for the army, I didn't want this one to be identical to the first so chopped him up, gave him a mechanical leg (totally not because I dropped the normal piece on the floor to never be seen again), and switched the arms up to give him a pistol and be chillin with his hammer. Just needs to be cleaned up a bit more.