It's hobby round-up time again. Check out what our team has been working on in early September!
Corrode
I have now painted 103 Space Marines models this year. If you include Blood Angels in that and not just my Crimson Fists, it rises to 111 (and my painting desk right now is, er, 3 Blood Angels Eradicators, a Blood Angels take on the Indomitus Captain and a Judiciar). With another huge Space Marine release on the horizon, I am expecting to paint even more for the end of the year – which is fine because I love my Fists and I am also enjoying working on the BA, but by god it's a lot of power armour.
This month, I finished my remaining Impulsor, giving me a total of 3, as well as painting 10 Incursors and two more Blood Angels Bladeguard Veterans. I also gave Lemartes a fresh coat of paint and will soon add a base extender to bring him up to 32mm. Additionally pictured are the Assault Intercessors and other Impulsor I finished last month and didn't take photos of, and the Bladeguard Veteran I finished last month for the BA with the rest of his squad.
For the next couple weeks I'm going to probably paint more god damn Space Marines before launching into October with a release full of new Space Marines. I hope to at least finish a couple of other things just for a break from them, though.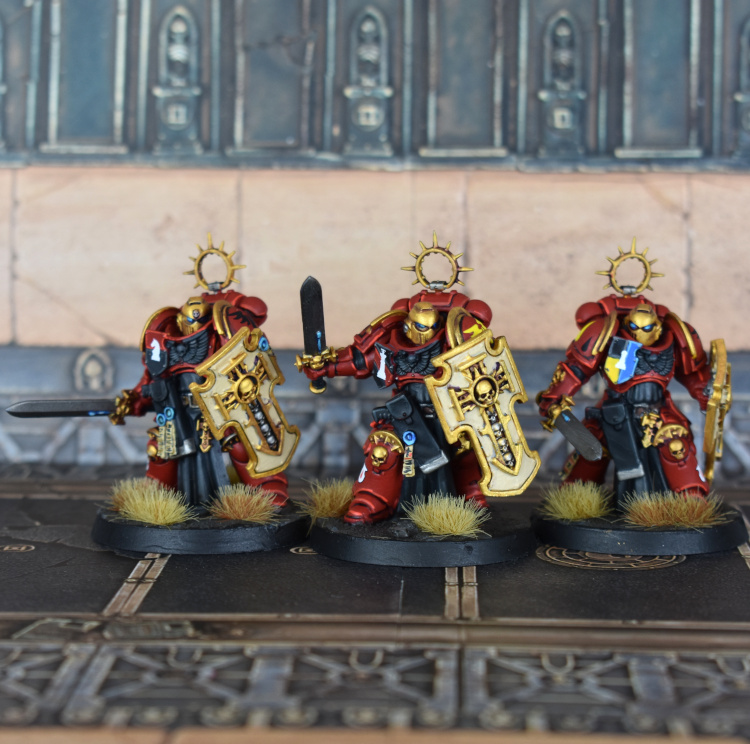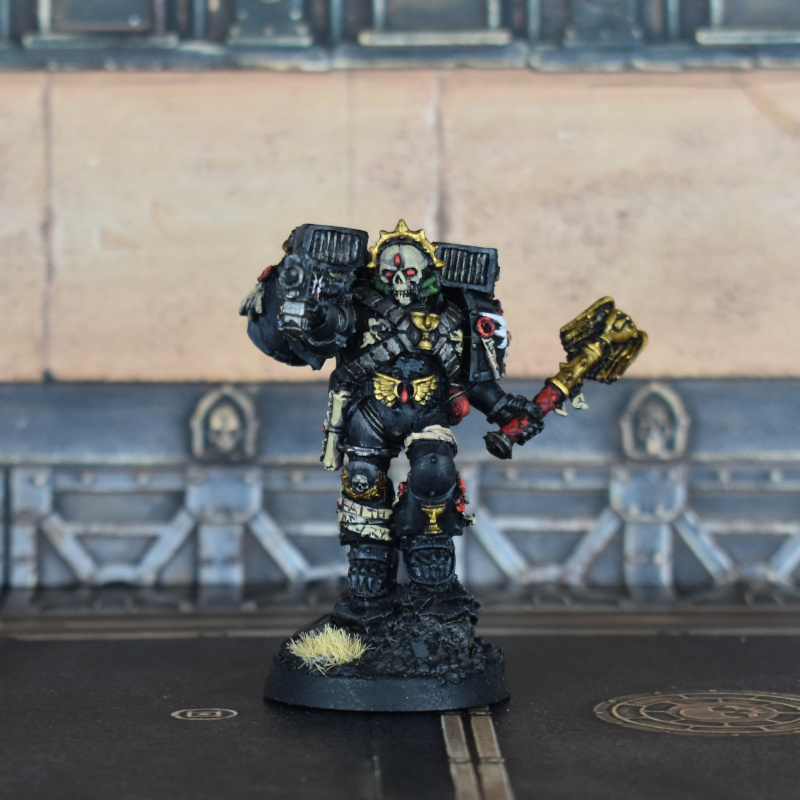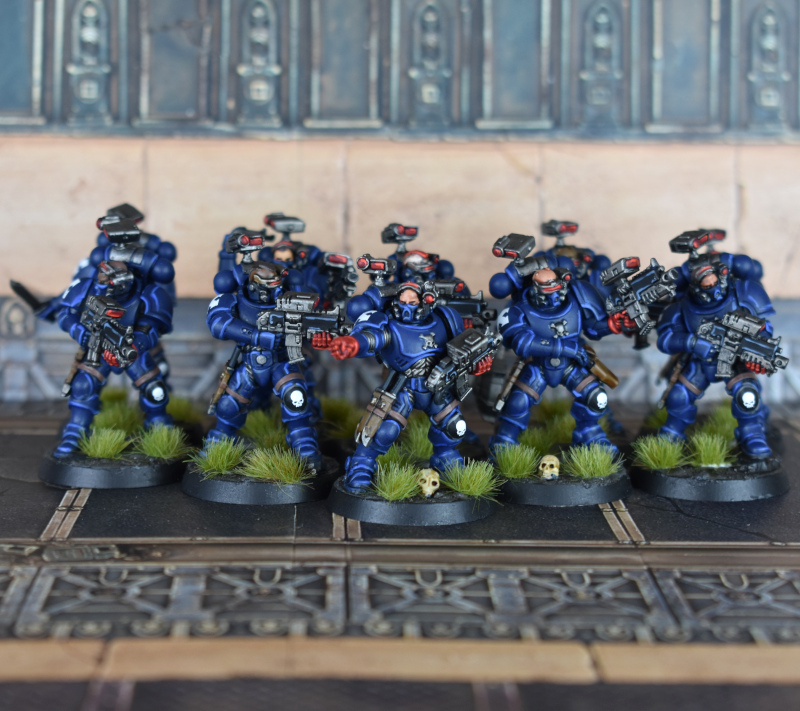 Pendulin
I finally got around to painting my first model from Indomitus, and boy howdy am I excited to paint more of them.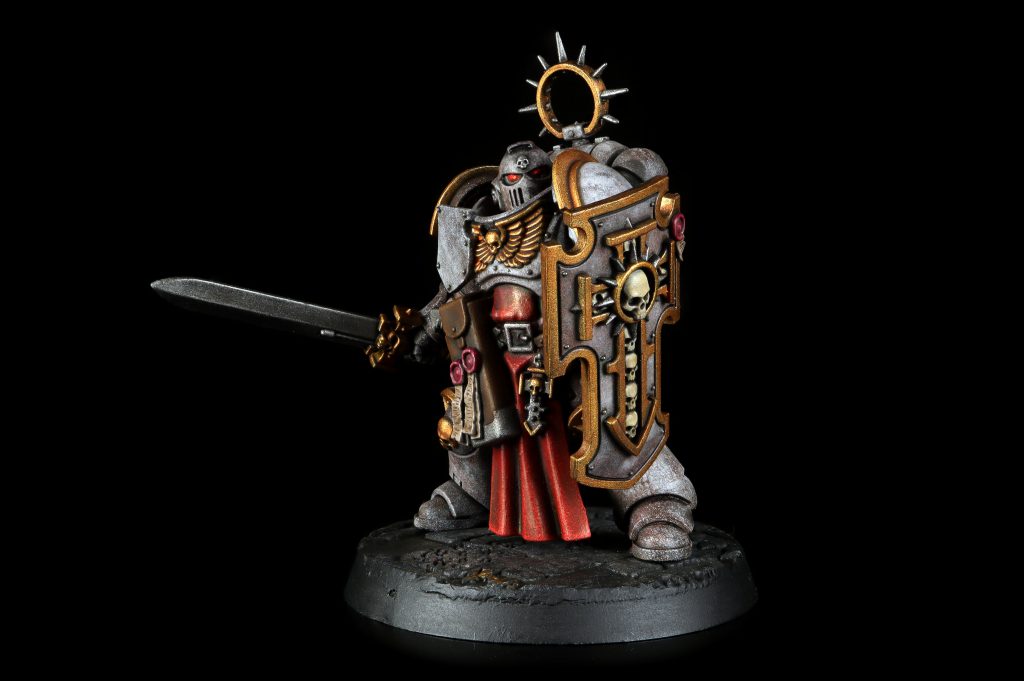 If Belisarius Cawl was the reason I got into Adeptus Mechanicus, then the Bladeguard Veterans are the reason for me to get into Space Marines. These sculpts are so unbelievably cool, and I cannot wait to build and paint the rest of them.
Soggy
It's great to be back on the painting bandwagon – mostly thanks due to burning out on Destiny 2. It's rather needed as I've managed to accumulate a fair backlog over the past two months thanks to the recent Indomitus, Adeptus Titanicus and Necromunda releases.

Having learnt my lesson with trying to do 16 Assault Intercessors at once, I've gone back to more manageable batches. This fortnight's completed models are six Outriders, which were great fun to paint up and I'm looking forward to using – having started 40K with Dark Imperium, I've been hanging out for Primaris Bikers. I'm currently away from home at the moment but that won't stop me for the end of the month as I've taken some Eradicators with me to chip an hour away out each night and should have ready for the end of the month.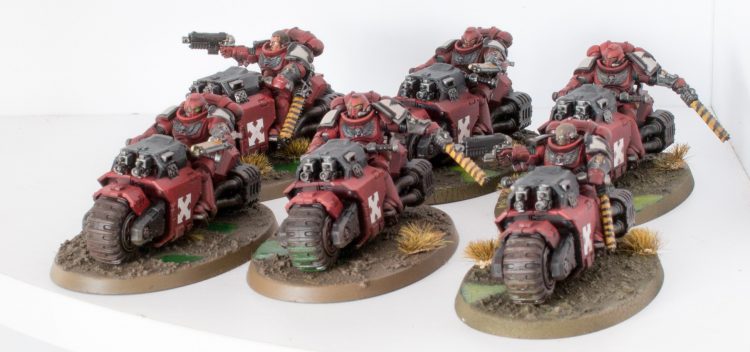 Rockfish
Nothing too exciting from me, just more Indomitus! I am getting pretty close to being done the box, just a few characters and the other assault intercessors left now!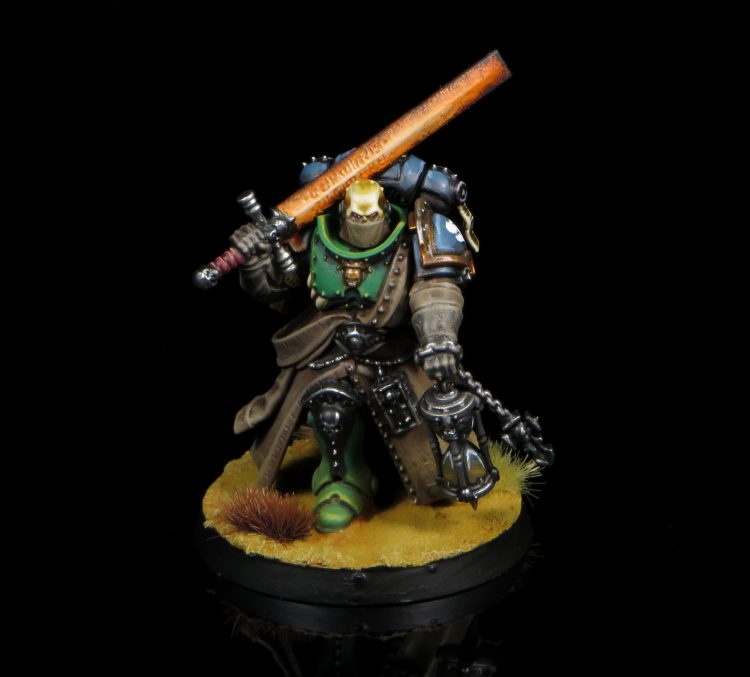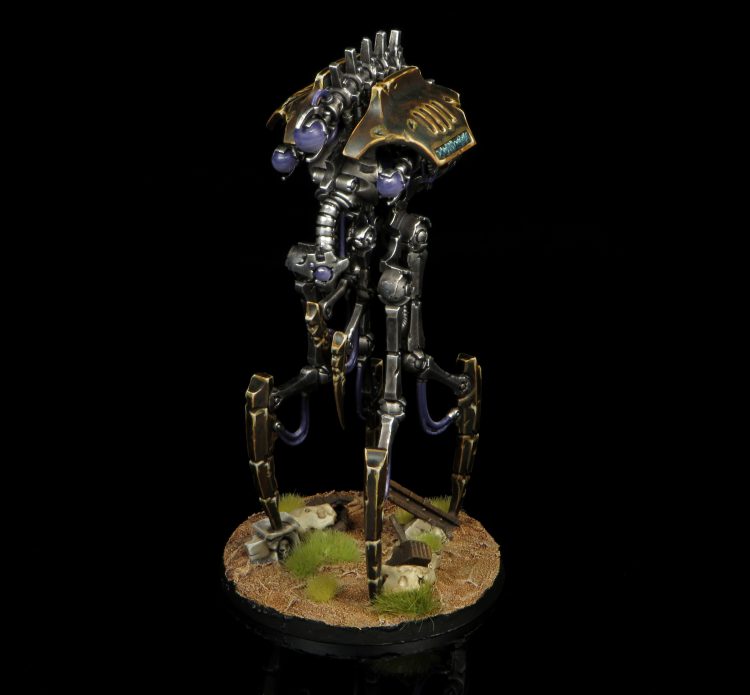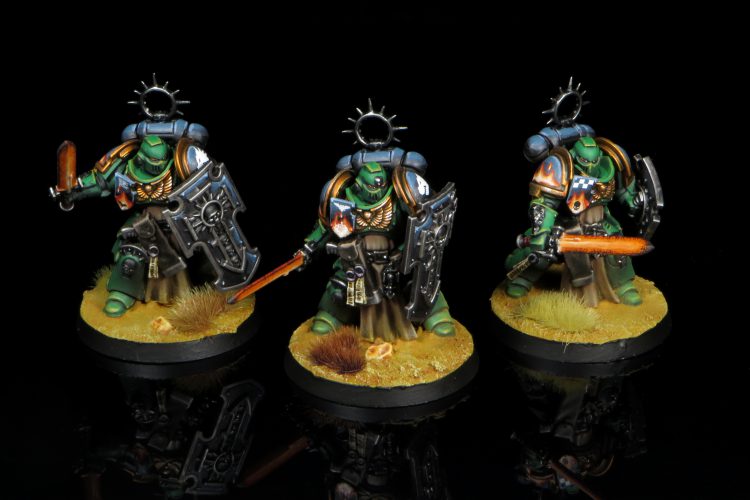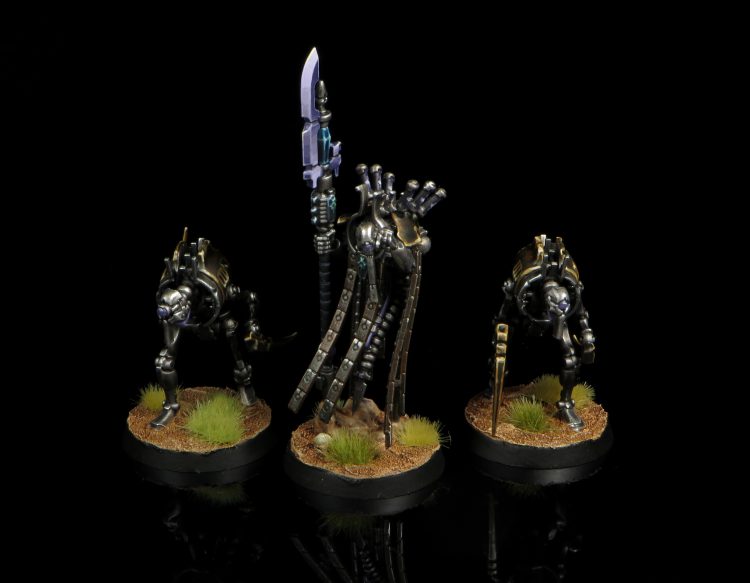 I did manage to finish off a few escher that have been lurking around on the desk for a while though!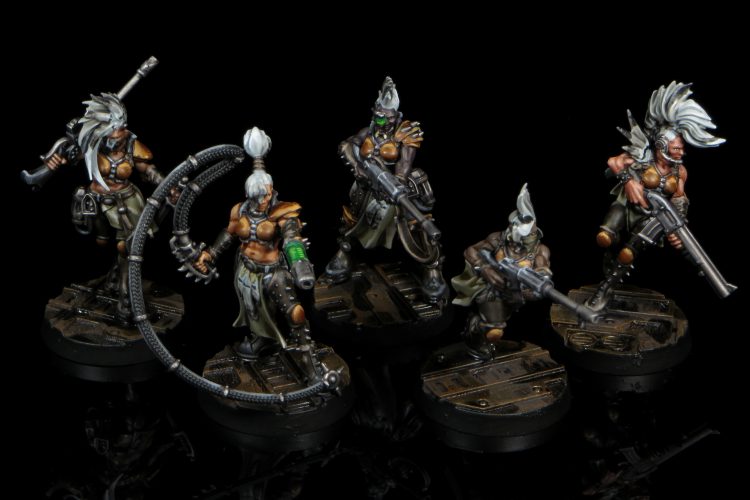 SRM
Like many of my fellow goons, I've been going hard on Indomitus, and I've been on a stretch of characters this month. I couldn't tell you how often I'll end up using half of these guys since I already have plenty of characters painted up, but it's not like anybody's playing a ton of games right now. Anywhomst, I started with the most anime model in the entire set, this Cloud Strife/Vash the Stampede/Auron/Guts/Ichigo-ass boi, the Judiciar.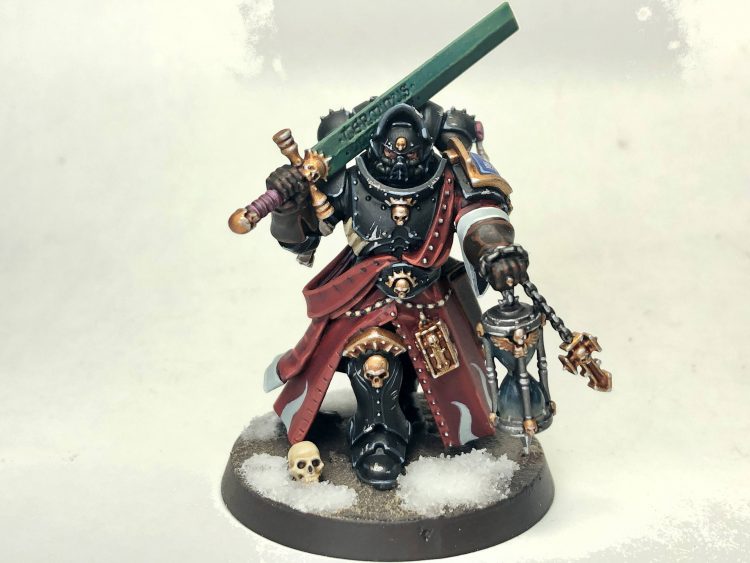 90% of him was straightforward and simple; some slightly blended colors to smooth out the robes, some hard highlights on the armor, a wee bit o' freehand, nothing crazy. The remaining 10% however was all blends and special effects, and I spent a real long time getting the sword and hourglass just right: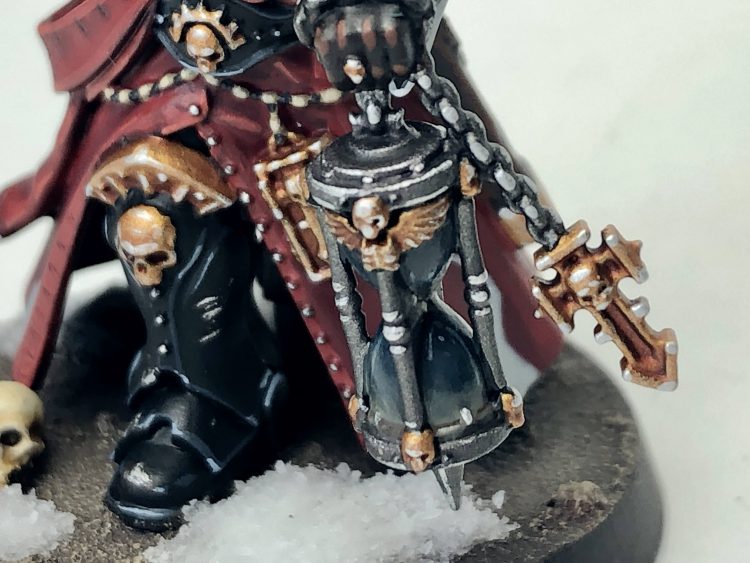 Faking the sand buildup was a last minute addition but I'm glad I went through with it. I couldn't be much happier with how the hourglass came out. As for the sword, I wish I went a little harder and chose two more distinct greens to blend, and I wish I left the backpack and head off for ease of painting. Speaking of, I went with a simple headswap since I liked the "questing knight" aesthetic of the open-faced helm as opposed to the skull/napkin combo of the stock head.
I kept the simple conversions coming with my next boi, the Bladeguard Lieutenant: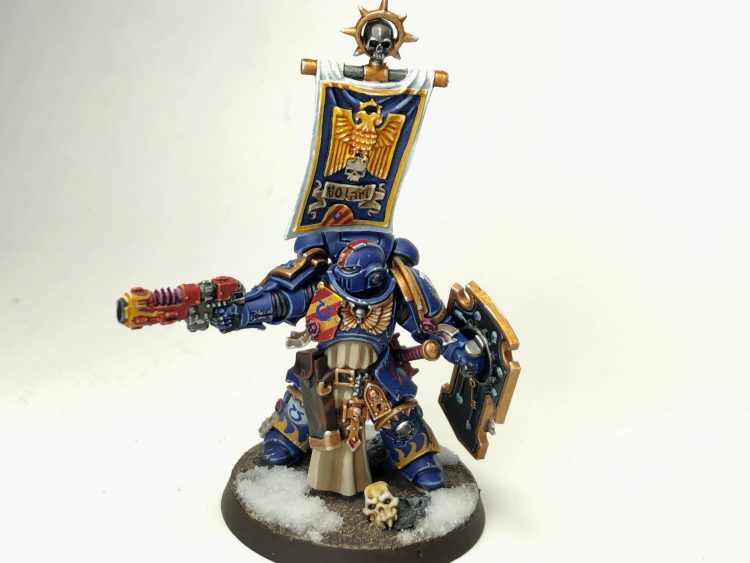 Lieutenant Diasco Volari here was just a case of pinning on the back banner from the Assault on Black Reach captain, a bit I weirdly have like 4 of in my bitz box. The iron halo around the skull matched the details on the model though, and it felt like a pretty natural addition. As with all of my Lieutenants, I painted some flames on his greaves and gave him unique personal heraldry. I wasn't sure how to paint the Neo-Volkite whatever gun so I just painted it like I'd paint any given plasma weapon.
Lastly, I returned to painting black power armor, and I painted up the Indomitus Chaplain: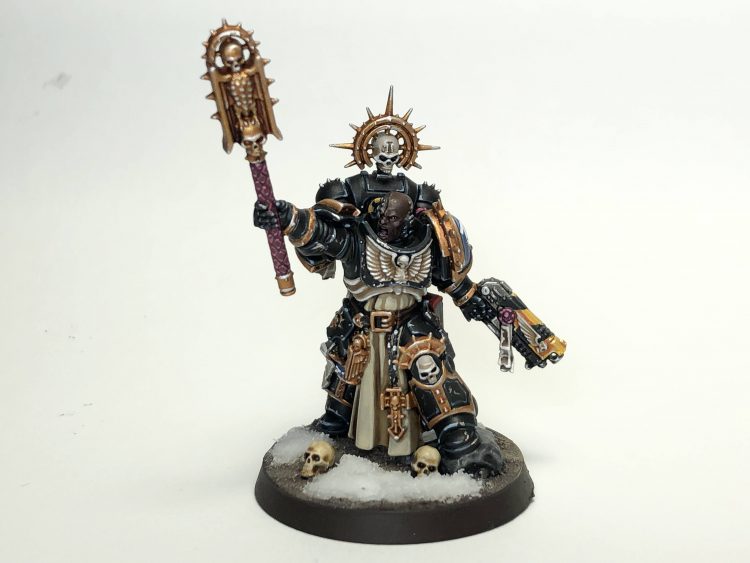 I kept the paintjob on him pretty simple, as there's just so much damn detail on him that I didn't have room for much more. I still gave him hazard stripes on his gun because of course I did, but he was a refreshingly straightforward mini to paint for all the detail on him. I'm also real happy with how the face came out, but if I never have to paint that textured crozius grip again it'll be too soon.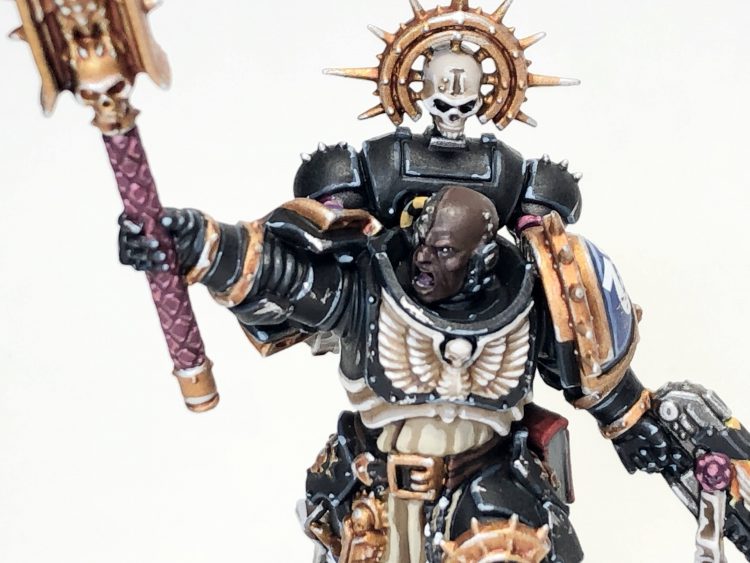 What with all the new announcements for October, I'm under a bit of a time crunch to finish my remaining Indomitus stuff in time. Realistically it doesn't matter, but having something akin to a tournament/convention-style deadline right now is something I hope motivates me through the batches of Eradicators and Assault Intercessors still on my desk. Expect one or both of those at the end of the month depending on how much real life bullshit gets in the way, then I get to cap off this whole Indomitus journey with the Bladeguard bois and their Captain.
KEVIN STILLMAN
Only painted a few things this month, so I'm including some of my August minis.  Mostly, it has been Indomitus, with some Forge World stuff thrown in.
Indomitus Primaris Chaplain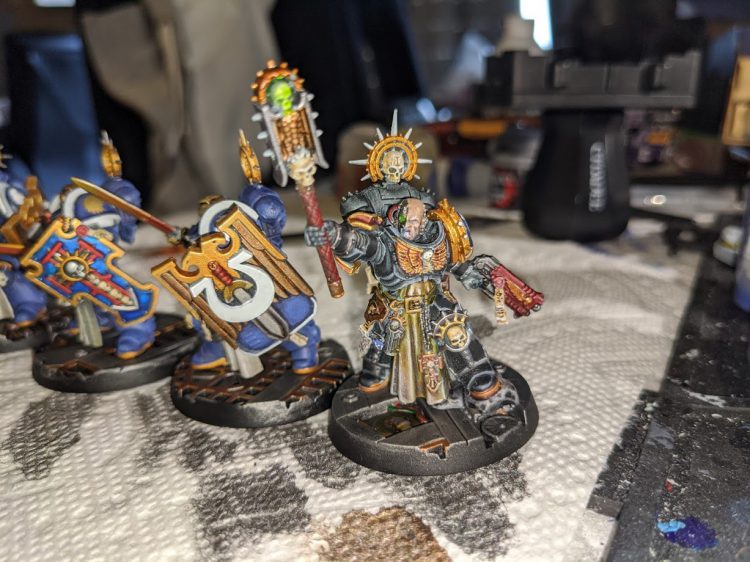 So of the various characters in the Indomitus Box, the Chaplain was the one I was most excited about.  I don't like the single-pack Chaplain (it looks like a Librarian reject), so finally having a cool-looking Primaris Chaplain was a major draw.  And even though it's a Chaplain, it doesn't feel too….blingy.  A distaste for the bling of the Indomitus Marines is a theme we're going to come to in a second.
Bladeguard Ancient and Veterans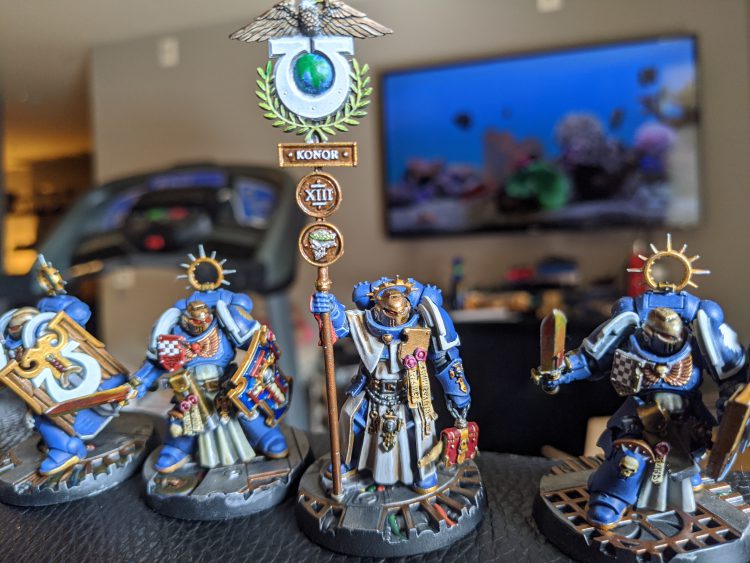 "Ancient Travian, what are you carrying into battle?"
"The skeleton of Brother Ossius, my Primarch.  He was a legendary hero and his remains will inspire us in the battles to come!"
"I'mma say no.  Here, use these instead."
"My Lord, what is this book?"
"It's a first edition, handwritten copy of the FAQ to the new Codex Astartes.  I also signed it.  So it's technically very holy and inspiring."
"…That's great."
OK, so, with regards to the Bladeguard Ancient: Taking a whole Space Marine skeleton into battle is deeply, deeply, deeply silly unless 1) You are a Chaos Knight 2) You are a Chaos Marine 3) You are a Space Marine and still have the skeleton inside you.  So I cut off the skeleton and the hand held by the Ancient, and replaced it with a standard from the 30K Guilliman and a book I forgot to put on my Phobos Librarian.  This makes the model overall less silly, because carrying around a holy book like a lunchbox is less silly than carrying around a full skeleton.
With the Bladeguard Vets themselves, I replaced the Inquisition/Black Templar shields of the two squaddies with some 3D printed ones I picked up on a whim from Shapeways.  Owing to the way the Sergeant is built, I could not cut off that shield and replace it.  It's not as uniform, but oh well.  If I do another set of Bladeguard, I'm going to try and replace all three shields AND source some more heads to try and make them look more like Heresy-Era Invictarius Suzerians.  But we'll see.
-Eradicators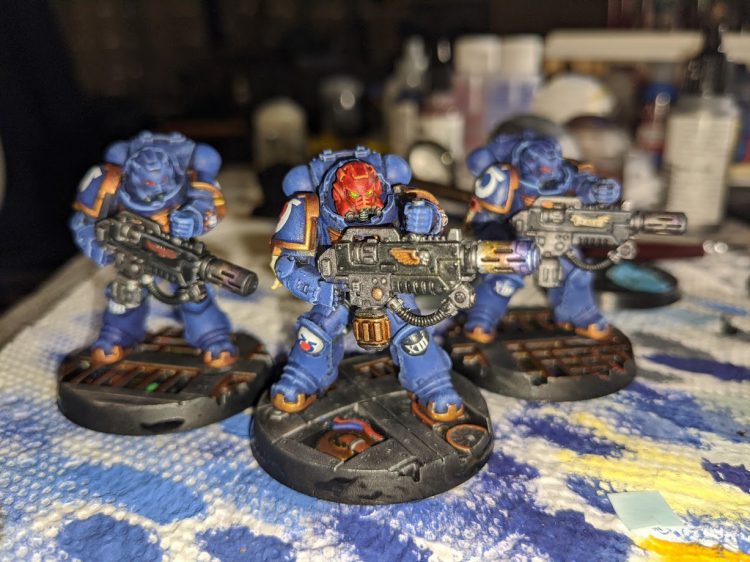 They're Gravis, They're Good, They're Space Marine Eradicators!  I was mostly trying out various varieties of cheap makeup brushes I got at Walgreens on these guys.
-Wolf Priest with Jetpack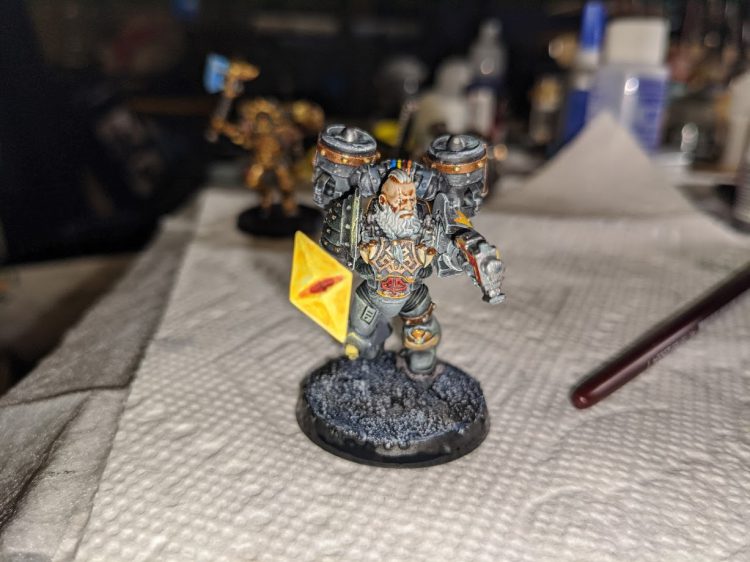 Firstborn Space Wolf Wolf Priest.  With a jetpack!  I had picked up the Space Wolves upgrade set from Forge World, and had a pack of Sequitors and Vanguard Vets gathering dust.  So I merged the two and poof, here comes a Wolf Priest with a lit Crozius.  There's some minor OSL on this guy, because I forgot to fully clean one of my drybrushes and some of the highlights on the right side were a bit more yellow than I liked.
-Sabre Tank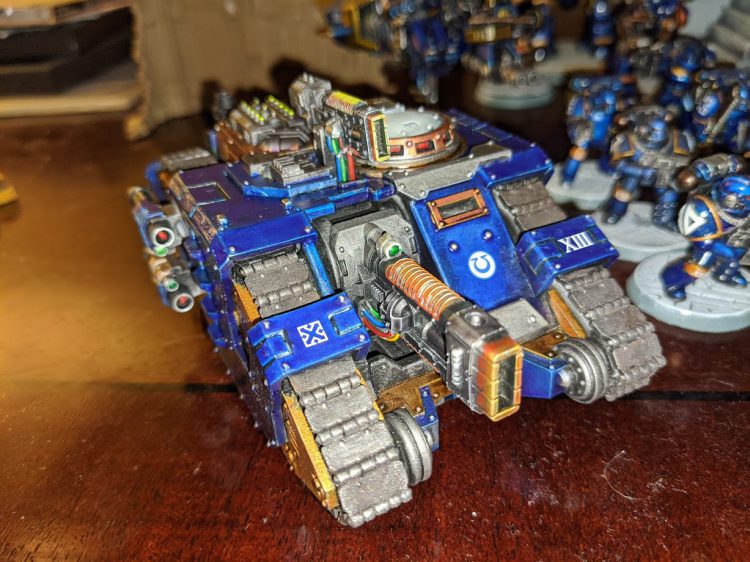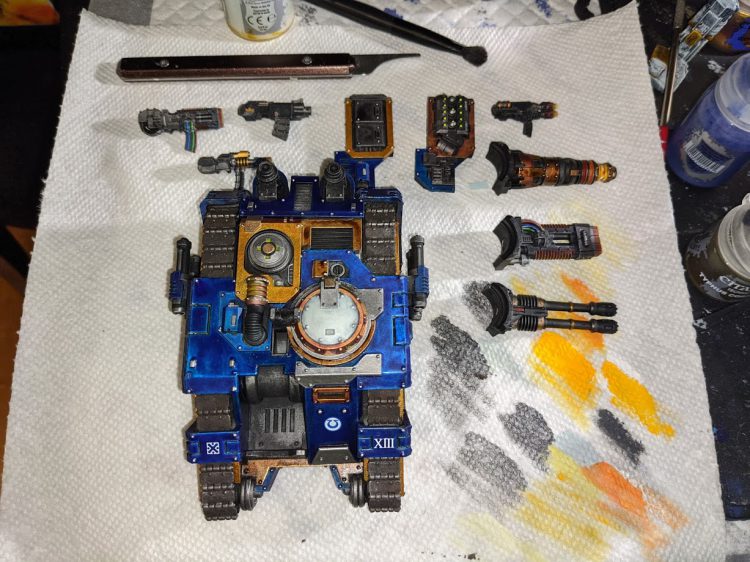 So I finally picked up one of these cuties.  I'm hoping that it gets 40K Rules in the upcoming Forge World index, but if not….it's still pretty nifty.  I magnetized all the guns (primary and secondary), and am using friction fit for the removable ammo panel up top.  It's pretty easy to magnetize the main guns, but the pintle gun is a bit trickier.
-Astraeus Super Heavy Tank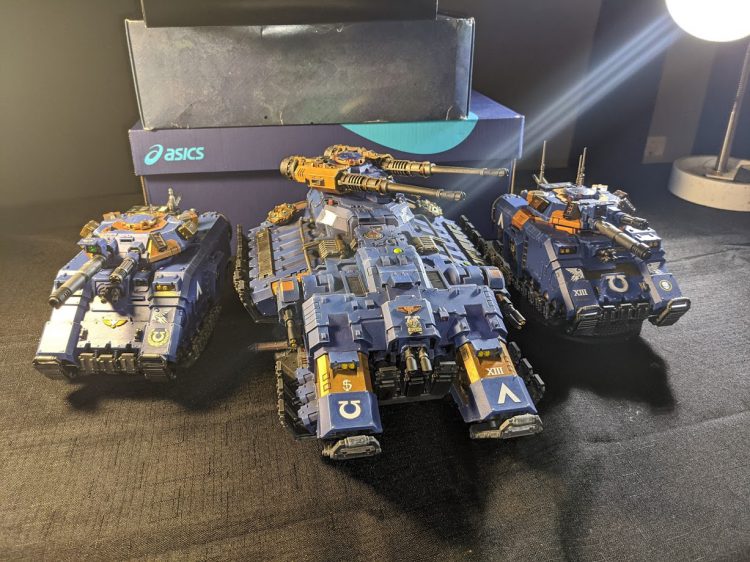 Greg is really good at peer pressure.  I did it similar to how Greg did his, except I just primed it black and drybrush/stippled up from a dark blue to a lighter blue.  I spent the time I would have spent at NoVa working on this bad boy, and I am quite happy with the result.  Now I need to figure out where to put it.
The Astraeus is more fun to build and easier to build than the Repulsor chasis.  Which is utterly insane.
PierreTheMime
With the addition of this unit of Plague Marines, my Death Guard army officially comes to a close. At least I thought, since I'll very likely be picking up a Lord of Virulence as soon as it hits stores. As I ran through the last of my bitz, I took some time to do some minor kitbashing to get some varied looks. Death Guard remain my favorite faction for hobby work, there's just so many interesting details and options.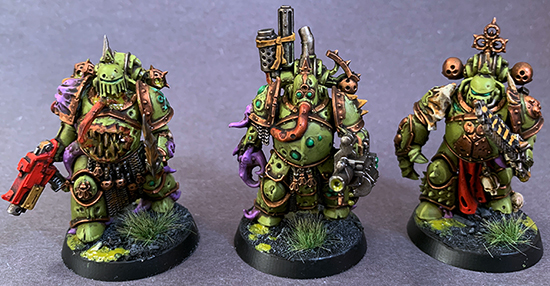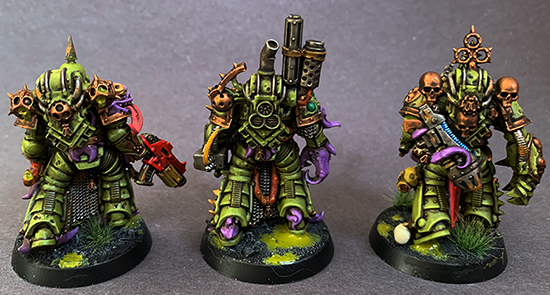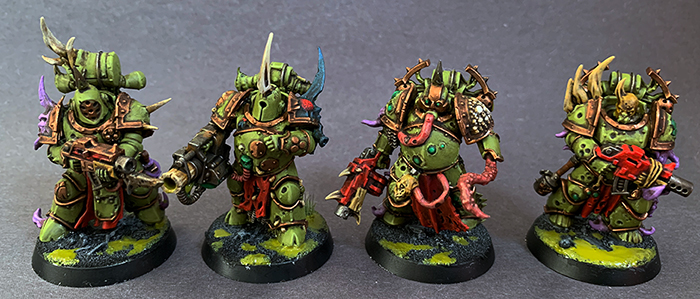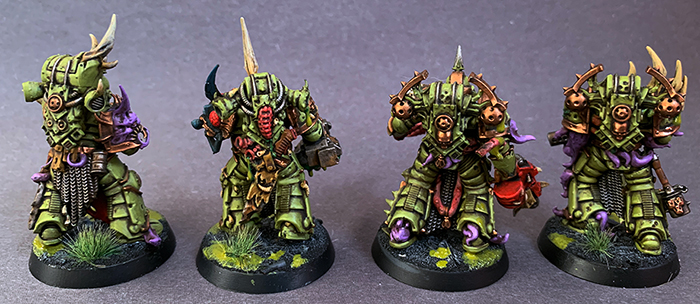 Meanwhile, I'm continuing to work through the Indomitus set. Every model in this thing owns and with the reveal of the other new Necron models recently I'm very excited to be painting grumpy robots for the foreseeable future.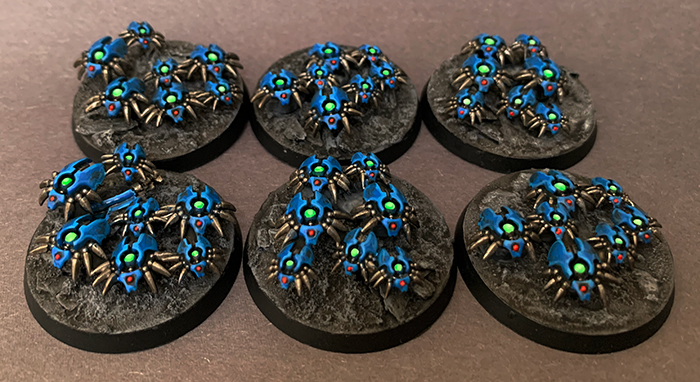 James "One_Wing" Grover
I have had an alarmingly productive few weeks, finishing up some bits for a 9th Edition Eldar list powered along by the promise of getting to go to some actual events. Jokes on me, because they're all cancelled now. I'm laughing, actually.
I guess at least I have some cool models to show for it, starting with my new handsome robot son below: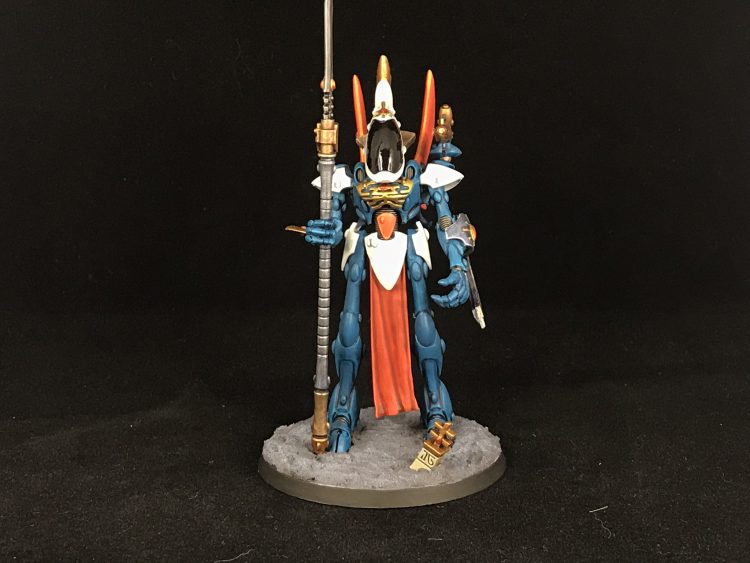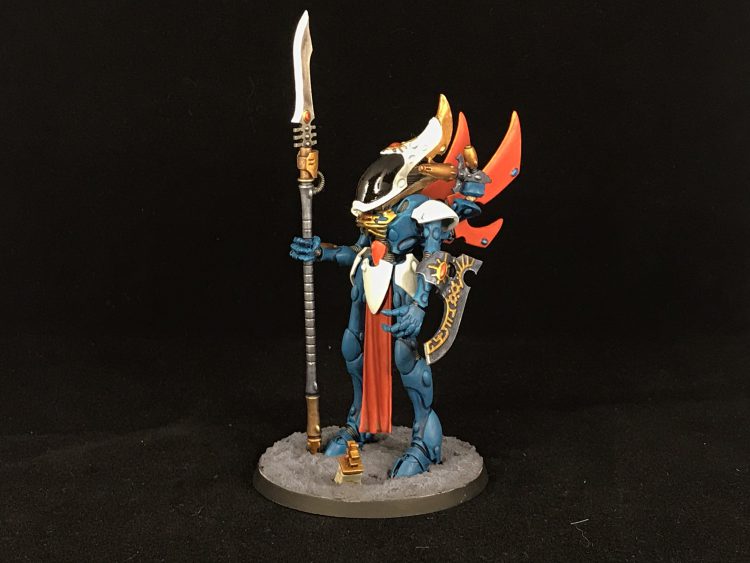 Astute readers will notice that this is not, in fact, my regular Eldar scheme. I'm pretty sold at this point on an Ynnari patrol lead up by this guy and the Yncarne as being a great tool for 9th, so picked out a new scheme to make sure the detachment was clearly distinct from my main force. My original plan had been to go with something that could be easily transitioned to my regular scheme if (or lets be honest, when) a silly gimmick build for this guy doesn't necessitate separating him out, but that slightly fell by the wayside as I got into it and the siren lure of bright orange called to me. I'm pleased with the result though, and the Wraithcannon is magnetised so I can stick the d-cannon on if needed down the line.
To flesh out that detachment, I've done a repaint on a couple other units.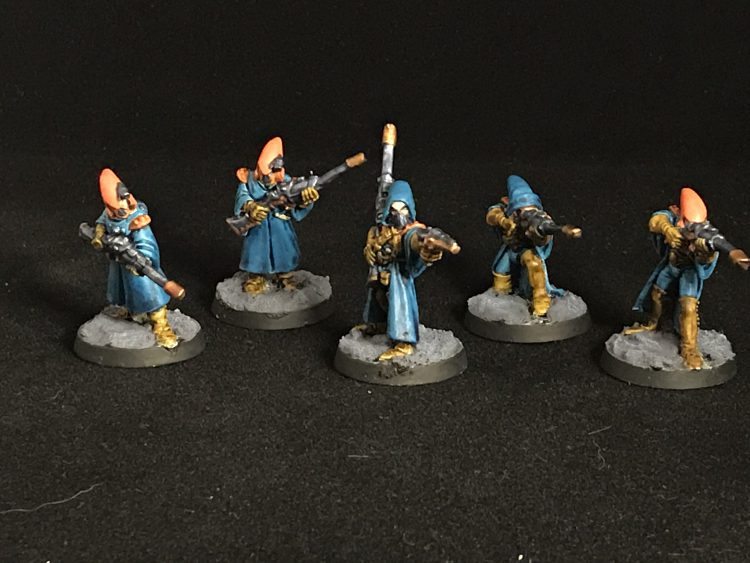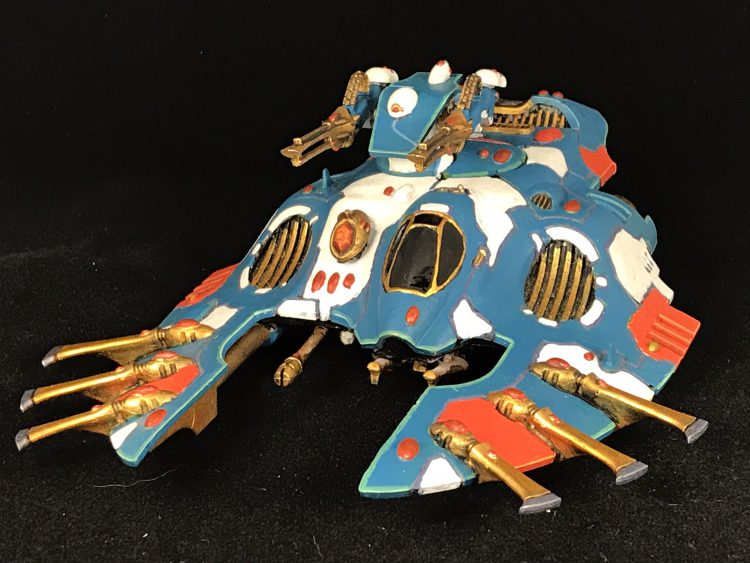 Not my most beautiful work, but these are very much in the "functional for meta chasing purposes" bucket.
Finally, back over in my main forces, I've got a couple new bikers. First up, I had the cunning realisation that I had parts I could put together to kitbash myself an additional Shining Spear Exarch, taking me from my squad of 9 to 2×5 (a strong configuration in 9th).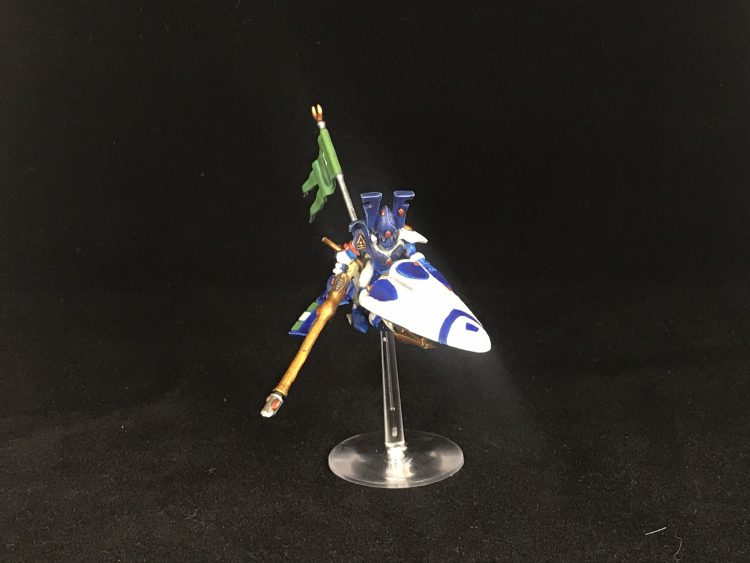 Because I'd built my second and third batches of three as all regulars, I actually just straight up had spare Exarch bodies and weapon arm. Combining that with a spare Windrider that has been languishing unused for years and a few other bits has given me a fancy looking leader for my second squad.
Last but not least, a second Bikeseer joins the ranks: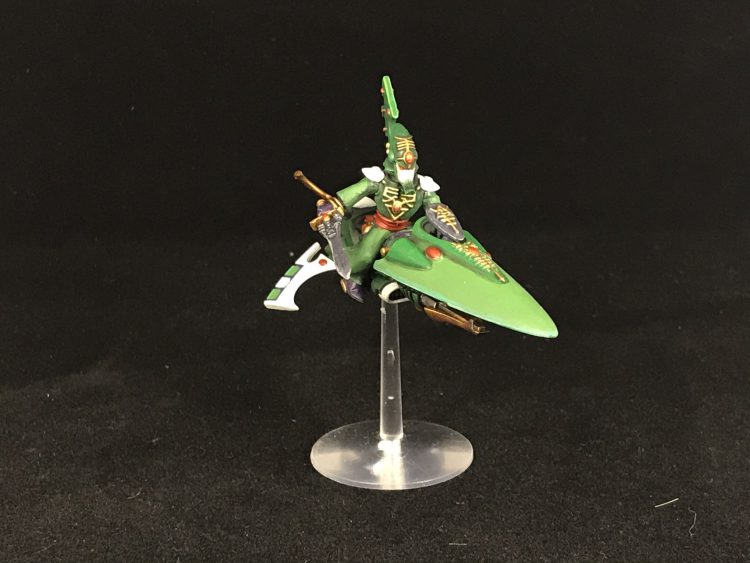 Craig "MasterSlowPoke" Sniffen
It has been a long time since I've been seen on one of these! Over the last few months I've moved from the mangrove swamps of South Florida to the frozen north that is Southwest Georgia. It's taken me a while to settle in, but I like it here and there is a nascent but enthusiastic 40k community here. I was slow getting back into the painting groove, but I just had to start with the excellent Bladeguard Veterans from Indomitus. Judging from my fellow authors above, this was not a unique idea!
I knew these models were detailed, but wow did they take a while! I knew that I wanted to steal a page from my friend SRM's excellent HTPE Heraldry article for the tilting plates. It was a lot of fun doing the checkers and I should be doing more often! I've decided that all master-crafted power weapons in my army will be done with rainbows, natch. I still need to get the hang of glazing, but every time I try it gets a little better.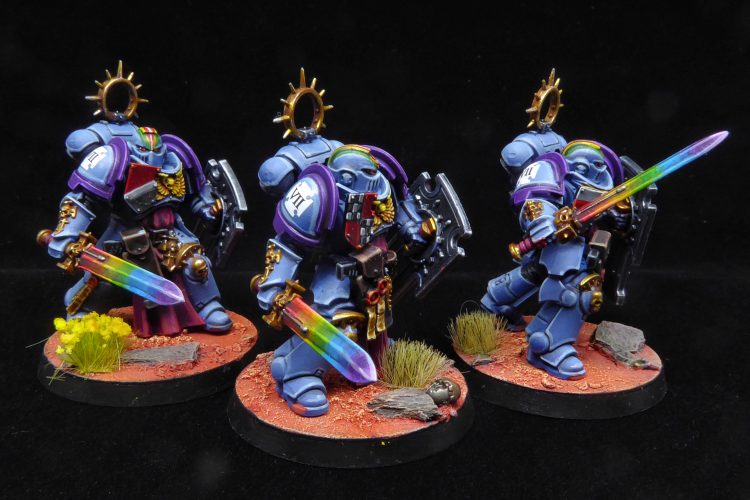 I'm going to be getting some Eradicators and a Judiciar painted for an upcoming local RTT. I'll be doing at least some of it on our Twitch channel, so be sure to give us a follow to check it out!