With the 2020 holidays nearly upon us, it's time to talk about gifts. Whether you're shopping for a loved one or a Secret Santa recipient, trying to keep things lowkey or looking to splurge, or just grabbing something for yourself, Goonhammer's got you covered with our handy gift guide. 
In this guide, we're looking at hobby tools and accessories that will appeal to the hobbyists you know regardless of what games they play.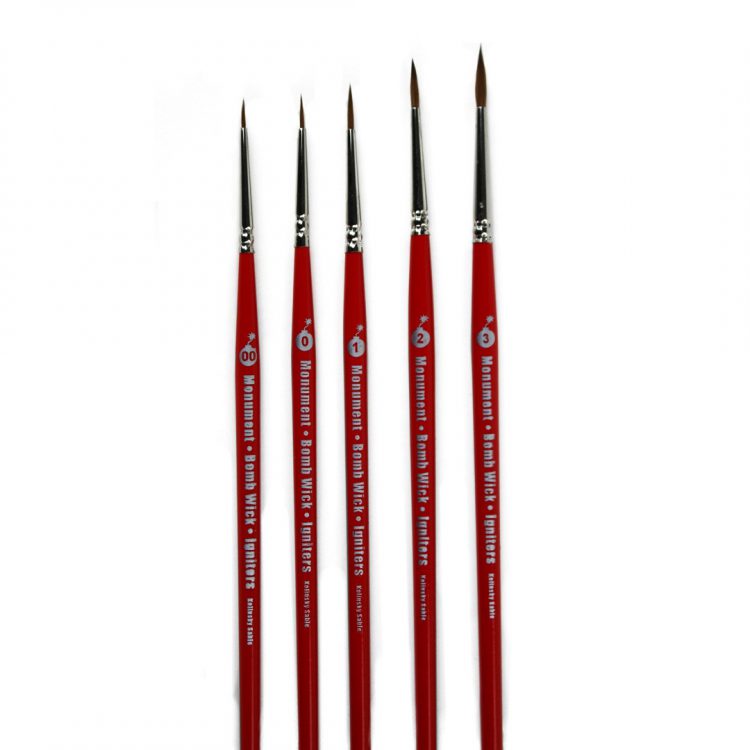 Stocking Stuffers
These small items are perfect stocking stuffers.
Silks: Brushes! You can buy an excellent sable brush for under £15 and it will improve someone's painting no end (or give them valuable spares if they already use them). A size 1 with a good tip should be usable in almost every circumstance. My personal favourites are Broken Toad MK3, Monument Hobby Igniters and Raphael 8404s
Pendulin: The Army Painter's Masterclass Drybrush set is a great upgrade for someone who is used to drybrushing with their old beat up brushes. It's a set of three different sized drybrushes that will cover the range from small infantry to large tanks. I use my set for cloaks, bases, and weathering, and they'd be a great stocking stuffer for any painter.
TheChirurgeon: Citadel paint handles are incredibly useful and I was surprised at how quickly I took to the idea of owning multiples so I can have several models on painting handles at once. They're small, inexpensive, and useful even if you already have one.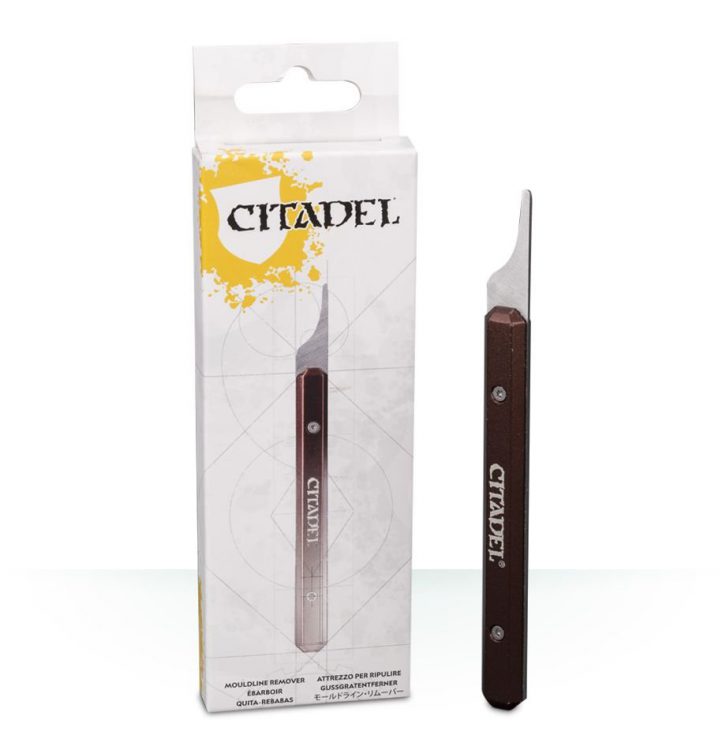 Entry Level
Here are some hobby items you can get for younger enthusiasts and newbies.
Silks: The Games Workshop build and paint boxes are an excellent way to get some nice to paint models and some relevant paints. A box of cheap makeup brushes also make excellent drybrushes that can be abused by tiny hands and still provide excellent results! A basic plastic pallet from any hobby store is excellent for beginning to learn how to thin and mix paints.
That Gobbo: The Citadel Mouldline Remover may look like an overpriced chunk of metal but you'll be surprised by this simple little tool. As it says on the box this thing annihilates pesky moldlines you'll come across often in assembling miniatures, especially when working with older kits. More effective and safer than a hobby knife, this is a must-have for most anyone doing miniatures. 
TheChirurgeon: I'll second the mould line remover as a great pickup. Another great pickup is a hobby lamp – everyone needs good light for painting and I've very much enjoyed this LED lamp with a magnifying lens from Neatifi.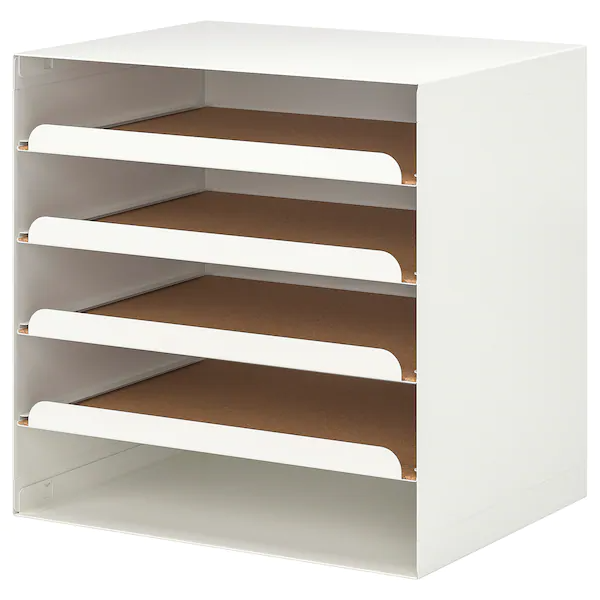 Intermediate
For people who have been doing this a while, consider one of these.
Rockfish: The meanest Citadel paints holder that has ever existed: the kvissle letter holder from Ikea. It's like 30 bucks Canadian something that is the perfect height for holding both the small pots and washes. Its not perfect but it's pretty hard to beat if you are looking for something not too expensive or large for holding paints in.
SRM: The Everlasting Wet Palette is an absolute game changer. Whether you're purchasing it as an upgrade from a homemade wet palette or it's your giftee's first time using one, the Everlasting Wet Palette is a fantastic tool for any miniatures painter. I was gifted one last year and since then my painting has been smoother and more consistent than ever. A palette and some extra paper for it won't set you back too far, and it's something any painter can enjoy.
Pendulin: If the Everlasting Wet Palette is out of your price range, then a Masterson Sta-Wet Palette fills the same niche for much cheaper. Though the Everlasting palette is of significantly higher quality and has much more of that holiday "Wow!" factor, a Masterson palette is still a huge upgrade over painting straight out of the bottle.
Silks:Buy an everlasting Wet palette already! I'd also look at upgrading some of your paints away from Citadel. GW paints are excellent but some just don't cut the mustard, the metallics especially. Scale 75 metallics or Vallejo Metal Colour are absolute game changers for your metals. Scale 75 do several box sets of different hues of metal. The other thing to seriously consider is an airbrush kit. These are game changers and I personally wouldn't consider a hobby project without mine now. If you don'twant to worry about getting all the correct bits a complete kit is an excellent idea. I would very much recommend a Harder and Steenbeck Ultra based kit such as this which comes in at under £130 
Pendulin: Buy the Scale75 Metal and Alchemy Golden Series box. The paints in that box are magical.
That Gobbo: For those like myself that absolutely despise sanding model kits, I would recommend the SPN-120 God Hand nippers. These babies will cut through those nubs like a hot knife through butter leaving a smooth surface behind. Are they overhyped? Are they a bit much for miniature kits? Maybe a little. But these are some of the best single blade nippers you can get. They pair very well with a set of workhorse double blade nippers which are used to remove pieces from the sprue while the God Hand is used to take off the nubs. I'd recommend avoiding Amazon when purchasing these as bootlegs do show up now and then. And if the $50-$60 price range stings a bit, USAGundamStore and Gundam Planet both have their own roughly equivalent versions for about $35. 
Basing materials such as grass tufts, weathering powders, and tubs of texture pastes can help inspire and push bases to their next level. Army Painter and GamersGrass are good sources of grass tufts, GamersGrass in particular has a number of interesting ones ranging from flowers to fluorescent alien plant life. Ammo MIG also has a line of various realistic leaves and plant life that work in scale with 28mm to 32mm miniatures. 
Weathering pigments are an easy way to add a little extra oomph to a base and when applied to the legs of a miniature can help achieve an effect that they've been traveling through the dirt, sand, snow, etc. I'd recommend checking out pigments from Armored Komodo, Vallejo, and Ammo MIG. Tamiya also makes small sets of weathering powders that work great for smaller scale projects. 
Citadel texture paints are fine and good but at some point when you're looking at basing an entire army that can get expensive. Thankfully Vallejo and Liquitex produce tubs of many different types of texture pastes that work great for most any type of environment you want to base miniatures with.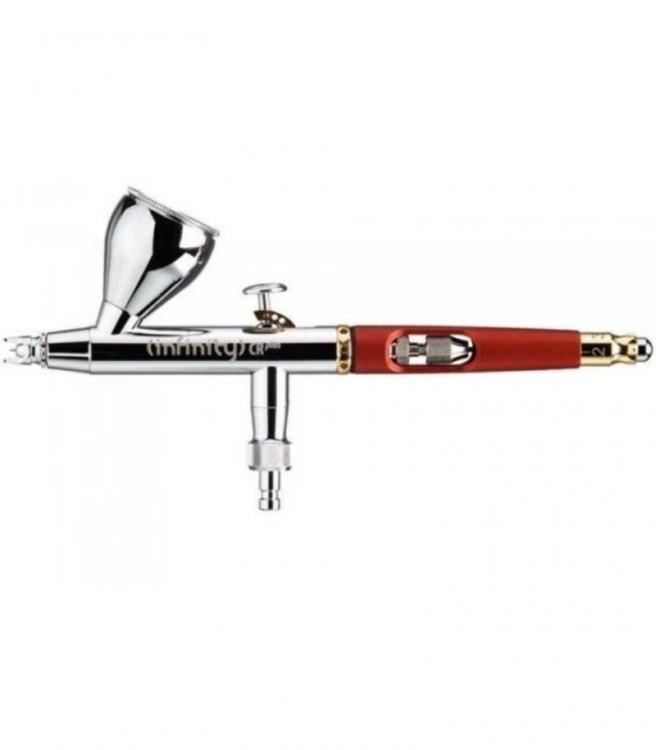 For Experts
For the expert modelers/painters who have all the paints they need in your life, consider:
Silks: Oils! Ok, they're still paints but how many of us have oil paints in our toolbox? They're becoming a major thing in the world of miniature painting these days and there's so much you can do with them. Windsor and Newton do a range which is very well regarded! A fine detail airbrush is also an excellent addition for a hobbyist who has a basic setup. My personal recommendation would be a Harder and Steenbeck Infinity.
TheChirurgeon: Making your models look great is only half the battle. Photographing them is something that hobbyists may overlook, and having a good lightbox is a complete game changer when it comes to taking photos of your minis. I use a portable lightbox with LEDs in it similar to this one but the sky's the limit here and you can supplement a purchase like this with extra lights if you know the recipient has more space to work with.
Looking for more?
If you're still looking for more, be sure to check out our other holiday shopping guides for different games and categories – we'll be posting them all week and doing a round-up on Friday. And if you have any questions or feedback, shoot us an email at contact@goonhammer.com.