Our friends over at the art of war have been getting really into streaming recently and have decided to have a little invitational inter-team throw down this week. And any time you put eight of the best 40k players in the ITC into an event and have them square off, it's worth at least some discussion. So we're happy to announce that this week we'll be covering and talking about the AoW Streamhouse RTT 2022 event.
The Streamhouse RTT is a three-round, 8-player event taking place at the Art of War house between March 2nd and March 6th, with each player taking a different list representing one of the game's top factions. Here's the lineup:
Richard Siegler (2021 ITC Rank: 1st) – T'au Empire
John Lennon (3rd) – Adepta Sororitas
Brad Chester (4th) – Craftworlds Eldar
Jack Harpster (7th) – Adeptus Custodes
Mark Perry (13th) – Orks
Nick Nanavati (16th) – Genestealer Cults
Quinton Johnson (20th) – Drukhari
Blake Law (537) – Tyranids (Crusher Stampede)
Players have been paired off by seed, and games will be streamed throughout the week on the Art of War YouTube Channel.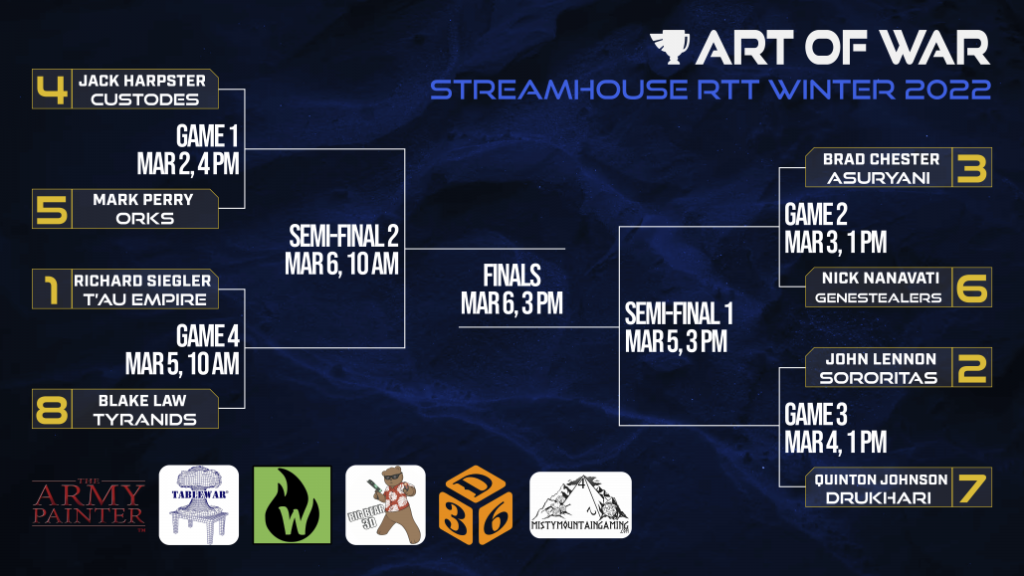 It's sure to be an exciting event, with some interesting points to be made about the meta – particular if Jack can find a way to upset Siegler. We'll be covering the games all week, starting tomorrow with our preview of the lists. So stop back by as Wings and I talk about each player's list and handicap their odds of winning the whole thing. Then check back on Thursday, Friday, Saturday, and Sunday as we recap the games and then feature the winning list in next week's Competitive Innovations.
Finally, if you're interested in signing up for the Art of War's exclusive War Room service, they're currently offering a discount – just sign up using the code Streamhousertt22 to get 20% off your first month of either the War Room or the War Room + Podcast bundle.
Have any questions or feedback? Drop us a note in the comments below or email us at contact@goonhammer.com.