In Hobby Heresy, we look at conversions, kitbashes, and other custom projects by Goonhammer authors and explore the thought processes behind them and the work that went into them. It's part hobby showcase, part tutorial. Last month we took a look at SRM's Ultramarines Chapter Champion which absolutely rules, but let's be real: why build a Smurf Duelist when you can be a whirling dervish of death as a White Scars Chapter Champion?
I've started working on a White Scars crusade list and ever since the Space Marine codex dropped last year, I was enamored with the Company Champion and then thrilled to see the much cooler Chapter Champion from the Ultramarines Supplement get largely ported over to Faith and Fury and now to the 9th Edition Codex. So I knew I wanted one for my army and I knew it merited proper thought and care to build a Whirling Dervish of Death worthy of leading my fledgling force.
The Build
For any project like this, which is to say a custom character, the first step is deciding what base body you will use. I knew I wanted something dynamic, a Marine striding forth into battle. Lucky for me, I'd purchased every Primaris Lieutenant GW had released thus far in the hopes I might find a use for them someday. And lo and behold, Blood Angel Lieutenant Tolmeron was a perfect candidate.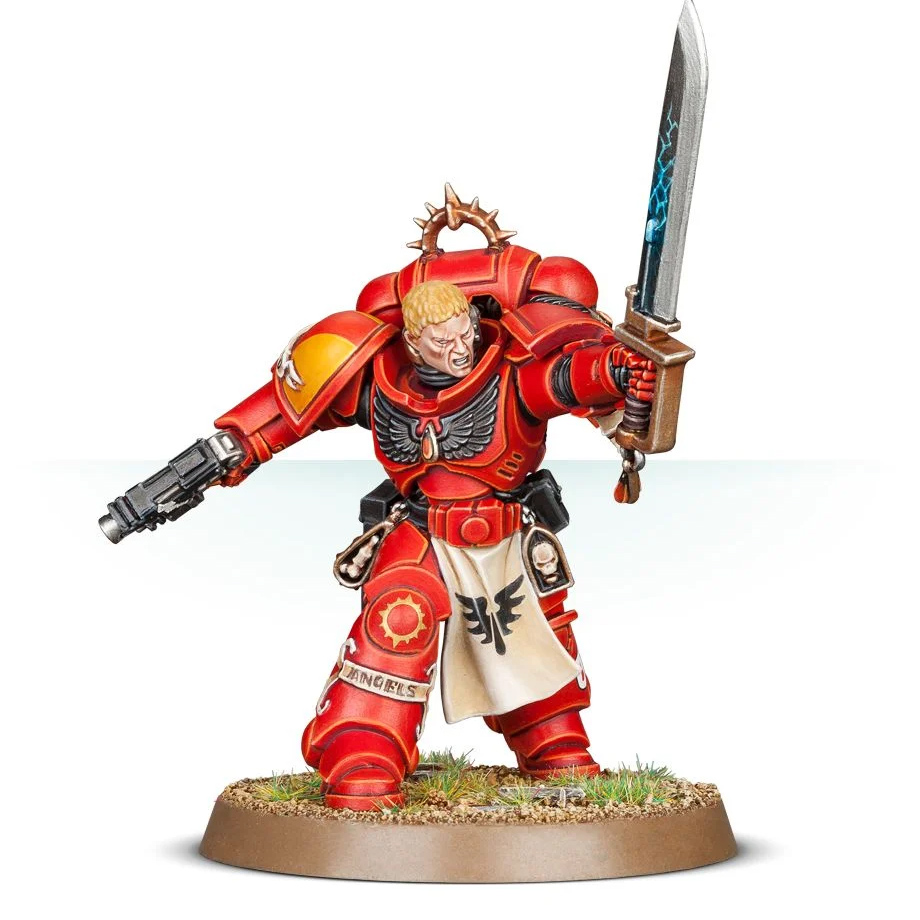 He's striding forward and I really liked having a tabard to add some color to (since the mini would be mostly white), and aside from the blood drop on the chest, there was no chapter-specific molded detail to scrape off.
So step 1 was to get rid of the blood drop and replace it with a lightning bolt. I'd considered sculpting one with green stuff but ended up taking a much easier route, repurposing one of the hanging icons from a bit in the White Scars primaris upgrade sprue.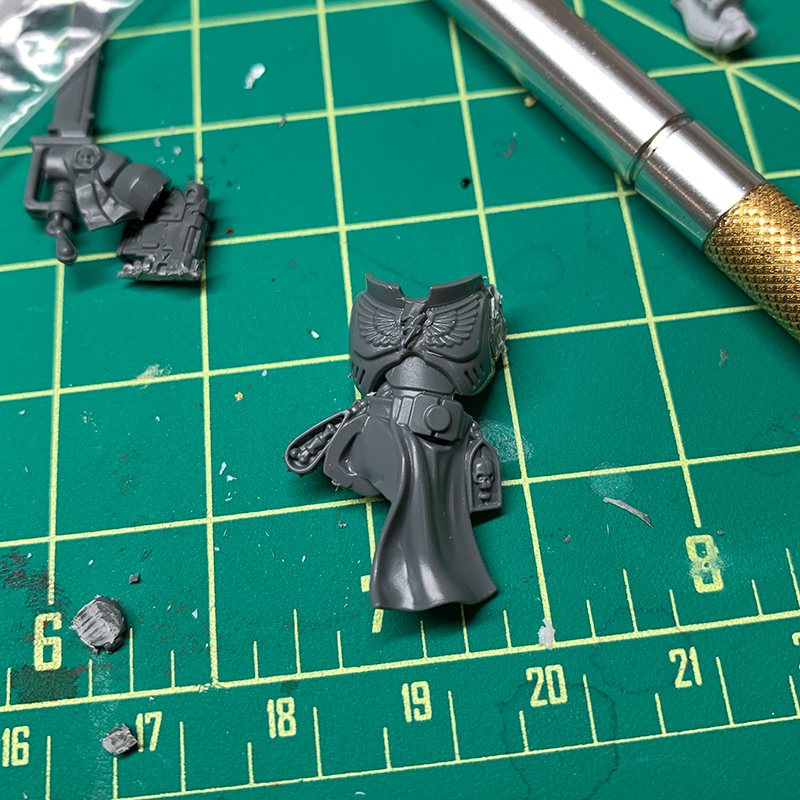 The left shoulder was also molded on to the torso so that had to be removed as well. Once I'd glued the legs on, it was time to figure out the rest of the model. Obviously, I wanted some White Scars-y blade weapon(s?) and a cool helmet. The latter was taken care of by some resin helmets I'd bought on eBay from a shop called Liber Daemonica that does really cool helmets and shoulder pads for different Space Marine chapters, among other things. Because I am an idiot, I had also bought all the White Scars Horus Heresy characters, so that gave me some additional bits to try out. Here was my first iteration: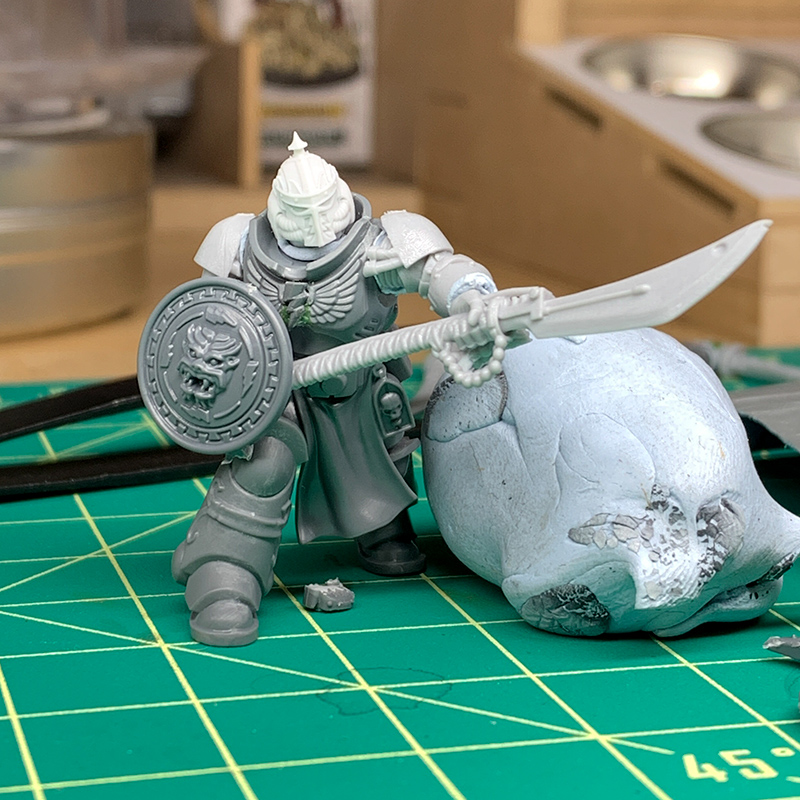 I'm very fortunate to have a group of hobbyists I can turn to for advice so as I was playing around, I was posting my iterations to discord and getting real-time feedback, which was immensely helpful. Initial feedback on this first concept was that it was too "captain-like" and certainly it doesn't scream "duelist" to me in any way. So I scrapped it, though I think it has promise for a Lieutenant down the line.
Ultimately I ended up using the chainsword arm from the White Scars sprue and Tolmeron's original right arm along with the two swords from Qin Xa, the Horus Heresy character. This gave me the duelist look I was going for and the reverse grip on the right-handed sword really sold the "whirling dervish" look.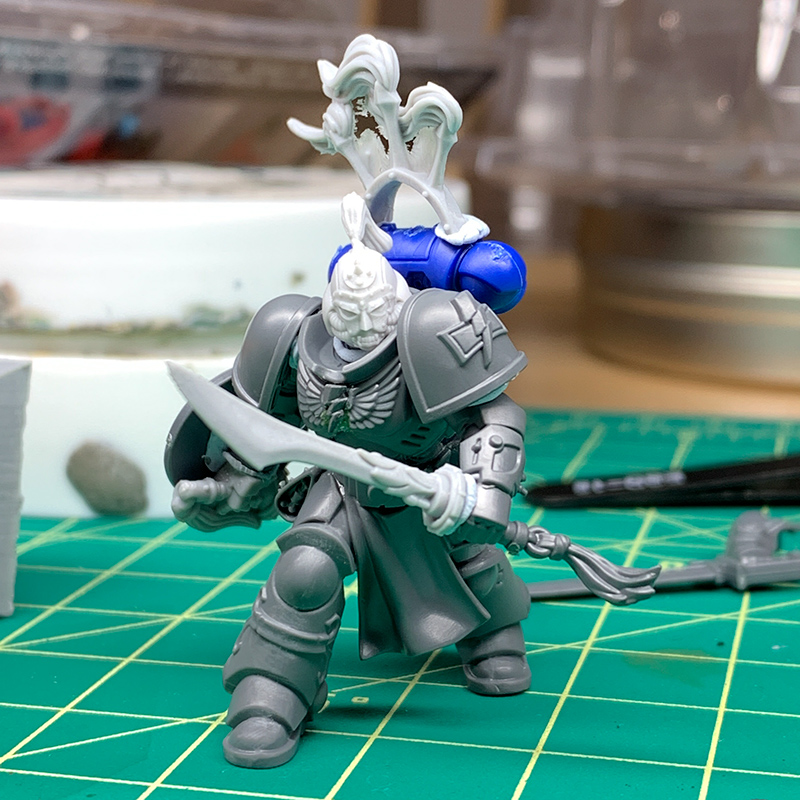 The decoration on the backpack came from the terminator praetor HH character. I then slept on it and came back to it the next day to actually clean up all the pieces and glue things together. Blue-tack is essential for projects like these!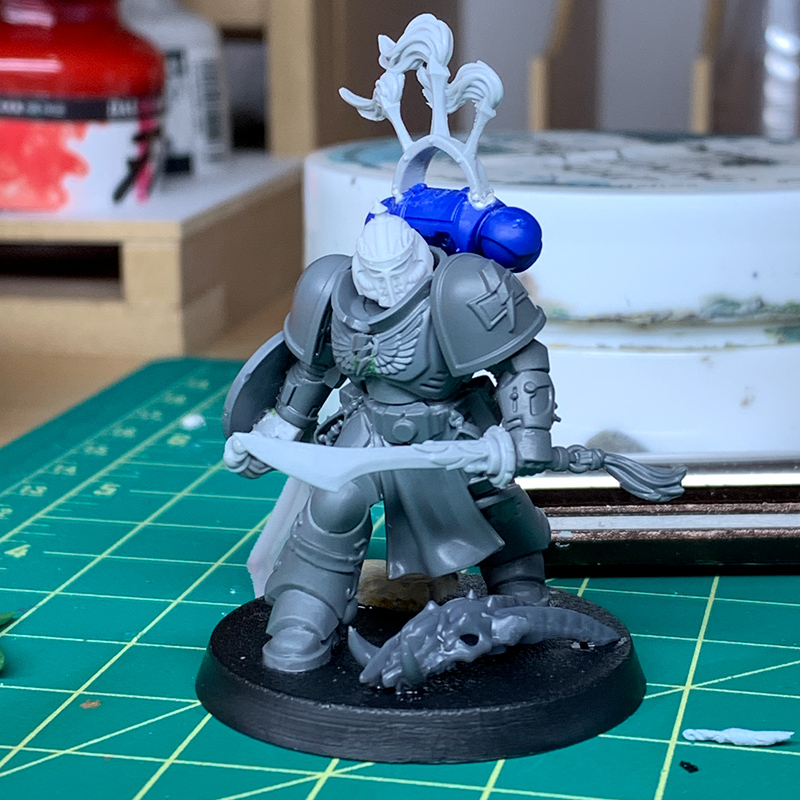 In my final version, I reverted back to the helmet from my first iteration and I'm glad I did! I think it works a lot better, particularly with the top knots on the backpack. I also went ahead and decorated the base. I've been doing skulls on the base for sergeants and figured the Chapter Champion should also have a skull, but a way bigger one! I took one of the beast skulls from GW's big box 'o skulls and then cut down the antlers with the intent of piling sand around the skull to make it look half buried.
Priming a project like this is super satisfying. You have different colors of plastic and resin and so once you put a coat of primer on it finally comes together and looks like a real model and not just a random collection of parts.
The Paint
Painting this guy was pretty straight-forward. I knew I wanted to stick to a White Scars Veteran scheme with red shoulder trim and a red helmet. I also knew I wanted to do some gold trim on some parts to really sell that this guy was special. The biggest question mark for me was the chest aquila, where I was torn on whether to do it all red or red/yellow or red/gold. Fortunately, I got great advice from other and also I decided I wanted to paint the swords a vibrant blue which made it clear to me how to proceed with the chest.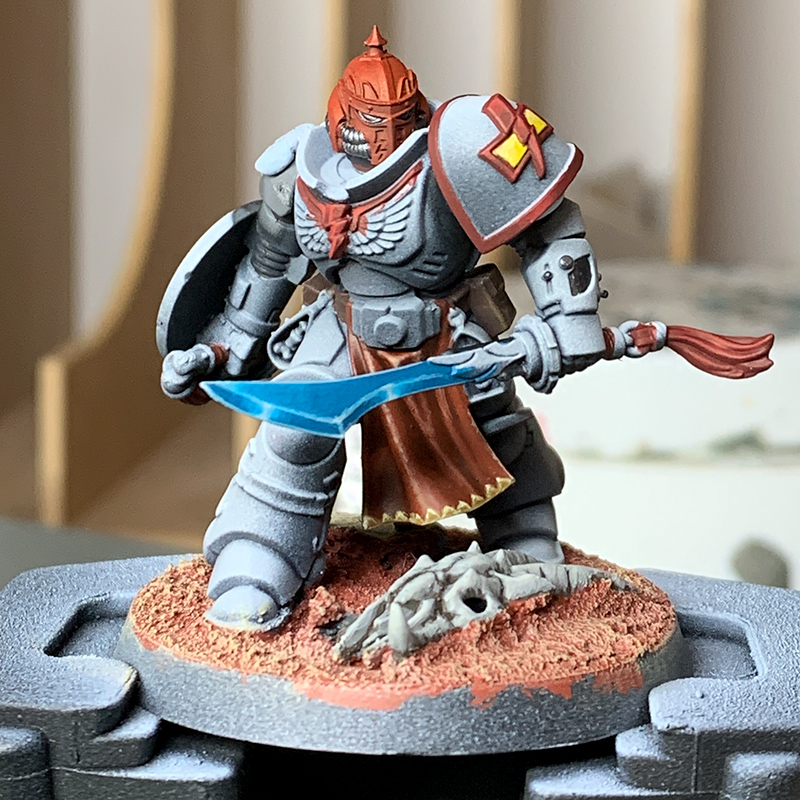 The red on the chest and blue on the sword presented a great opportunity for a primary triad so I decided to go with gold for the wings and that would also match the red, blue and gold on the swords themselves.
For the tabard I went with an earthier red than the helmet, shoulder pads, etc. to help distinguish it as a different material. I'd originally thought to do some complicated free-hand on it but with the sword painted and in place I realized the best thing I could do was some trim on the bottom which would then frame the sword with gold on the chest and gold-ish on the bottom of the tabard. Anything more complex on the tabard would just get lost behind the bright blue sword anyway.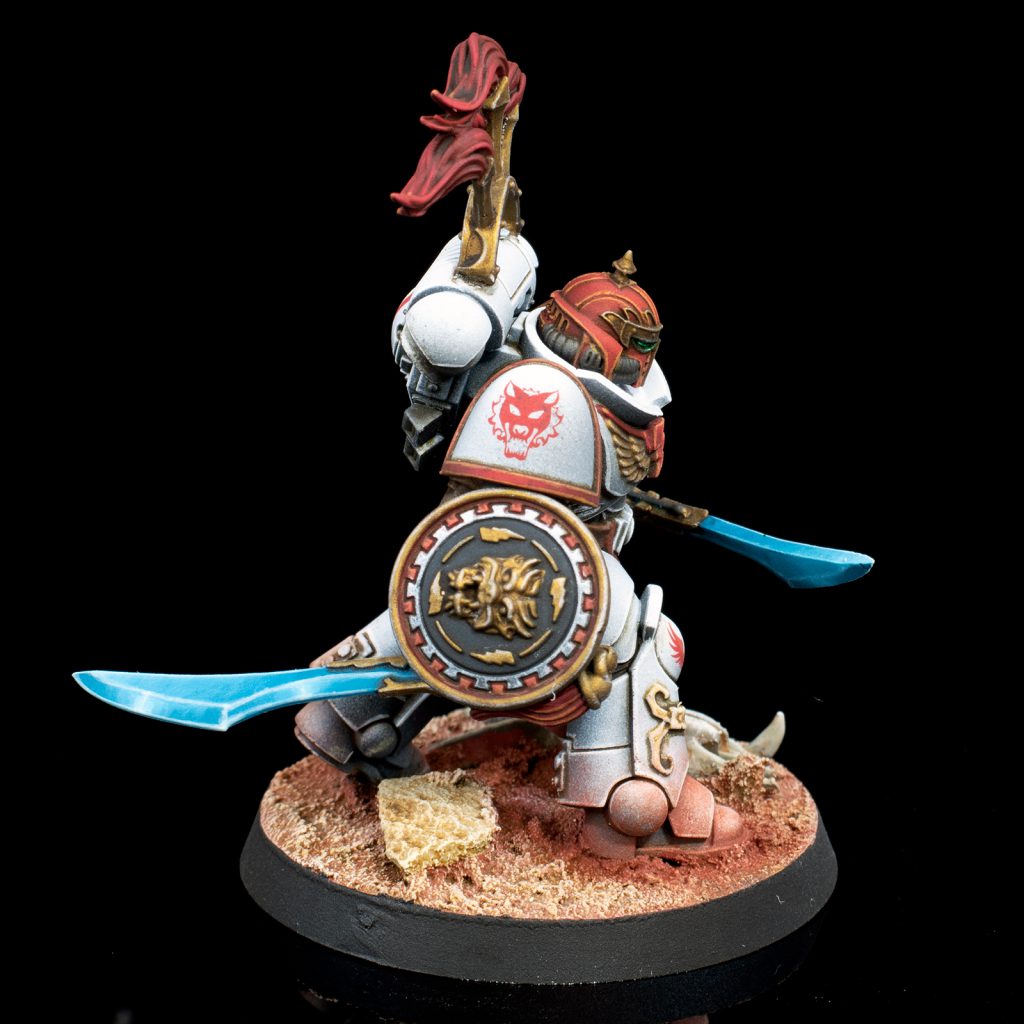 I used the shield from the Kill Team Cassius White Scars dude as a buckler for my champion and I like how it added some visual interest to that side of the model, it's also a very cool bit. For the shoulder pad instead of just a skull to indicate the command battlefield role, I used what seemed like the equivalent from the FW decal sheet for White Scars. The red on those decals also better matches the red I use for my models, which is a plus.
All in all, I was really happy with how this guy came out, and he certainly stands out from the rest of my burgeoning army (which is admittedly just 6 other models). I'm not thrilled with how I ended up gluing the head but I can live with it. I went pretty light with his armor weathering compared to my usual. In my head this dude weaves in and out of battle with such mastery that he barely takes a scratch.
I can't wait to make him a Chapter Champion in Crusade and see what battle scars and honors he accrues over time. And I definitely feel inspired to do some additional custom characters for this army going forward!