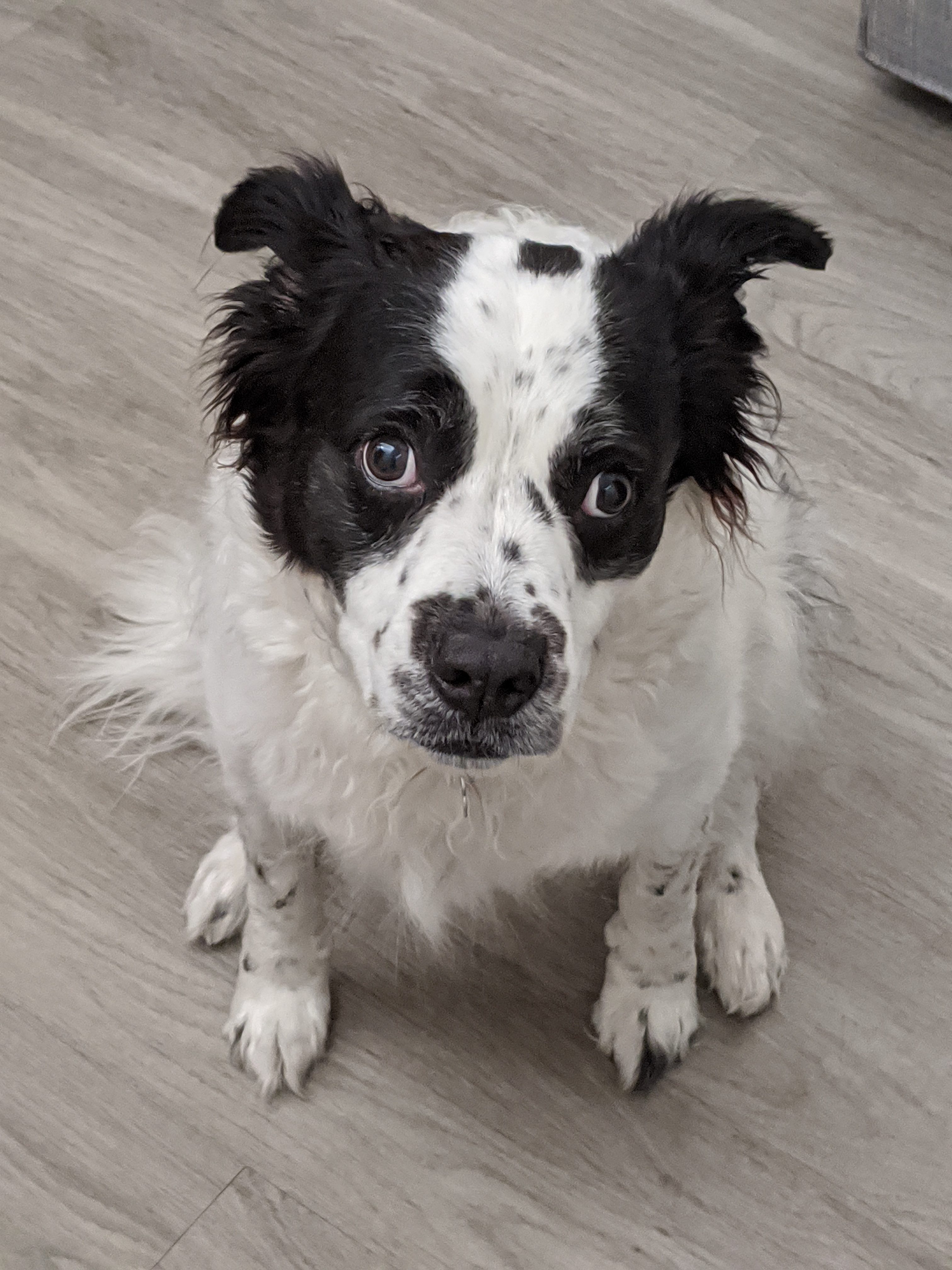 Reader, I have fired up BLOGATRON 9000, a robot created solely to make VIRAL content again, in addition to people loving RANKED LISTS, said that people love to see DOGS and CATS on the INTERNET.
With this in mind, I have raided the Codahammer discord for it's best pet pictures and will be ranking them out of score of 5, along with a pro and con list. BLOGATRON 9000 has informed me that this is the only sane course of action. Also the others aren't awake to say "Tyler this title is too long, in fact we are pretty sure it's 3 titles and you couldn't decide which one to use."
With the intro out of the way, let's get to what we are really here for. Cool and good pictures of pets.
MURPHY!
Murphy takes care of Goonhammer's resident Adeptus Titanicus guru and editor Garrett "John Condit" Severson. As you can see, he owns. Photos of Murphy are known to wise scholars as 'Murphotos'.
It is rumoured that Murphy has 4 PHDs and has successfully mastered space time.
Pros:
Is a very good boy
Can shoot lasers out of his eyes
Very Powerful
Cool Spots
Knows what chair is comfy
Cons:
Bonus:
Can operate a dead bolted door. Seriously he locked Garrett's sister out of his house one day.
Rating: 6/5. 
Noomi!
SRM writes:
Pros:
The most powerful cat.
40k Badcast Co-Chair. Has powerful opinions on hams.
Did I mention she is very powerful?
Total catte dominance of SRM 's house.
Yells a lot to assert said dominance.
Cons:
Noomi can be a bit agr–fjsdoghidfahgedtasohj OH GAWD MY EYES.
I MEAN SHE HAS NO CONS, NONE AT ALL. MOVE ALONG CITIZEN. 
Bonus:
I'm totally not afraid of this cat, that lives on the other side of the planet. I'm not locking my apartment door right now I swear.
Rating: 6/5. 
Snow White and Gepetto
Noted tech heretic of 3d printing Head58 writes:
No thank you Head58 for telling us about these cool and good cats.
Pros:
Majestic
Could hide in snow, very important.
Teamwork
Fur looks very good to pet
Appear to be chill
Cons:
Bonus:
Imagine having one cool cat. Now imagine having *two* cool cats. Amazing.
Rating: 6/5. 
Nisse!
Here's Nisse, protector of Groetgaffel who says he is "the most tolerating cat I've ever seen, and he loves belly rubs." pressed further by my elite internet journalism powers, Groetgaffel says "You can even poke his toe beans and he doesn't care."
High praise. I'll take my pulitzer prize now.
Pros:
Very 'boop'-able
Very kind
Graceful sleeper
Very pettable
Probably knows the secrets to the universe
Cons:
Bonus:
No one sleeps like quite like Nisse. See attached.
Rating: 6/5. 
Codex!
Codex is the most powerful streaming cat ever designed. She graces not one but two streams of the best warhammer content out there (WHTV and The Hobby Room) with her presence. Codex allows Ben and Ceri to live in the same house as her and accepts tribute in the form Black Templar contrast paint.
Pros:
Licks feet and steals socks like a pro
Makes adorable noises on stream
Does whatever she wants, when she wants, like guarding you when you pee
Knows how to take over any bed at any time. Steals any seat, totally disregarding the 3 second rule
Is friends with the rabbit that lives in her house
Cons:
Scientists are unable to find any negatives to codex.
Bonus:
Too powerful to be FAQ-ed. Take that Iron Hands. See attached when she was falsely apprehended and accused of walking though Ceri's paint pallet and onto her jeans.
Rating: 6/5. 
Lilly!
John "Immanentized" Curtin writes to Codahammer: "Lilly is the perfect companion animal and looks amazing doing it. Additionally, her only vocalization is a small, but penetrating squeak, letting you know she has found that reiver head you dropped"
Adorable. It's easy to see why Lilly is noble, majestic and graceful.
Pros:
Rumoured have powerful fluff that is on par with Big Noomi. Don't tell Nooms that I typed that.
Cool eye patch thing going on with her fur
Helps you find bits of your hams when you drop them. Makes adorable noises!
Effortlessly majestic. Seriously look how she gazes out of that window
Loves the smell of GW plastic
Excellent table manners
Cons:
None. Seriously look at her.
Bonus:
Demands, and receives her own pillow at night
Rating: 6/5. 
Ash and Misty!
My struggle against the false admin "Corrode" is long and obviously morally just in every way. It's totally not motivated that he made the goon discord literally 2 minutes before I did and therefore obtained the REAL INTERNET POWER of being a discord admin. This is power that only, I, Coda should have.
However consider the following:
Ash and Misty own. Look at those adorable voids. I bet they are probably friends with fellow void Codex. I bet they all have cool and good adventures together and fight crime.
Pros:
Names remind me of Pokemon.
Could elect to become two black holes, literally dragging the earth into abyss but yet don't
Know the tactical advantage of working together to seize the methods of sleep production in their house
Very good ears, also would probably be down with forming a collaboration government with my new regime
Head looks very good for scratches
Cons:
Bonus:
Able to take over jumpers and beds, simultaneously at will
Rating: 6/5. 
Primaris Captain Hook and Baron!
Noted Goonhammer, sorry CODAhammer-er Ryolnir writes:
The big honking dark colored ham is "Captain Hook" or "Primaris Captain Hook" as my wife calls him now because he's so big, and the pink-nosed ginger is "Baron". Both of our cats were adopted with their names intact and both of them have titles. Captain is named after his mutated paw (he's missing a bunch of toes and has a giant velociraptor dew claw) and Baron is named that because… I don't know. It sounded cool to somebody. We have agreed that we will not rescue another cat unless their name is "Sarge" or "Fleet Admiral"
Pros:
Double your cat, double the POWER
Literally could lead an army or navy or a small province with those names.
Giant velociraptor claw is a handy trait to have
Names so strong that they probably adopted their humans
Well look forward to the doggo or catte named Sarge appearing in next year's CODA DAY post.
Cons:
I can't speak ill about a literal noble and a ships captain!
Bonus:
As you can see, both cats have obtained the powers of sonic the hedgehog when he does that spin thing.
Rating: 6/5. 
Obiwan!
Obiwan's human Naramyth writes that "He is 13 and is pictured wearing his festive bow tie. He likes being outside so he can eat and throw up all the grass in addition to being a puddle of catte. He like bread, carrots, and sunlight."
Pros:
Fashionable bow tie. This is a cat with skills.
Totally beat General Grievous and Darth Maul in single combat
Able to transform into a puddle at will
recycles, mulches and composts your grass
very cute spots
Cons:
Bonus:
Obiwan is a master of the form III lightsaber fighting style, this is very cool and very good.
Rating: 6/5. 
In Conclusion
The pets of Codahammer are a land of contrasts. All of them are equally, 'the best'. Thank you for your time.
Also don't tell Noomi about this please.
If you liked the pets here or better yet have cool doggos or cattes of your own, do the comment thing or send email to  contact@goonhammer.com  or better yet tag us on Twitter or hit something with the #goonhammer tag.
As for me you can find me:
Twitter – Where I post models and like things!
Insta – Where I forget to post models and sometimes like things
Twitch – Where I stream painting models and make a fool of myself for fun.