Attention troopers! Welcome back to the black company, the place where the best Kill team players are forged. We're big fans of building communities here at Goonhammer, and we've long held that one of the best things about competitive play is the way it builds strong communities. But that takes a lot of work and expertise, and we often have players ask us how they can build their own communities.
So today we have the opportunity to get a little closer to the Spanish community and talk to one of the architects of it's creation: We're interviewing Tabletop Warzone, one of the main tournament organizators in Spain. They're located in Madrid and have been organizing and creating community for a few years now. So whether you're a new TO looking to start a community or an older hand looking to expand, it's worth lending an ear to the advice from Tabletop Warzone.
First of all congratulations for having achieved such a huge community – the biggest in the world at the moment for Kill Team! So let's start by talking about the Spanish community – can you tell us a bit about them?
Thank you very much Ace. Well, I only have good things to say about a community as committed and healthy as the Spanish. At least in Madrid we have invested a lot of desire and effort to make it such a big community – but one that above everything values fair play and helping each other out.
How do you guys manage your events?
After two years and on the way to our third (wow, time rlies), we have created a very efficient methodology for each event. Between Zephi (the other tabletop warzone member) and myself, we complement each other very well so that each one of us performs certain functions for each event to be well organized. Starting from the promotion of the event, through the management and sending of updates and notifications, to the awards ceremony, we have everything scheduled as accurately as possible to minimize errors.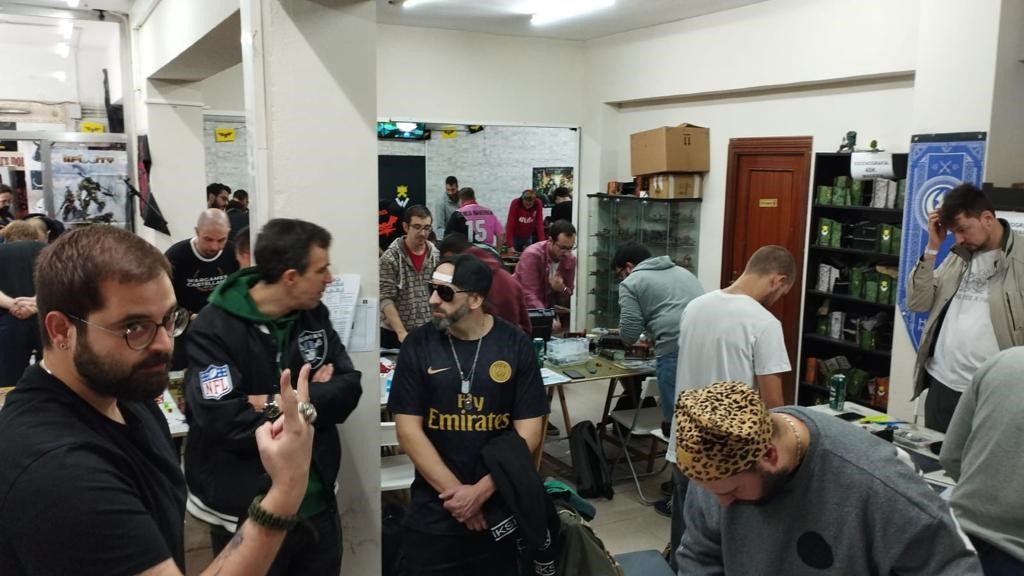 What tricks or hallmarks do you have to attract people?
Our best trick has been "being empathic." We are two more players looking for fun and good vibes for the whole community. Another main thing is you have to be a part of the community: Try to meet and talk with the players, discuss things with them, make sure you're all speaking the same language. Get feedback and try to improve on every event. Keep doing fun and cheerful events to reflect the spirit of the community and above all have fun. Obviously it should be noted that we like to be professional and make everything visually attractive – posters, messages, social media, etc.
How do you grow a community as big as the Spanish one?
With a lot of desire and effort! We haven't really had what you'd call "a plan" or "a strategy." If you put desire, effort, love, and a lot of care into it you'll find the community grows by itself, but only if you are willing to give yourself to it. We also have many content creators that help to spread the word for us about events and make the game known, and every week we have a "community day" on Thursdays at Kingdom Wargames. So we can teach rookies about the game, and new people keep coming every week. Also more veteran players tend to be there so they also help to keep the community growing.
You can meet Ace, Carlos Duran, Tamer, and Redilt just to name a few, or other "important" people from the community are going to be there playing and trying new things, also available to teach and make other people improve. It's awesome to have those people available for a game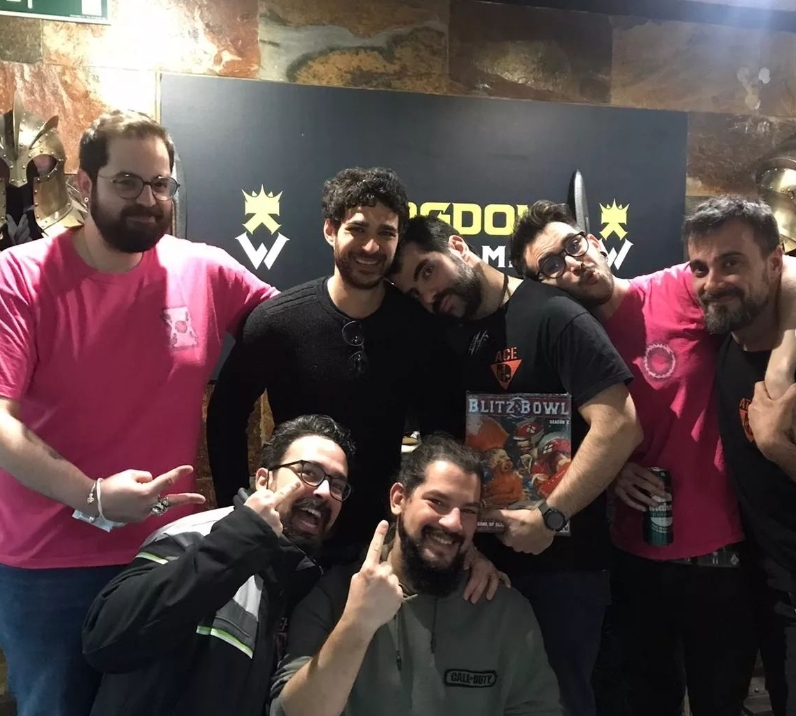 What is the most important thing to know about a growing community?
To take care of it, always. Do not get comfortable, perform active listening exercises and respond to the needs of the members of the community already formed. Because if you listen to them the community will keep on raising and will call other people and the growth will be exponential if the treatment is good. Obviously, this involves meetings and initiation days such as our Community Days (see the previous answer).
This initiative was key in Madrid, since it created a call effect in many people. In a single Thursday a tournament of 30 people could be held. We're fortunate to have a club where all Kill Team players can get together from for 6 hours per evening or sometimes more.
Having an active community and encouraging players to participate, help, and solve doubts makes our community so fraternal.
How much does a tournament in Spain usually cost? How do you organize the prizes in Spain? Can you give us an example of what you gave in the last tournament?
A "normal" GT type tournament costs between 10/15€ (20-40 people). If we get into a Major as is our last case is between 20/25€.
As a general rule of the amount to be paid, a small amount of the participants who are not part of the association (place where we set up the event) goes to the maintenance of the club's facilities. Another small part is destined to the realization of promotional details of the event for ALL participants. The rest of the money is used for prize vouchers that are raffled among everybody so noone is left behind! We don't have prize support to the winners but some badass trophies.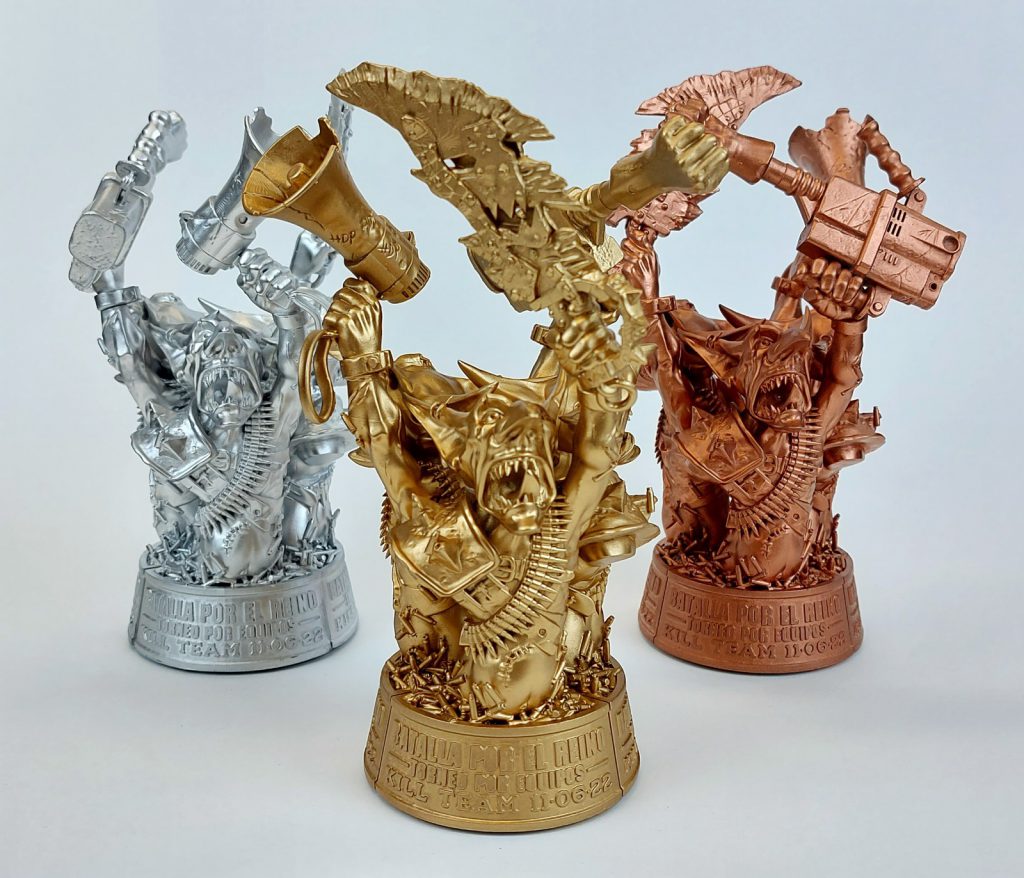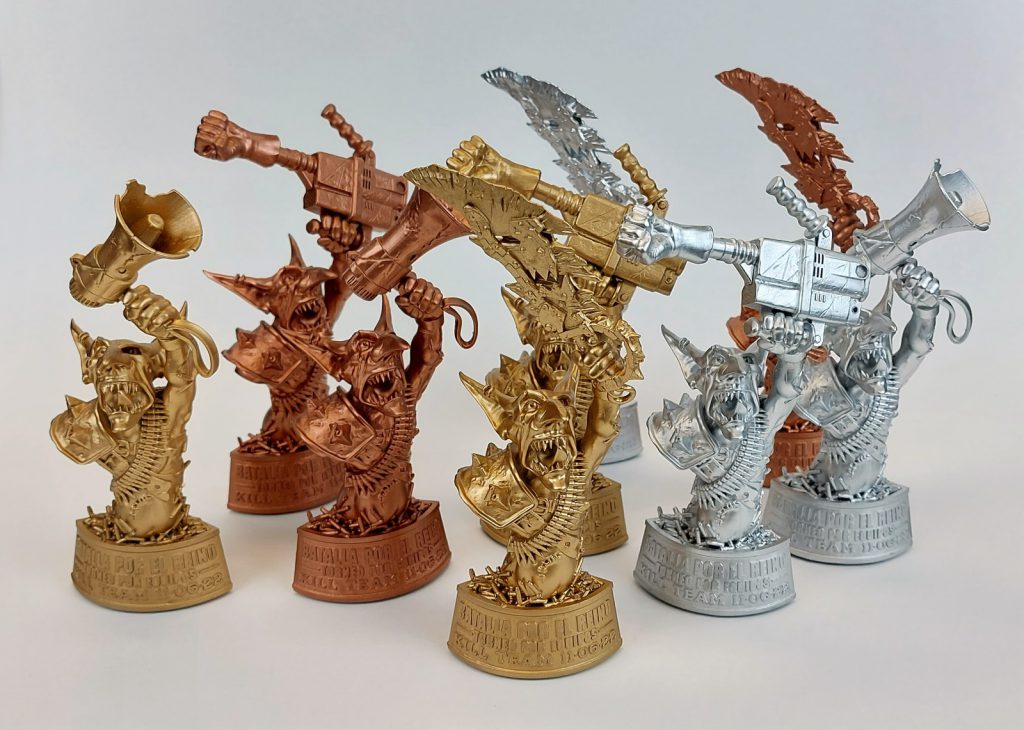 Trophys for the Team tournament. Yep, they are 3 in 1.
Zephi is the mind behind this trophies sculptures. This year Zephi has made an original and exclusive design of a miniature based on the logo of our brand Tabletop Warzone and it was a gift for everybody!. It was an assassin with his own Data Sheet to use in narrative and thanks to the help of our brother in arms MRQ3 David Carpio "Karpaccio" an original illustration of the assassin.
Having an active community and encouraging players to participate and helping us the T.Os is fundamental to make this work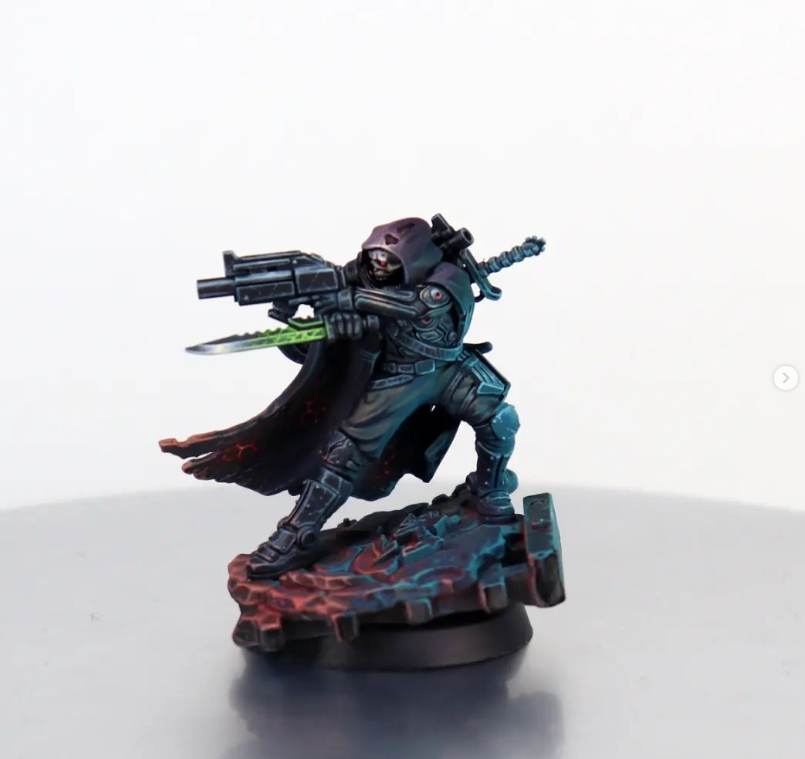 The Special and exclusive miniature  painted by Rodrigo Akore 
What do you think are the reasons that the Spanish community has grown so much in recent times?
There are several factors. The first, without a doubt, is that we have been "coming out" of a pandemic and a series of restrictions that limited us a lot. That, added to a game that has improved substantially compared to its predecessor, (And even with the last edition the community was growing), along with the emergence of associations, gaming clubs and above all great content creators like Jon, you and Laza, has been the perfect cocktail for this to become bigger. As I mentioned before, content creators and groups on Whatsapp from different communities encourage rapid communication. Also a lot of people are looking to downsize for 40k and some more are looking for a good competitive game where they can use cool models. Kill team grant all of this.
Do you think the Spanish community will continue to be the largest in the world?
Undoubtedly, (or at least we are gonna try to be). At least the most active and the one that tries to have more presence outside Spain. Kill Team has hit hard and has had a great reception, plus we are all making a great effort to have more events and with more presence. There are many communities that have a monthly tournament and does a great job in increasing the number of participants and players in general.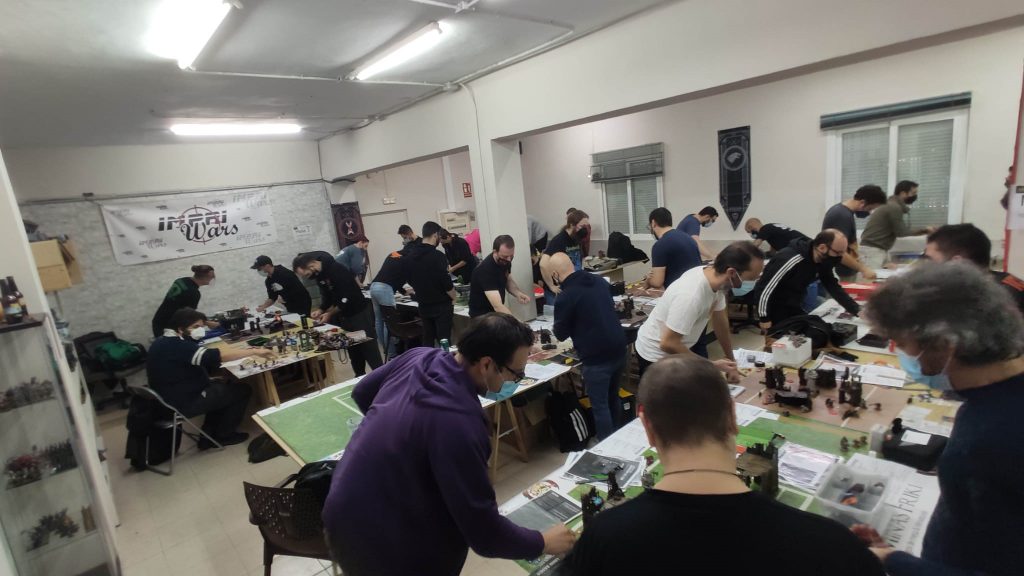 Is language a barrier to play tournaments in Spain?
Well, I wouldn't know. I mean, my opinion is that there are many players who acquire all the playing materials in English and that helps a lot. But it is also true that the lack of experience playing in English could creates a handicap at a general level, both for players from outside Spain who come to play and for our players abroad. But to be honest I must say that when we have had a not spanish player here he has thrive and play all the games without any problems, same when we travel outside Spain.
But it is true that we must promote and encourage the full use of English when playing, at least in the terminology and concepts, by that I mean to avoid Spanglish and use all the concepts of the game in English. But as a colleague says, as long as we say "this shot to this" and point… We will understand each other. So to any player that want to come and visit Spain you are more than welcome to pay us a visit!
What are your next tournaments?
For 2023 we have a calendar where there will be every month a GT. A night tournament every two months approximately. And we can not miss our two annual Majors, one on May 13 and 14 and the other on November 18 and 19. Having a calendar for the year also helps people to organice their trips and make you having a nice chance of getting people at your tournament.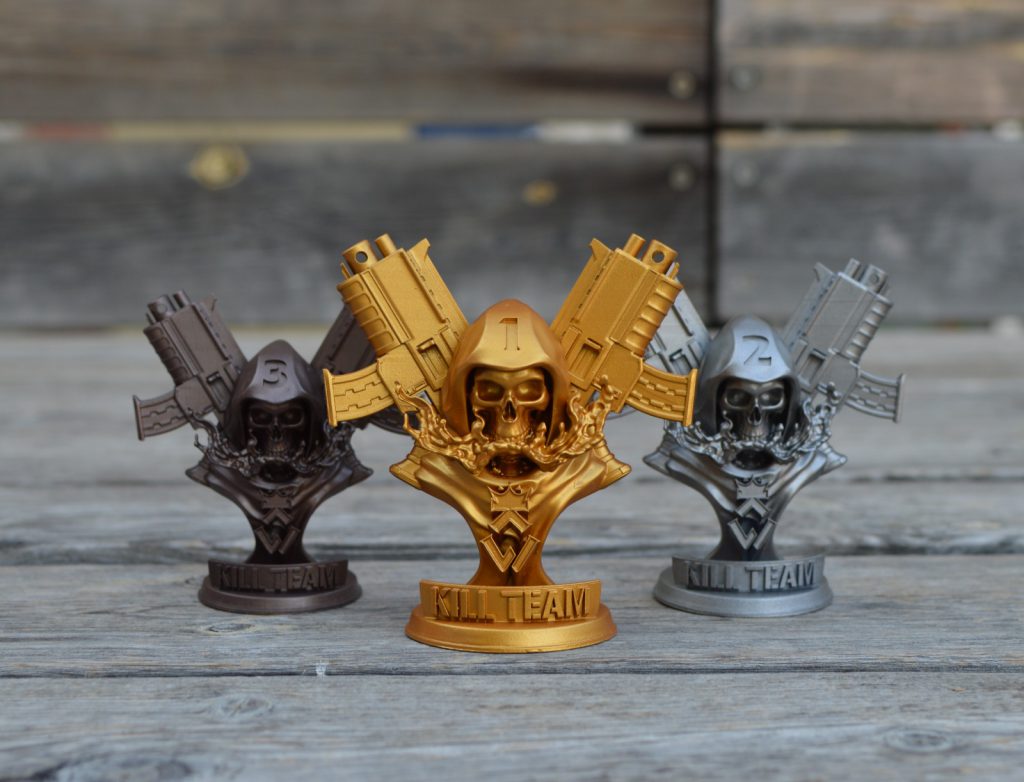 What would you say to someone who has never been to a tournament?
I will encourage them if they have doubts to start little by little approaching their local store or club and get to know the community. And if they still have doubts, they should jump into the pool because the experience will be positive. As I said, we are a community that helps each other.
Anything else you would like to tell us?
To thank you for this interview, for giving us a voice, to promote our community and for being an excellent teammate. And above all, to encourage all those who want to play Kill Team or who are already playing, to sign up for any tournament or vent that you can. Thank you!
Coming next
I heard wishpers of a need faction focus… so check out on the upcoming weeks to see my favourite faction at the moment having a new complete guide. See you on a couple weeks!
Have any questions or feedback? Drop us a note in the comments below or email us at contact@goonhammer.com.