Welcome back to our ongoing Dropfleet Commander coverage. This week, we're here to talk about how to paint the fleets of the villains of the setting: the alien Scourge. Their sweeping curves and odd shapes really help drive home the fact that they're not a human fleet, and Rockfish and Pendulin are here to walk you through how they painted their fleets to really show off the weirdness that's packed into these models.
Rockfish's Scourge
This scheme is entirely because I had a airbrush colour I wanted to use on something, then I just added additional colours till I was happy! It kinda ended up dragon-ish I guess, eitherway I quite like it.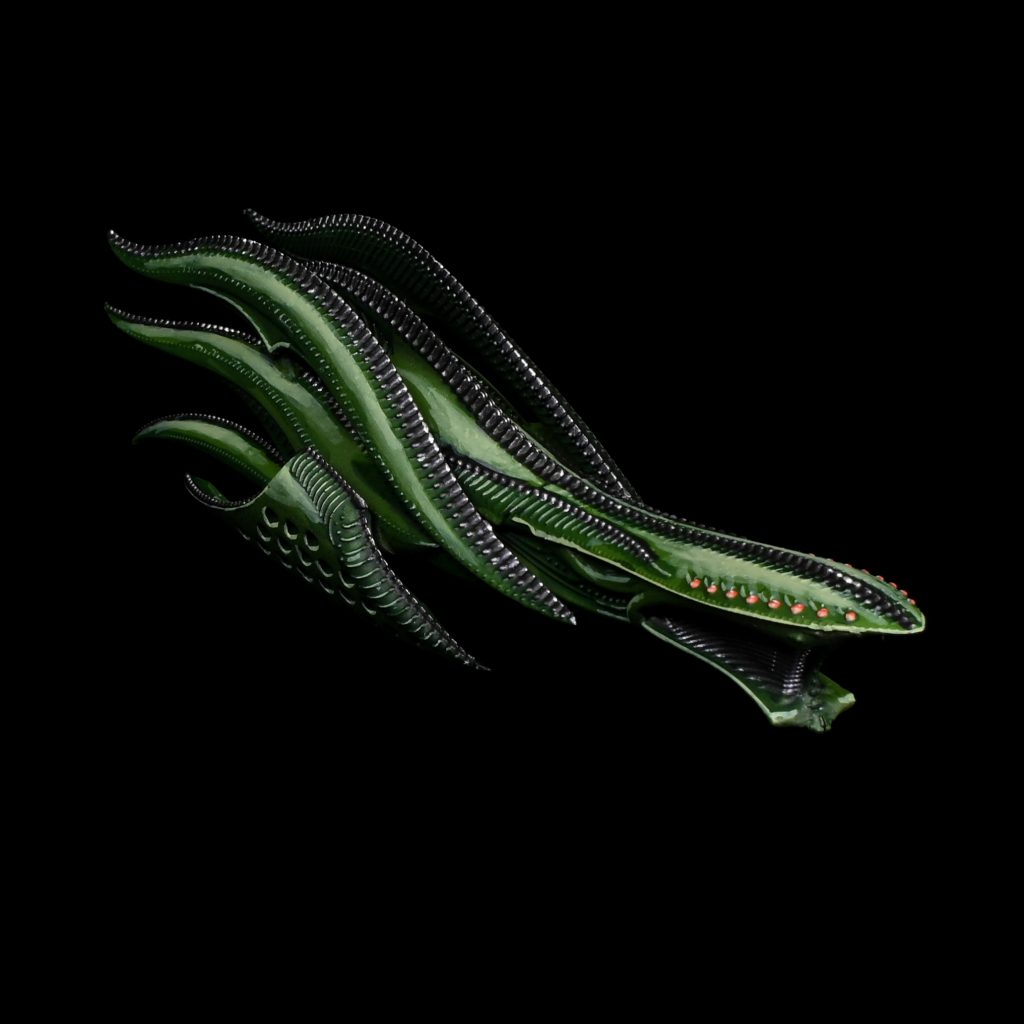 Step 1 – Airbrushing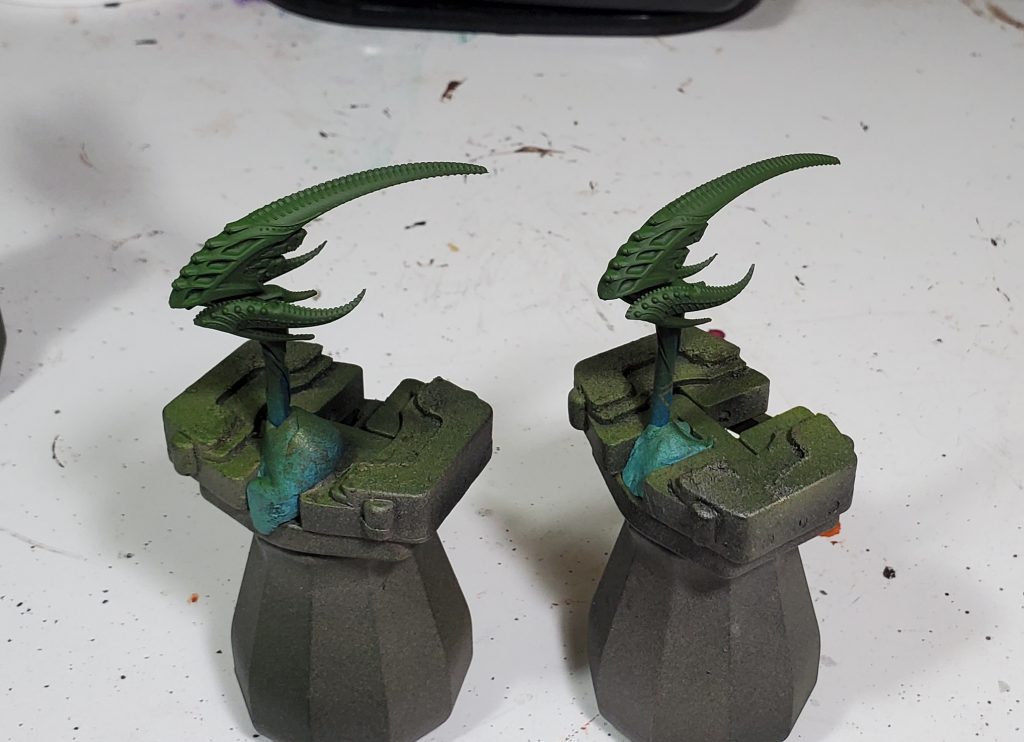 This step is pretty simple, where I prime Vallejo Black Primer through the airbrush, then lightly cover the whole model in VMA Green Zinc Chromate, then aggressively zenithal with the same colour.
Step 2 – Base Coats and Washes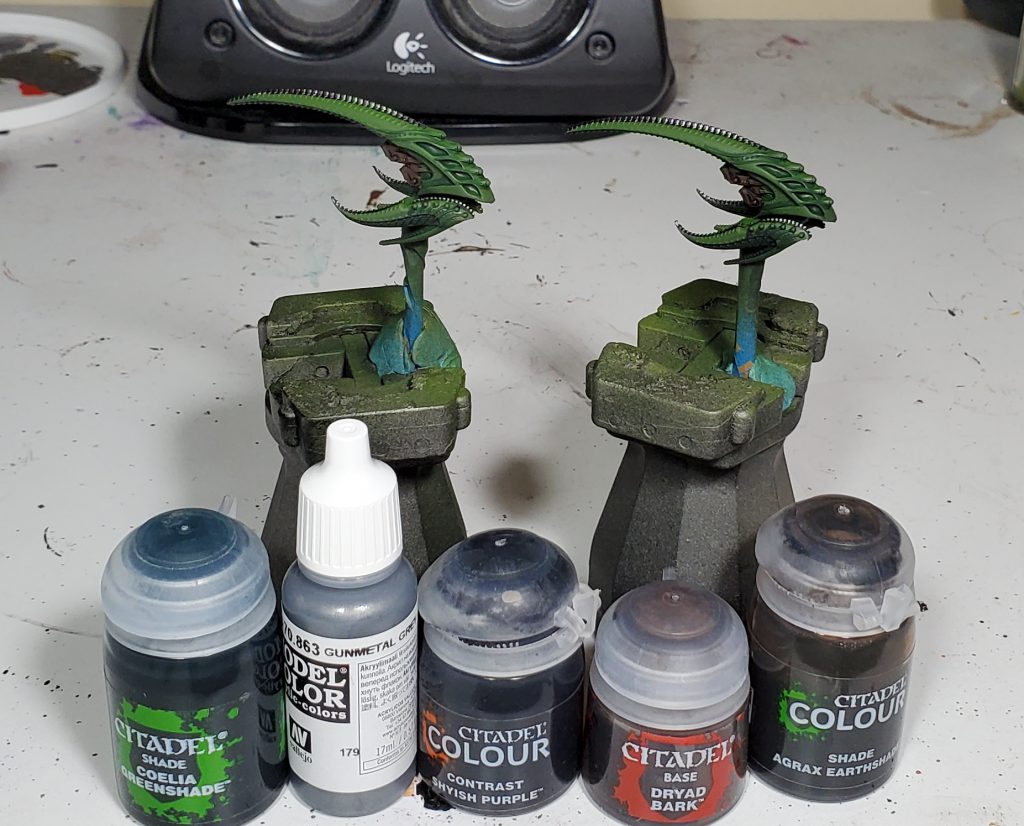 I start by doing recess shading with Coelia for what will end up green, once thats dry you can base the metal in VMC Gunmetal Grey and the engines in Dryad. After that the engines just get Agrax-ed, I thin Shyish with a bit of water before covering the metal though
Step 3 – Highlights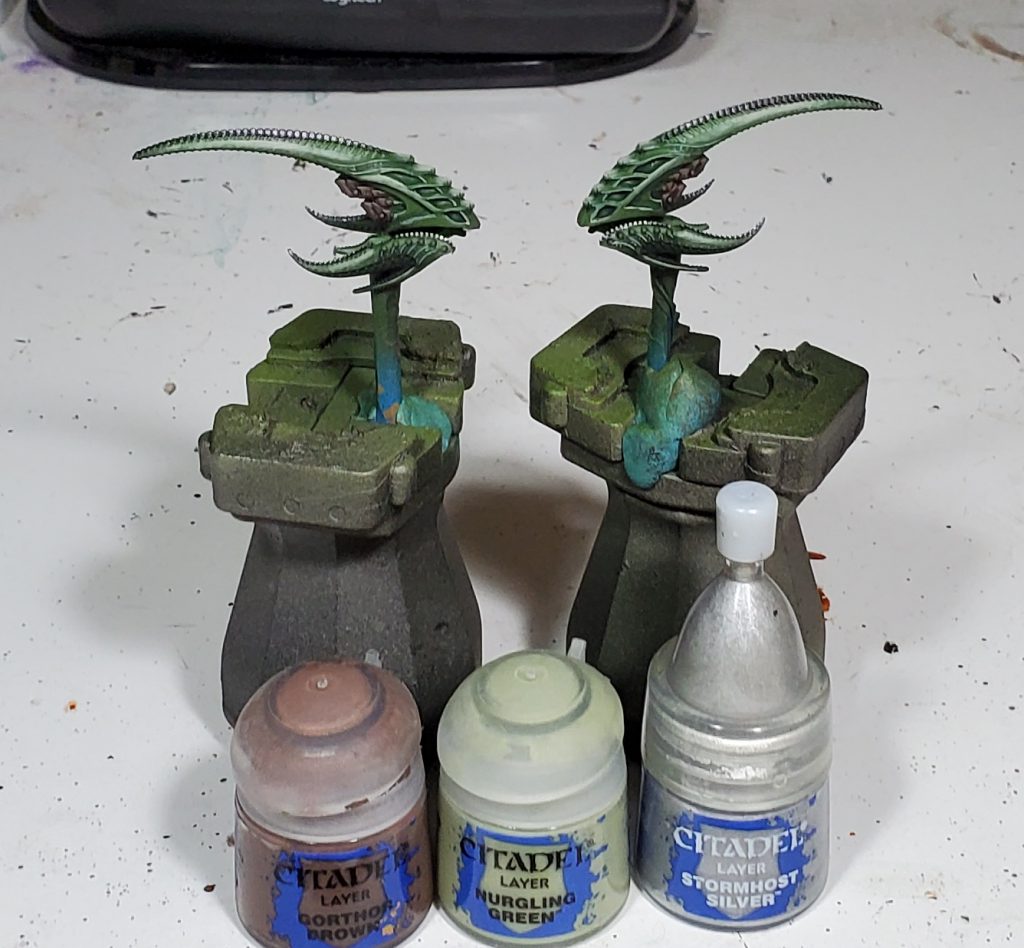 The engines and metal just get simple and quick edge highlights of Gorthor and Stormhost respectively, but the green gets a few glazes of Nurgling on large panels in addition to conventional edge highlights.
Step 4 – Lenses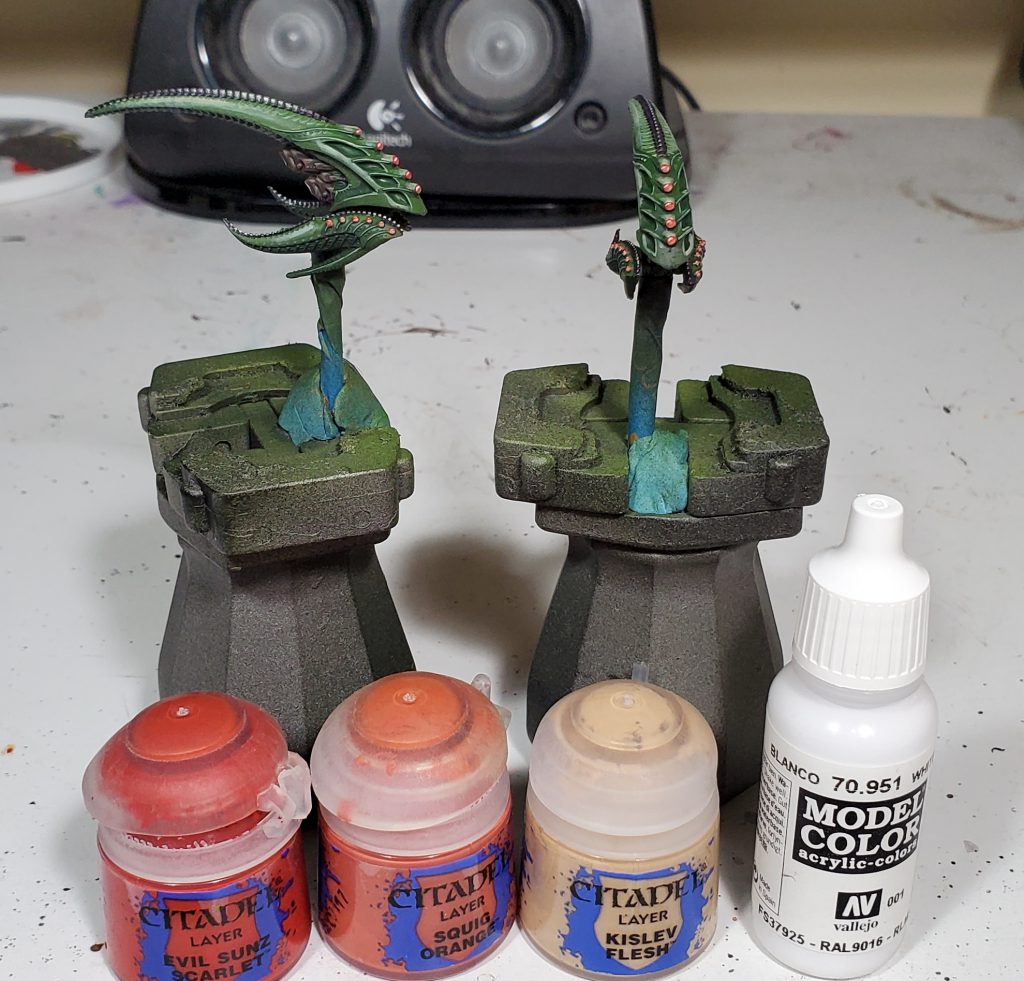 These are just normal gem effects built up by starting with Evil Sunz, then doing small crescents of Squig Orange and Kislev in the lower right of the gem followed up by a tiny sliver of White on the opposite side.
I would also suggest applying a few layers of white to the engine tips to make things a bit easier for the next step.
Step 5 – Engine Glow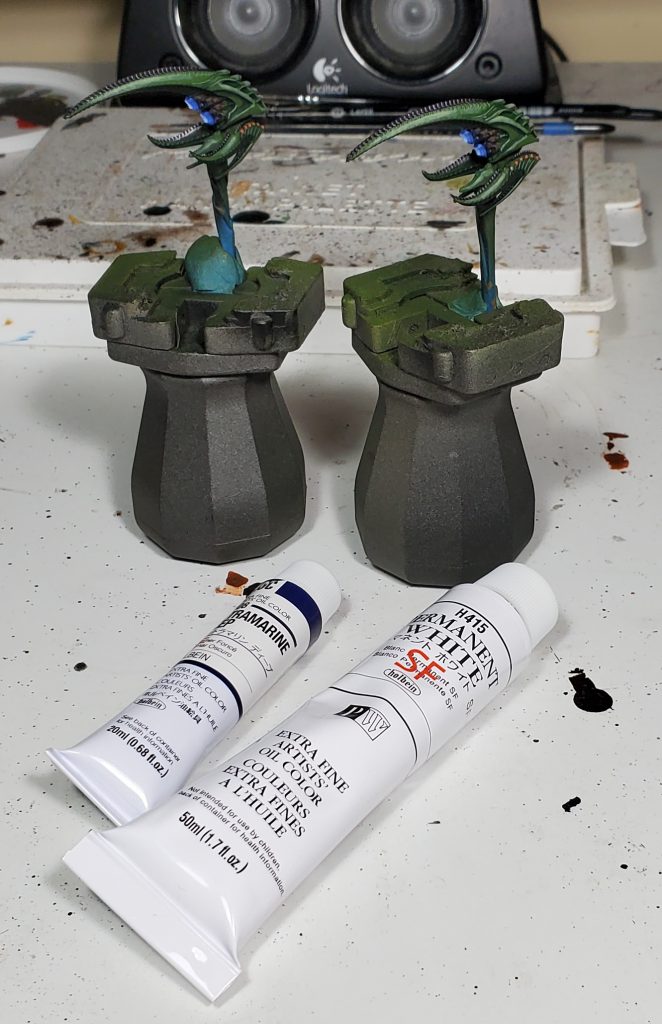 I am doing a basic blend with some oils for this, to do this I start by applying some straight blue to engines just behind the tip and feather it back towards the rest of the ship. After that, apply a dot of white to the tip and feather it into the blue to get a simple transition, I like pulling the white into the blue, then pulling from the blue back into that to get a good transition.
To finish it off hit the ends with a bit of white and mix it with the slightly tinted white that is there to get a not quite white blue.
Step 6 – Paint the base (Optional)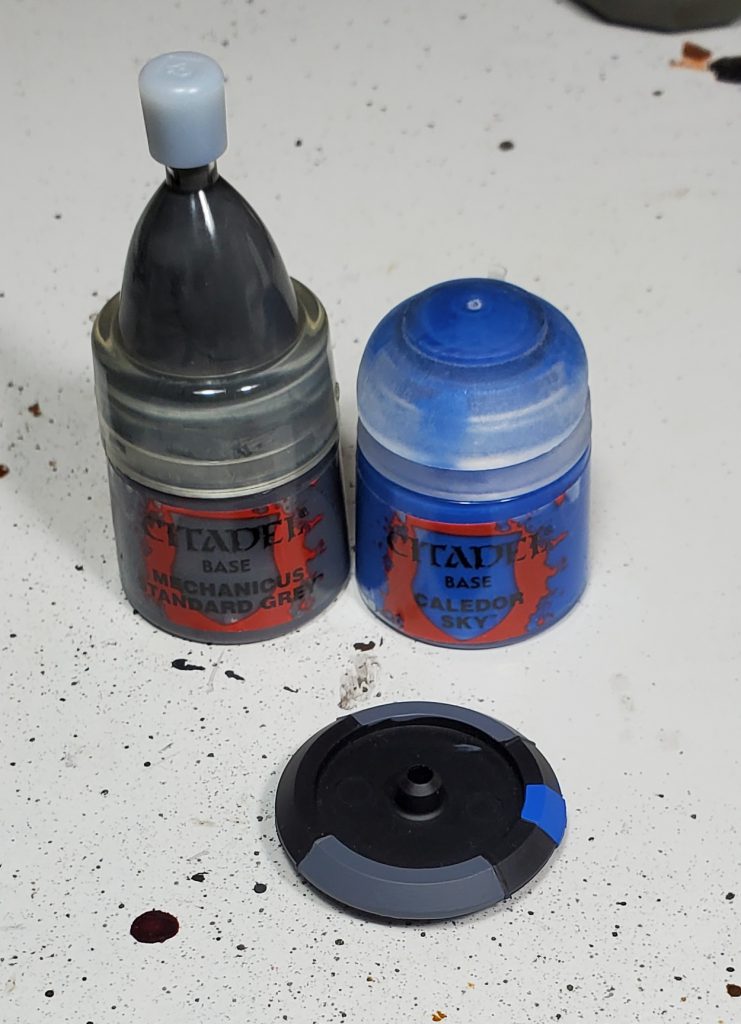 I like making the arcs a bit more clear by doing the sides in Mechanicus and the front narrow in Caledor Sky.
With a quick varnish of Vallejo Premium Air matt the models are done!
Gallery
Forgive some of the photogrammetry errors on the Harpy, I am still figuring it out!
Here is some conventional shots as well!
Pendulin's Scourge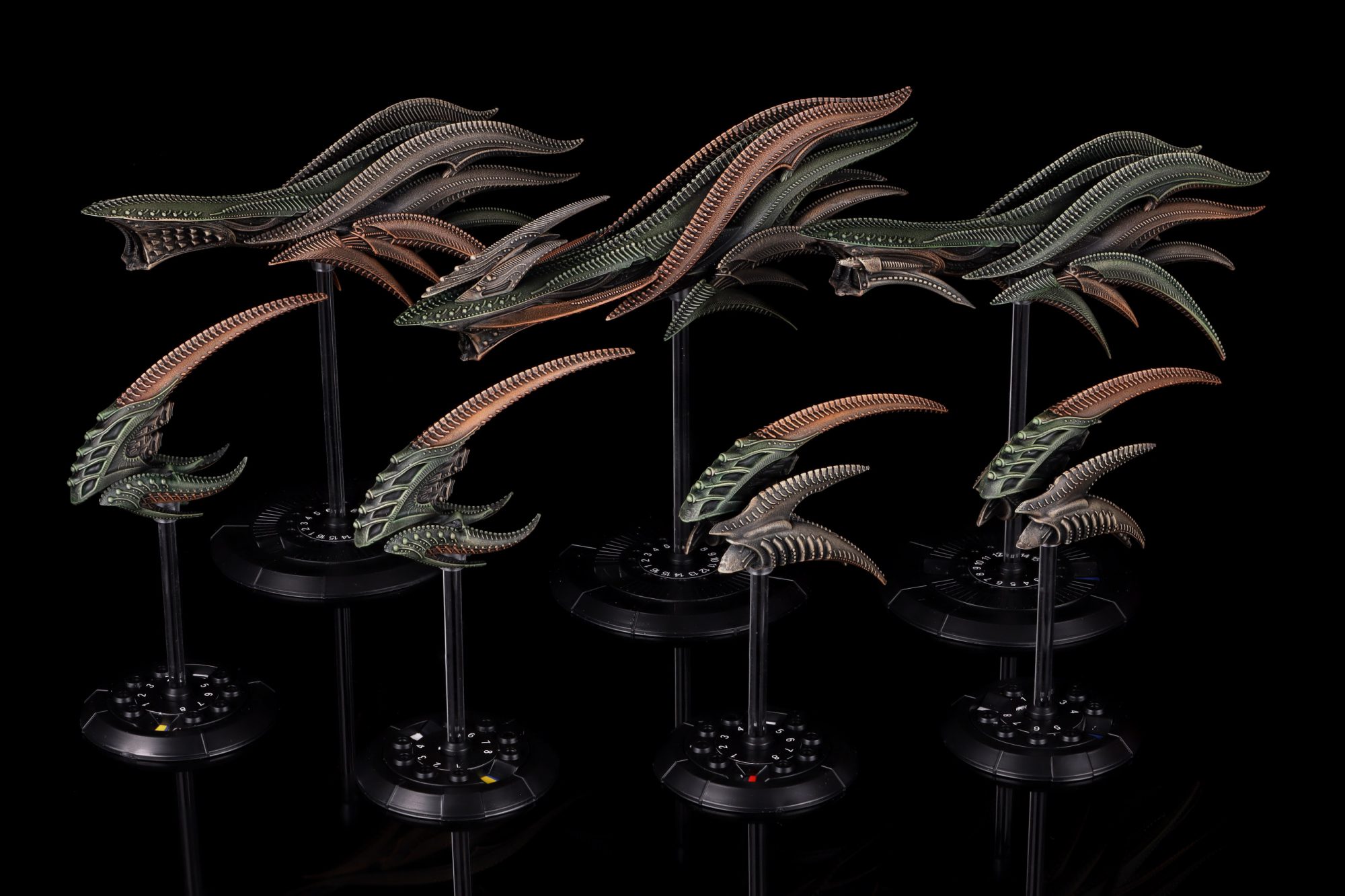 Big scary space parasites, what's not to love? Great models and they're a blast to paint. I'll even let you in on a secret: it's easier than you think!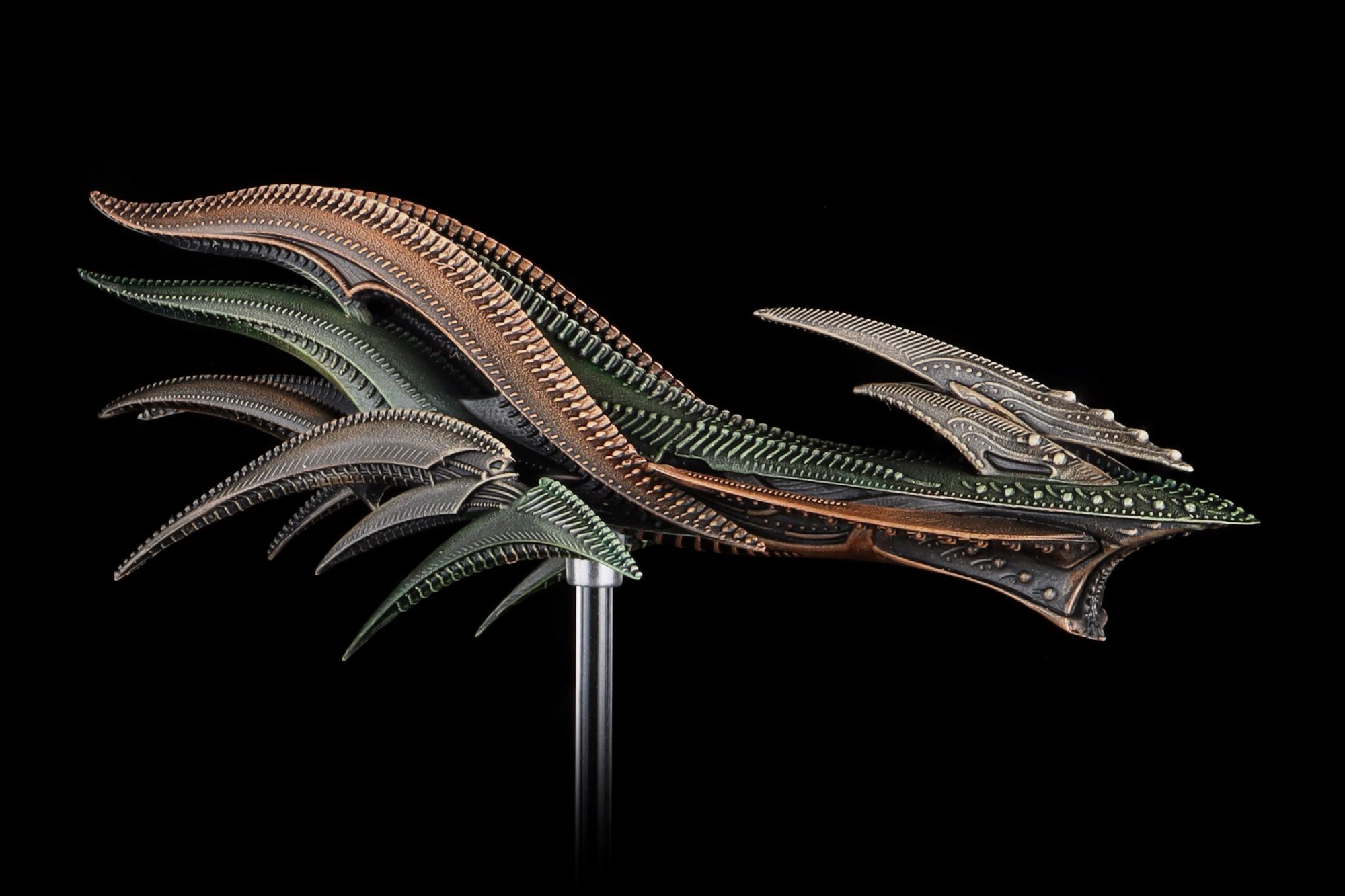 The only work you need to put in ahead of time if figuring out which parts will be which colors. Once you've decided on that, the work is half done. In fact, painting these up is so easy, let's do drop all the instructions in one go!
Prime black
Heavy drybrush Stormvermin Fur
Drybrush Steel Legion Drab
Light drybrush Karak Stone
Even lighter drybrush of Ushabti Bone
Wash the green areas with Biel-Tan Green
Wash the fleshy-orange areas with Reikland Fleshshade
Wash the tan-stone areas with Agrax Earthshade, and give the other areas a light Agrax wash to tie them together.
Very, very light drybrush of Ushabti Bone on tips, corners, and spiky bits to finish it off
That's it, no fooling!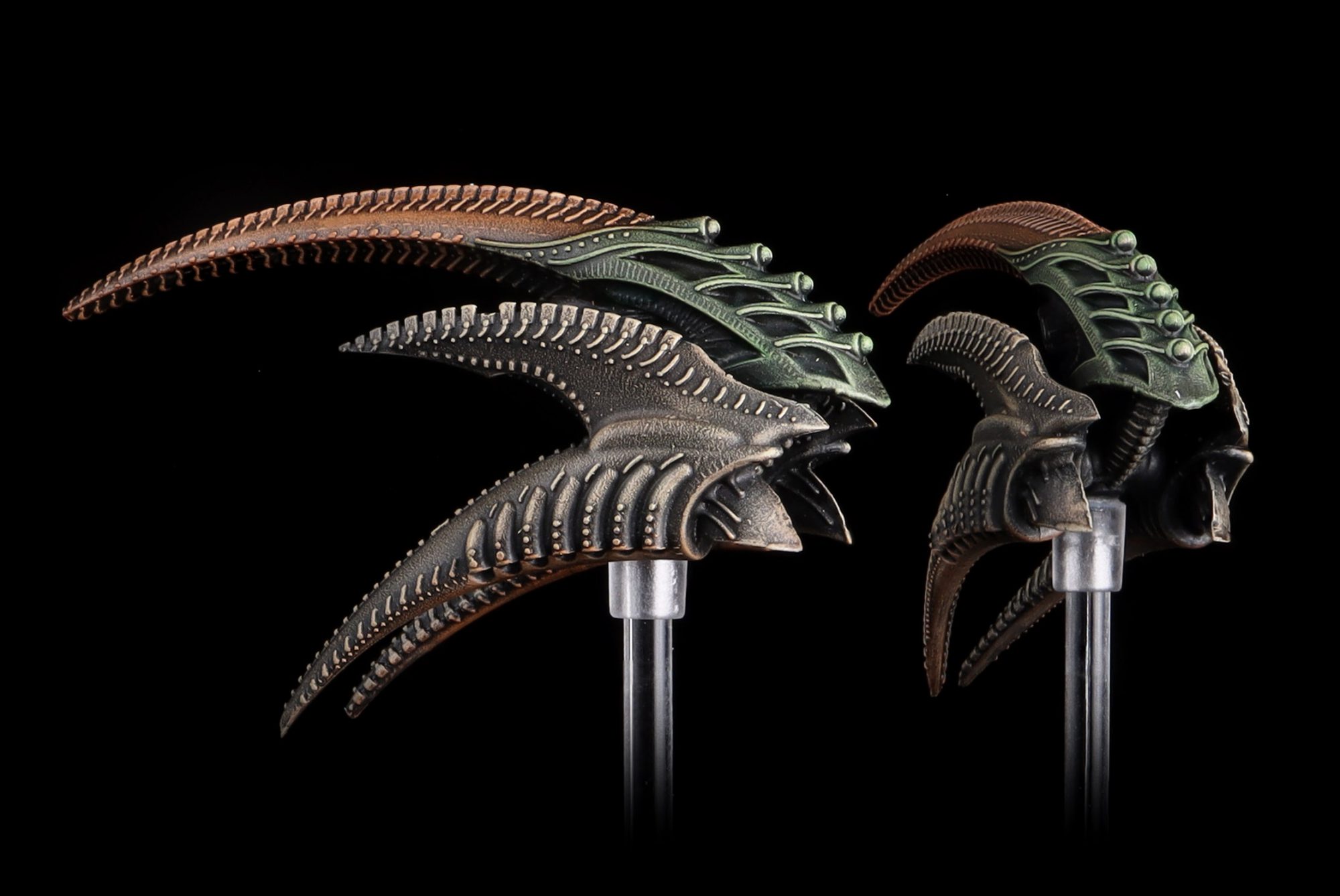 What's great about this is that it's incredibly fast and, if you want, you can either stop right here and have some great looking models in an hour or two. Or this could be just the start. Use this as the beginning for your models and then grab a detail brush and start picking out gems, engine flares, and all the other fun details on these models.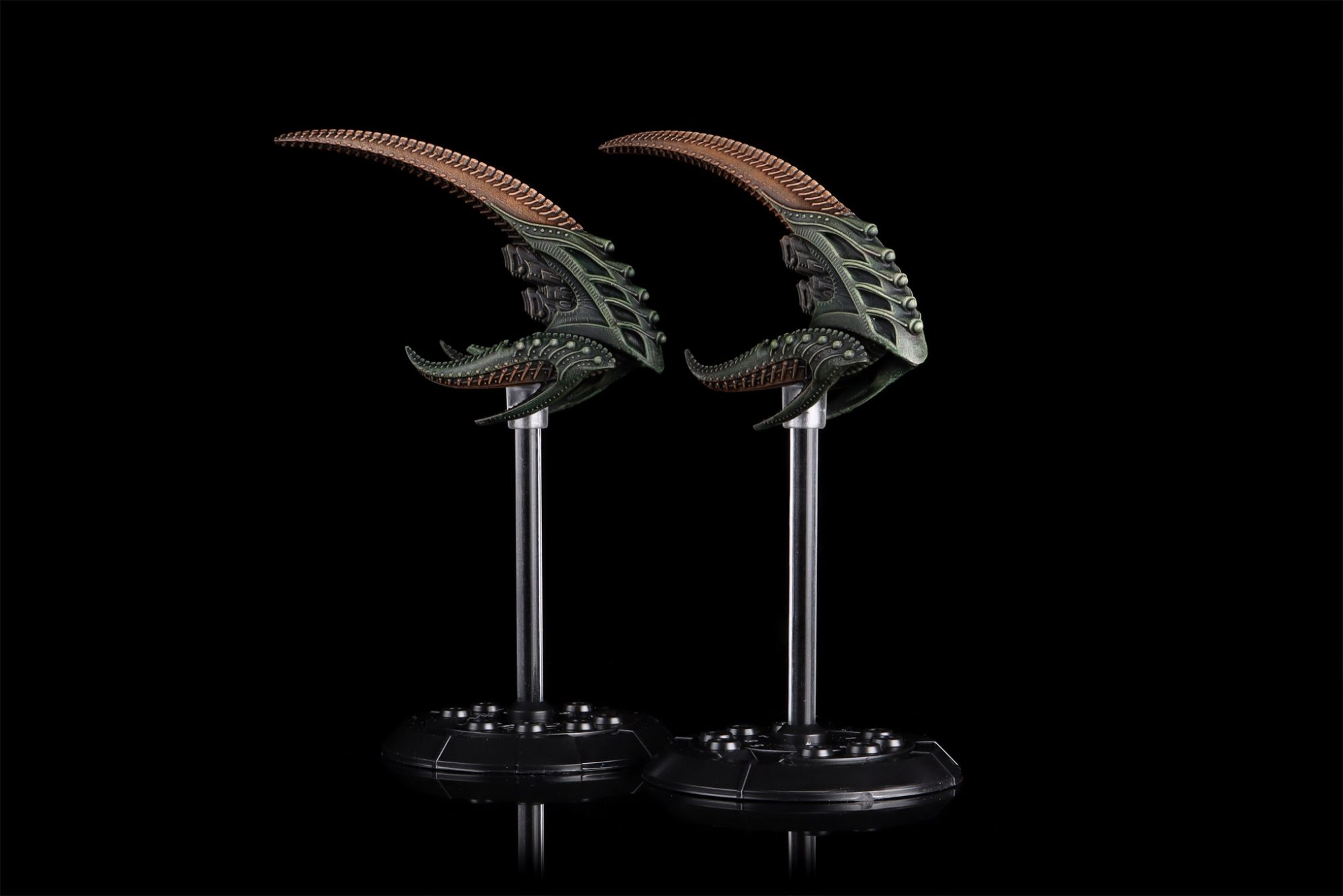 The Infestation Continues
All finished painting your shiny new Scourge fleet, but wondering how to play them? Check back in a few weeks for our Getting Started with Dropfleet Scourge article, where we'll walk you through how to build and play your starter fleet, and how to expand to a full 1250-point fleet.