In our How to Paint Everything series, we take a look at how to paint different models, armies, and materials, and different approaches to painting them. In this article, several of our authors explore how to use different masking and stenciling techniques on their models.
Stencils and masks are a wonderful way to ensure that you can get smooth, crisp lines on a model, especially when trying to cover large areas. They're ideal for doing designs that need to be done over and over again, or when you need more precision than freehanding will generally allow. In today's article, we're going to talk about several methods of masking models and creating stencils for everything from camouflage patterns to army insignia.
FromTheShire's Method
We're starting out with probably the most basic, intro level masking technique – applying a masking agent to your model in order to achieve stripes, camouflage, or even just covering one color to make blocking in another one on the model easier and cleaner.
I wanted to achieve something like Games Workshop does for the camouflage on their Astra Militarum models, specifically the Catachans.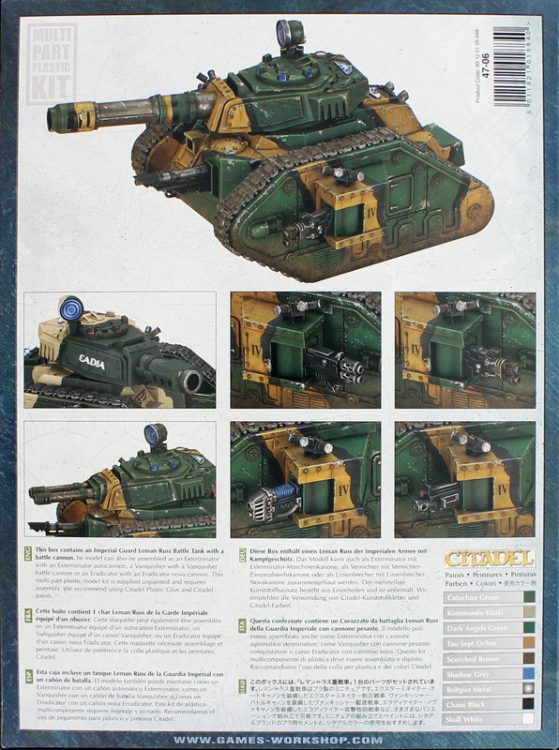 There are various methods that can be used to achieve this, from using masking tapes to more expensive purpose made hobby masking agents and putties all the way up to purpose made stencils, but I went with arguably the cheapest and easiest – good old Silly Putty. I spent about 15 bucks for a dozen Silly Putty eggs, and two days later had what is probably a lifetime supply in my possession. Not only is it cheap, it's also extremely easy to apply and remove, which is something to think about before you start sticking things to your partially painted models. There's no worse feeling than pulling the tape off of a freshly painted model only to see bare plastic instead of the crisp line you wanted because it was too adhesive; to avoid this, it's best to either stick to modeling tapes such as Tamiya makes, or if you really want to use that masking tape you have sitting around already, make sure to stick it to your pants a couple of times first to make it adhere less aggressively.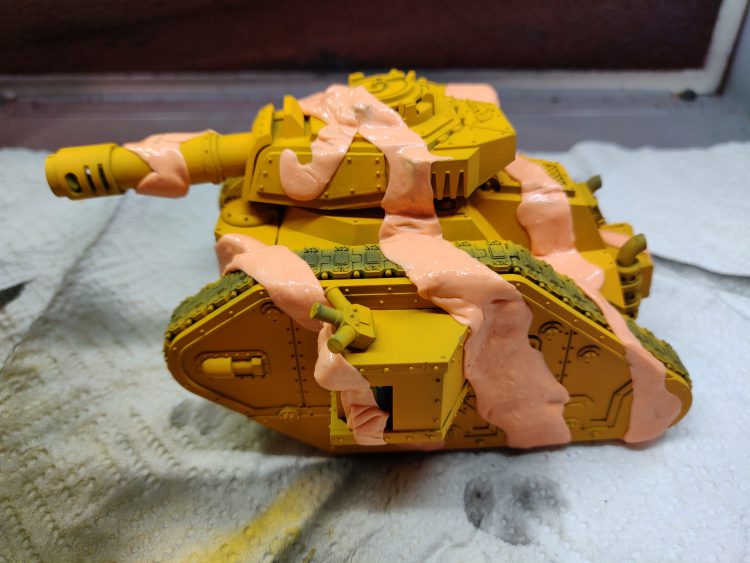 To start with, I primed everything black and then applied a base coat of Averland Sunset. It's generally easier to start with your lighter color and then apply the darker one over that for the easiest coverage, though with the Citadel Base paints that's less of an issue. Next I pulled and flattened the putty into rough bands and pressed them across the tank, trying to work it into the cracks wherever possible. While this method is great, it's not going to give you perfectly crisp and clean lines when you are finished, so take that into account.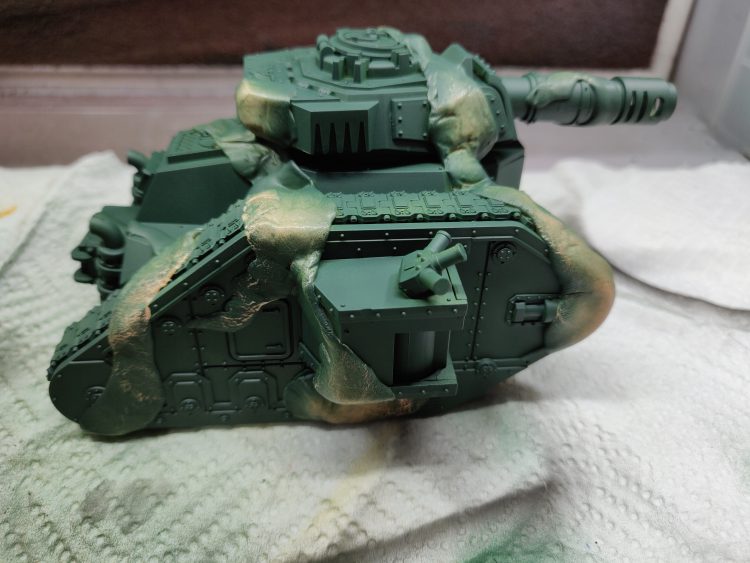 After that I gave everything a coat of Caliban Green. While this is the correct color according to the source I was looking at, I decided that I wasn't really sold on the look of this combination of green and yellow.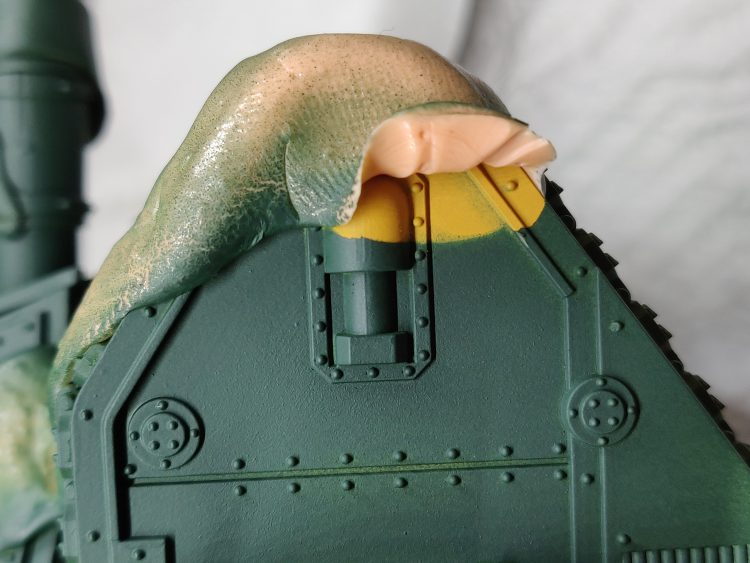 Here you can see some of the 'fuzzing' you get with this method. Having decided to try something else for the green, it was simple to push the putty back on and then apply a coat of Castellan Green.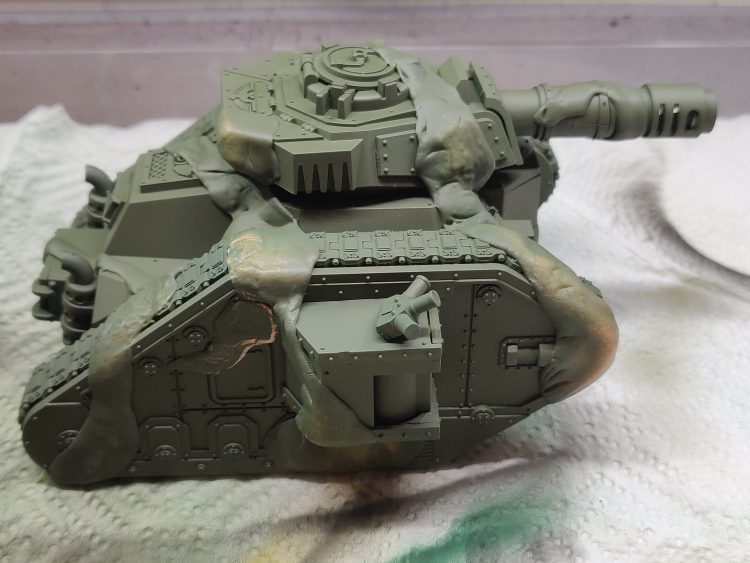 Once you're happy, it's a simple matter of peeling off the putty. As a trade off for adhering a little looser than something like a painted on model masking agent and not giving you that crisp edge, the putty peels off effortlessly without leaving bits wedged in crevices.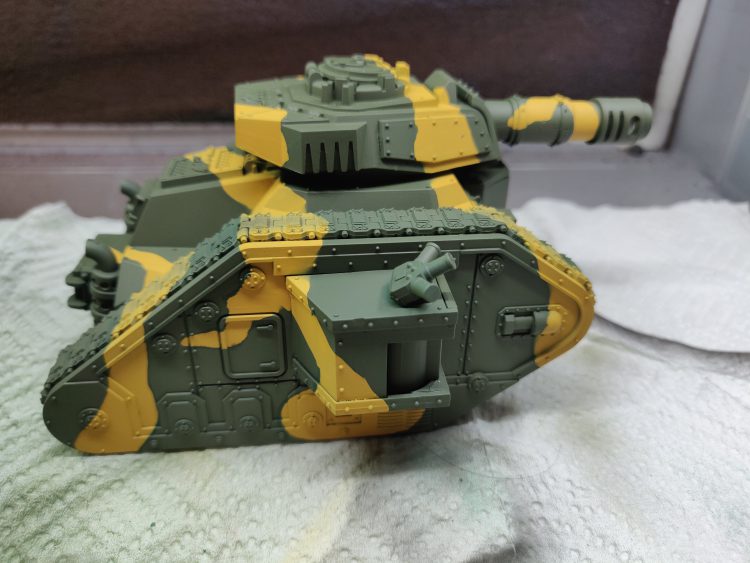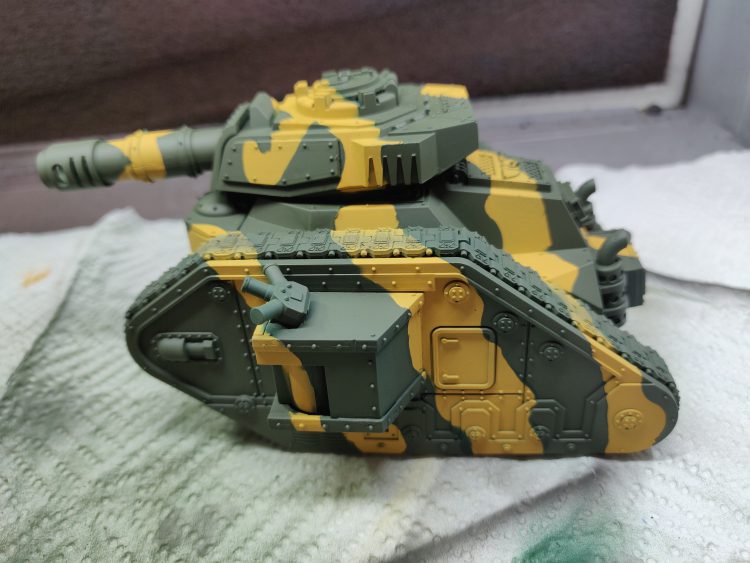 One other thing to be aware of when doing any sort of masking or stenciling is that it is pretty likely that you will see some small amount of buildup or lip at the edge of the area due to the extra layers of paint. It's not something I worry about but it's good to be aware of when you're applying your paint, so try to keep your layers as thin as possible. If it really bothers you or if it's particularly noticeable, you can use a very fine sandpaper to VERY LIGHTLY AND CAREFULLY even it out.
Finally, it's time to neaten up the edges. If you're using a two tone scheme use your darker base coat color and a brush to carefully define the line between the two. In the case of the Catachans, the camouflage has a third, dividing color, which is one of the reasons the small amount of fuzziness from using the putty doesn't bother me.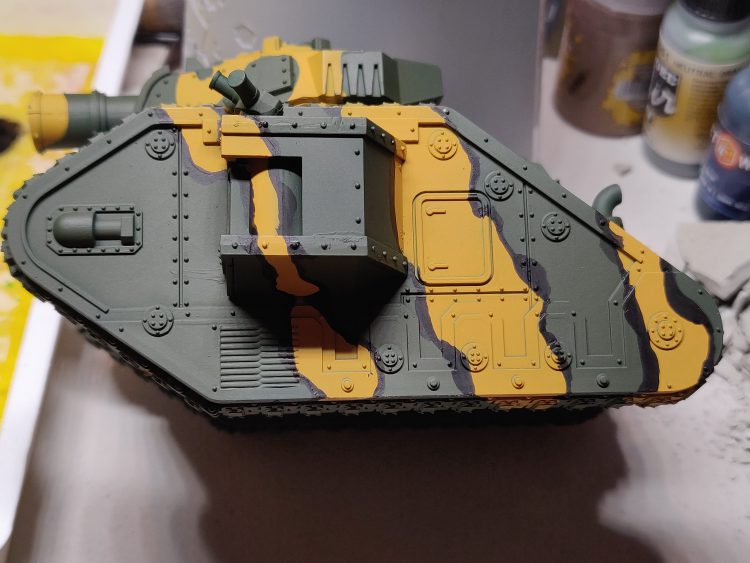 And there you have it, a quickly and easily camouflaged tank ready to have the finishing touches applied!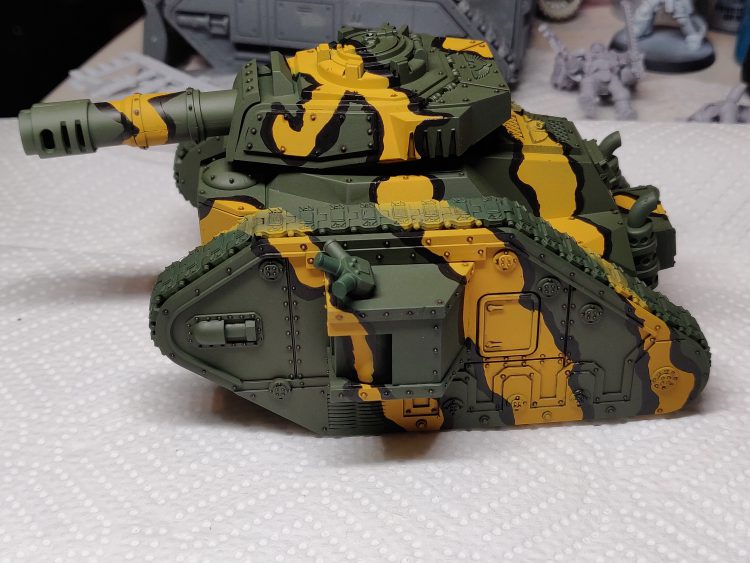 Dexefiend's Method
Next we'll take a look at the same idea, only instead using masking tape to get those crisp, clean lines.
In order to create something like the quartered paint scheme found on many Space Marine Chapters such as Dexefiend's Howling Griffons, precision matters. If your quarters are more like nickels and dimes, it's really going to stand out, so before you begin, gather all the supplies you will need and start measuring.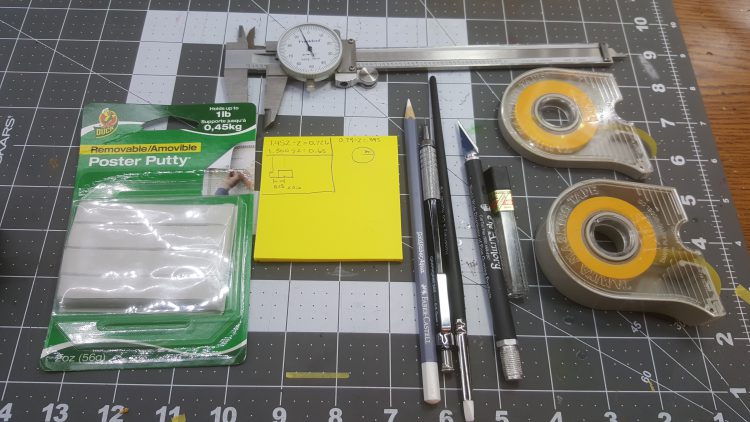 After determining the exact center of the model, small marks are placed to help guide the placement of the masking tape.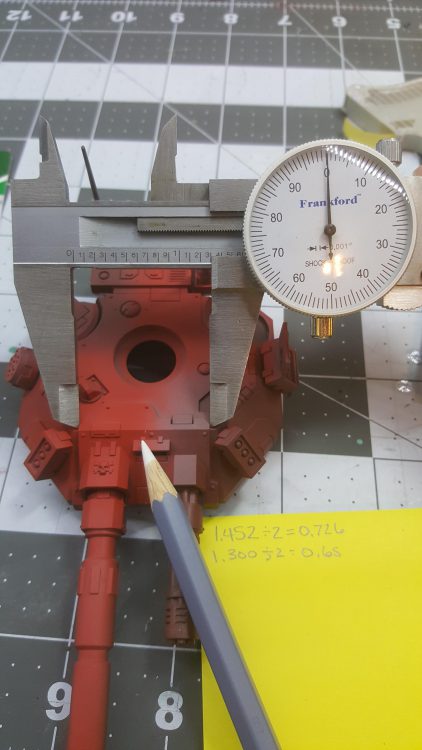 Next, using the marks as references, the outermost edge is defined with masking tape. This will be the most important place to get right to avoid color bleeding, so take your time to make sure the alignment is how you want it, to work into crevices as best as you can, and to get your tape completely flat against the model as any bumps or gaps will require cleanup later. You may find it easiest to slice off a smaller piece of tape to begin with so that you are encountering as few hindrances as possible.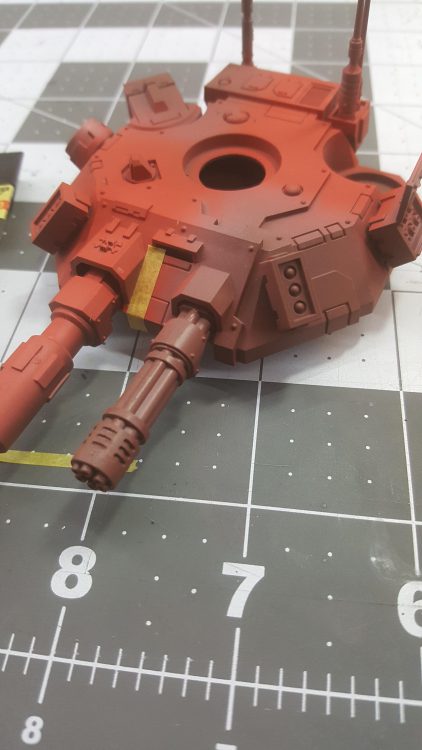 After that, begin layering outwards. You may well find that the shape of the model will require you to make cuts in the tape with a hobby knife in order to adhere properly.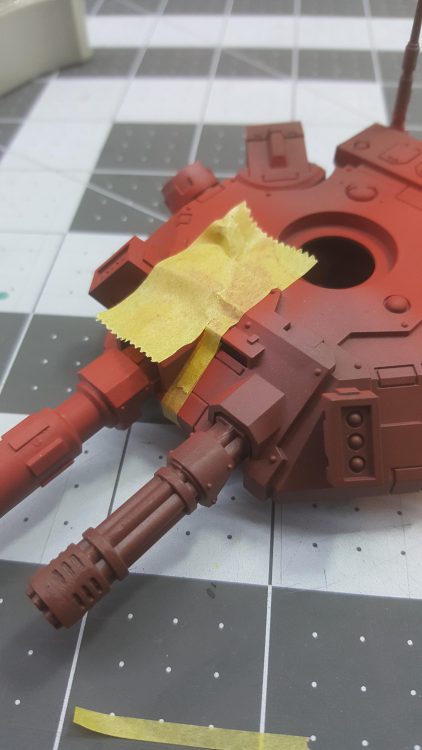 As you get further away from the area where the two colors will be meeting, you can afford to be a little less form fitting, though you still need to ensure you're not leaving any gaps for paint to find its way into.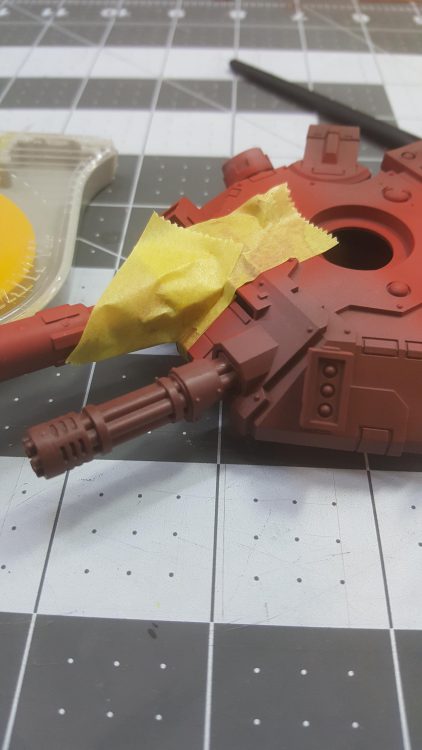 Finally, define the other edge of the quarter the same way as you began, and then it's time to get painting!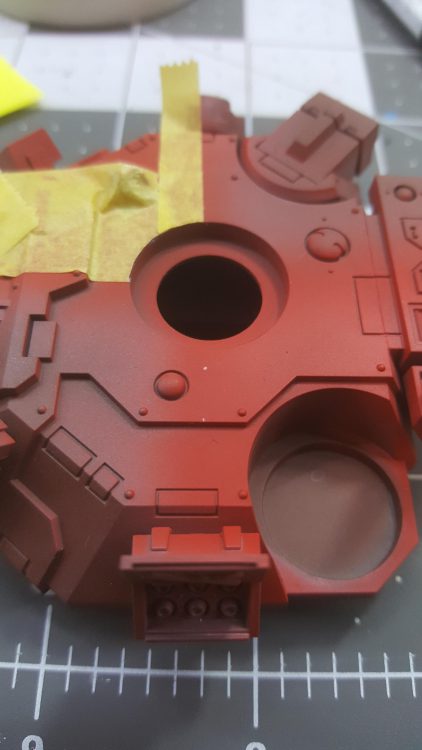 The finished paint job really makes the model pop, and you'll be wowing your friends with your much more complicated seeming scheme in no time! This method is also perfect for adding honor markings, geometric shapes, hazard stripes…really anything that wants that crisp look.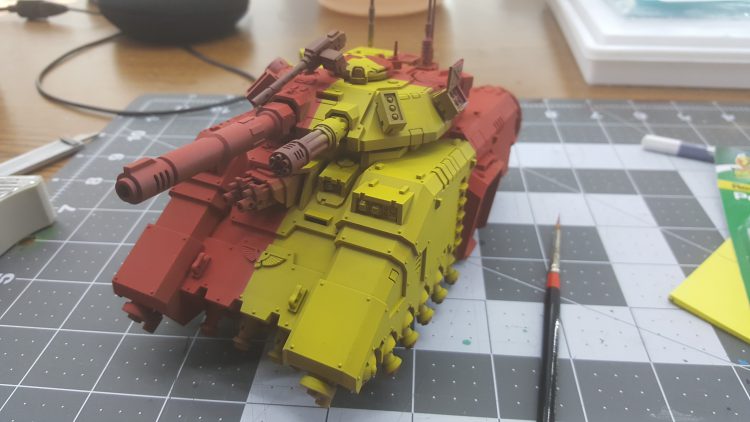 That Gobbo's Method
After that, it's time to try something that can seem a little more daunting: stencils! Don't worry though, they're actually not that difficult to use, and can add a ton of character to your models.
While I was painting my Valkyrie I realized I had large flat panels on the wings that I would need to do something with. As it was going into a Brood Brothers detachment the Genestealer Cults symbol was perfect for the wings. I decided to dust off my Ender 3 FDM 3D printer and give it a shot creating a stencil. A FDM printer doesn't quite have the resolution for smaller stencils but for large vehicle panels like the wings on my Valkyrie it worked out great.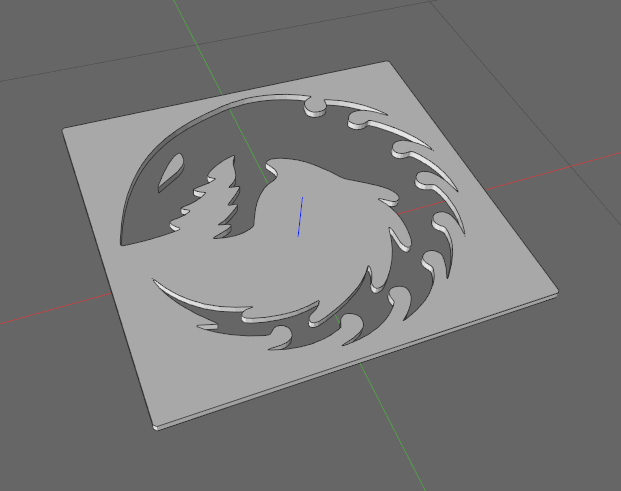 To create our 3D printable file I used MatterControl to convert the image into a printable STL. For this I chose a black and white Genestealer Cults symbol I found online. I used this helpful tutorial in order to do the conversion: https://www.matterhackers.com/articles/how-to-3d-print-a-custom-stencil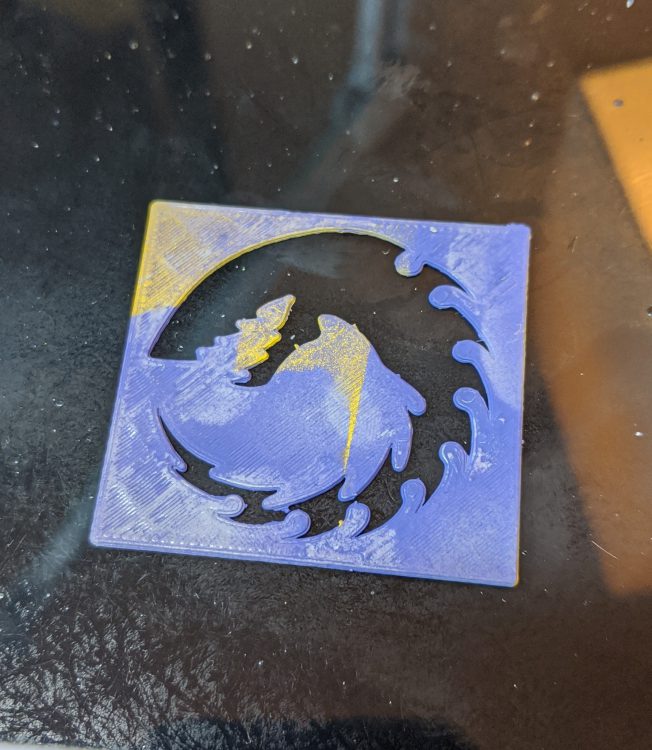 From here it's pretty simple to print out the stencil with the 3D printer making sure that it's thin enough for use but thick enough that it doesn't immediately crumple up when taking it off the base. I then tape the stencil to one wing for airbrushing and then flip it over for the other wing for symmetry. I ended up with a bit of overspray that was too big to be realistic in scale so I cleaned it up with my original base color .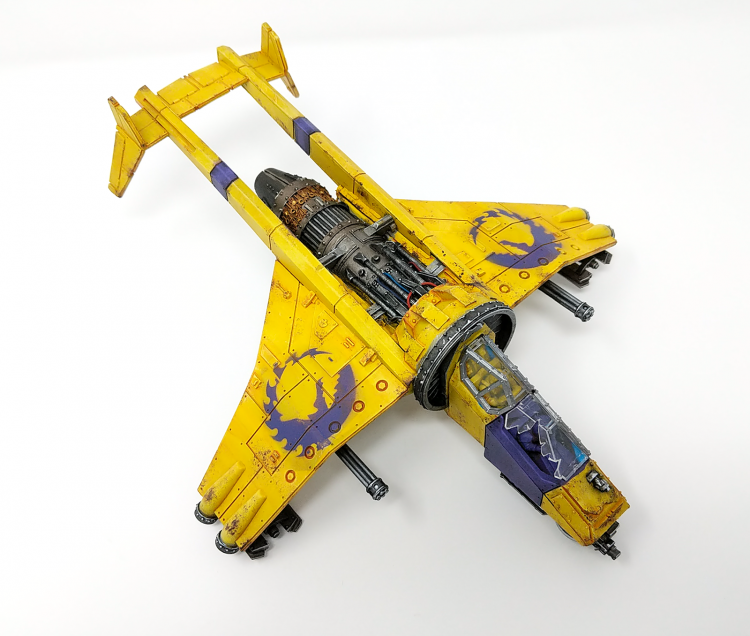 Printing out a stencil with a FDM printer can be pretty useful as long as you're planning to use it on large vehicle panels and they are flexible enough to go along some curves. I haven't used a resin printer myself but I imagine the extra resolution could be useful for smaller scale stencils as well.
Mike "Pvt_Snafu" Bettle-Shaffer's Method
While selecting a Legio for Adeptus Titanicus, I was really drawn to the Tempestus scheme. In the background art, and their description, they're noted as having a complex camouflage pattern covering many of the armour plates on the Titan. So the question was really, how do I do this? I knew I'd go crazy trying to paint it all by hand, which is why I sought out some appropriate pre-cut masks. The Mini Hexocam masks used in this tutorial are were purchased from Anarchy Models.
When layering stencils like this, you need to keep in mind how much of each colour you'd like to see when you're done, and initially this can take some practice. To begin, I sprayed the entire panel with my base colour, and once this was dry applied my first layer of masks. They're soft and the adhesive works well, to form them in to details I tend to use a silicone sculpting tool, you can use a fingernail but be careful with your paint job!
With the first layer on, I repeated the process of applying masks where I wanted to retain the second layer of colour. By overlapping some of the masks you can create more interesting camo patterns. When I was happy with the second layer of masks I applied my second colour and once this was dry repeated the process of applying masks before adding my third colour.
With everything painted and dry, it was time to remove the masks. This is done by very carefully using a scalpel to lift one edge of the mask. Going in almost parallel to the panel you've masked and gently lifting the mask should give you enough of a finger hold to gently pull away the rest of the mask. As long as you're careful, you can keep them for another couple of uses at least, I've used the same stencils for a pair of Warhounds and a Reaver and only moved on to fresh stencils for this tutorial with my Warlord.
There's a couple of spots where I was a little clumsy, either applying masks or removing them. I'm not too worried about this and I'll either touch it up once it's on the model, or cover it with some battle damage and weathering later!
Alfredo's Method
As an unrepentant airbrusher always looking to save time, masking putty is an incredibly useful way to let me airbrush multiple areas of a model and put basecoats down quickly. Stencils are another great masking technique that let me do cool things on a model without laborious free-hand. Let's walk through a couple examples.
This was one of my first major masking projects leveraging MIG's Masking Putty, which is a fantastic product. It's infinitely reusable, extremely low tack, self-adhesive (so easy to remove) and makes very crisp edges. A model like this Hemlock works really well with masking because you can easily shape the putty to the panel lines and get well defined sections. Any bits that don't quite work you can hide with panel shading. In this example, I started by spraying the model white, then painted the panels I wanted in black. I masked those panels, then painted my blue panels. Then I masked those and painted the rest of the model in yellow. This was less than 2 hours of work all told to produce something that is already fairly striking on the battlefield.
Masking can also be fantastic for infantry sized models, even in situations where that may seem counter-intuitive. These Ultramarine Honour Guard are fantastic models but their closed poses made for a daunting painting project. I was on a NOVA deadline so I knew I needed to speed things up. As with most painting advice, starting from the inside out is highly effective. In this case, I painted the armor first, then masked it so I could paint the red cloaks. Then I masked some more to paint the swords and their glow effect (I love Tamiya Clear) and then I masked again so quickly paint the giant ultras on their shields. This gave me a solid foundation to work off very quickly. There are tons of ways to mask, each viable in a given scenario. My go-to is the MIG Masking Putty I will never stop shilling (and no, I don't get a cut) but I complement it with other methods. Tamiya Masking tape is also fantastic if you need straight lines or just need to mask a flat area without a lot of precision, it's very low tack and so the risk of lifting paint when you remove it is extremely low. For very broad masking, plastic wrap is my top choice and something I picked up from Angel Giraldez. Sometimes I will mask the area bordering my paint area with masking putty or tape and then use plastic wrap to cover the rest of the model, as I did with these Honour Guard. Liquid Mask is another great tool, albeit my least-used, to mask small irregular areas that putty may not be ideal for.
Masking for efficiency is great but sometimes you mask because it lets you achieve an effect that would be incredibly difficult otherwise. When I was planning my Ultramarine dreadnoughts, I knew I wanted my leviathan to have a split Ultra symbol on its front. Free-handing this and making it look good is about infinity light years beyond my skill level so I knew masking would be the way to go. I used flexible adhesive vinyl stencils so they could easily conform to the curved surface of the Dreadnought and even work with that very sharp transition from the top-facing plate to the smaller front-facing plates. I took a large stencil and cut it in half to split it and then used MIG Masking Putty (sorry) to cover all the space in between that I didn't want to get white paint on. Stencils are also a great alternative to decals sometimes because they allow you to blend into your paint job more easily (since you're using your actual paints) and also avoid flat colors since you can easily spray gradients and blend.
Wrap-Up
Hopefully this serves as great inspiration for what you can do with various forms of masking tools and stencils to speed up your painting or achieve awesome effects that are otherwise hard to do (imagine hand-painting that titan camo). As always, we'd love to hear your questions and comments at contact@goonhammer.com. Keep hobbying!