The Event
A five-round, 2000 point matched play AoS event in Bristol, England. Organised by the Sigmar's Pilgrims club this is their first big event and is very local to me, and it's very exciting to have a tournament I didn't need to book a hotel for. 
In terms of rulings for the event they were using the old Slaves to Darkness book and warscrolls, and faction battle tactics and grand strategies were banned. I'm not in love with either of these rulings, my preference really is to play as 'by the book' as possible and just get on with new content. In the end it certainly isn't a dealbreaker, though I'm sure all of the DoK players were very sad about it.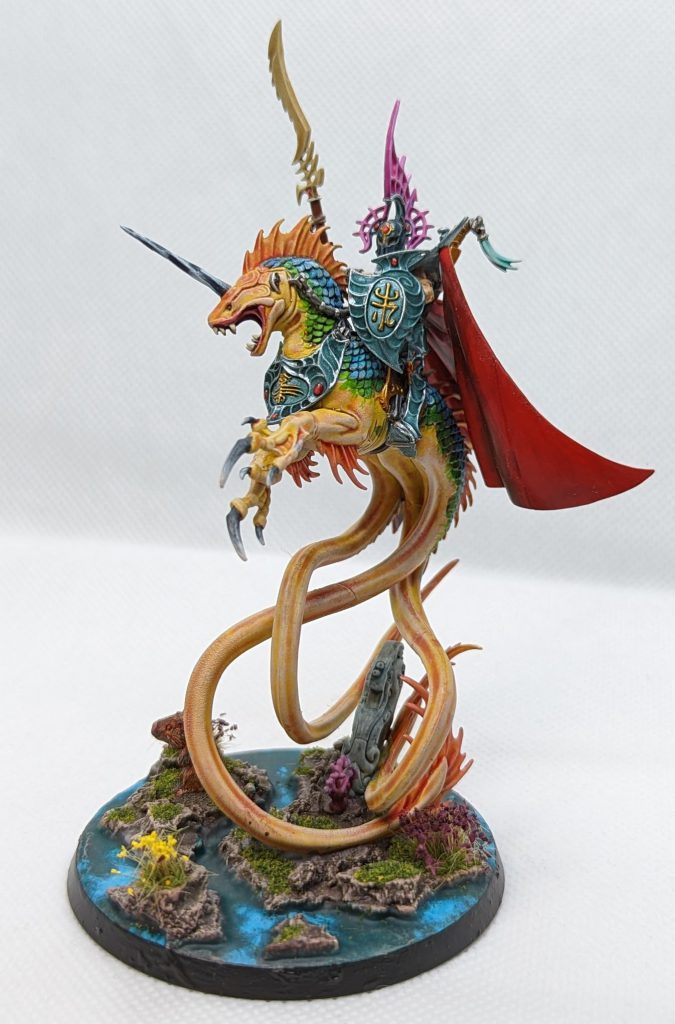 The List
Chimp's List - Click to Expand
Allegiance: Idoneth Deepkin
– Enclave: Nautilar
– Grand Strategy: Take What's Theirs
– Triumphs: Bloodthirsty
Leaders
Lotann, Warden of the Soul Ledgers (115)*
Akhelian King (250)*
– General
– Bladed Polearm
– Command Trait: Unstoppable Fury
– Artefact: Arcane Tome (Universal Artefact)
– Universal Spell Lore: Flaming Weapon
Battleline
10 x Namarti Reavers (170)*
10 x Namarti Thralls (130)*
Akhelian Leviadon (500)
– Mount Trait: Reverberating Carapace
Units
2 x Akhelian Allopexes (330)*
– Razorshell Harpoon
– Reinforced x 1
2 x Akhelian Allopexes (330)*
– Razorshell Harpoon
– Reinforced x 1
1 x Akhelian Allopexes (165)*
– Razorshell Harpoon
Core Battalions
*Battle Regiment
Total: 1990 / 2000
Reinforced Units: 2 / 4
Allies: 0 / 400
Wounds: 88
Drops: 2
I said last time that I'd be taking Bonesplitterz again or a silly Skaven list so uh, this army is neither of those. In my defence, that was a whole battlescroll ago, and I just really need the Deepkin practice. There's only so many practice games of saying "and I cast more-more-more warp power" that you need. 
I really wasn't sure about this list, I feel like as the edition goes on Deepkin are sliding into a worse and worse place in the meta. The return of the eel lists to competitive play is very exciting but they're incredibly reliant on allied Tree-revs to actually score battle tactics and I simply don't have any of those built or painted. This was my compromise, the sort of mixed arms shooting and melee army with lots of sharks you saw early doors from this battletome. People are scared of the shooting, the castle is quite good and it has a good ability to counter-punch especially into high tide but I knew going in this was a terrifyingly low wound count for a no-summoning army. There's also just one or two fewer units than I'd like to have for controlling the board, that turtle is spendy. 
In terms of basic combos for the unaware (hey, why not read our start competing article?!), the Nautilar subfaction gives me a monstrous rampage for rend -3 on the main turtle melee attacks and this 'smash king' configuration has the ability to be throwing out a lot of rend -3, damage 4 attacks on high tide if the stars align. 
Reavers and thralls are a nice screen – with low tide and the turtle that's a +2 to save on your first turn vs alpha strikes without having to spend any resources, and either of those Namarti units near the shipwreck will also have a 5+ ward so they can be surprisingly tough to shift. Outside of that castle deployment, they both fold very quickly. 
Allopexes are just decent all-rounders. The design team's best realised attempt at writing a chariot warscroll. Each one packs a 4-shot gun with d3 damage and some decent melee attacks. The army is effectively a shooting castle, albeit one that can move itself around the board very quickly, with the ability to lash out with two big melee turns with the king high tide and the battleround three high tide providing strikes-first.
Game 1 vs Andy Simms, Ogor Mawtribes
Head-on Collision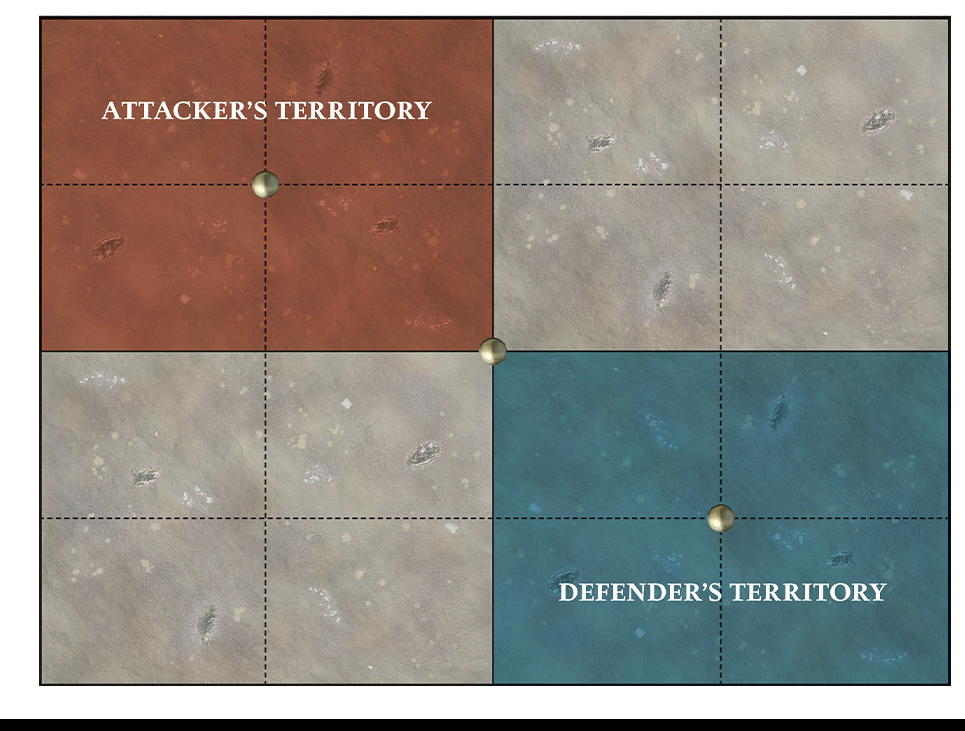 Andy's list - click to expand
Army Faction: Ogor Mawtribes
– Army Subfaction: Boulderhead
LEADER
1 x Kragnos (720)
1 x Frostlord on Stonehorn (445)*
– General
– Command Traits: Touched by the Everwinter
– Artefacts: Arcane Tome
– Mount Traits: Rockmane Elder
– Spells: Flaming Weapon
– Prayers: Heal
Butcher (135)*
– Cleaver
– Spells: Molten Entrails
BATTLELINE
2 x Mournfang Pack (175)*
– Skalg
– Culling Clubs and Hackers and Ironfist
1 x Stonehorn Beastriders (310)*
– Blood Vulture
2 x Mournfang Pack (175)*
– Skalg
– Culling Clubs and Hackers and Ironfist
CORE BATTALIONS:
*Battle Regiment
TOTAL POINTS: (1960/2000)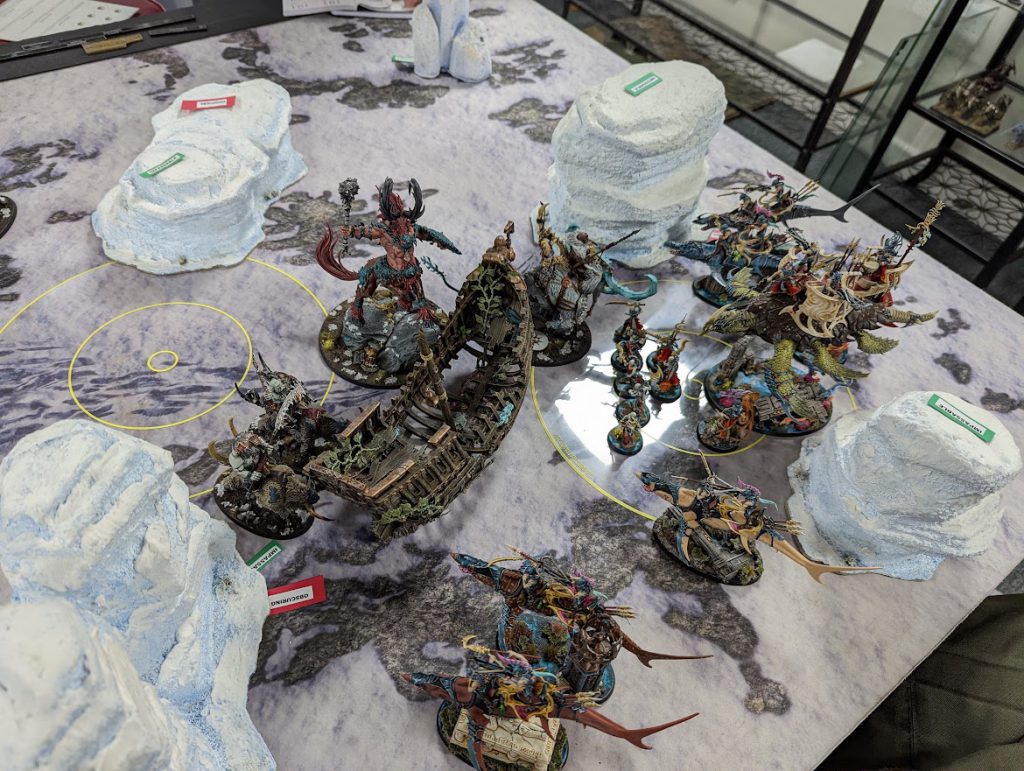 Theory
Eagle eyed readers might recognise this as the showdown Mawtribes army from this event's competitive innovations so spoiler alert for how this game went. 
Joking aside this matchup isn't appalling for me. Both of us being two-drop means there's an element of who wins the initial dice roll going on, but I've got a screen that contains the potential to eat his charge without my entire army getting flattened and all of my shooting will quickly take down those few smaller units he has to control the board. 
Kragnos is a bit of a problem, admittedly, as my army lacks for mortal wound output but on a good high tide turn there's lots of rend -3 and rend -2 going in, which is about as good as it gets otherwise. 
Practice
Ah, well, nevertheless. 
I won the roll off and gave him the first turn. Maybe this was not the optimal play, my shooting could definitely have picked up one or two of those smaller units to put me in a better position for the long game. My reasoning was that whilst I could probably survive his initial charge I wouldn't get away with the Ogors getting a double into round 2, so I took the cowards way out. 
He pushes Kragnos and the Frostlord up aggressively and smashes up my shipwreck, which is sad, but the huge model actually blocked Kragnos from being able to get into my army and the Reavers just jumped out the other side of it as their garrison was destroyed. I had remembered to deploy with the 3d6 flying move monstrous rampage in mind, so the Stonehorn itself was only able to go in and kill my thralls, as expected. 
In return I shot off his Mournfang and then decided against doing a janky wobbly model move onto the no-longer-defensible-so-no-longer-impassable shipwreck. I immediately regretted this as it left the Frostlord alive. He did then win the roll off into turn two so my cowardice was rewarded. Upon his retreating the Frostlord I boneheadedly just forgot I could use that to redeploy and left the turtle within a decently easy charge of Kragnos, who promptly went in and battered it. This is the turn that honestly lost me the game. I did manage to kill Kragnos in return but it took my whole army, meaning two turns of low primary scoring vs his lots of primary scoring. 
Subsequently I failed to kill the Frostlord, again, costing me a battle tactic and I just lost shocking amounts of my army to the everwinter and Ogor charge mortal wounds. Three bad rounds of scoring and having the heart ripped out of my army left the Ogors just mopping up from there.
Result
Major Loss (6-42)
Game 2 vs Kez Hay, Nighthaunt
In the Presence of Idols
Kez's list - click to expand
– Army Faction: Nighthaunt
– Subfaction: The Emerald Host
– Grand Strategy: Show of Dominance
– Triumph: Bloodthirsty
LEADERS
Lady Olynder (340)***
– Spells: Seal of Shyish
Guardian of Souls (150)***
– Chill Blade
– Artefacts of Power: Midnight Tome
– Spells: Soul Cage
Krulghast Cruciator (150)***
Knight of Shrouds on Ethereal Steed (155)***
– General
– Command Traits: Spiteful Spirit
– Artefacts of Power: Soulfire Ring
BATTLELINE
Spirit Hosts (250)*
Grimghast Reapers (160)*
– Extoller of Shyish
Grimghast Reapers (160)*
– Extoller of Shyish
Hexwraiths (160)**
– Hellwraith
OTHER
Myrmourn Banshees (210)**
Bladegheist Revenants (175)**
ENDLESS SPELLS & INVOCATIONS
1 x Purple Sun of Shyish (90)
CORE BATTALIONS
*Expert Conquerors
**Bounty Hunters
***Command Entourage
– Magnificent
TOTAL POINTS: 2000/2000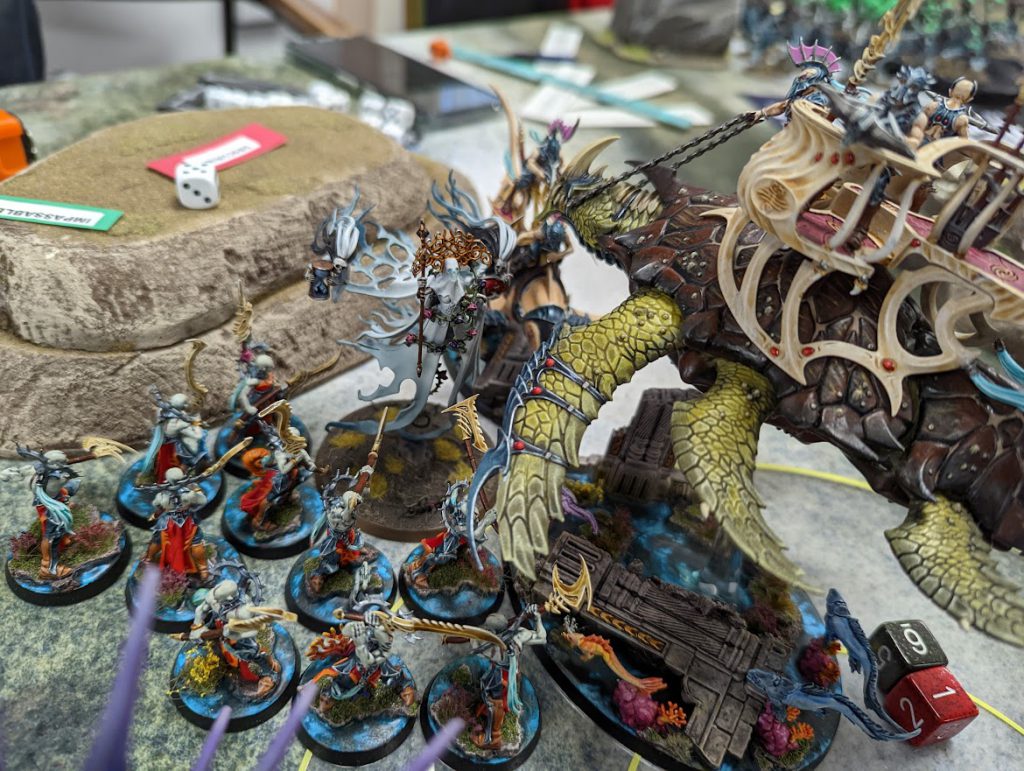 Theory
This was Kez's first AoS GT, so his list was what he knew was good within the constraints of the models that he had. We got to have a lot of good Dad Chat over the course of this game which is increasingly how I'm spending my time at tournaments. 
There's still lots of good stuff going on in Kez's army though! Olynder is swingy but can be a huge threat, especially with the massive blob of bodyguard spirit hosts. The midnight tome + purple sun combo is still good, despite the latter catching a nerf recently and the unusual subfaction choice does start putting a lot of pressure on my squishy heroes. Nighthaunt also just do not care about all of that rend -2 and 3 I'm packing, and my armies' general skew towards low volume of high quality attacks is just straight up what they want to see. 
That being said, I am the more experienced player here and he's very little defence vs my shooting or high tide. Kez also made a very strange selection of Idol choices in this battleplan, picking three of his support heroes. I suppose the thinking here is that it's being defensive, but it just made it impossible for him to score extra VP whilst I still could. 
My plan here was really to force him up one particular flank with the proving ground, then to try and take out the spirit host blob and from there roll up the rest of his army.
Practice
This plan worked… better than I thought it would. We both had a cagey turn one and then I got the double. Stupid positioning meant I had to basically commit my entire army to grab a battle tactic here, I honestly thought I had badly messed up but instead he fails a bunch of his 4+ rolls and I smash almost the entire centre of his army. In return he bounces hard off the turtle and despite getting a double turn he just couldn't get the damage in, doubling Deepkin into high tide with a melee army is just really hard if you have to shift them to score. By the time my turn three rolls around it's just Lady Olynder and some Grimghasts on the table vs basically my entire army, they get mass charged and killed and we work out the rest of the battle tactics for scoring.
Result
Major Win (25-13)
Game 3 vs Chris Thursten, Daughters of Khaine
Silksteel Nests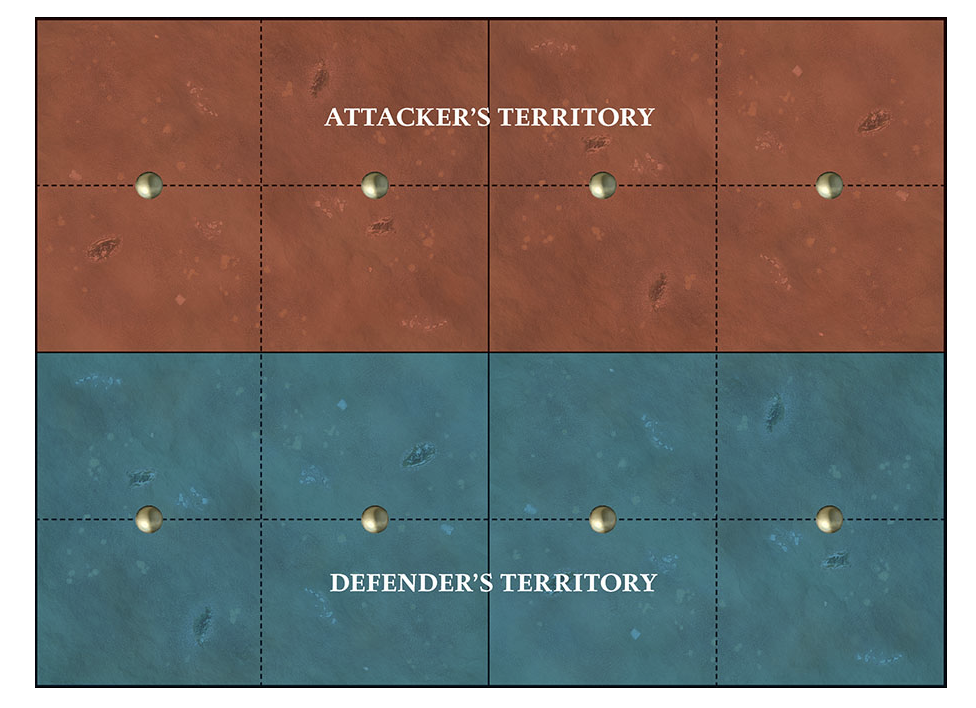 Chris' list - click to expand
Allegiance: Daughters of Khaine
– Temple: Khailebron
– Grand Strategy: Take What's Theirs
– Triumphs: Indomitable
Leaders
Melusai Ironscale (115)*
– General
– Command Trait: Zealous Orator
– Artefact: Crown of Woe
Slaughter Queen (130)**
– Artefact: Arcane Tome (Universal Artefact)
– Lore of Shadows: Steed of Shadows
– Prayer: Sacrament of Blood
Morathi-Khaine (340)**
The Shadow Queen (340)**
Battleline
10 x Blood Sisters (280)*
– Reinforced x 1
10 x Blood Stalkers (360)*
– Reinforced x 1
9 x Khainite Shadowstalkers (150)*
Units
5 x Khinerai Heartrenders (95)*
5 x Khinerai Heartrenders (95)**
Endless Spells & Invocations
Bloodwrack Viper (80)
Core Battalions
*Battle Regiment
**Warlord
Additional Enhancements
Artefact
Total: 1985 / 2000
Reinforced Units: 2 / 4
Allies: 0 / 400
Wounds: 88
Drops: 5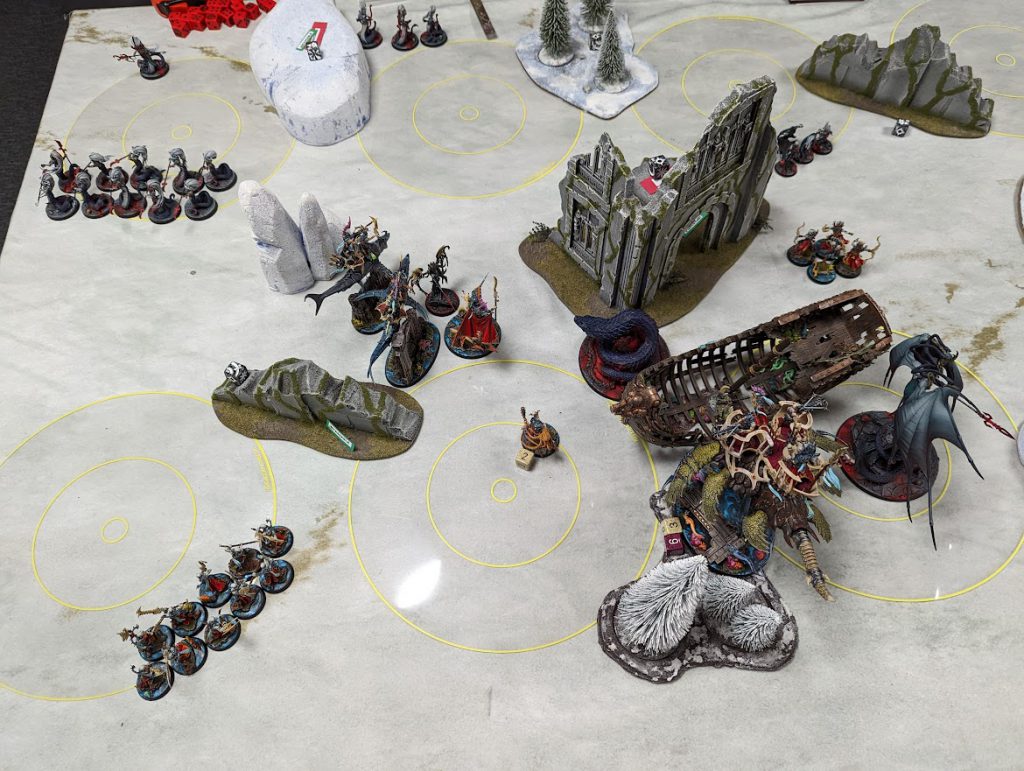 Theory
This was the perfect round three draw. Chris is a friend, so I know I'm going to have a good game and we travelled to the tournament together so if we finished nice and early then we could leave early without having to wait for someone else to finish their game. Chris and I have developed a record against each other where whoever is hosting the game will lose, and we haven't met at an event yet, so this is the tiebreaker right?
Morathi is really what I'm worried about most of all, of course. I know I need to keep the damage on her from turn one and just not let up. The bowsnakes I'm actually not worried about, with the ritual of the creeping mist I can be untargetable beyond 12" which neuters their ability to double shoot and if he wants to shoot them at all turn one they'll have to get dangerously close to my army.
The Blood Sisters are an incredible trading piece but again I wasn't overly concerned about them, as long as they don't get into the turtle my army actually doesn't have many pieces where trading them feels like an exchange in his favour. My second biggest fear after Morathi was really those Khinerai, they're incredible into this battleplan and there's not much I can do about them, I just don't have the unit or model count to keep them out. 
Practice
Like a broken record, I gave away first turn to Chris. As expected there wasn't much he could do beyond getting the Shadow Queen into my lines, and she made the monster charge and managed to hack 9 wounds out of the turtle, which was unfortunate but I did get to cap her – always important. In return I picked up the bow snakes and his Khinerai, capped Shadow Queen again whilst retreating the turtle out of combat and just kept up with scoring. 
We both knew priority into two would be huge, and he nabbed it by meeting my 6. The Bloodwrack Viper had the game of its life here, having eaten 3 Reavers in his first turn Chris then decided it would be funny if it ate Lotann as well, which it was. A buffed up Slaughter Queen killed my Reavers, the Shadow Queen executed two sharks and another shark died to Sisters which was quite a lot of army to suddenly lose. 
At this point I had been berating my poor Leviadon for being useless so it decided to go sicko mode and clean up an entire flank solo: killing the Slaughter Queen, Shadow Queen and other unit of Khinerai. On the other flank the stab snakes got chopped up by the Akhelian King, and the Bloodwrack Viper began a Benny Hill chase against my poor Thralls that would last the rest of the game and see it eat them all. 
Going into battle round three, there was basically nothing left on the board at this point. Chris got the turn and despite my urgent warnings not to, charged what remained of his army into me, which got promptly chopped up by my strikes-first. This did involve the Thralls who were destined to be eaten by a snake in the next turn getting a near-perfect round of combat into his Ironscale, but thems the breaks. By the end of the battle round the DoK were tabled and that was that, but there was only a King and a badly wounded turtle alive on my side.
Result
Major Win (24-16)
Game 4 vs Ethan Leach, Lumineth Realm Lords
Close to the Chest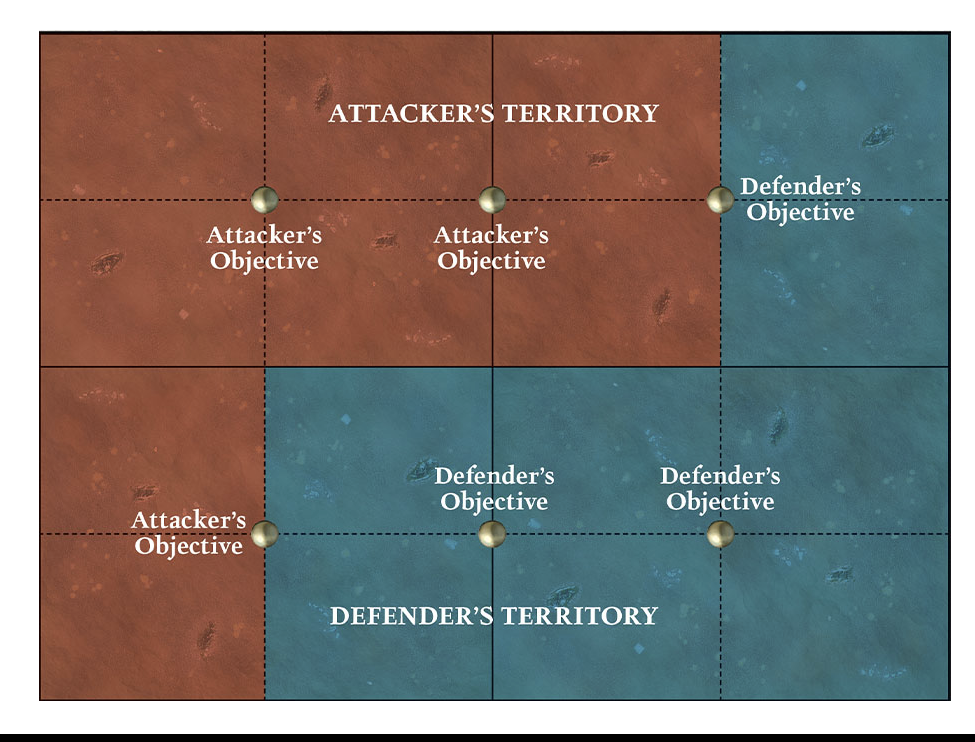 Ethan's list - click to expand
Allegiance: Lumineth Realm-lords
– Great Nation: Ymetrica
– Grand Strategy: Show of Dominance
– Triumphs: Indomitable
Leaders
Alarith Stonemage (120)
– General
– Command Trait: Unyielding Toughness
– Artefact: Molten Talisman
– Lore of the High Peaks: Unbreakable Stoicism
Archmage Teclis and Celennar, Spirit of Hysh (700)
Avalenor, the Stoneheart King (420)
Battleline
10 x Alarith Stoneguard (240)*
– Diamondpick Hammers
– Reinforced x 1
10 x Alarith Stoneguard (240)*
– Diamondpick Hammers
– Reinforced x 1
5 x Alarith Stoneguard (120)*
– Stone Mallets
5 x Alarith Stoneguard (120)
– Stone Mallets
Core Battalions
*Expert Conquerors
Total: 1960 / 2000
Reinforced Units: 2 / 4
Allies: 0 / 400
Wounds: 97
Drops: 7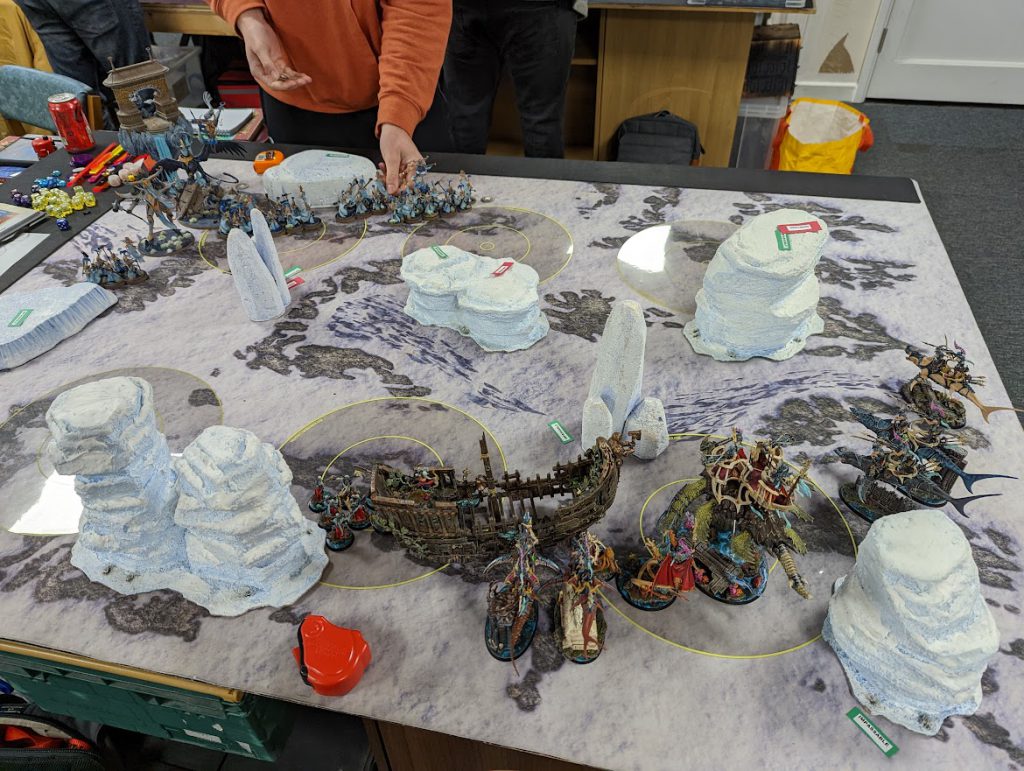 Theory
Battle cattle! Battle cattle! When the new Lumineth tome dropped, this was exactly the kind of army I wanted to see, so it was nice to see it doing well as I submarined back into the higher table numbers. 
This army is terrifying to face but its mobility is limited and a huge amount of the buff power in it is coming from one model, the Stonemage. My plan here was to try and kill that Stonemage early and try to pick off the smaller units of Stoneguard whilst controlling the board.
Practice
I actually took the first turn this time, to try and land some damage at range before Teclis can get his various protections up. This was a good idea but I had deployed incredibly badly for it. Autopiloting the shipwreck up in the front of my (very limited in this battleplan!) deployment zone for Reavers to sit in when I knew I'd be going first was just a stupid mistake, and it limited how much firepower I could bring to bear on his army. As a result, my first turn of shooting achieved precisely nothing beyond using up the Stonemage's aetherquartz reserve.
In response he shuffled up and just got all the buffs up. An unusual priority roll into two saw us both wanting to give it away and he won the roll off. I had a howler of a turn here, some greedy shooting meant failing a battle tactic when I failed two charges and left a single model alive in some Stoneguard, and I didn't make a dent on his castle. In his turn Avellenor and Teclis teamed up to shoot my Reavers to death and then Ethan cheekily rerolled a safe charge with Avellenor to get a huge charge onto my primary objective and killing two sharks in the process. 
He then gets the double into turn three and banks on Avellenor tanking the turtle strike-first, which he does. I then fail five 4+ saves like an absolute chad and the turtle is chopped to bits. When you play aelf armies you get a feel of how many aelves can die and the game still be OK, and that number for my army is really low. The turtle going down having achieved nothing is absurdly terrible play by me, loses me all control over 2/3rds of the board and totally cedes all initiative. From here I scrape together what I can, but failing and failing to shoot the Stonemage to death means going into absurdly buffed Stoneguard and I'm ground out over the next couple of turns. This does include the King managing to roll six 1s for his wound roll into the Stoneguard, which admittedly did not help.
Look, I am loath to blame the dice for results of a game but good lord sometimes they do not help you. I think with a rub of the green this was in my grasp, but it just kept slipping away at every opportunity. Ethan is also a Deepkin player and we chatted after the match about what he'd have done, which was to be more aggressive. This is probably right, and it comes back to that awful deployment. The lesson here is, actually plan ahead and don't just do the same deployment every game!
Result
Major Loss (26-18)
Game 5 vs Abel Glossop, Blades of Khorne
Prize of Gallet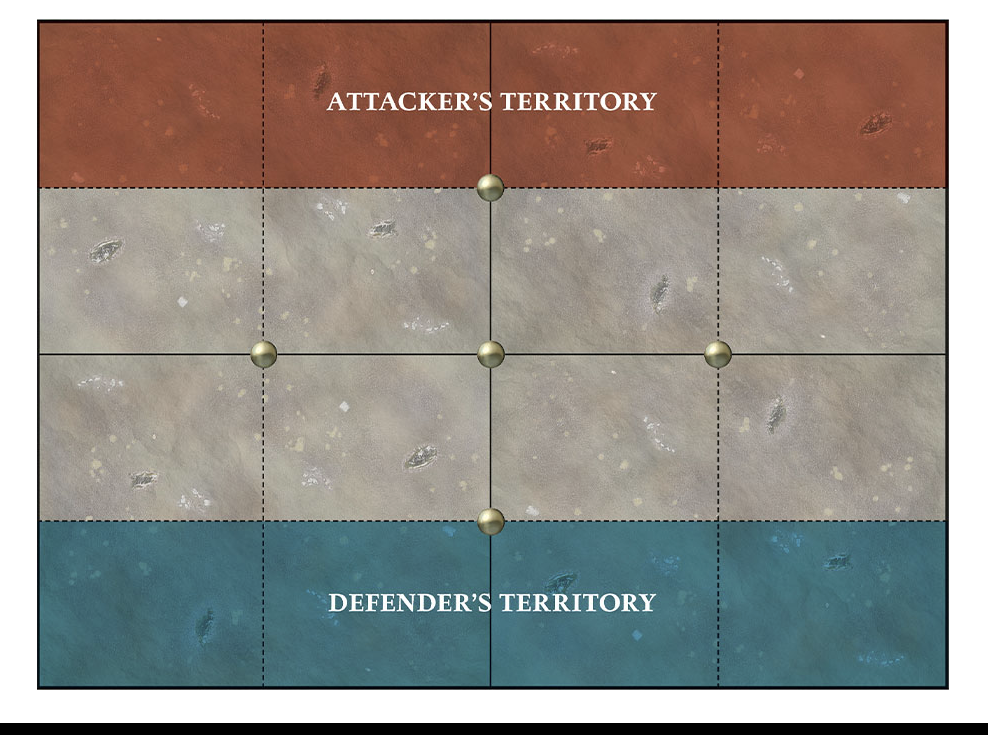 Abel's list - click to expand
– Army Faction: Blades of Khorne
– Subfaction: Reapers of Vengeance
– Grand Strategy: Take What's Theirs
– Triumph: Indomitable
LEADERS
Archaon (860)
Skarbrand (380)
Slaughterpriest (100)
– Hackblade and Wrath-hammer
– Prayers: Bronzed Flesh
Bloodstoker (80)
Bloodthirster of Unfettered Fury (295)
– General
– Command Traits: Mage Eater
– Artefacts of Power: Skullshard Mantle
BATTLELINE
Bloodreavers (80)
– Reaver Blades
Bloodreavers (80)
– Reaver Blades
Bloodreavers (80)
– Reaver Blades
TERRAIN
1 x Skull Altar (0)
TOTAL POINTS: 1955/2000
Theory
Old Khorne-Archaon's final ride, with Skarbrand along for fun. 6" pile ins that don't require a charge to get into combat, fighting twice, save stacking, all that good stuff. May it rest in eternal damnation. 
I've played this kinda match a few times with Deepkin and we can really struggle through that save stacking. However, beyond the two big scary models there's basically nothing in this army and my shooting will rip all of those other units to pieces. If I can get through his early aggression with any army intact, I'll probably have enough to close this out comfortably.
Practice
Stop me if you've heard this plan before: deploy in a castle, hope the defence stacking protects my screen and then try to get the biggest double I can. 
Predictably, Archaon is catapulted across the board as fast as possible and multi-charges into both of my units of Namarti. He splits attacks and through low tide, the turtle save, all-out defence and the shipwreck the grand marshall of the apocalypse kills 5 namarti out of each unit, who then refuse to fail battleshock for good measure. My first turn reply was enormous and came kinda out of nowhere, my shooting does what it does and starts clearing up his infantry and everything else goes into Archaon who takes a bit of chip damage and then a high tide turtle just… kills him. Even with rend -3 this was a bunch of spectacularly unlucky saves to just kill him dead (there was a unit of sharks who didn't even get to swing!) but in my defence the King had mega beefed it prior to the turtle going ham. 
I didn't get the double of my dreams to win the game immediately so Skarbrand jogged in and managed to kill 945 points of my army in one hideous double activation. Did you know that Leviadons do not like 16 mortal wounds directly to the face? I mean I did but good lord. This was an incredible round of combat but he lost Skarbrand for it and the dakka coming out of the Allopexes and Reavers was just too much for his army to handle. There's some fun Khorne summoning and a hero Slaughter Priest charging and killing an Allopex in high tide but he just cannot touch the rest of my army once those two real killing threats had gone down. 
I breathed a big sigh of relief this game, the end result doesn't look like it but he was an Archaon surviving in turn one away from just wiping me off the board in two turns here. Was going second the right move? I think probably even with it being so squeaky bum. I could have gone first and poured fire into his non-big monster units and probably taken control of the board, but his army is on top of you so quickly there's no avoiding it and that double is so huge. At least that way I got to do what I wanted: have a surprisingly tanky screen that pinned the most important model on the board in place.
Result
Major Win (27-9)
Final Thoughts
Hate this army, love this army, don't know what to do about this army. Despite getting the exact same result as my last event, I feel happier with this result. I thought there was a 4-1 in the Bonesplitterz but felt really bad about this Deepkin army, especially after the first game and a 3-2 I can definitely celebrate. 
The Leviadon is just such a combination of lynchpin and liability that my entire game ends up revolving around it, and it can be so fragile for its points. The shooting the army puts out can be oppressive, but it's coming out of so few models that it contains equal propensity to do nothing as it does to cause real damage. It feels strange to say given the amount of fast moving pieces, but it's also terrible at this GHB's battle tactics. The castle style of gameplay, having to keep things within 15" of the Leviadon to get the most out of it, actually really limits where you can be on the board and this combined with the low unit count make scoring things like Barge genuinely difficult. It makes sense that Tree-revs are such popular allies as they're an incredible fix for this weakness.
Where do I take this next? I'm not sure. The easy point swaps aren't there to make changes without essentially rewriting the entire list. There's a strong temptation to drop the King as he was so routinely disappointing, but it's hard to make those freed up points add up to anything that feels any better. I'm awful for chopping and changing armies constantly, so the best thing to do is probably use this experience to improve my play with the same army.